Palm Beach style decor is all about creating a bright and cheerful space that feels like a tropical oasis in Florida or elsewhere. This look is achieved by using plenty of color, pattern, and texture throughout the home. There is even an element of preppy in this upscale Flordia interior design style.
Palm Beach style furniture is often oversized and upholstered in bold prints or colorful solids. Wicker and rattan are also popular materials for Palm Beach style furniture, as they add a natural element to the space. Palm Beach style decor also typically includes plenty of greenery and floral prints.
How to Decorate Palm Beach Style at Home
To get the Palm Beach look in your own home, start by incorporating lots of color and patterns. Use bold prints on your fabrics and wallpaper, and don't be afraid to mix and match different colors and patterns. Palm Beach style furniture is often extra large and upholstered, so look for pieces that make a statement.
Popular towns in Florida for Palm Beach style decor include Palm Beach, Boca Raton, Palm Beach Shores, Fort Lauderdale, and West Palm Beach. But you don't have to live in Florida to enjoy this style – Palm Beach style can be incorporated into any home, no matter where you live. Here are the key elements to get this look!
Start with a White Base
Many Palm Beach style interiors begin with a white palette including white walls, white sofas, white dining tables, lacquer desks and more. This helps create an airy atmosphere and allows light to bounce off the surfaces, resulting in a bright and sunny home interior!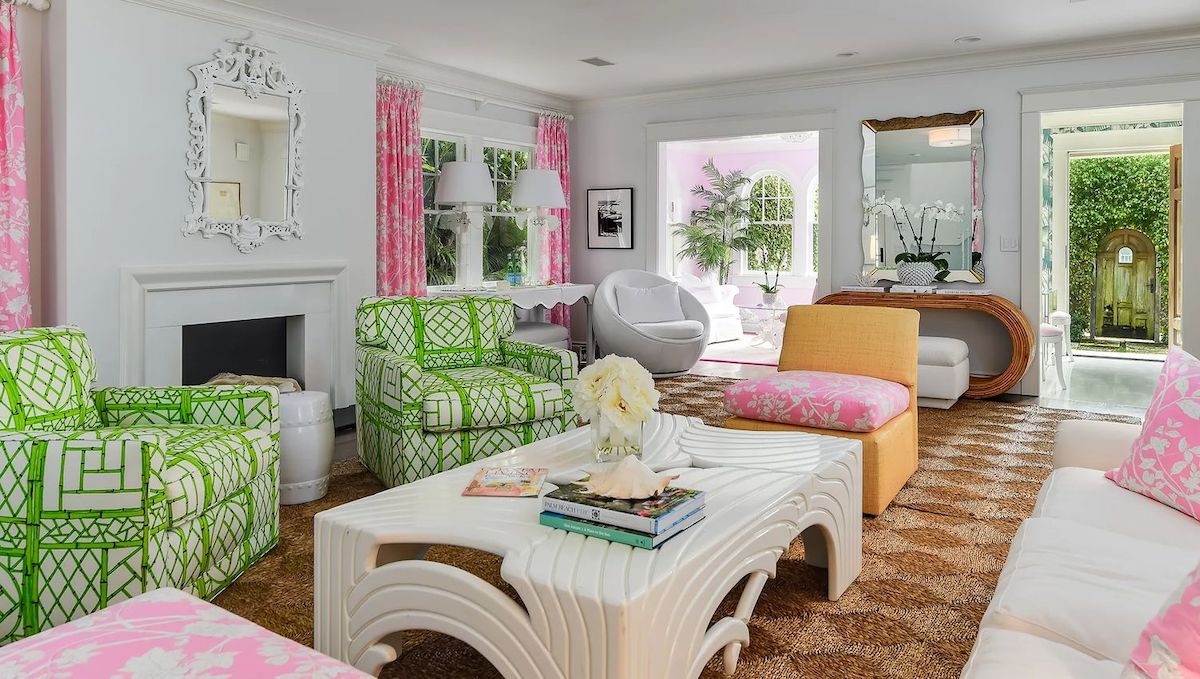 Choose a Bright or Pastel Color Palette
Palm Beach style decorating involves using either a bright and bold color palette or a soft neutral color scheme. Either way, go with 2-3 different colors that complement each other in each room! Turquoise, magenta pink, coral, lime green, bright yellow, and sea blue are all wonderful options.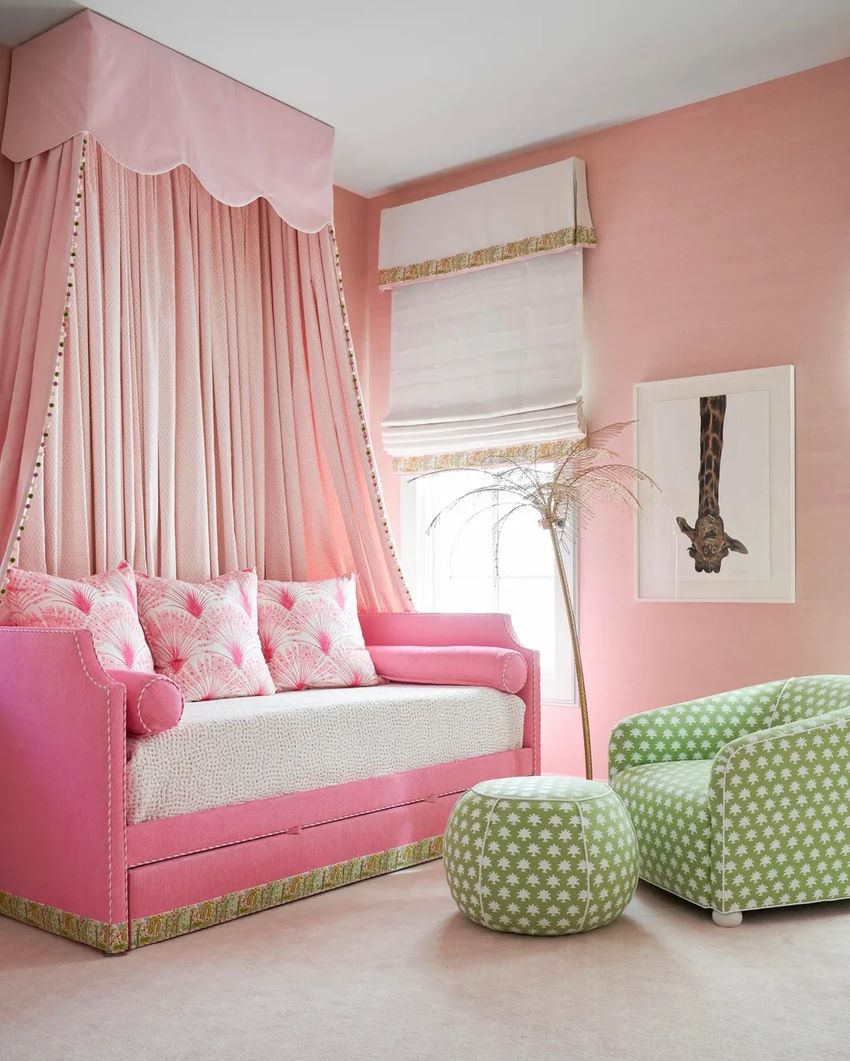 Wicker, Rattan, Cane, and Bamboo Furniture and Accents
Wicker furniture and accents are a Palm Beach style must-have! Palm Beach style wicker, rattan, cane, and bamboo furniture is usually white or natural colored and often features fun colorful cushions. You can pick up rattan or bamboo accessories too if you don't have the budget for new furniture. Rattan trays, cane boxes, and bamboo table lamps are all small decorations that can give your space a Palm Beach pop!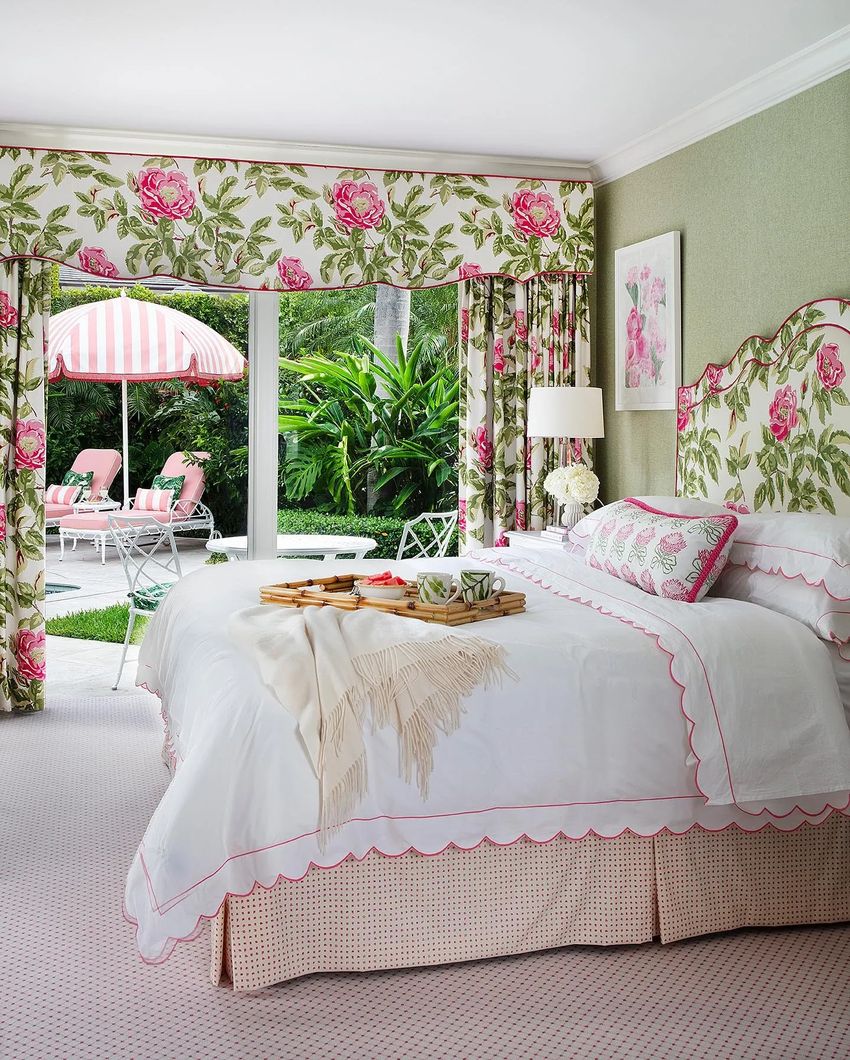 1960s Mod Artwork or Slim Aarons Photography
Palm Beach style is all about celebrating vintage, colorful living. This tropical interior style is perfect for those who want to bring a touch of the past to their homes. Go with a painting print by one of the great mid-century artists like Frank Stella or Mark Rothko to decorate your wall with art. Or choose a pretty poolside photograph by the legendary photographer Slim Aarons.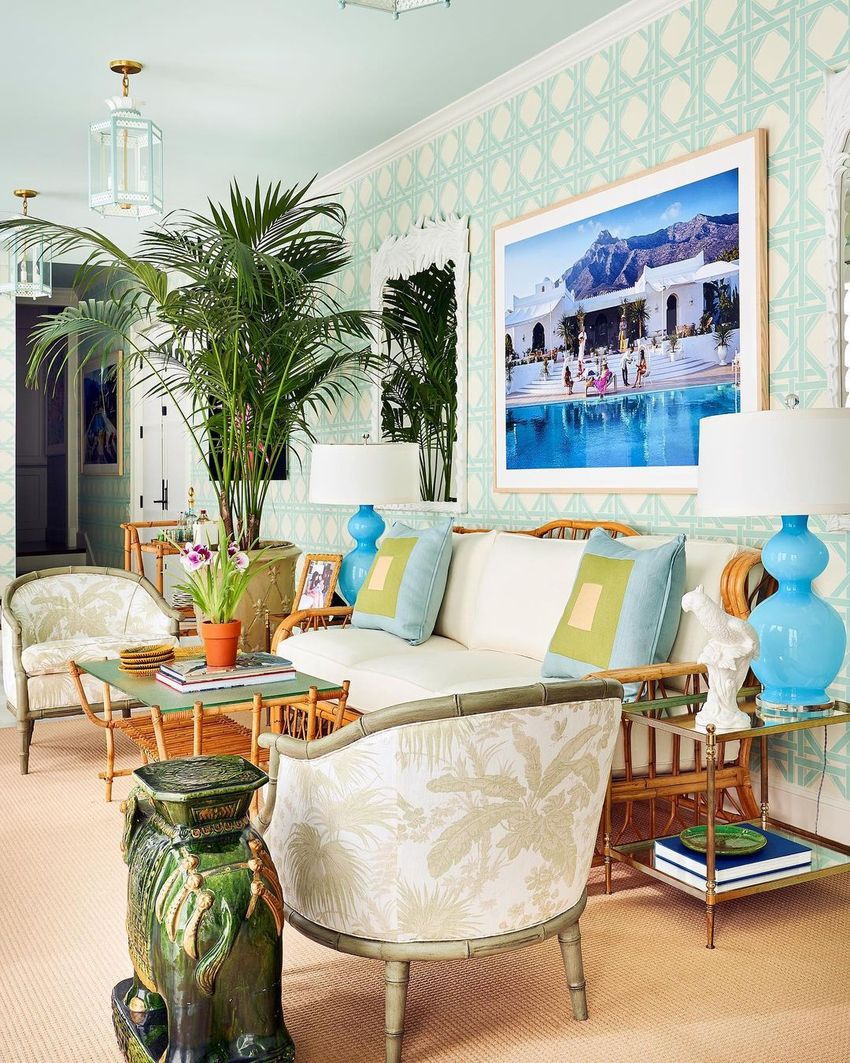 Indoor Palm Trees and Plants
Another Palm Beach style must-have is indoor plants and palm trees. These tropical plants will help to create an atmosphere of paradise in your home. Don't forget the greenery! Palm Beach style decor wouldn't be complete without plenty of plants and flowers. A quintessential Florida home style staple is plenty of greenery after all. Palm trees, ferns, and other tropical plants are perfect for this look. You can decorate a Palm Beach style home with lots of plants and greenery, both inside and out! Filling your home with tropical plants is a great way to appreciate Florida living.
Vintage Pool and Patio Furniture
Of course, Palm Beach style wouldn't be complete without a pool! Vintage pool and patio furniture are a must for decorating your poolside space. This is a style that's all about enjoying the outdoors, so make sure to set up your patio or deck with plenty of comfortable seating for lounging and tanning. Palm Beach style furniture is often brightly colored and made from rattan or painted white iron.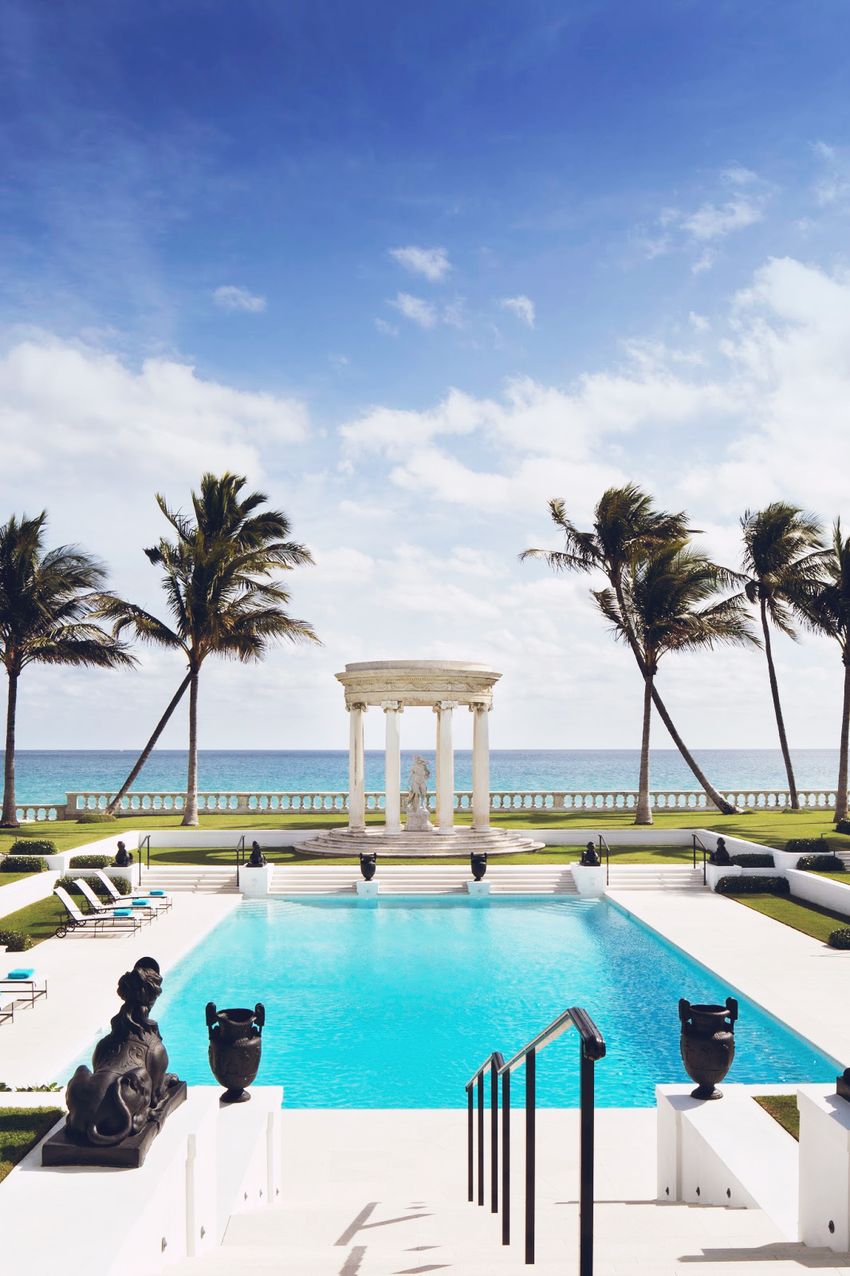 Where to Shop for Palm Beach Decor
Now that you know what Palm Beach style is all about, it's time to start shopping for Palm Beach decor! You can find Palm Beach style furniture and home decor at many different types of stores. Check out thrift stores, antique shops, and even your local flea market for Palm Beach style treasures. Of course, you can also find Palm Beach style decor online. There are plenty of Palm Beach style home decor items available for purchase at these home retailers:
Lily Pulitzer
Lily Pulitzer is an iconic American home decor brand that was founded in 1959 by fashion designer and socialite, Lily Pulitzer. She initially designed clothing for her own use and quickly gained a following for her signature vibrant colors and original prints. In the 1960s, her clothing was so popular that it was featured in Life and Sports Illustrated magazines. After gaining recognition for her clothing designs, Lily Pulitzer expanded her business to include home decor, creating beautiful and cheerful collections of table linens, dinnerware, furniture, and more.
Lily Pulitzer is a quintessential designer for Palm Beach-style home decor. The Florida-based retailer makes Palm Beach-style items, including clothing, home decor, and even wedding supplies. Pulitzer home decor collections embody her classic style, featuring colorful prints and unique designs.
Amanda Lindroth
Amanda Lindroth is a Palm Beach-based interior designer who creates Palm Beach style home decor items. You'll find plenty of Palm Beach style furniture and accessories at Amanda Lindroth, including pillows, throws, rugs, and lamps.
The home decor brand Amanda Lindroth was founded in 2003 by designer Amanda Lindroth. Her designs are inspired by her Bahamian aesthetic and island living and feature natural materials such as rattan, bamboo, and seashells. She has since expanded her line to include furniture, textiles, tableware, and accessories. Her collections are often colorful and evoke a feeling of tropical escape. Her designs have been featured in publications such as Vogue, Elle Decor, and Architectural Digest. Amanda Lindroth is a leader in the tropical home decor industry and her brand has grown to become a favorite among discerning customers around the world.
Serena & Lily
Serena & Lily is a California-based furniture designer and home decor shop with lots of coastal furniture that will fit right in with your Palm Beach style home decor.
Serena & Lily is a home decor brand that was founded in 2003 by Serena Dugan and Lily Kanter. The two women had a shared passion for creating beautiful, high-quality home decor that was accessible to everyone. The brand was founded with the idea of bringing luxury home decor and accessories to the masses and has since become one of the leading coastal home decor brands in the United States. Serena & Lily is known for its signature classic style and modern touches, offering furniture, bedding, lighting, and more to bring warmth and personality to any home.
One Kings Lane
One Kings Lane is a great retailer for Palm Beach style home decor. You'll find plenty of Palm Beach style furniture and accessories at One Kings Lane, including rattan chairs, vintage-inspired rugs, and Palm Beach-themed art. One Kings Lane was founded in 2009 by Susan Feldman and Alison Pincus. They offer one-of-a-kind vintage and antique pieces, as well as modern furniture pieces!
Palm Beach Furniture
Palm Beach style furniture is a popular design trend that is inspired by the glamorous and luxurious atmosphere of Palm Beach, Florida. Characterized by bold geometric shapes, bright colors, and intricate details, this style of furniture is perfect for adding a touch of glamour to any space.
These pieces typically feature a variety of materials such as lacquered wood, metal, and marble, and they often feature intricate patterns and motifs that capture the essence of the city. This style of furniture is the perfect way to create a chic and sophisticated atmosphere in any home.

Palm Beach Decorations
Palm Beach style decorations and home accents are known for their bright colors and unique motifs. These accents often feature bright colors such as turquoise, coral, hot pink, and lime green. Palm Beach style home accents can include bold prints like palm tree leaves, flamingos, and tropical flowers. Other decorations may include rattan and wicker furniture, bold patterned rugs, beach-inspired paintings, and framed photographs. Mirrors, lanterns, and statues are also popular in Palm Beach style decor. Accessories like seashells, starfish, and driftwood can also be used to create a beachy vibe. All in all, Palm beach decorations are a little bit preppy, a little bit tropical, and a lot coastal!

I hope you enjoyed learning about the Palm Beach style of home decor!