Are you looking for coastal bathrooms that will inspire you to finally redo the bathroom in your summer home or beach home? With summer fast approaching, now is the time to start considering what kind of bathroom you wish to design.
From nautical elements to lake house vibes, there are many different types of coastal decor to choose for your bathroom. We're going to share with you the most popular design ideas and give you an overview of the different beach home bathrooms that have become popular on Instagram and Pinterest!
Coastal Bathroom Decor Ideas
When it comes to designing your bathroom, be sure to consider the placement of your toilet, sink, and shower if there will be one. These are the most basic elements of a full bathroom. Beyond that, coastal decor is known for its blue, sea green, and beige color scheme. Think about if you prefer to include pops of unconventional, but summery colors like coral or pink.
Using rope will give your bathroom a nautical feel. Sea life or marine life are a popular choice for decorative elements like towels, rugs, and wallpaper.
1. Blue and White Subway Shower Tiles
This is one of my favorite coastal bathroom decor ideas. Look how beautiful the subway tiles look in the form of nautical stripes? Four layers of thin rectangular tiles form each stripe which alternates between a deep navy blue and a bright white color. Very coastal chic and modern!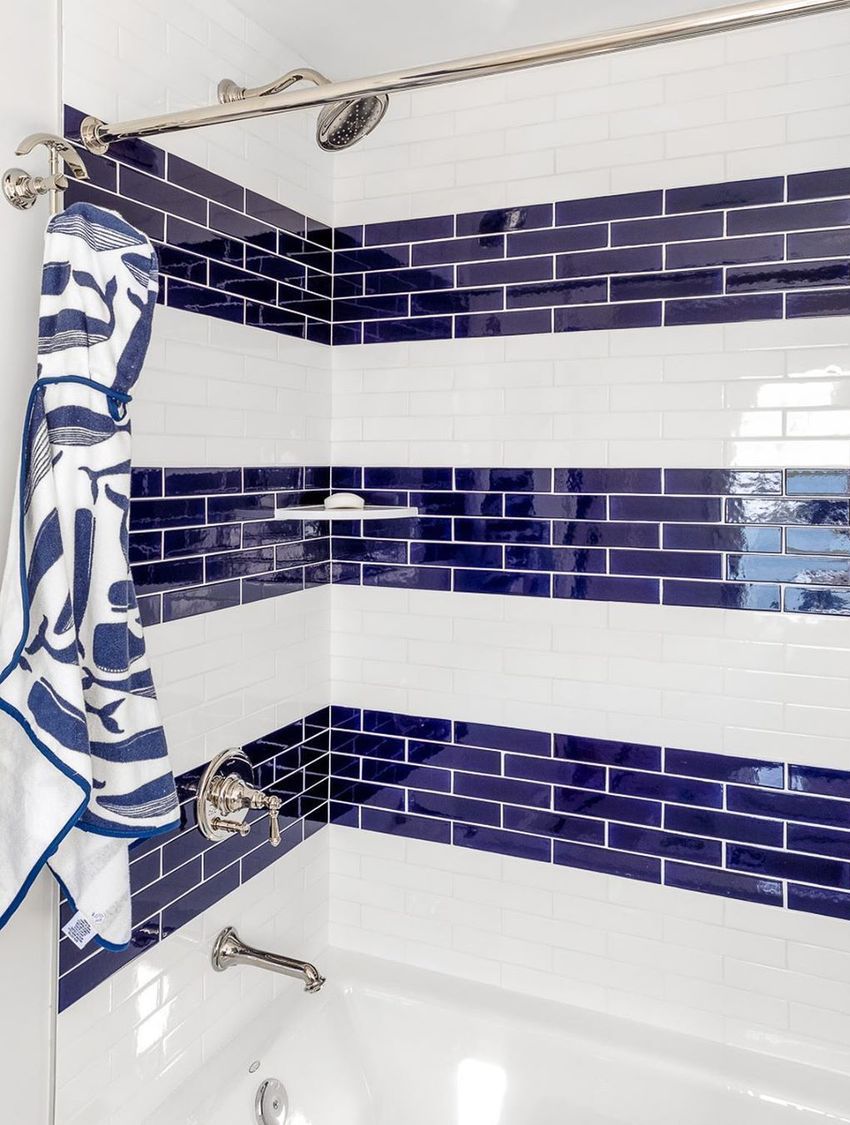 2. Beige Shiplap and Pebbled Floors
There's a lot to love about this coastal bathroom. From the beautiful pebbled floors to the beige shiplap walls, this bathroom is very homey and inviting. A natural wood dresser serves as a bathroom vanity and a white vessel sink sits on top.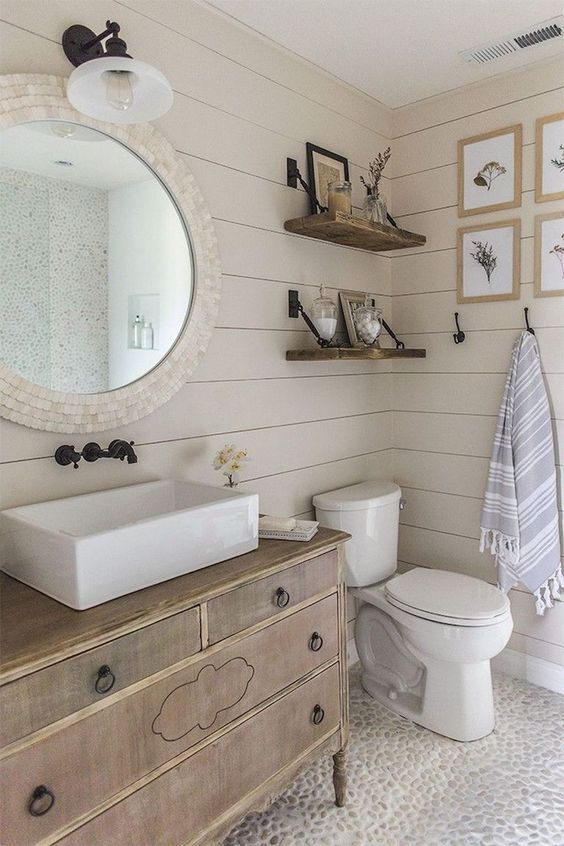 3. Blue Accent Wall
The blue accent wall in this bathroom really gives it extra depth and character.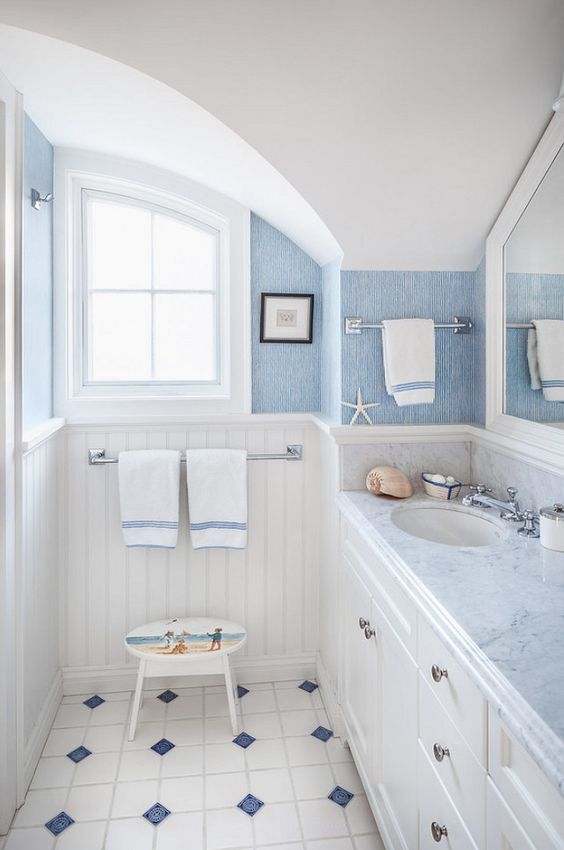 4. Blue wall art
A simple piece of artwork can go a long way in transforming your bathroom.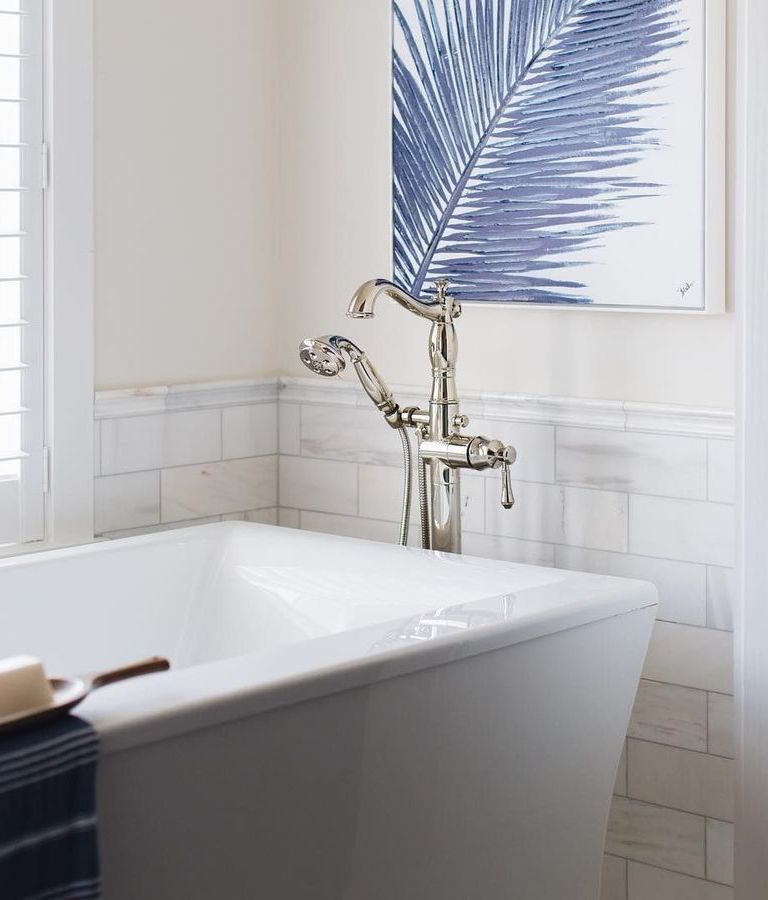 5. Circular Window
In true coastal window style, this round mirror looks beautiful in this modern coastal bathroom with muted blue wainscoting and a large white bathtub for soaking.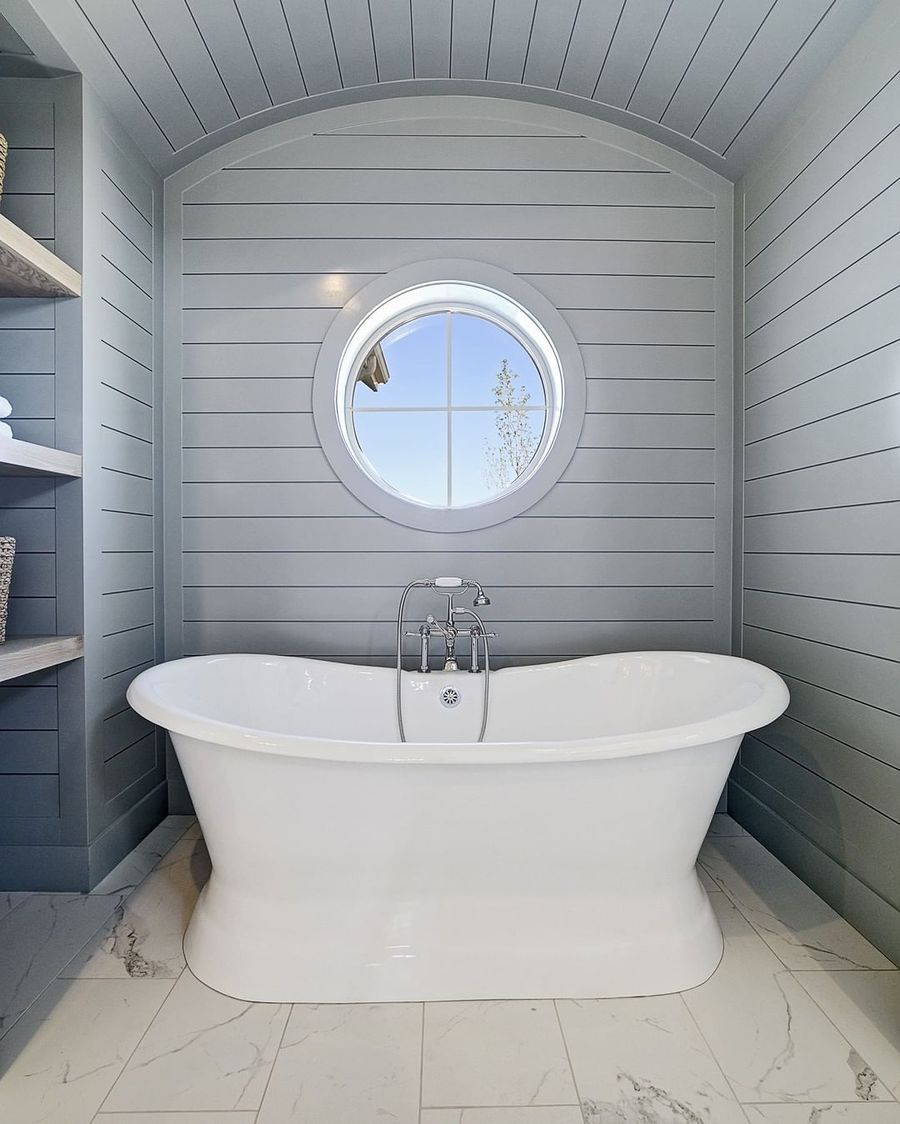 6. Rope Mirrors
These oval rope mirrors really help create a coastal nautical vibe in this bathroom.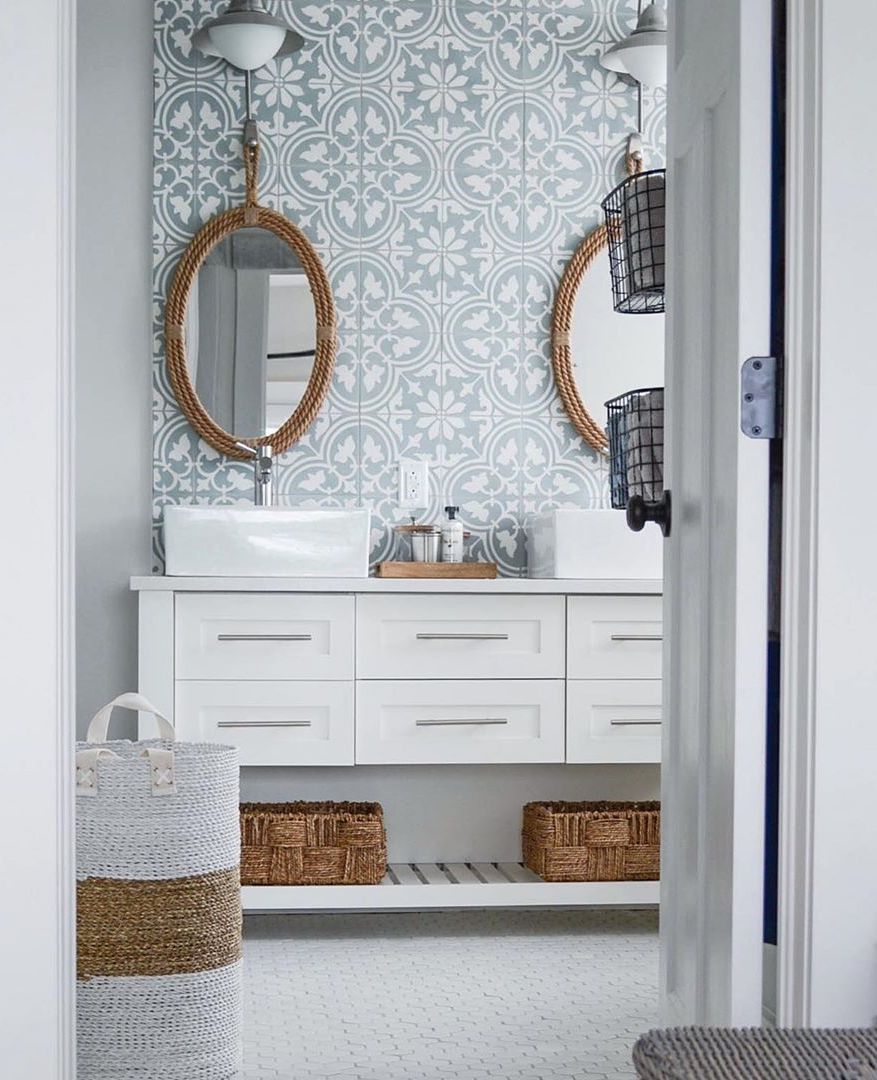 7. Double Trough Vanity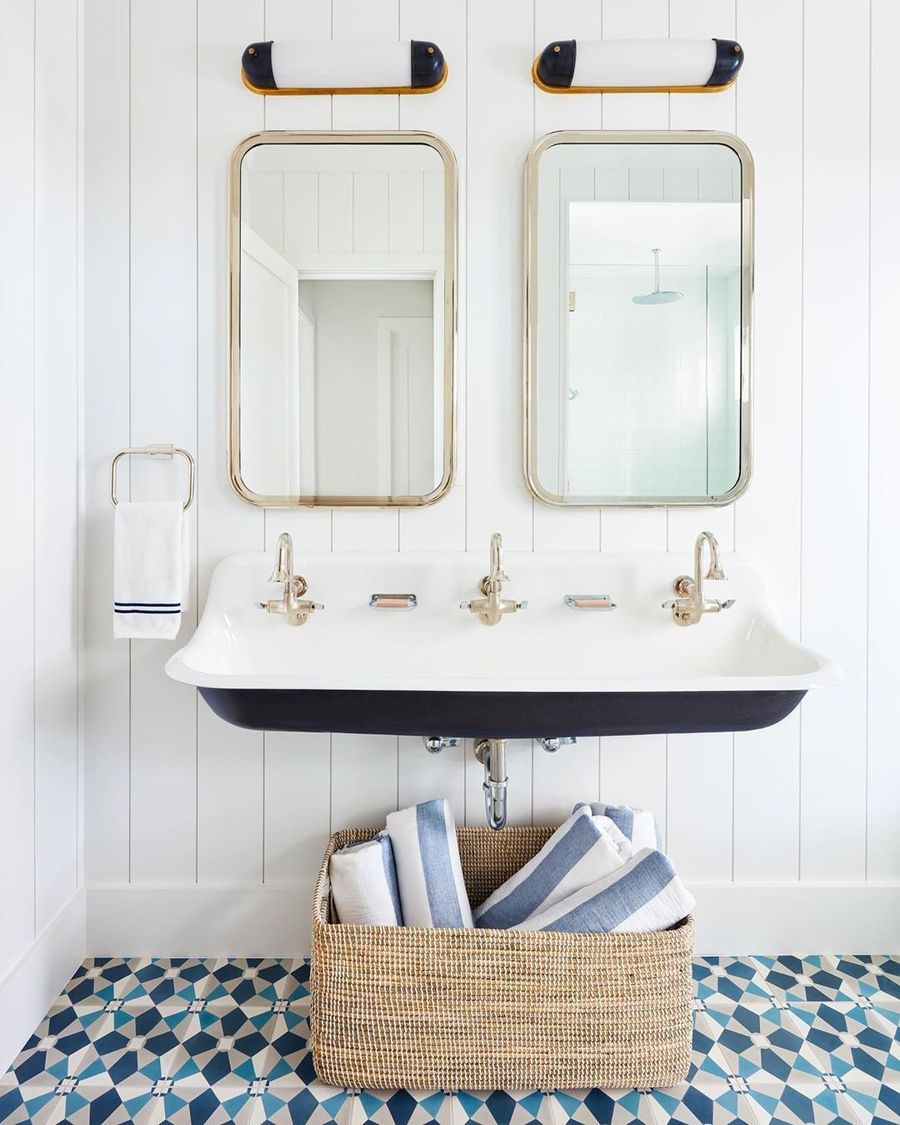 8. Shiplap Walls
Shiplap is one of the most common coastal bathroom ideas.
9. Fish Scale Tile
10. Rattan chair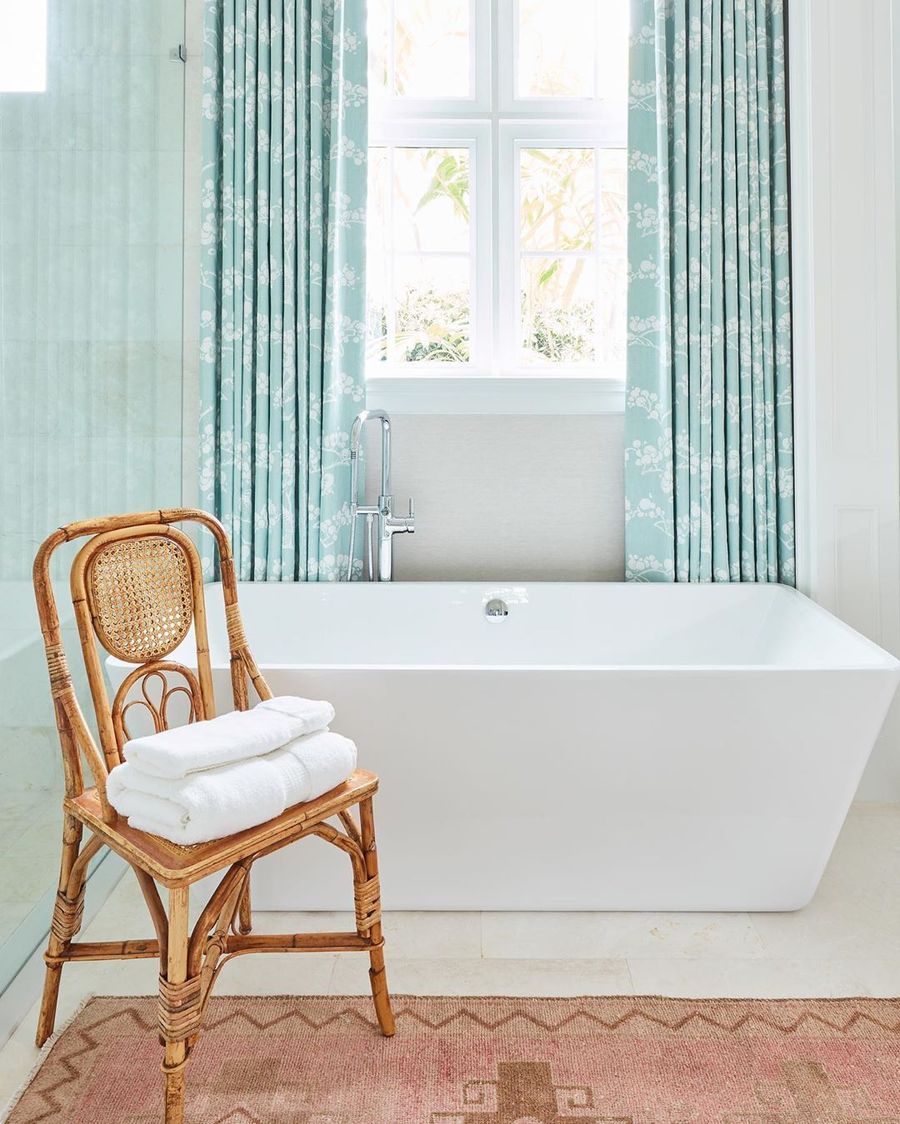 11. Fish Wallpaper
12. Gray Subway Tile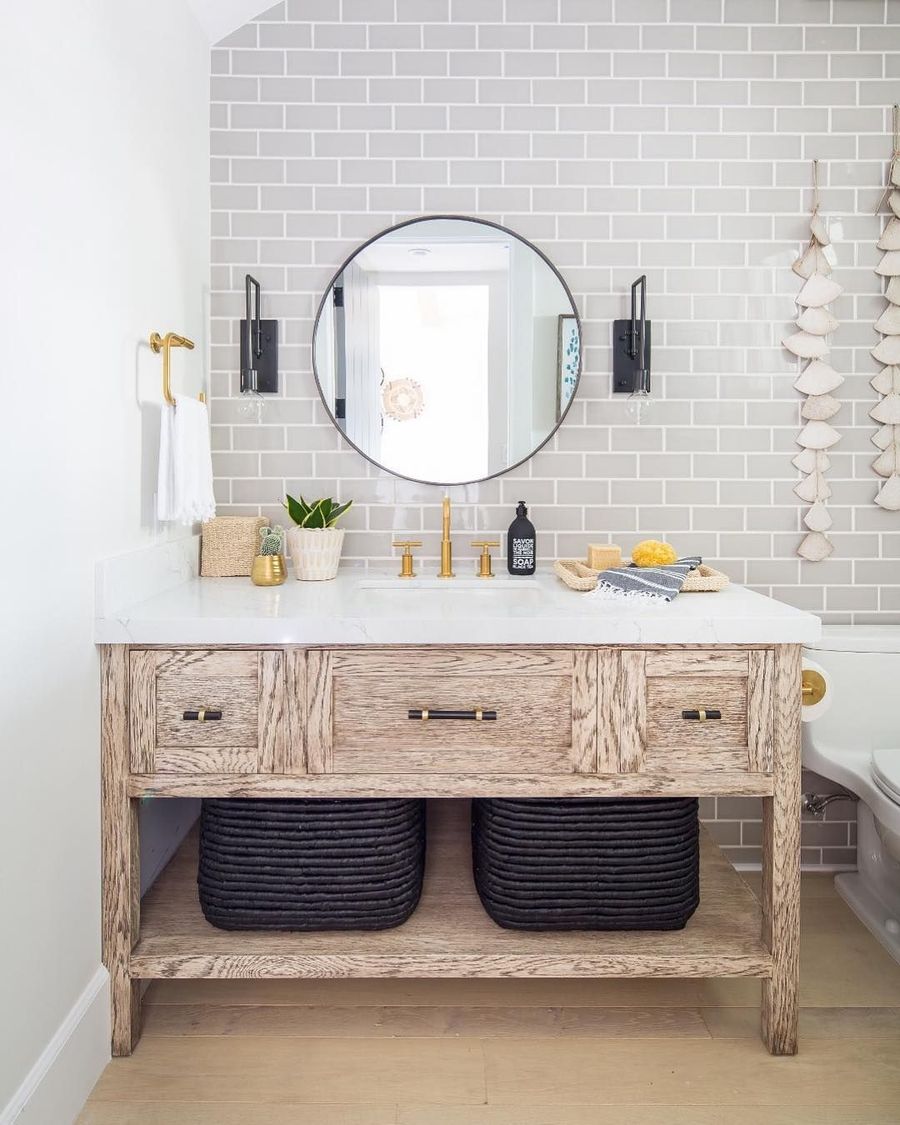 13. Whale Wallpaper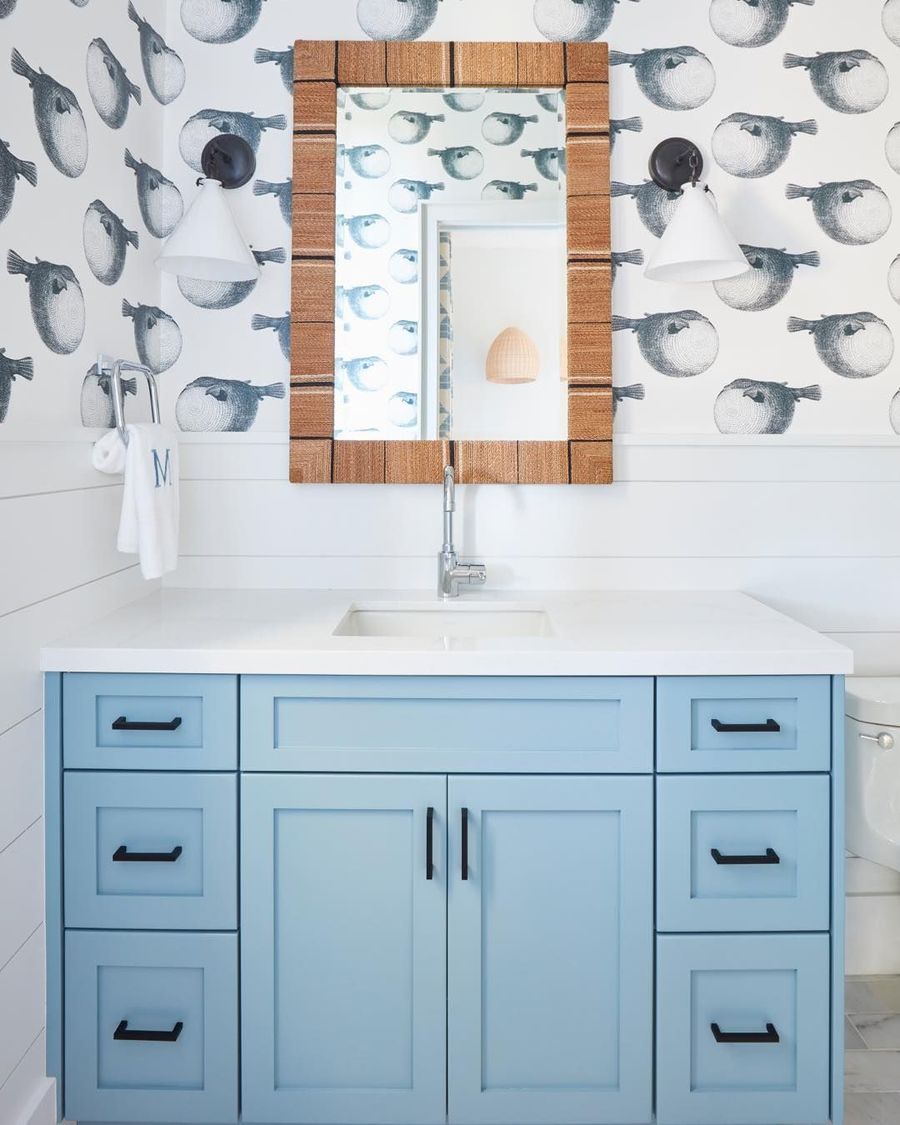 14. Sea Green Wallpaper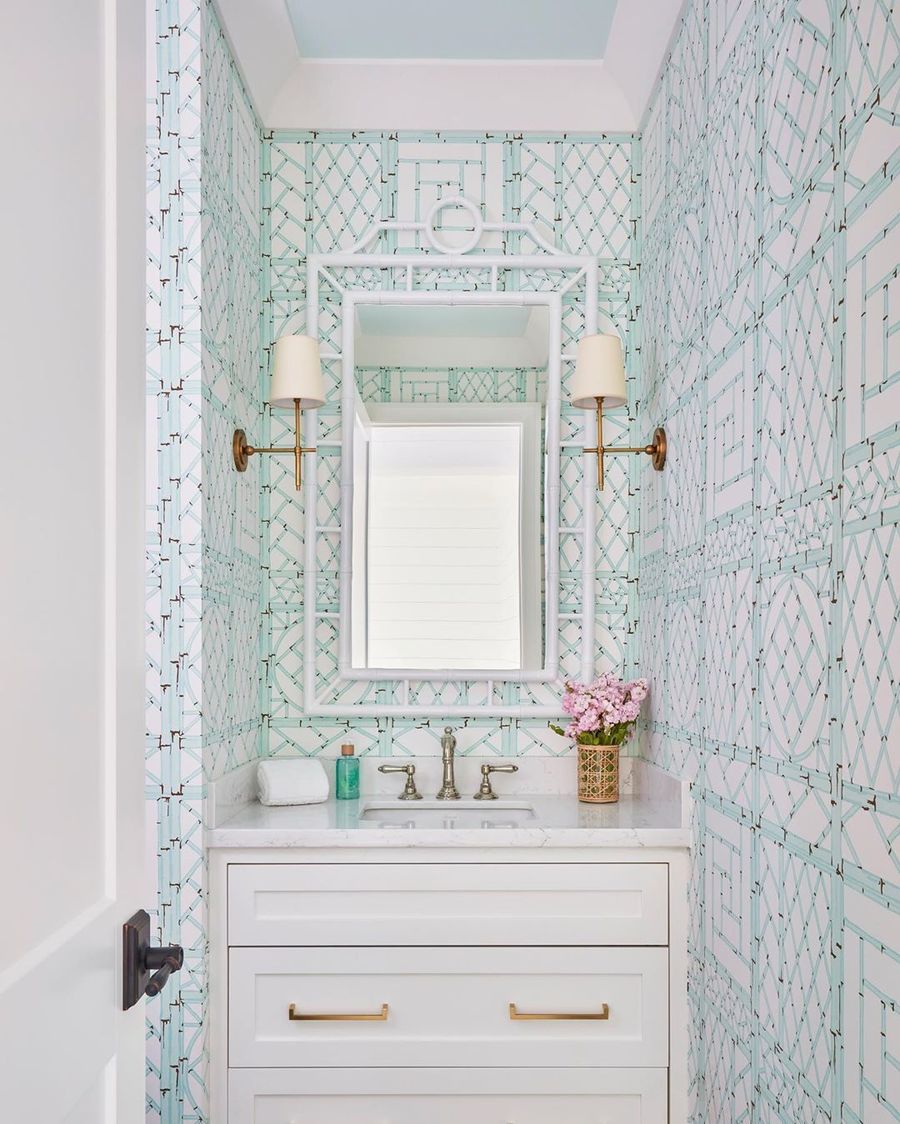 15. Green Cabinets and Green Palm Wallpaper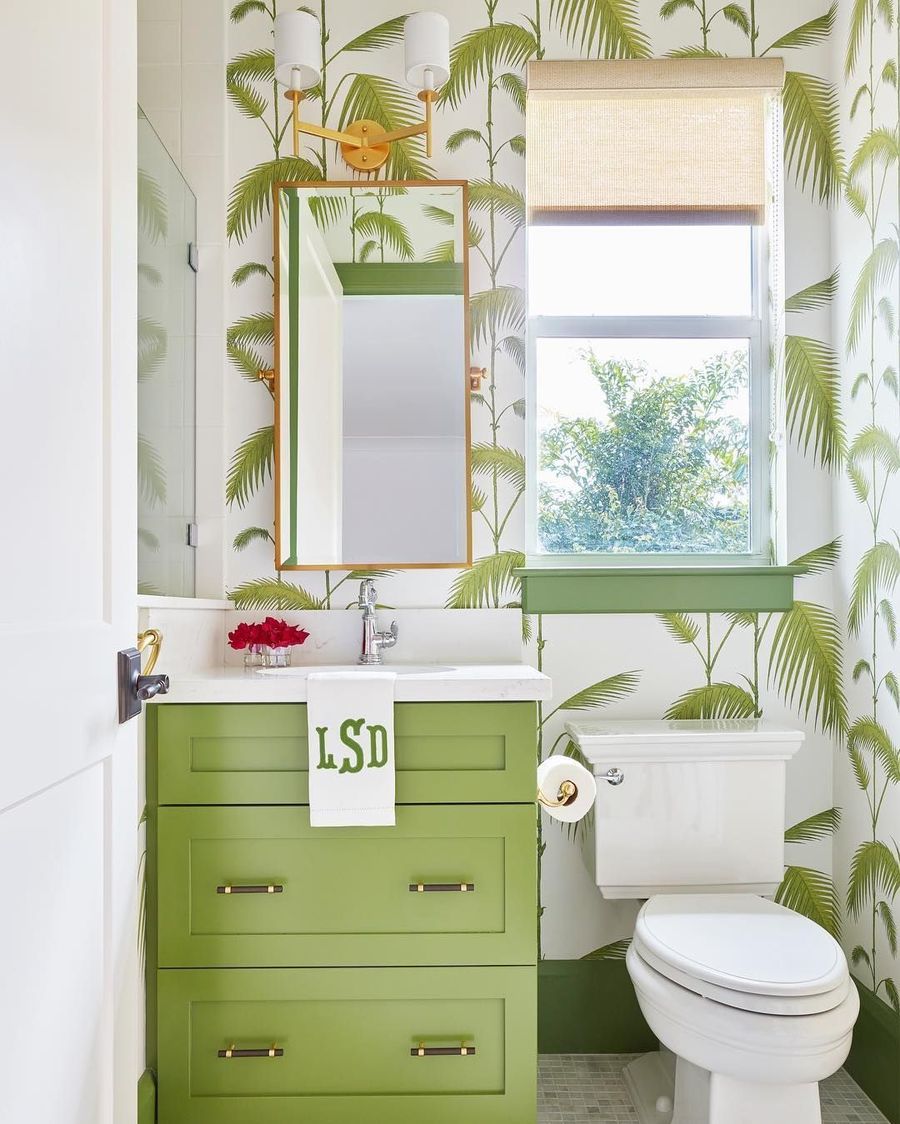 16. Minimal Seashell Decorations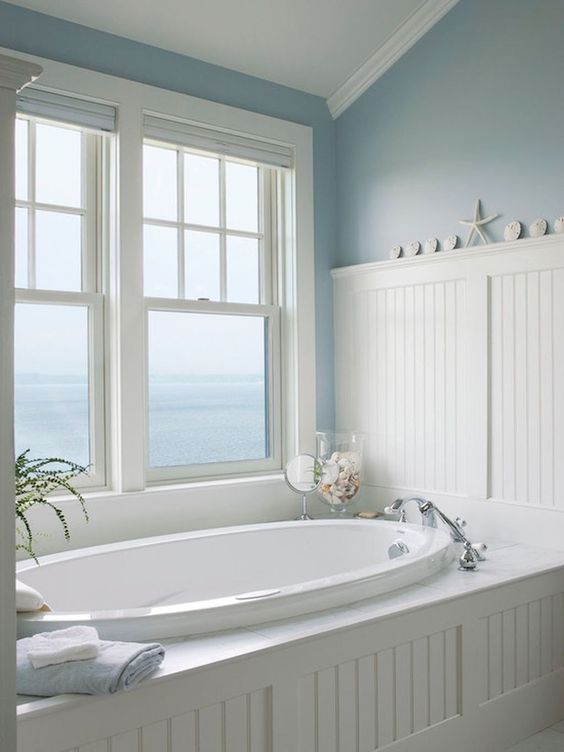 17. Trough Sink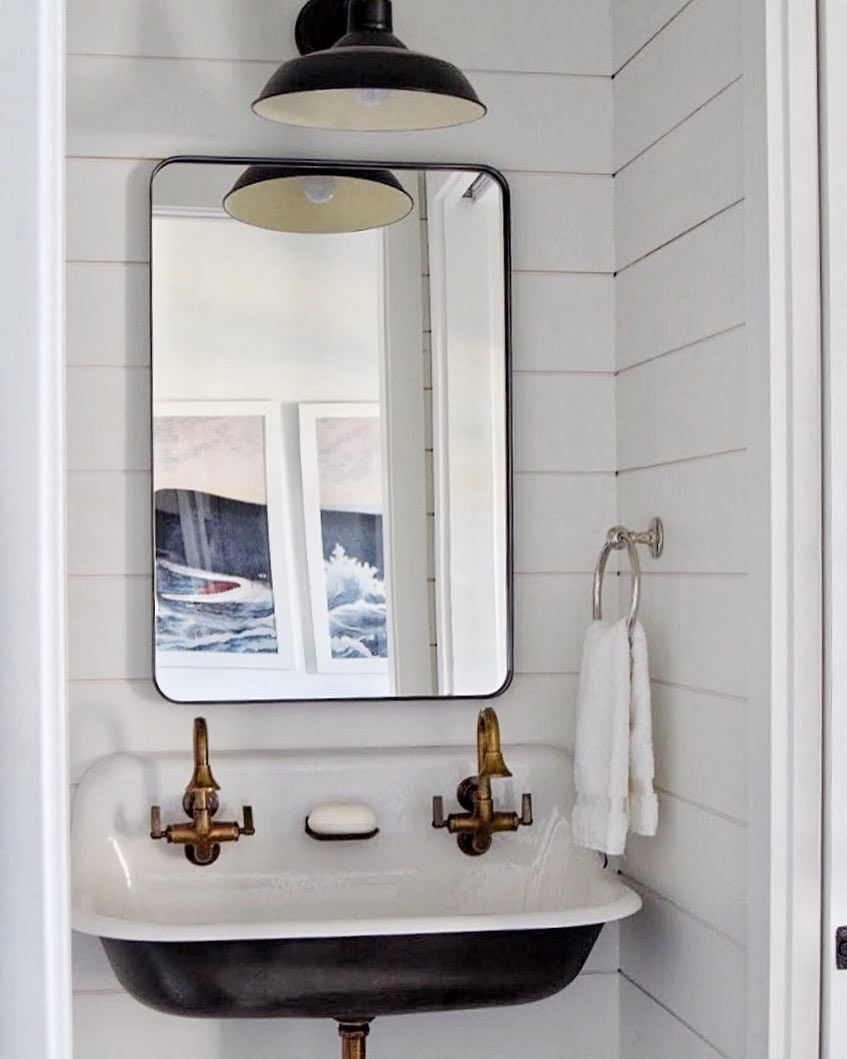 18. Blue Palm Wallpaper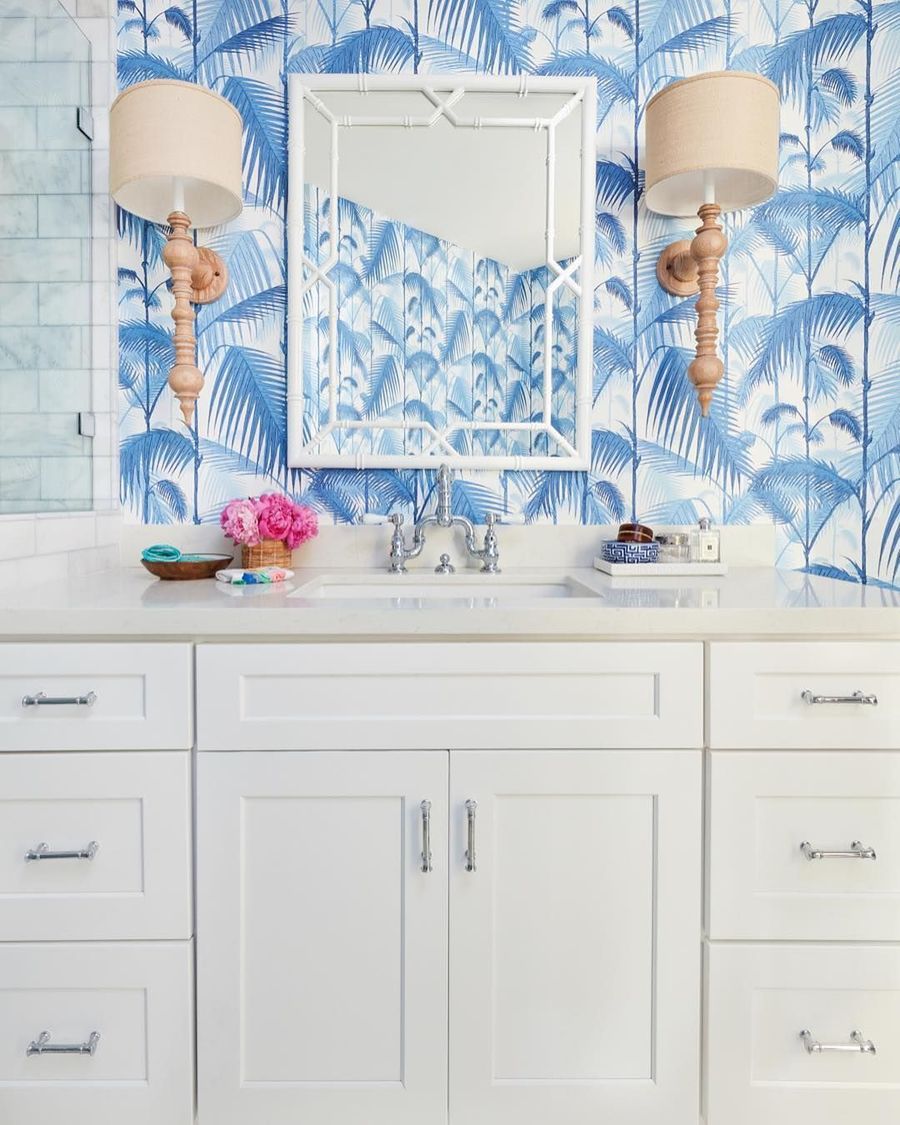 19. Nautical Round Mirror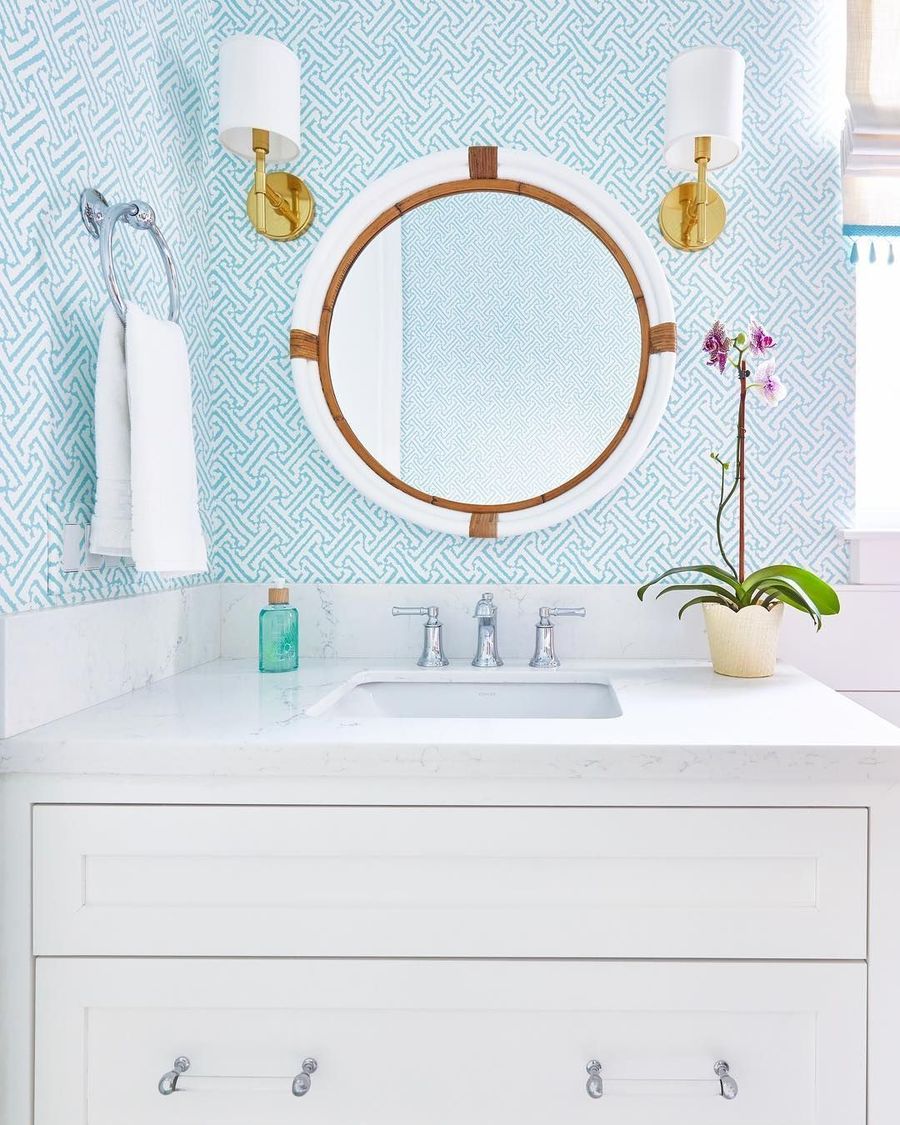 20. Navy Subway Tiles in Shower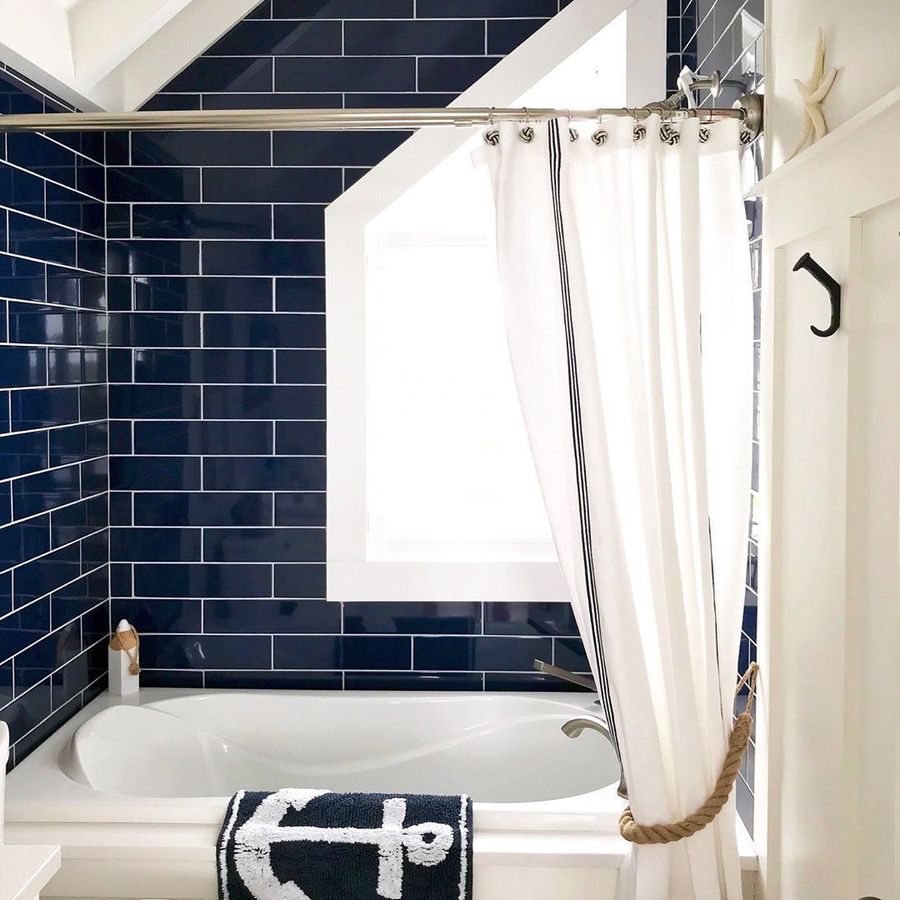 21. Neutral panels and blue floor tiles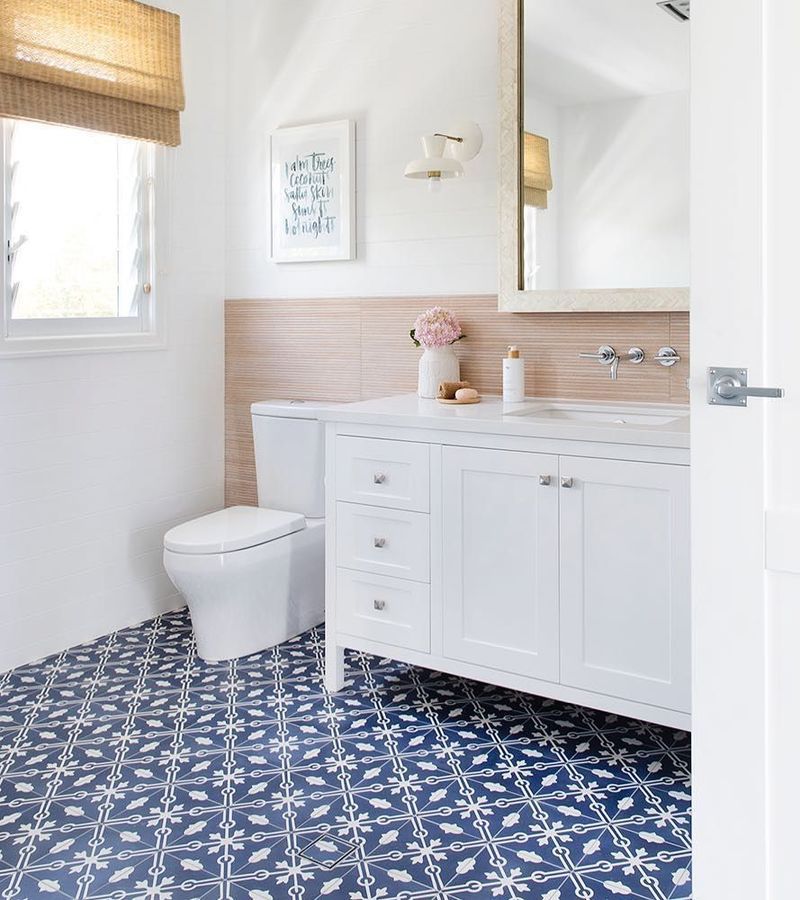 22. Newport Tile in Shower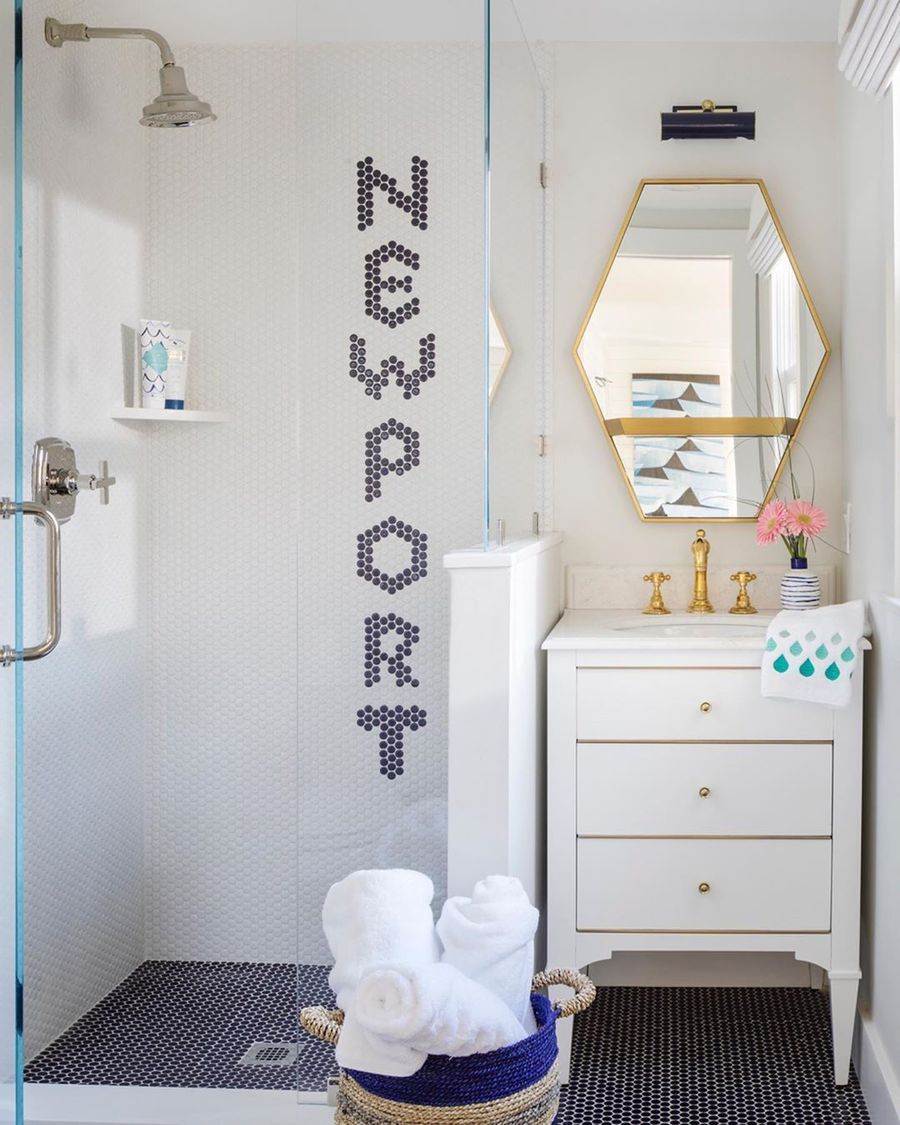 23. Octopus and Lobster Wall Art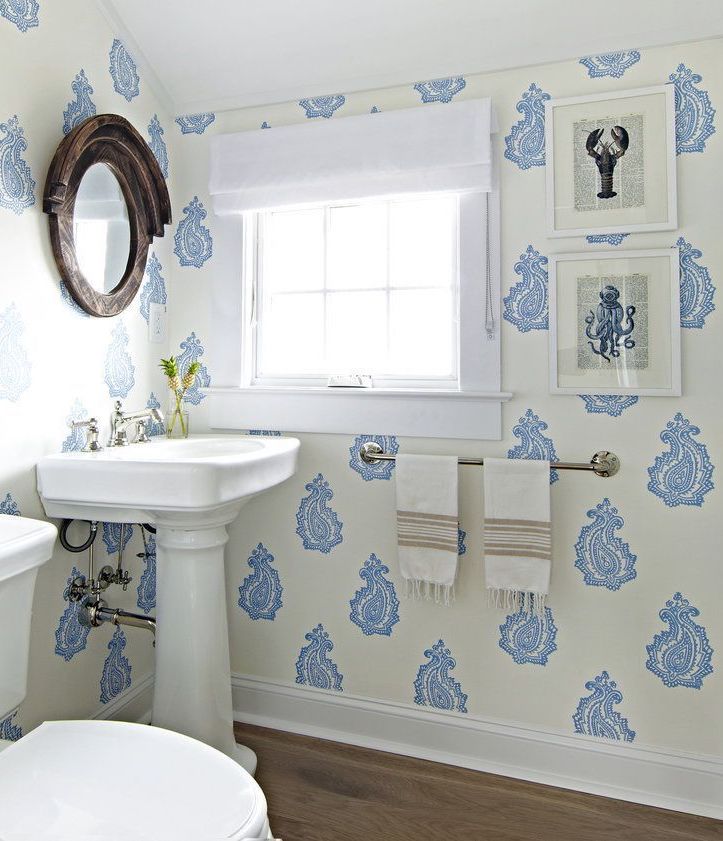 24. Rattan Mirror
Rattan mirrors are the perfect coastal bathroom accessory!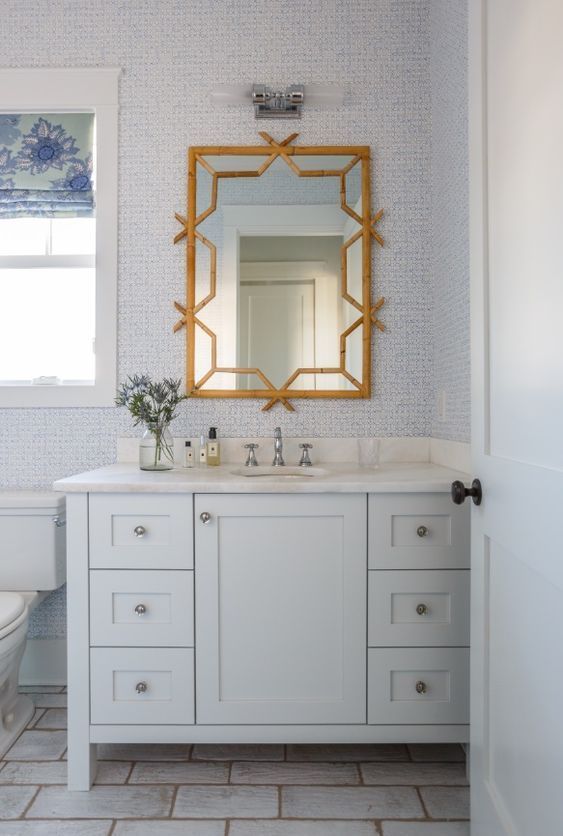 25. Rope Mirror and Striped Wallpaper
Coastal bathroom ideas can also include nautical elements!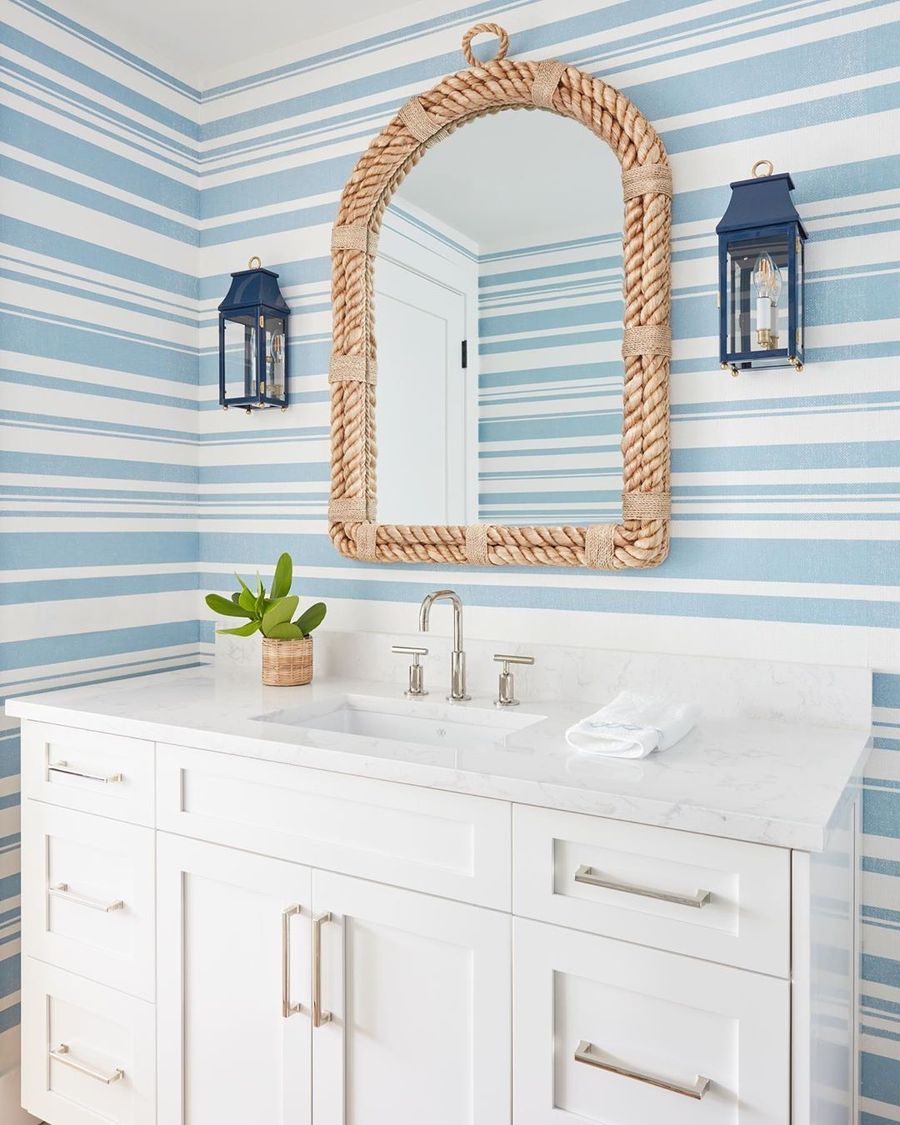 26. Navy Accent Wall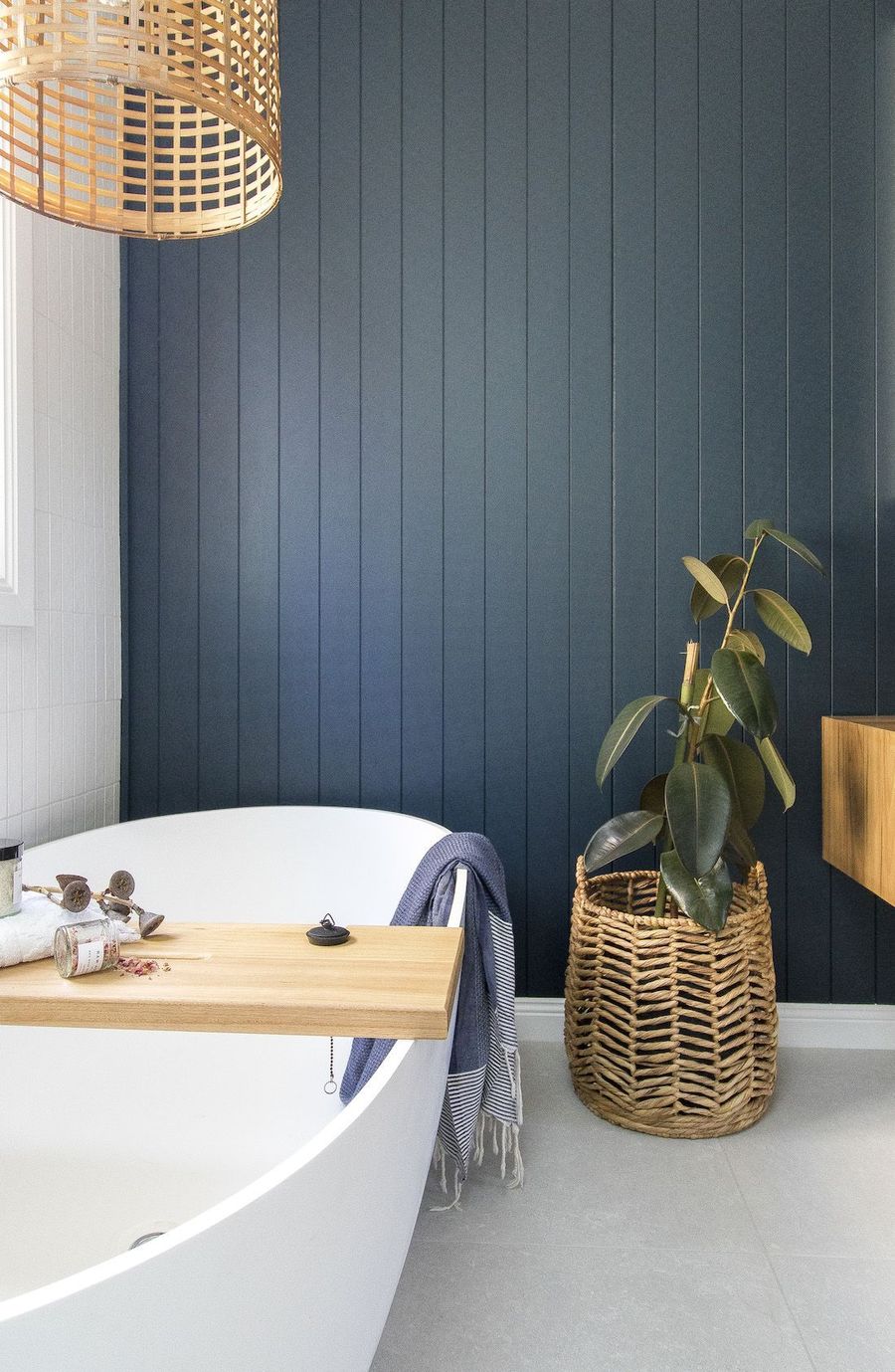 27. Sea Green Subway Tiles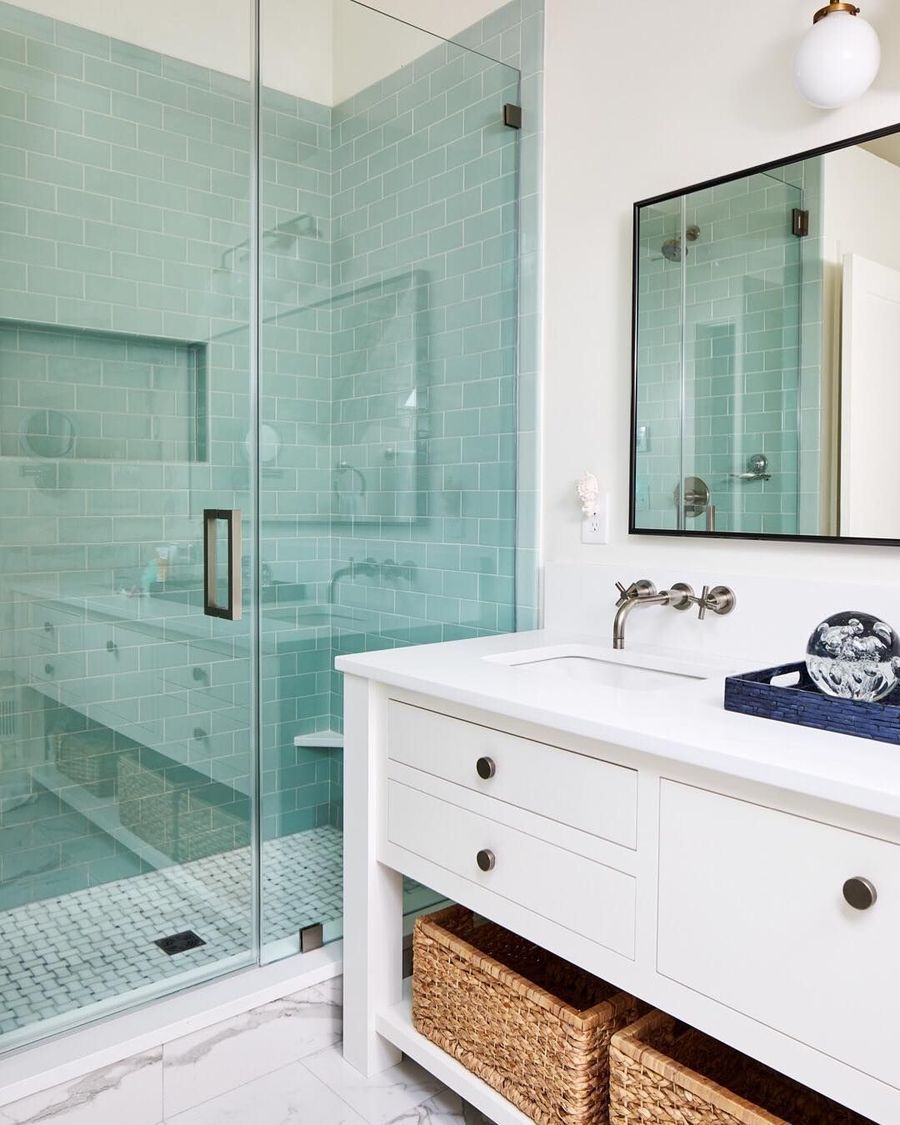 28. Seashell Decor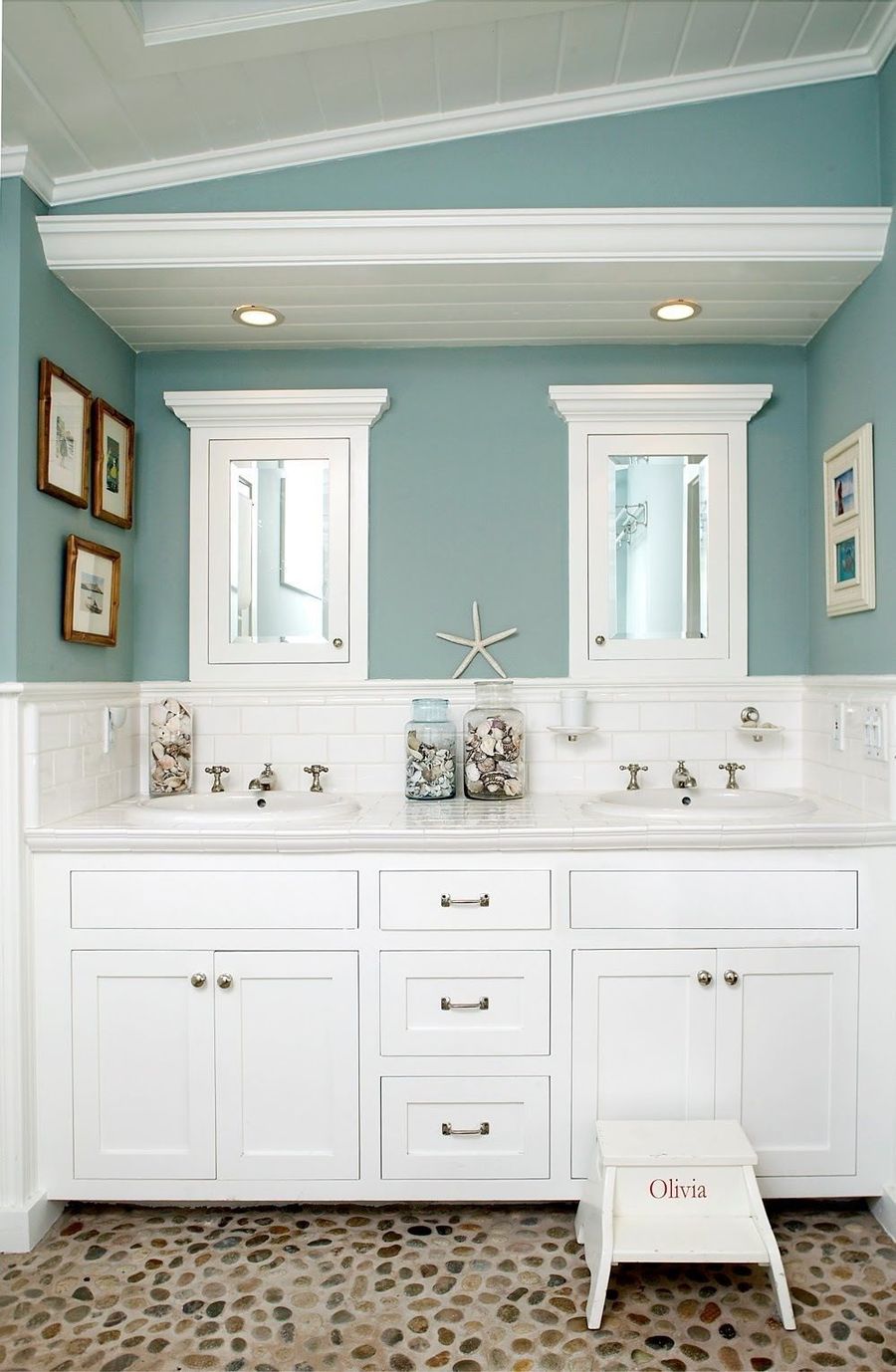 29. Shiplap walls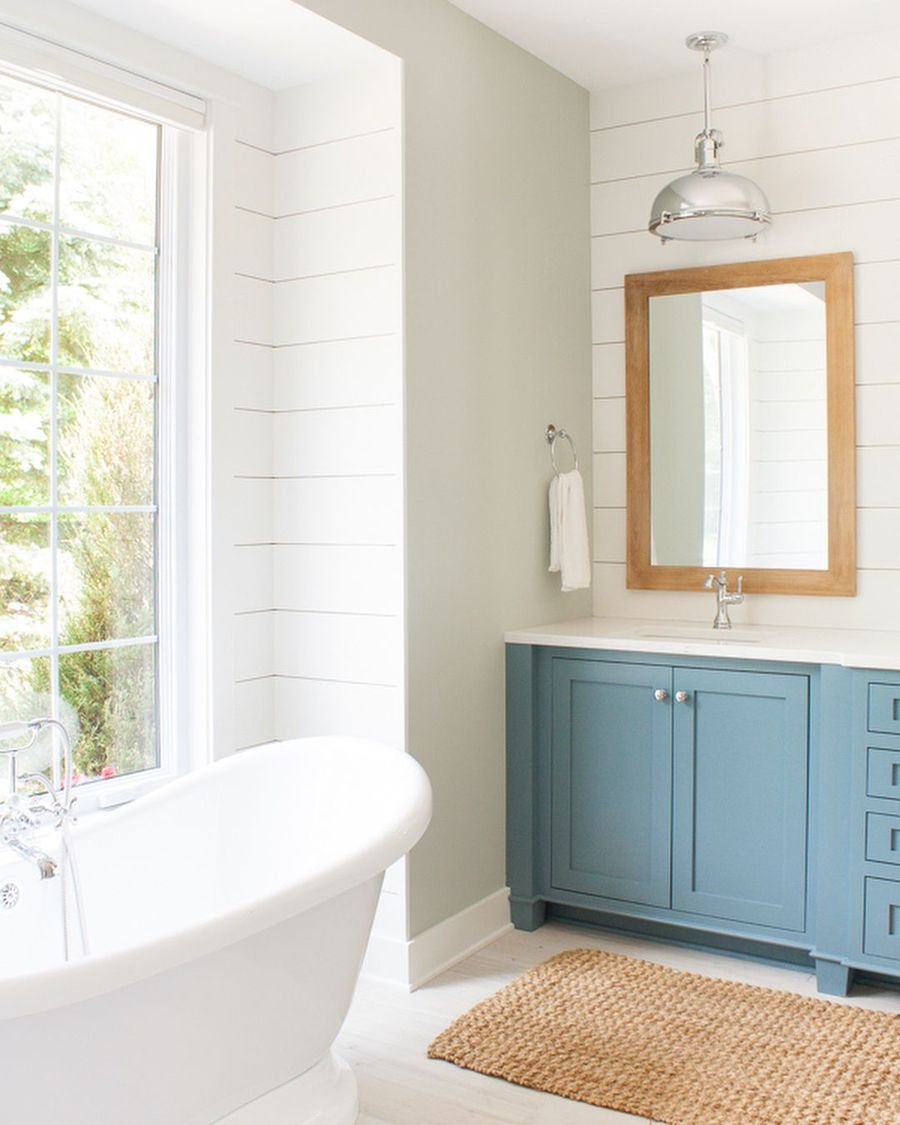 30. Soft Blue Vanity
Mixing different shades of blue tones is one of my favorite coastal bathroom ideas.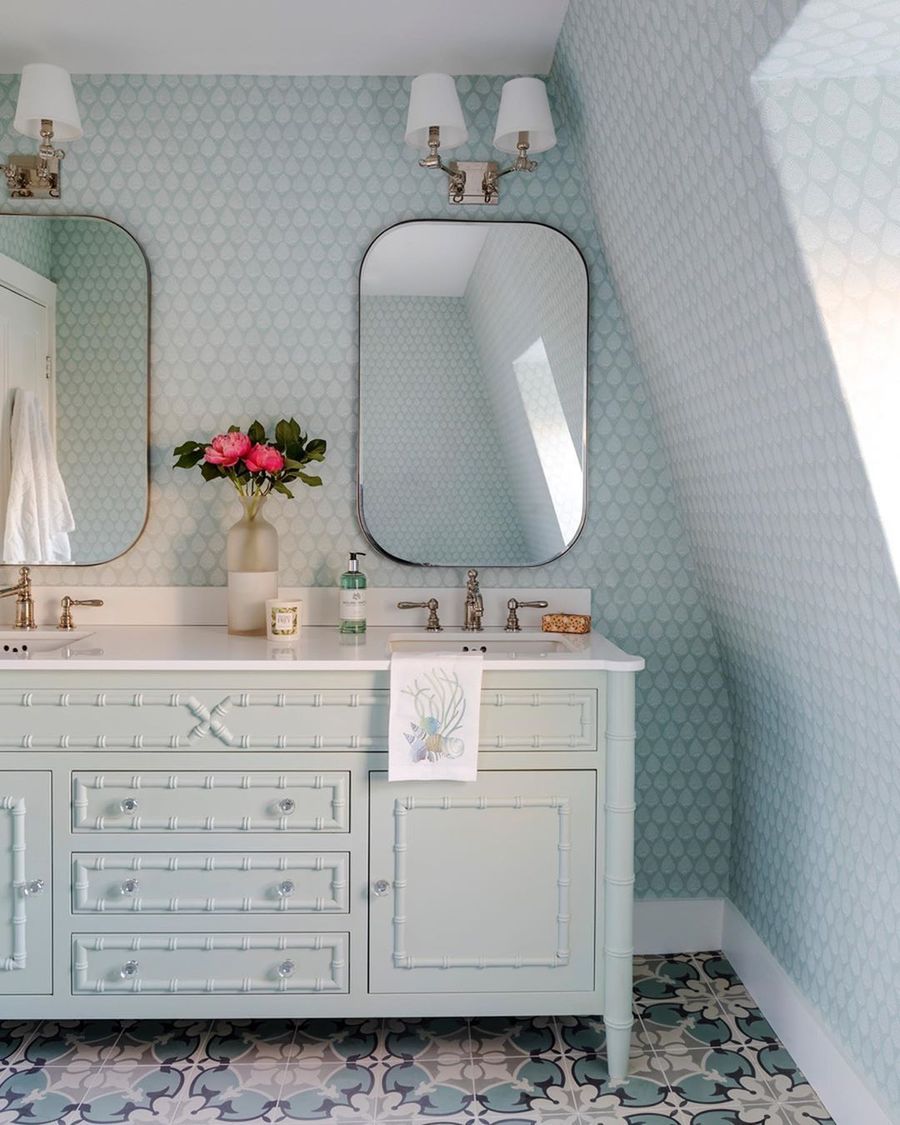 31. Trough Sink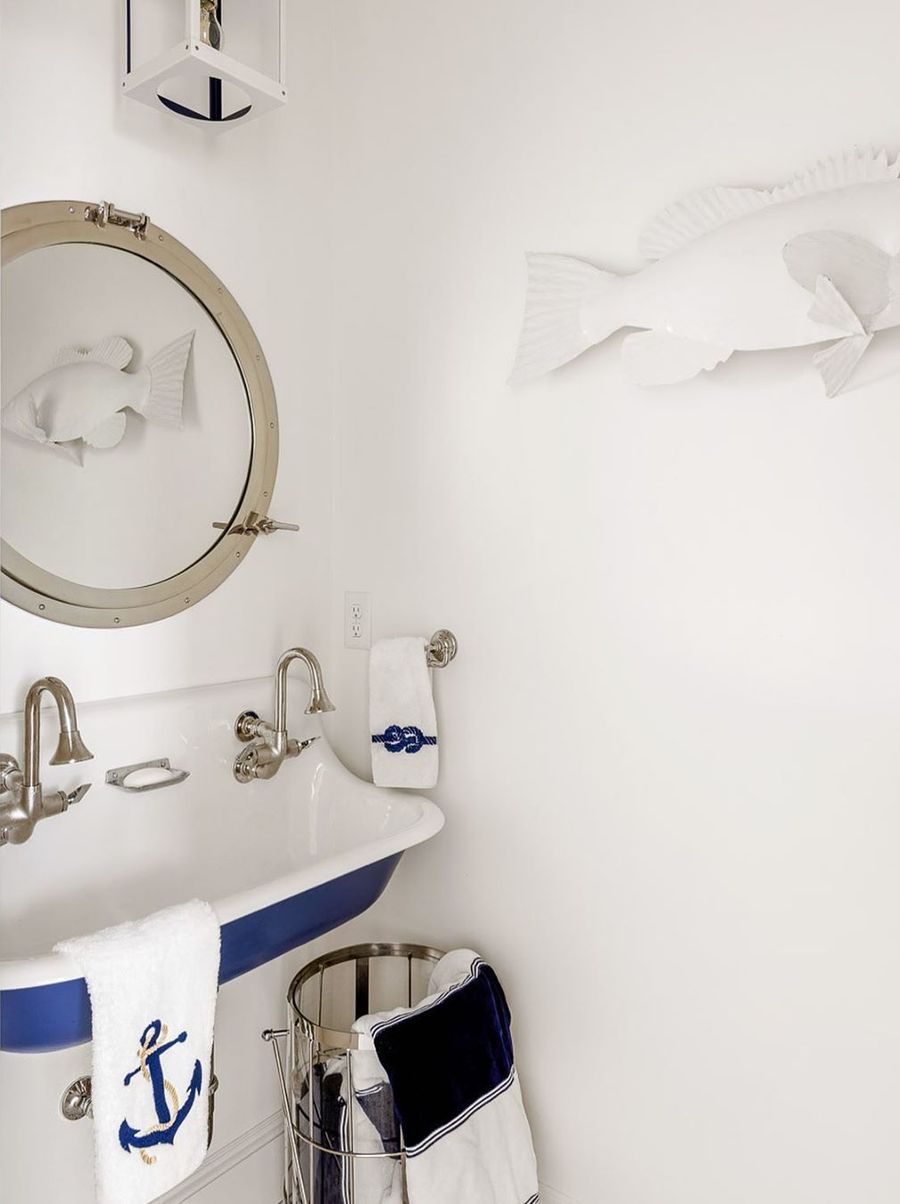 32. Rope Mirror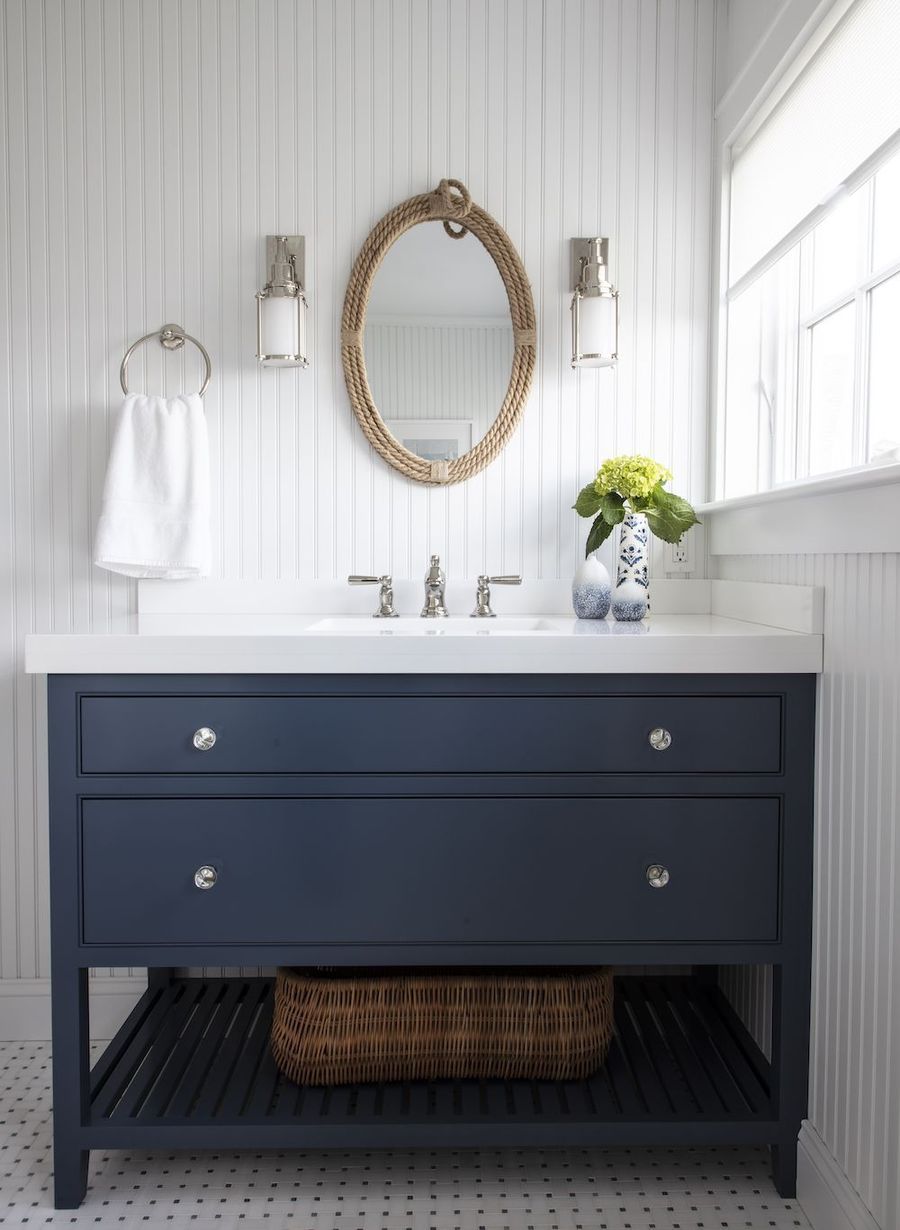 33. Turquoise Tiles on Wall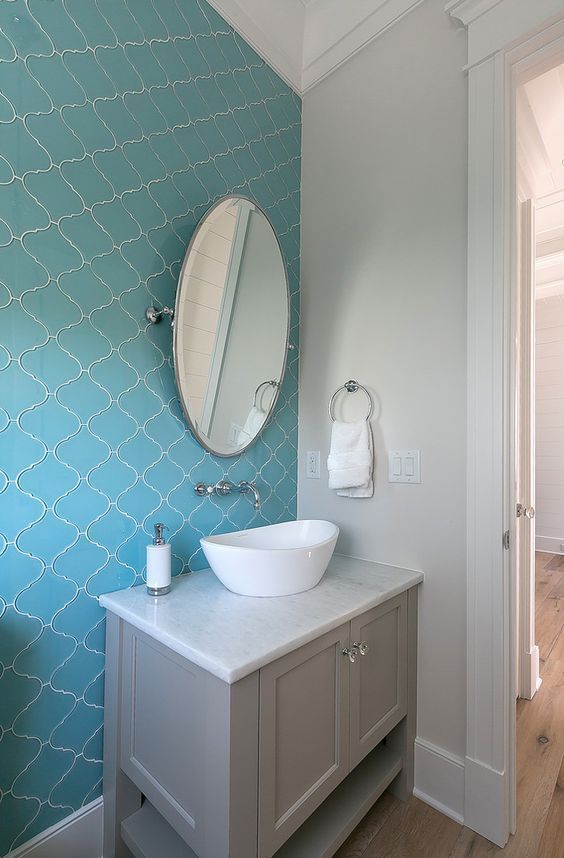 What do you think of these beach home bathroom decor ideas?
Pin this for later:
More Coastal Decor Inspiration
If you are looking for more inspiration when it comes to decorating your summer home, then don't miss our other articles below!
Here are a few coastal furniture and decor guides: