Are you looking for coastal bathrooms that will inspire you to finally redo the bathroom in your summer home or beach home? With summer fast approaching, now is the time to start considering what kind of bathroom you wish to design.
From nautical elements to lake house vibes, there are many different types of coastal decor to choose for your bathroom. We're going to share with you the most popular design ideas and give you an overview of the different beach home bathrooms that have become popular on Instagram and Pinterest!
Coastal Bathroom Decor Ideas
When it comes to designing your bathroom, be sure to consider the placement of your toilet, sink, and shower if there will be one. These are the most basic elements of a full bathroom. Beyond that, coastal decor is known for its blue, sea green, and beige color scheme. Think about if you prefer to include pops of unconventional, but summery colors like coral or pink.
Using rope will give your bathroom a nautical feel. Sea life or marine life are a popular choice for decorative elements like towels, rugs, and wallpaper.
1. Blue and White Subway Shower Tiles
This is one of my favorite coastal bathroom decor ideas. Look how beautiful the subway tiles look in the form of nautical stripes. Four layers of thin rectangular tiles form each stripe which alternates between a deep navy blue and a bright white color. Very coastal chic and modern!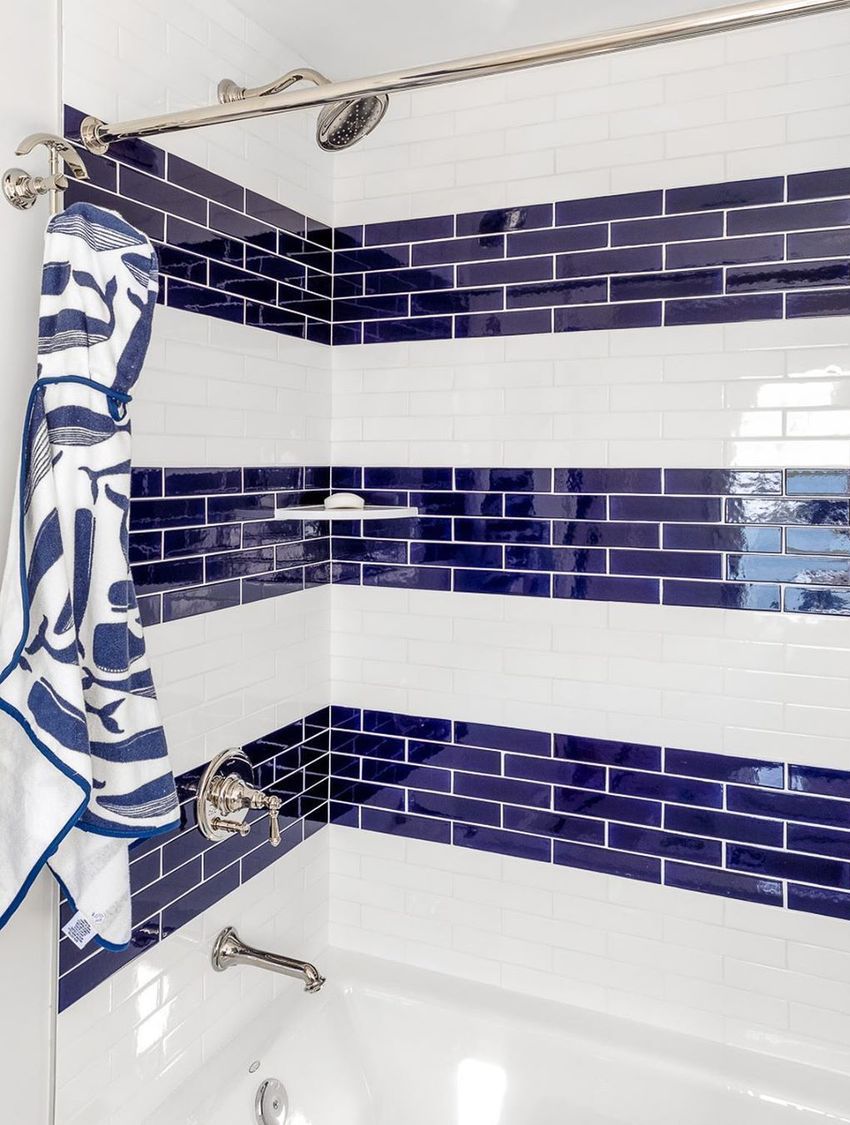 2. Beige Shiplap and Pebbled Floors
There's a lot to love about this coastal bathroom. From the beautiful pebbled floors to the beige shiplap walls, this bathroom is very homey and inviting. A natural wood dresser serves as a bathroom vanity and a white vessel sink sits on top.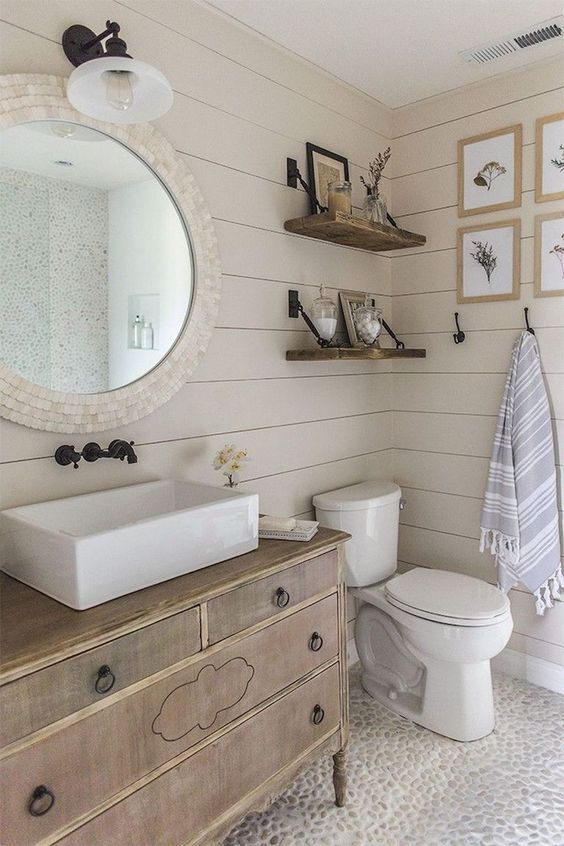 3. Blue Accent Wall
The blue accent wall in this bathroom really gives it extra depth and character.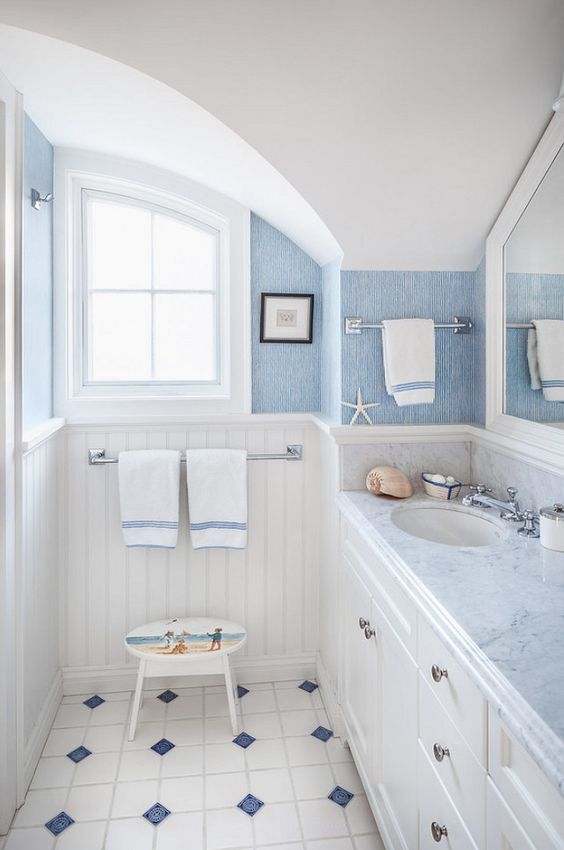 4. Blue wall art
A simple piece of artwork can go a long way in transforming your bathroom.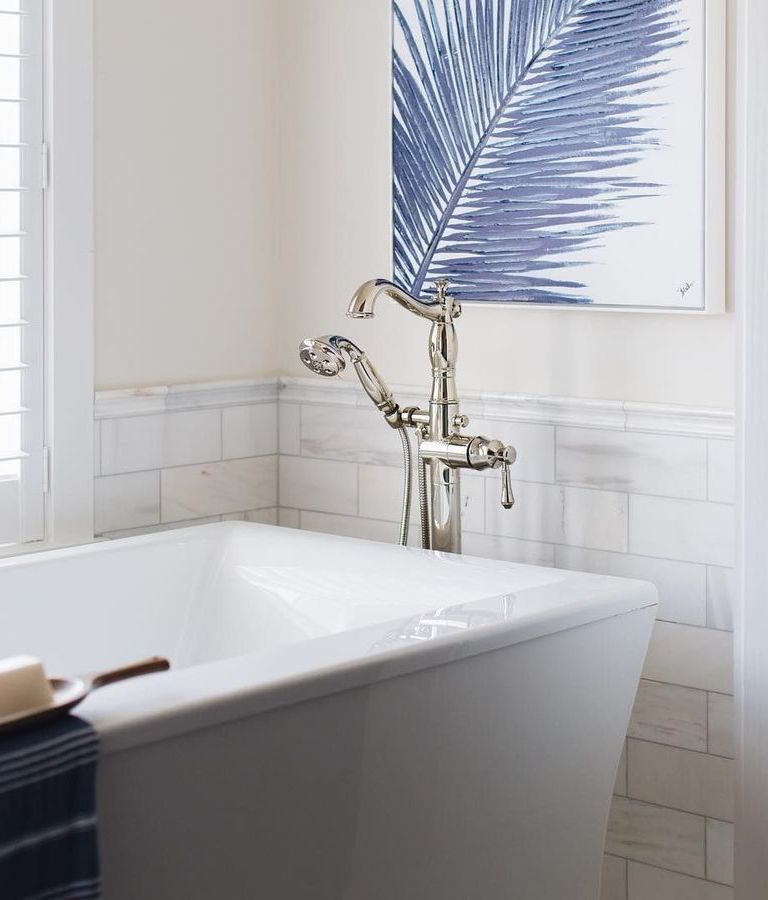 5. Circular Window
In true coastal window style, this round mirror looks beautiful in this modern coastal bathroom with muted blue wainscoting and a large white bathtub for soaking.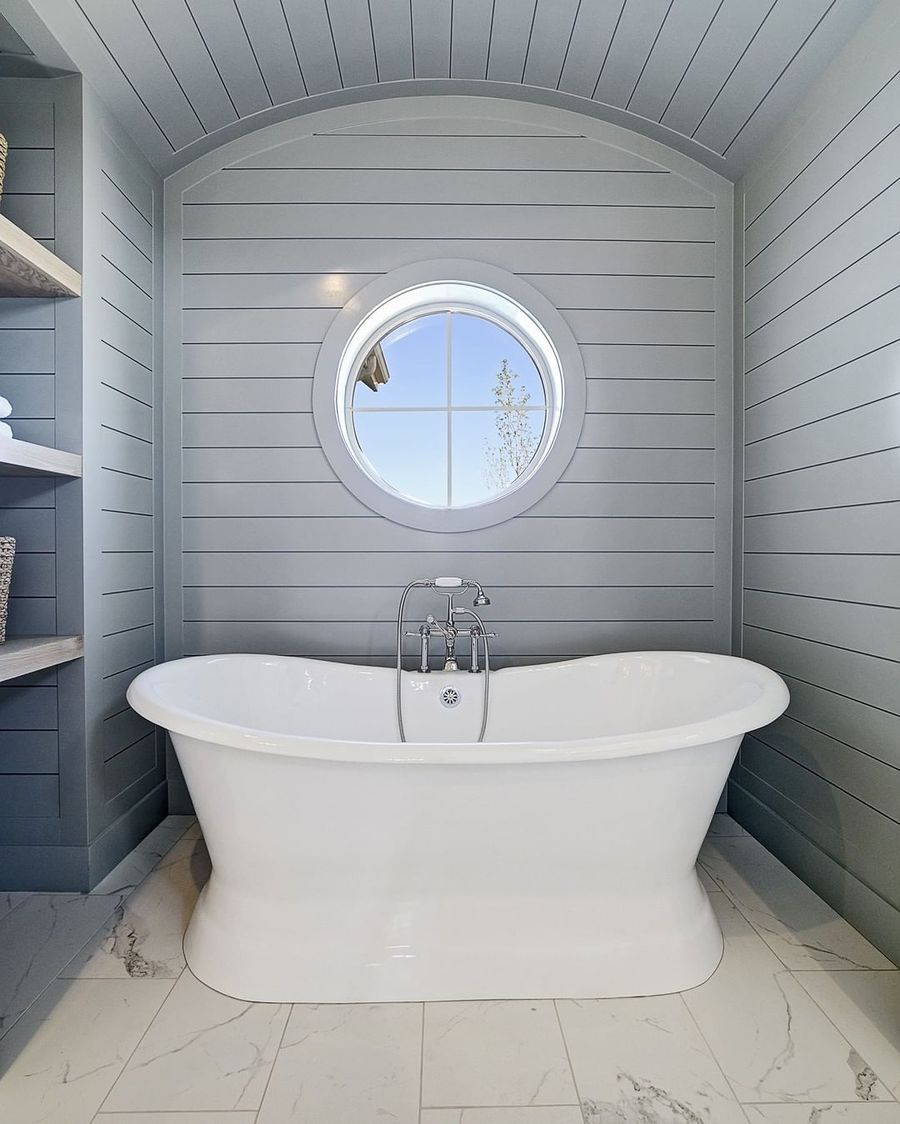 6. Rope Mirrors
These oval rope mirrors really help create a coastal nautical vibe in this bathroom.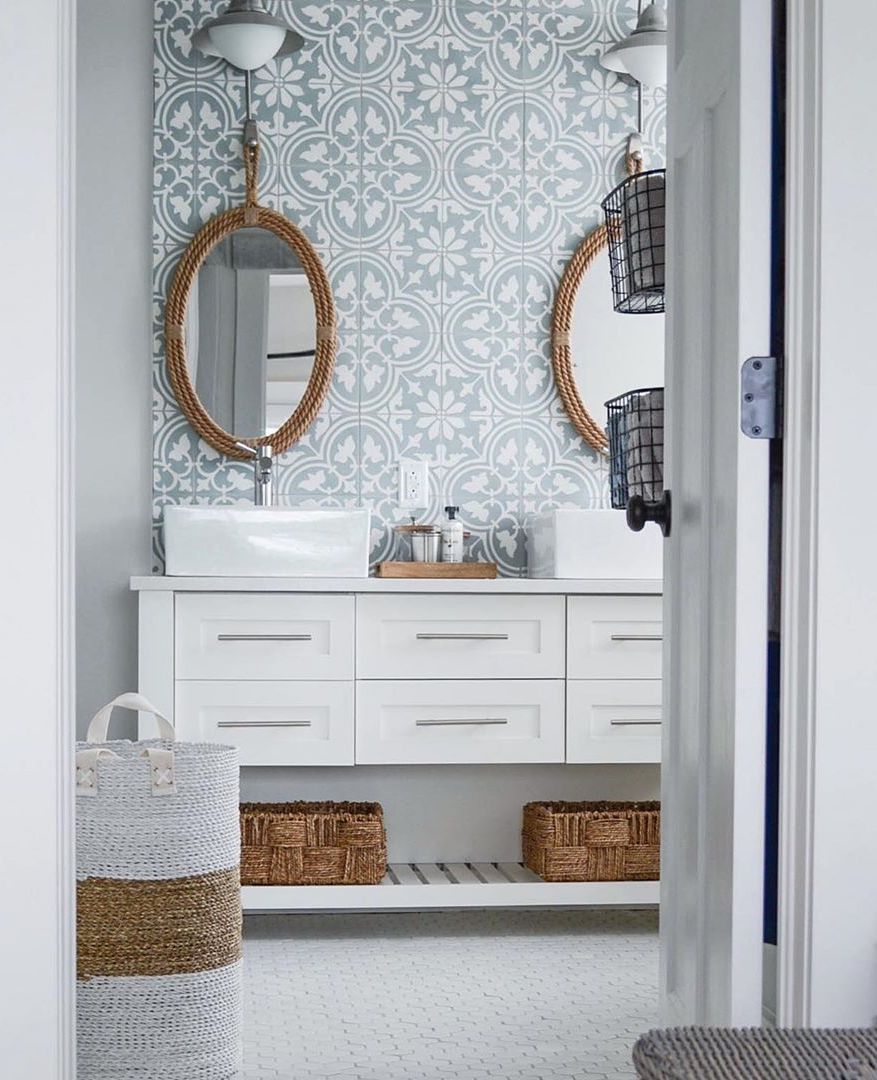 7. Double Trough Vanity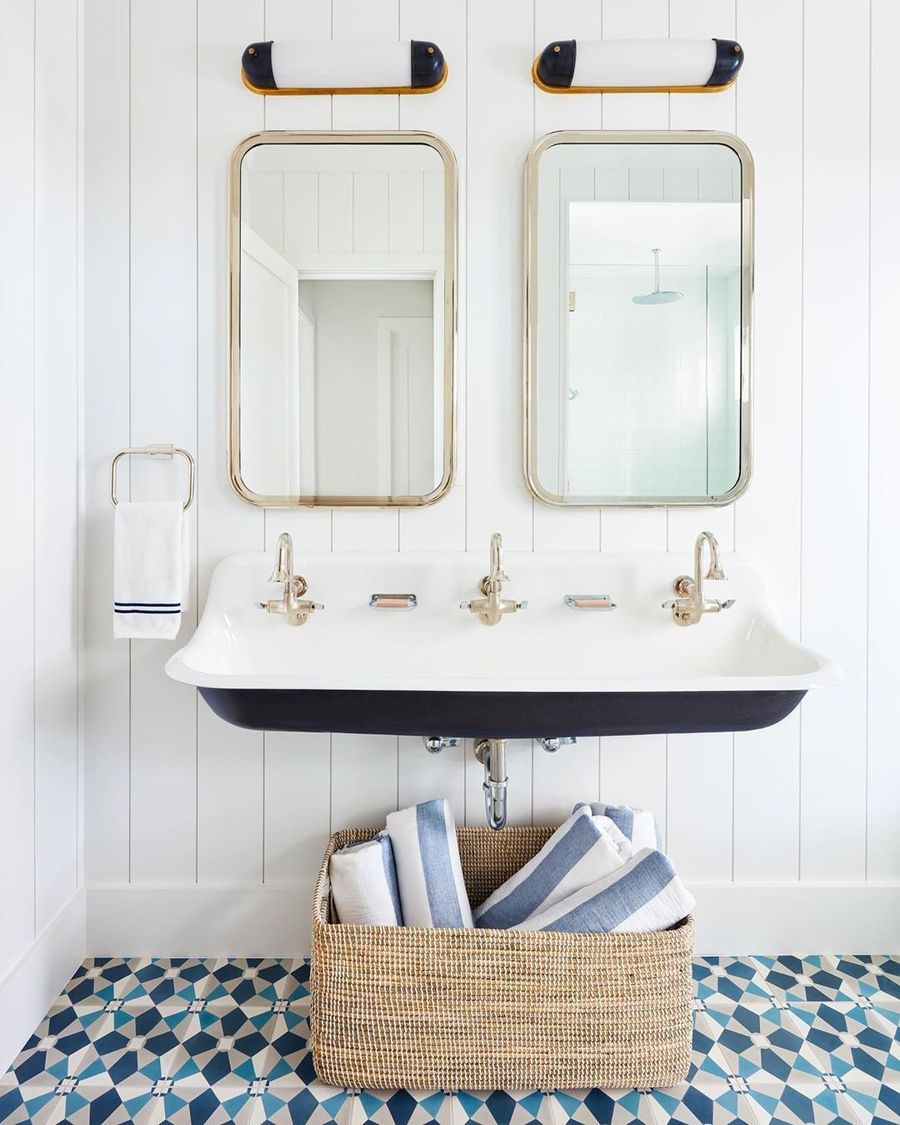 8. Shiplap Walls
Shiplap is one of the most common coastal bathroom ideas.
9. Fish Scale Tile
10. Rattan chair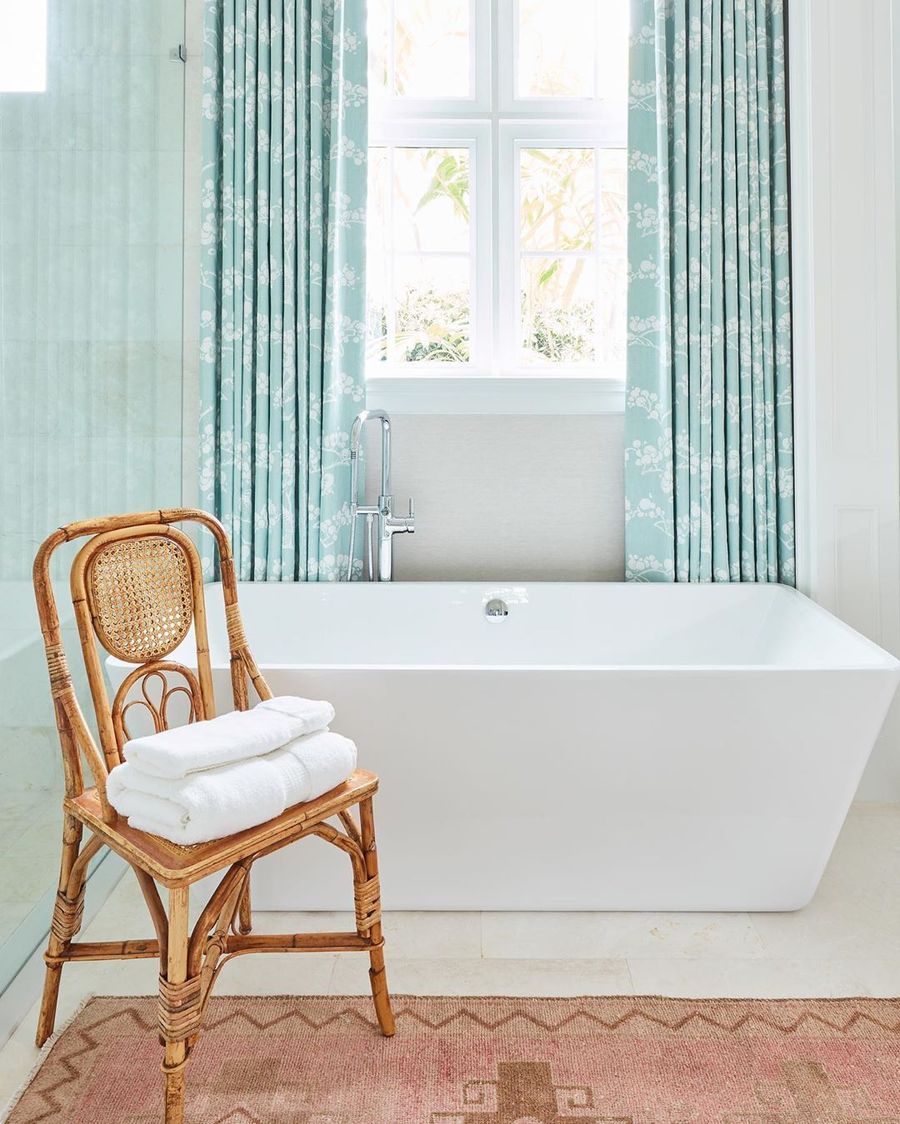 11. Fish Wallpaper
12. Gray Subway Tile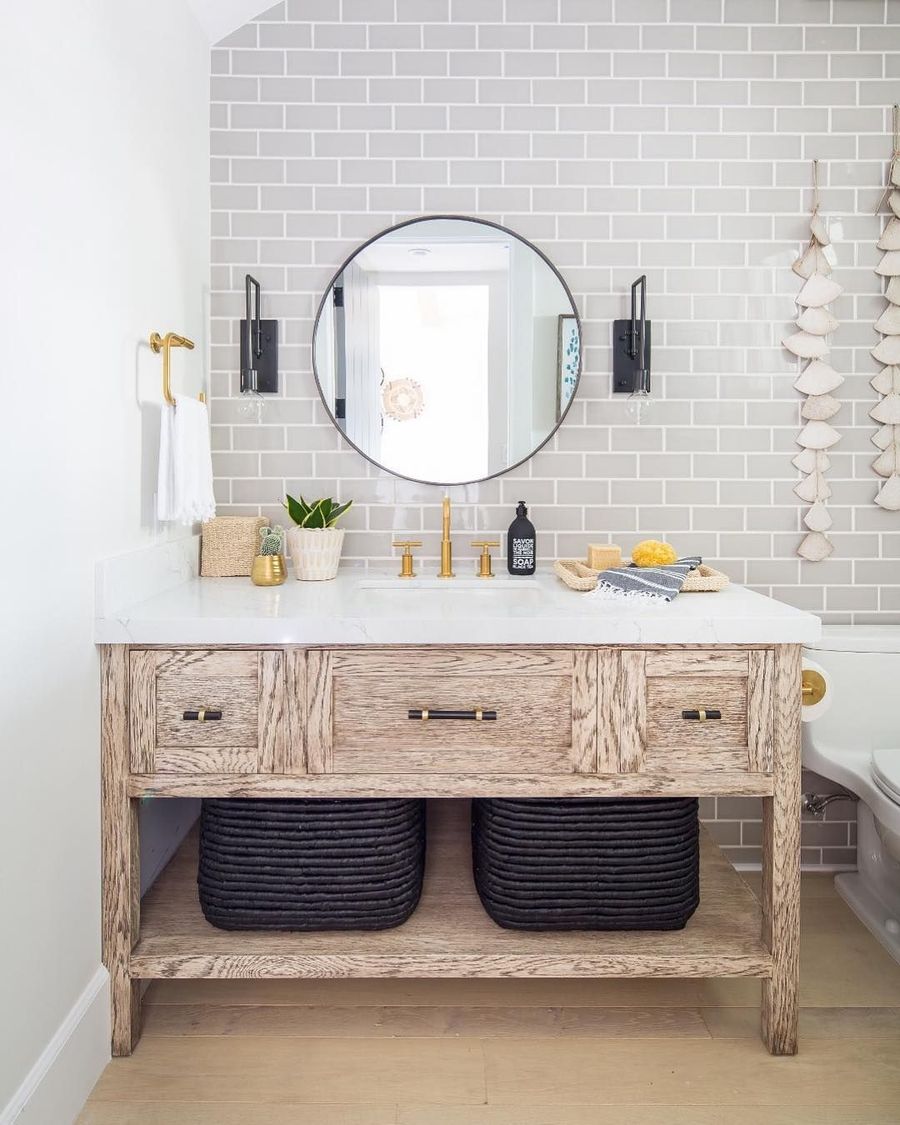 13. Whale Wallpaper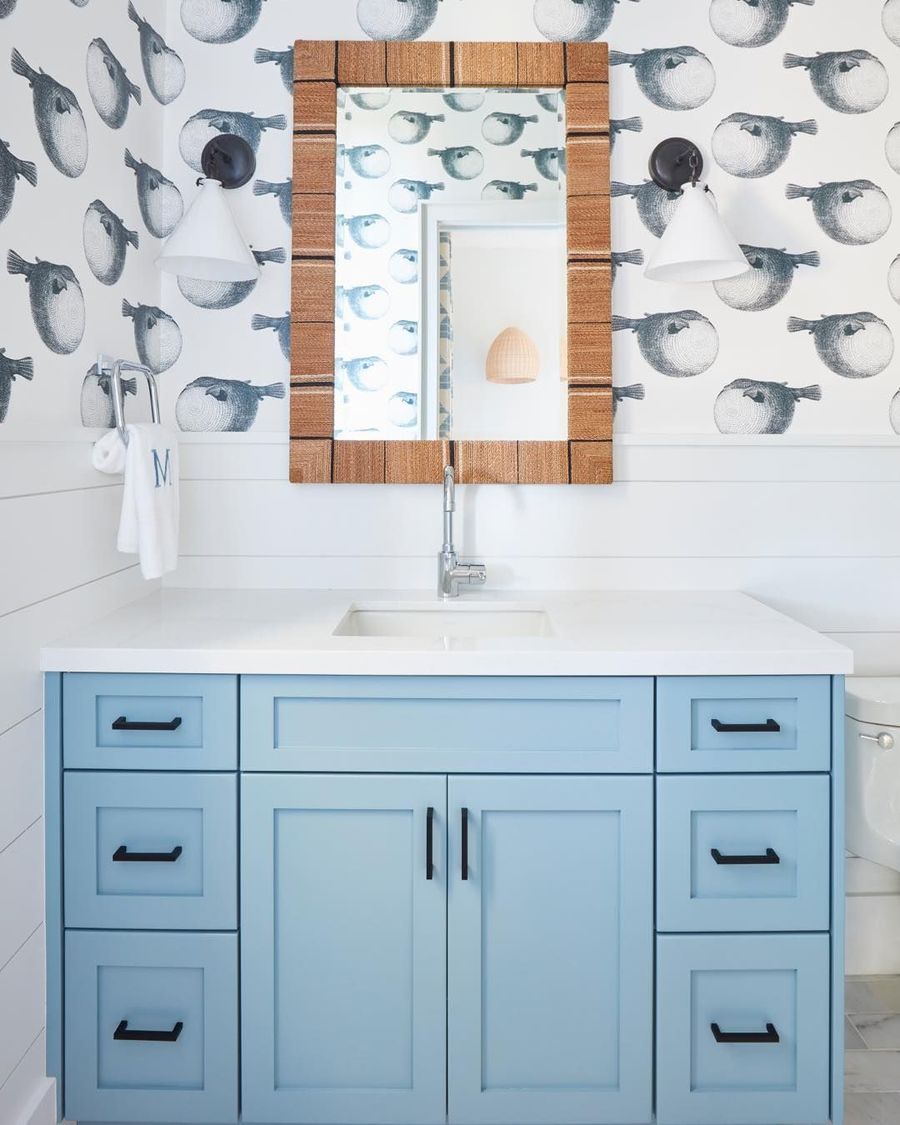 14. Sea Green Wallpaper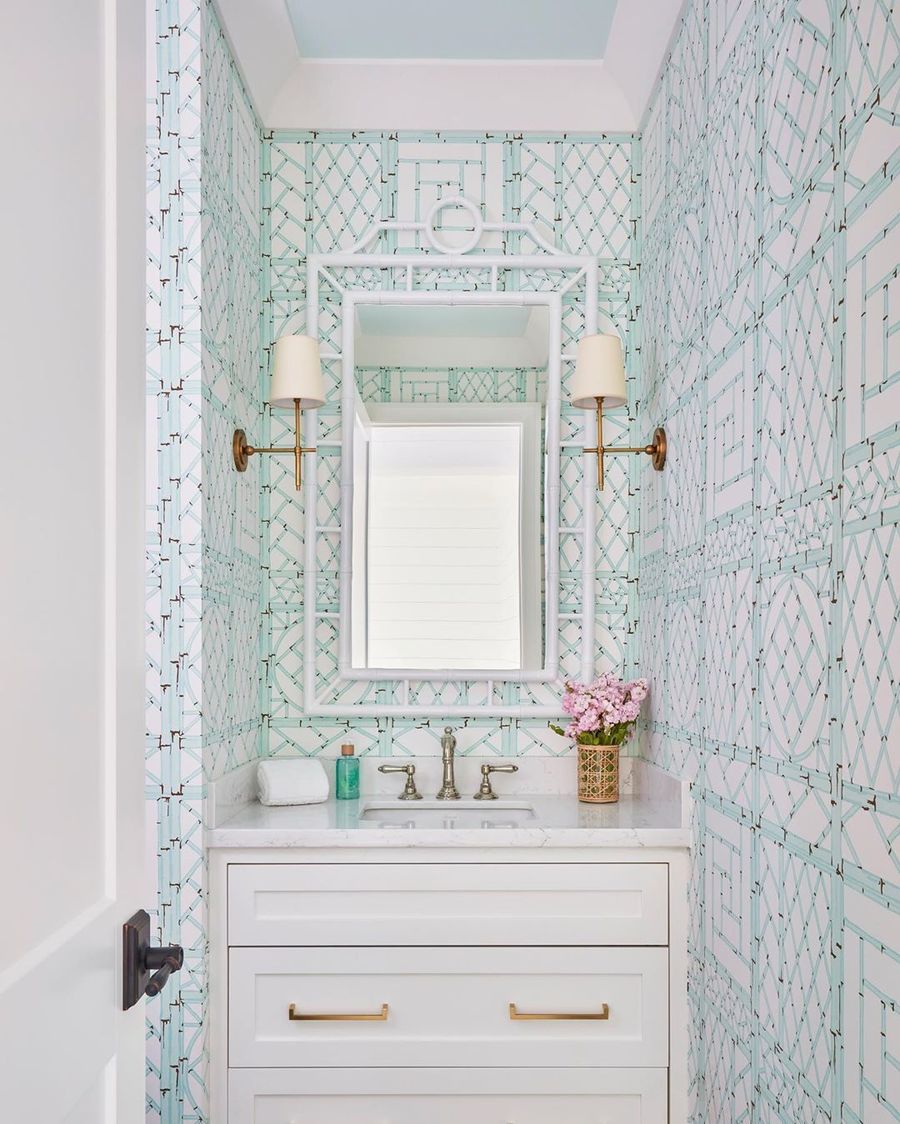 15. Green Cabinets and Green Palm Wallpaper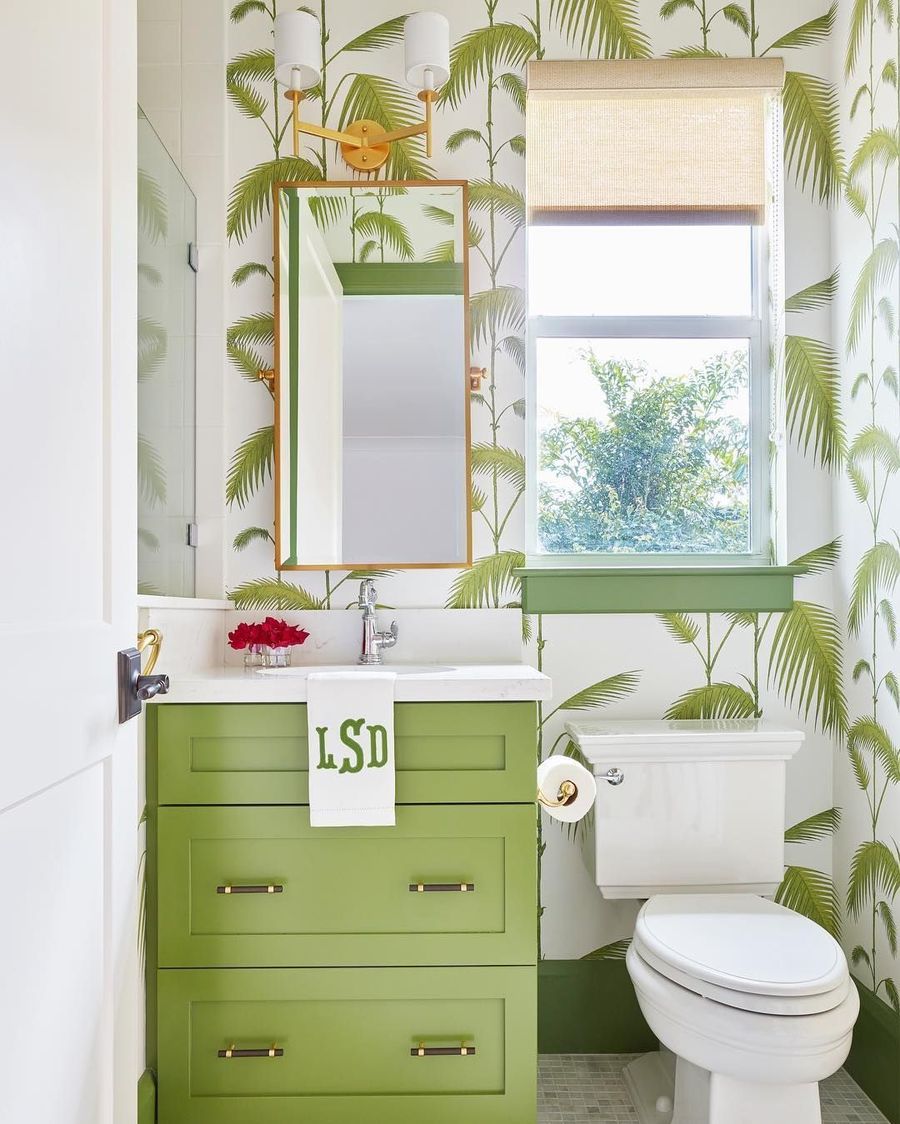 16. Minimal Seashell Decorations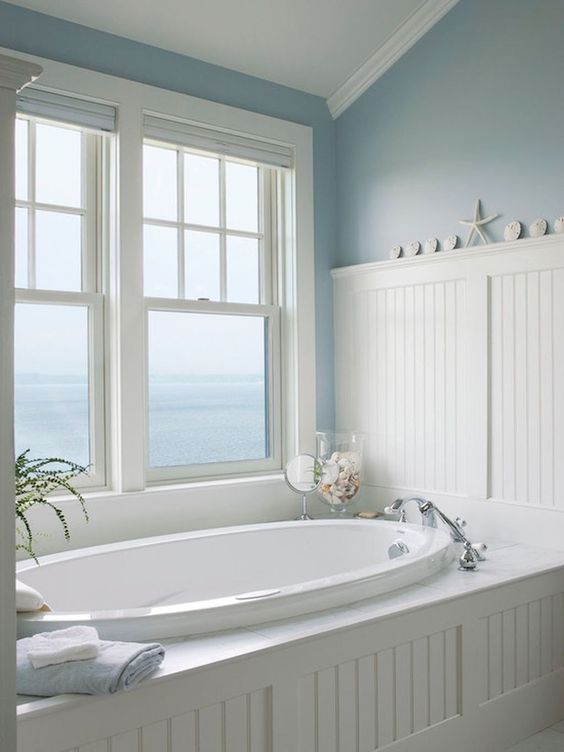 17. Trough Sink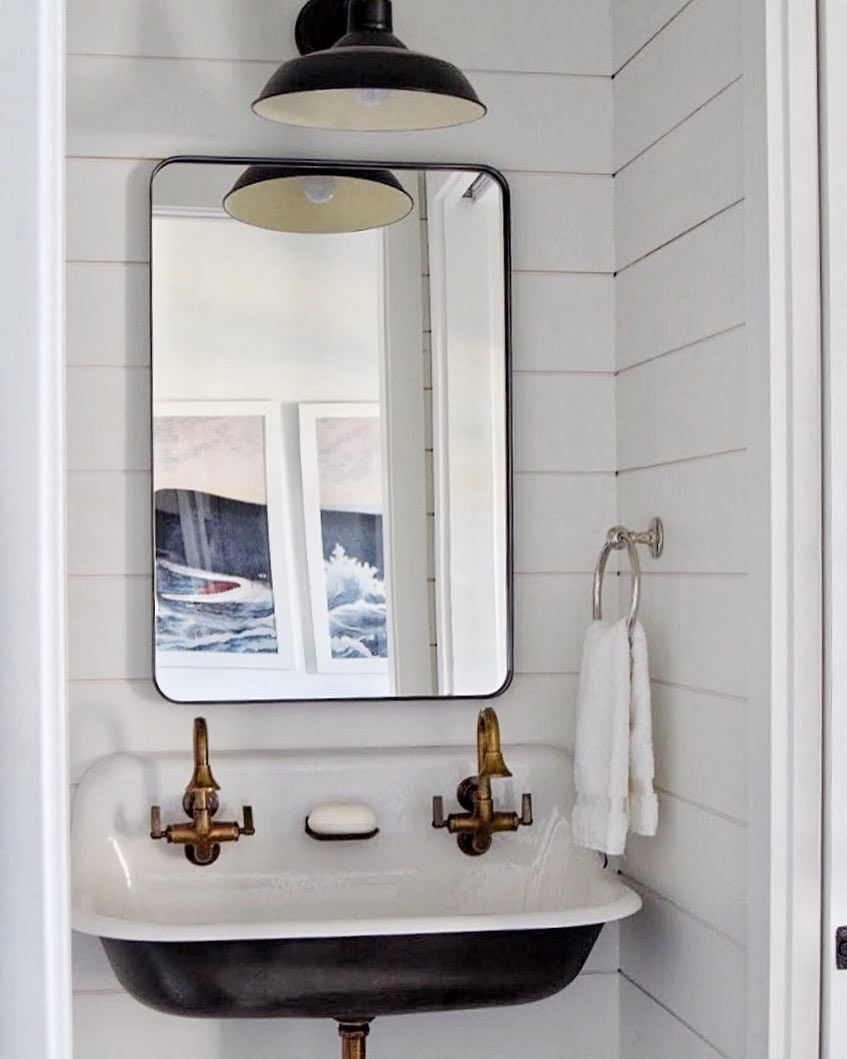 18. Blue Palm Wallpaper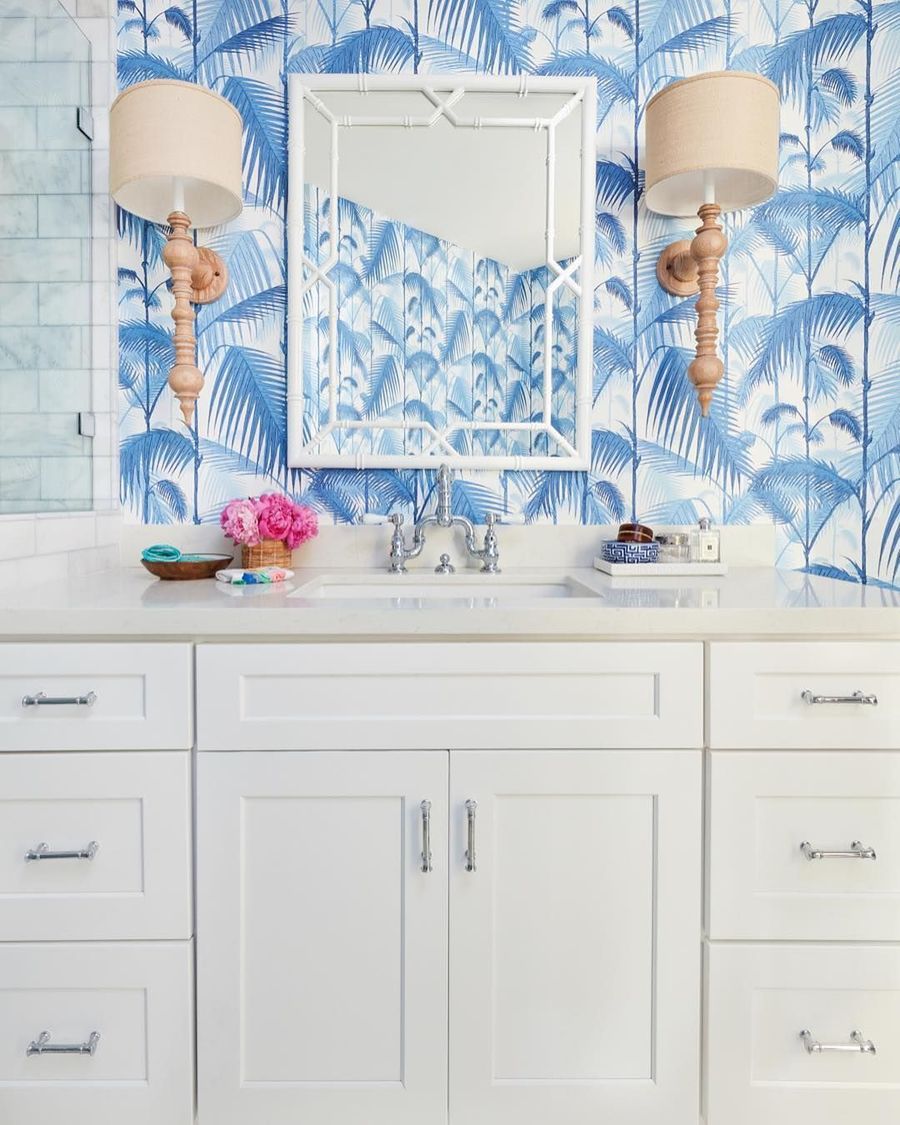 19. Nautical Round Mirror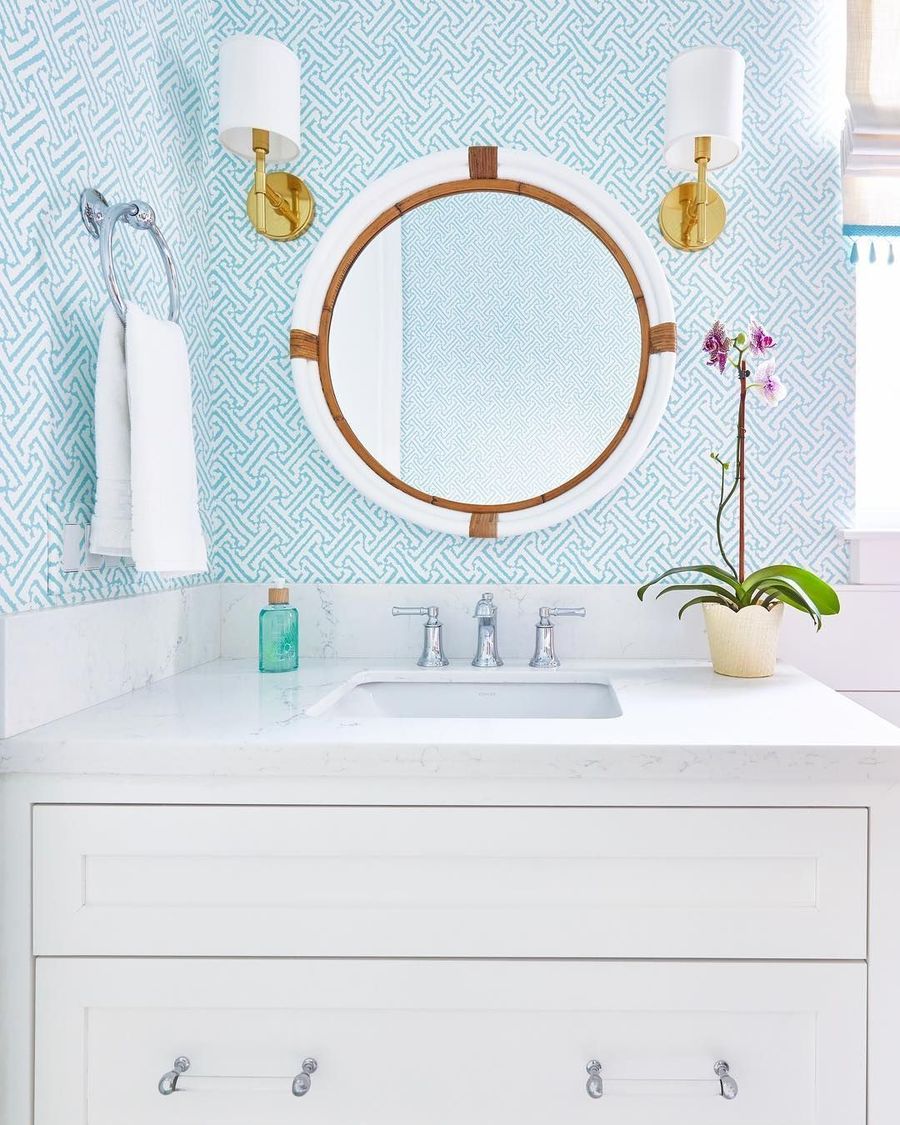 20. Navy Subway Tiles in Shower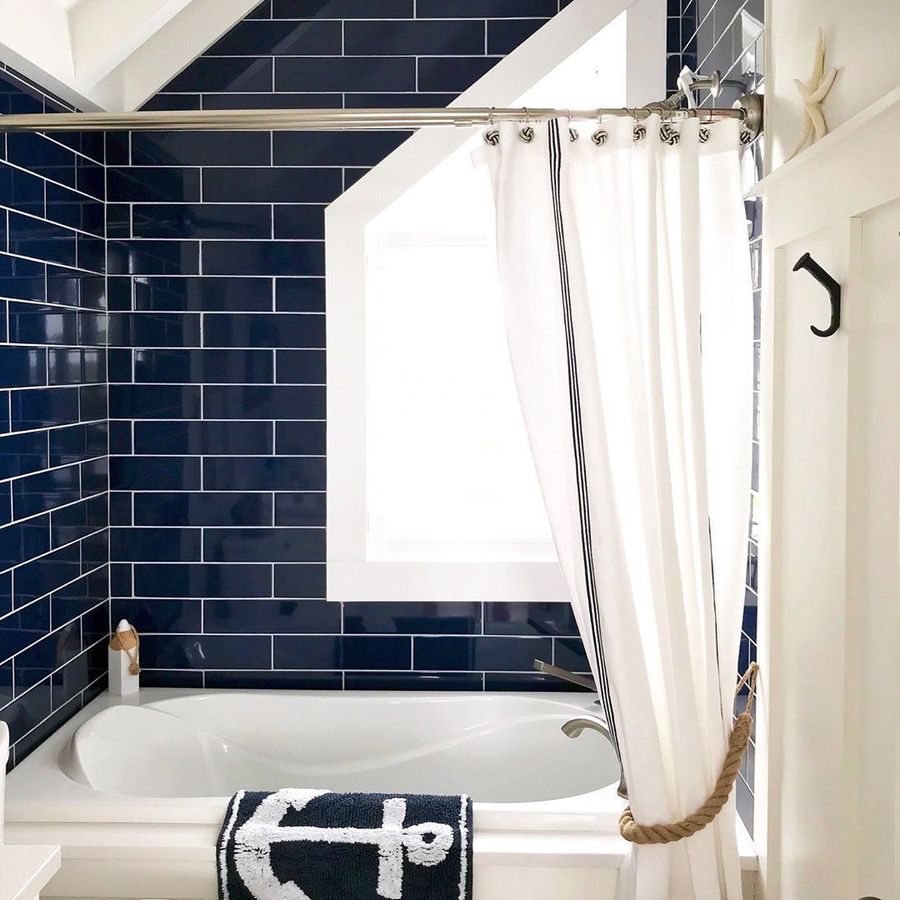 21. Neutral panels and blue floor tiles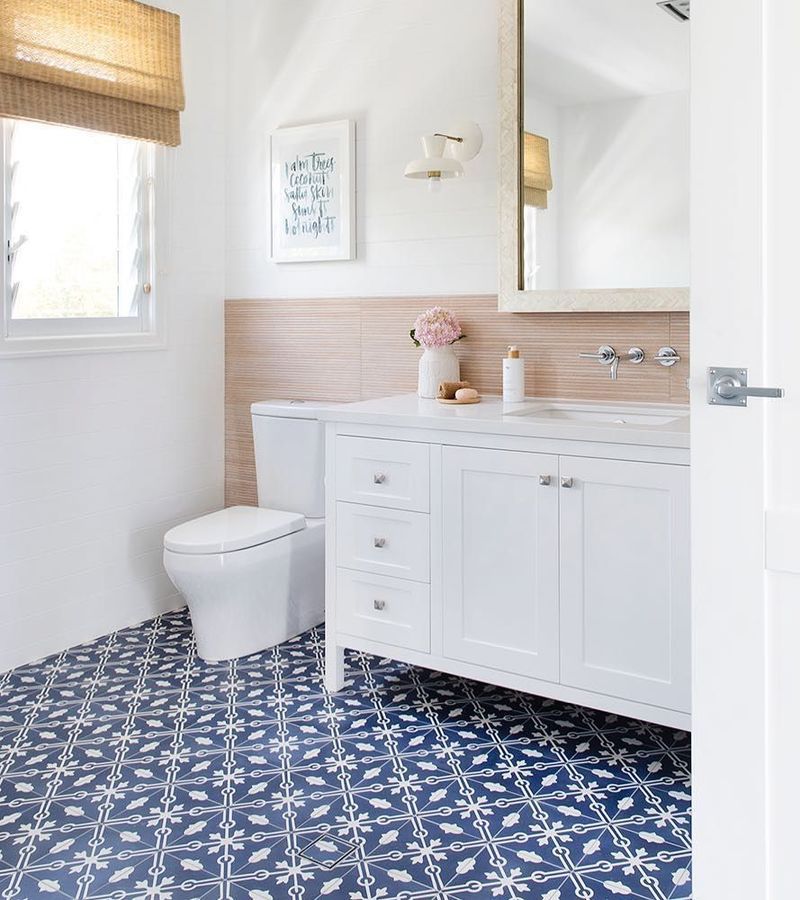 22. Newport Tile in Shower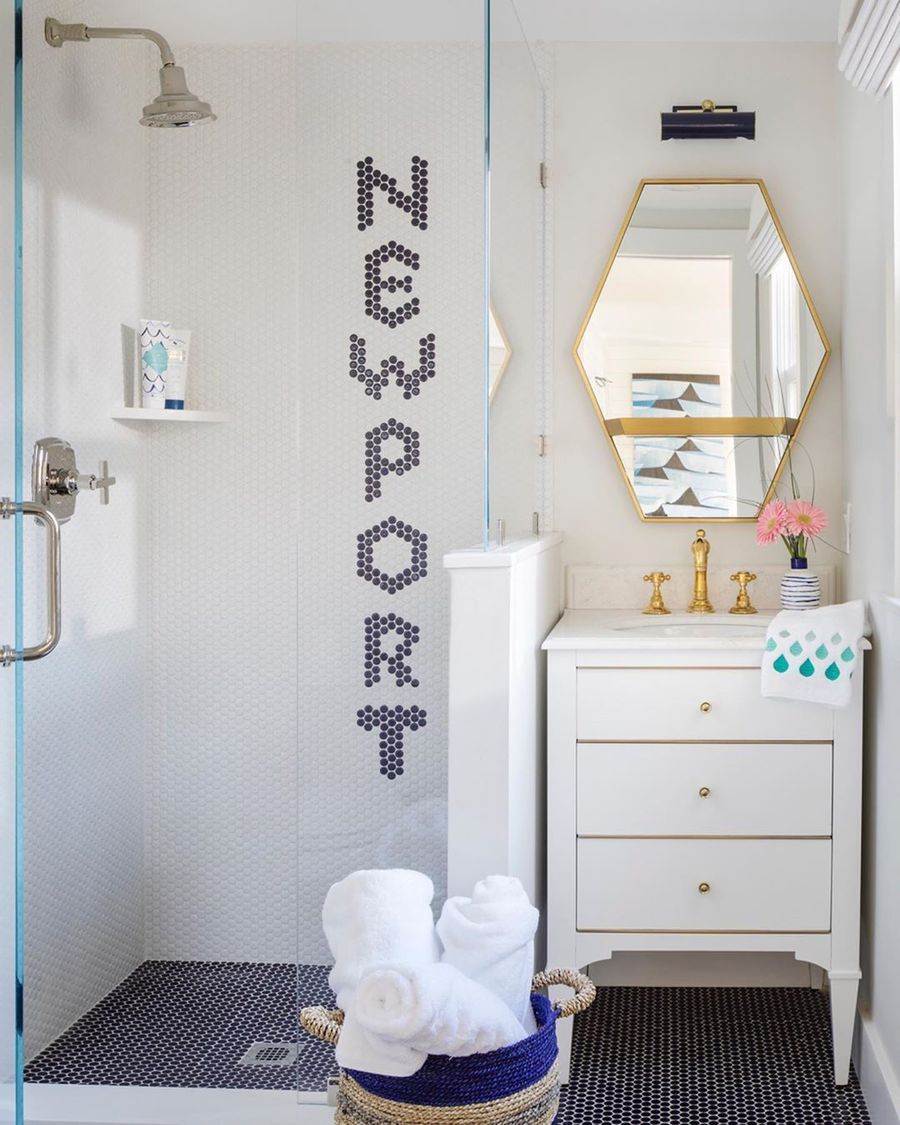 23. Octopus and Lobster Wall Art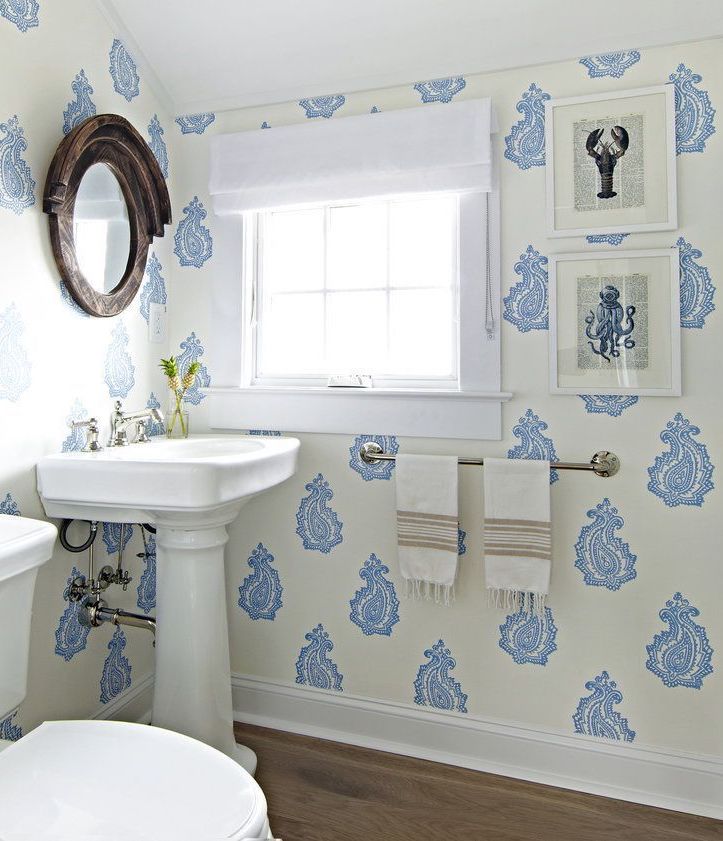 24. Rattan Mirror
Rattan mirrors are the perfect coastal bathroom accessory!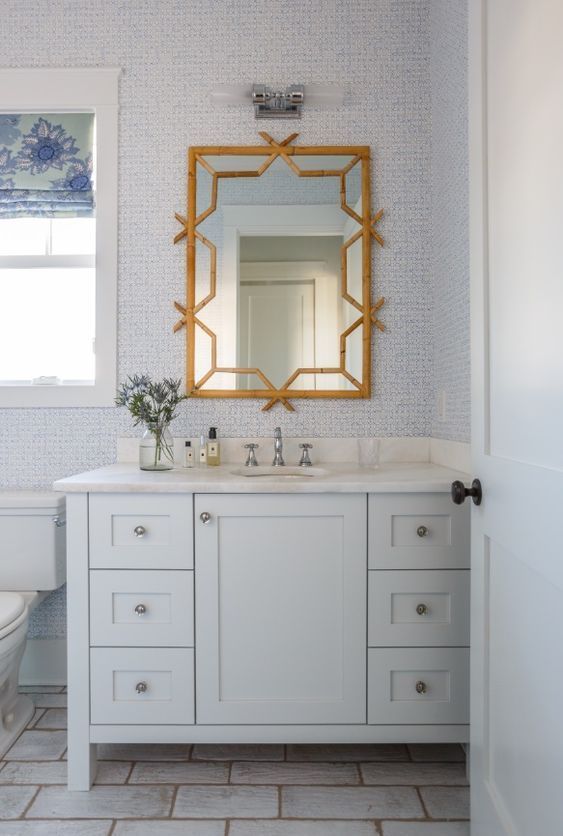 25. Rope Mirror and Striped Wallpaper
Coastal bathroom ideas can also include nautical elements!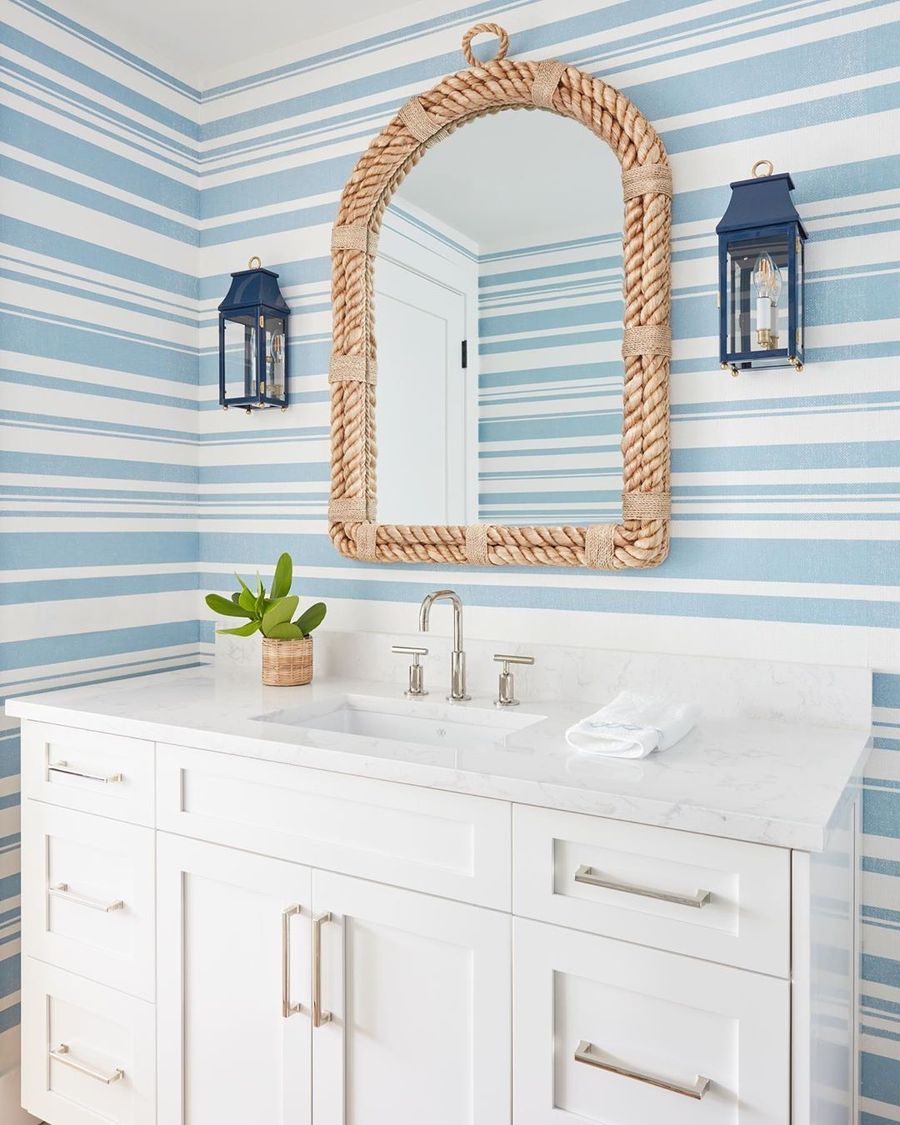 26. Navy Accent Wall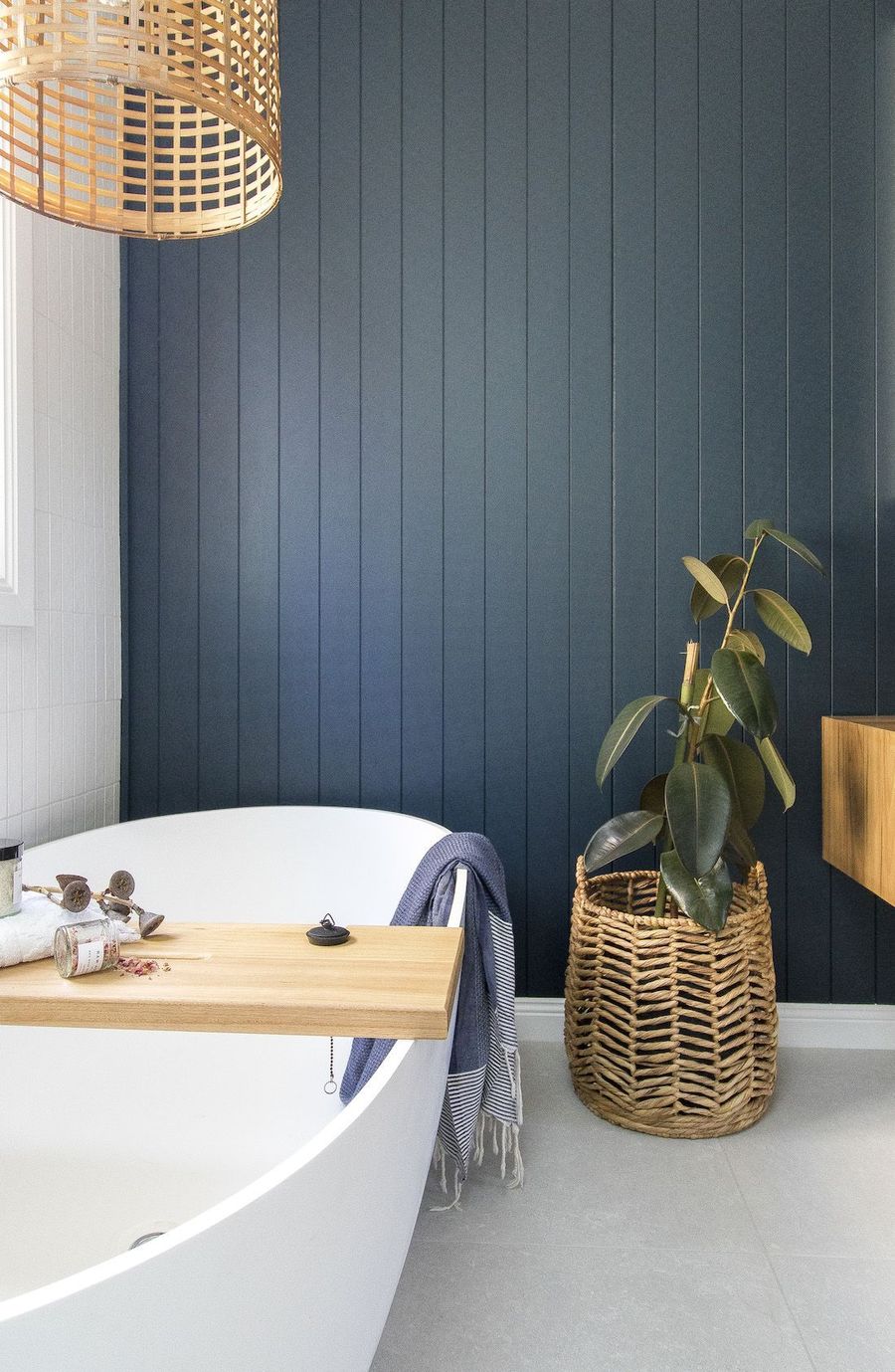 27. Sea Green Subway Tiles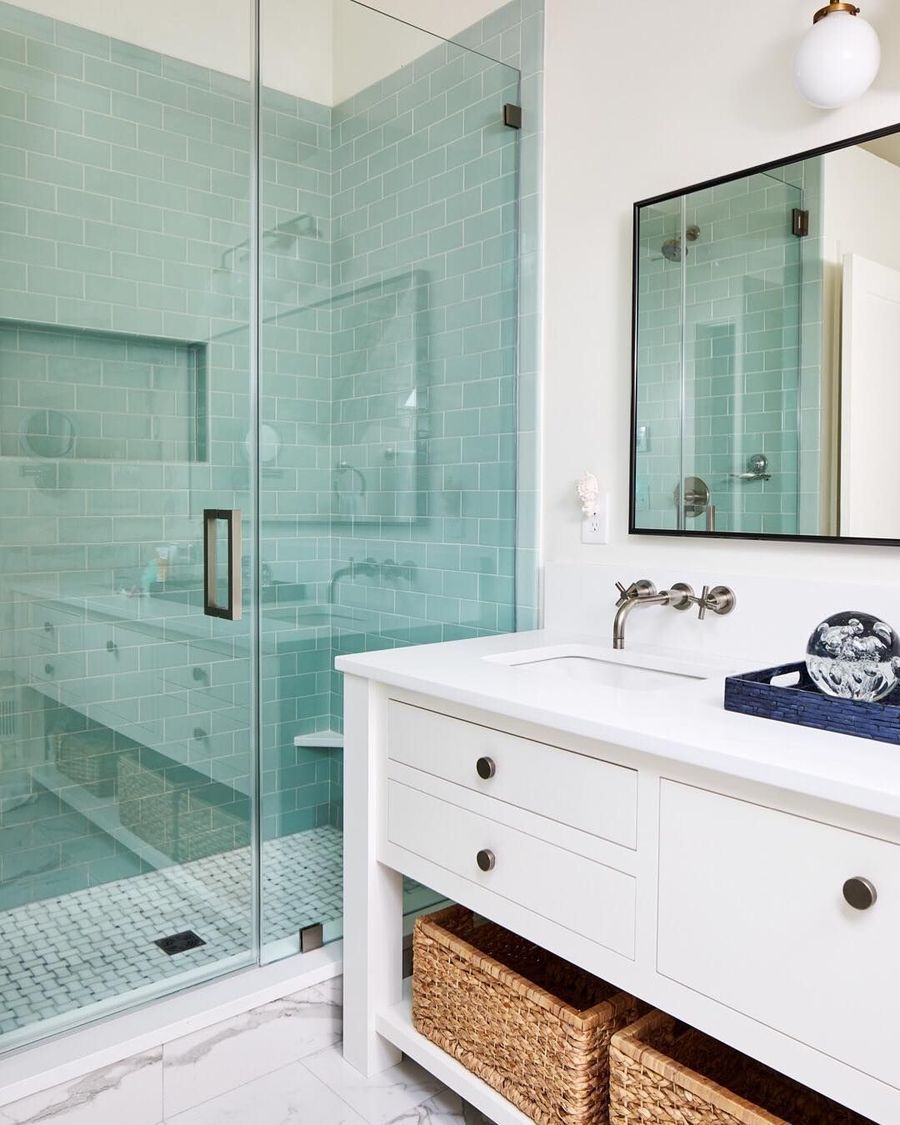 28. Seashell Decor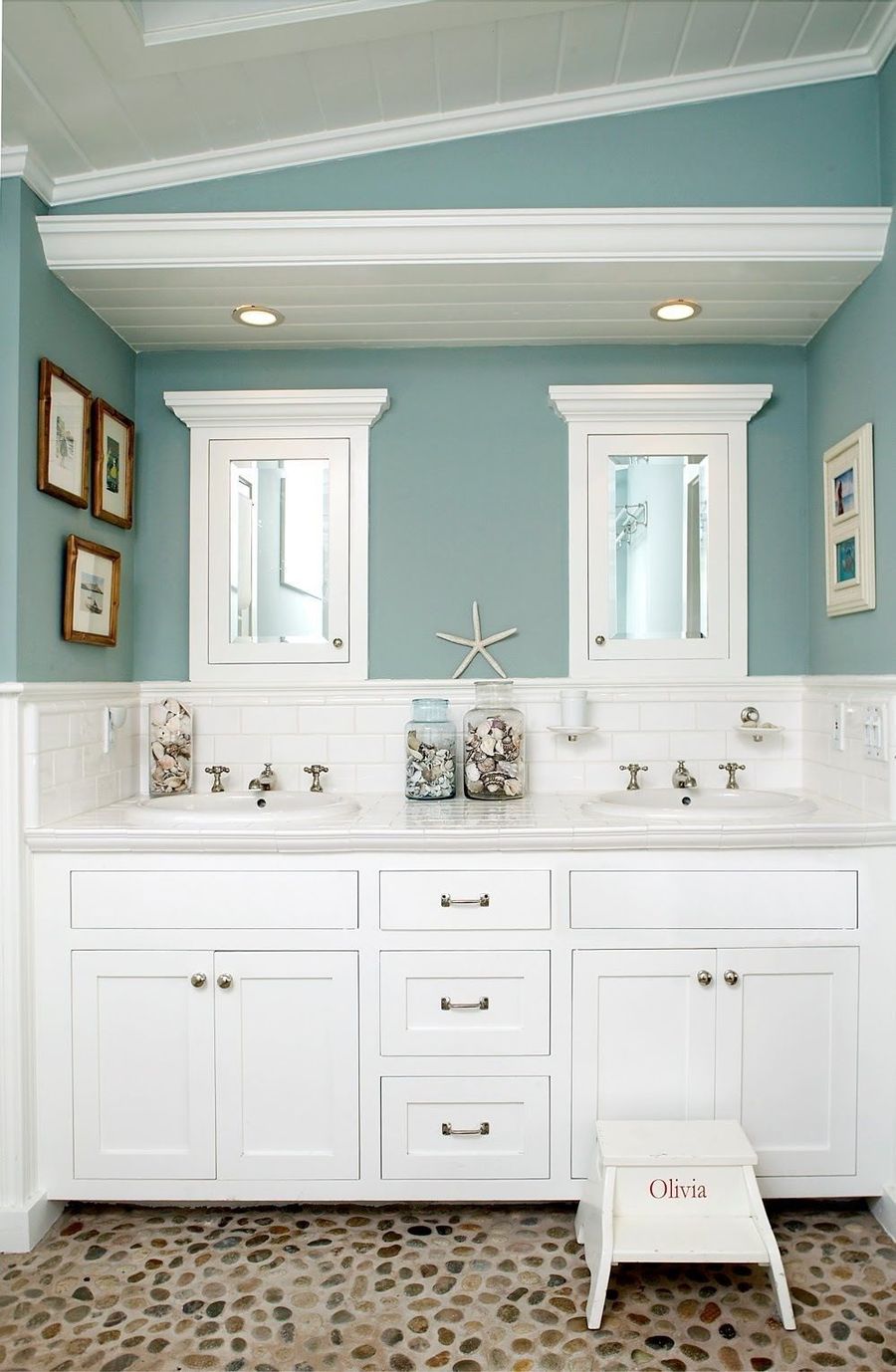 29. Shiplap walls
You can't go wrong with shiplap walls when it comes to coastal bathroom design!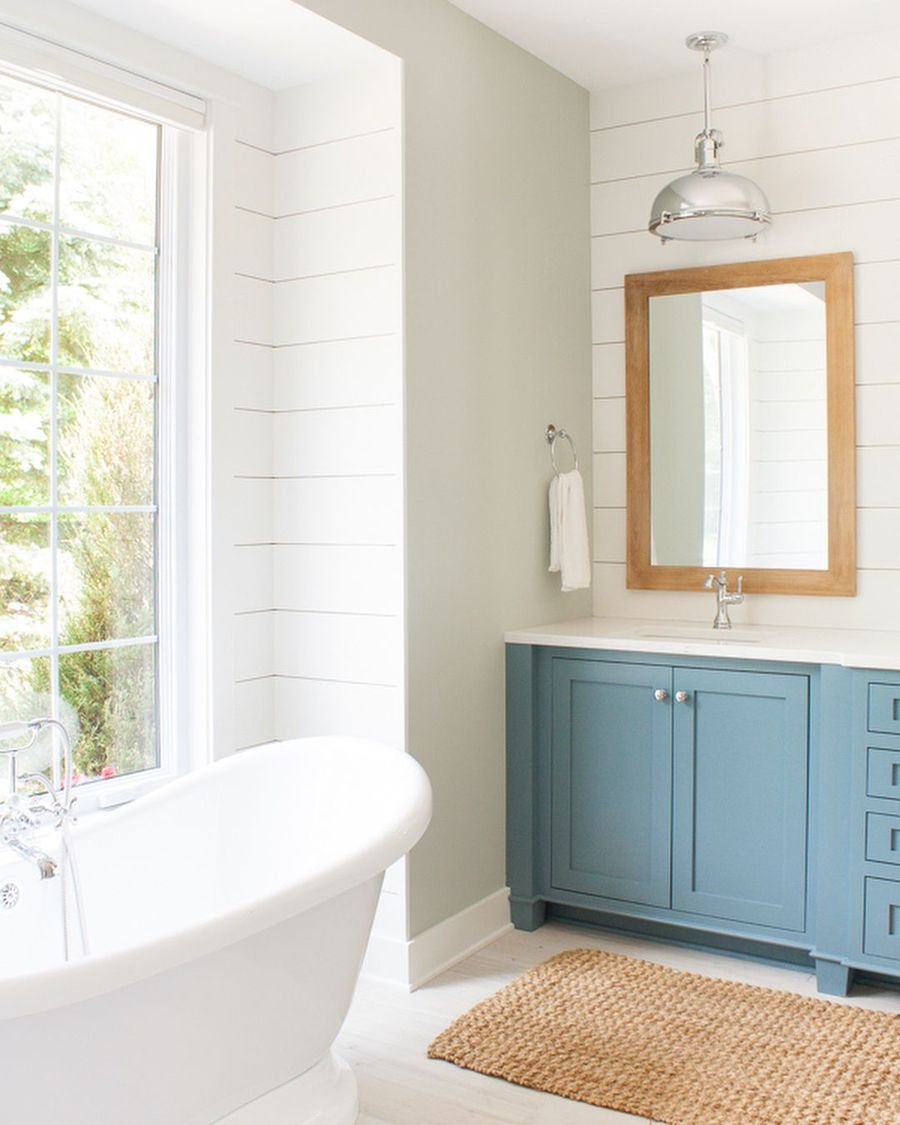 30. Soft Blue Vanity
Mixing different shades of blue tones is one of my favorite coastal bathroom ideas.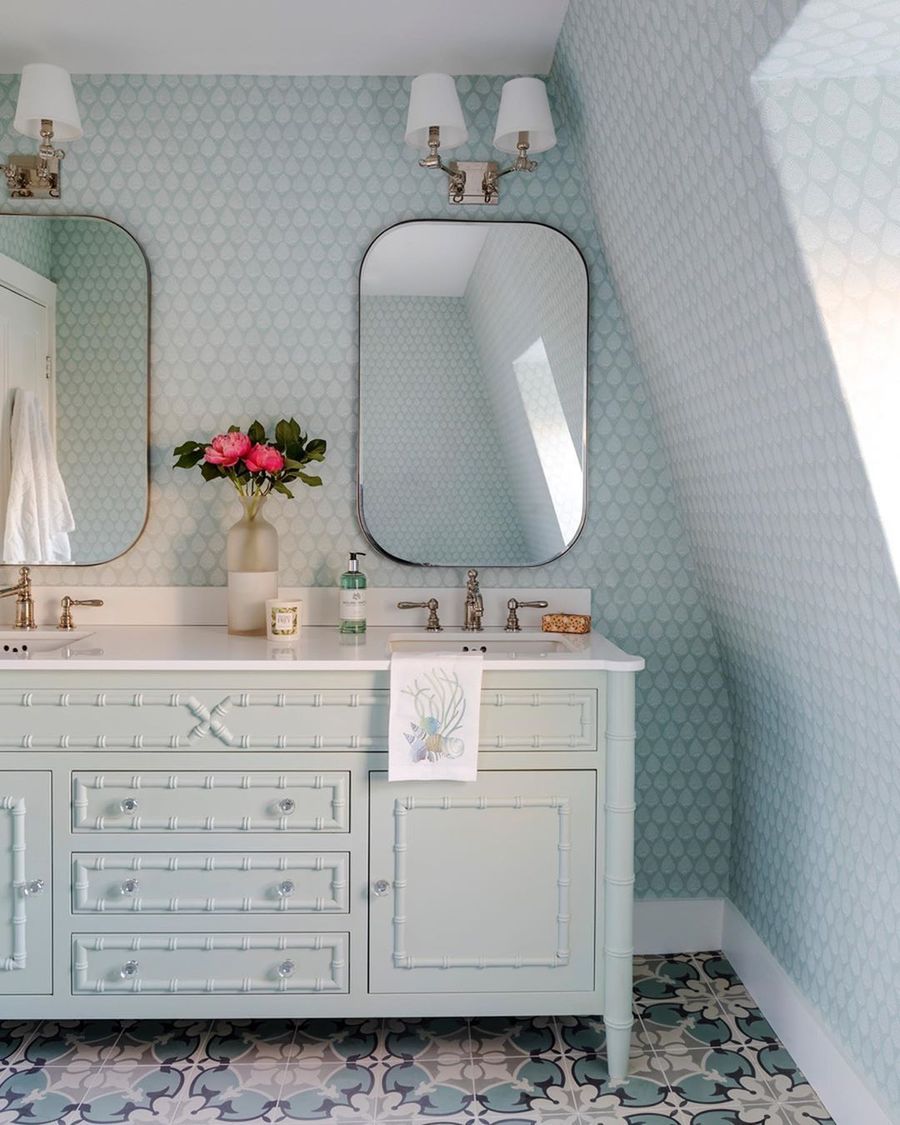 31. Trough Sink
A trough sink is the perfect way to give your bathroom a nautical vibe.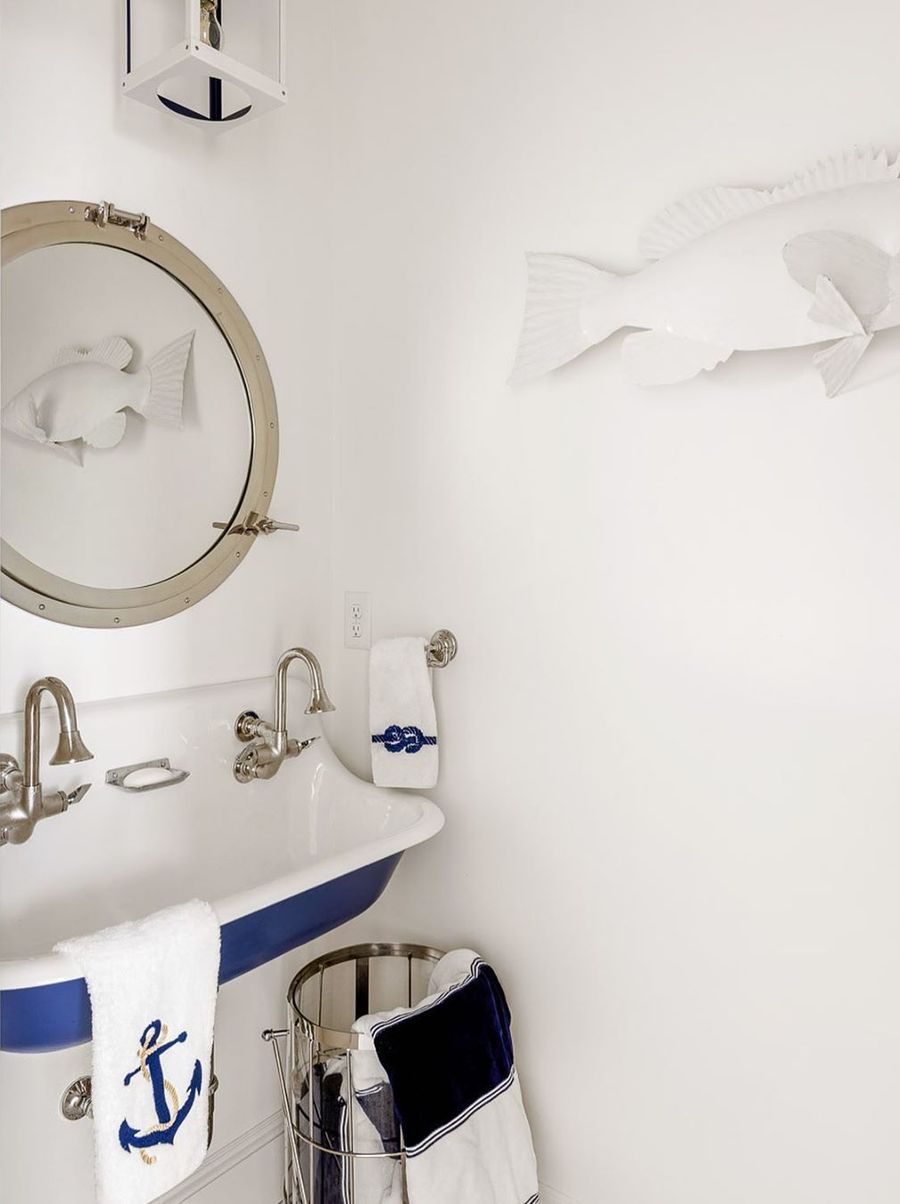 32. Rope Mirror
Rope mirrors are a classic piece in coastal style bathrooms!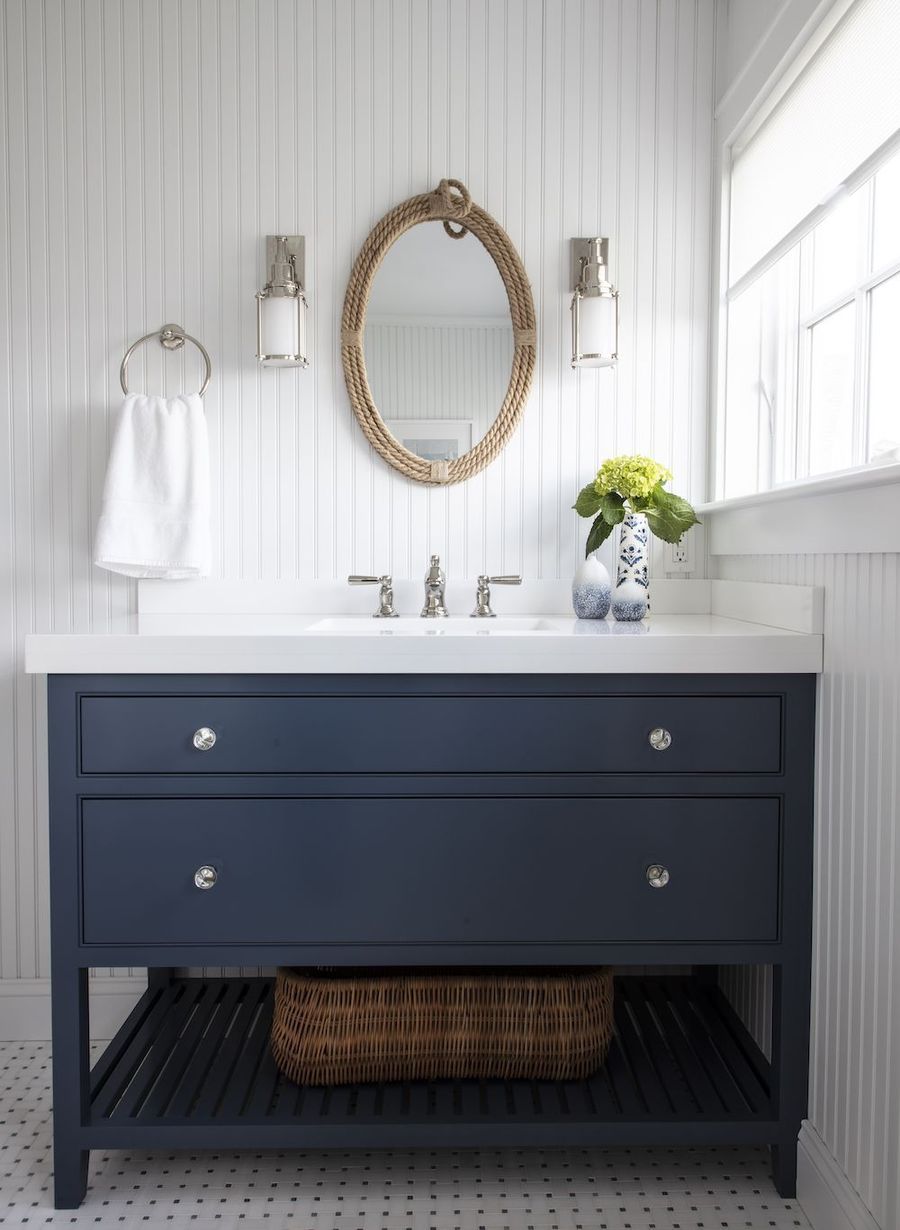 33. Turquoise Tiles on Wall
This designer used turquoise arabesque wall tiles to decorate the wall of the bathroom behind the vanity sink.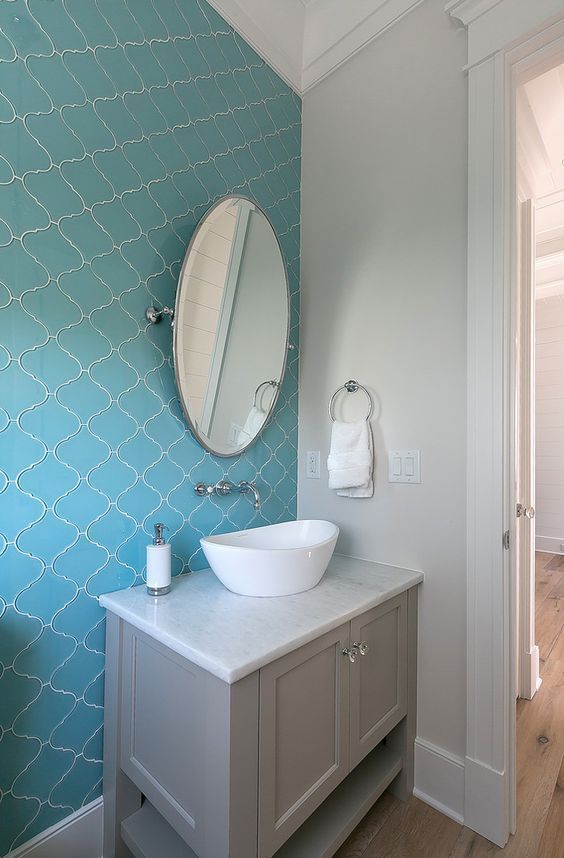 Coastal Bathroom Design Tips
How do I make my bathroom look coastal? To create a coastal look in your bathroom, start by choosing a soft color palette inspired by the beach, such as shades of blue, white, or sandy beige. Incorporate natural materials like driftwood, palm stems, seashells, sea glass, or braided textures into your accessories or even as framed art.
Select fixtures and hardware with a weathered or nautical appearance can also add to the coastal vibe. Use coastal-themed textiles like striped or seashell-patterned towels and shower curtains to tie the look together. Lastly, include plants or flowers that are reminiscent of coastal landscapes, such as seagrass or palm leaves.
Coastal Bathroom Layouts
Coastal bathroom layouts often emphasize open and airy spaces, so consider a layout that maximizes natural light through large windows or skylights. A freestanding bathtub positioned near a window can create a focal point and provide a serene view, similar to a coastal spa experience. Using a light and neutral color scheme, with materials such as whitewashed wood and natural stone, can enhance the coastal feel.
Open shelves or cabinets with woven baskets allow for storage that maintains the beach-inspired aesthetic. Finally, positioning mirrors strategically to reflect both natural and artificial light can create an illusion of spaciousness and add to the coastal ambiance.
Coastal Bathroom Colors
Coastal bathroom colors typically draw inspiration from the sea and shore, focusing on a calming and natural palette. Shades of blue, ranging from pale sky blue to deeper aqua tones, evoke the ocean and can be paired with crisp whites for a fresh, airy look. Sandy beige and soft taupe colors make for a neutral backdrop that reflects the colors of the beach, allowing for flexibility with other coastal accents.
Combining these with subtle green hues that mimic sea grass or coastal vegetation adds an earthy touch. To complete the coastal color theme, using finishes in weathered wood, brushed nickel, or matte silver can add texture and interest to the overall modern coastal design.
Coastal Bathroom Tiles
Coastal bathroom tiles often mirror the colors and textures found at the beachfront. They may include shades of blue, turquoise, or aqua, often blended in a mosaic pattern to emulate the appearance of the ocean's waves. Natural stone or pebble tiles can mimic the feeling of sitting on the beach, offering a tactile connection to coastal landscapes.
Coastal subway tiles in soft white or light beige, perhaps with a slightly weathered finish, offer a clean, nautical look. Glass tiles, with their reflective qualities, can further add to the sense of fluidity and light, enhancing the coastal theme in your bathroom.
What do you think of these beach home bathroom decor ideas?
Pin this for later: