Coastal laundry rooms are essentially wash rooms that are found in beach homes, summer houses, and lakeside retreats. They're used for washing dish cloths, beach towels, dirty clothes, used sheets, and any other household linens. You'll absolutely want a laundry room or a dedicated cleaning space in your coastal home because things can get sandy very fast after a trip to the beach!
When it comes to the laundry room, you'll likely have a washer and dryer at minimum you need to work around. You could stack these on top of each other to save space and make use of high ceilings. Or you could place them side by side for easier access.
Coastal Laundry Rooms
Coastal decor involves designing an interior with a coastal color palette and various coastal motifs. We particularly love the "modern coastal" look which makes a home look more elegant and contemporary as opposed to an older coastal cottage. But you can decorate however you like of course. If traditional decor resonates with you, then by all means go for it! Modern coastal design tends to be more minimalist in its approach as opposed to busy and cluttered.
Let's take a peek at some of our favorite modern coastal laundry room decor ideas that will inspire you!
Blue Cabinets
One of the most common ways to decorate a coastal laundry room is to go with blue cabinets! You can pick the shade you like, but blue laundry cabinets are sure to bring out that classic coastal palette into your interior. This laundry room with blue cabinets is complemented by dreamy white walls and a beautiful curved blue pattern floor tile.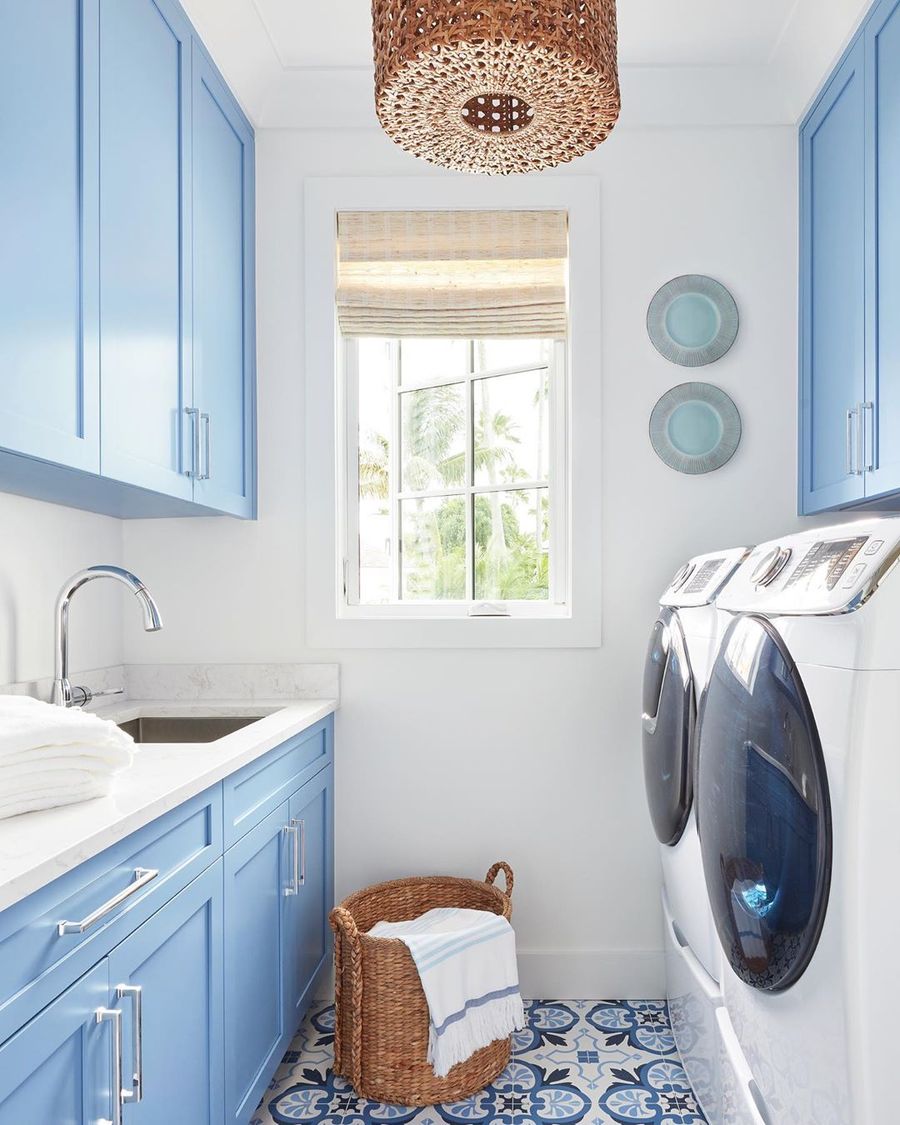 Ocean Wave Wallpaper
This unique wallpaper looks like ocean waves, but in a modern way! You can decorate an accent wall in your laundry room with ocean inspired wallpaper as seen here. Use white accessories like a table lamp and cabinets to tone down the rest of the room. Add some greenery to balance out all the blue.
Coastal Area Rugs
Why not make your laundry room more cozy by adding a nice area rug for the floor? It will absorb any wetness that you track in from the beach and it will make your feet more comfortable in the room. There are lots of nice coastal area rugs to shop that are small enough for a laundry room. Here are a few ideas:
Apron-Front Sink
Apron-front sinks are very popular in coastal laundry rooms with space available. Here, you can prep your clothes with stain remover before tossing them in the washing machine. You can also hand wash any delicate items you may own. Having a sink in the laundry room is very practical!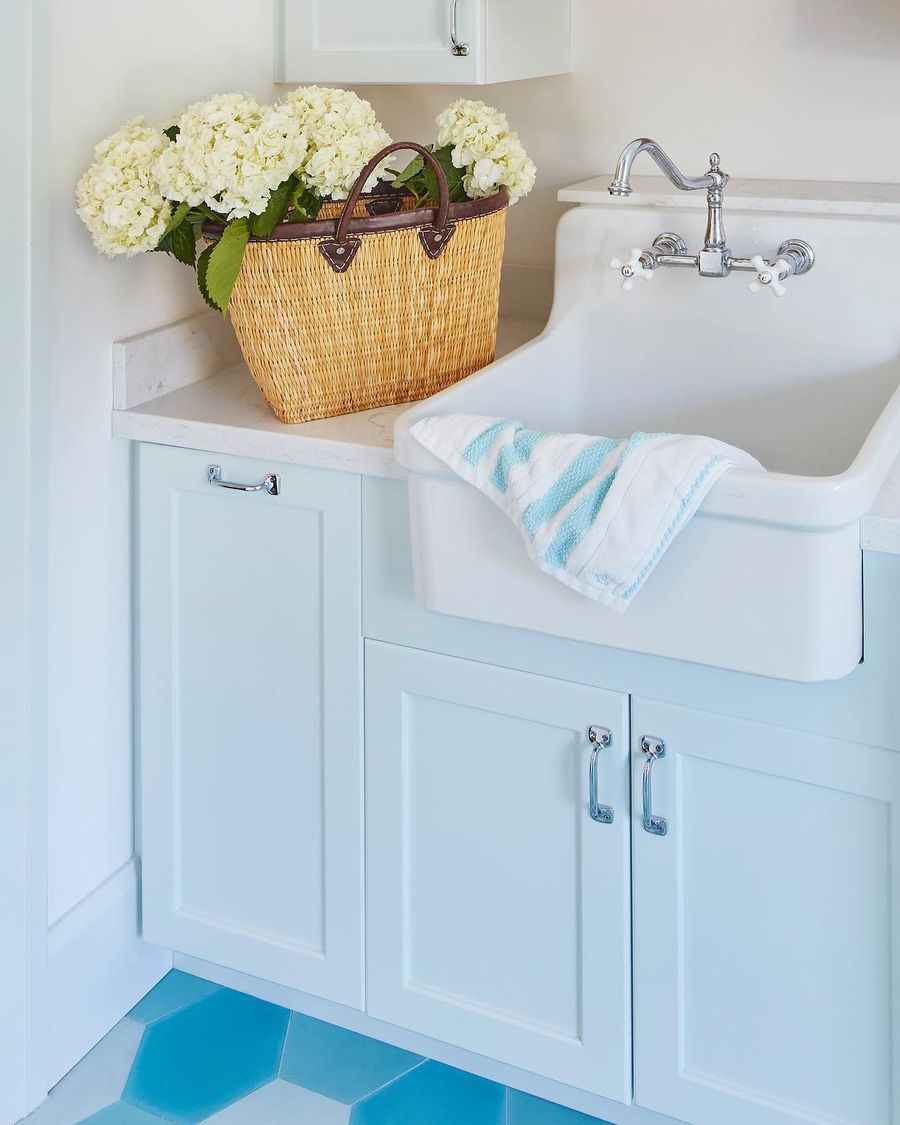 Blue Floor Tile
Jazzing up your floors with pretty blue floor tiling is a great way to bring the coastal style into your laundry room. Since this room often gets overlooked, why not add some beautiful floor tiles in a pretty pattern to give the room some character? If you go with a busy floor tile, add some bare white somewhere to tone down the space.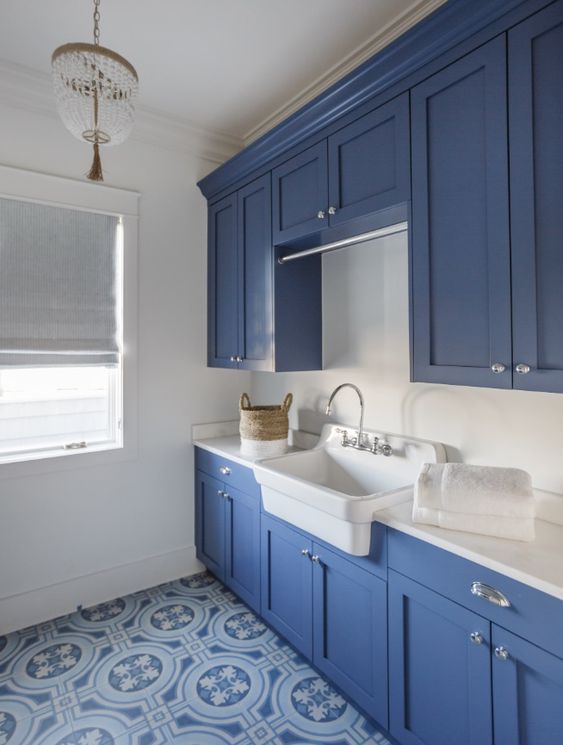 Striped Backsplash
Stripes are often associated with coastal decorating. Why not decorate the backsplash of your laundry room with a pretty striped square tile? This gorgeous nautical laundry room has a cute "Nantucket" whale decor sign on the wall and several wooden buoys on the folding shelf.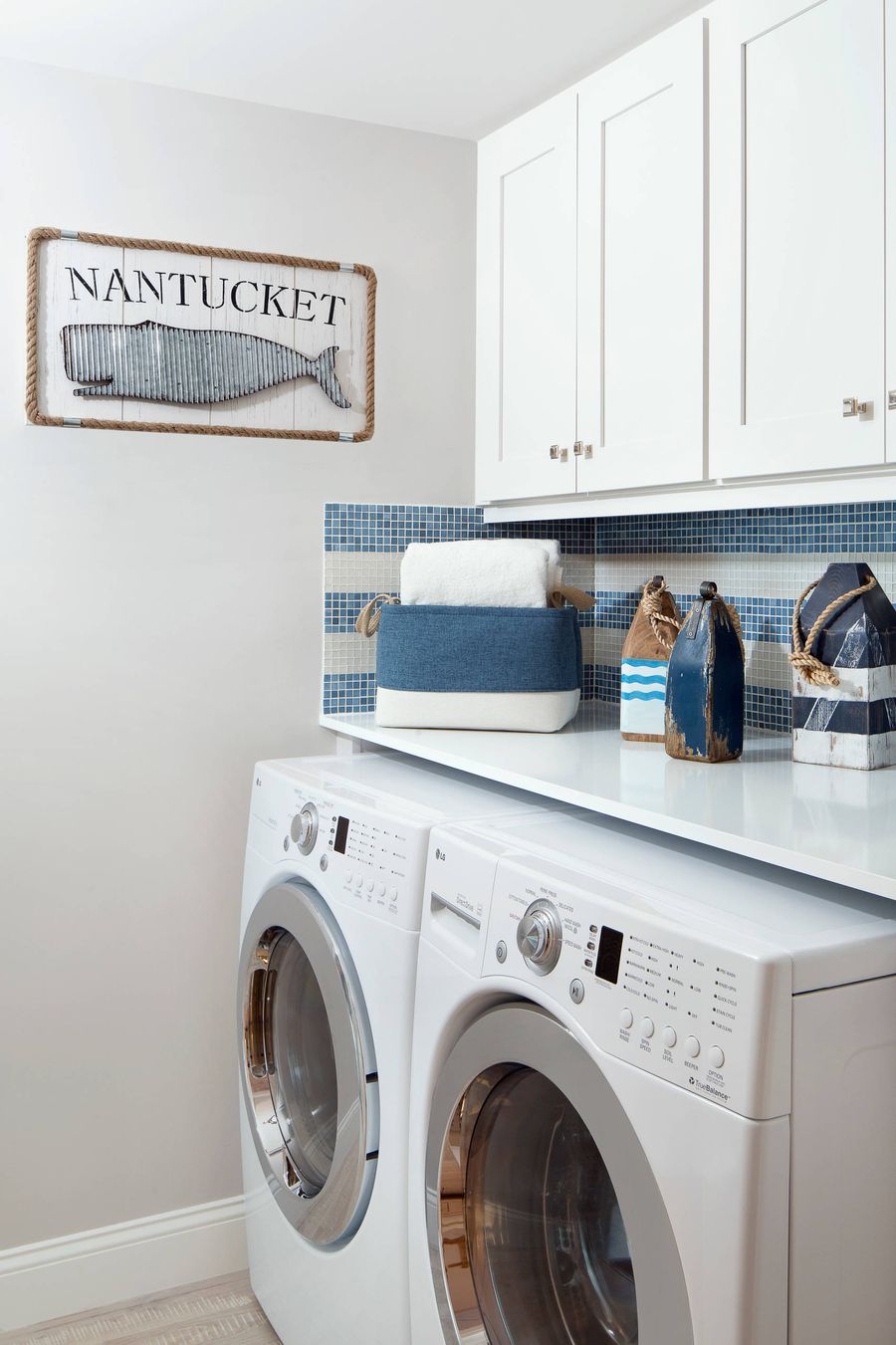 Blue Door
A somewhat simple way to give your laundry room a refresh is to paint the door a different color. This simple update will totally change the look and feel of the space! You can decorate with patterned floor tiles as well to match the hue of the door. This is definitely one of my favorite coastal laundry room decor ideas!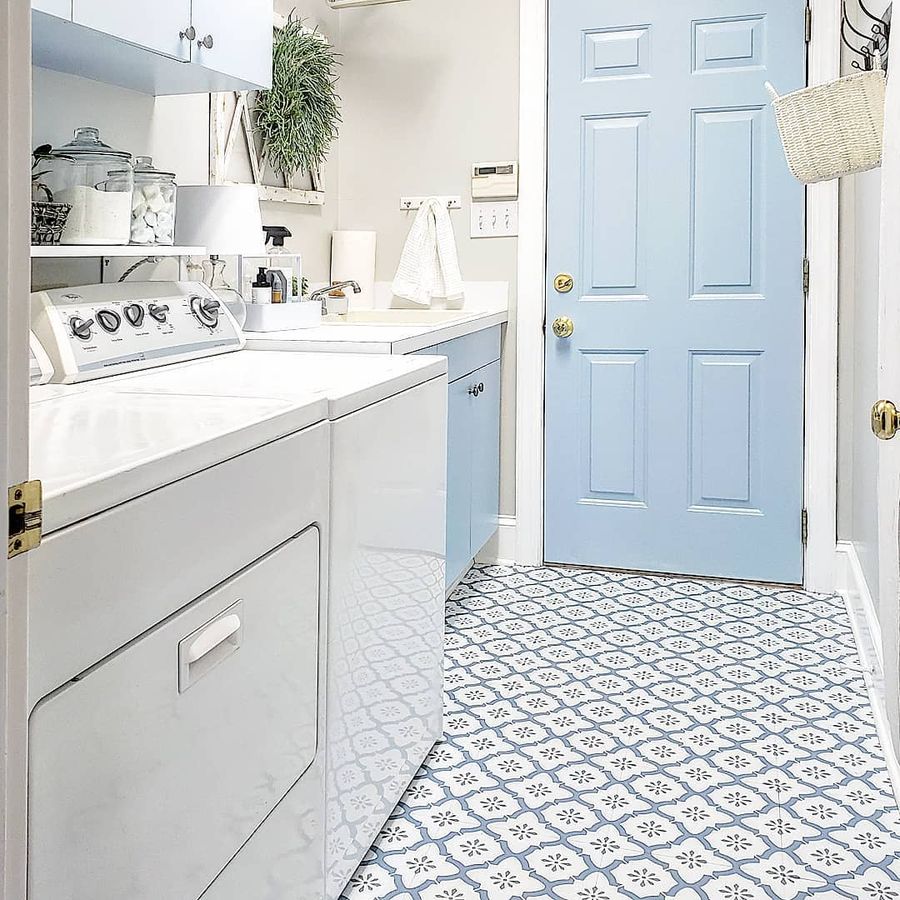 Clothespin Wood Shelves
I came across these clothespin wood shelves and thought they were just perfect for a laundry room! The wood material reminds of driftwood – very coastal. You can store laundry detergent and small stain remover bottles on these wood shelves that attach to the walls.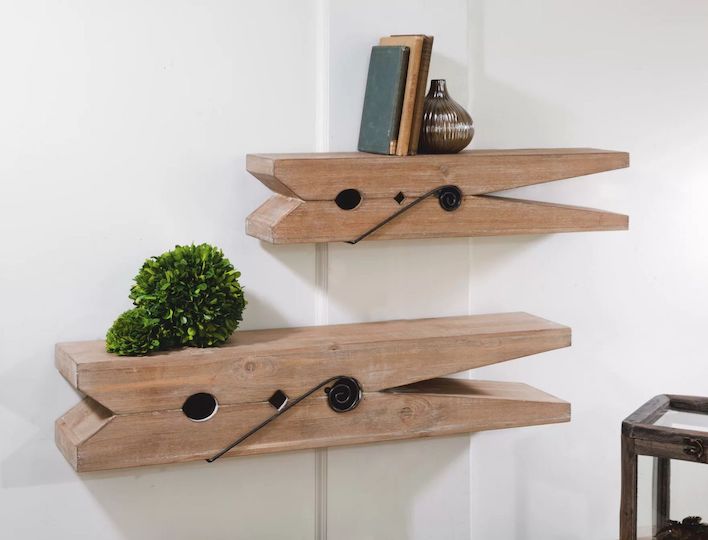 Red Washing Machines in Lakehouse Laundry Nook
These two red washing machines give this room a very fresh and modern look! It looks like this laundry room is part of a lakehouse and it has lots of cute little references to swimming and lakes. From the wooden "Go Jump in the Lake" sign to the two red swimsuits hanging on a rope to dry against the wall, this lakehouse laundry room is adorable.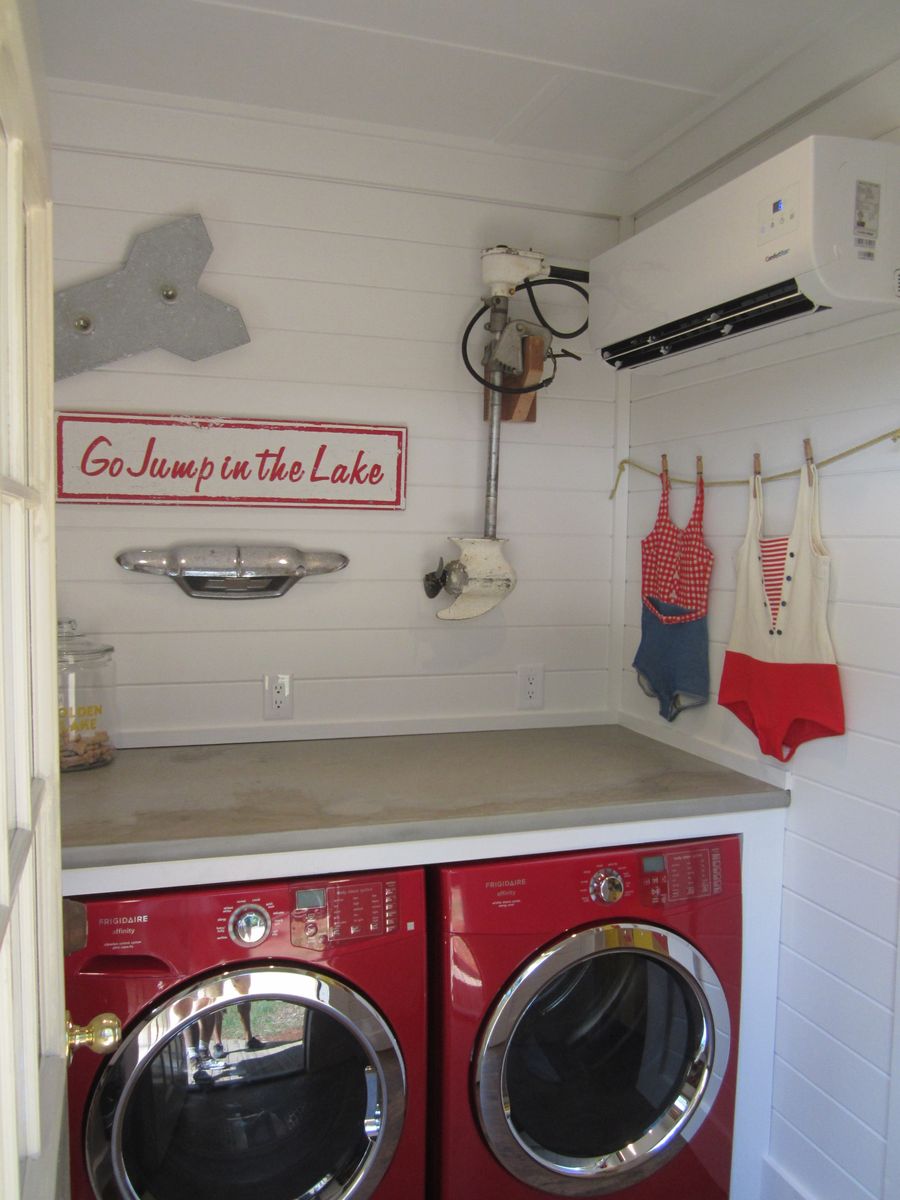 Blue Grout Backsplash
Another way to make a statement in the laundry room is to go with blue grout backsplash! This white chevron pattern tile has been spruced up with bright blue grout. It gives this laundry room so much character and charm.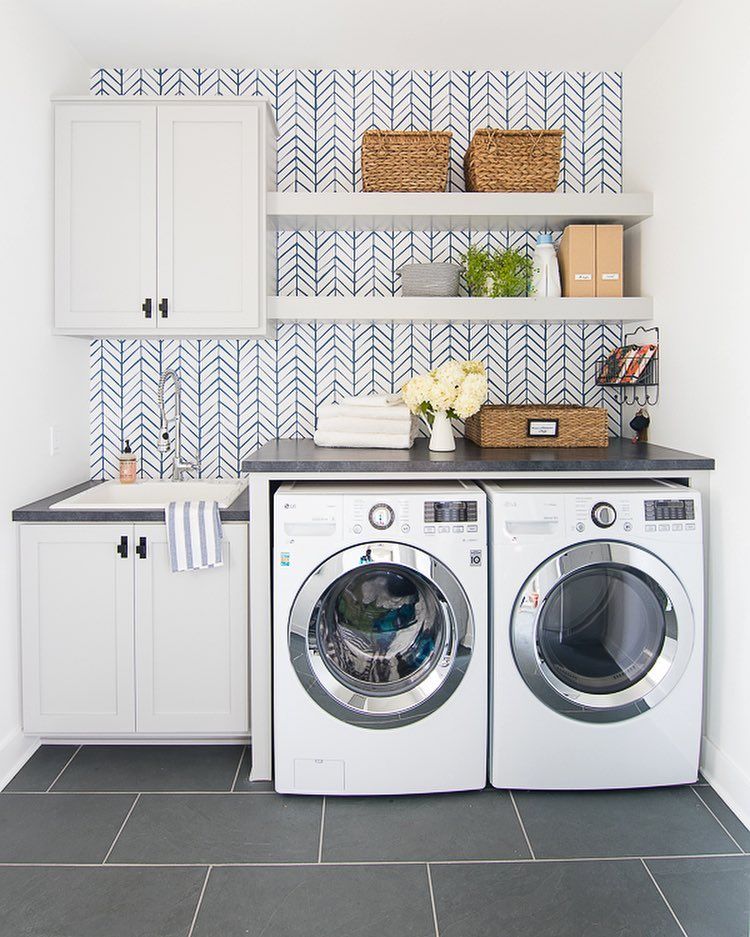 Jute Basket Storage
When it comes to laundry storage and sorting, look for some jute baskets to give you what you need! These storage baskets come in many different shapes and sizes and they give the room a very coastal look. Jute is a common neutral material for coastal decorations. You can place them on upper shelves or directly on your laundry machines.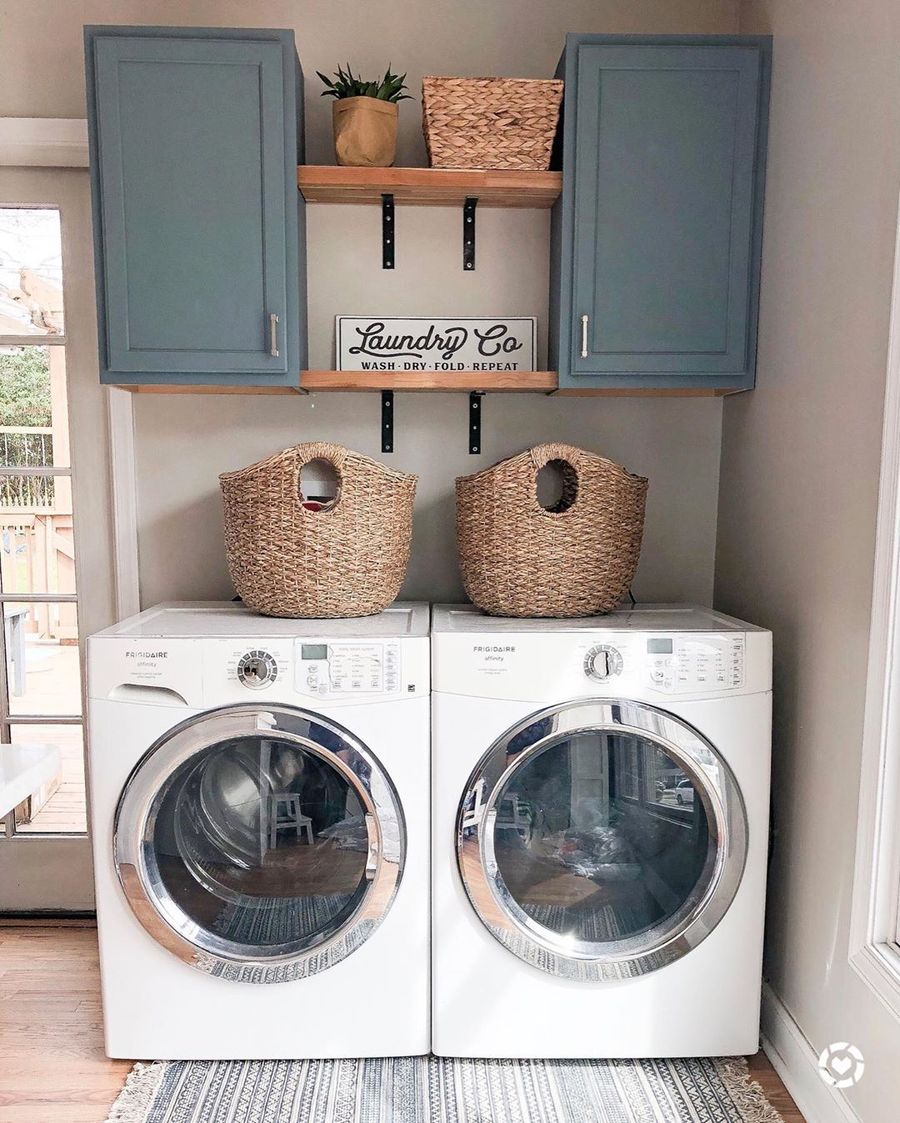 Fish Scale Tile
Another very appropriate coastal wall decoration is fish scale tile! This curved tile, also known as "mermaid tile" looks very similar to the scales on a fish or a mermaid. It's a great choice for the laundry room as it brings out all the coastal vibes. The pretty sea blue color is perfect.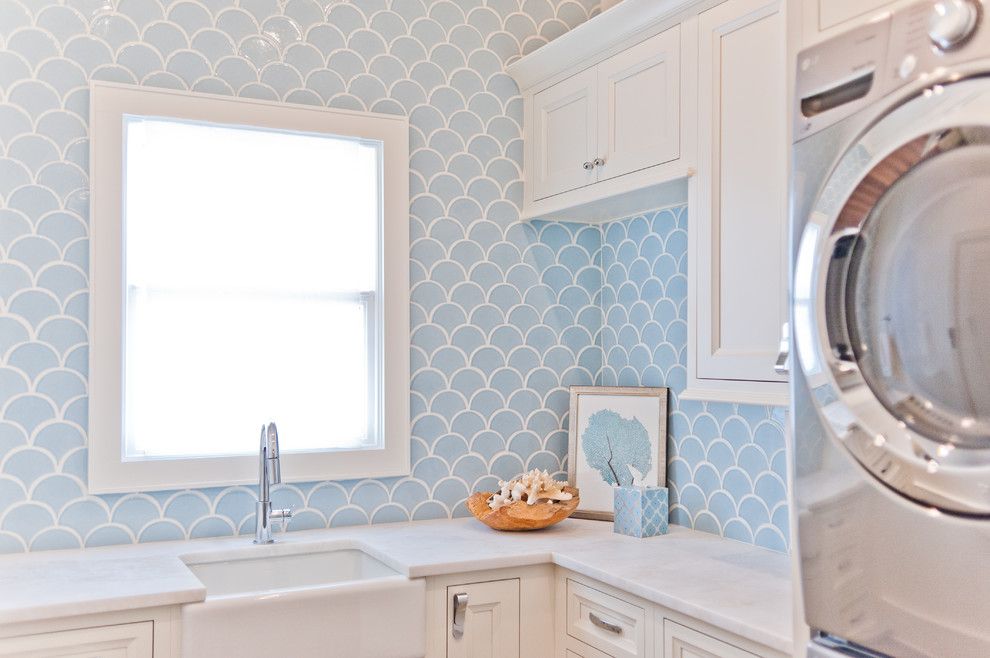 Shiplap Walls
Ready for one of the least surprising coastal laundry room decor ideas? Those famous planks of wood known as "shiplap" look beautiful and very appropriate in coastal homes! You can use shiplap in the laundry room to give your walls an interesting nautical vibe. Here, the white shiplap walls are paired with wood countertops and a blue and white striped rug.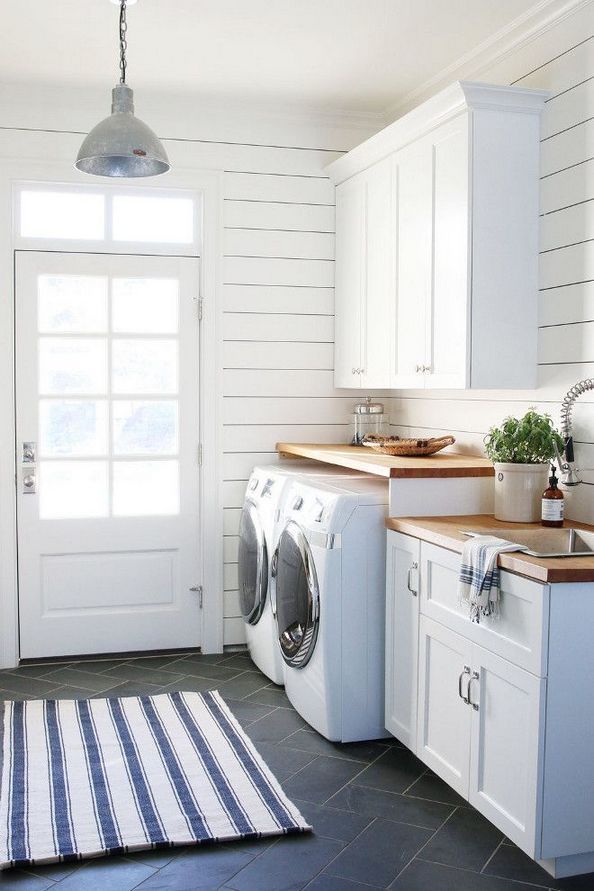 Pale Blue Backsplash
When in doubt, a soft pale blue subway tile backsplash is always a good design choice for a coastal laundry room. A trough sink and simple gray countertops put the finishing design touches on this laundry wall.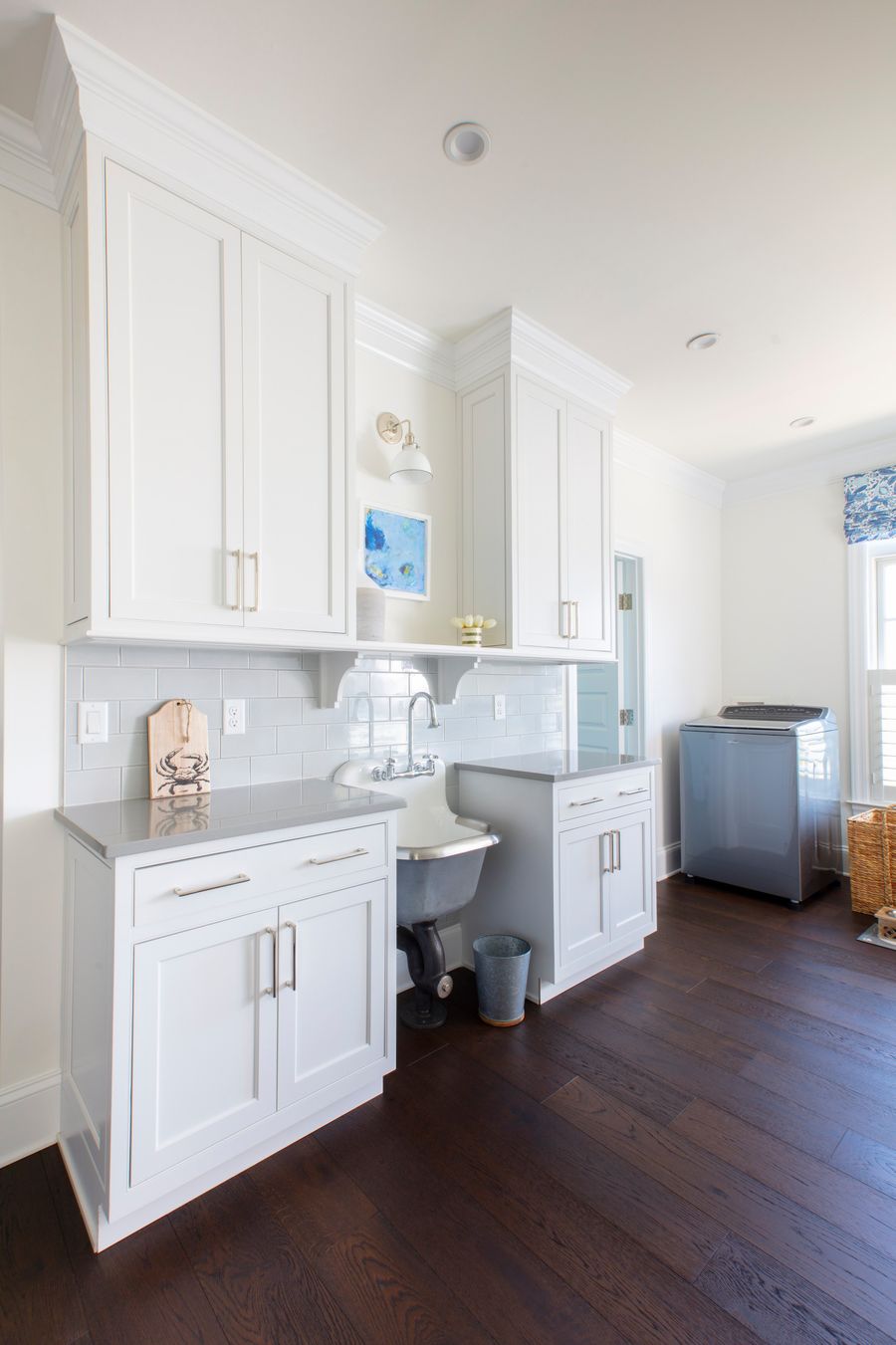 Wall Signs
Wall signs are popular in many different styles of laundry rooms. You could get a sign that says "Laundry" in cursive writing or a vintage blue metal Laundry Room sign, for example. Here are a few picks:
Sea Green Backsplash Tile
Another great coastal laundry room decoration is to go with sea-green for your backsplash tile. It's unexpected while still staying on-trend with coastal interior style. Wood countertops warm up this space. This is one of my favorite coastal laundry rooms.
Make It Multi-Functional
Our last tip for coastal laundry room decor ideas is to consider making your laundry room a multi-functional space and double it up with a home office desk! This laundry room also works as a small home office space thanks to the built-in desk with lower cabinet storage. A rattan sitting chair keeps the coastal vibe on point!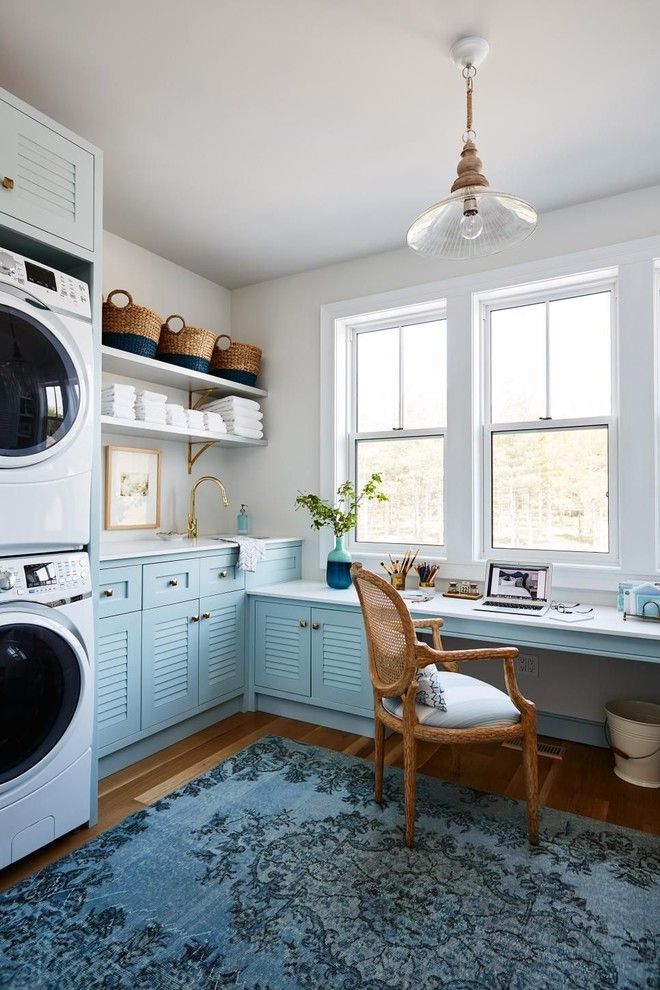 I hope these coastal laundry room decorating ideas gave you lots of inspiration for your own laundry space! It's important for this room to be cute to make doing laundry less unbearable!
More Coastal Decorating Ideas
If you want to continue perusing our coastal decor ideas, please do so. We have quite a few more posts on this style. Here are a few recent coastal decor articles that may spark your interest:
Happy curating !