If you have a beach home or just appreciate the coastal decor aesthetic, then you might be curious how seaside residents decorate their home bars – whether that be a bar cart or a dedicated, built-in home bar area.
Coastal Vibes
Coastal home decor is a relaxed and casual style that is inspired by the beach and ocean. It incorporates natural materials, such as rattan and bamboo, as well as colors and motifs that evoke the seaside, such as blues, greens, and sea-inspired accents like seashells and driftwood. Coastal decor is all about creating a comfortable and inviting space that feels light, airy, and serene, and that reflects the laid-back, carefree vibe of beach living.
Home Bars in Coastal Homes
Unsurprisingly, coastal houses and beach homes often feature home bars for a few good reasons:
Entertainment: Many people who live near the coast enjoy entertaining friends and family at home often, and having a home bar can be a great way to do so. A bar provides a central gathering place for guests to enjoy drinks and partake in conversation. Home bars create the perfect relaxed and social atmosphere.
Vacation vibe: Coastal homes and beach houses are often associated with vacation and relaxation, and a home bar can enhance that feeling. It's a place where you can kick back and enjoy a cold drink after a long day at the beach, and it can also provide a sense of luxury and indulgence that is often associated with vacations.
Convenience: When you live near the beach, it's not always easy to find a good bar or restaurant nearby. Having a home bar allows you to enjoy your favorite drinks and cocktails without having to leave the cozy comfort of your home base.
Truthfully, a home bar can be an excellent addition to any coastal home or beach house, providing a space for relaxation, entertainment, and convenience all in one. It will surely increase your overall home value if that's what you're going for, too!
How to Decorate a Coastal Home Bar
Decorating a coastal home bar or bar cart can be a fun way to incorporate the breezy, relaxed vibe of a beachfront vacation into your daily life. Here are some tips to get started:
Choose a seaside color scheme: Opt for colors that evoke the beach, such as shades of blue, green, and beige. You can also incorporate pops of coral, yellow, and pink for a playful touch.
Add coastal elements: Seashells, starfish, and other seaside treasures make great decorations for a coastal bar. You can also use items like driftwood, sea glass, and fishing nets to add texture and interest.
Incorporate natural materials: Rattan, bamboo, and other natural materials can help to create a laid-back, tropical feel. Consider using a woven rattan tray to hold glasses and mixers, or bamboo coasters to protect your furniture.
Use glassware as decor: A collection of beachy glasses and stemware can be both functional and decorative. Consider displaying them on a glass shelf or in a vintage suitcase for a fun touch.
Add lighting: String lights or a nautical-inspired lamp can add warmth and ambiance to your coastal bar. You can also use candle holders with beachy motifs to create a cozy atmosphere.
Choose beach-inspired art: Seascapes, beach scenes, and other coastal-inspired art can help to tie the theme together. Look for prints or paintings that feature your favorite beach destinations or incorporate seashells and other beachy elements.
Use a tray: A tray can help to corral all of your bar essentials and make them easier to move around when needed. Look for a tray in a natural material like rattan or bamboo to add to the beachy feel.
Display your favorite spirits: Choose a few of your favorite bottles of liquor and display them on the bar cart or on a shelf above the bar. This not only adds to the decor but also makes it easy to find what you need when mixing drinks.
Add plants: Plants like succulents or air plants can add a touch of greenery to your coastal bar. Look for planters in natural materials like terracotta or woven baskets to keep with the theme.
Use beach-themed towels as napkins: Swap out traditional napkins for colorful beachy towels to add a playful touch to your coastal bar. They can also be used to mop up spills or as makeshift coasters.
Remember, the key to decorating a coastal bar or bar cart is to keep it relaxed and casual. You don't need to go overboard with the theme – a few well-chosen beachy or coastal accents can be enough to design the inviting space you want.
With these tips, you'll be able to create a coastal bar or bar cart that's perfect for entertaining friends or simply enjoying a relaxing drink at home. Have fun with the theme and make it your own!
Coastal Home Bar Examples
Here are the coolest coastal home bar ideas I found online for you to get inspired by:
Open Blue Shelving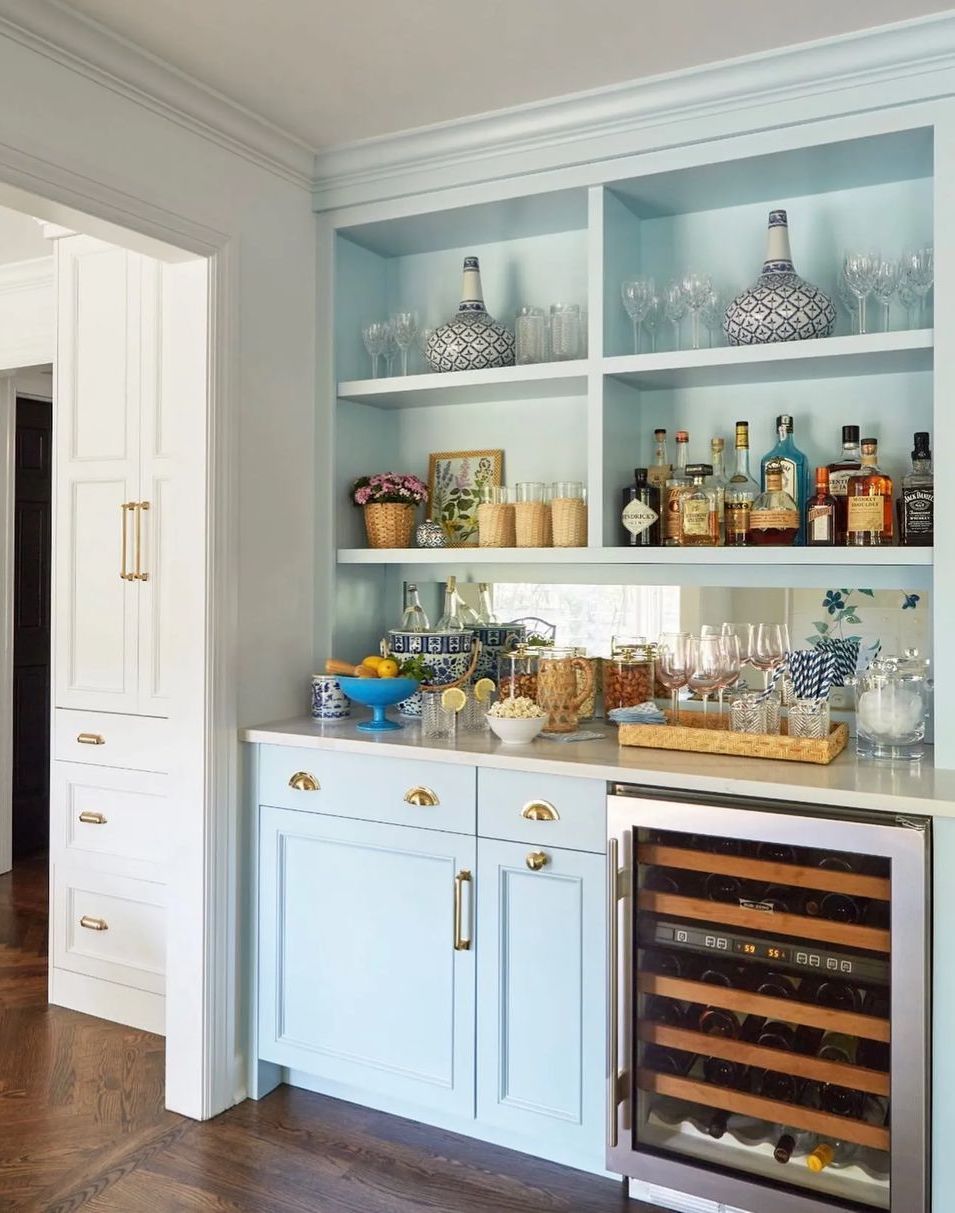 Rattan Bar Cart
The rattan bar cart is a must if you don't have a built-in home bar.
Ocean Wall Art
Place your bar cart below a beautiful painting of the ocean on the wall.
Portuguese Wall Tiles
Go for some fun blue wall tiles as a backsplash for your built-in home bar.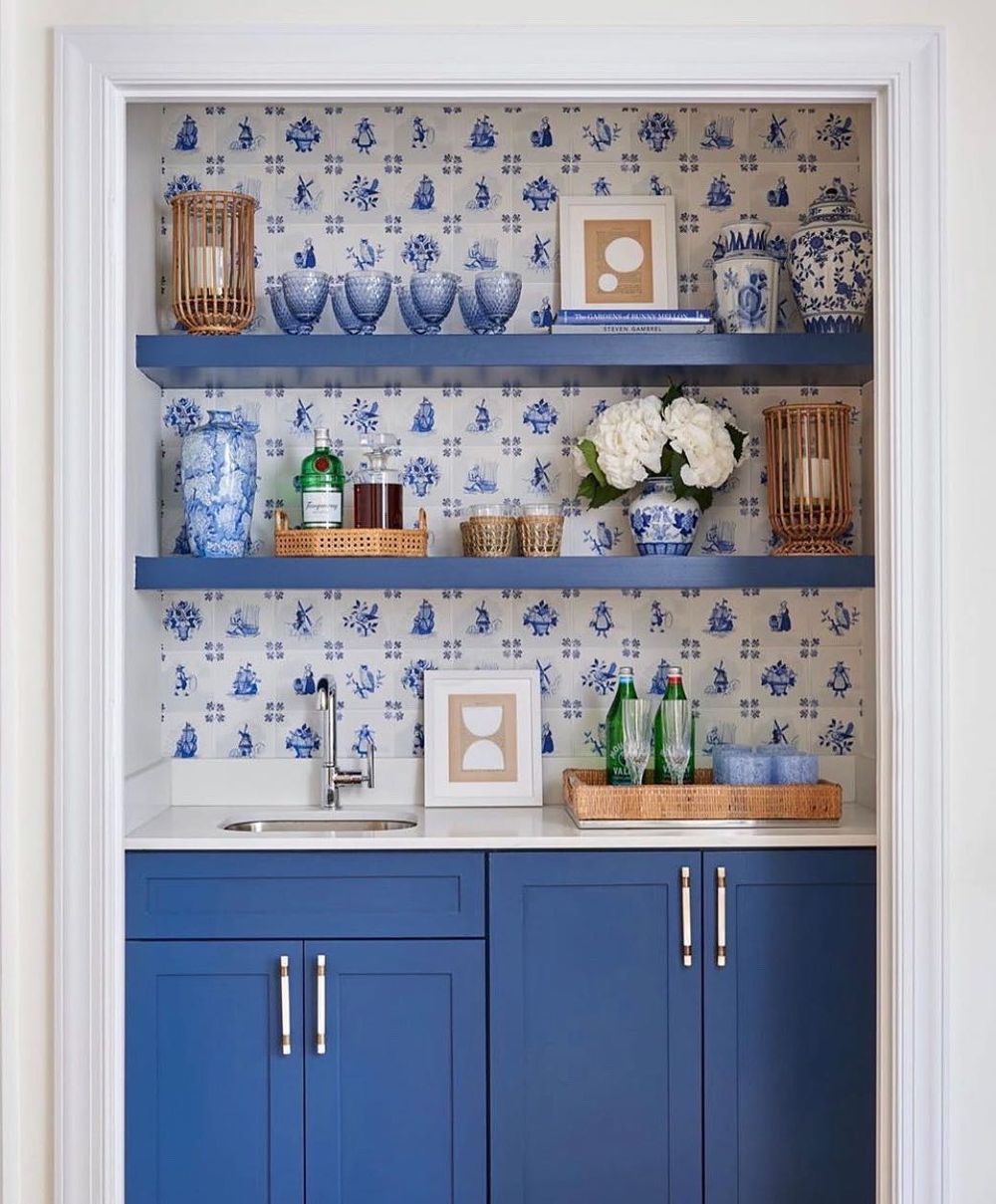 Boho Plants
Plants are an integral part of tropical home decor, so why not use some to decorate your home bar?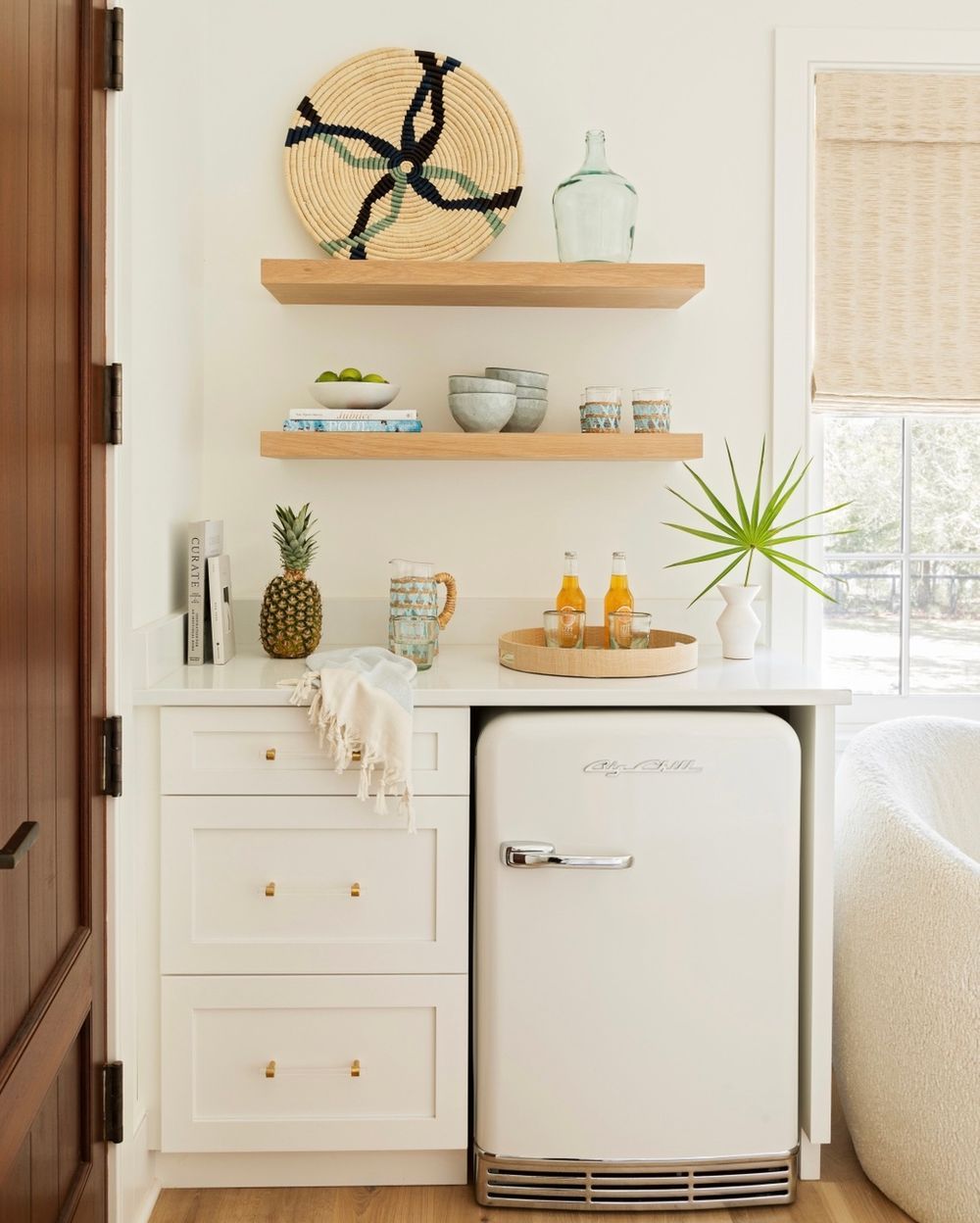 I hope these coastal home bars inspired you to design the tropical or beachy home bar of your dreams!