Coastal offices are a popular decorating choice for many homes, even if you don't live on the beach. Decorating in a typically coastal manner can create a calming atmosphere inside your home office, perfect for getting work done and being productive at home! If you dream of the sea, but you still need to work, then why not bring the ocean to your office? Not literally, of course!
Coastal decor is often associated with sea life motifs and blue and green tones, but you don't have to overdo it when it comes to these clichés. You can subtly incorporate coastal style decor into your home without being cheesy! A few touches here and there are all you need to create the perfect modern coastal home office space.
Coastal Home Offices
There are lots of ways to decorate your home office in the coastal style, and today we're going to share a few of our favorite coastal office decor ideas. From nautical artwork to rattan furniture, we hope one or more of these coastal decor elements will spark your creativity. Take a peek into these beautiful beach home offices below!
1. Cane Back Arm Chair
Cane is a lovely material to use for furniture in beach homes. What makes it a great choice for a chair specifically is the fact that its tiny holes make the chair breathable. You don't want to go with a thick upholstered chair if you live in a hot climate, because you'll be sweating as you sit there! Cane is the ideal furniture material for warm-climate homes. Here, a cane side chair with a dark wood frame sits in front of a pretty half-moon writing desk by the window.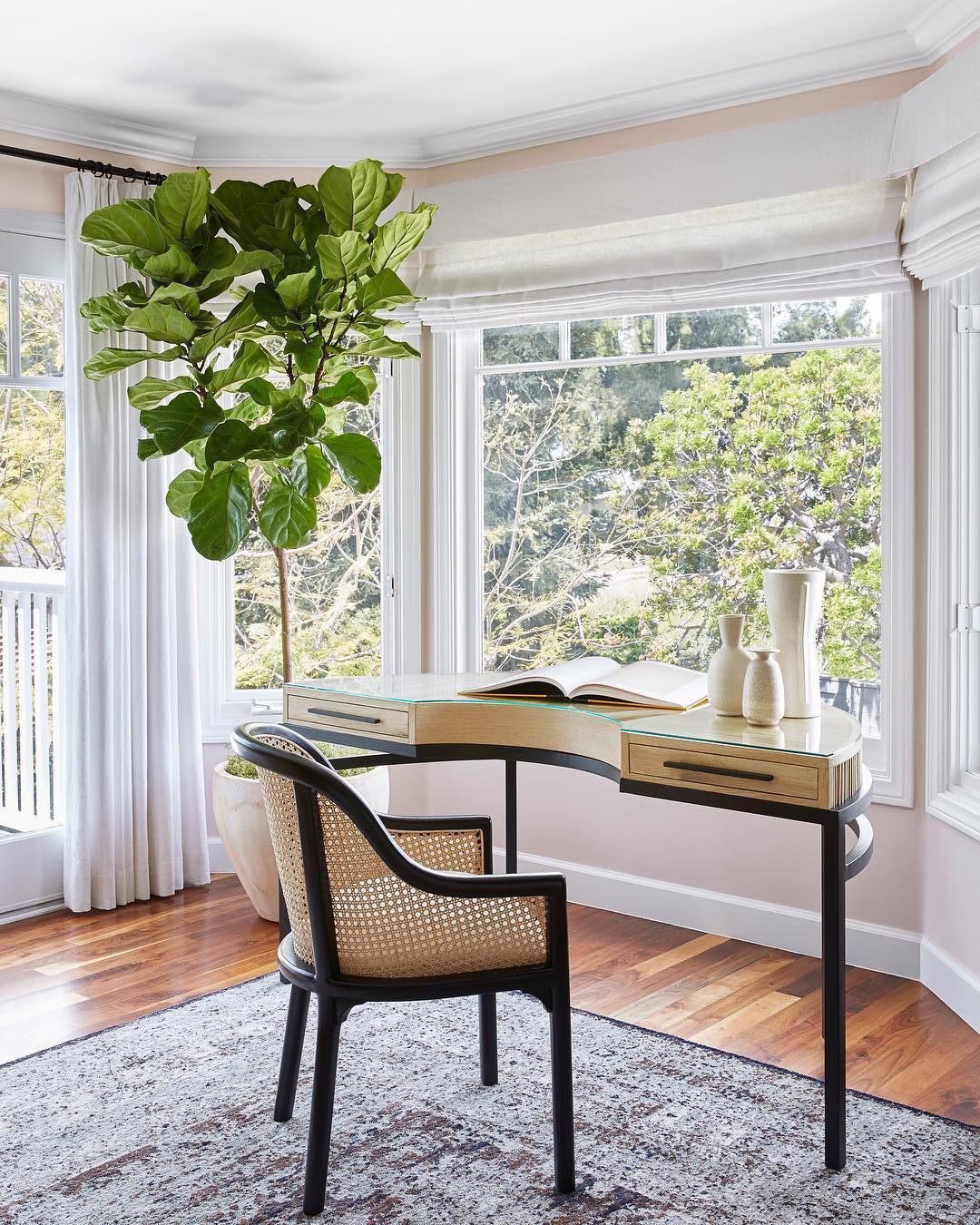 2. Driftwood Desk
A rustic wood desk made from natural driftwood sits in front of a beautiful cream slipcovered accent chair. This cozy desk brings out the warmth of the space, overlooking the ocean. With books and flowers on top, this writing desk is perfect for getting a little work done. Seashell paper weights hold everything in place and a silver floor lamp provides targeted lighting.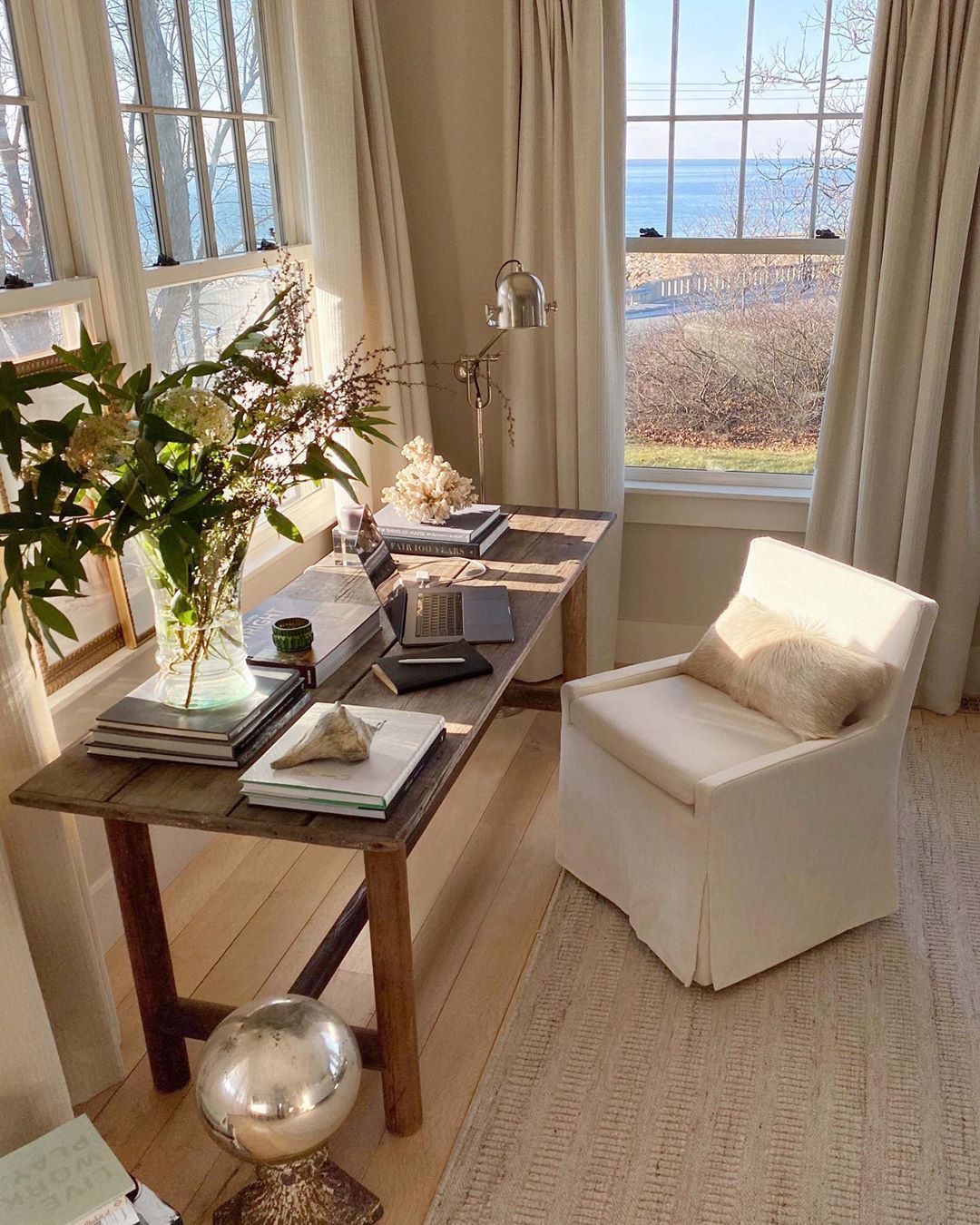 3. Yellow Walls
Pale yellow walls are a nice change from the commonly seen blue and green palette. Plus, it'll give your ocean artwork a chance to stand out on the wall! A jute area rug centers a small bench and large white executive desk in the middle of this room. Each corner has a beautiful grass or palm plant for a fresh look.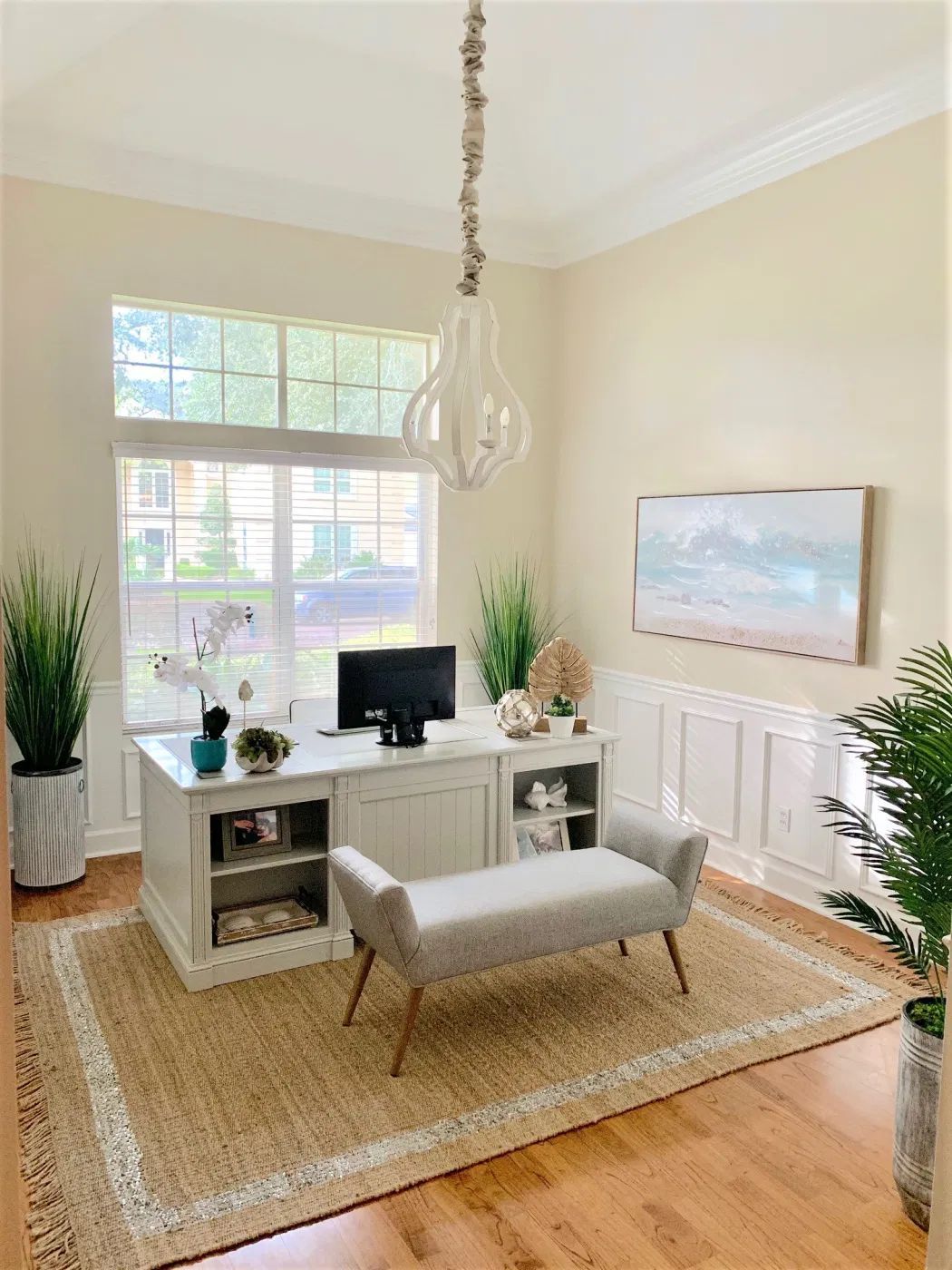 4. Rattan Tray
Rattan is a very coastal material that you can use for furniture, lighting fixtures and decorative accents. Here, a small rattan tray holds a white vase filled with flowers. It sits beautifully on a white desk with a brass task lamp and open shelving behind.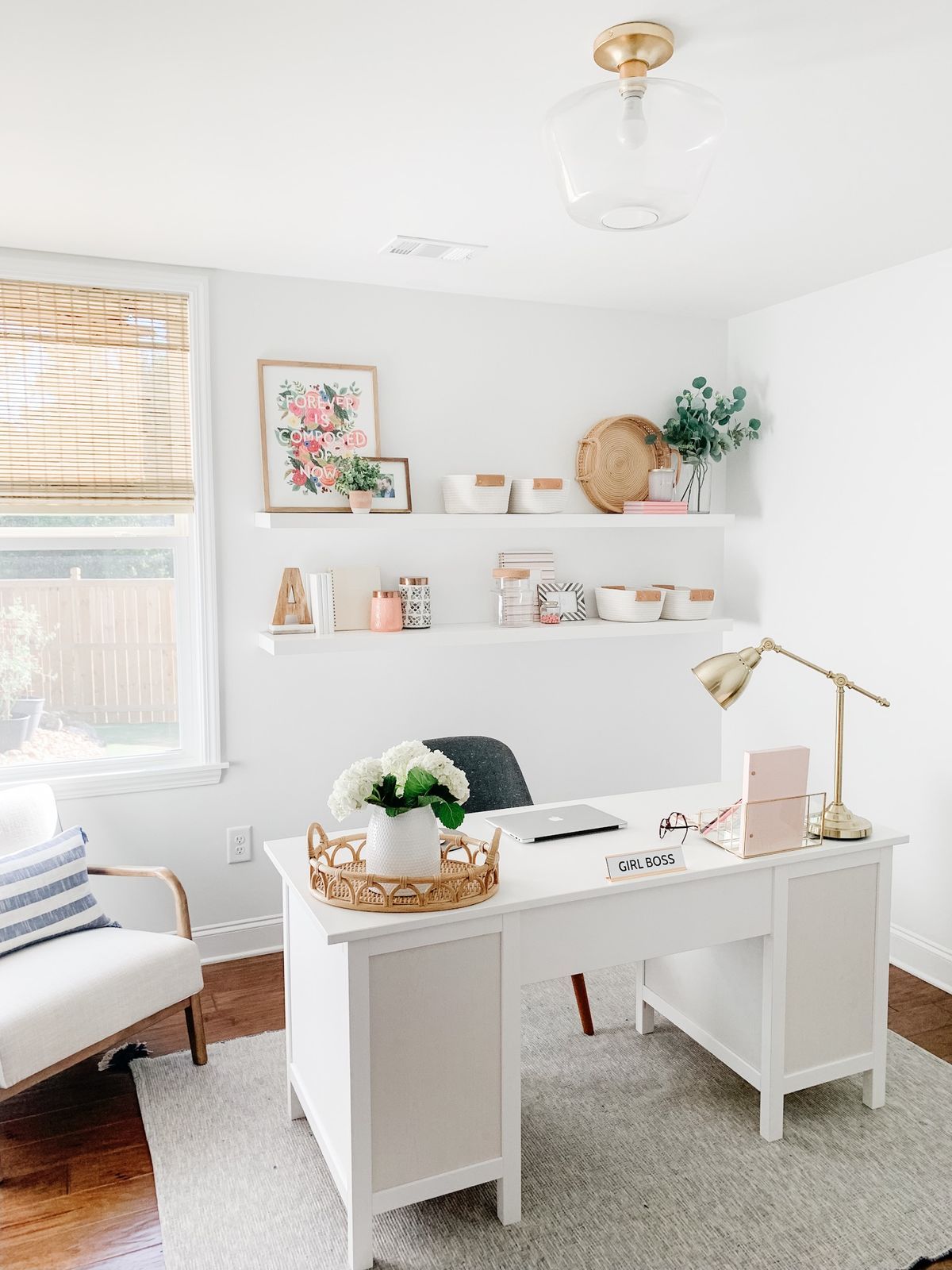 5. Indoor Plants
Indoor house plants are fabulous additions to any space – coastal or not! Here, a tall indoor tree sits inside a gray wicker basket.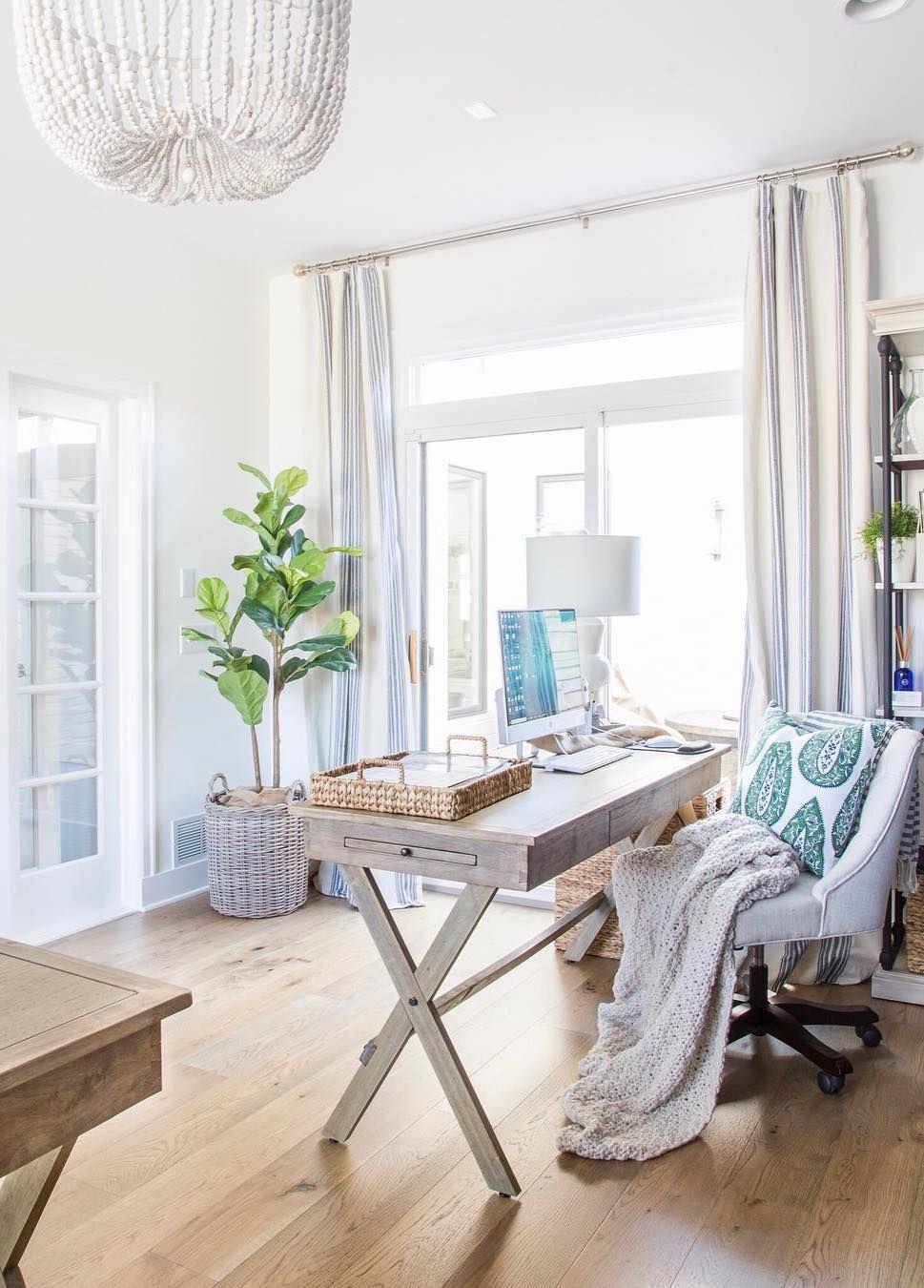 6. Driftwood Desk
Another driftwood desk for the win! Decorated simply, this desk is great for a small space. With two coastal posters resting on top, the decor is so easy to recreate. Flowers and a small brass clock top it off.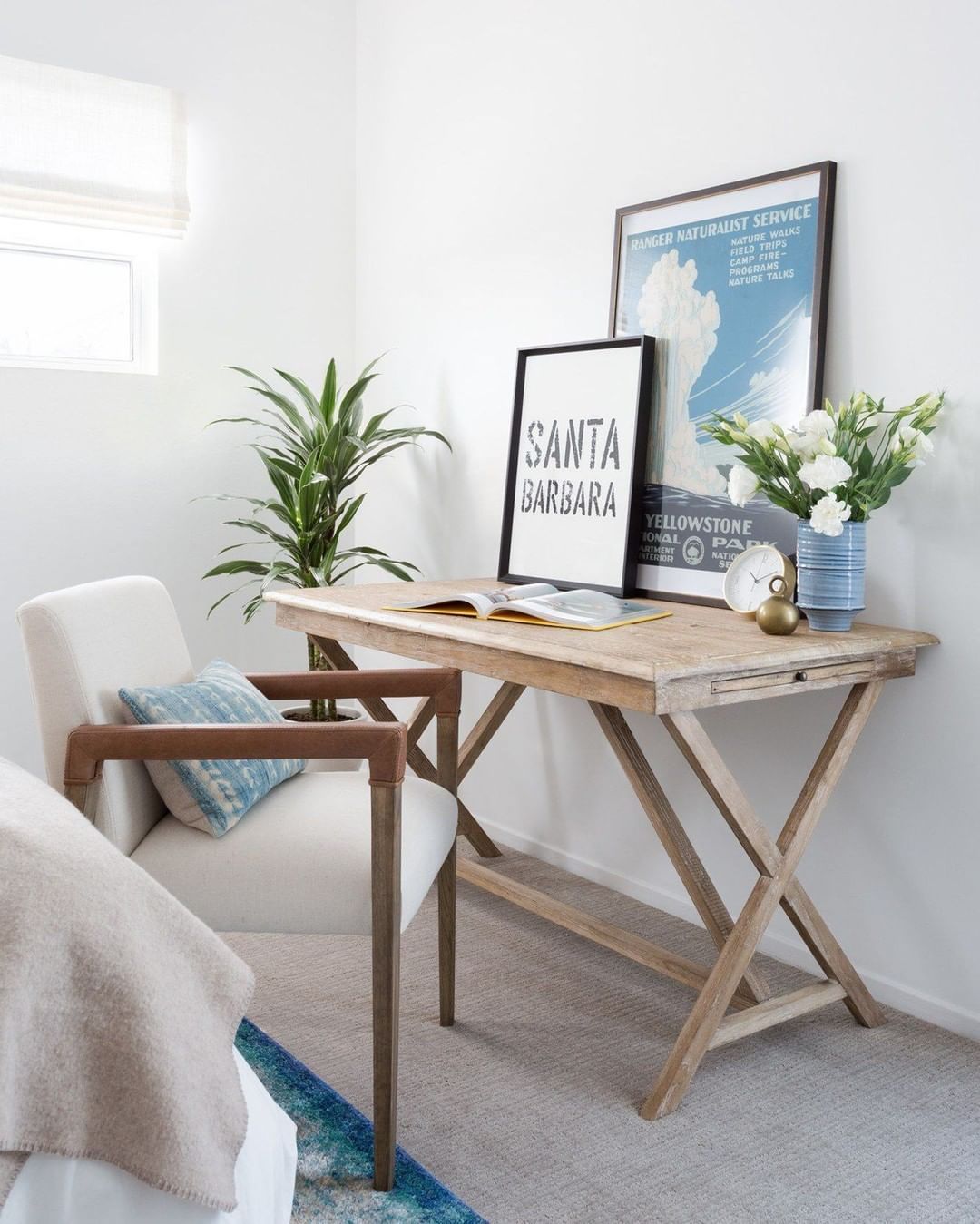 7. Kravet Nautical Sailboat Wallpaper
This dark blue nautical wallpaper with white sailboat drawings makes for a bold accent wall in this home office. The built-in bookshelves to the side offer great storage for office supplies and coastal accents like coral and an anchor. A simple brass task lamp helps to create a ship vibe. The navy swivel chair completes this beautiful navy and white nautical office look!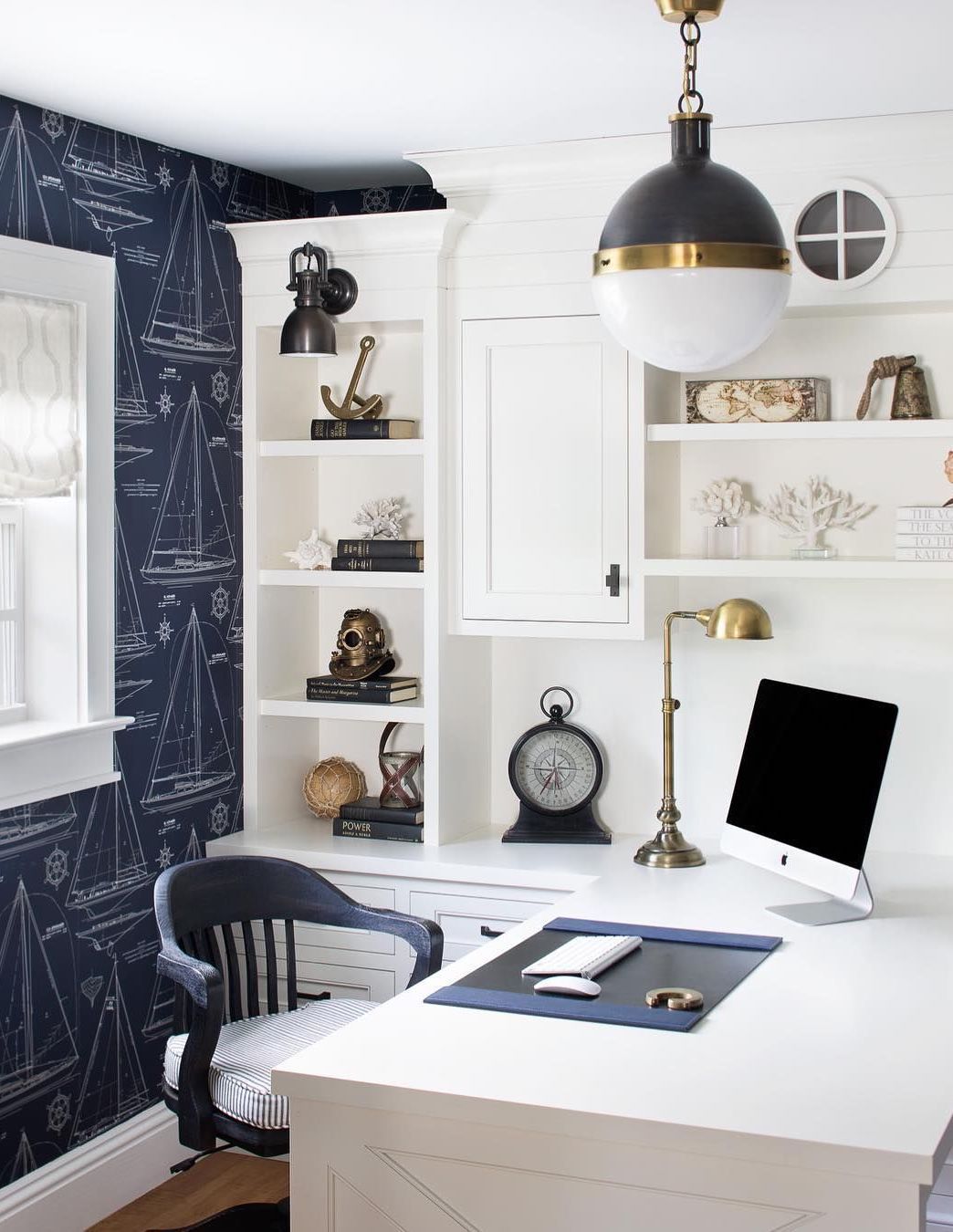 8. Blue Print Rug
A printed blue rug can make for a stand-out piece in your home office. Top it with a white or natural wood colored desk and a simple white slipcovered side chair and you're good to go!
9. Blue Cabinets
This is an interesting home office for 3 people. Each wall is lined with its own built-in counter space creating desk space all around the border of the room. Three beige tufted swivel office chairs are available for seating. There is plenty of lower cabinet space in each of the built-ins and two bookshelves in each corner add height to the room. The lower cabinet are finished in a teal blue as are the bookshelves. The walls remain a fresh white color. House plants and a sailboat provide a little bit of decoration. This is a great idea if you need to create a home office for multiple people in your household!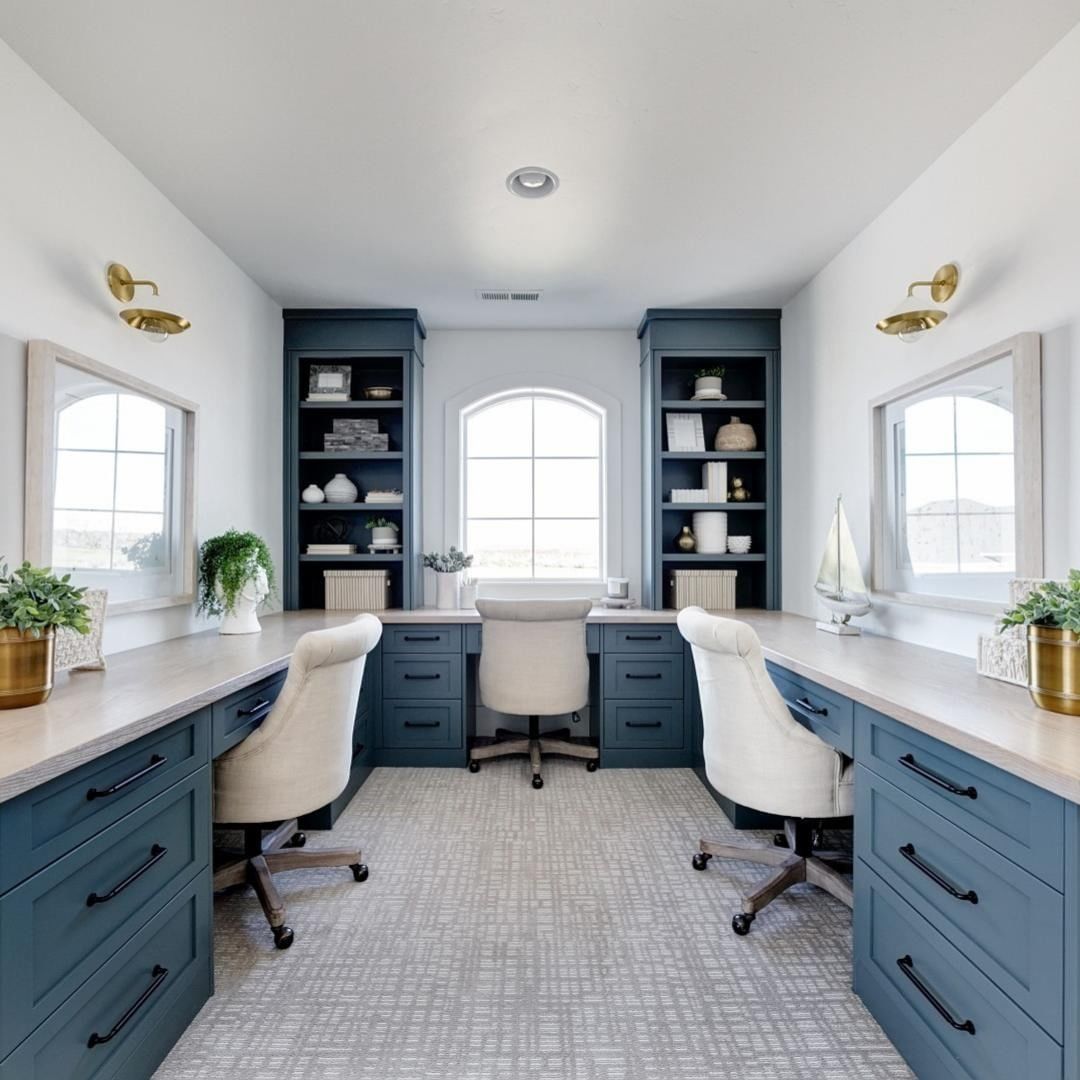 10. Neutral Furniture
Go full on neutral with this simple beige office decor. Abstract art, mid-century swivel office chairs and a rattan peacock chair all contribute to the calming beige tones of this neutral home office.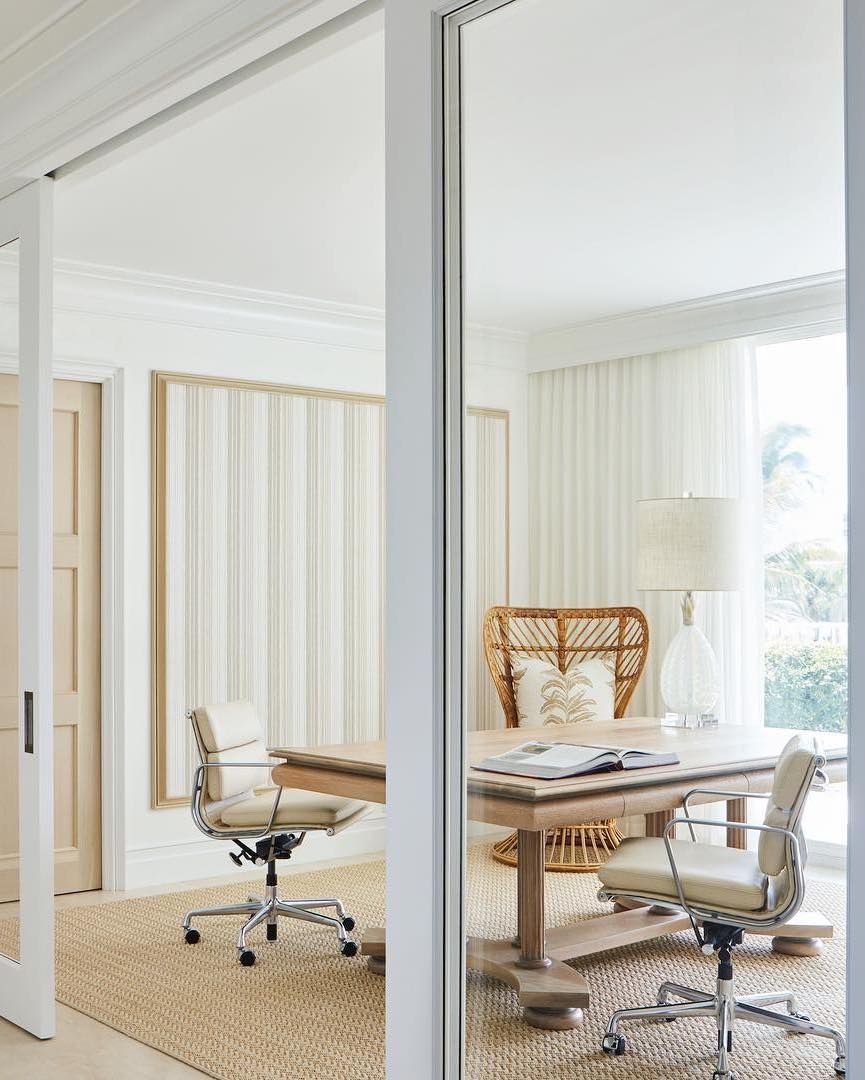 11. White Slipcovered Chair
The white slipcovered side chair wins again. It doesn't have arm rests which makes it easy to get in and out of. This office is smartly decorated with a silver pendant, tall grass in a vase, and a cozy white rug on the ground.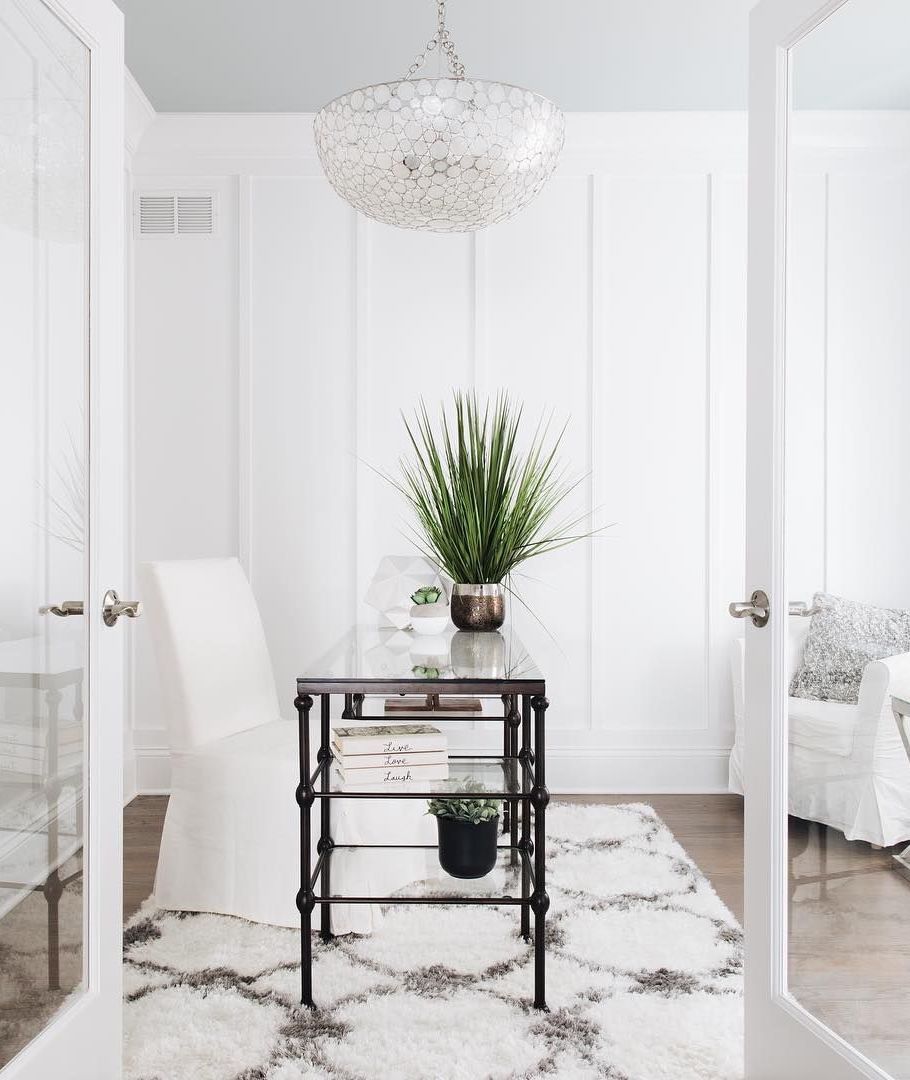 12. Blue Sliding Barn Doors
Interior barn doors can work in coastal homes too! I love these blue sliding barn doors which open and close to reveal this family's home office space.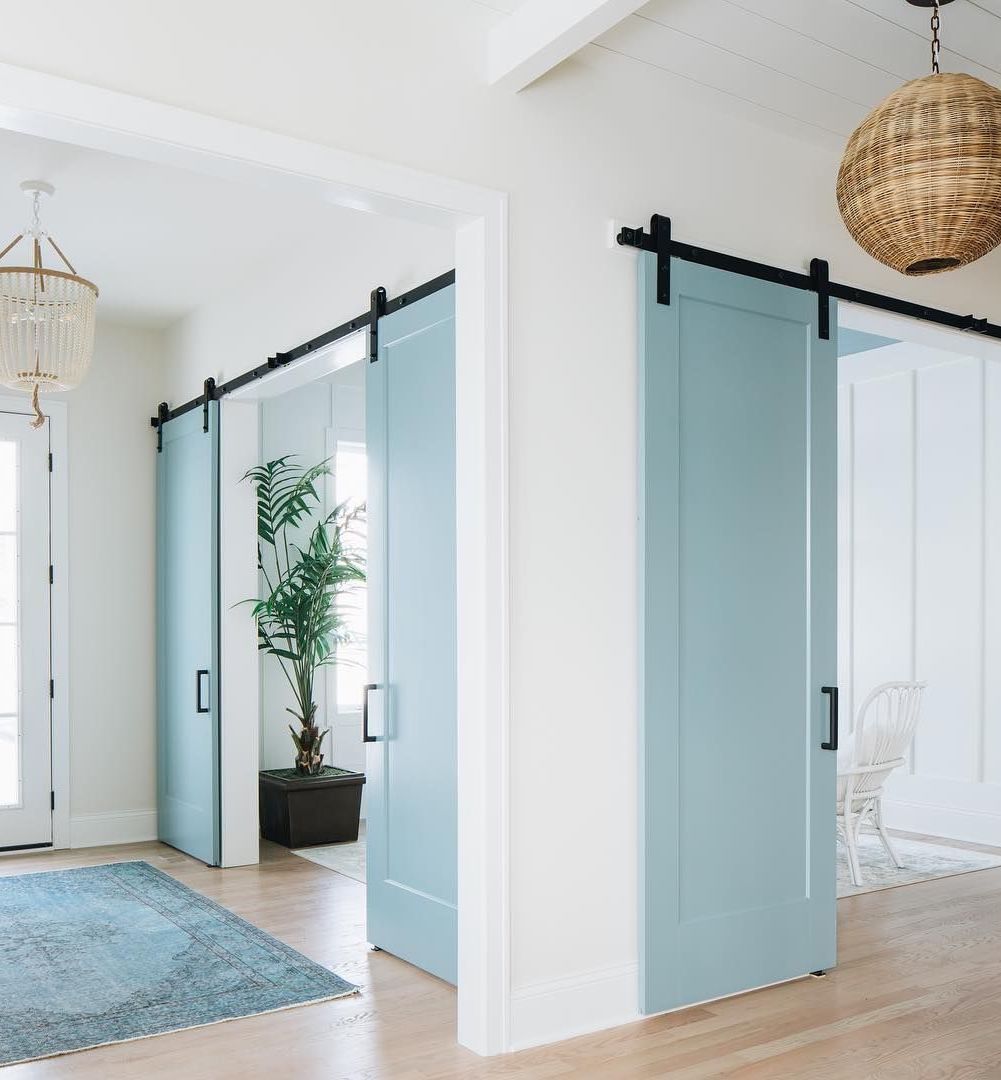 13. Blue Ceiling
From the same space, a blue ceiling is a unique design choice which really brings out the modern coastal vibe of this design. A simple brown wood desk is flanked by white rattan accent chairs and a white slipcover arm chair. The walls are paneled. An indoor palm plant sits nicely in the corner to balance out the blue.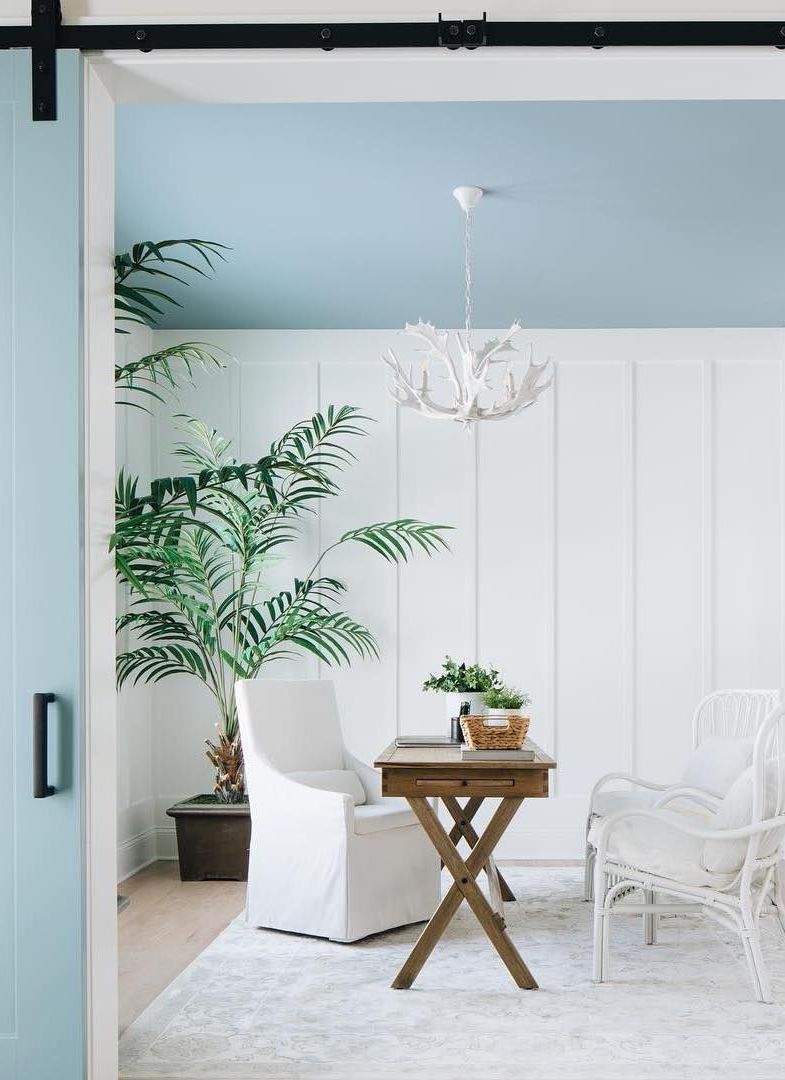 14. Wood Desk
Another view of this gorgeous wood desk.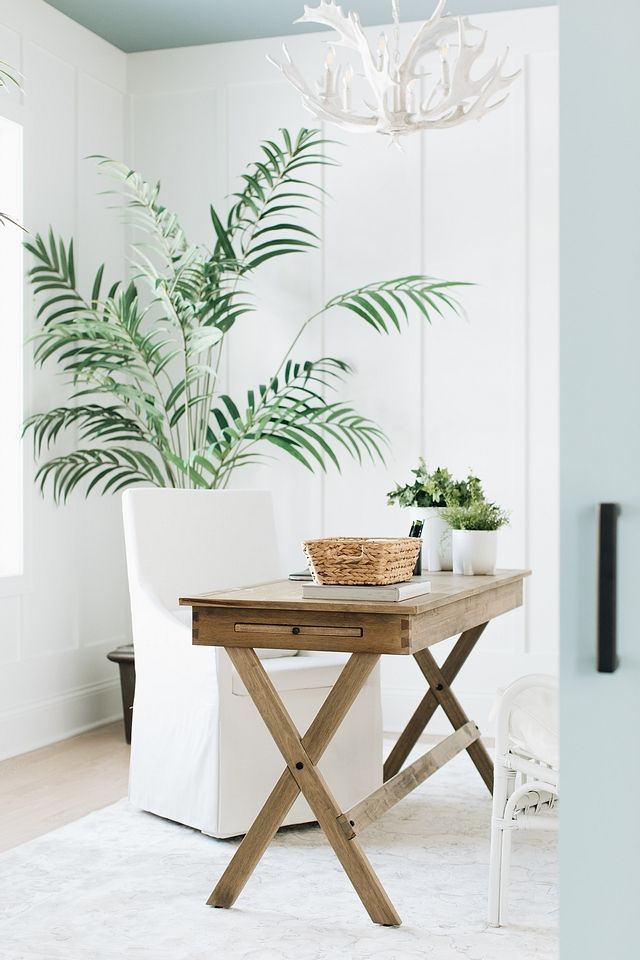 15. White Slipcovered Chair
White slipcovered side chairs are a great choice for home offices! A baby blue throw blanket adds some color and provides warmth if needed. This wood desk with metal legs has been decorated with a blue glass table lamp, a white vase, simple palm leaves, a few coastal picture frames, and writing materials. It sits partially on a blue and white striped coastal rug.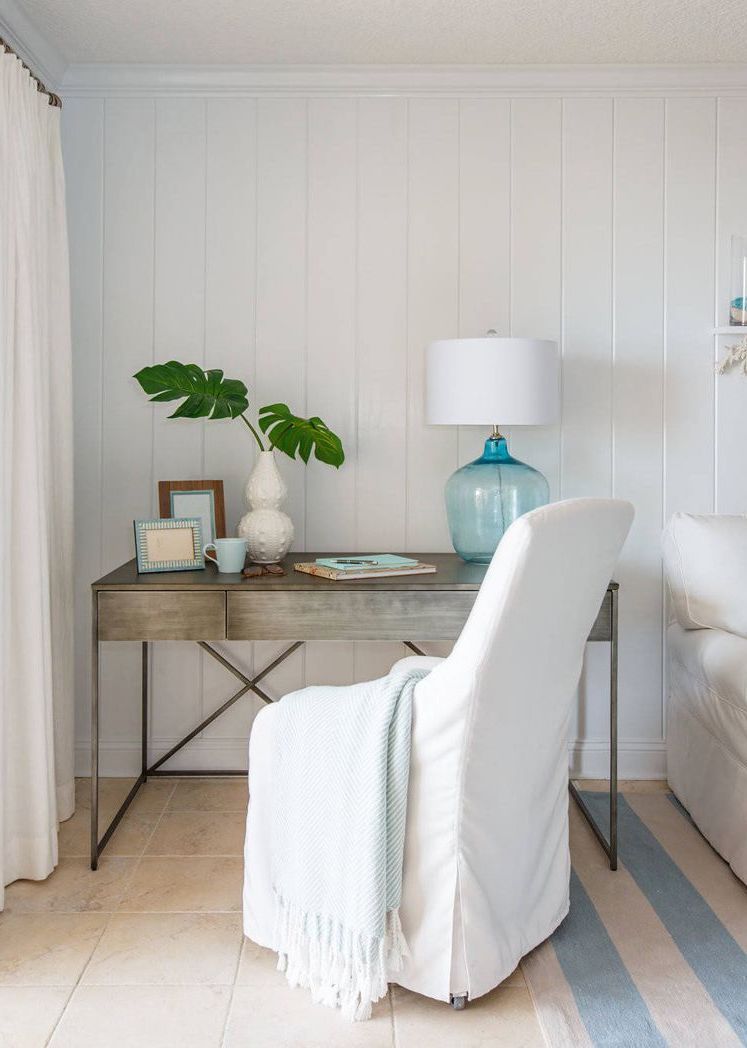 I hope this post gave you a few new ideas on how to decorate your coastal home office. As you can see, wood desks and white office chairs are a common theme in these beach home offices!
More Coastal Room Decor Ideas
If you are giving your beach home a refresh, then don't miss our other inspiring posts about summer home decorating. We have guides to just about every room in your coastal home!
Happy curating!