Today I want to talk about the best coastal sectional sofas for beach home family rooms or living rooms. Coastal sectionals are great for entertaining guests, hosting friends over for drinks, and of course, ensuring every member of your family has a comfortable place to sit! Coastal-style sectionals are often upholstered in cool ocean colors such as blue, white, and beige. They sometimes come in patterned fabrics like stripes or coastal motifs.
Coastal Living Room Style
From nautical to the Mediterranean, the coastal living room style is a very popular choice for interior design. Let the blues, grays, and whitewashed tones of the waterfront inspire you to create that ultimate beachfront feel.
Coastal living rooms often have a color palette of blues and greens. If you have a larger beach home and a spacious family room to work with, then a sectional sofa is the perfect design choice for your home.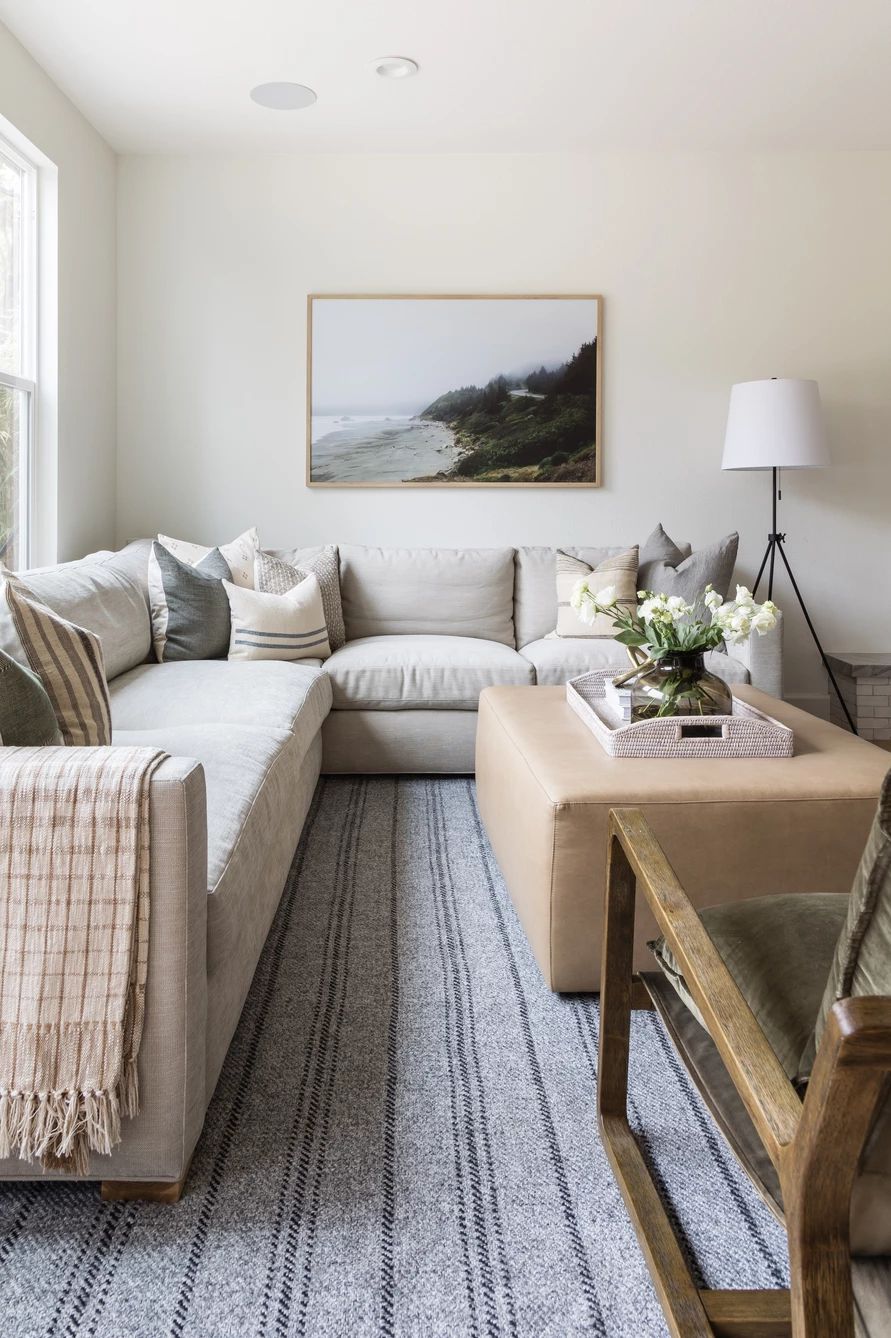 Coastal interior design is inspired by the colors, tones, and materials often associated with beachfront homes. Coastal home design can vary greatly depending on the particular look you are trying to achieve. While a New England coastal look will feature traditional designs with deep navy blues, gold, and gray tones, a Mediterranean coastal look will feature rustic undertones in shades of pale greenish blues, beiges, and whites.
Best Coastal Sectional Sofas
Here is a selection of the best coastal sectionals to buy for a coastal living room.

Sectional Sofas in the Living Room
There are a number of options available for seating in your living room. While a matching sofa and loveseat may appeal to many, they're not always the best choice for that coastal look. One of your best options is coastal sectional sofas.
Sectional sofas come in a number of different configurations which allow you to lay them out to suit your particular room and me. A popular choice is the chaise sectional which features a regular 3-seater sofa with a chaise at one and. You could also have the more traditional L-shaped sectional which features a 3-seater sofa on one leg, and a 2-seater on the other. Then there are also U-shaped sectionals which are very similar to the L-shaped but have two sides of the same length.
Coastal Style Sectional Sofa Ideas
Whether you are looking for that perfect California feel, or you prefer the look of a New England bungalow, coastal-style sectional sofas are an excellent choice for any home. If you already have a sectional in your living room, a simple white slipcover may be all that you need. The nautical striped design is very popular getting that New England seaside feel, while various shades of blue can be used to represent everything from Palm Beach to Key West to Santorini.
White Slipcovered Sectional Sofa
Not everyone is a fan of using slipcovers. But those who love them know, that they are an easy way to keep their sectionals looking beautiful year after year. Made of durable white denim, the best slipcovered sofas provide an extra level of protection to any home where kids roam freely.
When you get a stain directly on your sofa, chances are you will need to hire a service to come out and clean it. Not so with slipcovered sofas! One of the benefits of using slipcovers is that they can be bleached in order to retain that pristine look.
Nautical Striped Sectional Sofa
For that ultimate seaside look and feel, nothing does it quite like nautical striped coastal sectional sofas. The alternating patterns of white and navy stripes can make any space feel closer to the ocean. But, this simple pattern should be used with care because it can easily overwhelm any space. With the help of a little bit of gold and plenty of that weathered gray look, you'll feel as if you just stepped into a cozy bungalow near the pier.
Blue Sectional Sofa
Blue is an excellent choice for any room. It is easy to mix blues with just about every single color in the visual spectrum. In the limitless possibility of shades and tints, it represents everything from the clearest blue skies to the deepest depths of the open ocean. When it comes to creating that perfect coastal look, you can never have too much blue!
---
I hope you enjoyed this article on the best coastal sectional sofas!