Paris is one of the most popular cities for American travel, and many people are so impressed by the lovely French decor and interior architecture, that they want to know how to decorate their home like a Parisian! I've always been inspired by the elegant and classic apartments of Paris so I started researching how to achieve the Parisian decor look from this side of the Atlantic.
What is the difference between Parisian and French Country decor?
Despite what it may seem, there is a big difference between Parisian home decor and French country home decor. Parisian decorative style is definitely French, but it's much more modern and minimalist than French country decor. Parisian decor and furniture is rarely "distressed" and is often contemporary and minimal or traditional with few blemishes.
Parisian Interior Structural Elements
Decorating your home in the style of a Parisian apartment can be costly as many of the elements of the look are structural. Think: herringbone hardwood floors, marble fireplace mantels, intricate wall moldings, etc. But that doesn't mean that you can't incorporate some of the easier decor themes into your home at a low cost.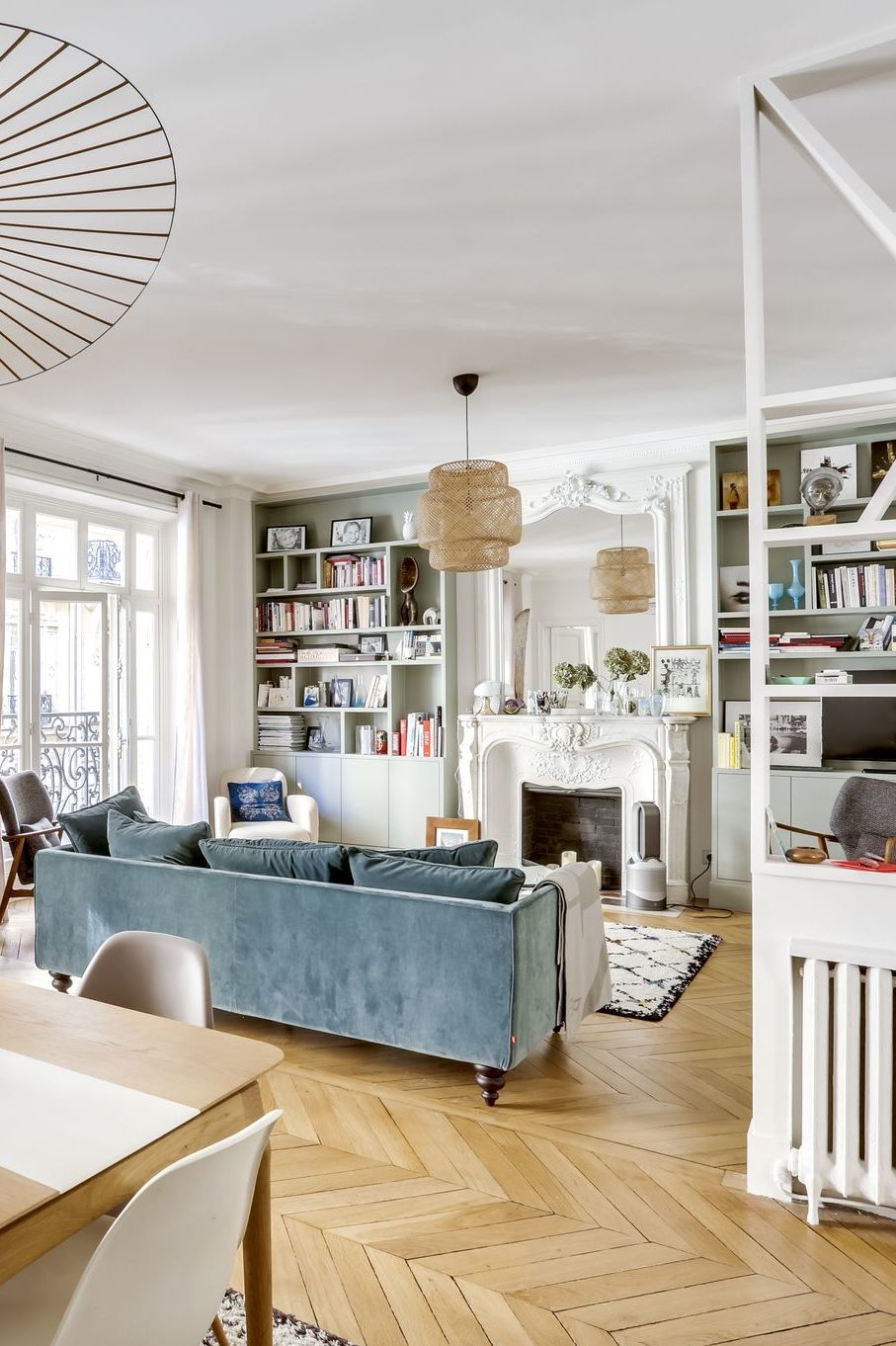 Studio 85 By Casaromani et Conscience
Here are a few structural elements of classic Parisian style homes:
Marble Fireplace Mantel
Marble fireplaces are installed in so many Parisian apartments. Fun fact: it's against the law to actually use them! Yes, there were fire concerns so fireplaces in Paris can't actually be used, but many apartment owners left their fireplace mantels intact because of the charm they give the room!
This is a tough one to get in your home simply because they are so expensive, but if you do want to make a big purchase then heading to Marc Maison to see a selection of stunning marble fireplaces.
Gilded French Mirror
No Parisian fireplace mantel is complete without a built-in gilded French mirror installed above it! This one is a bit easier to get in your home and the trend has certainly caught on stateside. You can find so many gold-framed French mirrors online to get this look in your home.
Even though Parisian mirrors are typically built into the wall above the fireplace, you can still imitate this look by placing a large gold mirror above your fireplace and just leaning it against the wall.
Herringbone Wood Floors
Another quintessential element of Parisian apartments is their warm brown parquet wood floors often in a herringbone pattern.
Wall Moulding
In true Louis XIV fashion, the walls of the most luxurious Parisian apartments most always have some sort of wall moulding to frame the space. The moulding can extend to the doors and even the ceiling of the apartment.
Large Ceiling Medallion
In addition to the moulding, Parisian apartments often feature a large ceiling medallion from which their beautiful chandeliers hang!
Wrought Iron Balcony
A big part of the charm is the beautiful black wrought iron balconies that grace the windows of apartments all across Paris. Because the windows are so tall, these iron balconies served a practical purpose when they were first installed! Over time, the iron scroll designs became another beautiful element in Parisian apartment design.
I'm not going to lie – I've definitely thought about the logistics of purchasing one of these pretty iron wall panels and rotating it to fit inside my window to create this look!
Parisian Style Furniture
Parisian style furniture is much easier to find online. The style of furniture you choose will depend on the structural elements of your home. I often see modern minimalist furniture inside Parisian homes because it contrasts with the intricate mouldings on the walls. Conversely, if your walls are bare, you can get away with the more recognizably French style furniture like cabriole sofas and Louis chairs.
Here are a few pieces of classic Parisian furniture I recommend:
A Mid-century or 70s Velvet Sofa
Cane Furniture
Pierre Jeanneret Armchair
Modern Velvet Dining Chairs
Louis Chairs
Parisian Decor
There are only a few Parisian decorative accents to add to your home. In general, Parisians don't decorate with objects as much as Americans do. They prefer to have personal belongings hanging around the house like books, and rarely go out to purchase decorations.
In any case, there are a few little pieces you can buy to make your home more Parisian. These are perhaps the most affordable ways to decorate in the Parisian apartment style.
Gold Framed Mirror
Crystal Chandelier
Vintage Gold or Brass Tray
Candles
Dried Flowers
Minimalist Art
Bust
Books
Many pieces are sourced either from family inheritances or from browsing a local flea market, but if you visit some antique shops in the US, you might just get lucky and find your perfect piece!
Parisian Decorating Blogs
Here are a few Parisian decor blogs I love reading for inspiration!
Hello-Hello
French Fancy
Clem around the corner
Inside Closet
The Socialite Family
Check back often for more Parisian decorating tips. In the coming months, we will publish a Parisian decor guide to every room in your home!