Get ready to be inspired by these Parisian bathroom decor ideas from France. Parisian bathrooms are a stunning combination of sophistication and vintage aesthetic, paired with timeless grace and long-lasting beauty.
Are you planning on renovating your bathroom soon?
Well, let us help you out because we are totally in love with Parisian decorating. And after seeing these design ideas, you will be too! We think it's the perfect way to design your bathroom.
Before you decide to go for the Parisian style, it is important for you to know that this style isn't for everyone. It tends to be very feminine and European in design. If you're designing for a man or for someone who likes sleek contemporary bathrooms, then this might not be the style for your project.
Parisian Bathroom Design
If you like pieces that are visually attractive, and practicality isn't the only thing that is important to you, then keep reading! Here are a few tips and ideas to help you turn your bathroom into a warm and romantic retreat with all the elegance that decorating in the Parisian style brings. Without further delay, here are the best Parisian bathroom decor ideas!
White Marble
The most luxurious Parisian bathrooms feature some sort of marble decorations. It could be a marble wall, marble floor, or a marble bathtub, for example. In this case, marble has been installed seamlessly from the floor to the walls. It even blends well with the built-in marble bathroom vanity with double sinks. A gold-framed linen closet with a mirrored door provides storage.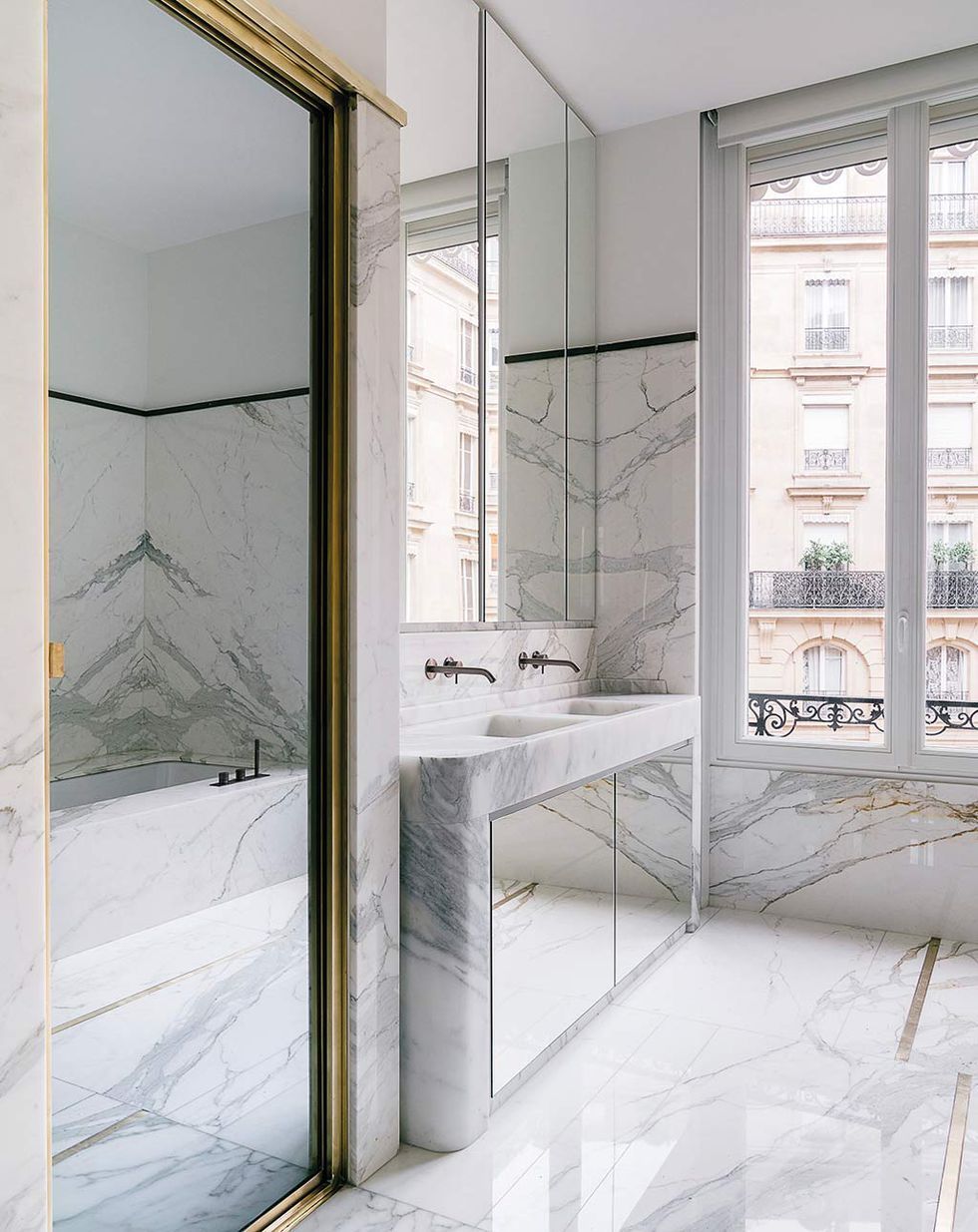 Clawfoot Tub
The showstopper in Parisian style bathrooms is always the clawfoot bathtub. I could easily spend all day lounging in one. You definitely don't want to forget this key piece of the bathroom. You can also create a curtained tub effect by using a coronet and attractive fabric.On the other hand, if you prefer a more modern look, then you can go for a bathtub with a classic oval shape without feet.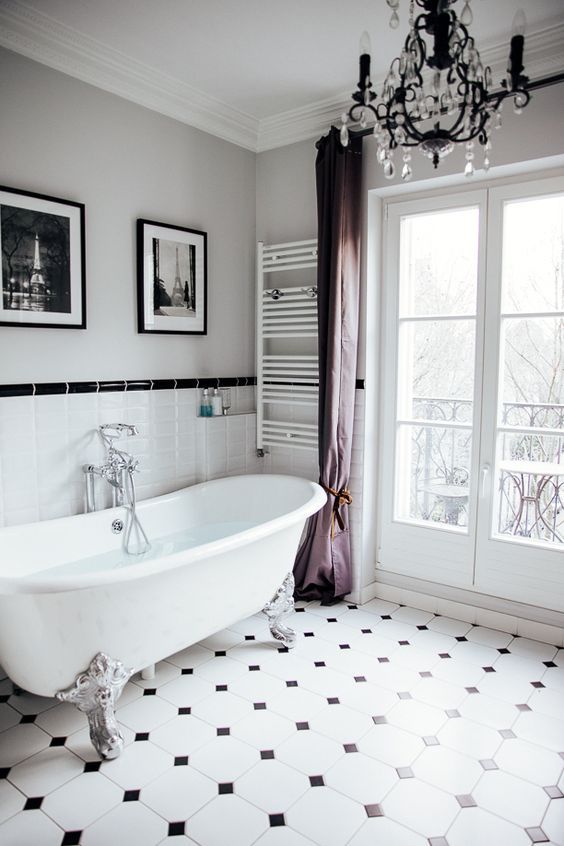 Mid-century Modern Vibes
Parisians adore mid-century modern style and many of the upper middle class apartments are decorated using mid-century modern furniture like this mid-mod bathroom vanity.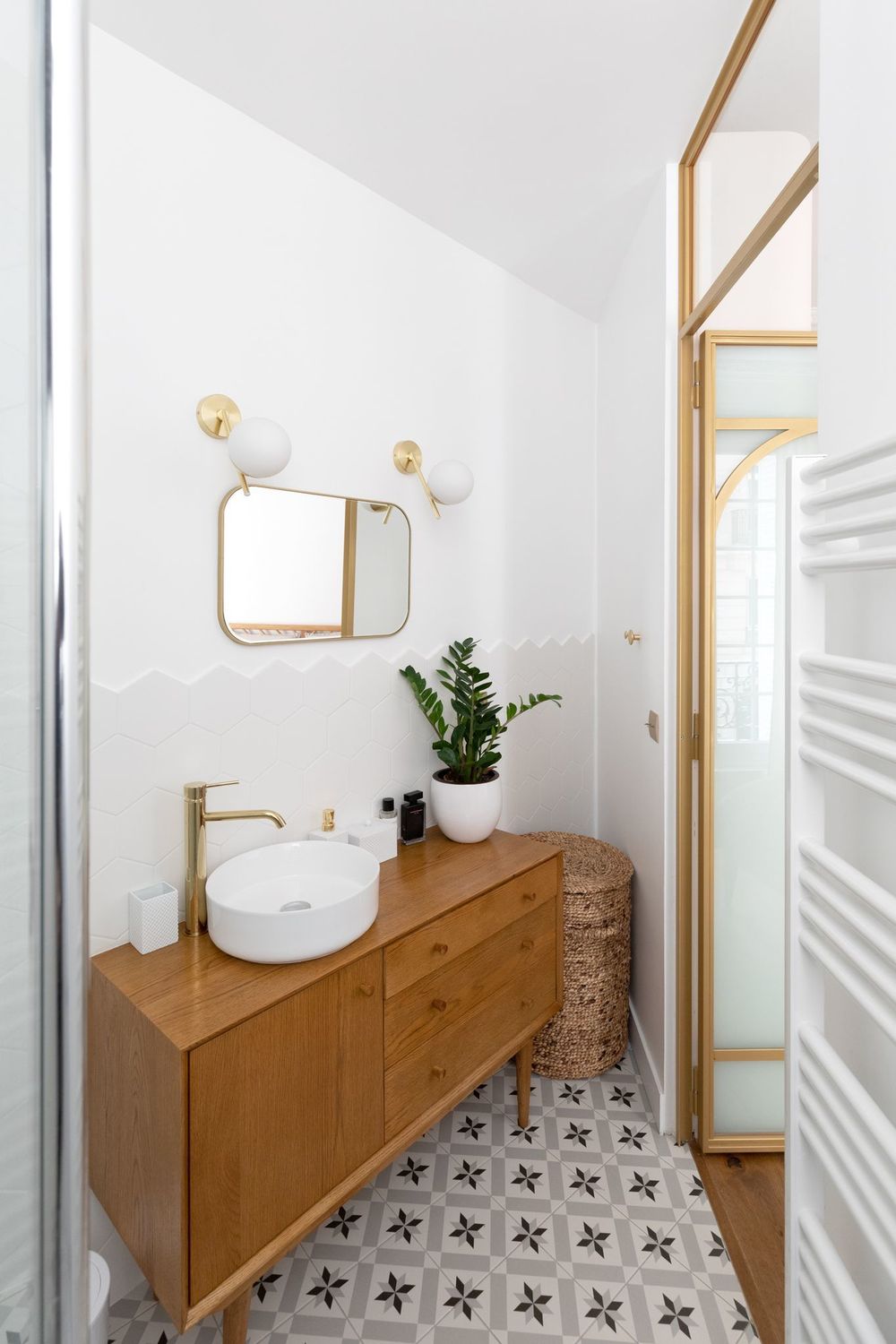 Flowers
Parisians love flowers in just about every room of their homes. The many flower markets and florists in Paris attest to the fact that this is one thing they buy really often. Here, a small batch of pink roses is displayed in a simple glass jar vase. It adds a feminine pop of color to this white marble bathroom with a built-in bathtub.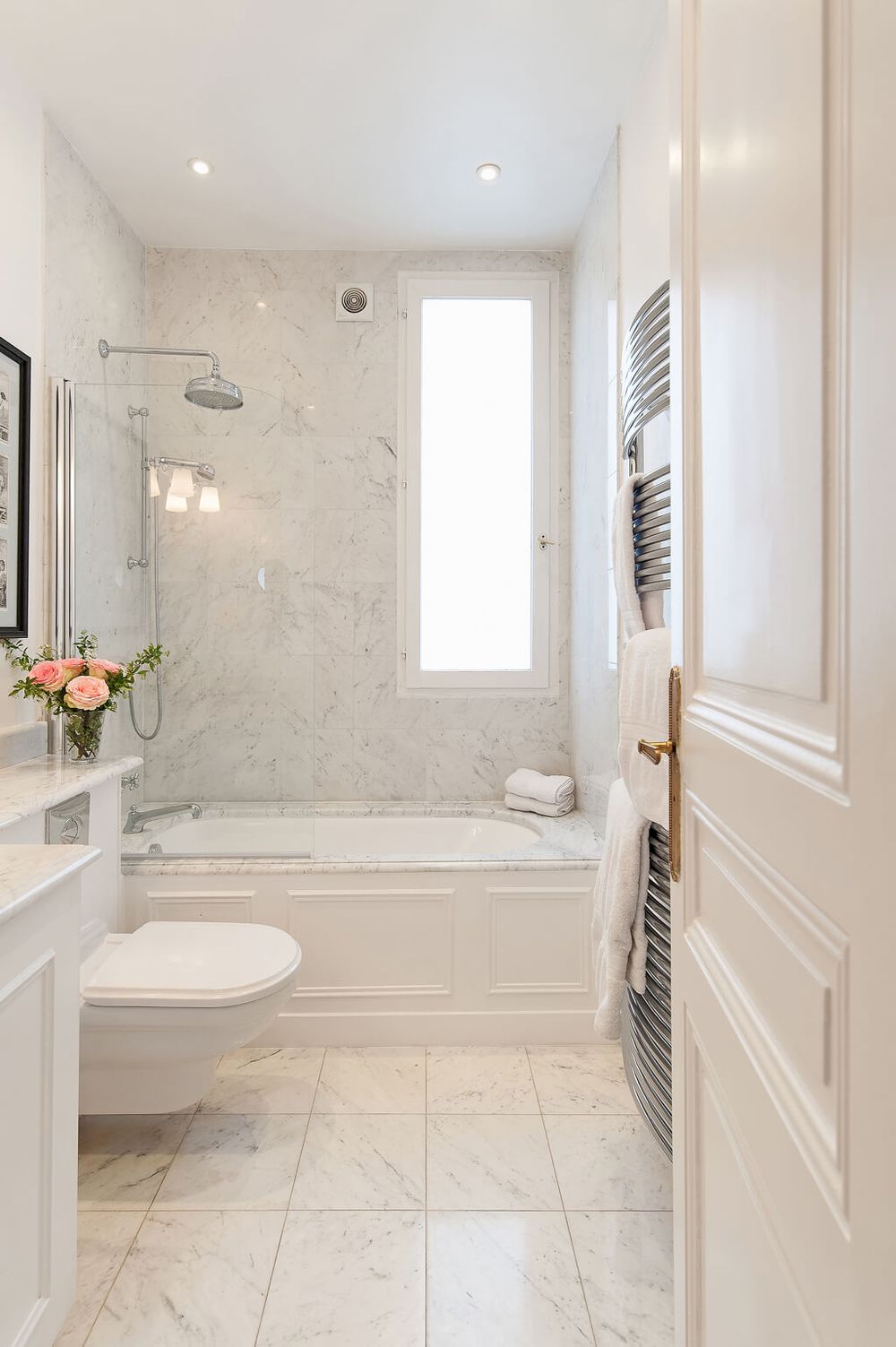 Vintage Gold Mirror
There is almost always a vintage gold framed mirror attached to the wall in Parisian style bathrooms! It could be over the sink, or on an empty wall. Parisian find their vintage treasures at real flea markets in Paris, but you can snag one for yourself via the many online retailers which have copied this huge trend. This bright bathroom reflects lots of sunlight thanks to its white subway tile walls.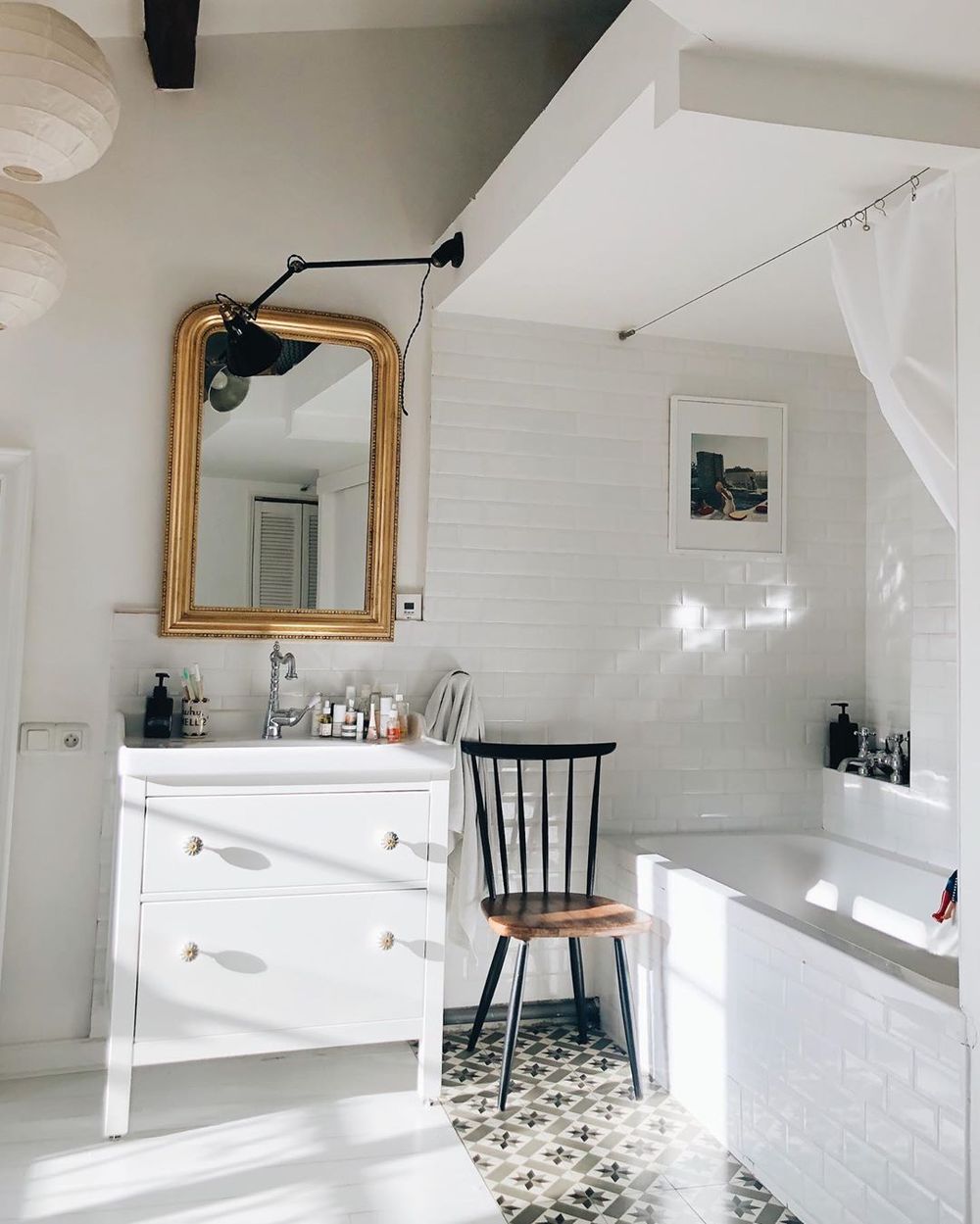 Black and White Floor Tiles
The perfect Parisian bathroom always has a striking combination of black and white. It could be a checkered floor tile or other architectural elements of the space. Don't be tempted to decorate excessively with black, but instead focus on incorporating softer shades to balance it out like creamy whites, soft ivory, and other lighter shades paired with the dark hue.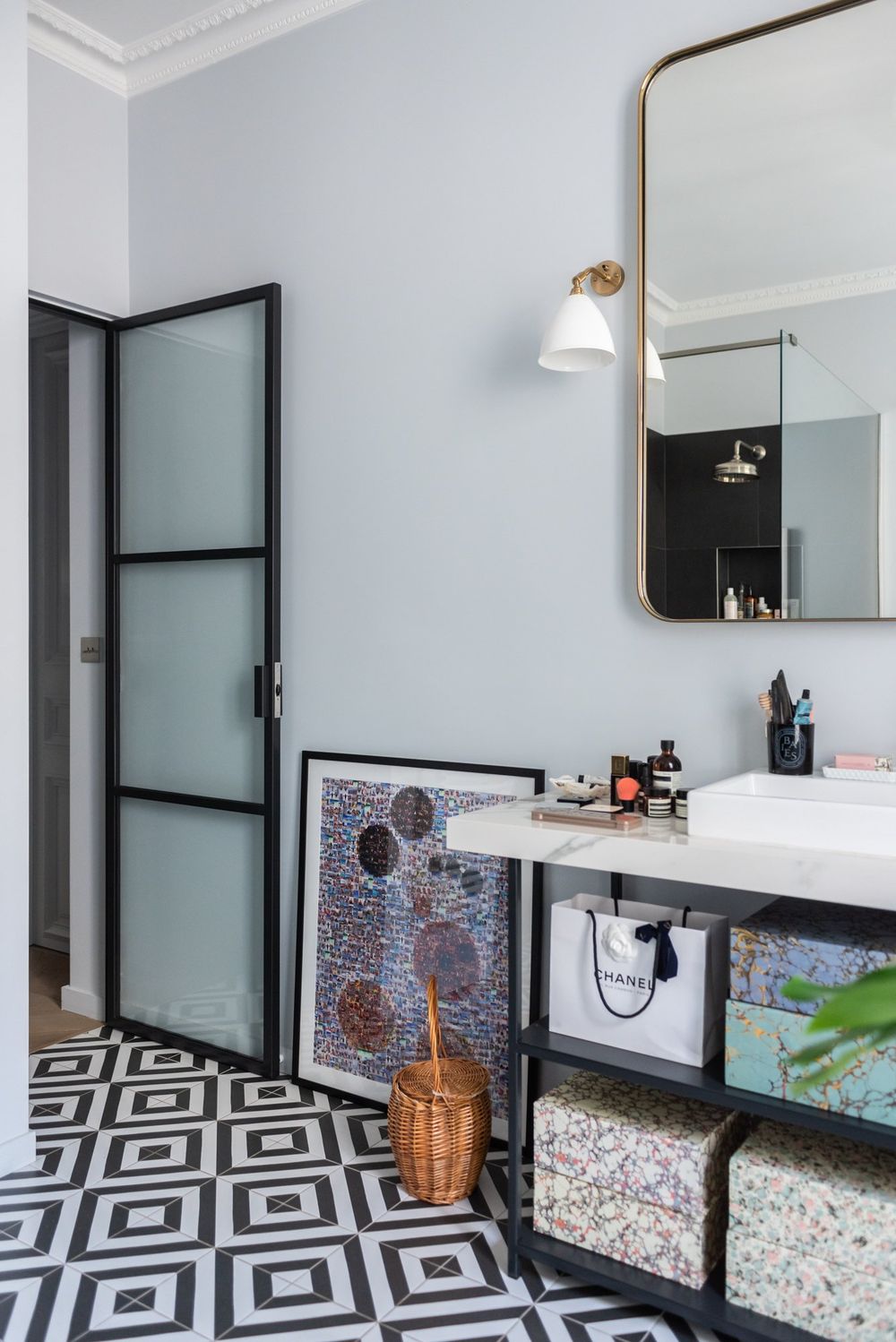 Brass
From lighting to fixtures, you definitely want brass in your bathroom to get the Parisian look. This bathroom has brass pendant lighting hanging down over the sink which has been outfitted with an aged brass faucet.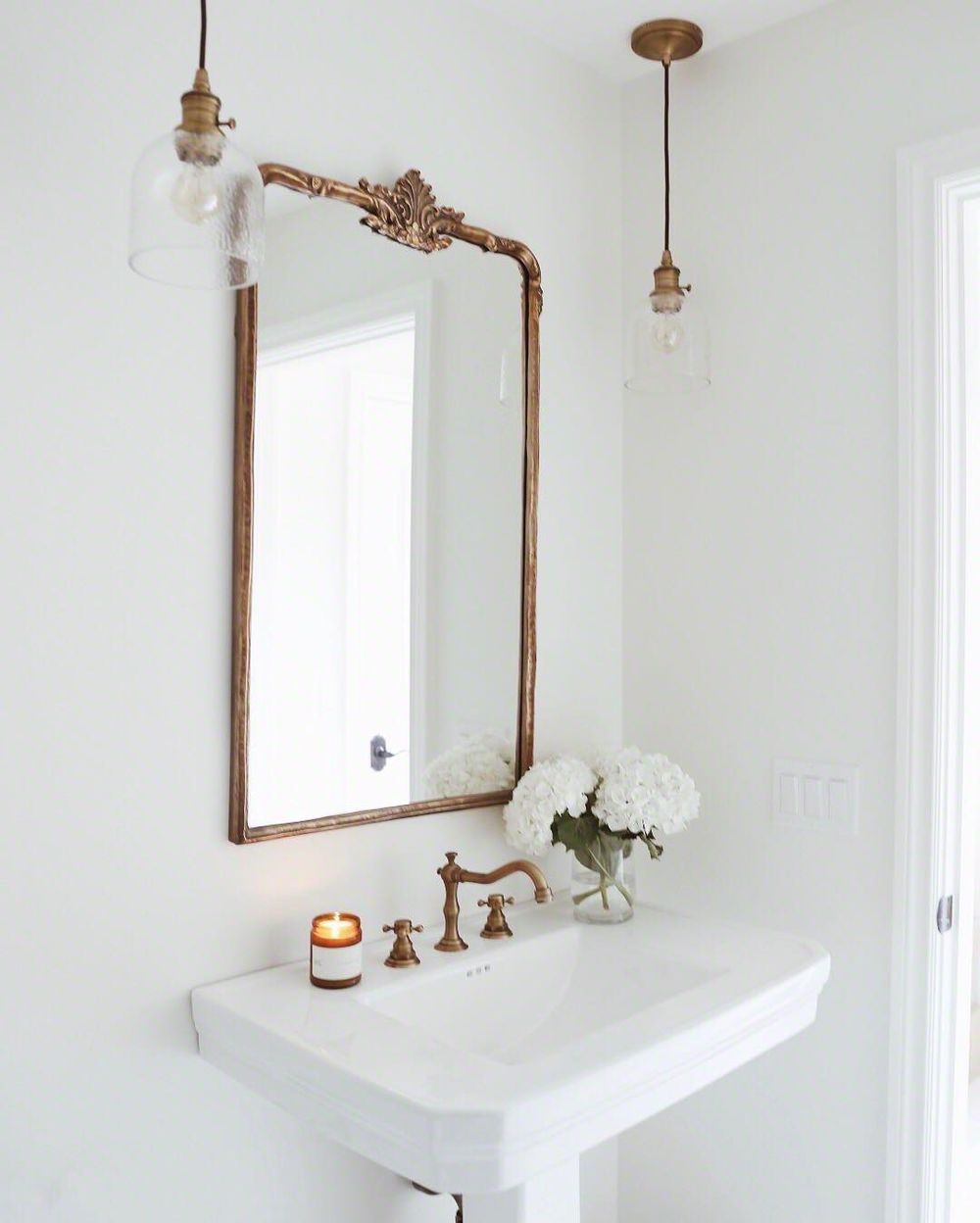 Striped Towels
French design is known for its use of minimalist stripes. Many bathrooms in Paris have single-stripe towels for guests to use to dry their hands. Blue is the accent color of choice, but you can also find other colors like gray or red.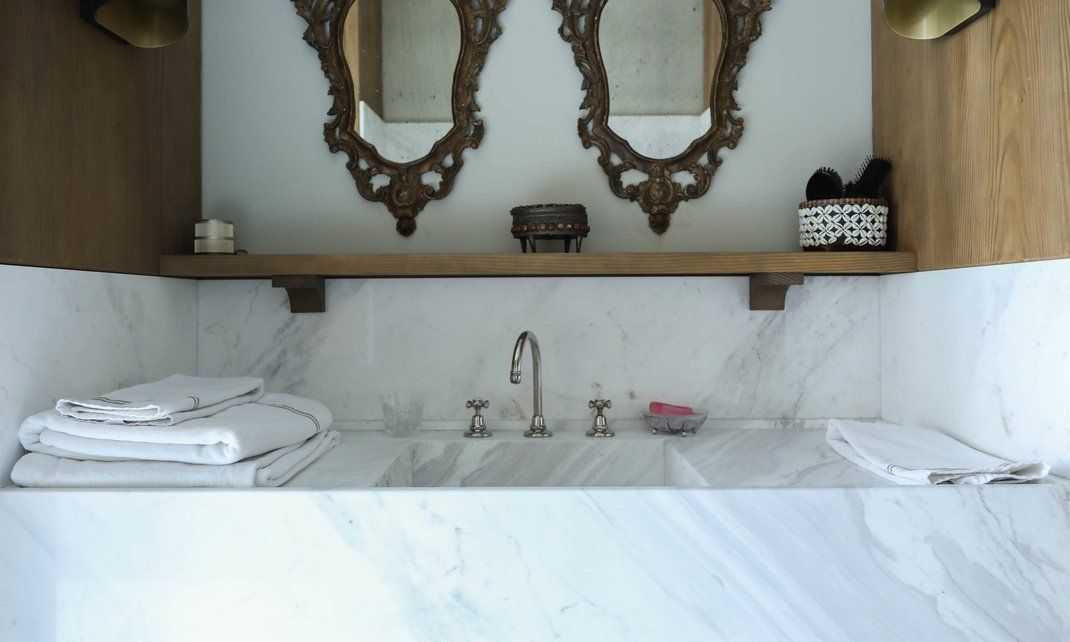 Towel Warming Rack
Every time I rent an apartment in Paris, there is always a towel warming rack installed on the wall. This is really considered a 'basic' in French apartments. No matter how small the apartment, there's always a towel warmer! I think Americans would do well to adopt this handy little gadget, don't you?
This Parisian bathroom has a pretty floral floor tile with a gray clawfoot bathtub resting on it. This narrow bathroom shows that you can still make a large bathtub work if you install it horizontally!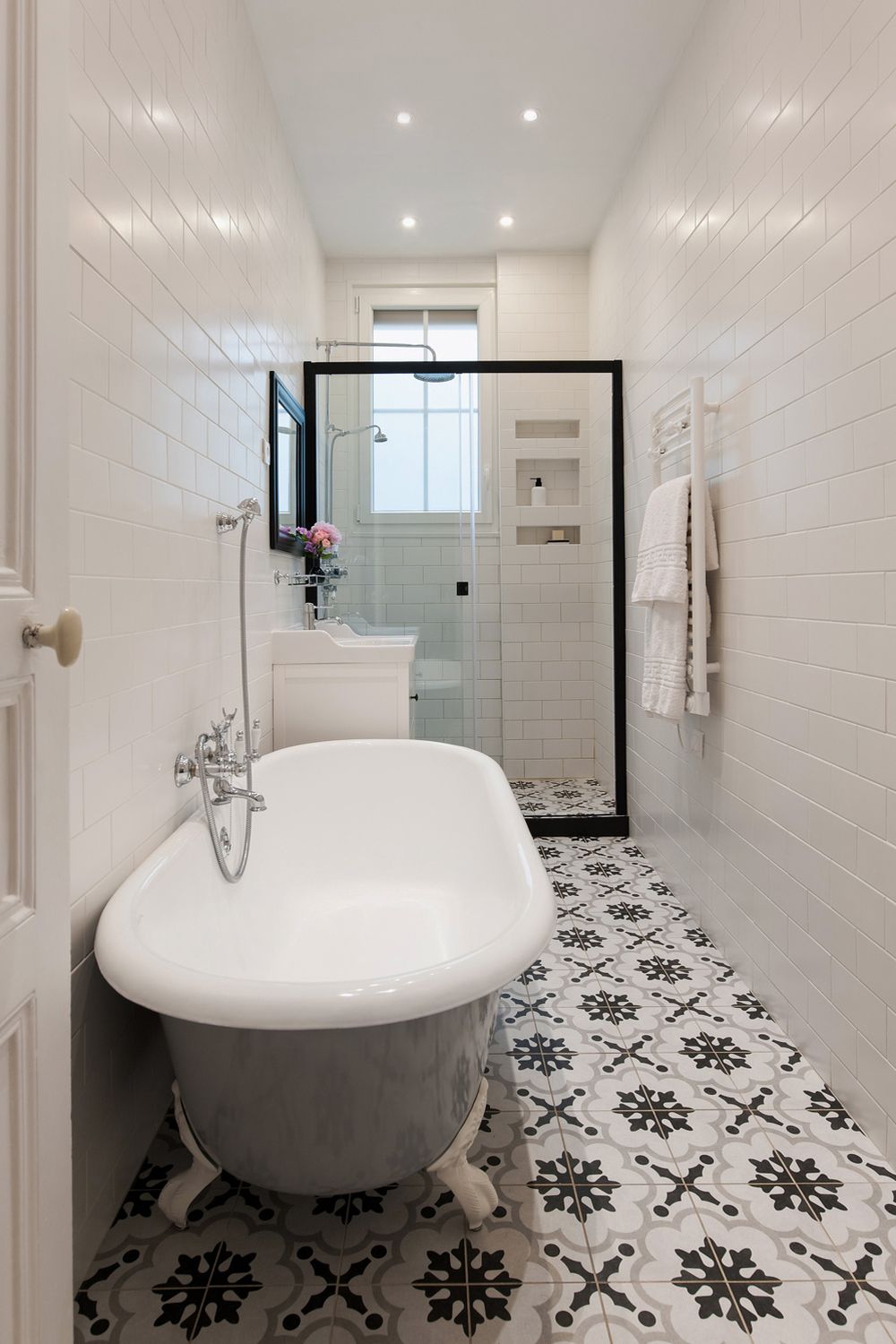 Add a Pop of Color
These ocean blue herringbone tile walls certainly make for an eye-catching bathroom wall. Don't be afraid to experiment with color, as seen here in this brass and white bathroom. Blue stands out in this space, including on the white floor tiles which have been dotted with blue paint spots. The wood bathroom vanity and brass metal fixtures and accents throughout help to warm up the space immensely!
Be sure to add bathroom accessories like beautiful glass perfume bottles, antique glass vases and some dried flowers to your space to make it really Parisian.
A few more decor ideas not shown in these photos include using sheer white linen curtains to filter the sunlight in the room and showing off those famous parquet herringbone wood floors that Parisian apartments are known for. For a country look, go with hexagon terracotta tiling. For a more feminine touch, consider adding a small antique vanity to do your makeup in the bathroom.
---
As you can see, Parisian bathrooms are pretty much always a good choice for your home. It might take time to gather all the Parisian bathroom accessories you need, but the final design will surely be worth it! Not all of us can move to Paris like Emily on Netflix did, but we can all decorate our bathrooms like she would!
Did you find this article on Parisian bathroom decor ideas helpful and inspiring? Let us know your thoughts on these Parisian style washrooms in the comments below!
More Parisian Home Decor Ideas
You can continue reading about Parisian apartment decor in these related articles on our site: