If you're looking for a unique dining room table, consider French-style furniture. The Parisian decor style is known for its symmetry and clean lines, which make it an elegant addition to any room. If you want your home kitchen or dining room to look as chic as the city of lights itself, consider these Parisian dining tables that can give your space a Parisian look and feel.
Parisian Dining Room Style
Parisian dining rooms are styled on the concept of elegance, sophistication, and opulence. The dining room is decorated with beautiful furniture, accessories, and linens that add a touch of luxury to your home. The Parisian dining room style is characterized by a mix of old-world European elegance with modern touches.
This means that you can still have antique furniture pieces in your room but they should be paired with modern pieces as well. When decorating a Parisian dining room, you want to make sure that it has a lot of light coming into it so that there are plenty of natural light sources for you to use in the room.
This will help create the look and feel that you want for your home. You also want to make sure that there are plenty of windows so that there is plenty of natural light coming into the room during daytime hours.
Best Parisian Dining Tables
Here are the best Parisian dining tables we recommend!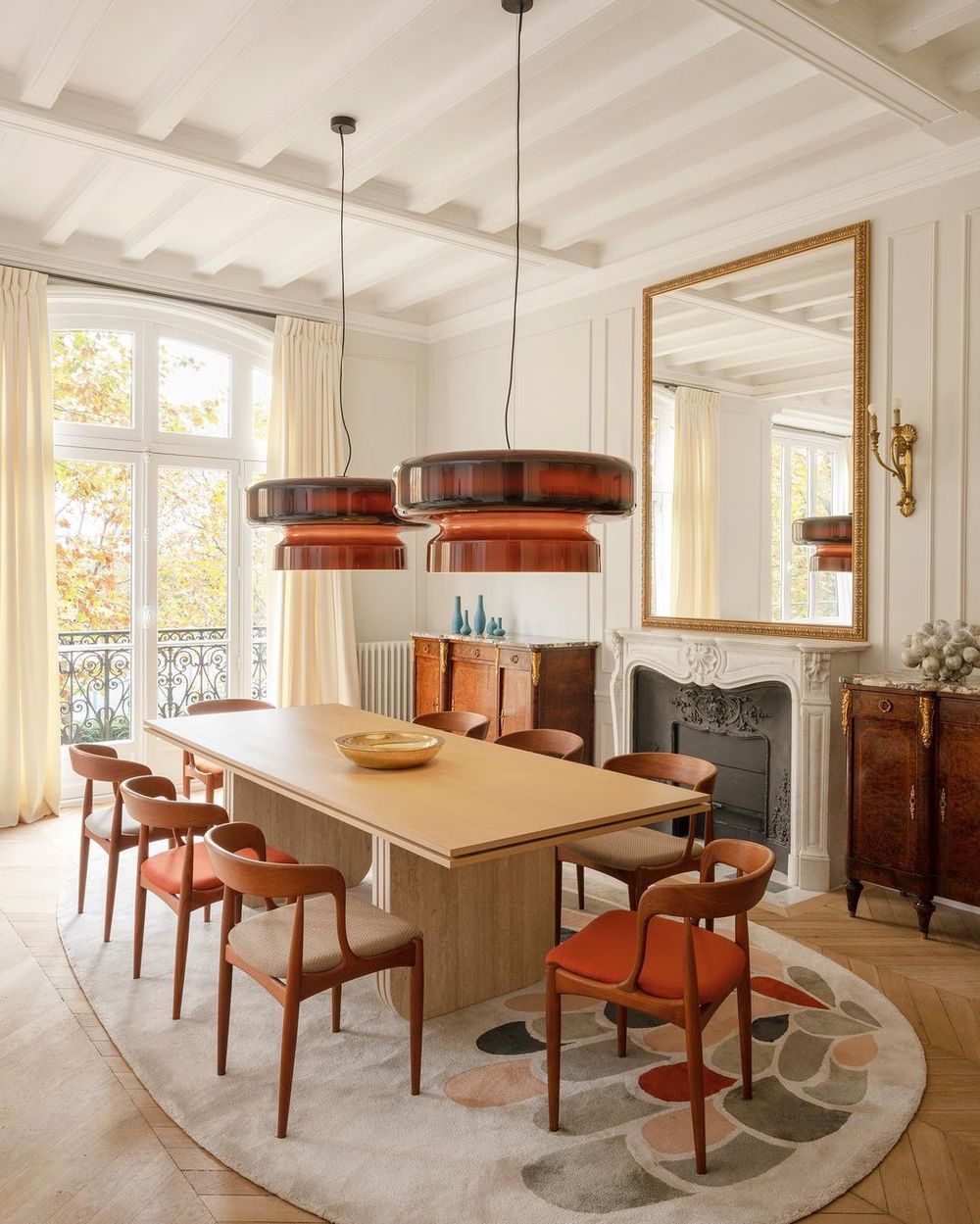 Parisian Style Dining Table Ideas
Here are a few of the classic Parisian style dining tables you should consider. Finding the right dining table for your space is tough but I hope these ideas inspire you!
Black Iron Scroll Dining Table
A black iron scroll dining table is an elegant, durable and rustic piece of Parisian furniture. This is a classic style that will never go out of style. It's beautiful, making it perfect for any dining room setting. The traditional design sets this table apart from its more modern counterparts, allowing the user to enjoy a striking piece that can be used for years to come without feeling dated.
White Tulip Dining Table
If you have a modern or minimalist home, white tulip dining tables are a great option for Parisian dining tables. The tulip base is a classic design and the white finish will fit in well with any decor. This table can be used in an entryway as well as in a dining room, kitchen, or breakfast nook. It seats up to four people and can work in both small and large spaces.
Wood Mid-Century Dining Table
If you want a dining table that looks like it was made for Paris, then a mid-century dining table design is for you. The handmade solid wood table has turned legs and a round top that gives it an elegant feel. These tables are available in light brown or dark brown, which makes it easy to match your existing furniture. This style has been around since the 1950s, so it will definitely add a touch of nostalgia to your home decor!
Rustic French Country Dining Table
A rustic French country style dining table is a great dining table for people who have a rural home, or who like to change up the look of their dining room throughout the year. It's also a nice desk alternative if you don't want your computer in your kitchen—or if you want to keep it out of sight.
You can use this table as both a dining room table and as a kitchen island if you want to save space by storing away some items (like appliances). The fabric on top is removable, so you can easily wipe down any spills that might occur while using it in either location.
---
I hope you enjoyed these Parisian dining tables and found your purchase match!