Wondering how to decorate your home office like a Parisian? These Parisian home office decor ideas will inspire you. Thanks to television shows like Emily in Paris, everyone is dying to know how real French girls decorate their home offices and workstations.
Are there croissants on their desks at all times? Do they buy fresh flowers from the market every week? What kinds of desks do they use? We are going to answer all your burning questions when it comes to Parisian home decorating for the office.
I adore Parisian style decorating because it makes me feel like I'm in France where everything is elegant and chic. Parisians have a certain interior sensibility that makes their interior spaces practical and refined. Of course, much of their beauty comes from the architectural elements inside the spaces. But the rest comes from the vintage furniture they choose and the decorative elements which give a room character.
Parisian Home Offices
When it comes to the home office, you'll need a desk and chair at minimum. Beyond that, depending on your needs, you may wish to install bookshelves, have a filing cabinet nearby, and brighten your day with a vase of fresh roses. Here are the most amazing Parisian home office decor ideas you must see!
Hardwood Floors
I rarely see rugs in Parisian home offices. I'm not sure why exactly. Perhaps it's to show off the gorgeous herringbone hardwood floors inside so many Parisian apartments? Maybe it's easier to scoot around in the swivel chairs with wheels? I'm not sure, but leave your floors bare if you're going for the Parisian look in your office. After all, you wouldn't want to get too comfortable in this space!
This is a quintessential Parisian office space which is why I wanted to share it first. It has a huge central table for working and spreading out books. A swing arm lamp with a clamp attached to it means light can be directed where it is needed. A mid-century modern black ribbed leather office chair with wheels provides the main seating.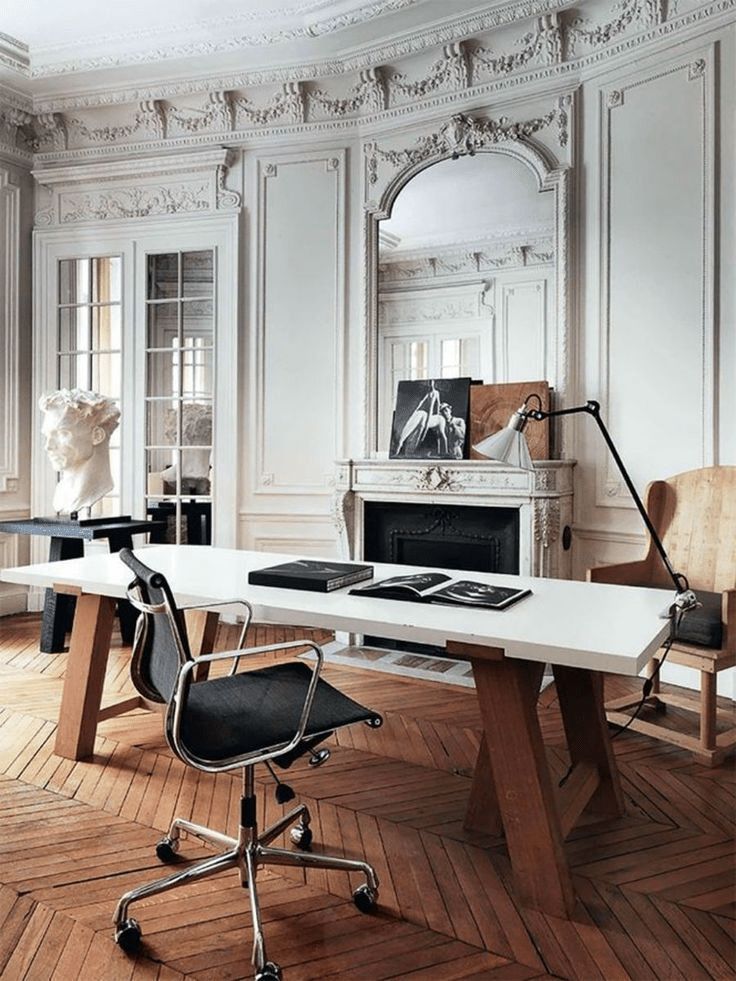 Here are a few office chair ideas to get this look:
Built-in Bookshelves
Many Parisian offices have built-in bookshelves to store the many books they have accumulated over the years. Reading is a big part of French culture and lots of Parisians value literature. Being well-read is a sign of intellect. It's no surprise that many Parisian offices will have bookshelves nearby or books stored on the office desk. This reading nook / office space even features a bentwood rocking chair with a cane seat and faux fur throw blanket.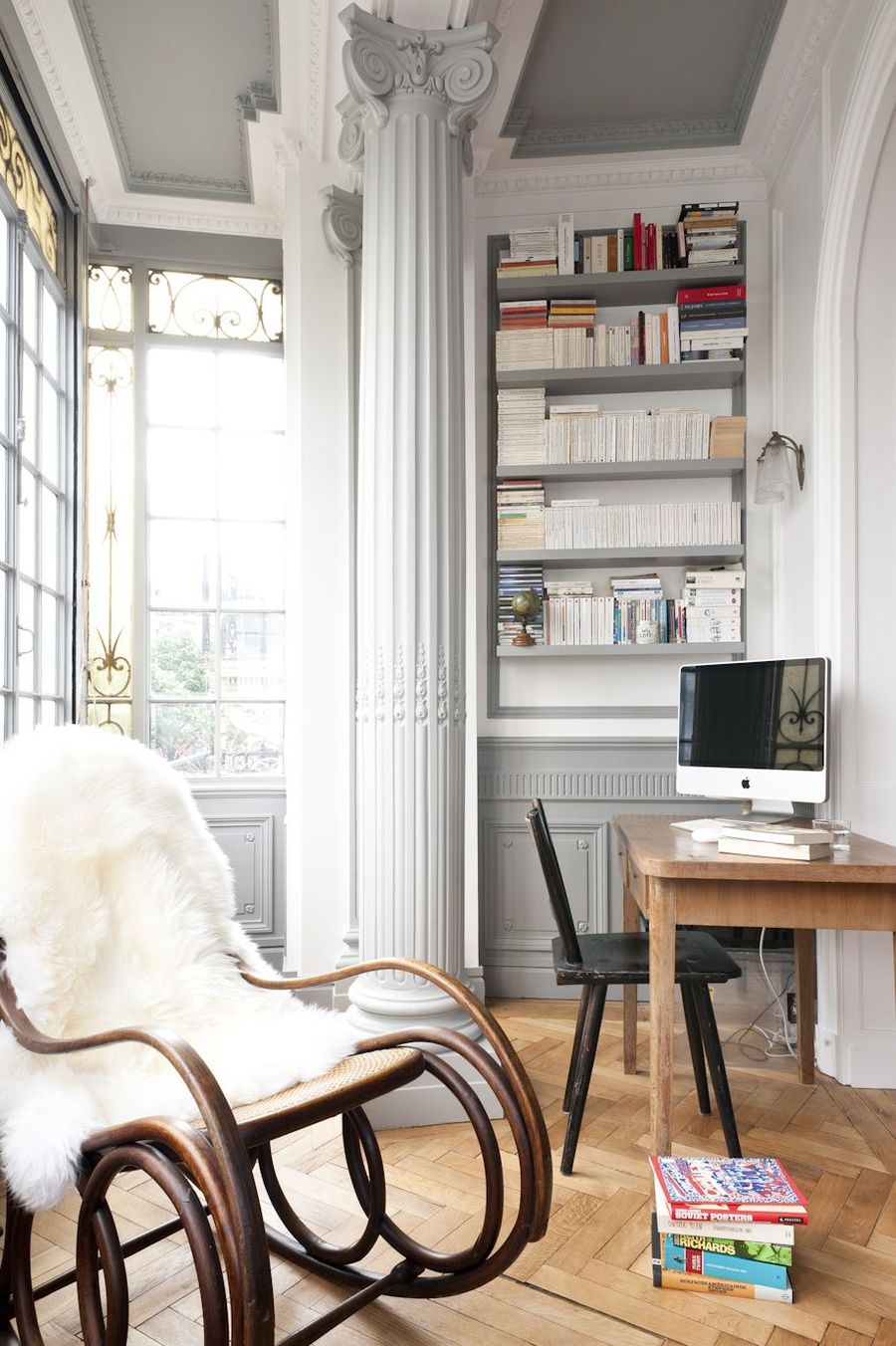 Working with a Small Space
If you are working with a small space on a home office design, perhaps this office can inspire you. Paris is notorious for its tiny, expensive apartments. Sometimes you have to make do with a smaller space than you would like!
Here, a small corner beneath a built-in bookshelf has been transformed into a small working space. The surface provides just enough space for a laptop but sometimes that's all you need. A wood mid-century modern side chair has been placed nearby with a square pillow for back support. The light from the window assists a small recessed light under the bottom bookshelf in illuminating the area.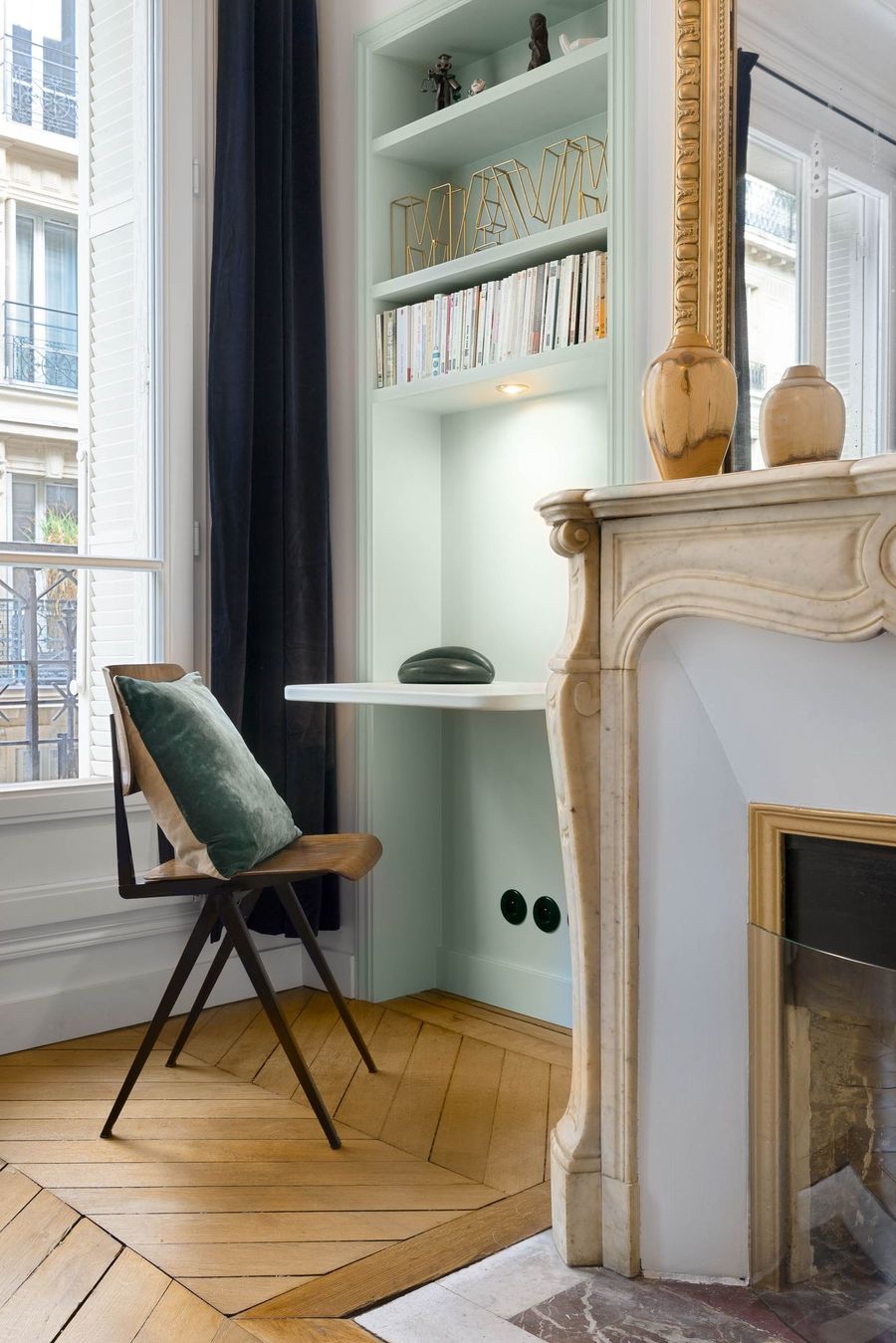 Mid-Century Furniture
Parisians are obsessed with mid-century furniture and design. This look really stuck with them and I can understand why. The warm brown wood of much mid-century furniture is appealing to many people who appreciate retro design. Here, a mid-century office desk with two drawers sits against a white wall. It has been paired with white mid-century Eero Saarinen tulip swivel chair with a bright blue cushion. A black metal task lamp directs light downwards. Some books and flowers keep the decorations simple.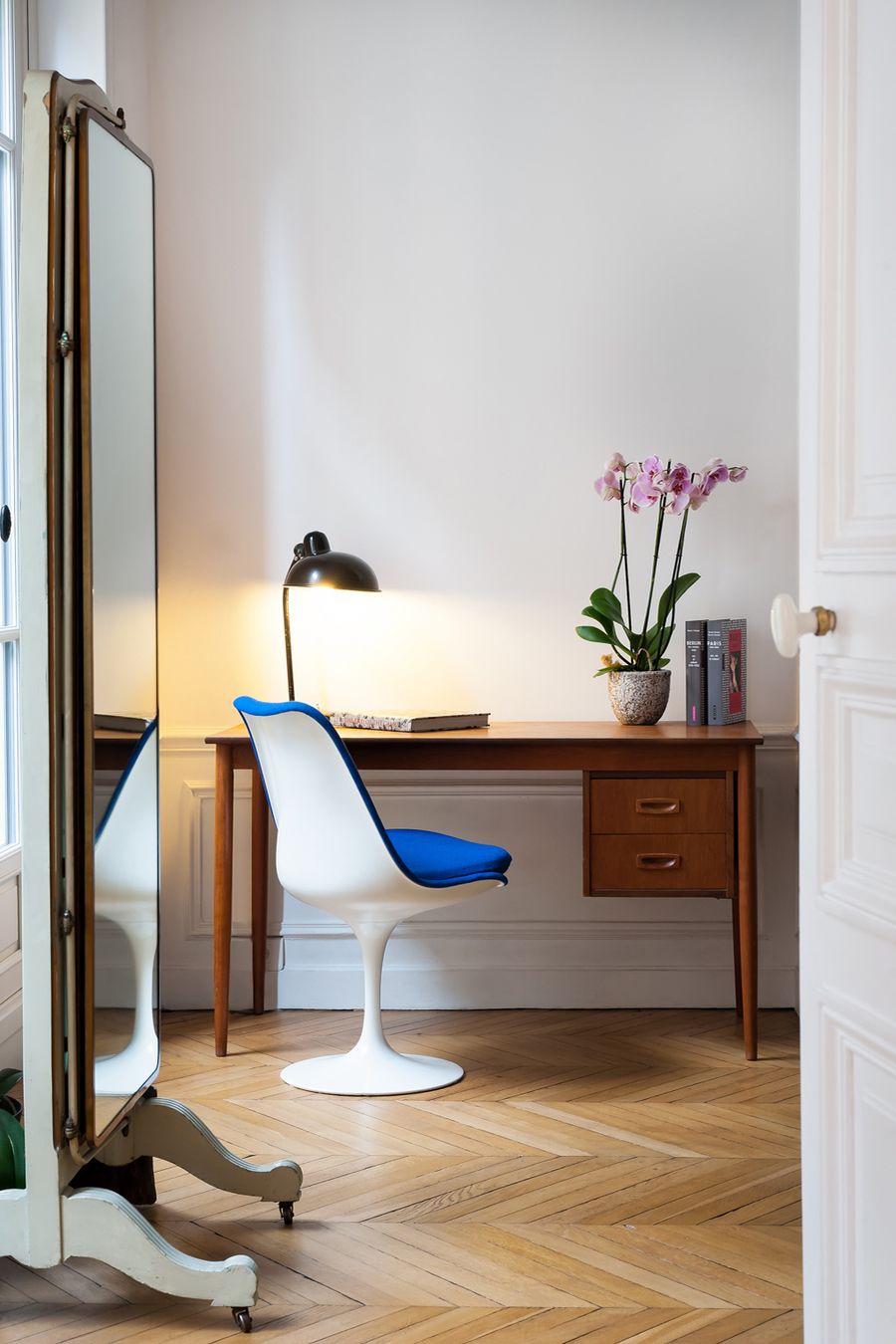 Natural Lighting
If you're lucky enough to have tall beautiful windows, then why not place your desk in front of them? I personally love looking out the window as I'm typing away on my laptop. The bright light helps keep me awake and motivated as I work.
Here, two large windows shine light on a mid-century modern desk in the middle of this open layout office. The desk is covered in books (I told you Parisians loved them!) and a small laptop sits on the center. This feels like an older office from a past decade. A wooden sculpture sits on one corner. A small white marble tulip side table holds even more books off to the side.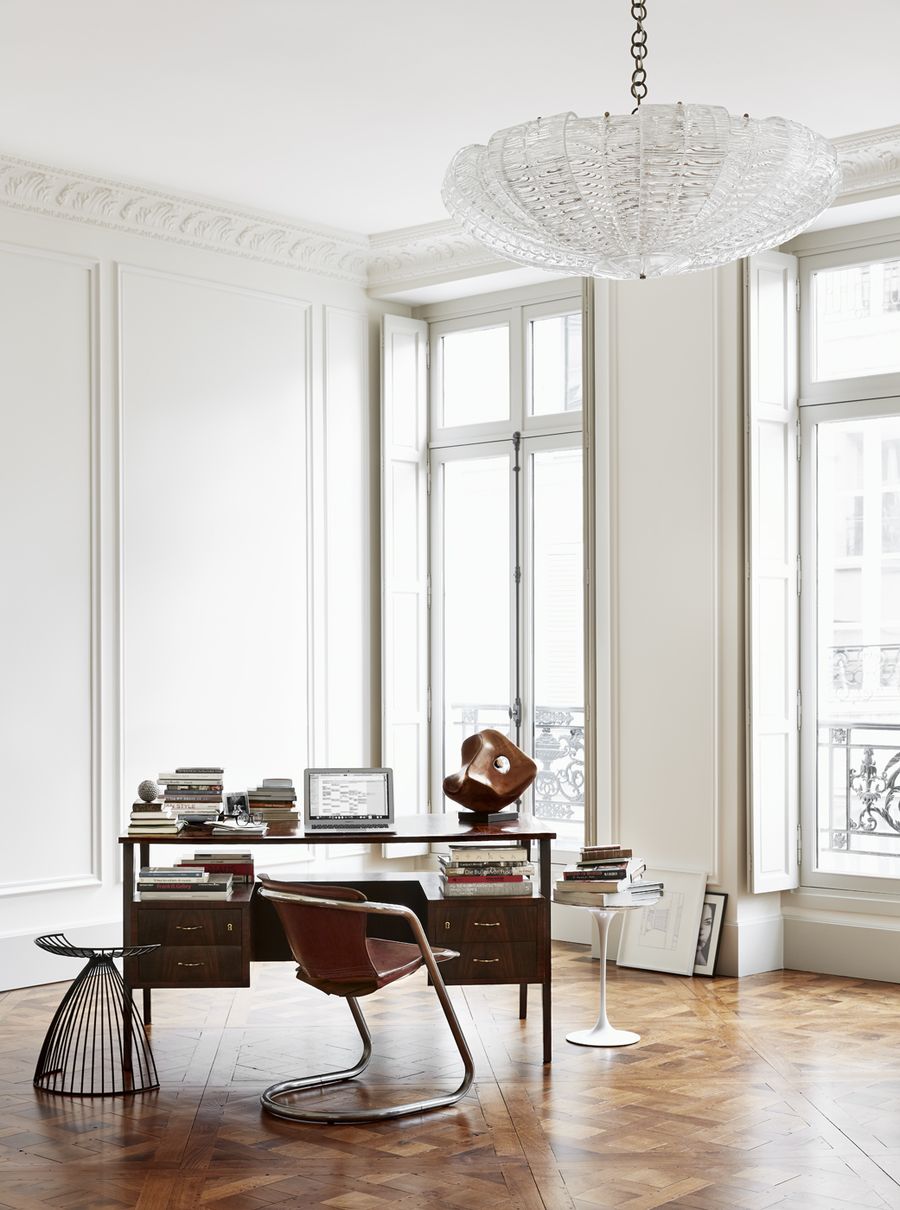 Vintage Desk and Task Lamp
Many Parisians have vintage furniture in their offices. Here, a vintage desk sits in a corner. The desk could have been passed down from a previous generation. The task lamp on the desk helps provide targeted lighting for reading, writing, or working. The black wire chair is quite modern but it works well to make the space feel up to date.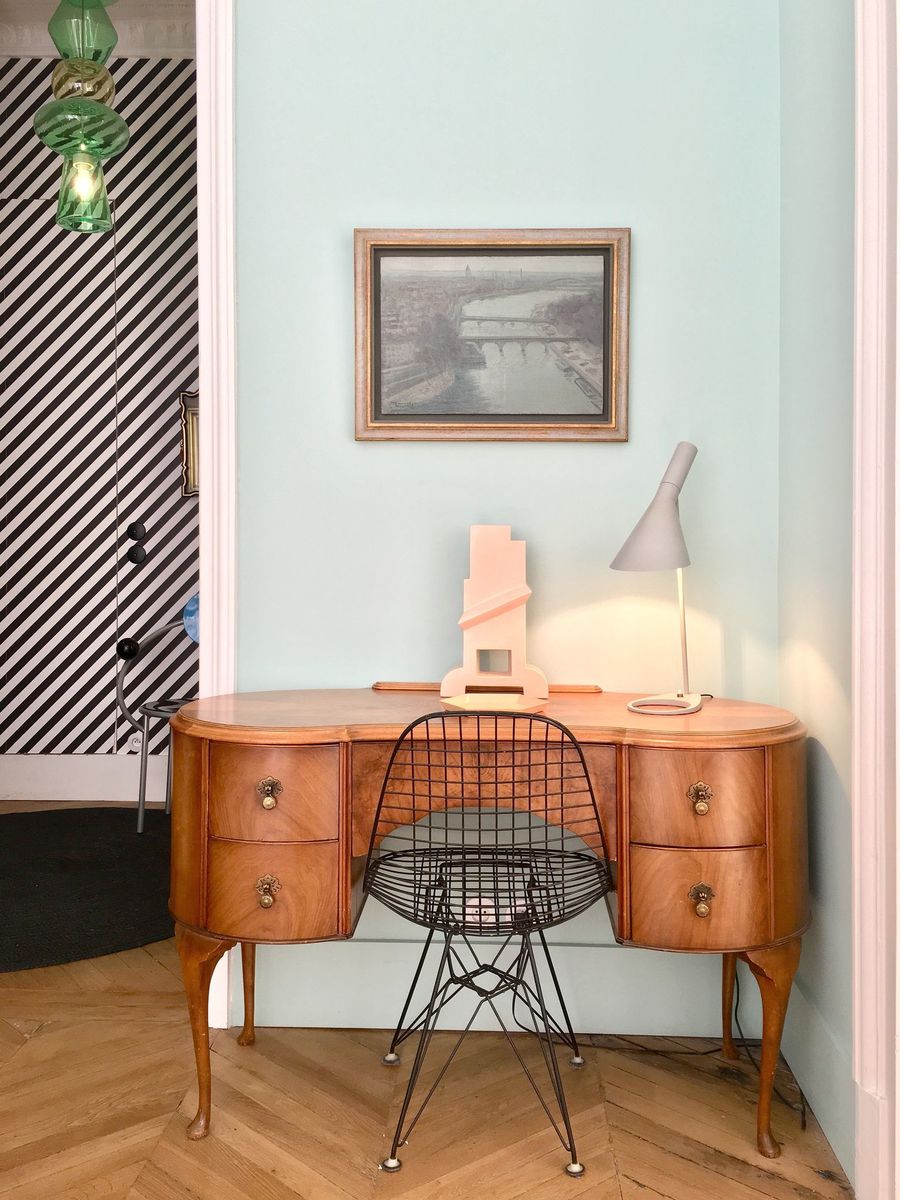 Wishbone Chairs
Scandinavian design is another popular trend in Parisian home interiors. Parisians love the minimalism of Scandi style furniture because it contrasts with their very intricate interior architecture like their famous crown molding and wall reliefs. Here, two wishbone chairs are placed across from a simple white working desk. The main office chair is made of black leather and has five feet that roll. A Byredo candle sits on the desk which I'm sure smells very lovely!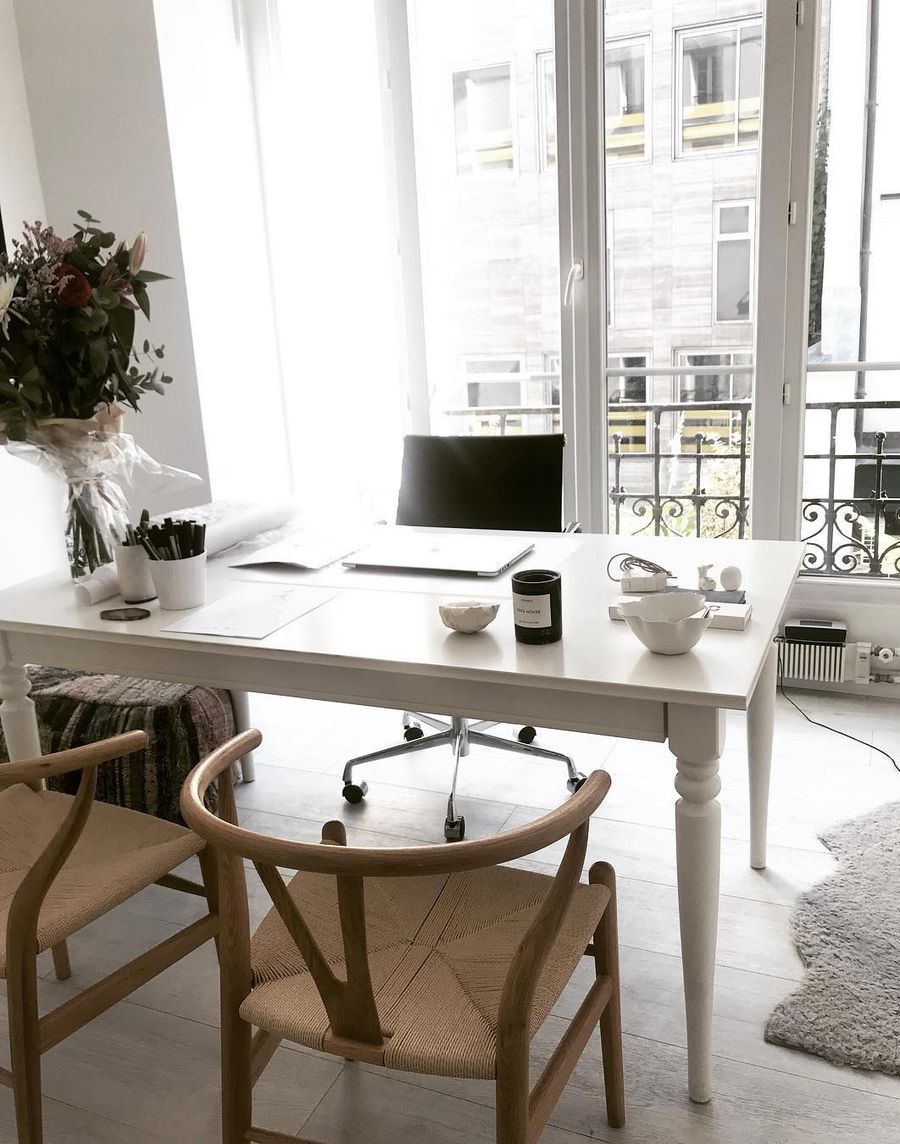 I hope this post inspired you as you go about designing your Parisian style home office. Our Parisian office decor ideas come straight from Paris – no Americanized ideas here! We hope the authenticity was what you were looking for. Even if you don't live in Paris, it's possible to recreate many of these looks in your own home.
More Parisian Decorating Ideas
If you want to continue browsing our Parisian decor ideas, please do so. Here are a few recent Parisian decor articles that may peak your interest:
Happy curating !