Have you ever seen a real Haussmann apartment building in Paris? These grandiose French apartments, named after Georges-Eugène Haussmann who was responsible for their creation in the mid-19th century, are characterized by a number of distinct features.
Some lucky Parisians today live in Haussmann-style apartments, and the interior design aesthetic has been adopted by people all over the world who appreciate its classic elegance. Today, you can see its influence on other Eastern European cities like Vienna, Moscow, and Berlin.
The design of Haussmannien apartments was based on three main principles: light, space, and movement.
Haussmann Buildings
Buildings designed by Georges-Eugène Haussmann during the Second Empire of Napoleon III typically feature these aspects.
Imposing molded double doors at the main entrance
Lack of an elevator (elevators didn't arrive in France until 1870)

Intricate façade featuring cornices, moldings, and sculptures

Luxurious lower floors and modest upper floors
A ground floor with very high ceilings and perhaps a mezzanine
A second floor formerly called the entresol, was occupied by merchants and shop owners
A Nobless floor, or the 3rd level, was occupied by wealthy families and offered a balcony that one could step out on. It was the most prestigious floor since it required not many steps to reach from the ground. This floor has the highest ceiling.
The height of the ceiling decreases as you go up the floors of the building, reflecting the French social hierarchy.
The fourth and fifth floors are standard. They might have very small balconies outside their windows which didn't require much movement.
The sixth floor features a continuous balcony, similar to the 3rd floor. It ensures the visual harmony of the front of the building.
The seventh and top floor is located in the attic of the building. It's found under the famous Parisian gray zinc roofs. This floor was typically used as servants' quarters or chambres de bonne. The toilets were typically shared and they were located in the hallway, rather than inside each apartment. Today, these apartments are usually occupied by students.
Haussmann Style Apartments in Paris
If you're hoping to recreate the look of a Haussmann apartment in your own home, here are the classic Parisian home decor characteristics to keep in mind.
1. Black Iron Balconies
Haussmannien apartments are typically found in Haussmann buildings in Paris. Black iron balconies are a common feature of Haussmann buildings, found on the second and 6th floors.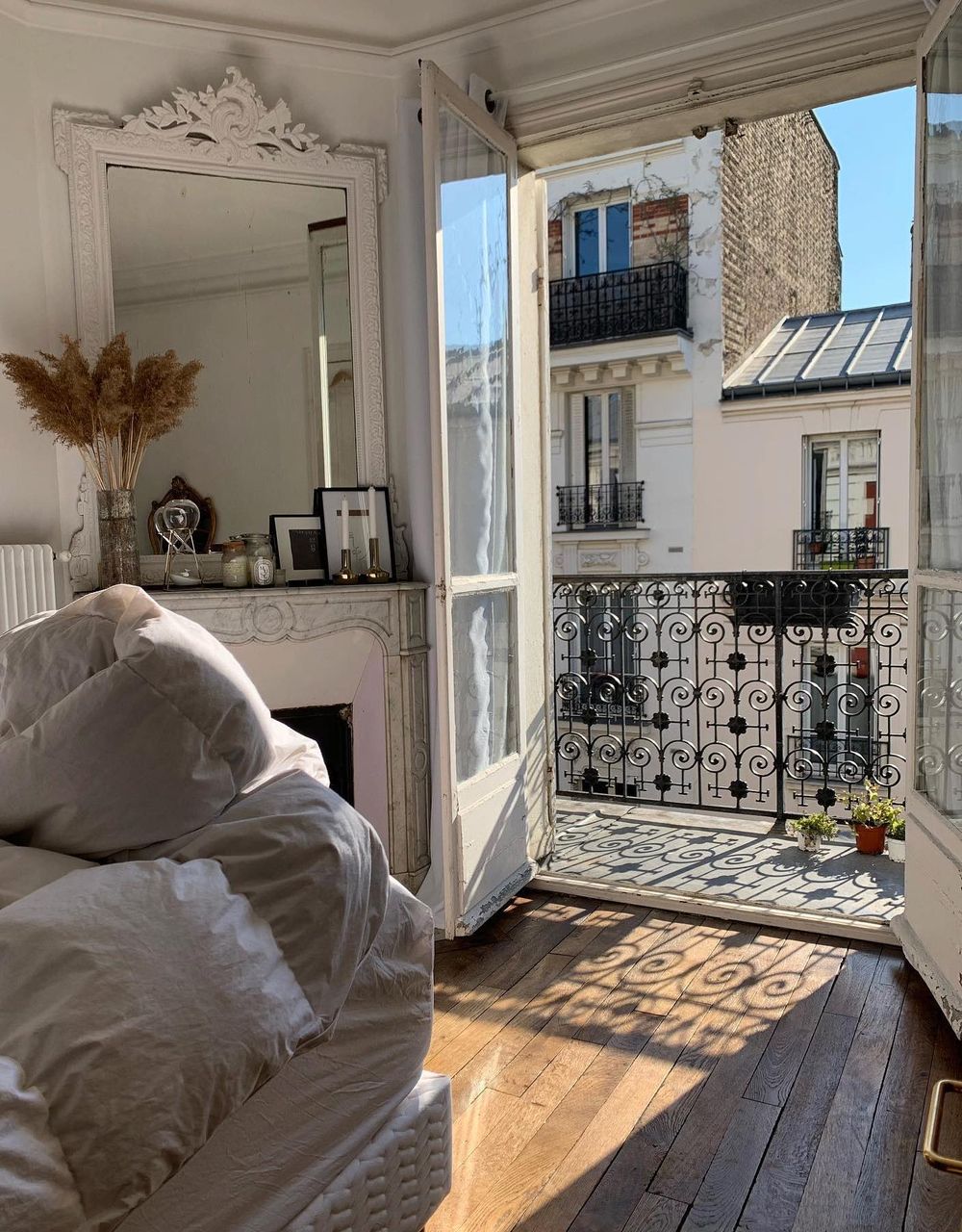 2. Marble Fireplaces
Marble fireplaces really capture the essence of a Haussmannien apartment. They are often found installed against the wall of a Parisian living room, dining room, and even in a bedroom. For a while, they could not be used in Paris to light a fire, but this restriction has since been lifted.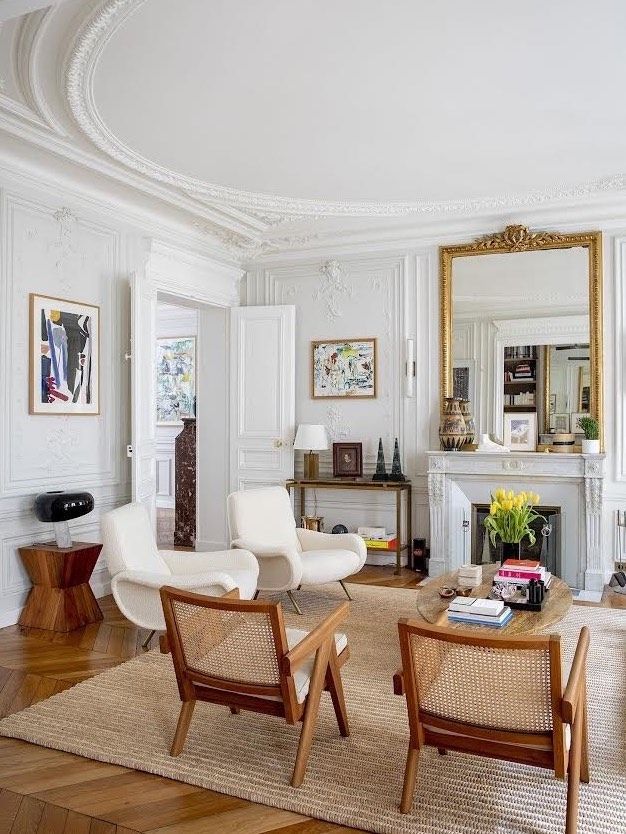 3. Gold Mirrors
Most marble fireplaces have a rectangular gold mirror above them. Many Parisian interior designers will buy gilded mirrors from flea markets in France to use in their clients' homes, in case the previous mirror is missing. That's how key these pieces really are! You can shop a selection of gold Parisian style mirrors we found here.
4. French Doors
Inside, Haussmannien apartments boast French doors, high ceilings, and ornate wall moldings.
5. Stained Glass Doors
Stained glass interior doors are commonly found in classic Parisian apartments.
6. Herringbone Parquet Wood Floors
If you want to recreate the look of a Haussmannien apartment in your own home, start by painting the walls a light color and installing wood parquet floors in a herringbone pattern.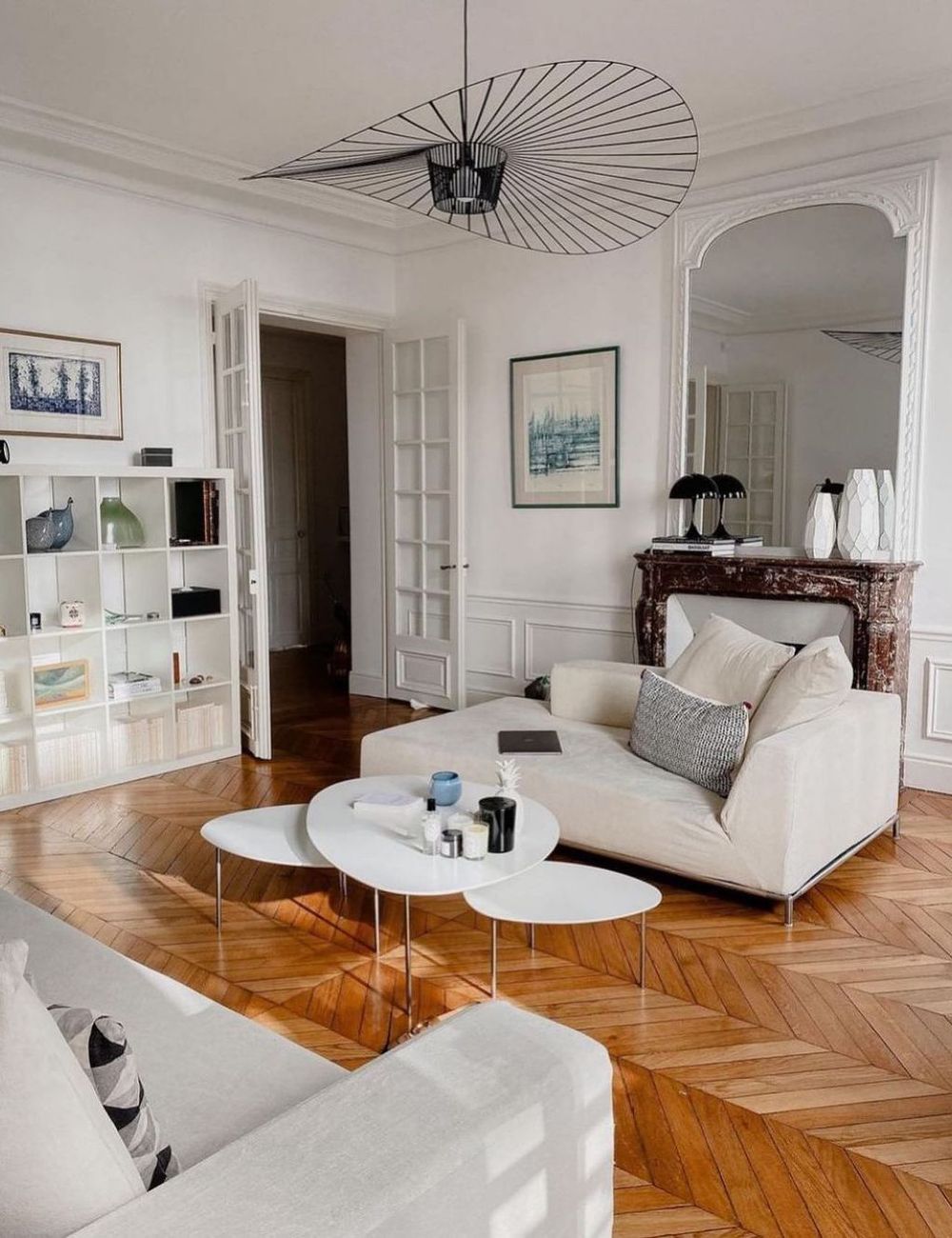 7. Wall and Crown Moldings
The walls and ceilings of a typical Parisian Haussmann apartment have beautiful and intricate moldings. To prevent overpowering these design details, furnish the space with classic pieces that have simple lines and functional purposes.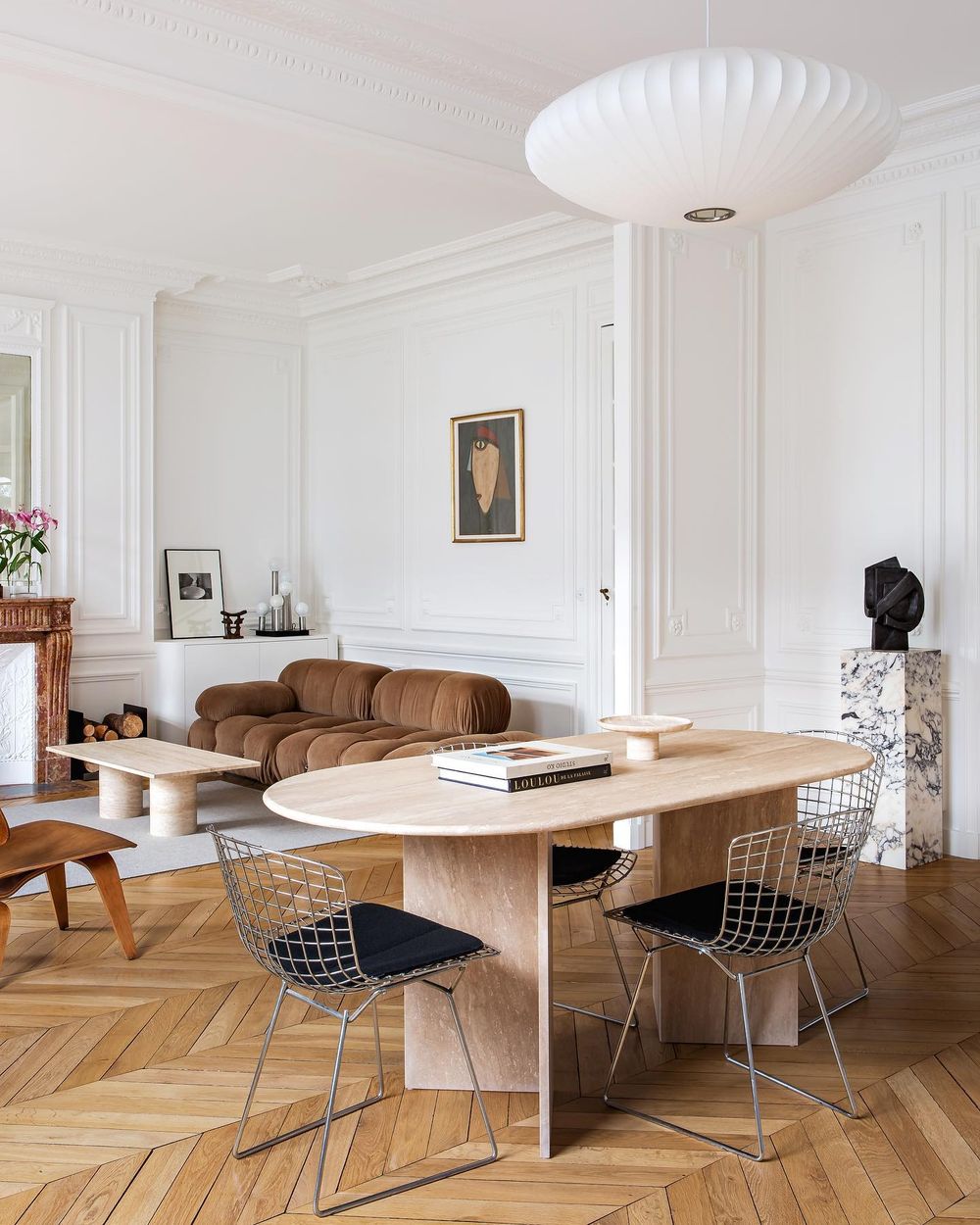 8. Tall Glass Windows
Go for long and slender glass windows that open up like French doors.
9. White Walls
The walls in Haussmannien apartments are painted a simple and elegant shade of white, which helps reflect the most amount of light possible.
10. Understated Luxury
The overall effect is one of understated luxury and refinement.
---
With these 10 characteristics in mind, you can create the look of a classic Parisian apartment right in your own home. Even if you don't live in Paris, you can still enjoy the elegance and sophistication of a Parisian Haussmannien apartment.