This guest bedroom essentials list will ensure your family and friends are as comfortable as possible during their stay in your house.
When looking for a new home or apartment, the last thing people think about is the guest bedroom. But a guest bedroom can make your house feel more like a home for your visitors.
A guest bedroom is a great addition if you are someone who entertains guests regularly. You want your visitors to feel as relaxed as possible. And an extra bedroom can come in handy when your guests can't go home right away due to uncalled circumstances.
We already wrote about how to prep your guest bedroom for the holidays, but today we want to share some year-round guest bedroom essentials you should have on hand! No matter when you welcome guests, it's important to make them feel at home.
Like any part of your home, you want your guest bedroom to be as presentable as possible. You don't want your guests to feel like they're sleeping somewhere with no effort put into it. Here are some guest bedroom essentials that can turn your spare room into the coziest place ever.
Guest Bedroom Essentials
A guest bedroom should feel like a place you want to sleep in. Your guest bedroom essentials list should have these things to complete the place. Of course, you can add or subtract items, depending on your taste or budget. But these are the guest bedroom essentials that are hard to live without.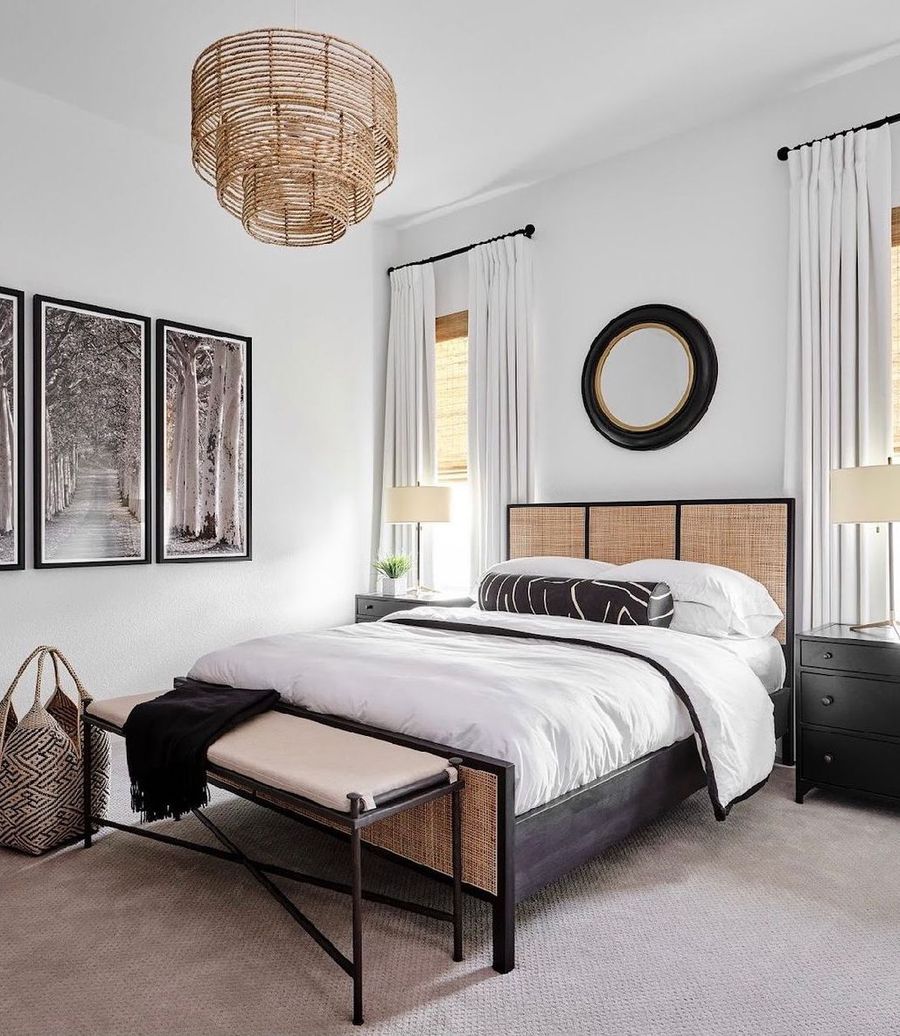 Bed or Headboard
The quintessential part of any guest bedroom. Any bedroom is incomplete without a bed in it. If you want your guests to feel comfortable, you have to give them a bed to sleep on. Plus points if that bed has a comfy headboard so your guests can sit up and relax in bed. Choosing the right bed is important.
I recommend going with a platform bed with an upholstered headboard.

You want something big enough to fit all your guests in, too which will influence whether you go with a full or queen size. It needs to be big and comfortable enough to rest on!
Mattress
A bed is incomplete without a mattress to sleep on. Otherwise, your guests will be lying on a hard surface all night. Pick a nice, soft, and comfy mattress that perfectly fits your bed frame. Again, it doesn't have to be super fancy. Just make sure it is serviceable.

Bedsheets
A mattress is nice. But putting on a bedsheet on a mattress is nicer. You want your guest bedroom to look stylish as much as it is cozy. A pleasant bedsheet can do a good job of making your guest bedroom inviting. Invest in high-quality bed sheets that you know will look good and last long. Brooklinen is known for their luxury bed sheets. You can also try these affordable options here:

Comforter Insert & Comforter
Chances are you need a comforter. And your guests might need one as well! A comforter is an important part of your guest bedroom essentials. It will certainly help your guests feel warm and comfy throughout the night.
You may want to buy two comforters – a winter comforter and a summer one if you have the space to store the one that's not in use. You also might want to consider buying a down-alternative duvet insert in case your guests are allergic to down.

Many retailers sell comforter sets which include one comforter plus two pillow shams. You may be tempted to buy a white comforter set for your guest room, but I'd advise against it. Your guests may feel that they need to be extra careful to not stain the comforter and won't be at ease. Instead, go with a darker color so your guests feel more comfortable in the guest bedroom and don't have to worry about accidents.
If you're on a budget, try this affordable microfiber comforter set that can be placed directly on the bed. No need for inserting and removing a comforter.
2-4 Pillows
A bed is not a bed without some pillows. Give your guests something to put their heads on. Two pillows are enough for one person, but if you know there will be two, get four total. It's always nice to have an extra pillow to lean against when sitting up in bed. A soft pillow is a welcoming gift for any tired visitors' head.
Here are the sleeping pillow inserts we recommend:

Nightstand
A nightstand is a perfect place to put your essentials on. Your guests will definitely find one useful. A nightstand or two next to their bed can perfectly hold their bags, cellphones, and toiletries. You can also place the next item on this list on the top of that nightstand.

You can also buy furniture to fit in with the rest of your home. Whether you are looking for coastal nightstands or farmhouse nightstands, we have you covered.
Table Lamp
Some people enjoy a little bit of late-night reading. If your guests browse their phones right before going to bed, a table lamp will be useful. A table or floor lamp is just one of those guest bedroom essentials that you can't miss, for reading and not disturbing the person next to you.

Some table lamps even come with USB ports, giving even more functionality to your space!
Dresser or Closet
Finally, your guests may want a place to put their clothes in. A nice, sturdy dresser will do the trick! A dresser can provide so much use for your guests. They can store their stuff away in an organized fashion.

If you have a closet in your guest room, even better! Be sure to leave at least a few empty hangers for them to use for their clothes depending on how long their stay is.
Guest Bedroom Amenities
Having basic furnishing is great for your guest bedroom. But have you considered the little things? Make your guest bedroom feel welcoming with some of these must-have amenities.
Mirror
A mirror is pretty useful for a lot of things, like styling and grooming. A simple mirror can do wonders to your guest bedroom, both in aesthetic and function. Having a wall mirror in your guest bedroom can make it easier for guests to check their hair and makeup. A full-length mirror is even better for checking their full outfit!

Bath Towels
Most people like to shower after traveling a long way. Be prepared with some fresh bath towels at the end of the bed for your guests to use as soon as possible.

Extra Blanket
Things can get chilly at night. If it's extra cold this season, an extra throw blanket can come in handy. An extra blanket can definitely add some coziness while your guests sleep. You may also want one in case more guests are staying over.

2 Water Bottles
You'll never know when your guests might get thirsty in the middle of the night. Small water bottles can eliminate the need to go to the kitchen for a sip.
Phone Charger
Nobody wants a dead phone. In a scenario where your guests forget their charger, having a spare is a lifesaver. Keep an iPhone and Android charging station in the guest bedroom. You'll never know if your visitors might need some extra juice. Make sure you can find the right cable for the job!
Body Lotion
No one wants to feel dry after a shower. A bottle of lotion can help make your guests' skin feel soft and supple. Plus, it helps them smell fresh after a shower.

Medicine
Feeling under the weather can happen to all of us. In some cases, your guests might get sick during their travel. As a good host, you want to help out sick visitors. A stash of Advil and a bottle of Tylenol can definitely make your guests feel better in case they have a headache or light fever.
Is Your Guest Bedroom Ready For Takers?
Last but not least, it's always helpful to leave a paper with the wifi network and password of your house on the nightstand in case your guests want to use it during their stay!
A nice guest bedroom can make the visiting experience feel good for your visitors. Having these guest bedroom essentials is important if you want to have a good place for your friends and family. You will feel good knowing that you are a great host to your visitors. And your guests will feel good knowing that you take great care of them.
Say goodbye to people sleeping on your couch or staying in a hotel. With a guest bedroom so nice, your guests will feel like they have just stayed in a 5-star hotel!
More Home Essentials Lists
Check out our other lists of home essentials right here: