Wondering what the top breakfast nook essentials are to ensure you have a smooth first meal each morning?
Whether you're making breakfast for just yourself or a big family, breakfast is the most important meal of the day! It gives us the first boost of energy we need to start our day with a bang.
As part of our home essentials series, we wanted to create a comprehensive list of breakfast nook essentials you need in your home.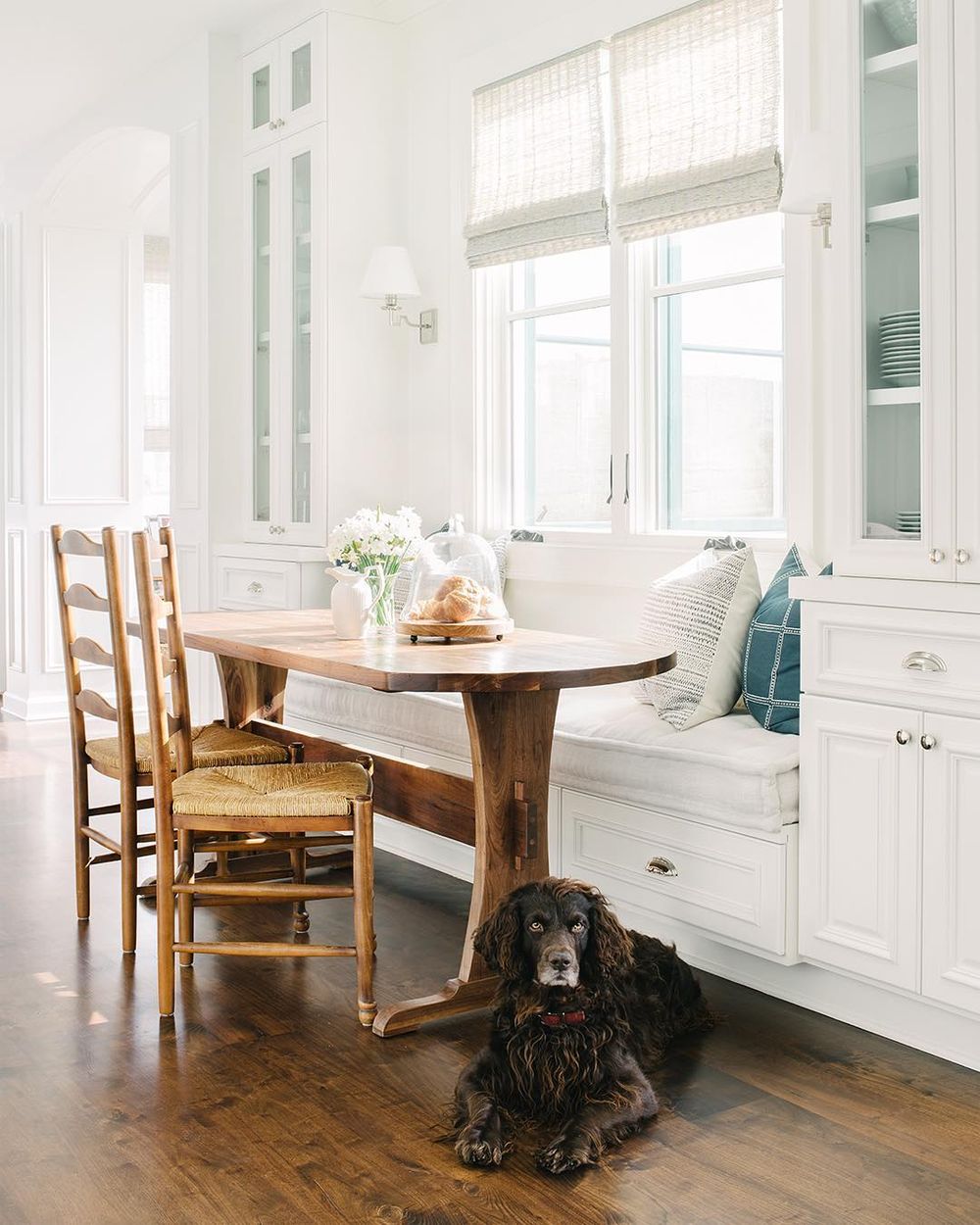 Nothing is cozier than enjoying your morning meal in a cozy nook. However, if this is your first time putting one together, you may be wondering what to include. While they come in many different forms, these are the breakfast nook essentials to include in your space.
Still in the design phase? Check out our favorite breakfast nook decor ideas!
Breakfast Nook Essentials
Breakfast taste better in a nook! No matter whether your breakfast is a chaotic event with lots of action or relaxing with the family, this area should be a comfortable part of your home. To help you set up the space, these are the items that you should include.
Check out our list of breakfast nook essentials and basics for this corner of your home:
Dining Table
It would be hard to have a place to eat a meal without a table, right? Dining tables come in all shapes and forms. However, since a breakfast nook is often a smaller space, then it may be easiest to measure the space before searching for a table. Often nooks do well with small round tables but choose your preferred option. Look for warm colors that will create a welcoming and comforting space.
Bench or Chairs
Of course, you'll also need seating for the nook. Some breakfast nooks may already have seating built into the wall. However, if not, look for dining chairs or a combination of chairs and benches. A bench can be a great option if you might be limited in space and need to get multiple people into the small space. Depending on the table you get, it may come with chairs as a set. If not, look for chairs that complement the table.
Centerpiece
One your table, you don't have to have anything displayed. However, a centerpiece can be a great way to add decor to the space. Depending on your time and effort, you can make the centerpiece a rotating display or something that is in place permanently. For example, many people enjoy putting a decorative bowl on the table with fruit or decorative items inside. If you enjoy fresh flowers, consider placing a vase as a centerpiece and adding fresh flowers. Centerpieces don't have to be fussy but they can be a fun way to show your style in the space.

Pendant Light
Pendant lights are stylish and a great way to add light to a space. If you can install your own pendant lights, they'll add comforting, soft light to the space without being overwhelming. This is especially nice first thing in the morning when you may want to avoid bright lights. Pendant lights come in all shapes and styles. Look for one that will suit your space. If you have a larger nook, then you can actually use multiple pendant lights to fill the space.
Place Mats
Many people enjoy the look of a bare table. However, even if you have a tablecloth on the table, you can still use placemats. These are small rectangles of fabric or fibers that will protect your table and can be cleaned easily. They're also decorative so look for ones that complement your style. If you have kids, you may want to look for ones that are easily washable!
Plates, Bowls & Coffee Cups
Having a nice dish set for your breakfast nook is a great option. This could be your normal dishes but you could also get a small set just for breakfast. This set can be smaller and you may even want to store the dishes in the nook.
Silverware
The silverware that you use is, of course, a breakfast nook essential. Look for simple silverware that can stand up to everyday use and can be washed easily. Many people enjoy having the silverware in a small basket but you can store the silverware in a drawer or as needed. Brass silverware sets are very much in style nowadays.
Cloth Napkins
Cloth napkins are an essential and fun way to reduce napkin usage and add personal style to the breakfast nook. The benefit of having cloth napkins is that they usually absorb more than paper napkins and they can be reused after being washed. You can have all of your napkins out of the same material or even use assorted designs. Keep a basket of them clean and handy and you'll never have to worry about running out of napkins again! I love these lemon cloth napkins for summer!
---
These are the breakfast nook essentials that you'll want to have in this space. Keep in mind that your space can be tailored to your personal style so take your time to find the items that suit your style.
More Breakfast Nook Ideas
Looking for more breakfast nook inspiration? Don't miss theses related articles on breakfast nook design: