Sure, spending your time drinking in fancy speakeasies with your family and best friends is thrilling. But for some occasions, hanging out at a home bar will be more than enough. However, starting your own home bar can be daunting, especially as you think of the home bar essentials you'll need.
After all, a well-equipped home bar isn't just about collecting the best spirits to use for drinks. You will also have to obtain the much-needed tools and ingredients that will help you create delicious cocktails for your best friends.
So, if you're thinking of designing your own home bar, this guide should help you obtain the must-have items for your home wet bar. That way, you can always ensure you're fully stocked with the required drink-making supplies!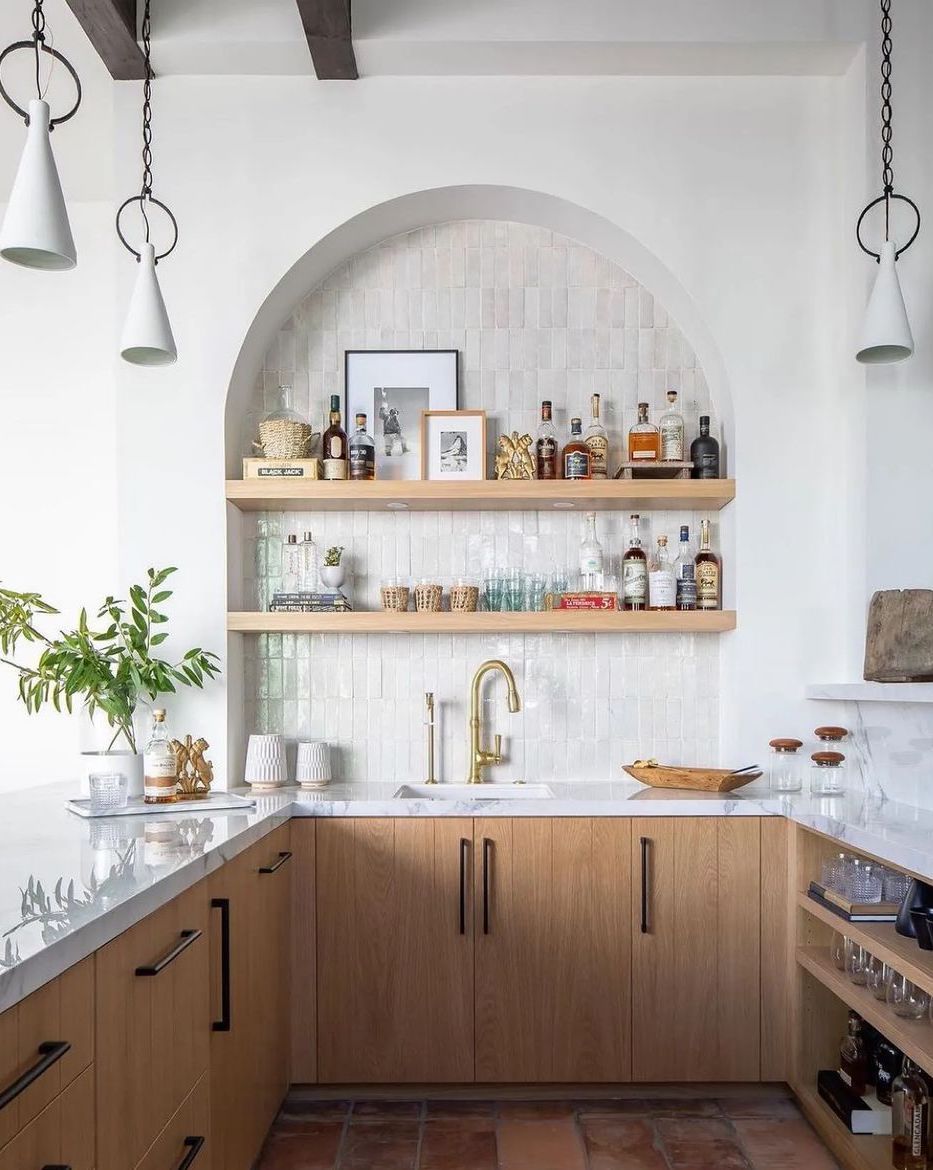 Home Bar Supplies
Naturally, you can't concoct your beloved cocktails without the basic bar tools! Here are some home bar supplies you should consider adding to your mixologist kit below.
Bottle Opener
There's a big chance you already own a trusty bottle opener in your home. But in case you don't, this tool is needed to open various glass bottles of mixers and beer.
Corkscrew
You will also have to open wine bottles. But since bottle openers don't aid in opening wine bottles, you will also have to buy a corkscrew for them.
Shaker Tins
Shaker tins will guarantee the foamy texture you need for particular cocktails. This tool also helps chill your drinks as you shake them with ice. Although you can select from different sizes and shapes, it's best to get a collection of multiple shakers to accommodate any crowd.
Strainer
There are two types of strainers: the Hawthorne and Julep strainer. Hawthorne strainers are used in shaking tins to avoid ice and other hard ingredients from mixing into the cocktail. Meanwhile, Julep strainers serve the same purpose but are used alongside mixing glasses.
Jigger
A jigger will help you get the exact measurements for your cocktail ingredients. It's definitely one of the most crucial home bar essentials that will help you get the proper strength and taste of your creation.
Zester
If you love to add different garnishes to your cocktails, a zester is an instrument you'll need in your home bar. With a durable zester, you're free to add citrus and even chocolate shavings to your creative cocktails.
Muddler
A muddler is used for crushing ingredients. Doing this to particular ingredients further unleashes their flavors into your concoctions.
Mixing Glass
This bar tool is a glass made for mixing cocktail ingredients. You're free to use any glass to mix your drinks, but a mixing glass is undoubtedly a fancy instrument to own in a home bar.
Bar Spoon
Most cocktail glassware comes in tall forms. Due to that, regular spoons may be unable to reach the lower portion of these glasses. Long bar spoons are made for this purpose, allowing you to stir your cocktails thoroughly until the bottom.
Ice Bucket
An ice bucket is a needed home bar supply that will keep your ice from melting quickly. Keeping your ice in this tool also lessens your trips to the freezer.
Cutting Board
You'll want to use a separate cutting board to cut your cocktail ingredients. You don't want to contaminate them with bacteria buildup found in your kitchen cutting board for meat.
Knife
Similar to the reason above for getting a separate cutting board, make sure to purchase a designated knife for your home bar as well.
Ice Cube Trays
Ice is a staple in cocktails, so it's vital to own many ice cube trays for your drinks. To your liking, you can even get ice trays that shape ice differently for some added creativity!
Citrus Juicer
Freshly squeezed juice makes cocktails taste a whole lot better. And to get the most out of your fruit's juices, make sure to invest in a quality citrus juicer.
Glassware
Owning different types of glassware ensures you have varying glasses for designated cocktails. So, make sure that you collect the essential glassware for your home bar below.
Coupe Glasses
Coupe glasses are the perfect glassware for drinks that don't require ice. They're also suitable for holding champagne and other sparkling beverages. And the best part? Their curved edges ensure that your drink doesn't spill as much.
Collins Glasses
These glasses are made for drinks with greater amounts of liquid and ice. After all, Collins glasses have high and slender glass designs.
Rocks Glasses
Rocks glasses are short glasses made for holding potent iced drinks that don't hold much liquid. If your cocktail recipe calls for muddled ingredients, this is also an ideal drinking glass to use.
Spirits
You'd be surprised at the wide selection of spirits you can choose from in the market. But if you're simply starting out with your home bar, here are the primary spirits used in most conventional cocktails.
Vodka
Vodka is a staple in most cocktails. These include the Bloody Mary, Appletini, and the Moscow mule. Due to that, it's undoubtedly important to keep a handful of vodka bottles in your home bar cabinet.
Gin
If you want to create the original martini for your family and friends, stocking up on gin is necessary. It's also a highly versatile spirit used in classic cocktails like the Gin and Tonic, Tom Collins, and the Gin Fizz.
Liqueurs
Different liqueurs are also present in many cocktail recipes. St-Germain is one of my favorites. Some beloved liqueur varieties include Amaretto, Orange, and Coffee. You can add other liqueurs to your spirit collection if you want to experiment with different flavors!
Vermouth
Do you enjoy Martinis or Negronis a lot? If that's the case, make sure to own plenty of vermouth in your home bar. Depending on your recipe, the cocktail you're making may either call for dry or sweet vermouth.
Whiskey (Rye and Bourbon)
There are different kinds of flavor-rich whiskey options, but make sure to keep plenty of Rye and Bourbon whiskey bottles in your bar. Rye is a wonderful choice if you want to add spicy and bitter hints to your drink. Meanwhile, Bourbon whiskey is excellent for adding a light and sweet flavor to your concoction. Created from water and malted barley, scotch is a type of whiskey.
Rum
Rum is a popular spirit used to make drinks like Dark and Stormy, Daiquiri, and Piña Colada.
Aperol or Campari
Aperol is a sweet Italian spirit used for making Aperol Spritz. Campari is much more bitter. Both spirits make drinks taste more exciting, making them vital spirits to have in your home bar.
Tequila
Tequila is used in many popular Mexican cocktail recipes.
Wine/Champagne
For the light drinkers you know, a few good bottles of red and white wine is always smart to have on hand in case you host an apéritif. Champagne is also lovely for making toasts and celebrating special events at home!
Beer
Men love their beer so having a few Coronas in your home bar refrigerator is essential!
Mixers
Essential mixers such as citrus juices, club soda water, tonic, and even ginger beer are great to have in stock in your home bar. These ingredients mix well with lots of alcohol, bringing out their flavors and ensuring that your cocktail goes down smoothly!
Your preferred mixers greatly depend on the cocktail recipes you plan to make. Some of the time, your cocktail recipe will require more than one mixer so it's good to have plenty on hand. The previously mentioned examples are some vital mixers you should stock up on.
Bitters
Bitters provide your alcoholic drink with a tangy flavor. They're also a fantastic ingredient for balancing out the sweet and sour notes present in other cocktails.
Sparkling Water
This ingredient aids in diluting your cocktail's spirits. On top of that, they also boost your cocktail's overall taste by letting the spirits' flavors take over.
Simple Syrup
Simple syrup merely consists of a 50-50 ratio of sugar and water. It's easy to create on your own. Just be sure to stock up on tons of sugar.
Garnishes
Don't ditch on these essential garnishes if you're after an authentic speakeasy experience brought to your home. After all, garnishes provide your drinks with elegant finishing touches. And with a great drink presentation, you can surely impress your guests.
Lemons/Limes
Lemons and limes are both known for being versatile garnishes. They can be used as a garnish for any kind of cocktail and even add citrusy hints to your concoctions.
Olives
Olives are a must-have garnish, especially if you're whipping up a martini. Olives provide a salty flavor to martinis, which significantly alters the taste of the said drink in a good way.
Maraschino Cherries
This type of cherry is the most favored garnish. Maraschino cherries contain just the right amount of sweetness. In addition, they don't overpower your cocktail's flavor, making them highly preferred by many mixologists.
---
There you have it! There are just some of the home bar essentials you'll need to start your home bar. Of course, you're free to add and subtract items in this list depending on your needs and preferences as an aspiring home mixologist. But by getting and using most of these essentials, you'd be pleasantly surprised with how magnificent your concocted drinks will turn out!