Are you moving into your own place? Getting your own apartment or house is both exhilarating and confusing. For the first time, you get to decorate the entire house. It can be overwhelming considering the amount of furniture you have to buy. On top of laying them out in your new space. Before you get lost in the puzzle, we have a list of bedroom essentials to help you get started.
Adequate rest and deep sleep are necessary to function properly in life. When designing your bedroom, the goal should be to ensure you get the best sleep possible to prepare you for the next day ahead. These essentials for the bedroom are must-haves in all homes!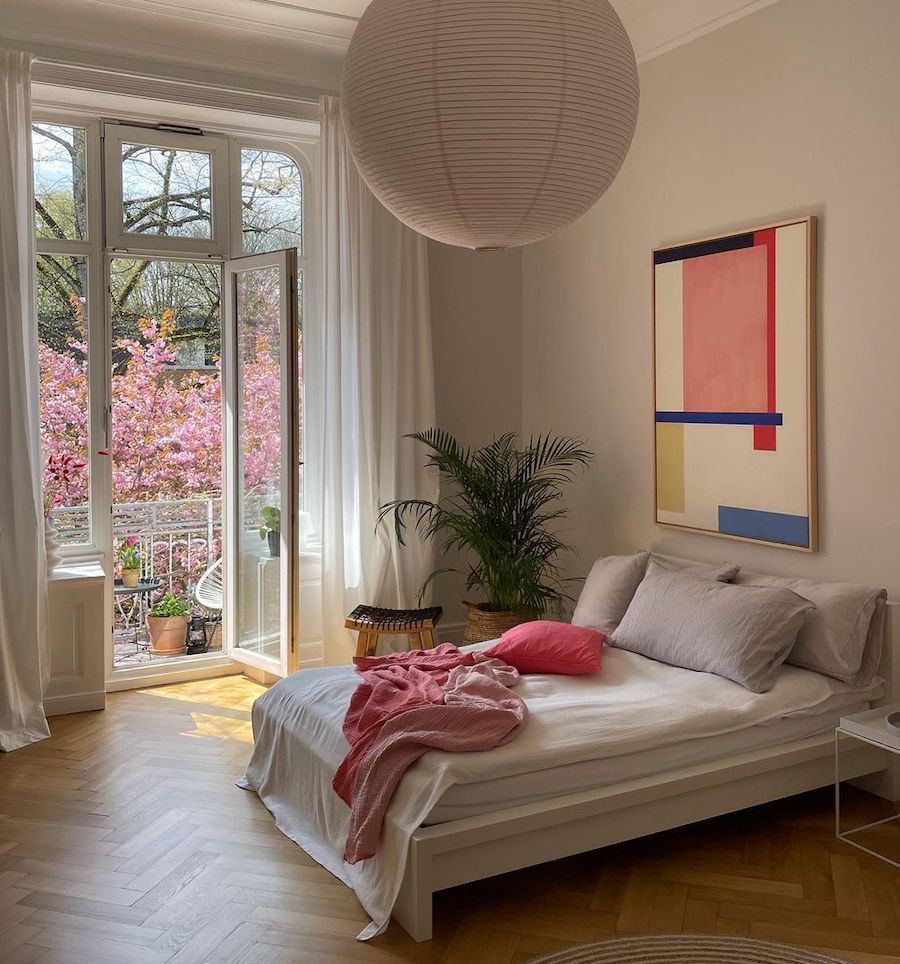 Bed or Headboard
The first thing you should buy for your bedroom is the bed, of course! Measure your space ahead of time to know what you can work with. Choose the perfect size bed for you (and your partner) where you can spend the night peacefully and ideally walk on either side of the bed.
Take into account where the windows are located. You don't want to put a bed in front of a primary window and block some of the natural light that will stream in.
If you can't afford a full-sized bed, then a simple headboard gives you back support and something to lean against in the evening. Headboards also add instant character that draws your eyes in.
Size, color, and texture all play an important role in bedroom design and give a huge impact on the room.
Mattress
One bedroom essential that will greatly impact your waking life is a mattress. Investing in the perfect mattress is the way to go if you can afford it. Check the firmness and structure of the mattress that supports your weight and preferred sleeping position. You can choose among five types – latex, airbed, hybrid, innerspring, or foam.
Before purchasing a mattress, try to lie down on the mattress for at least 10 minutes to get a feel for how it comforts your body. Many top mattress brands will allow you to sleep on a mattress you buy for 60-90 days to make sure it's right for you.
Purple is one of the latest online mattress retailers everyone is talking about!
Mattress Pad
Next, a mattress pad is a bedroom essential that a lot of people overlook. Owning one isn't only to protect your mattress from liquid spills but also for health reasons too. Sleeping on the mattress can result in allergies or – heaven forbid – insect bites which could disrupt your sleep.
So, a simple mattress pad is a wise investment on top of the mattress itself. One factor you have to consider is the thread count of the pad. The higher the thread count, the more durable it is. You can also get a mattress topper for extra plushness and comfort!
Bedding
Soft bedding that keeps you warm overnight in winter and cool overnight in summer is a must.
When choosing the perfect bed linens for your house, consider the breathability of the sheet if you are a hot sleeper. Just because it feels nice on your hands doesn't mean it will be right for your body. Cotton is still the most-loved bed linen material due to its breathability and affordable price.
You'll need the following to make your bed:
Fitted Sheet
Flat Sheet
Comforter Insert
Comforter or Duvet Cover
Pillow Cases
You can often find these items sold in a single set. You can purchase bed sheet sets to save some money rather than purchasing each item individually.
There are lots of places to buy bed sheets and bedding. Frette is my go-to for luxury bed linens. Brooklinen is popular for affordable, yet very high-quality bed linens that will last you a very long time! Boll and Branch provide luxury organic cotton bed sheets.
Pillows
For a good night's sleep, good-quality pillows are a must. Pillow inserts come in various sizes and forms depending on their usage.
For bed pillows, opt for a pillow that provides the right head support for your preferred sleeping position. Otherwise, you will end up with a stiff neck and aching body the following day.
Don't forget about decorative throw pillows to finish up the decoration of your bed.
Most people like to add throw pillows to decorate their bed. Opt for one central throw pillow on their bed to keep things simple and chic.
In choosing the right decorative pillow inserts, consider the size, length, and feather-to-down ratio. To get plumper pillows, buy inserts that are one size bigger than the pillow cover. A 90% feather and 10% down ratio are ideal for decorative purposes.
Comforter Inserts
Many people choose to buy two comforter inserts so that they can sleep at the ideal temperature throughout the year. Use a very thick winter comforter insert in winter and then swap it out for a very thin comforter insert during the summer months.
Nightstand
Nightstands have decorative and useful elements to them. The purpose is to stash away your night cream, book, sleeping mask, and other bedtime essentials to keep them an arm's reach away as you prepare for your nightly sleep. You can also decorate on top of them by using things like a table lamp, a nice tray, and even beautiful books.
Dresser
Another huge purchase that is a must on the bedroom essentials is a dresser. When you are getting a new dresser, consider the size of your room, the quality, and the cost. Choosing a quality and classic dresser will create a statement in the room. Consider also the theme of the room you are going for so it blends with the rest of the furniture.
Armoire
A bedroom will never be complete without an armoire. As it is a huge piece of furniture, choose the right size and design that will tie it up with the rest of the room. Find a place where you have enough space to move and choose your attire without sacrificing the overall design.
Table Lamp
You wouldn't want to grope at night, so a table lamp on the nightstand is suitable for your bedroom. Place at least two table lamps on either side of the bed.
Overhead Lights
Overhead ceiling lights are another component of your bedroom essentials that you have to choose carefully. Classic style with a suitable size will not only illuminate the room but give it a chic vibe that'll work for years to come.
Mirrors
Mirrors are bedroom essentials you need to choose carefully to accentuate and create depth in your room. Have at least two mirrors inside the bedroom, one full-length, and a small mirror for your dresser. Smaller mirrors create a focal point aside from their usual purpose of getting you ready for the day ahead.
Rug
The luxurious feel of a fluffy rug under your feet the moment you wake up makes the rug a bedroom essential. Choosing the right type of rug can change the ambiance inside the room. In finding the perfect rug to fit the theme you are going for, consider the size, color, texture, and design.
Smaller rugs are for decorative purposes to accentuate a specific area. Larger ones covering the entire floor, provide comfort and luxe to the room. The patterns and colors could either match or stand out from the bedroom theme.
---
A bedroom is a place where you relax and unwind after a long and crazy day. It is a room worth investing in as so much of your life is spent inside the bedroom! However, stuffing the bedroom with various gadgets and items will not necessarily make it cozier. Often, it takes stripping the room down to the essentials to bring the utmost relaxation and beauty. Choose items carefully that will give an ambiance of calm and peace to ensure a good night's sleep and an easier early morning wake-up the next day! .