Moving into a new space is equal parts enthusiasm and feeling overwhelmed. The excitement of decorating a new space is undeniably exciting because you can keep it true to your classic style, or take this opportunity to try something new! And that's where the overwhelming feelings can seep in. Decorating everything and still having the essentials you need is a lot! A fun challenge, but a challenge nonetheless. One of the most used spaces in your apartment will be your bathroom, which makes it a great opportunity to decorate with style and get your essentials taken care of all at once!
Bathroom Essentials
In this list of bathroom essentials, we'll go over the major items you will need to have a bathroom that's useful and practical. We wanted to keep this list very simple and down to just the essentials. I hope you'll find everything you'll need to have a successful bathroom experience in your new home!
Mirror
Sure, you might have a mounted mirror in your bathroom, but that doesn't mean you can't add a little flair! Let's assume you have a pre-mounted mirror in your bathroom. Great! You can add a shelf for additional storage (you can never have enough storage!) underneath your mirror.
If you don't have a mounted mirror in the bathroom above the sink, you can find either a mirrored cabinet for internal storage, or you can add some flair by getting a standard mirror with a fun edge and mounting it straight to the wall!
Another bathroom essential is a full length mirror, and the bathroom might be a great place to put that if your bedroom is cramped or it doesn't make sense in other areas of your space!
Lastly, you might consider attaching a magnifying mirror with a swing arm on your wall. This will help you do makeup and see your face up close.
Hand Soap
This seems obvious, but this one of the most easily forgotten bathroom essentials! Ultra nourishing shea butter hand soap is great, and making sure you have extras is important too! If you want to add some style to this, you can look for a refillable option that matches your decor, or even a wire frame that fits certain shapes of hand soap bottles!
Just because this is a bathroom necessity doesn't mean it has to be boring. Be sure to follow up with some Provence hand cream to keep your hands soft and moisturized.
Hand Towels
This feels like another obvious one, but is definitely easy to forget in your bathroom essentials list! You'll definitely want to get hand towels that are usable. Long gone are the days of purely decorative towels, especially in an apartment space!
You should also have 4-6 available so that you can wash them and change them regularly. You can go with a classic neutral color to go with any space, or use it as an accent to go with your other bathroom essentials and pick a fun color or pattern!
Shower Curtain & Liner
Unlike the other bathroom essentials, this one is a bit harder to overlook! There are many options for a mildew resistant shower curtain and liner, depending on your preference, before you even get to the pattern. You can choose a curtain with a built-in liner, separate plastic liner, or forgo the liner altogether. The choice is yours!
The shower curtain and the shower hooks that go with it are a natural way to incorporate a vibe and style into your space because it's the largest canvas in the bathroom. And the best part is, it's easy to swap out if you change your mind and want a different style in there!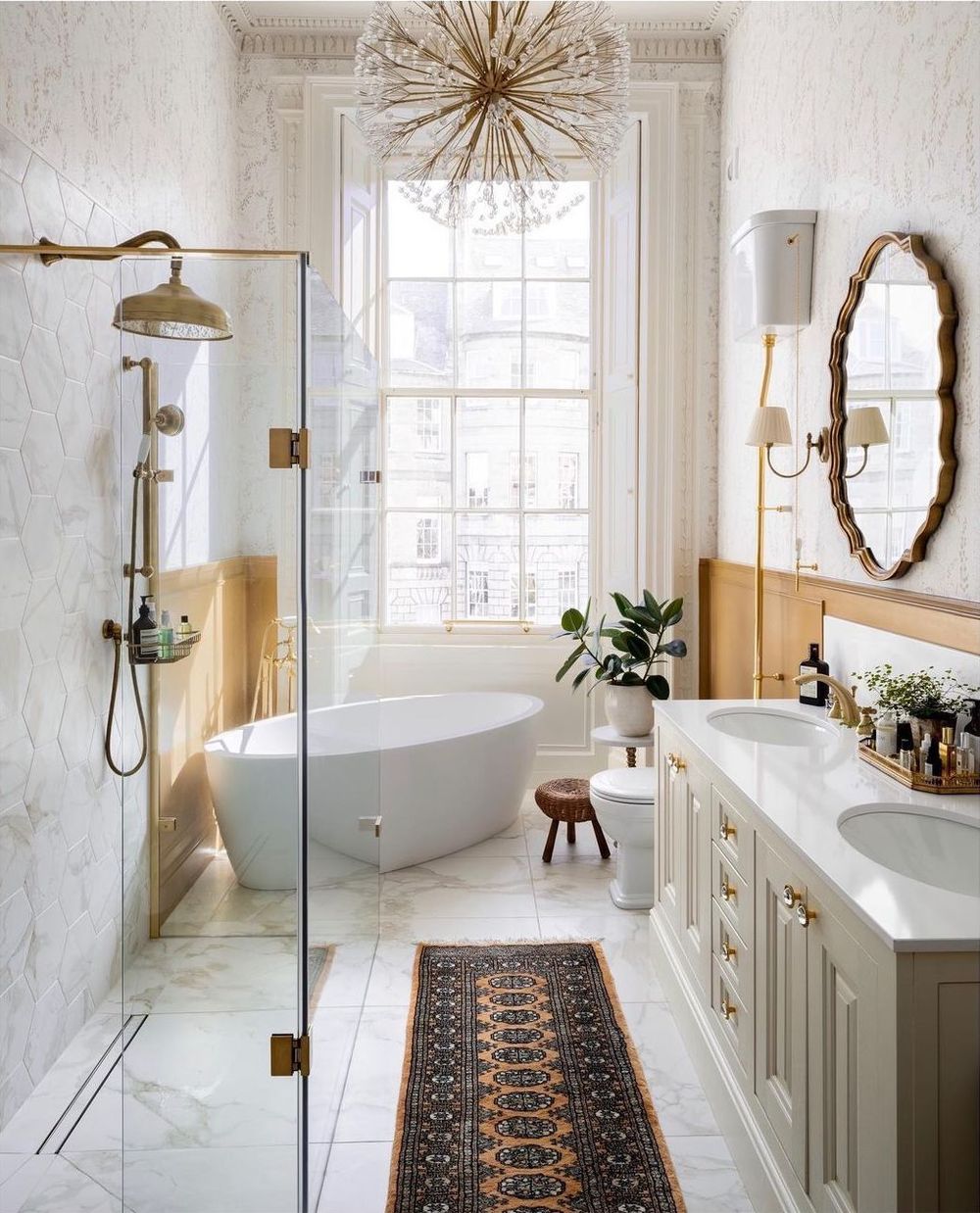 Bath Mat
You'll want your bath mat to coordinate with some other element in your bathroom. The curtain, the hand towel, the bath towels, something that makes it feel less striking to have on the floor. The bath mat serves a functional purpose, but that doesn't mean it can't be nice to look at too!
A non-slip bath mat absorbs water after your shower or bath. You can also get one in front of your sink to catch any water from washing hands, faces, or brushing your teeth. A bathmat can also be in front of your toilet, should you choose. You can easily get individual bath mats for these purposes, or find a long runner style bath mat to cover the space from one end to the other!
Toilet Paper
This is not a bathroom essential you want to overlook! Be sure when you buy it, you buy plenty! Perhaps you can even try some eco-friendly toilet paper. There is nothing worse than running out of toilet paper in the middle of the night or during a snowstorm or rainstorm or something else like that! It's a good idea to have at least an extra roll or two in the bathroom, but the rest can get stored elsewhere.
Toilet Brush
You can go the classic route of a toilet scrubbing brush in a holder. There are also lots of new storage options including self disinfecting holders, stainless steel holders, or completely enclosed holders for the brush. There is also the option of getting a brush that has one use, which means you use the holder to grab one cleaner pad and then when you're done, you flush it down the toilet. No cleaning of the brush necessary! I personally am into this drip-free toilet bowl brush with holder. Who knew how much the toilet bowl brush has evolved?
Trash Bin
A small trash can with a lid will come in handy for tossing out use to make up wipes, tissues, and any other trash that comes your way while in the bathroom.
Storage Baskets
I cannot possibly express the importance of having as many storage baskets as your bathroom space will allow! This is the top tier bathroom essential, in my book! You can store extra toilet paper, hand soap, shampoo, conditioner, personal care items, first aid needs, medications, etc.
This is another easy way to incorporate some style into your bathroom without needing to go above and beyond, because the baskets themselves can be the style! A wire mesh basket is clean and simple, though obviously not very discreet. A fabric basket provides privacy and allows you to wash it as necessary to keep it clean. A jute basket can give your bathroom a neutral, warm look.
Laundry Basket
If you're short on space, you might want to keep your laundry basket in the bathroom. I have a laundry basket right near my bathtub, so that right before I jump into the shower I can remove my clothes and get them ready to be washed.
You can find different styles of hampers to fit your aesthetic vibe. Some people prefer a simple metal cage basket, while others prefer a reusable paper bag, and still others prefer a cloth laundry basket! The choice is entirely up to you. You also want to consider whether you want your laundry hamper to have a lid on it or not.
I have this jute laundry basket from H&M Home and I am so happy with it. It looks so cute and fits in well with my neutral bathroom decor.
Cleaning Supplies
It's definitely worth investing in this bathroom essential from the first day you move in! You would be very surprised how quickly the bathroom can dirty up! Be prepared ahead of time.
Cleaning supplies can vary depending on your personal needs, but they should at least include: toilet bowl cleaner (if you have a toilet brush that you can't flush), glass cleaner, surface cleaner, disinfectant wipes (for surfaces), bathtub/shower cleaner, whatever you prefer for cleaning the bathroom floor (could be a mop system or you can use a floor cleaning solution with rags and do it the old fashion way!), and a duster because surprisingly and somewhat inexplicably, the bathroom gets very dusty! It's not a bad idea to have baking soda and white vinegar as well, as that cleans just about everything when you're in doubt.
There are a lot of bathroom essentials that you need to make sure you're fully set in your apartment. This list will help you figure out a great starting place and grow from there as you need! With this list, you'll have a solid start and feel like everything you absolutely need is already there!