If you're looking for inspiring farmhouse entryways with a rustic design and a country feel, then you've come to the right place. Today we're sharing the most beautiful modern farmhouse entryway decor ideas that we can find online. Modern farmhouse entryway design revolves around creating a comfortable, practical home foyer where you can find everything you need before leaving for the day.
The entryway is an often overlooked space in the home. It's a pass-through space which means we don't spend a ton of time there. But don't make the mistake of letting this room slide. You should design a space that serves your needs – whether it's getting dressed for the weather or keeping your keys in a safe place where you can easily find them. 
Modern farmhouse decor involves creating a cozy home interior inspired by traditional country farmhouses. We love this style of decorating because it's cozy, rustic, and family-friendly. It was popularized into the mainstream by Waco, Texas real estate team Magnolia – comprised of Joanna and Chip Gaines – on their hit TV show, Fixer Upper. Most modern farmhouse interiors will take the core aspects of traditional country decor and add a more minimalist, updated touch so they feel more contemporary. 
Wood Console Table
A great place to start when decorating your entryway is with the console table – a popular choice for entryway design. Farmhouse console tables are often made of wood and are rustic in nature. This wood console table looks beautiful with table lamps, ceramics, candles, and wall signs.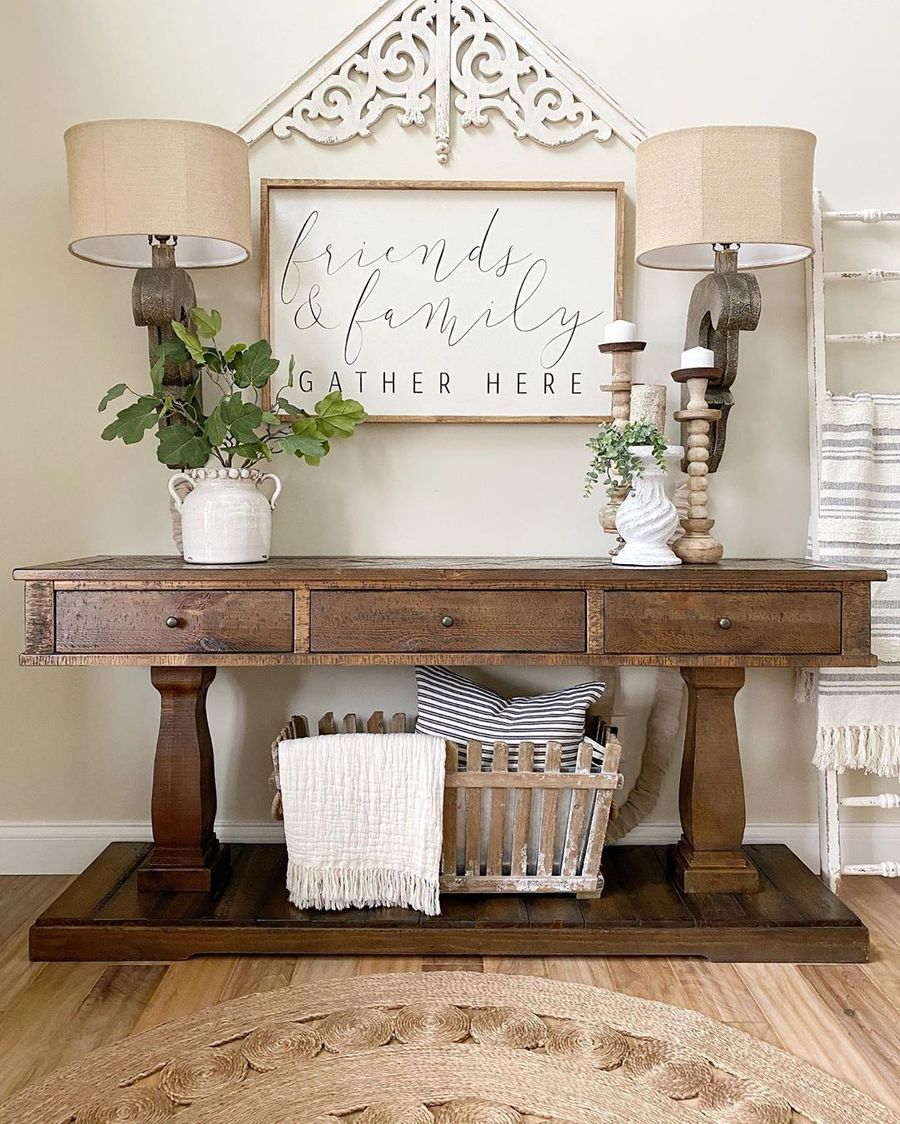 Beige Wall Paint Colors
When it comes to farmhouse entryway paint colors, you can't go wrong with beige, white, and gray. Keep it neutral.
Letter Handwriting Wall Sign
So many farmhouse homes have a lettered sign on the wall, like this beautifully handwritten 'Welcome' metal sign!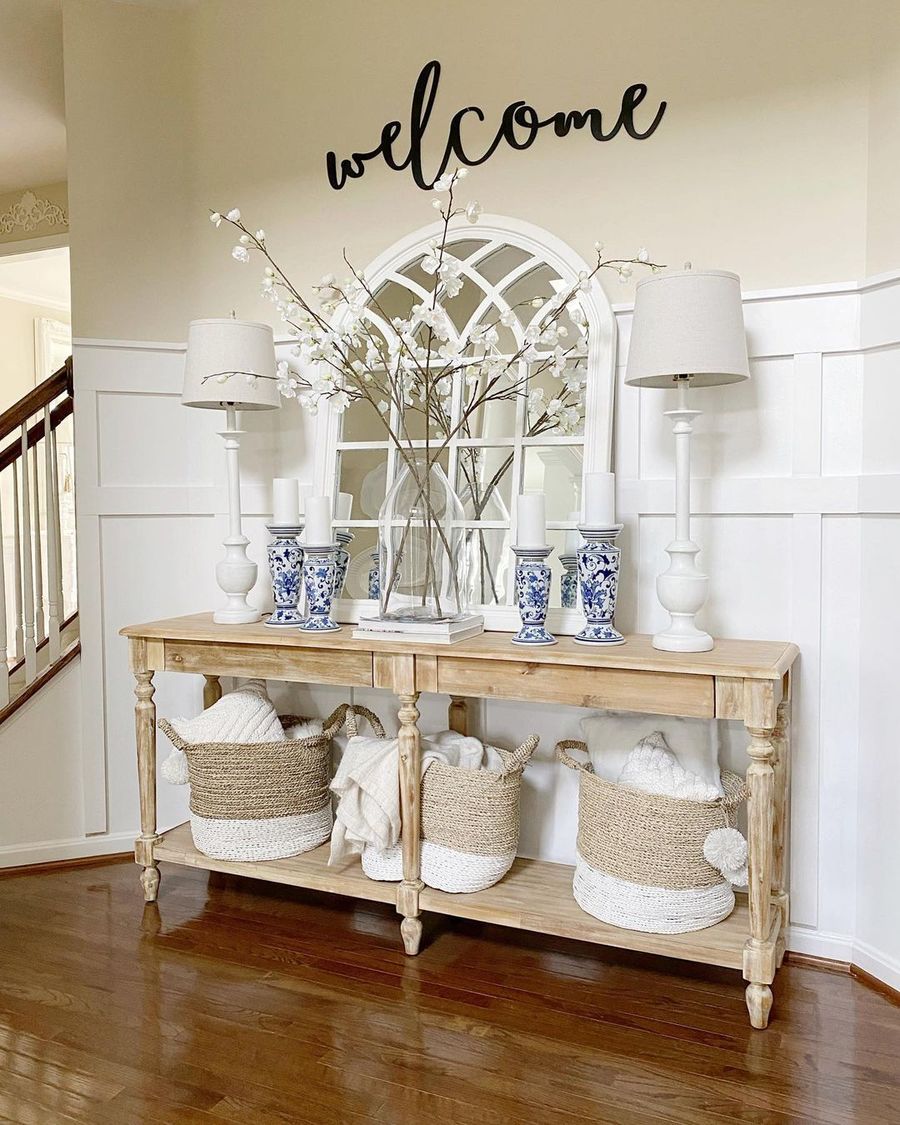 Shiplap Walls
These famous horizontal wall panels are great for decorating the walls of your farmhouse entryway.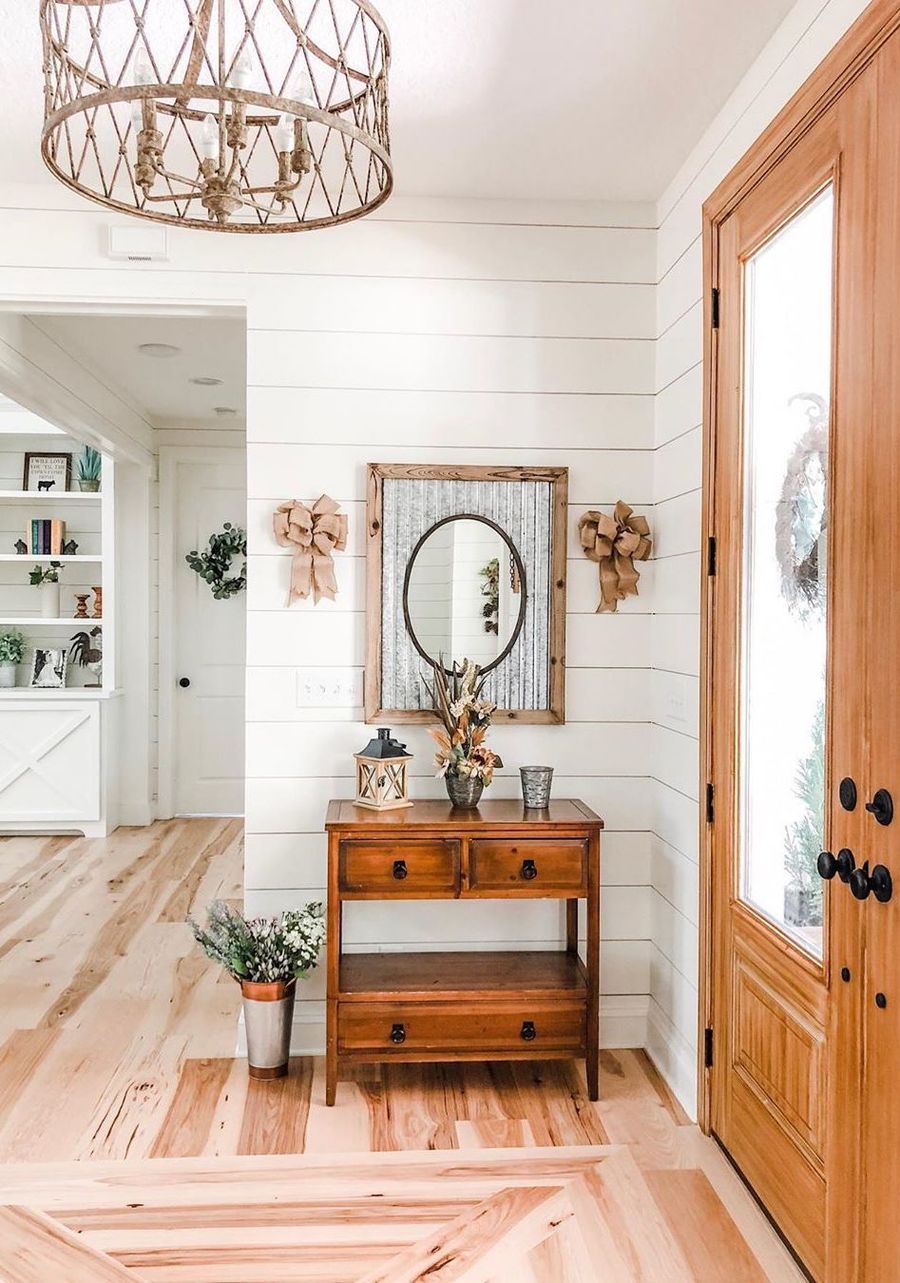 Built-in Bench
Some farmhouse entryways have built-in benches and shelves like this one. You can add jute or wicker storage baskets beneath them to keep umbrellas, shoes, and more.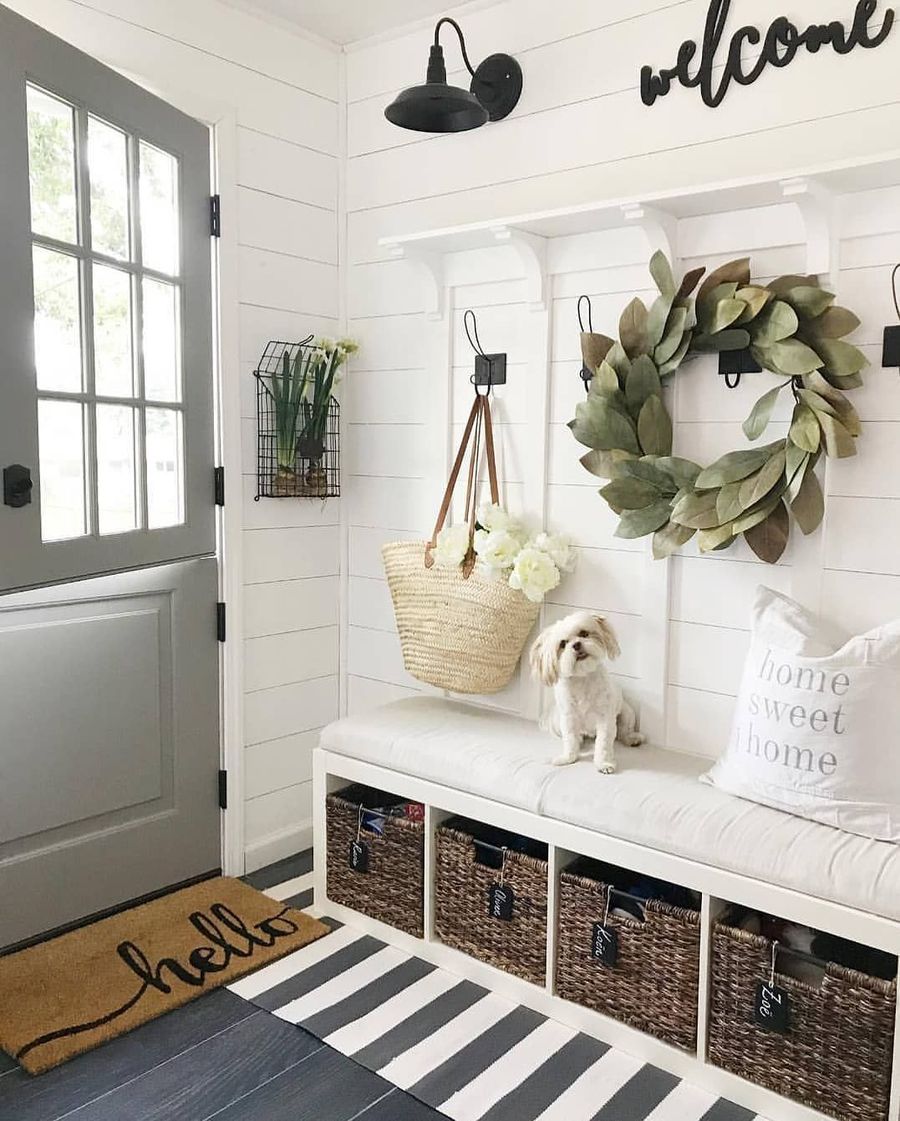 White Pitchers and Rustic Window Frames
Some farmhouse decorative accents that you can use near your entryway include things like white pitchers, rustic window frames, table lamps, old books, and vintage accents.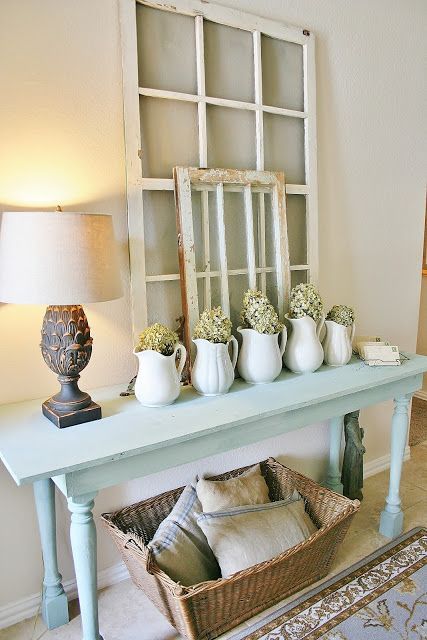 Small Farmhouse Entryway
This is a great example of a small farmhouse entryway that makes use of several black metal wall hooks for holding bags and coats. The 'Welcome' sign on the wall keeps up the friendly, homey vibe.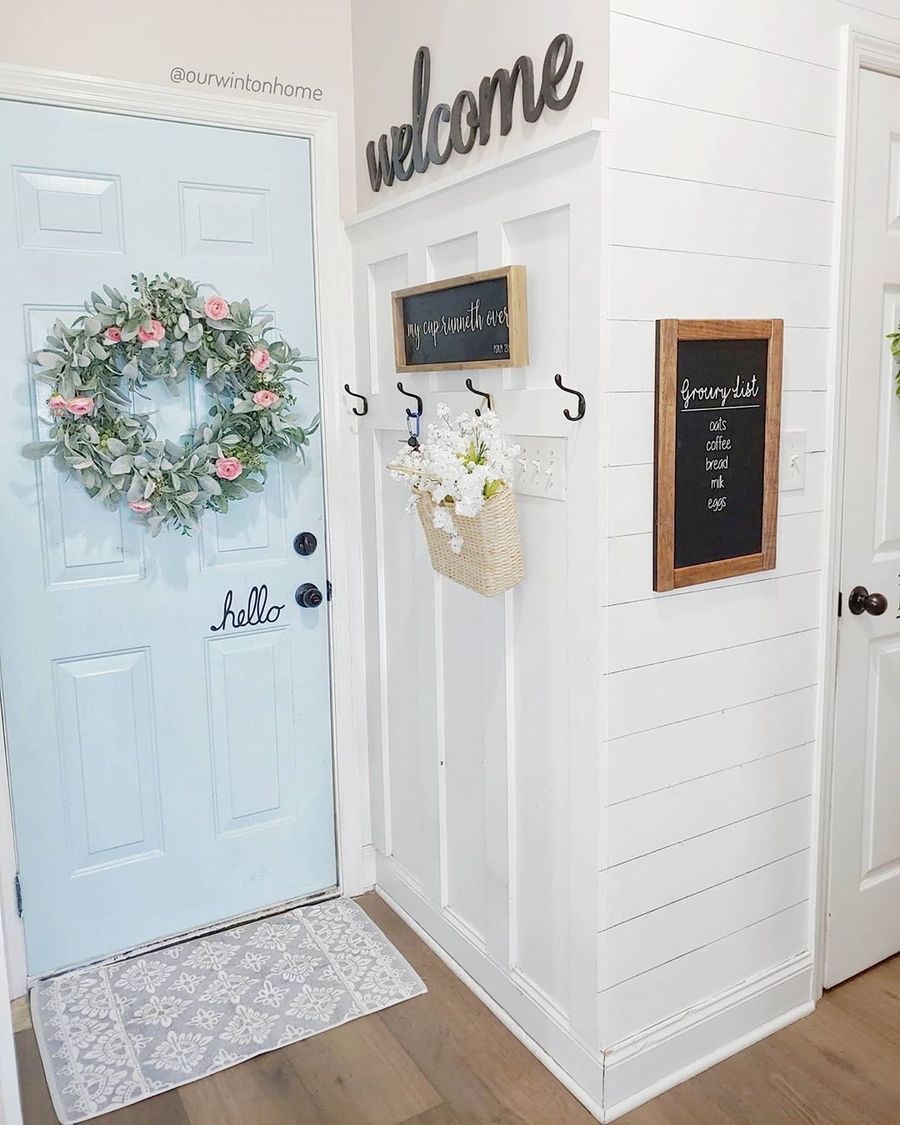 I hope these modern farmhouse entryway ideas inspired you!
If you love modern farmhouse decorating, then don't miss our other related articles below on how to get this look for your home. We have guides for every room in your house!
Happy curating!