You can create your dream world of rustic charm and timeless elegance by shopping from these farmhouse home decor and furniture stores.
It's undeniable. Whether you're seeking to create a cozy retreat or infuse your living space with dreamy vintage allure, there's something captivating about the farmhouse style.
Modern farmhouse decor combines the rustic charm of country living with a fresh, contemporary simplicity. The aesthetic is a delicate balance of old and new, blending natural textures like wood, stone, and leather with sleek, modern elements like stainless steel and glass.
The color palette is predominantly neutral — think whites, creams, and light grays — punctuated by touches of black or dark wood for contrast. Distressed or reclaimed materials are a key element, adding warmth and character. Furniture often combines clean lines with rustic details, such as a modern sofa with a vintage wooden coffee table.
We're thrilled to unveil a curated list of the best farmhouse home decor and furniture stores, where you can discover a treasure trove of delightful pieces that effortlessly blend classic aesthetics with modern sensibilities.
From renowned names to hidden gems, these stores are your gateway to transforming your home into a haven of warmth, character, and inviting beauty. Get ready to embark on a delightful shopping journey that celebrates the enduring allure of farmhouse style!
Pottery Barn
Pottery Barn is an excellent source for modern farmhouse decor due to its high-quality, diverse selection of furnishings and accessories. You can find products that embody the relaxed, rustic charm of farmhouse living, seamlessly mixed with contemporary aesthetics. From weathered-wood dining tables and antique-inspired bookcases to classic tufted sofas and industrial lighting fixtures, there's a bevy of items that exude that unique blend of old and new that characterizes the modern farmhouse look.
Pottery Barn offers a variety of soft furnishings such as textured rugs, throw blankets, and decorative pillows in the signature neutral palette of this style. Coupled with its reputation for durability and style, this makes Pottery Barn a go-to destination to bring the inviting, lived-in feel of modern farmhouse decor into their homes.
Magnolia Market
Magnolia Market, founded by Chip and Joanna Gaines of "Fixer Upper" fame, is the epitome of the modern farmhouse aesthetic. Offering a blend of rustic charm and modern elegance, it presents unique furnishings and home accessories, from handcrafted wooden tables to vintage-inspired wall decor.
Notable are Magnolia's shiplap accents, heirloom-style dishware, and natural textiles that capture the comfort and simplicity of farmhouse living. With a focus on authenticity and thoughtful design, Magnolia Market is an ideal destination to infuse a house with warm, farmhouse style.
Wayfair
Wayfair is a leading online marketplace for home goods, offering a vast selection of modern farmhouse decor. Its collection spans from distressed wood furniture to galvanized metal accents, embodying the rustic charm of this aesthetic. Highlights include a variety of shiplap-clad pieces, barn door-style cabinets, and vintage-inspired lighting.
With an extensive breadth of affordable options, customer reviews, and comprehensive product descriptions, Wayfair provides a convenient and user-friendly platform to achieve a modern farmhouse look without breaking the bank.
World Market
Cost Plus World Market is a specialty retailer known for its eclectic array of unique furniture, decor, and more. For modern farmhouse enthusiasts, it offers a curated collection of pieces that combine rustic charm with a global twist. Customers can find items like distressed wood tables, metal bed frames, and woven rattan baskets, all resonating with the farmhouse aesthetic.
With its selection of vintage-inspired kitchenware and rustic textiles, World Market provides a wealth of options for a distinctive, globally-influenced modern farmhouse style.
Hobby Lobby
Hobby Lobby is a popular retail chain specializing in crafts, home decor, and hobby supplies. It's an excellent source for modern farmhouse accents, offering a variety of affordable, chic items.
From distressed wooden signs to galvanized metal wall art, and cotton wreaths to rustic furniture pieces, its selection embraces the warmth and simplicity of the farmhouse aesthetic. With its wide array of DIY supplies, Hobby Lobby caters to those wishing to add a personal, handcrafted touch to their modern farmhouse decor.
Birch Lane
Birch Lane, an online retailer, specializes in classic designs and timeless home furnishings, making it an ideal source for modern farmhouse decor. It offers an array of items that embody rustic elegance, from distressed wood furniture to tufted upholstery and antique-inspired lighting.
Key products include the farmhouse-style dining sets, weathered coffee tables, and comfortable slipcovered sofas. With its focus on quality craftsmanship and enduring style, Birch Lane provides a comprehensive solution to bring the cozy, welcoming ambiance of classic farmhouse decor into your place of residence.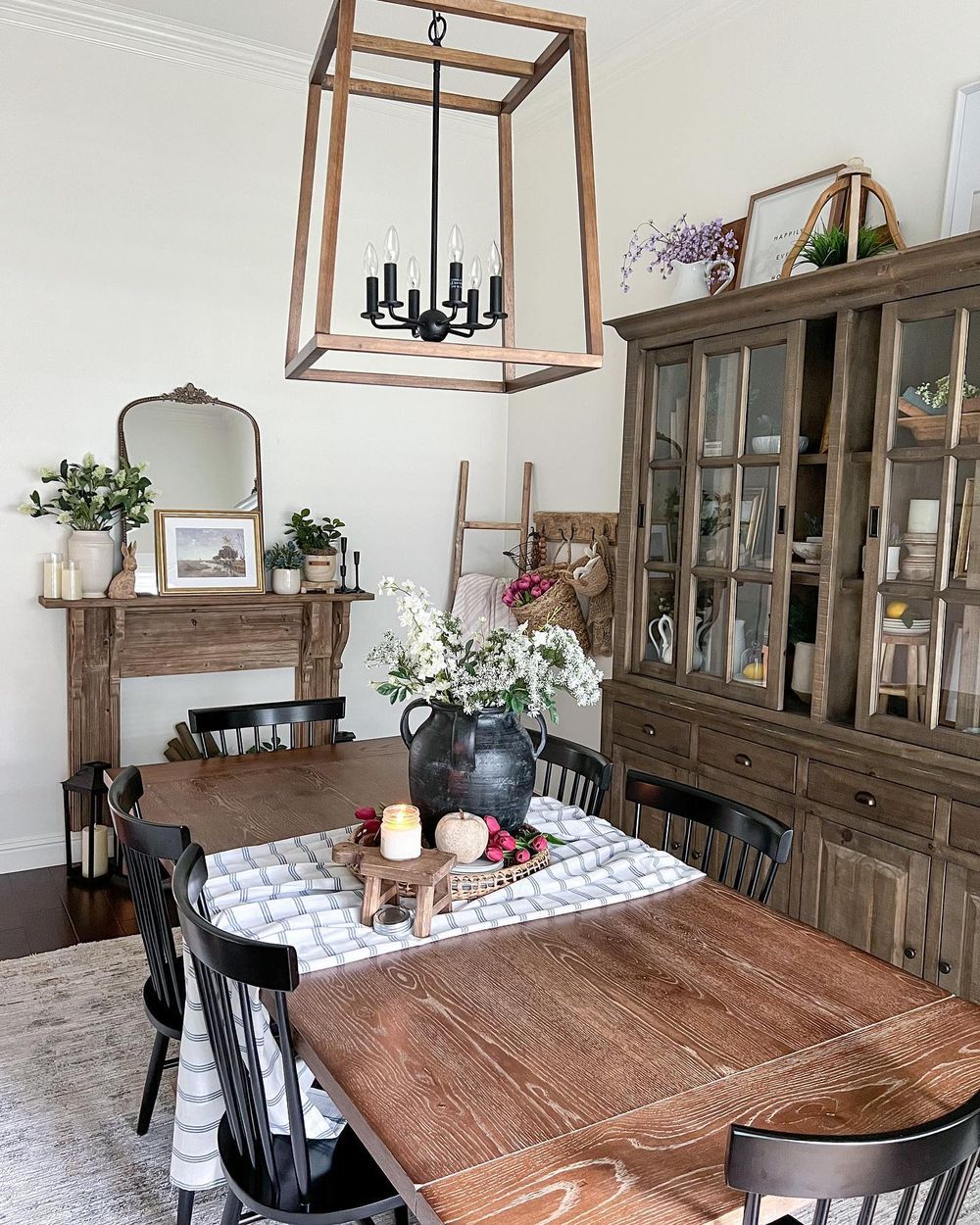 Etsy
Etsy is an online marketplace renowned for its unique, often handcrafted items, making it a treasure trove for modern farmhouse decor. You can find thousands of products from independent artisans worldwide, including reclaimed wood furniture, vintage-inspired signs, rustic linens, and bespoke lighting fixtures.
Etsy's strength lies in its diversity and the opportunity for customization, allowing buyers to find truly unique items or pieces tailored to their spaces. For one-of-a-kind additions to their modern farmhouse decor, Etsy offers a vast, creative landscape to explore. You'll also feel good about supporting a local artisan instead of a big box brand.
Crate & Barrel
Crate & Barrel is a global home furnishings retailer known for its stylish, functional designs. It's a great place to shop for modern farmhouse decor, offering a selection that merges rustic warmth with contemporary refinement.
Customers can find furniture like solid wood dining tables and upholstered accent chairs, as well as accessories like galvanized metal trays and earth-toned textiles. With a particular focus on quality and timeless style, Crate & Barrel is a fitting destination to incorporate the modern farmhouse charm into a contemporary living space.
Farmhouse Pottery
Farmhouse Pottery in Vermont is a craftsman-centric pottery and home goods store, committed to preserving traditional American craftsmanship. It's an excellent source for artisanal, hand-thrown pottery and wooden kitchen utensils that lend authenticity to the modern farmhouse aesthetic.
The shop's collection, while not extensive, provides a selection of beautifully crafted, durable pieces ranging from unique stoneware crocks and bowls to rustic wooden boards. For unique, handcrafted items that will accentuate a modern farmhouse style, Farmhouse Pottery offers an experience steeped in tradition and simplicity.
Kirkland's
Kirkland's is a U.S. retail chain that specializes in home decor and gifts, and it's a fantastic spot for affordable modern farmhouse essentials. You can find everything from distressed wooden furniture, to galvanized metal accents, to charming wall decor, all encapsulating the cozy, rustic allure of farmhouse style.
Key products include Kirkland's weathered picture frames, barn-inspired wall art, and comfortable throw pillows in a neutral palette. Kirkland's commitment to affordable style makes it a go-to destination to design a welcoming, modern farmhouse atmosphere.
Restoration Hardware
Restoration Hardware excels in providing luxury modern farmhouse decor, blending rustic authenticity with elegant sophistication. Its offerings range from weathered oak tables to plush Belgian linen sofas, capturing the natural textures and neutral tones key to the aesthetic.
Highlights include the brand's artisan-crafted lighting fixtures and bespoke vintage-style accents. With a reputation for craftsmanship and timeless design, Restoration Hardware offers a curated shopping experience for the refined side of modern farmhouse decor.
Pier 1 Imports
Pier 1 Imports, known for its unique and eclectic home decor, is an excellent resource for modern farmhouse essentials. It offers a selection of furniture and accents that blend rustic charm with modern flair. You can find items like distressed dining tables, galvanized metal storage solutions, and woven rattan accents.
Standout pieces include Pier 1 farmhouse-style dining sets, artisan-made vases, and cozy, textured rugs in neutral hues. With its focus on bringing together diverse styles and unique pieces, Pier 1 Imports caters to those seeking a modern farmhouse decor with individuality.
Williams-Sonoma
Williams-Sonoma is a premier retailer known for high-quality kitchenware and home furnishings. It's a top-tier resource for modern farmhouse furniture and decor, offering items that blend rustic charm with a refined aesthetic. You can find artisan-made pottery, vintage-inspired kitchen appliances, and farmhouse-style furniture.
Standout items include its famous rustic kitchen islands and dining tables, French-country-inspired dinnerware, and an assortment of textiles in cozy, textured materials. Williams-Sonoma's commitment to quality and timeless design makes it a fitting spot for a sophisticated take on modern farmhouse style.
Ballard Designs
Ballard Designs is a home design retailer known for its European-inspired designs and timeless style. For modern farmhouse decor, it offers a selection of pieces that fuse rustic charm with elegant sophistication. You can find furniture like weathered wood tables, upholstered headboards, and vintage-style lighting fixtures.
Key products include chic bar stools, artisan-crafted vases, and a variety of textiles in earthy, neutral tones. With its dedication to quality and design, Ballard Designs is an excellent destination for incorporating a more refined farmhouse style into the home.
HomeGoods
HomeGoods, a retail chain offering discounted home furnishings, is a great destination for affordable modern farmhouse decor. You can shop a wide array of accents, from rustic wooden furniture to unique, vintage-inspired accessories, all epitomizing the warm, inviting feel of farmhouse living.
HomeGoods' rotating inventory includes key items like distressed dining tables, comfortable upholstered chairs, and a batch of textiles in neutral tones. For the charm of the modern farmhouse aesthetic without a hefty price tag, HomeGoods offers both variety and value.
---
What I love most about farmhouse style decorating is that this style also leans into open concept living, with plenty of natural light and ample use of greenery. The look is completed with classic farmhouse elements such as shiplap walls, barn doors, and vintage-inspired lighting fixtures. The modern farmhouse aesthetic is about creating a space that feels inviting, comfortable, and authentically lived-in. These farmhouse furniture stores can help you get there!