These bohemian entryways will inspire you to redecorate your own home entryway space. Even if you don't have a dedicated entryway room or foyer, these boho entryways can give you plenty of design ideas! There are lots of ways to create a practical and useful entryway area in your home.
I don't have a big apartment, but I still have a dedicated area for dropping my keys and bag and taking off my shoes when I get home. This helps me find things I need easier the following morning before I leave. That's why I highly recommend creating an entryway of sorts in your home!
Boho Entryway Ideas
So this article will focus on boho entryway ideas specifically. We particularly love the bohemian interior style for its charming and colorful designs. This boho aesthetic will include lots of colorful decorations, natural wood furniture, and exotic art. Let's take a peek!
By the way, here are a few boho entryway furniture and accent ideas:
Banana Leaf Wallpaper Accent Wall
This quintessential bohemian entryway design was created by expert boho decorator Justina Blakeney. If you haven't read her boho decor book, you should absolutely check it out as it's full of amazing bohemian home decor ideas!
Now this particular bohemian entryway has so many great ideas in it. I especially love the banana leaf wallpaper accent wall which is right in front of the front door so you notice it right away upon entering the home! To the right, there is a built in bench which has a colorful textile upholstery. The drawers are white and simple which tone down the space. The floors are a warm brown wood. A bench with a similar exotic textile upholstery sits against the wall. A navy blue boho rug has been placed on the floor in front of the front door. Finally, a small house plant sits next to the bench.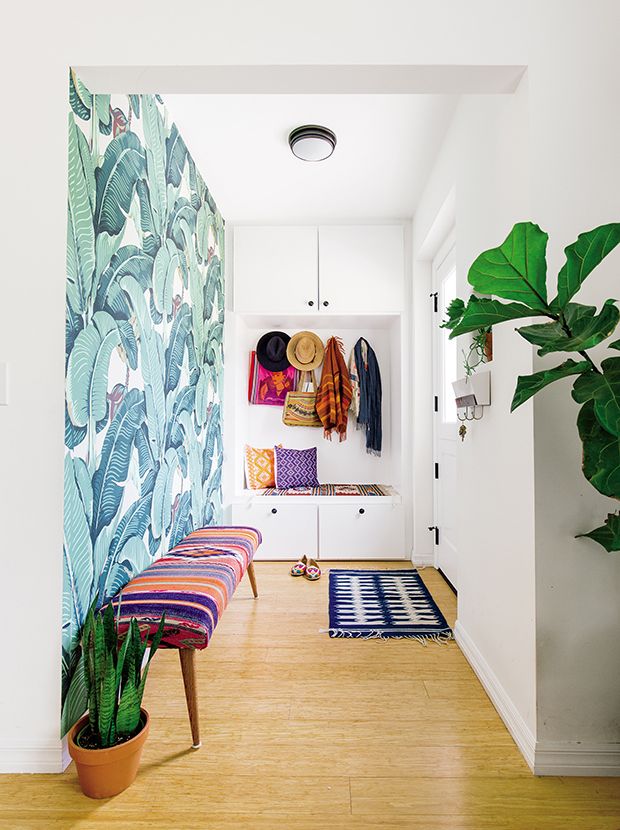 Turkis Boho Rug
A colorful Turkish rug is a great choice for creating a welcoming boho interior entryway.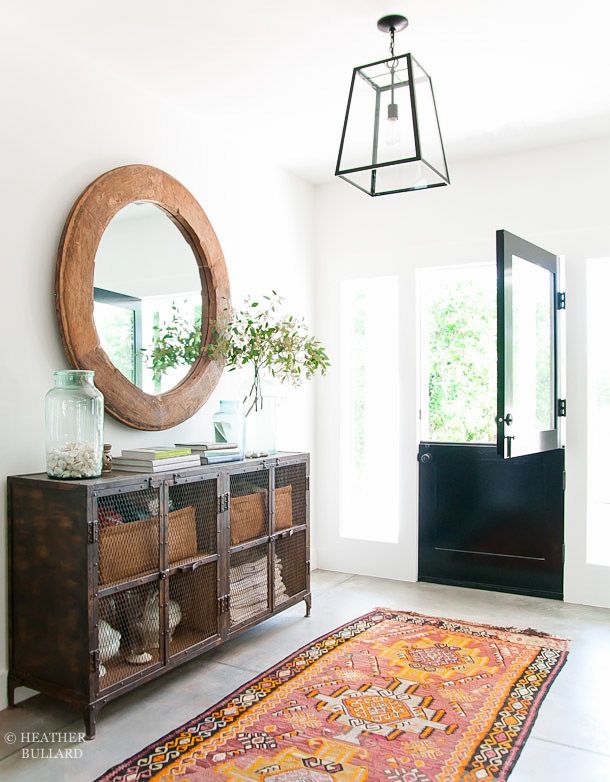 Turquoise Ottoman
This is a very unique boho entryway design. A turquoise tufted ottoman has been placed in the center of the entryway space. It provides an area to sit or drop your handbag when returning home without taking up too much eye-level space. The side walls of this boho foyer have lots of green house plants.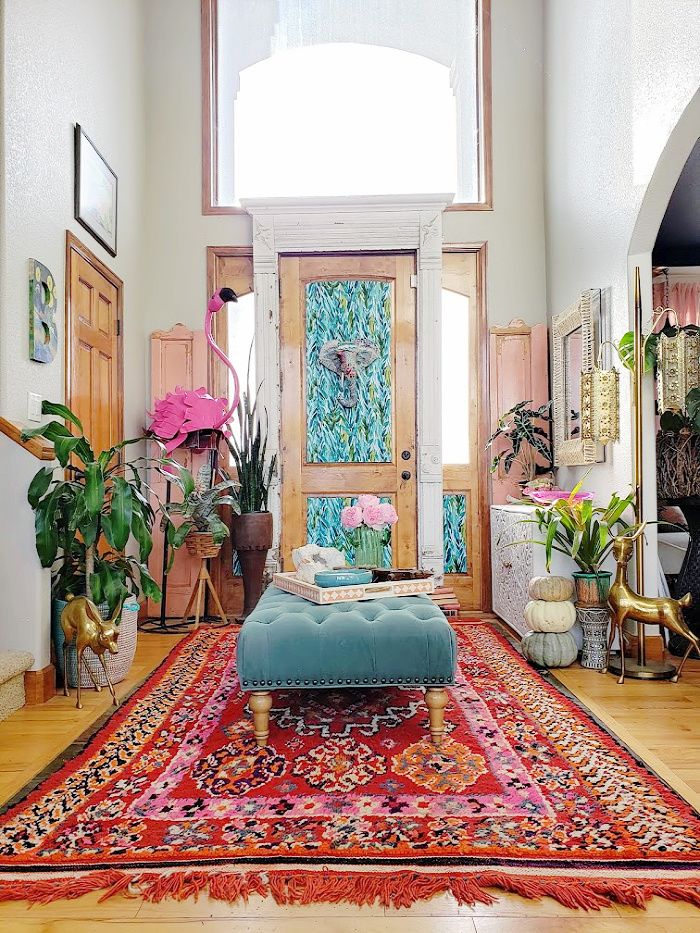 Exotic Throw Pillows
Colorful, exotic throw pillows with intricate designs give your home a boho flair.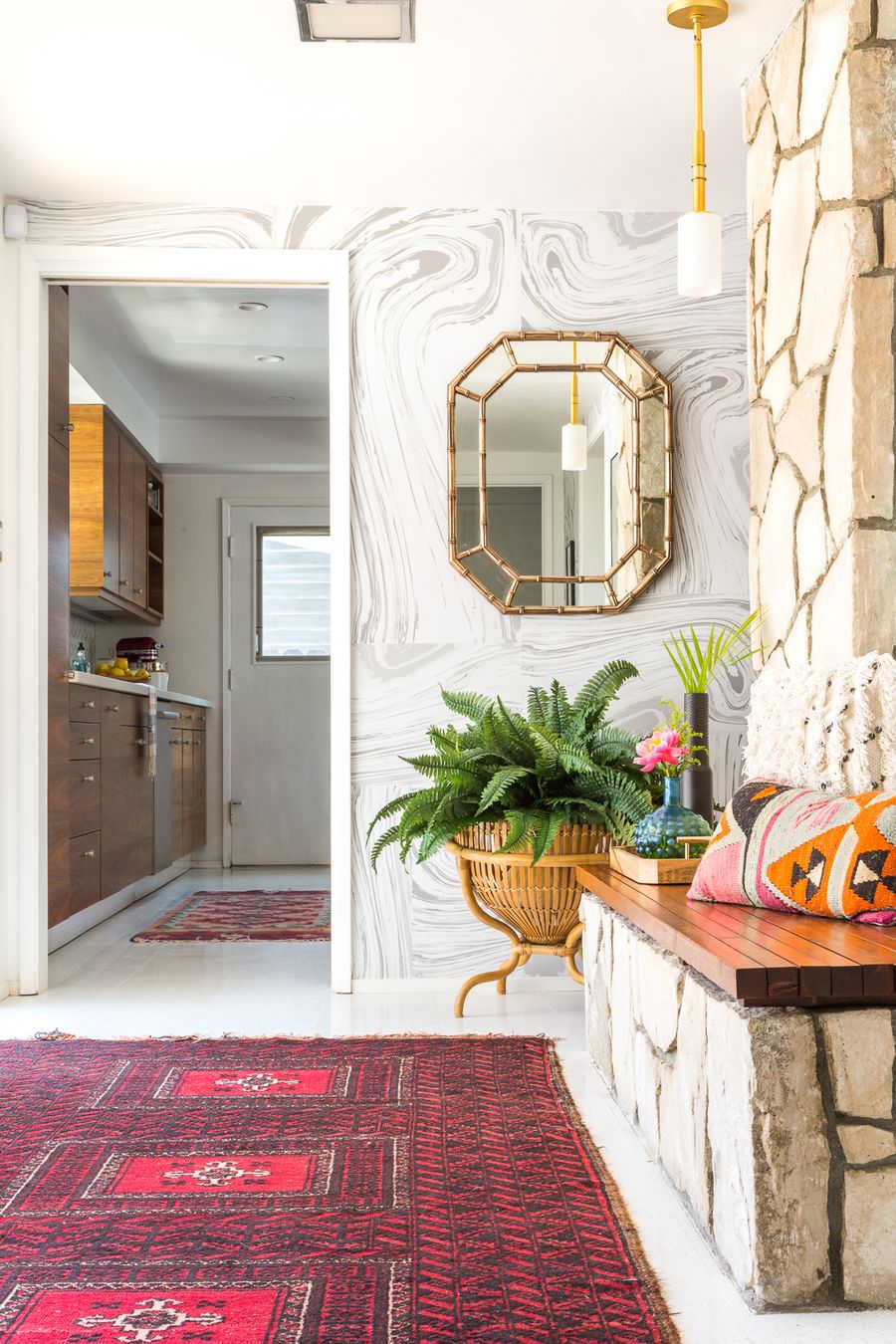 House Plants
From cactus to fiddle leaf trees, there are so many cool boho indoor house plants to add to your entryway and make it nature-filled! Having indoor house trees can calm the soul and make us less anxious. Almost all of these bohemian entryways have at least a few plants.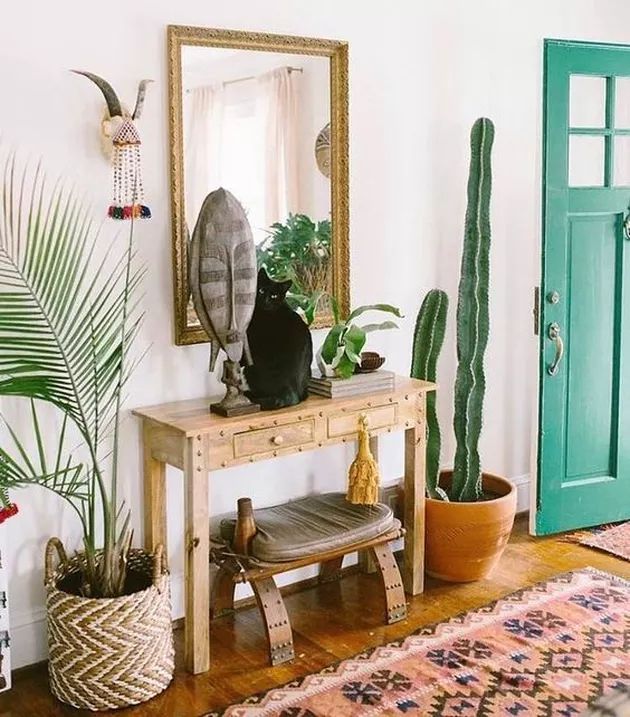 Macrame Wall Art
Macrame wall art is a popular decorative choice for adding an artistic touch to the entry! Many bohemian entryways feature this gorgeous type of tapestry.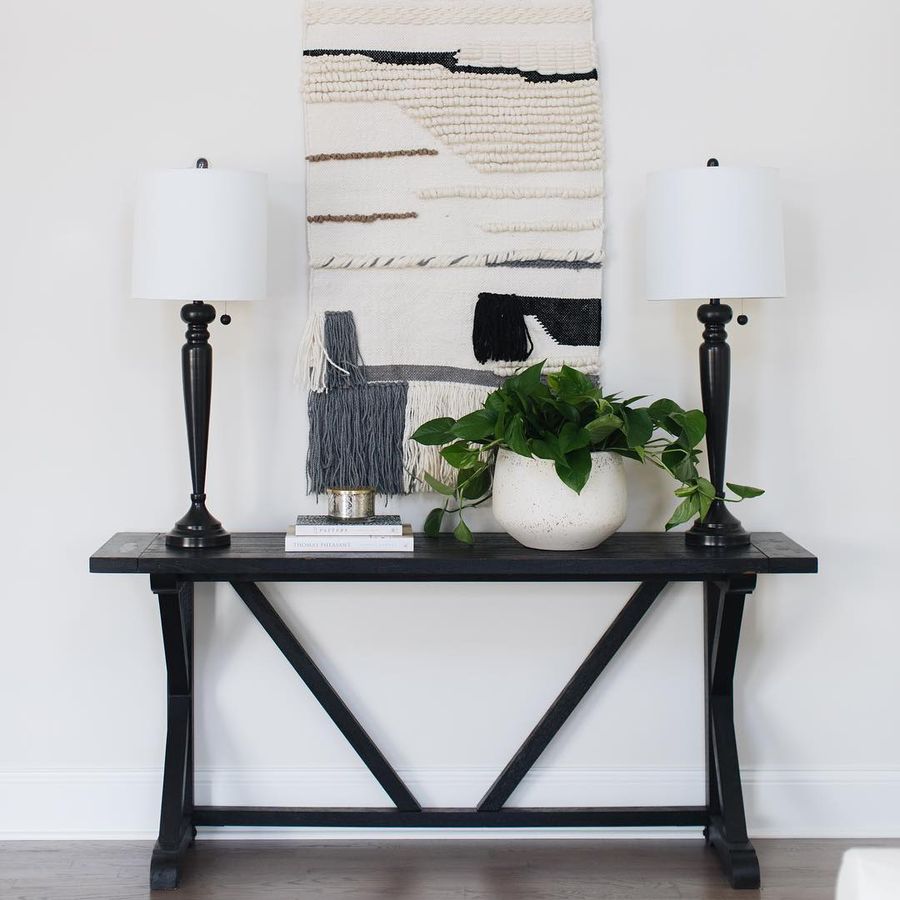 Warm Wood Console Table
Many boho interiors have mid-century modern furniture in them. I think the warm wood colors of this space work well with the greenery. It's very cozy and inviting.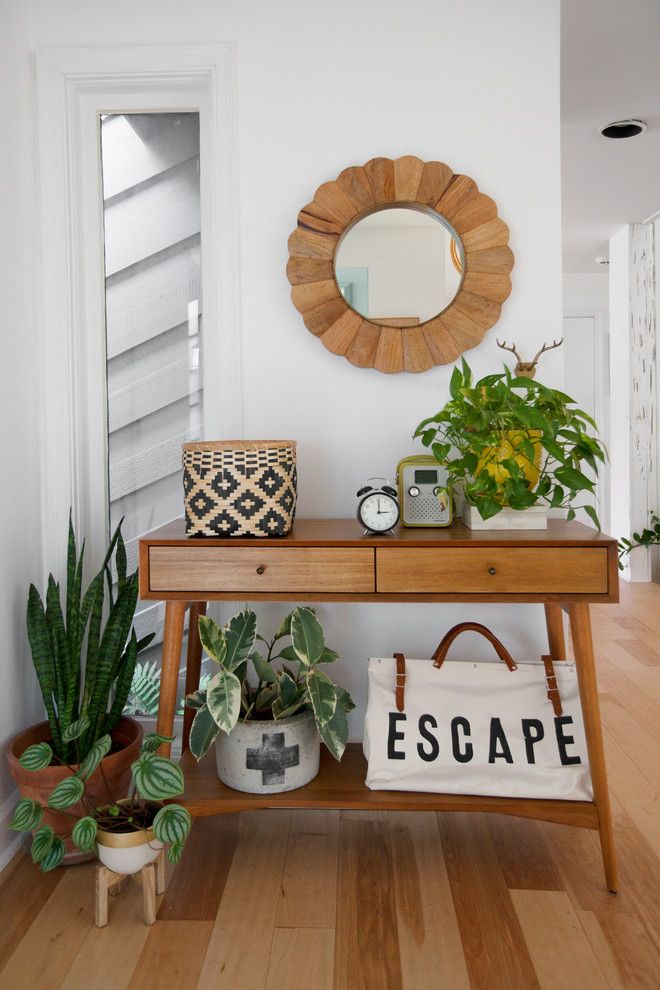 Rattan Accent Chair
A beautiful rattan chair is the perfect boho furniture choice for extra seating.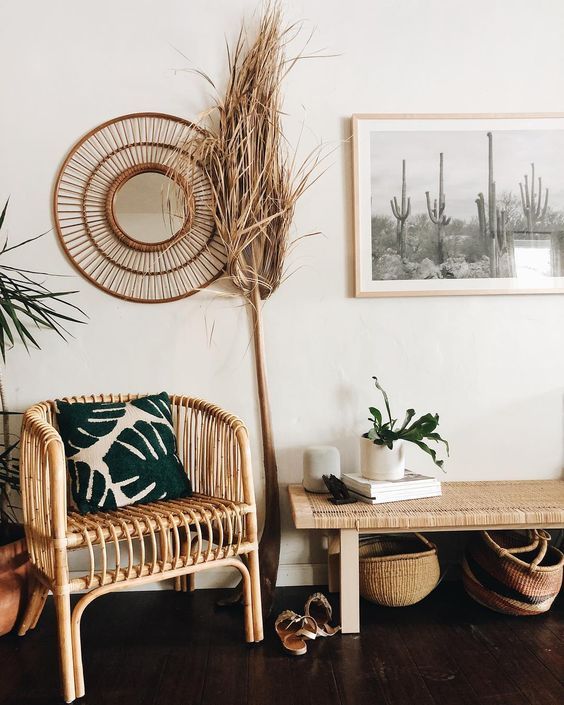 Simple Wood Bench
I love this simple wood boho bench for sitting down to take your shoes on or off. Bohemian benches are great entryway furniture choices!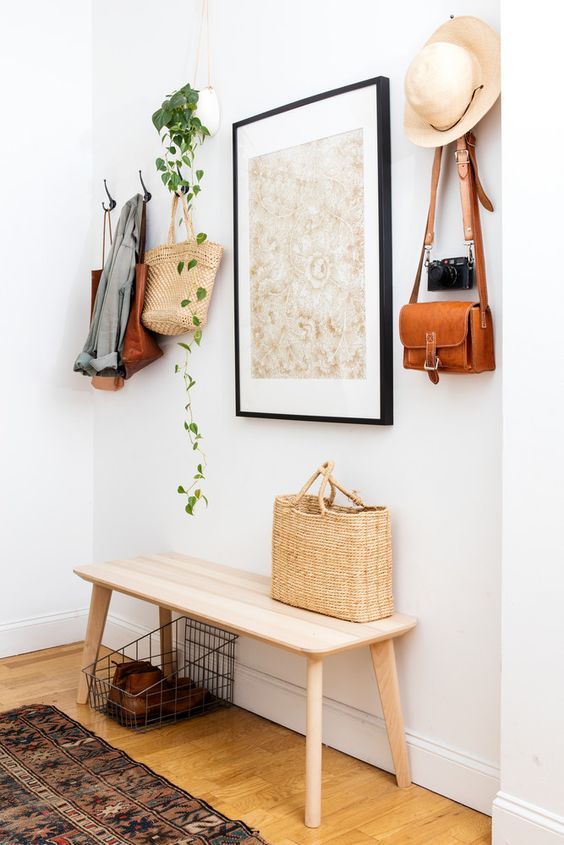 Woven Jute Storage Basket
I have so many foldable jute storage baskets like this! H&M Home makes some really great affordable ones.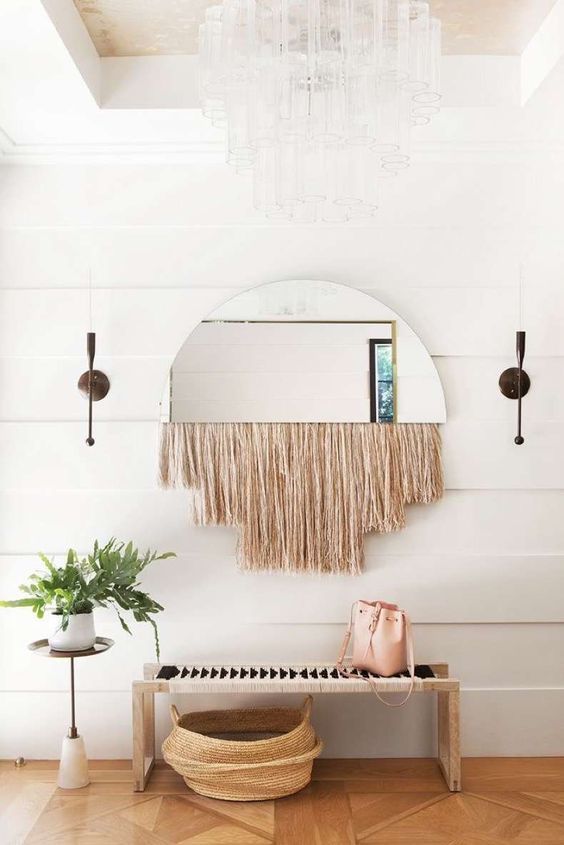 White Chunky Crochet Merino Rug
This gorgeous crochet rug looks so cozy on the floor of this western-inspired entryway.
Wood Rod with Leather Wall Hooks
It's a great idea to install some sort of wall hook system in your entryway for hanging coats, bags, and other items!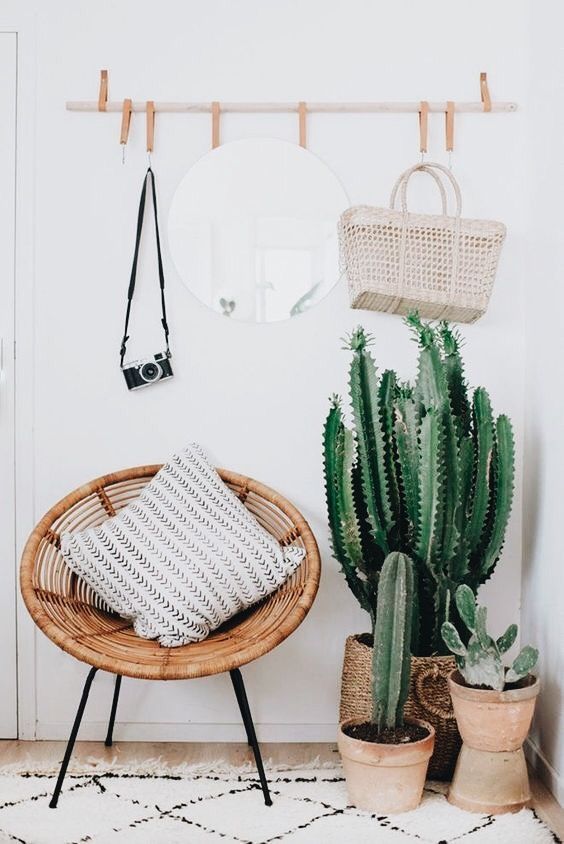 More Boho Decor Ideas for the Home
If you love bohemian decor then these boho home decor ideas will inspire you as you decorate your home! Check out our other room design guides right here: