Throughout our lives, we want to live in a home that reflects our tastes. The style of our living room should match our favorite aesthetic. Some people want a minimalist design, while others prefer a home bursting with color and full of life! One of the most versatile and unique designs ever made was the boho or bohemian interior design style.
If you want a bohemian-style home decor, you are in the right place. A boho or bohemian interior design might be a little trickier to assemble as it requires a lot of eclectic things and international furniture that will combine to create the perfect home interior design.
Bohemian Living Room Style
Before we give you tips on finding the perfect bohemian living room sofa, let's first discuss the history behind the popular boho aesthetic.
The bohemian style interior design trend started in Paris, France, during the 19th century. It is mainly influenced by the earliest bohemians known as the creators, authors, poets, entertainers, musicians, and wanderers who acknowledged that creative thinking is more precious than money.
Through this, they unintentionally began a style of interior design by combining everybody's cultures, beliefs, and ideologies and rejecting the norm recognized by society. The bohemian style was inspired by the wanderer artists who aimed to defy beauty ideals by abandoning the standards and adapting the unusual.
A boho or bohemian decorative style means being free with what you want your living room to look like. If you want your living room to be full of life and color, and be rich in culture, then a bohemian living room style would be the best for you.
When designing a bohemian living room, you are free to jumble and arrange any colors you want. However, the suggested color palette for your boho living room is brown, green, and gray for the base, and you can also put metallic and jewel colors such as purple, orange, and blue for the accents. This aesthetic is distinguished by the use of color combinations, patterns, textiles, and blending metallics.
You should combine various shapes, patterns, surfaces, and textures and explore the styles that usually don't harmonize seamlessly. Make use of pigmented fabrics and styles from all over the world, particularly in the Central Asian countries such as Vietnam and Cambodia.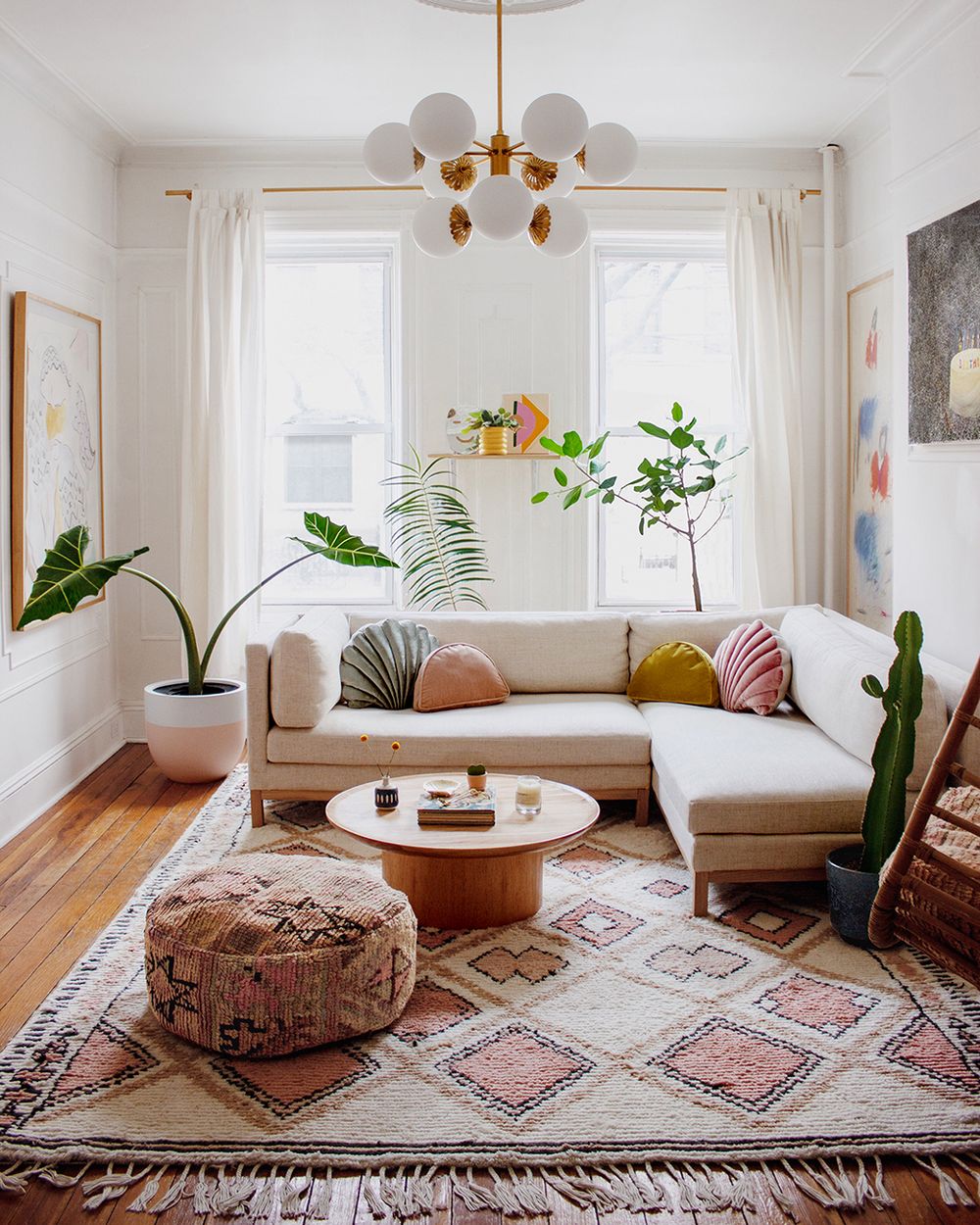 When you are starting to create your dreamy bohemian living room, one essential piece of furniture that you will need is a sofa. If you have a large family or entertain guests a lot, bohemian sectional sofas would best fit your boho-themed living room.
Boho Sectional Sofas
Here are the best boho sectionals to shop now.

Benefits of Sectional Sofas
Sofas are displayed and used in the living room or family area of the house. But why go for a sectional as opposed to a traditional sofa or couch?
A sectional sofa is a larger cushioned seating fixture that comprises two or even more combined sofa sections. The main benefit of sectional sofas is that they can accommodate and fit many more people than typical sofas. Each person can feel at ease and spread out while sitting on a sectional.
There are a lot of excellent, high-quality bohemian sectional sofas in the market. With that, here are some key benefits of a sectional sofa.
A sectional sofa can accommodate many guests to sit in just one piece of furniture. It also has an additional comfort that you can feel whenever you lounge on the sofa. Sectional sofas can also enhance the aesthetic of your living room and usually can establish a casual and very welcoming vibe to your visitors.