Bohemian beds are great for boho-style bedrooms and eclectic interiors. If you are searching for the perfect boho bed for your home, then our list will help you narrow down the choice.
Bohemian decorating is also known as the boho style. This style originated in Bohemia which is located in Eastern Europe. The style was trendy during the 60s and 70s but died off during the 80s and 90s.
The bohemian decorating style has recently made a massive resurgence in recent years. Now bohemian clothing, bohemian handbags, boho furniture, bohemian beds, and entire bohemian decorating concepts have become somewhat mainstream.
Popular boho decorating styles include the artsy vibe, the California vibe, and the Moroccan style. Retailers like Anthropologie have further amplified the boho decorative style.
What Do Bohemian Beds Look Like?
A bohemian bed will have a natural and possibly vintage look. Natural materials are preferred when crafting boho beds. Materials like wood, rattan, and cane are the most popular. These rattan beds would look great in a boho bedroom design.

The bed itself will be decorated with big comforters, large throws, fluffy bedspreads, and fluffy pillows. Large blankets can provide warmth, complement the bed and make it more comfortable. The more linens and bedspreads that you have available will add coziness to the space. It will also give the flexibility to switch out the blankets and create a totally new bohemian look whenever you want!
Boho Bedroom Decor
The bohemian decorating style can be used in many different rooms of the home, but a great place to focus on is the bedroom. This bedroom style promotes relaxation, comfort, and rejuvenation from a long day.
Bohemian bedrooms have lots of different textiles and eclectic accents inside them. Adding a fluffy quilt at the end of the bed will give the bed more character. The type of quilt that is recommended is a Kantha quilt. When it comes to the color coordination of the bed or a bohemian bedroom, neutral colors generally complement this decorative style. Neutral colors are used for the bedding because it allows you to add color when choosing the throws and cushions. Bohemian style lets you add as many cushions and throws as you like on your bed.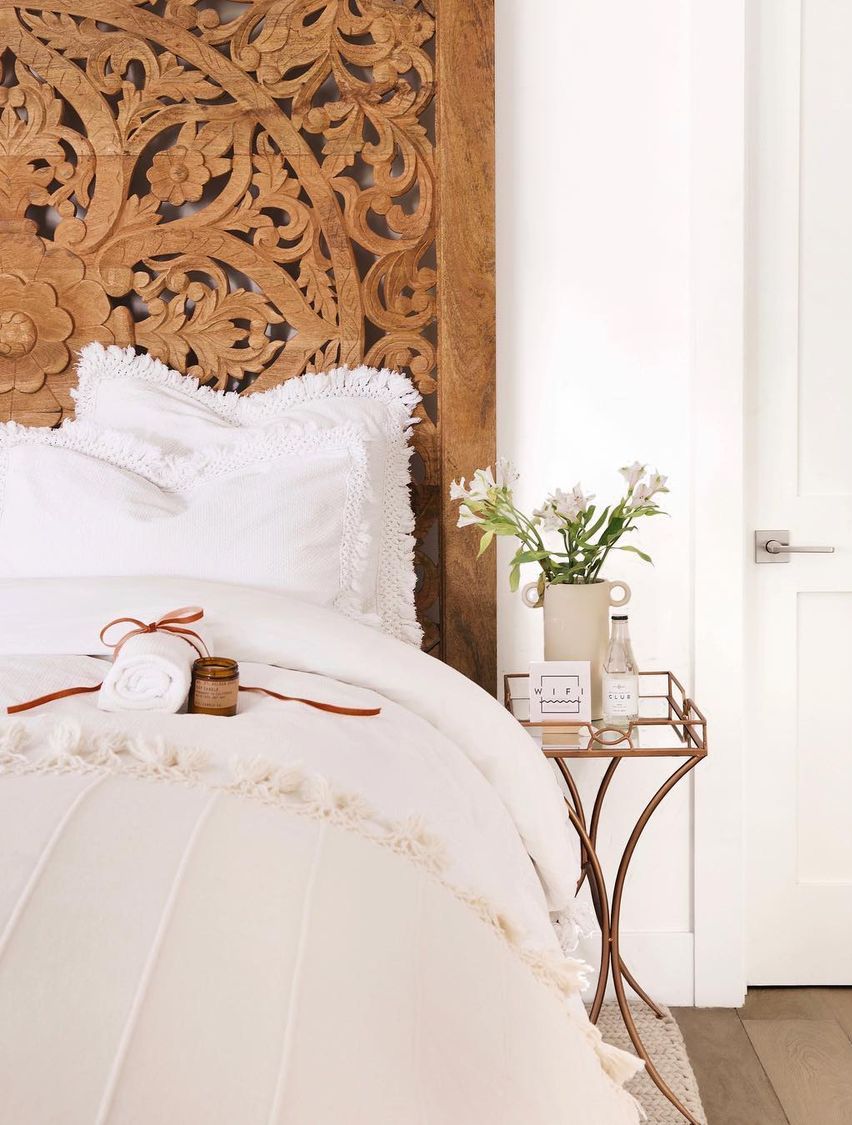 To decorate a boho bedroom, try hanging a tapestry as a headboard on the wall above the bed. The tapestry can be used for visual appeal. Another option for decorating above the headboard is to use a decorative boho mirror.
Boho Bedroom Furniture
There are a few more bohemian bedroom furniture pieces you need for a complete bedroom design. If you are furnishing a boho bedroom, go with wooden furnishings or other raw materials.
A boho nightstand and add a classic bohemian dresser will complete your boho bedroom design! A boho armoire will add extra storage if you're working with a larger space.