If you love worldly, eclectic interior design, then you have probably come across the bohemian interior design style. Boho decorating is all about creating a colorful, whimsical space with natural materials, high-quality fabrics, and patterned textiles. Today I will share some boho furniture ideas for you to create the perfect bohemian-inspired home wherever you live!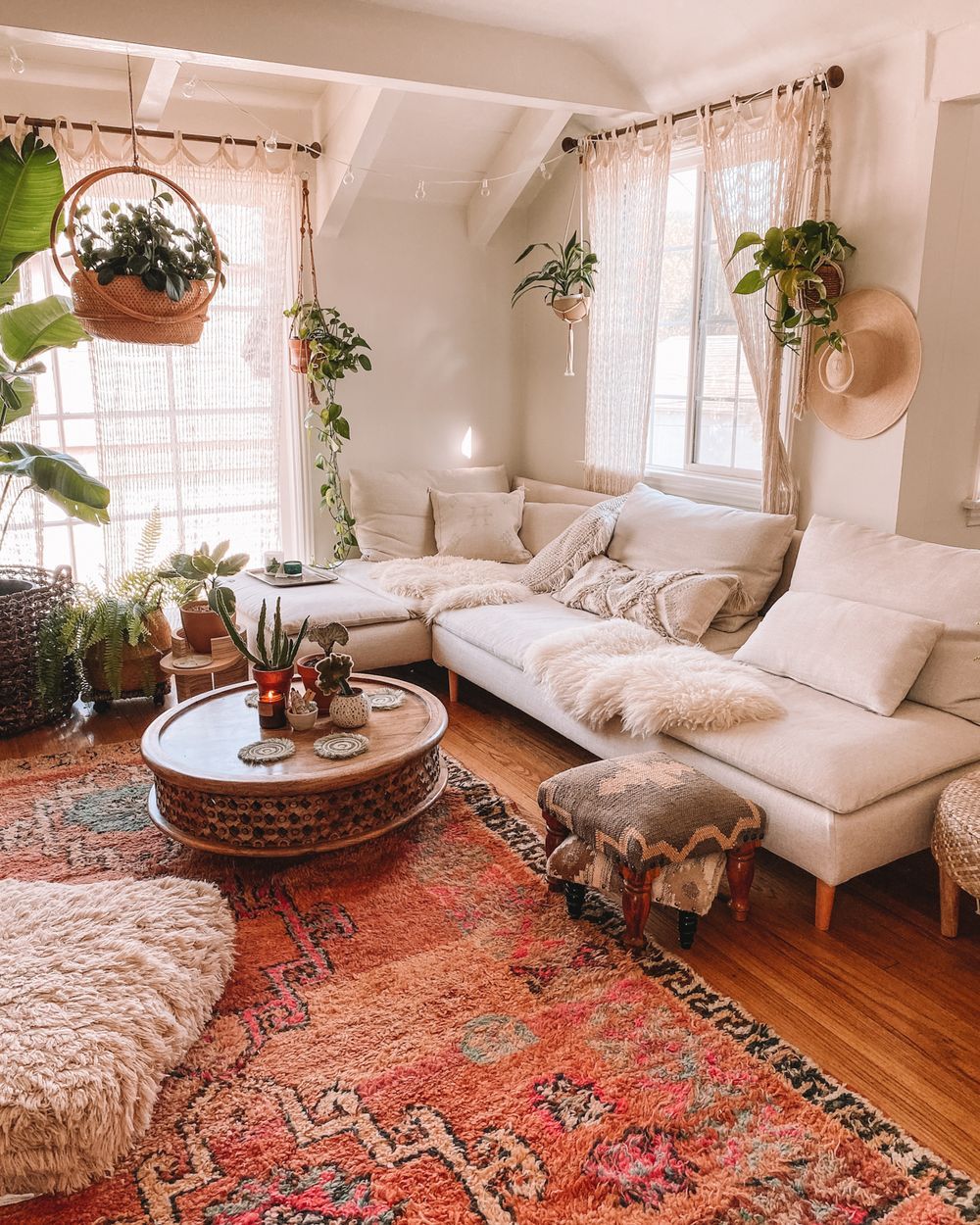 Boho Furniture
The addition of Bohemian furniture to a room can help it to have a more comfortable, relaxed atmosphere while still maintaining its own sense of cohesion. Even though this style does not adhere to any specific guidelines, the bohemian style can be seen in the following furniture:
Peacock Chairs
Peacock chairs are an iconic symbol of boho-style furniture. This rattan chair has a showy form that is as flashy as the bird, after which it is named. This has a tall, spherical back that is somewhat disproportionate to its compact, narrow base. Wicker furnishings were regarded as an exotic, decorative, and essential component of the historic home throughout the Victorian era.
This may be traced back to when the chair exploded in popularity during the 1960s. The arching back of the Peacock chair made it a popular choice for use as a photographic prop in fashion magazines. This was due to the fact that it created an appropriate and regal-looking backdrop for whoever sat in the chair for the shot, regardless of whether they were a famous person or an average citizen. Brigitte Bardot was famously a fan of the chair!
Turquoise Sofas
Among the most recognizable attributes of bohemian furniture is the turquoise sofa. Some high-quality turquoise sofas are constructed with elastic loops that are stitched tightly to maintain their position once it is put into place. Because of how extravagant yet fundamental a color turquoise is, it lends an air to the living room that is both contemporary and chic. These sofas are easy to clean and require little upkeep is one of the most significant advantages they offer.
Rattan Furniture
Whether you're looking for a new nightstand, headboard, or bookcase, rattan is a fantastic material to choose when it comes to boho-style furniture. Rattan looks beautiful and blends in well with existing decor because it's often in. a neutral beige shade. Rattan chairs are great choices for a boho-style dining room.

Where to Shop for Boho Furniture
Here are the best places to shop for bohemian furniture.
Anthropologie
Anthropologie is a chain of clothing shops based in the United States that sells a variety of apparel, accessories, home furnishings, decorative items, cosmetics, and accnets. The chain has approximately 200 locations in the United States. Variations of Anthro's three core themes: feminine, bohemian, and linear, form the basis for Anthropologie's conceptual design, which is driven by the company's primary clientele who prefer easygoing, classic silhouettes. Anthropologie is one of the biggest clothing shops that also designs lovely boho furniture and has been selling these pieces for the years.
World Market
World Market is an American chain of eclectic, specialized, and imported boho furniture. They carry household goods, decor, draperies, carpets, presents, clothing, tea, wine, craft beer, and various products from other countries' cuisines. Until the year 2021, World Market is referred to as the Cost Plus World Market. It also sells the most popular boho furniture to customers worldwide. You can buy your dream boho furniture without worry as World Market has got your back!
Wayfair
Wayfair is a prominent online retailer based in the United States that specializes in the sale of household products and furnishings. The business initially opened its doors in 2002 as CSN Stores before shifting its name. Their online marketplace features over 14 million products from much more than 11,000 different vendors worldwide. The purpose of Wayfair is to make your house dreams come true and provide access to the home decorating items that help build a home, as stated in the company's mission statement. Wayfair's ability to deliver its customers with a fluid and technologically informed home has been at the heart of the company's direction.
H&M Home
The Swedish H&M Group is an affordable worldwide lifestyle brand specializing in supplying clothing, furniture pieces, homewares, and decorations for various styles of homes and rooms. In 2009, H&M Home was introduced to the public for the first time as an internet concept for home textiles and furniture. Since then, it's been rolled out throughout numerous markets via stores and the internet, and then in 2018, H&M Home launched its first independent physical stores.
The H&M Home selection includes trendy items such as rattan furniture, linen bedding, and artisanal dinnerware that will never go out of style. You can rely on H&M Home for modern Boho fabrics, furnishings, and lighting.
One Kings Lane
One Kings Lane was acquired by Bed Bath & Beyond in the year 2016, and the company's mission since then has been to assist customers in achieving their desired home decorating and empowering them to "live their style." One Kings Lane is indeed a premium home furnishings company that runs an e-commerce website where people may buy stuff and other home items. Susan Feldman and Ali Pincus were the ones who started the business in March of 2009. It's a reliable source of high-quality bohemian furniture!