Carefree. Relaxed. Unique. Chic. The comfort of the boho decorative style is easily identified as a free-spirit style of decor. A place where you can come and relax, unwind, and be at peace. A boho look includes natural elements, both in style and color. Macrame and weaving tapestries are a staple in boho decor and are great for wall hangings or accent pieces. In addition to the natural elements, boho decor will have colorful textiles to create a casual, collected feel in a room. The brightness from select textiles like rugs, pillows, or chairs may feature distressed fabric or weathered looks to make it look lived in and extra inviting. Mixing colors, patterns and textures is the embodiment of the Boho style. Another way to bring Boho style into a space is with some vintage pieces such as lampshades or mirrors that have ornate etchings and carvings. It's clear that everyone wants boho style for their bedroom! But what about the nightstand specifically?
Nightstands are very functional pieces of bedroom furniture. There's no doubt about that. A charging cable, a good book, an alarm, and probably a table lamp are all nightstand staples. That doesn't mean you have to sacrifice design for functionality, though!
Bohemian Nightstands
Bohemian nightstands embody the functionality of a nightstand by providing drawers and space for storage paired with a chic, square body. Etching and carvings are a common theme in Bohemian design accent pieces and that can be found on the front of the drawer faces of a bohemian nightstand. A classic, neutral color nightstand can be accented with a colorful drawer pull to pull in the colorful elements that are associated with bohemian style. The legs on a bohemian nightstand will typically be utilitarian and simple in design to keep it from being too busy. The interest in the piece is in the front of the nightstand, which is where the design elements will be featured. Neutral color woods, whitewashed wood, distressed finishes, and natural wood finishes are all varieties of nightstands you might see with the boho inspiration. These are especially bohemian when you place fresh flowers or a potted plant on top for additional natural elements. Clean, classic lines and a subtle pop of design are what define a bohemian nightstand and make it an easy element to work into your space thanks to its flexibility and functionality.

Be sure to place your boho nightstand right up against your boho style bed for easy access.
How beautiful is this wicker basket nightstand surrounded by lots of indoor greenery?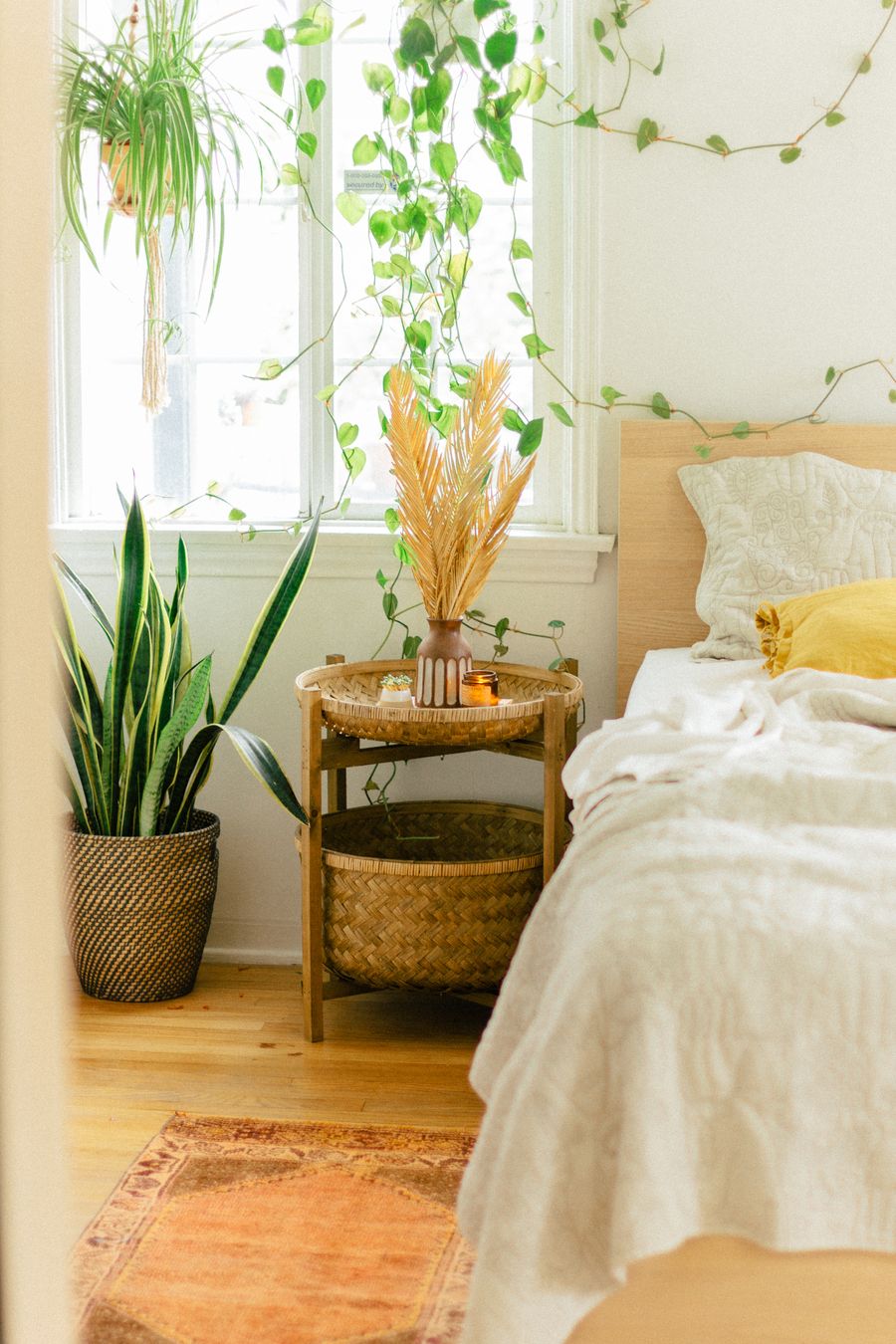 Nightstands can be as simple and classic as a flat table with legs. More often, nightstands will feature one or two drawers to keep your items out of sight and control clutter by your bedside. Open shelving is also an option with nightstands for books and other decorative elements.
Many nightstands will now come with cord management options or even include charging ports for the modern lifestyle in which we frequently use our phones as our alarm clock. Nightstands come as large or as small as you need them to fit your bedroom storage needs.
More Boho Decor
Want more boho decor ideas? Check out these recent posts on decorating in the bohemian style!