Bohemian dining tables come in all shapes and sizes, so you can surely find one that fits your space perfectly. If you have a small dining room, opt for a round table or one with a clever pedestal base. For a larger dining room, a rectangular or oval table will give you plenty of space to spread out.
Boho decor is all about mixing different elements to create a unique, eclectic look. It's often inspired by bohemian or gypsy fashion, which is all about being carefree and relaxed. Boho decorating is all about filling your space with things that make you happy. It can be exotic and mismatched, but the key is to choose items that you love and that have personal meaning. Boho rooms are often filled with color and pattern, so don't be afraid to go bold! Boho style is all about creating a space that reflects your personality and makes you feel at home.
Boho Dining Room Style
Few things in life are as enjoyable as a good meal shared with friends and family. But what if your dining room is just too…boring? A bohemian dining table can add a perfect touch of personality to any space, making mealtimes more fun and festive. If you're not sure how to create a Bohemian-style dining room, don't worry. We've put together a few tips to help you get started.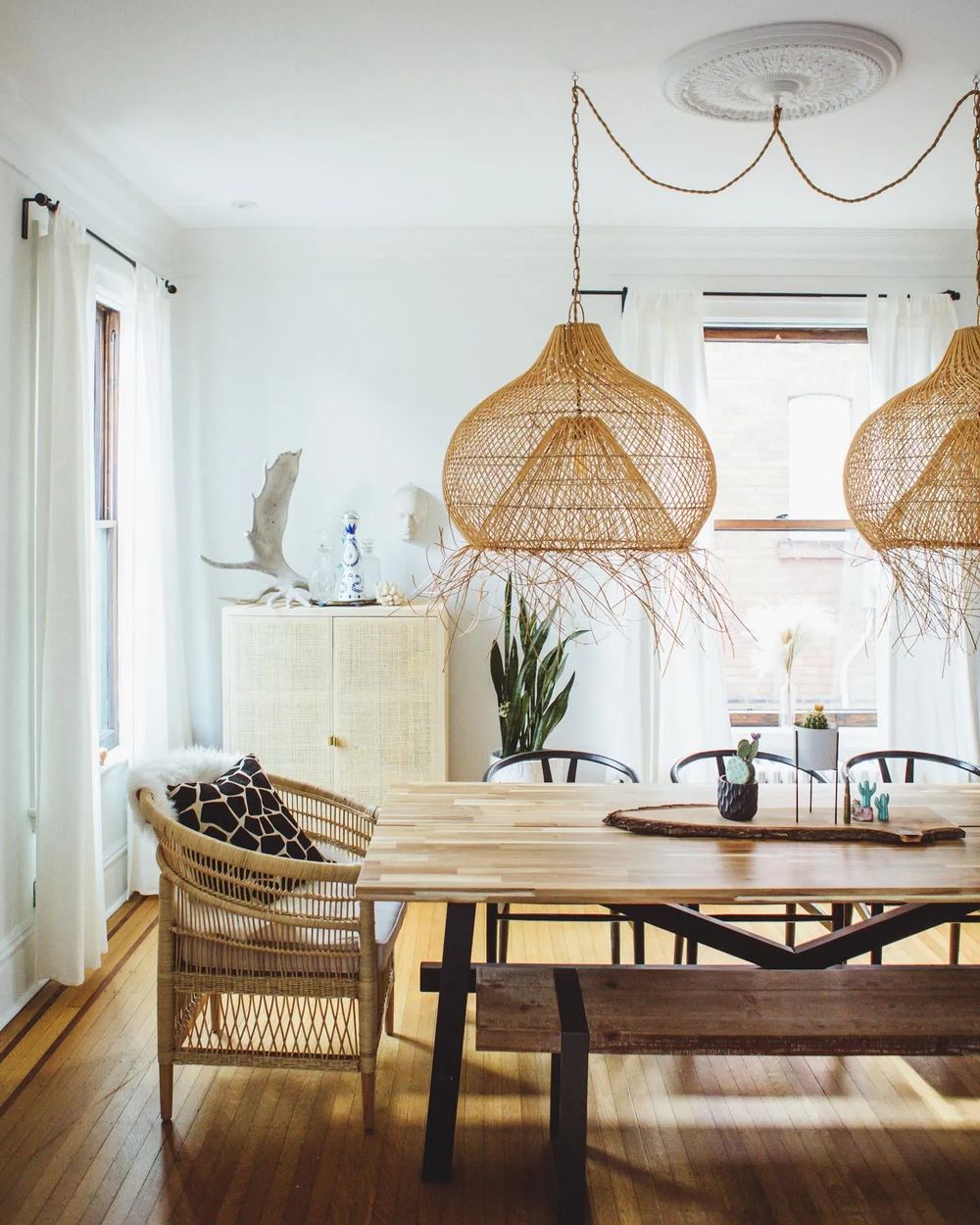 Boho Dining Table Ideas
When it comes to bohemian dining tables, the sky's the limit when it comes to style. If you love vintage furniture, international interior design, and eclectic home decor, look for a table with beautifully carved details or an ornate pedestal base. Rattan and wood are common materials for boho dining tables.
If you prefer a more modern look, go for a sleek and simple design. Bohemian dining tables are also available in a variety of materials, including wood, glass, and metal.
Bohemian dining tables are the perfect way to add some personality to your dining room. With their unique shapes, sizes, and styles, they're sure to make mealtimes more fun. If you're stuck for ideas, here are a couple of our favorite bohemian dining tables we think you might like…
Beige Wood Dining Table
If you're looking for a bohemian dining table that has a more traditional look, a beige wood dining table might be perfect for you. Beige wood is a warm, neutral color that will complement any decor, and it's perfect for those who prefer a more classic style.
When choosing accessories for your Bohemian dining room, look for items with colorful patterns or interesting textures. Woven baskets, vibrant tablecloths, and patterned dishes will all help to create a bohemian vibe.
Mosaic Tile Dining Table
Mosaic tile dining tables are a beautiful and unique addition to any dining room. With their intricate designs and colorful tiles, they're sure to make a statement. When styling a mosaic tile dining table, start by choosing a color scheme. Try to choose colors that will complement each other and the rest of your decor. Add some bohemian-inspired accouterments, such as bright tablecloths, patterned plates, and knotted baskets.
Colorful Painted Wood Dining Table
When it comes to bohemian style, there are no rules – so feel free to get creative with your color choices when trying to match your colorful painted wood dining table. In addition to a bright pop of color, you can also dress up your Bohemian dining table with fun accessories like colorful placemats, napkins, and even flowers.
---
If you're feeling really bold, go for a mismatched look by having chairs that feature mismatched colors to the other chairs that surround the table. Bohemian style is all about being unique and expressing your personality, so have fun with it!