There was a time when most homeowners on a budget had to choose between a traditional look in their home or a very contemporary and modern one. People were torn between these two sad options which gave them a hard time determining how to decorate their space. Thankfully, as interior design evolved, the use of boho decoration has become more mainstream and widely available. Nowadays, you can find plenty of affordable boho furniture and decor at large chain retailers instead of just expensive specialty stores!
'Boho' is short for bohemian, which is a decorating term used to describe the use of both modern and rustic furniture and decorations when doing interior design. The bohemian decorating technique involves using exotic wood and quirky, eclectic products to give your room a sleek and international appearance. Let's talk more about bohemian decorating and why you should consider using boho coffee tables in your living space.
Bohemian Coffee Tables
Those who enjoy the worldly bohemian deco style and how it helps transform a given space might wonder how to introduce it into their home. Boho coffee tables are certainly a personal design decision, but here are a few of our suggestions:

Boho tables are often made of wood, and they come in different colors and textures. With this in mind, you can be sure that you will get a product that will meet your needs when you shop around.
Boho coffee tables sometimes have a rough texture made from different products such as wood, bamboo, rattan, and seagrass. These products are earthy and will help transform your space by adding elements of nature to your living room. The best part about getting the boho coffee tables is that you can decorate them on top so that they can fit your style.
You have no limit on the colors that you can use on the coffee table – the brighter the better!
There are also a wide variety of style mixes to choose from. I came across a lot of boho glam coffee tables, mid-century boho coffee tables, and even farmhouse boho coffee tables. Depending on how the rest of your home is decorated, these style combinations could be right for you!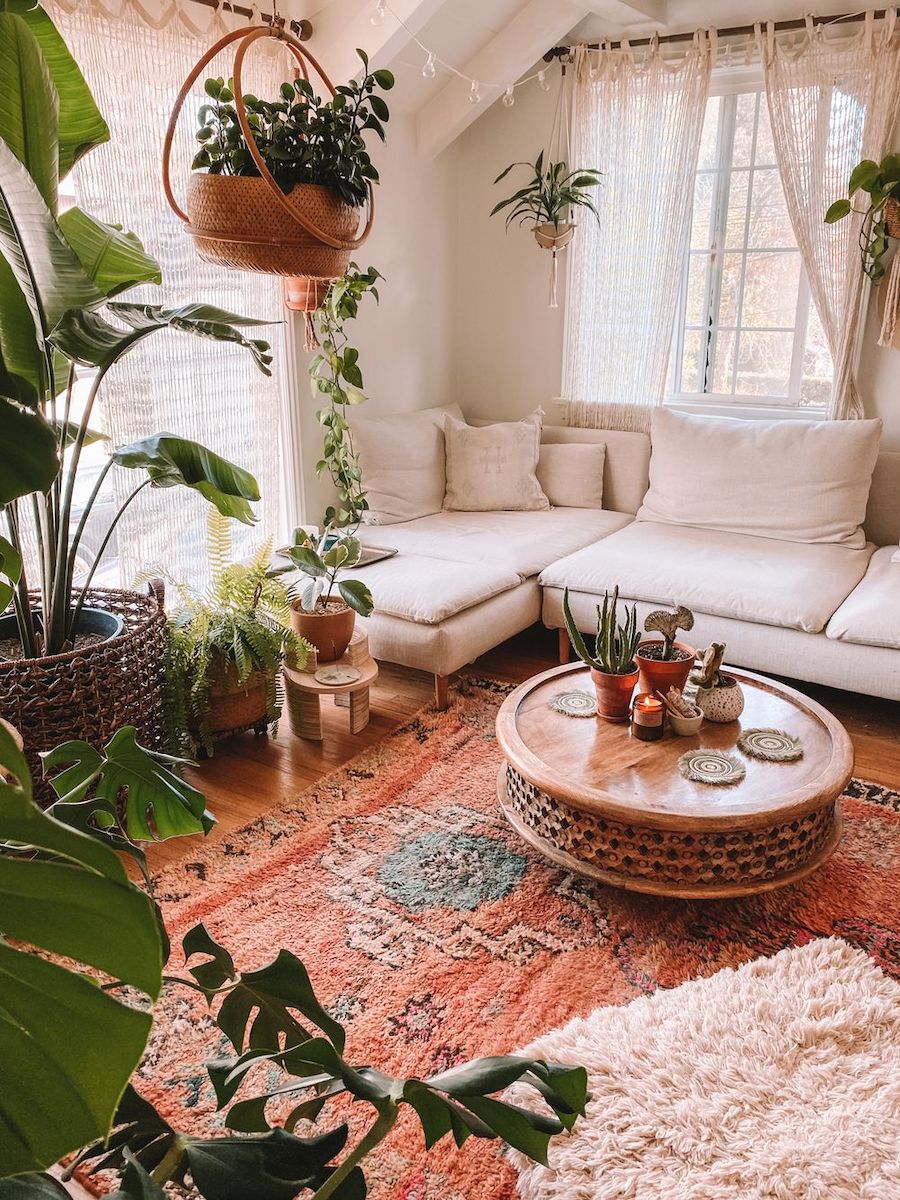 Getting boho coffee tables also helps in sustaining the environment. The reason being these products are made mainly from reclaimed materials. Getting these products in your home is a way of helping to conserve the environment.
Since they are many products in the market, take your time in choosing the right boho coffee table for your living room or family den. When you get the right table, you will not only enjoy the functionality, texture, and color, but it will also help in adding warmth and character to your space.
Boho Coffee Tables: The Ultimate Living Room Companion
Coffee tables are a low-surface table that is placed next to or in front of the couch or sofa in your living room. These tables are mainly used to hold magazines, books, and decorative items. However, they can also be used to help in supporting small items like coffee or tea beverages.
They can be found in various designs, shapes, and sizes, and it is up to you to choose a product that will fit your needs and space so be sure to measure what you have to work with! One of the coolest and in-style options you have when choosing a living room table is bohemian coffee tables.
The best part is that coffee tables are simple and easy to maintain. Just wipe the surface once in a while to keep it clean and in good shape.
More Boho Furniture & Decor Ideas
Before buying boho furniture, you should take the time to do your research on where you will get a solid product. Ensure that you have bought a coffee table from a reliable seller like the ones we've recommended that can withstand all of life's moments from drinks with friends to sluggish morning coffee! Most of all, be sure you completely love your new bohemian coffee table!