Whether you're decorating and furnishing a living room for the first time or just want to give your space a refresh, we're happy you help you curate a gorgeous home. Welcome to one of the most delightful experiences you'll have as you add your own touches to the room destined to get the most attention from visitors: the living room!
Your preferred style? Mid-century modern, an eclectic look that has captured the imagination of trendsetters since it debuted around 1933 and remained a serious décor choice until 1965 – thanks to the imagination of movement superstars like Charles and Ray Eames, Harry Bertoia, Arne Jacobsen, and George Nelson. You've got good taste!
What sets Mid-century Design apart from other styles?
It's sleek, timeless, and fun to execute, especially if you're eager to search for the right pieces, like the quintessential pastel pink sofa, Danish sideboard, or anything you may have spotted on TV shows representative of an era as typified by the Emmy-winning TV series, Mad Men.
Mid-century decor and interior design include vast stretches of glass windows and flat silhouettes. You may spot touches of the Modernism, International, and Bauhaus movements that rely upon organic influences, emphasize function, contribute simple silhouettes to a room's look and deliver universal appeal.
Don't forget the throw pillows!
Ever wonder why throw pillows give a room so much character? For starters, they reflect your sensibilities, personality, and the era you're seeking to showcase. These soft, decorative touches offer decorators myriad textile choices and sizes. These accessories jazz up sofas, armchairs, beds, window seats, and chairs.

Textiles used to fabricate today's throw pillows include cotton, velvet, faux fur, real fur, linen, and wool. Vintage fabrics employed decades ago when original throw pillows were produced may include exotics like batik, tapestry, lace, raffia, silk, and brocade.
If you find an original, it won't be cheap. Authentic mid-century throw pillows are commanding upwards of $200 each. Some originals will run you $1000+ for a pair.
Throw pillows tie a room's accent colors together and may support the back, neck, or head in addition to being aesthetically pleasing. Some have removable covers and/or zippers while others feature embellishments like tassels, piping, appliques, embroidery, and buttons. Mid-century modern throw pillows favor earthy colors with pops of red or olive green or a pastel vibe inspired by the 1950s.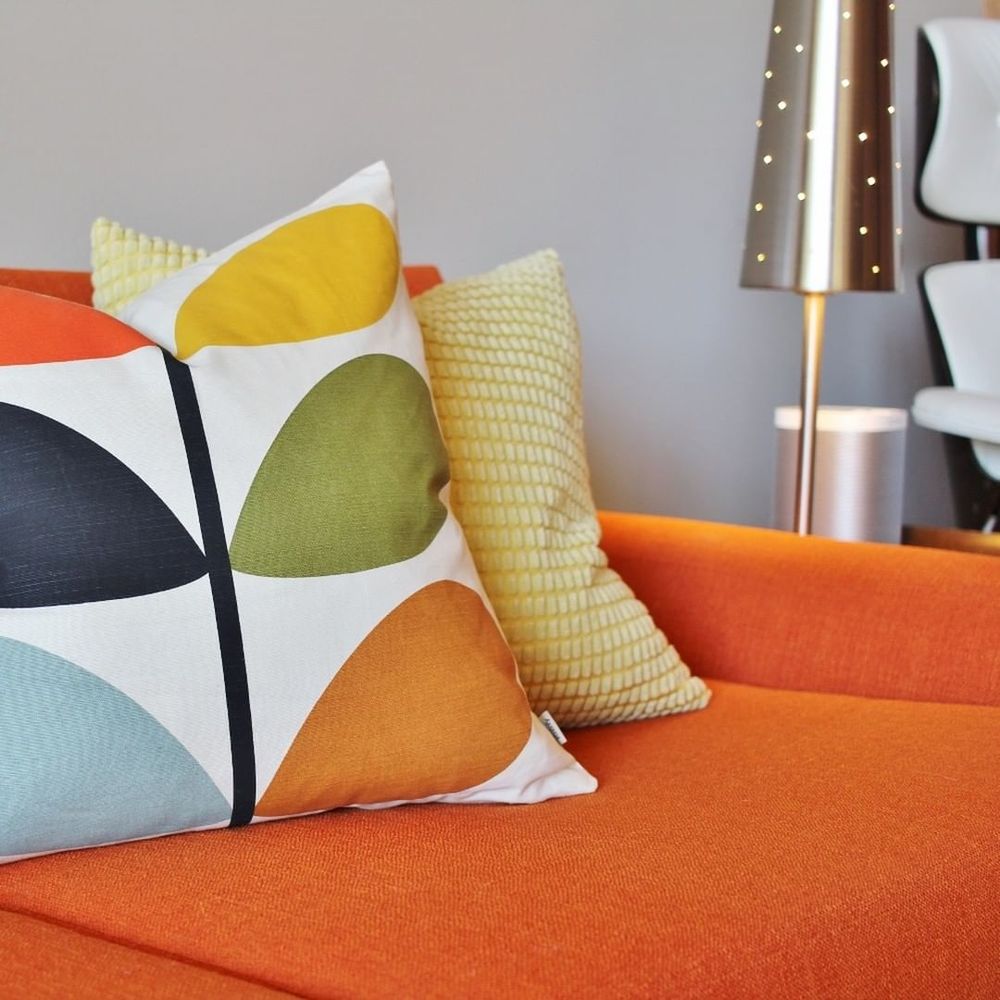 Ready to shop for Mid-century Modern throw pillows?
As you set off on your journey to acquire mid-century modern throw pillows, find exactly what you seek by frequenting Etsy, where talented artisans display eclectic gatherings of mid-century throw pillows that cover all budgets, color, and style parameters.
You'll be charmed by the patterns, retro looks, and color palettes reminiscent of this era. Materials, sizes, and insert options? The sky's the limit and you'll find plenty of options that fit your budget.
Don't hesitate to mix and match to achieve the authentic look you crave. Can you pile too mid-century throw pillows on one piece of furniture? That depends upon you. The more the merrier as you seek to achieve the look that best reflects your taste and pocketbook.
More Mid-Century Decorating Ideas
Keep reading more mid-mod decor ideas right here: