Is there anything more glamorous than getting ready for the day or evening at a gorgeous makeup vanity? If you're lucky enough to have the space at home, then having a separate area to keep your makeup and skincare essentials is a very smart idea. It will help you stay organized while you have a bit of fun getting ready with makeup, fragrance, and other beauty essentials.
Let's take a peek at some makeup vanities that are great additions to any home.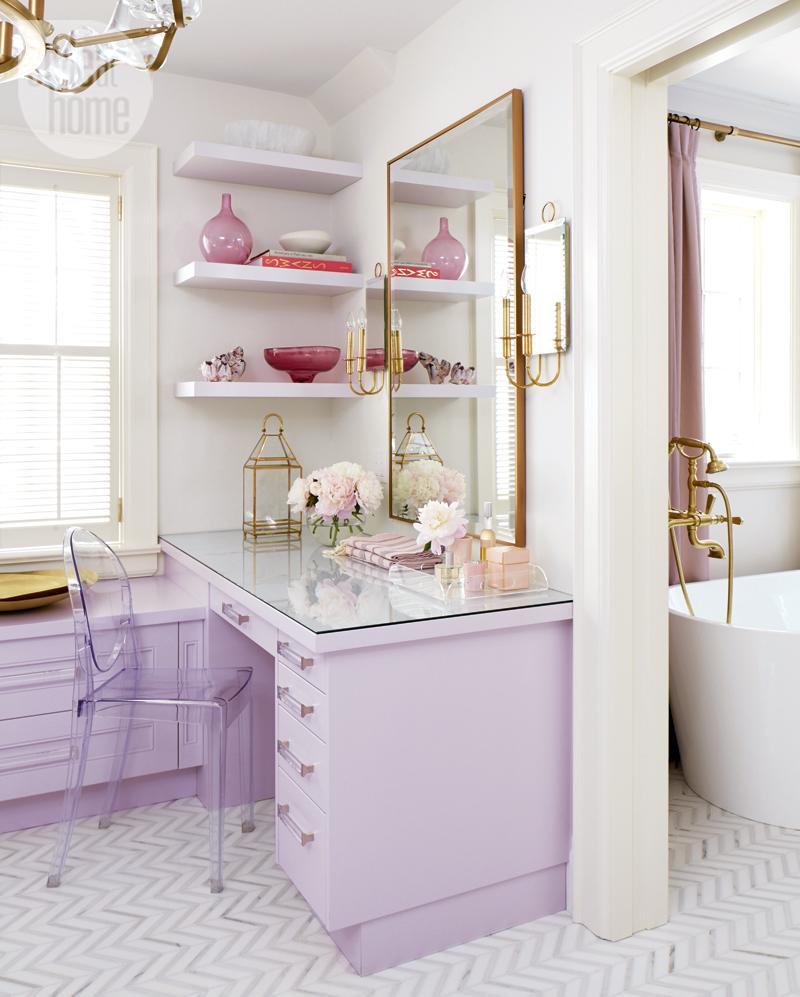 Are makeup vanities worth it?
Are makeup vanities really worth it? If you ask me, YES! I love having a dedicated area to apply my makeup each morning.
Here are some reasons why makeup vanities can be worth investing in:
Organization – Makeup vanities provide drawers, cabinets and tabletop space to organize all your cosmetics, skincare, and tools in one dedicated spot. This can save time and frustration when getting ready.
Good lighting – Vanities often have built-in lighting around the mirror which provides optimal illumination for applying makeup accurately. The lighting is adjustable and focused right where you need it.
Portability – Some vanities use adjustable mirrors and fold-down components to convert into a compact set-up for travel. This allows you to stay organized on the go.
Multifunctional – Some vanities offer additional features like an adjustable stool, jewelry trays, charging station, etc. This allows you to use the space for more than just makeup.
Decor – Mirrored furniture and glam lighting bring decorative flair to your bedroom or bathroom. The vanity becomes a beautiful focal point.
Durability – Vanities made from quality materials like wood, glass and metal last for years with proper care. The investment can be worthwhile if you don't need to replace it frequently.
Resale value – Makeup vanities tend to hold their resale value well, should you decide to sell. Especially if you invest in timeless style and materials.
A makeup vanity is worth considering if you want an organized, well-lit space for your beauty routine and have the budget for a quality piece. But it may not be a necessary purchase for those happy using a basic countertop and portable storage.
Types of Makeup Vanities
There are a few types of makeup vanities found in residential homes. These are the most common kinds of makeup vanities to choose from:
Tabletop vanities – These sit on top of a desk or table. They come in a variety of materials like wood, glass, or acrylic. Great for small spaces.
Floor standing vanities – Freestanding units with built-in storage and a central mirror. Available in various heights. Often made of wood, metal or a combination.
Wall mounted vanities – Installed directly onto the wall and have a floating appearance. Usually contain a flip-down mirror and hidden storage.
Lighted vanities – Come with integrated lights around the mirror for ideal visibility. LED lighting is common. Often adjustable brightness.
Vanities with storage – Offer drawers, cabinets and side compartments for organizing all your makeup and tools. Can be tabletop or floor models.
Modern minimalist vanities – A sleek contemporary style with simple lines. Often lightweight materials like acrylic or glass.
Vintage inspired vanities – Replicate retro styles like Art Deco, Hollywood glam or French provincial. Usually ornate wood details.
Corner vanity units – Designed to tuck into a corner and make the most of small angular spaces. Triangle or L-shaped.
Most people build a vanity into an empty corner or area of the bathroom, or purchase a freestanding one and place it anywhere. You could hang a mirror on the wall behind the vanity, or you can purchase a desktop vanity.
Here is an example of a built-in makeup vanity installed in the bathroom:
Where to Put a Makeup Vanity
The most popular rooms to keep a makeup vanity are the bedroom and bathroom. Within those rooms, you may want to place your makeup vanity in front of a window that gets lots of natural light. This will allow you to clearly see your face in the mirror as you primp.
Be sure to decide on where you'd like to place your vanity so you can measure the space and choose an appropriately sized piece of furniture.
What to Keep Inside a Makeup Vanity
You should keep anything related to your daily self-care in your makeup vanity. From products to electronics, there are probably quite a few things you can store inside! It's a good idea to have a quality magnification mirror if you plan on doing your makeup there.
We even created a list of vanity essentials for you.
Makeup
Lotions
Fragrance
Blow Dryer
Hair Straightener or Curler
Haircare Products
Comb and Brush
Here are a few highly-rated makeup vanities with lighting and storage options:
How to Organize a Makeup Vanity
If your vanity has lower drawers, then you can hide away the smaller products and reduce clutter on the top of your vanity. If it doesn't offer much storage, then you may wish to purchase some organizational products for the top surface of the vanity.
What is the Difference Between a Bathroom Vanity and a Makeup Vanity?
In terms of furniture, vanity is a word that has two different meanings. A bathroom vanity is a combination cabinet and sink that serves as a station for hand-washing and toiletry storage. You can store cleaning supplies and toilet paper in the cabinets of a standard bathroom vanity. You can wash your hands and even do your makeup as most bathroom vanities have a mirror on the upper portion.
On the other hand, a makeup vanity, as we've shared above, is strictly for doing makeup, hair, and skincare. It typically doesn't have water piping, and there could be a mirror attached or not.
Here is a bathroom vanity installed next to a makeup vanity.
---
I hope this article gave you a good overview of this amazing piece of furniture. If you're a woman who enjoys makeup and hair care, then a quality makeup vanity is a must for you!