Today I want to take a trip back in time and take a peek at some stunning mid-century modern entryway decor ideas. These retro-inspired entryways will soothe your soul if you love brown, minimalist interiors and furniture from the 1950s and 60s.
Mid-century modern design has come back full force into popularity. Many homeowners are dying to get that Mad Men vibe in their home. Places like Palm Springs, California have become tourist destinations simply for their beautiful mid-century architecture and houses!
We're going to focus on the entryway for this post, but you can find links to our other mid-century room guides at the end of this article. The entryway or foyer to the home is a small room where we enter and leave the house. If you live in an apartment, you may have a very small entryway, but most homes do have a small dedicated space to coming and going.
Mid-Century Modern Entryways
Here are the best mid-century modern entryway decor ideas to inspire you as you design and decorate your foyer. We will cover the typical entryway design elements, standard entryway furniture, modern lighting fixtures, and classic decorations, all centered around the mid-century modern style. Here is a list of the mid-century modern entryways that inspired us the most!
Mid-Century Modern Entryway Design Elements
First up, let's talk about mid-century modern entryway architecture. The bones of your space will play a big part in how you decorate it. From the slanted ceiling to the room design, you should consider the space you're working with before buying any furniture. Here are a few mid-century architectural elements to keep an eye out for.
Open Layout
Many mid-century modern homes typically have an airy, open layout. Your entryway might not be blocked off with walls, and it could openly flow into the surrounding rooms. This kind of layout might give you less wall space to work with.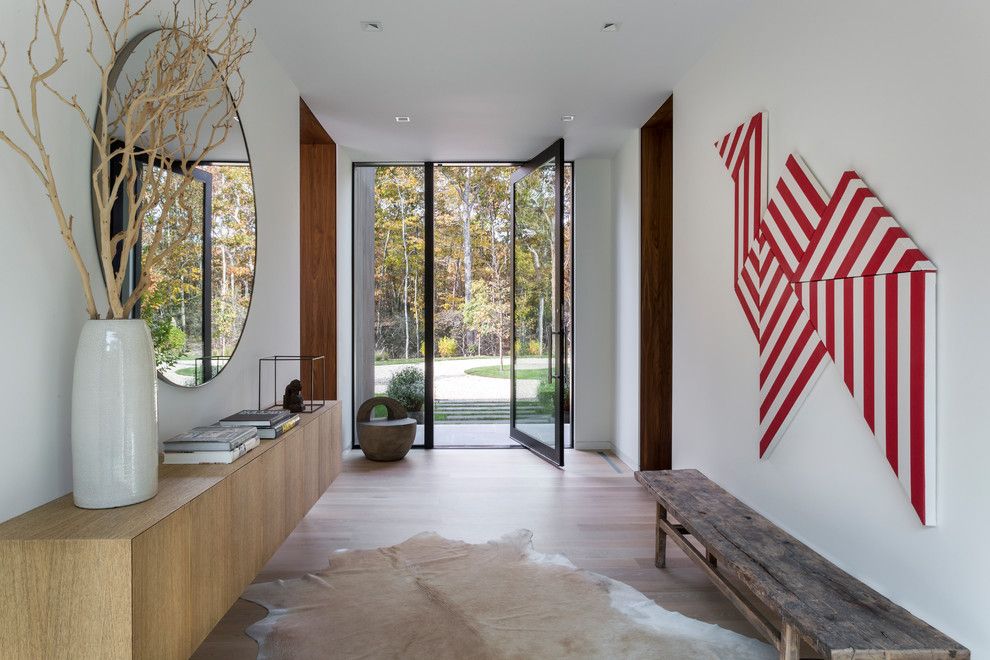 Room Divider
A classic feature of mid-century modern entryways is their cut-out room dividers! Not every entryway will have these, but they are sure are a charming feature of mid-century foyers.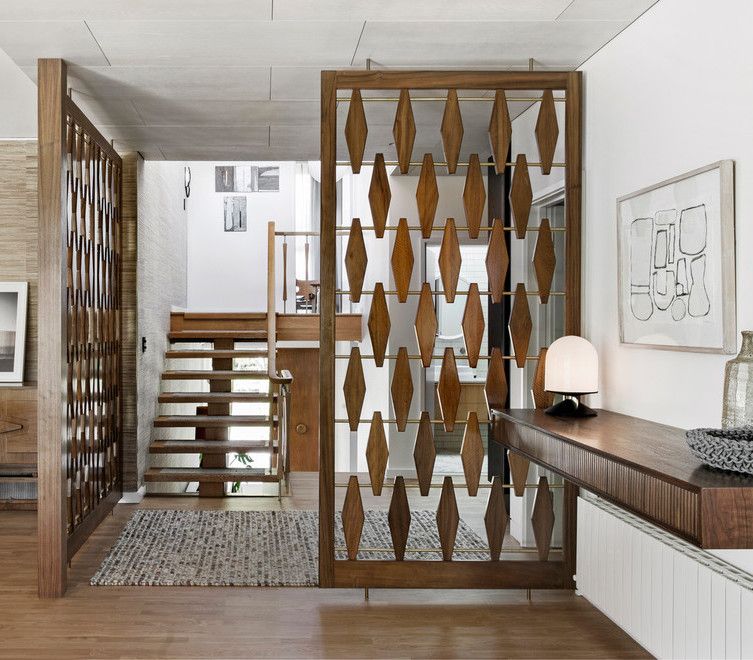 High Ceilings
In keeping with the airy layout, some mid-century modern entryways have very high ceilings. This allows you to hang a beautiful chandelier from the ceiling. The ceiling might be slanted or it could have visible wood beams.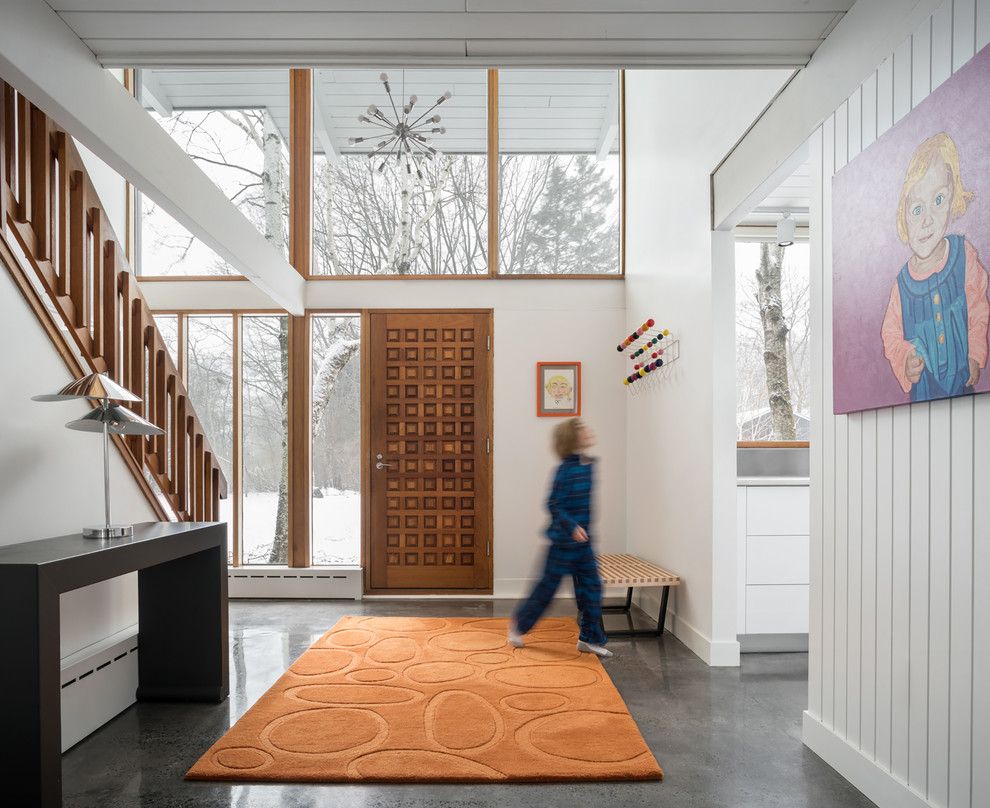 Wood Paneling
Wood paneling is a classic feature of mid-century modern interiors. You can often find these thick wood beams stacked vertically against the wall, but they can also be found on the ceiling or floor of a mid-mod home!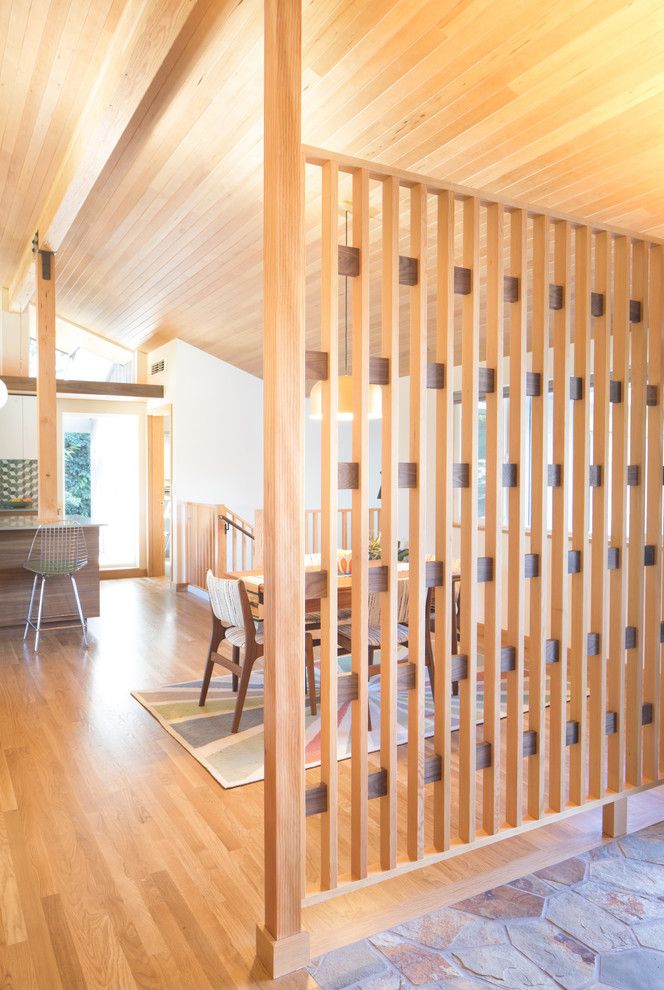 Colorful Front Door
The front door of a mid-century modern home is often painted a fun color like orange or turquoise. Many Palm Springs homes are known for their colorful and vibrant front doors!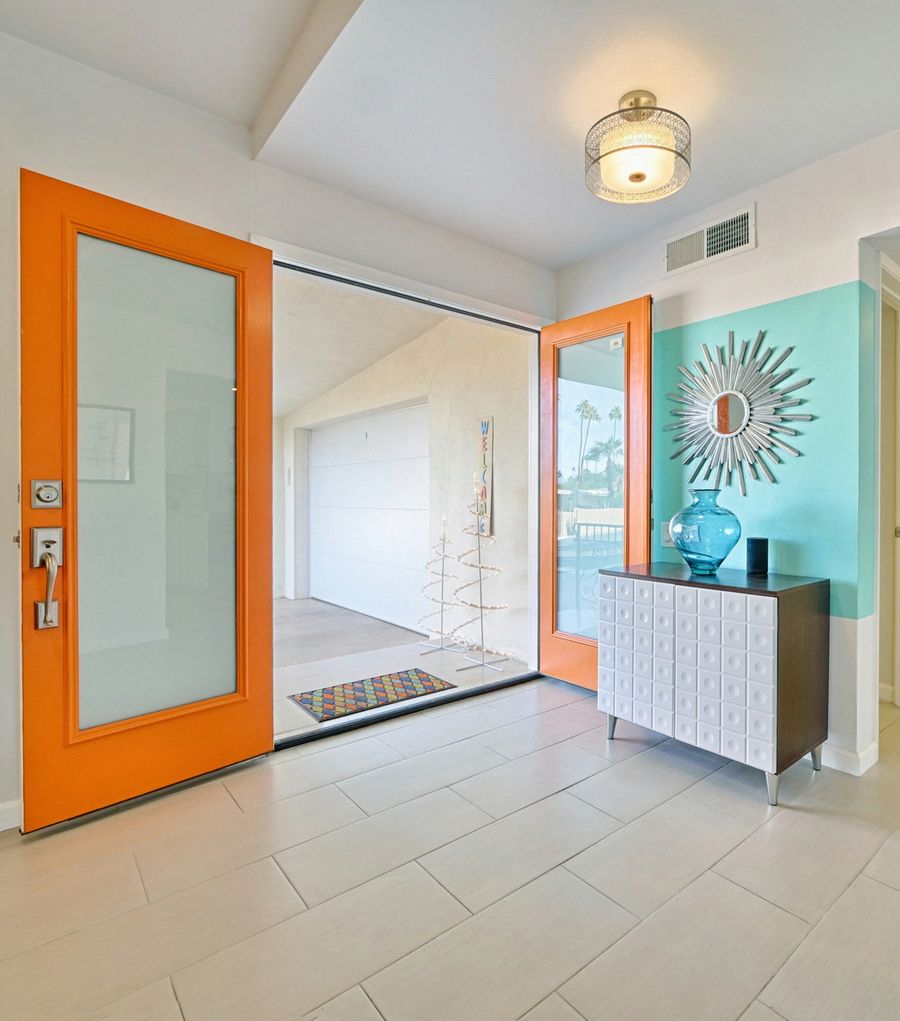 Mid-Century Modern Entryway Furniture
Once you've gotten a good understanding of the architectural layout that you have to work with, it's time to start thinking about furniture for your mid-century entryway.
Warm Wood Sideboard
The sideboard is the one piece of furniture very much associated with mid-century modern style. This probably doesn't come as too much of a surprise, but a warm wood sideboard is a great choice for your entryway! It has plenty of hidden storage for umbrellas, shoes, and more. You can display art or a mirror above the top surface. Overall, it looks great in this space! This is definitely one of my favorite mid-century modern entryways.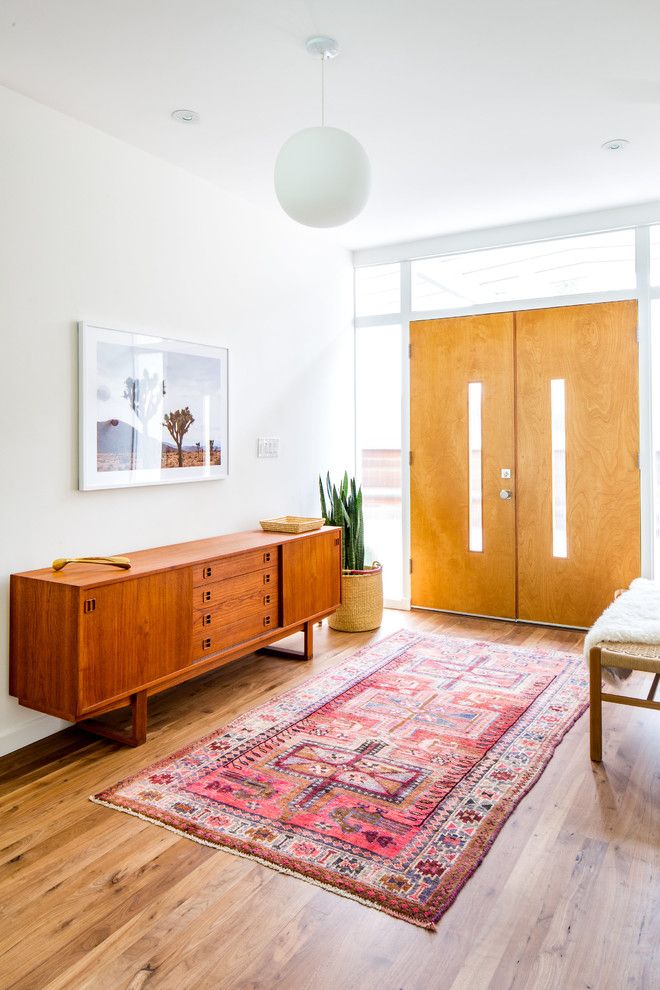 Velvet Side Chairs
Velvet side chairs in the mid-century style are a great choice for your entryway. Having a chair nearby is perfect for sitting down to remove your shoes at the end of the day. Here, two turquoise side chairs sit on either side of a console table.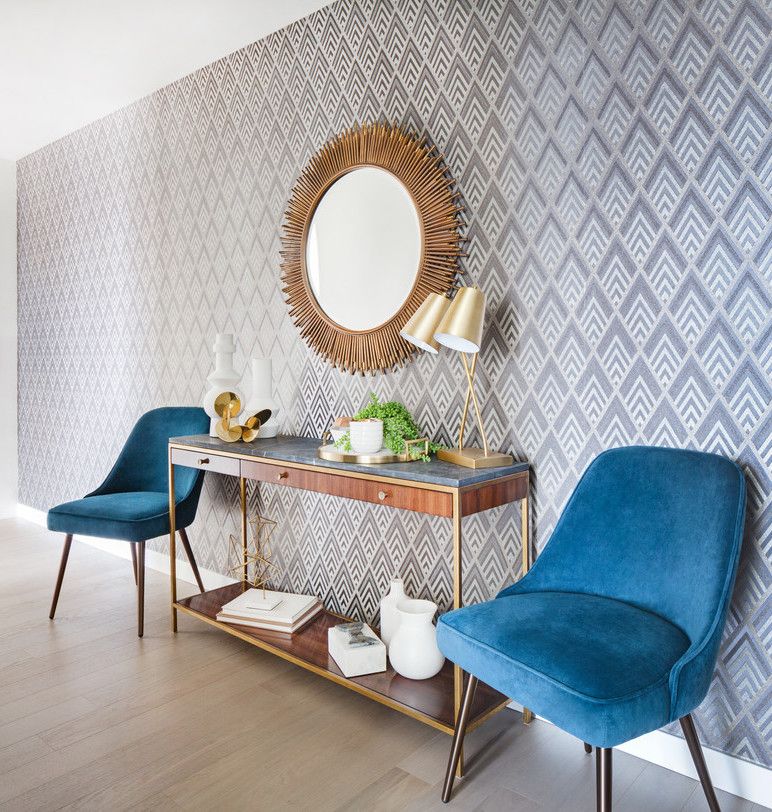 Mid-Century Console Table
Another key piece of furniture is the console table. You can find many different console tables in the mid-century modern style. Some have drawers for stashing your keys and mail, while others are simple with just a solid top surface. You can have a table lamp, tray, and little decorations on top of your console table and decorate it as you please! This is definitely one of the no-brainer mid-century modern entryway decor ideas on this list!
Shop Now: 19 Best Mid-Century Modern Console Tables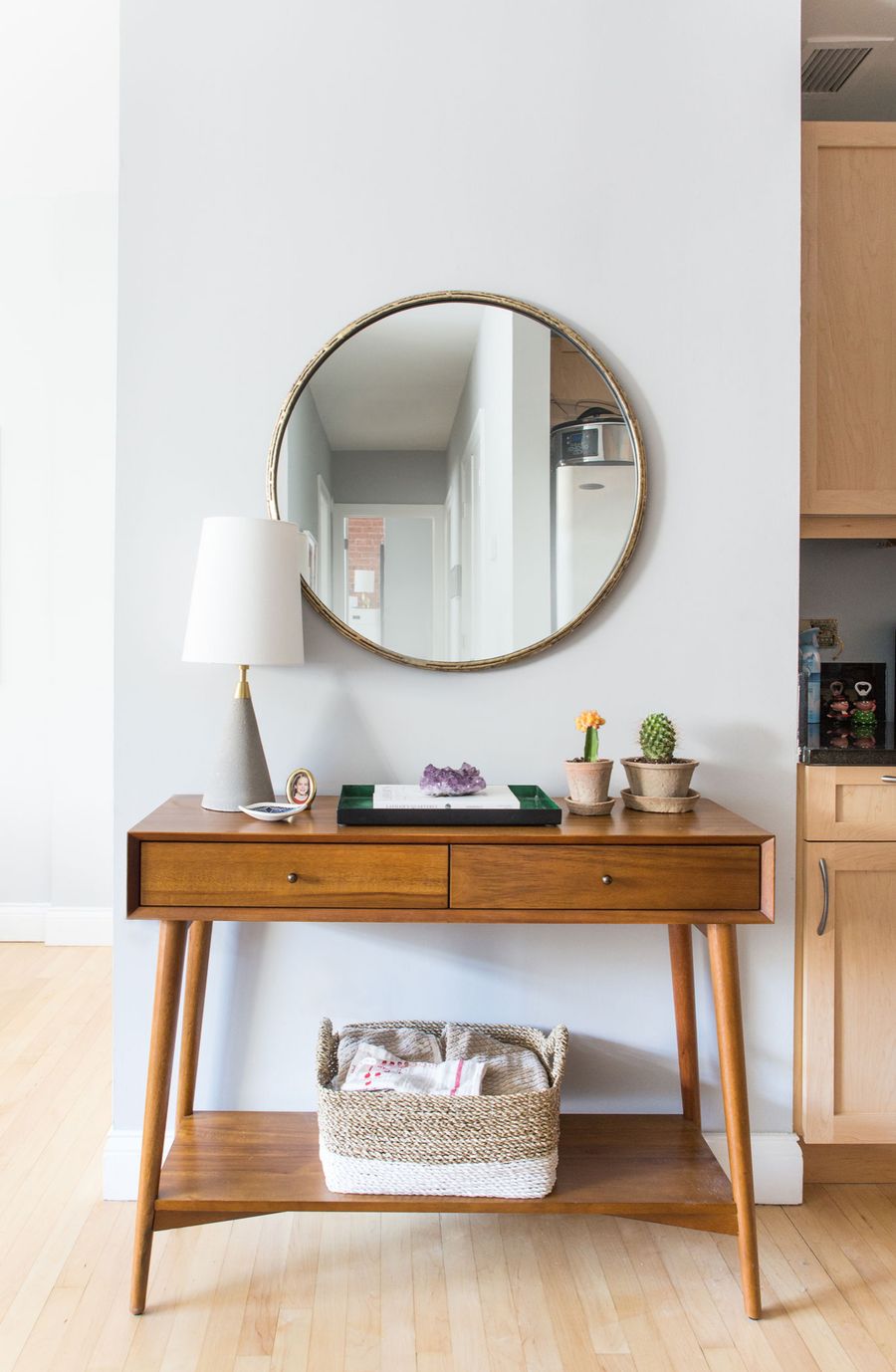 Simple Wood Bench
If you want to keep your entryway free of clutter, consider putting a simple wood bench against one wall or window of the space. It will allow you to drop your bag when arriving back home or comfortably put on your shoes before heading out for the day.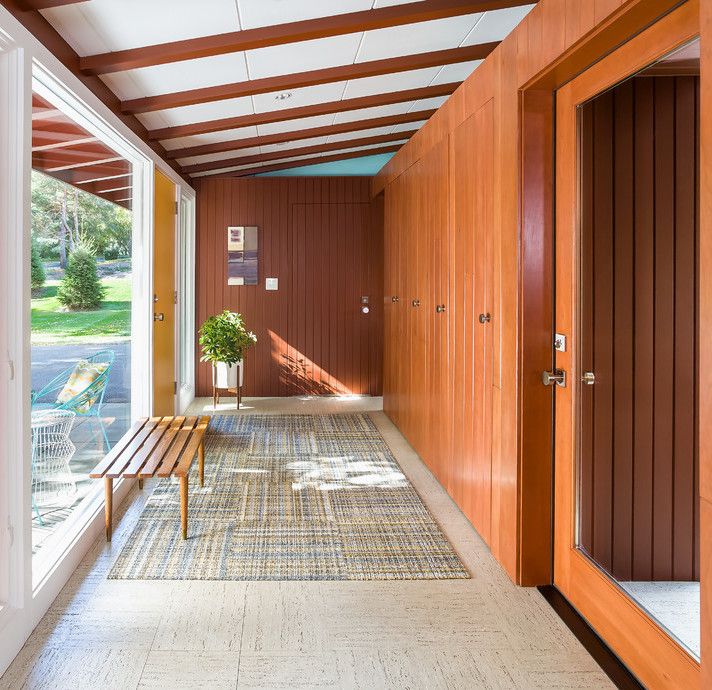 Built-in Armoire & Shoe Storage Bench
Built-in furniture is another one of our great mid-century modern entryway decor ideas. This space has a built-in armoire for storing coats and a built-in bench with lower shoe storage! Both pieces are crafted in the mid-century minimalist style. The warm brown wood even matches the same finish as the front door.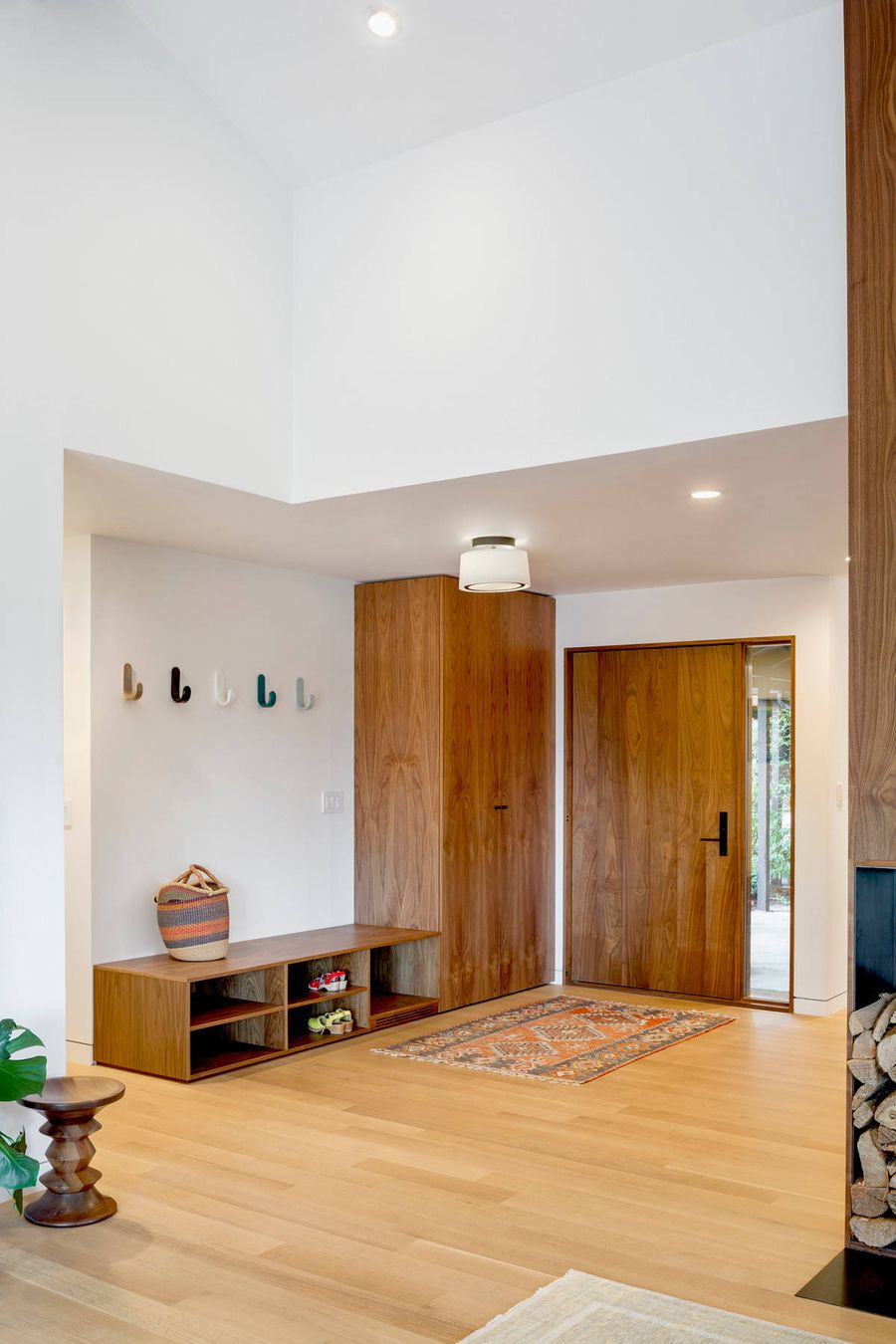 Mid-Century Modern Lighting
You'll need a good lighting source to switch on easily upon returning home, especially if it's dark out. We recommend a good central ceiling light, but you can install wall sconces in your entryway if you prefer!
Sputnik Style Chandelier
This entryway features a gorgeous sputnik style chandelier. Also called a starburst chandelier, this style of lighting fixture is very popular in mid-century homes. It features several rods coming out of a small central sphere, almost like it's exploding!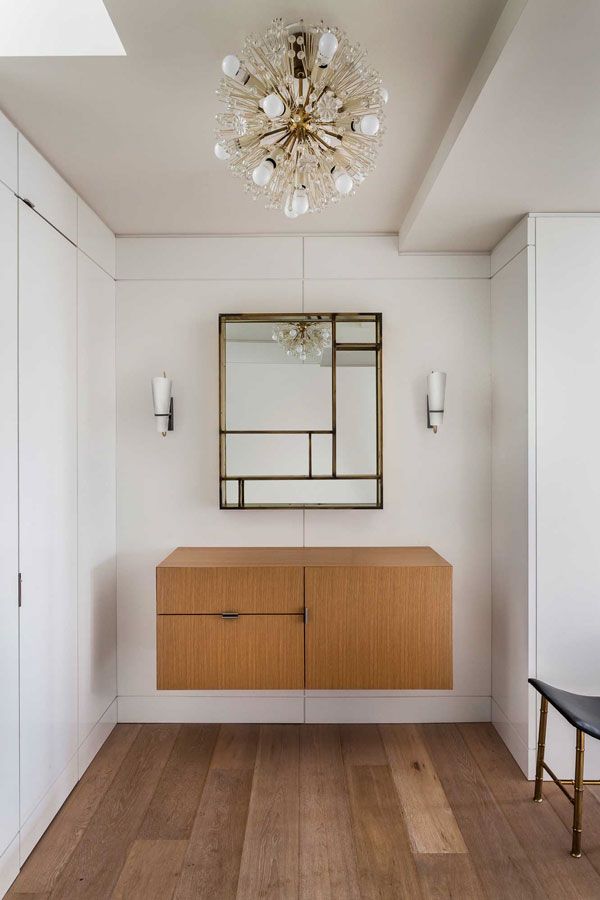 Drum Semi-Flush Lighting
Another popular lighting choice is the drum semi-flush mount. This is a great choice if your entryway has low ceilings. This mid-century entryway features two green semi-flush mounts with drum shades.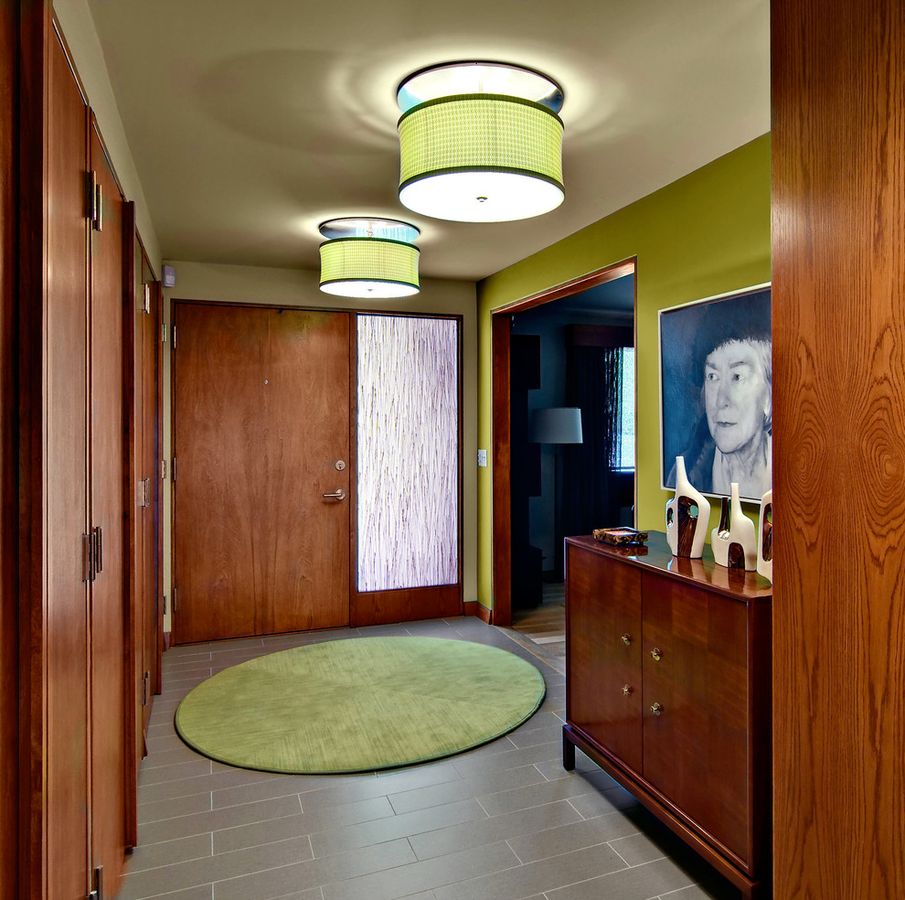 Brass Rod Chandelier
Our last mid-century lighting idea is the brass rod chandelier. This style of chandelier is similar to the starburst chandelier but might have a little bit of a different design. This one features several vertical rods arranged at various heights. You can also find branch chandeliers in mid-century homes but these are more often used above dining tables.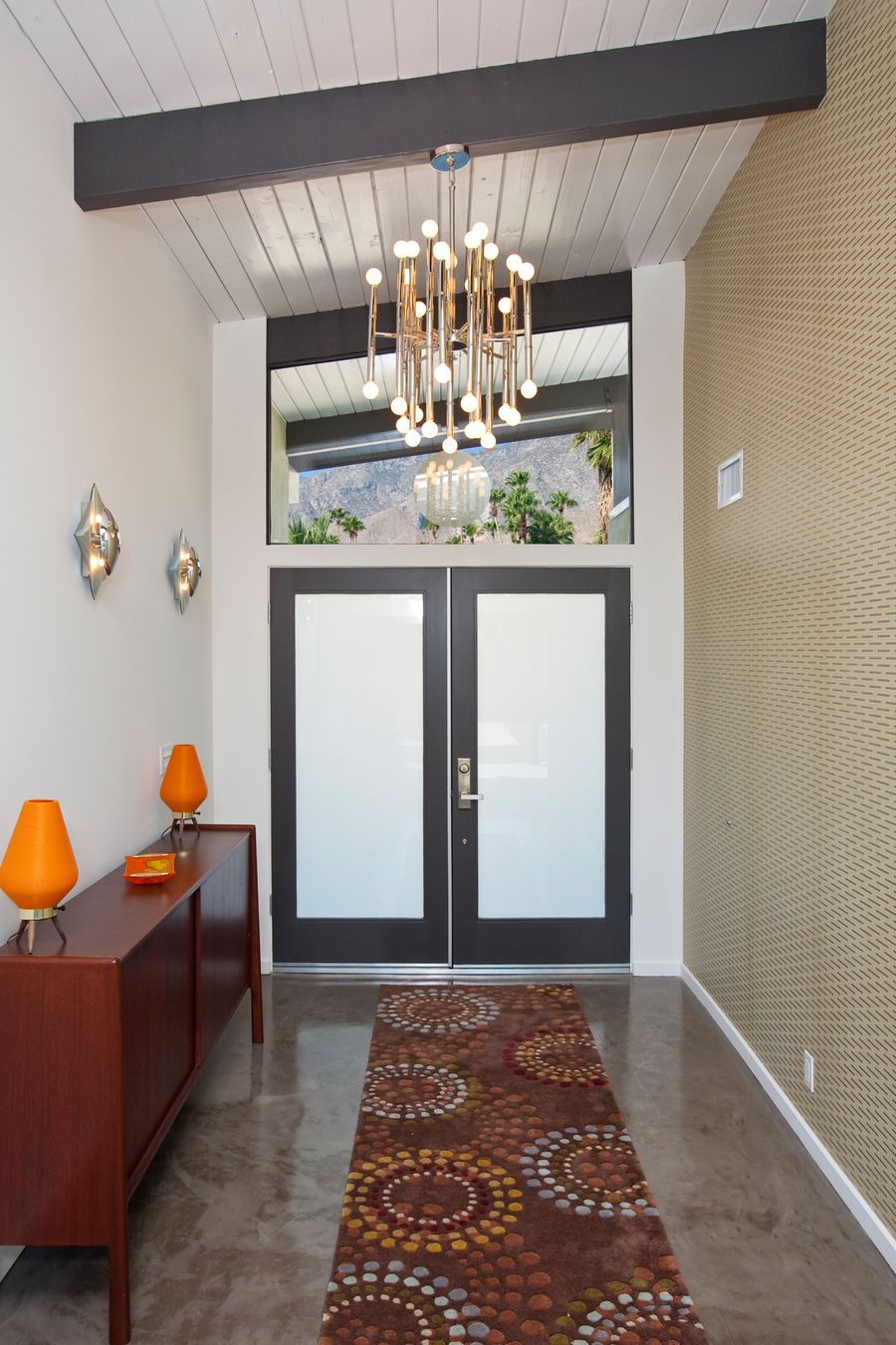 Mid-Century Modern Entryway Decorations
Once you have your furniture picked out, it's time to start thinking about the decorations and accents you wish to include in your entryway. Decorations and accents are great because they give us a chance to show off our personalities and really make the space our own. You can choose to display trays, books, small lamps, plants, mirrors are more. Here are our best mid-century modern entryway decorations ideas!
Sunburst Mirror
The sunburst mirror is a classic mid-century modern style mirror which can be used in almost any room of your home! It features a round mirror with dozens of small rods poking out from the frame, depicting a 'sun' of sorts!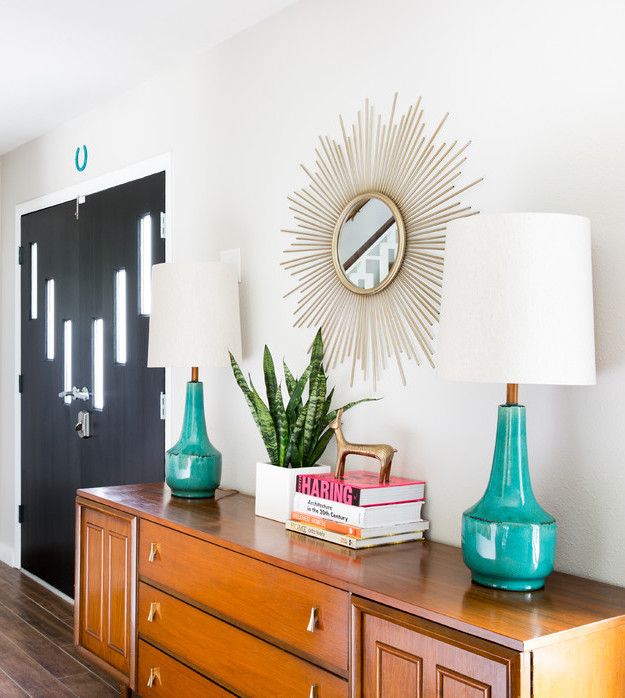 Slim Aarons Photography
Our next idea is to purchase a print by the famous American photographer Slim Aarons. Aarons was known for his photographs showing "attractive people in attractive places doing attractive things." He epitomized an entire generation of mid-century, sun-loving, wealthy California residents. This entryway features one of his famous photographs: two women lounging on outdoor chaise lounges in front of a sprawling pool, with the mountains of California in the distance.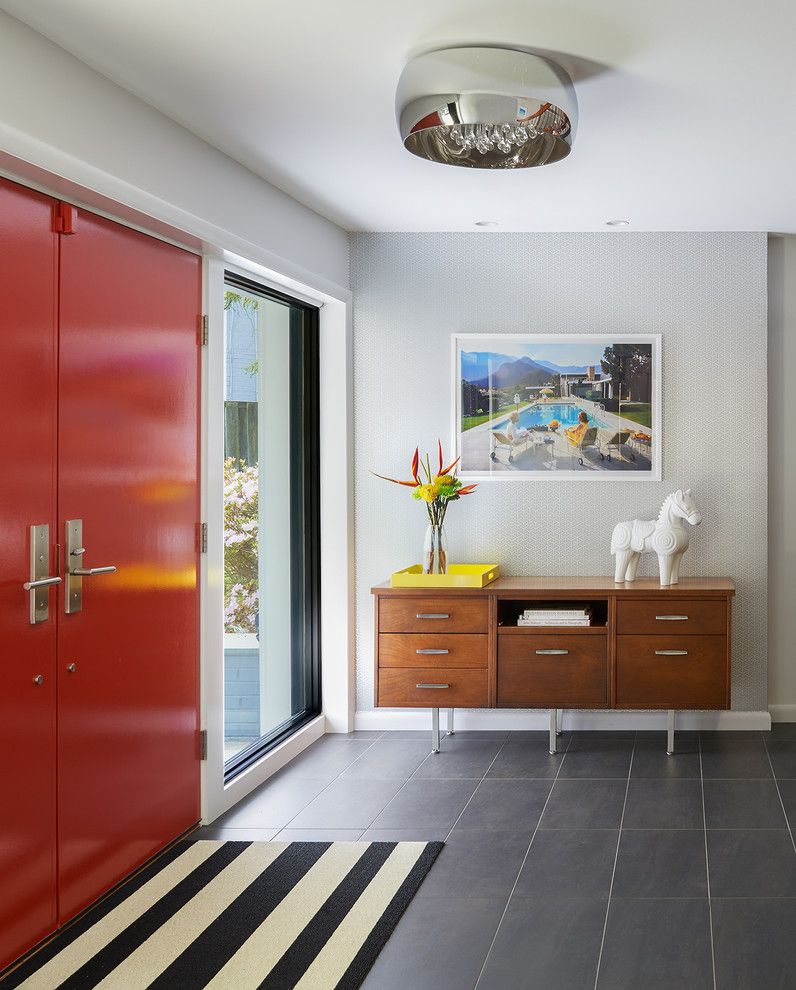 Vintage Rug
A vintage rug will add a bit of coziness to your entryway. Some people don't like having a rug in their entryway as it gets dirty fast if you wear your shoes on it, but personally, I think it really completes this space! After all, mid-century modern entryways are pass-through spaces so they will get a little dirty from time to time!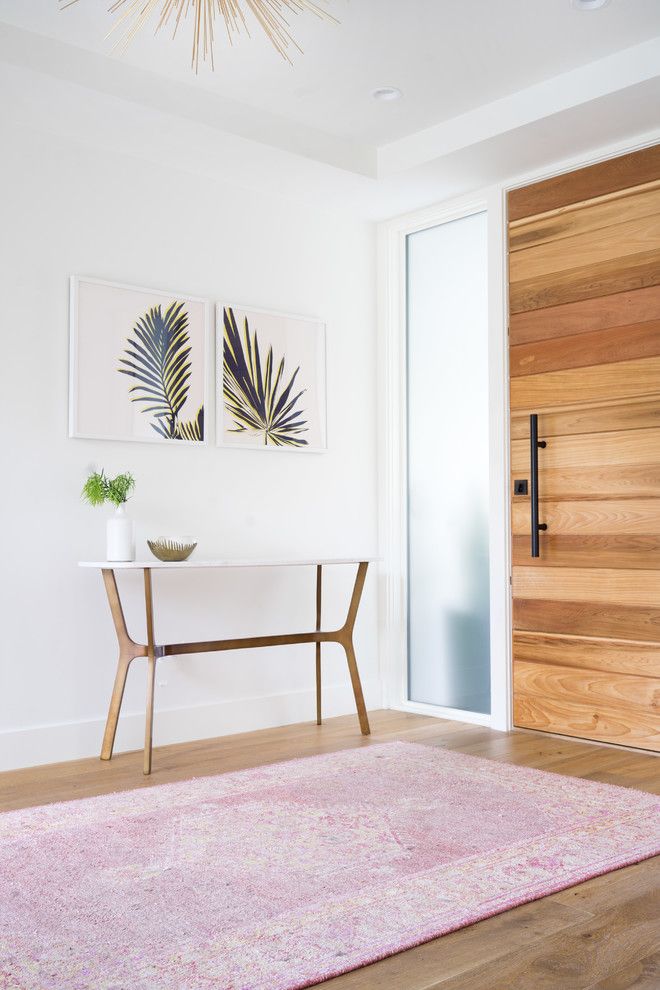 Leaning Wall Mirror
This clever entryway features a gold framed leaning wall mirror against the entryway wall. This is a great idea for checking your outfit before heading out for the day. A small wood bench sits in front of this mirror, and a brown bag has already been placed there. This is a very practical, yet minimalistic entryway in the mid-century style!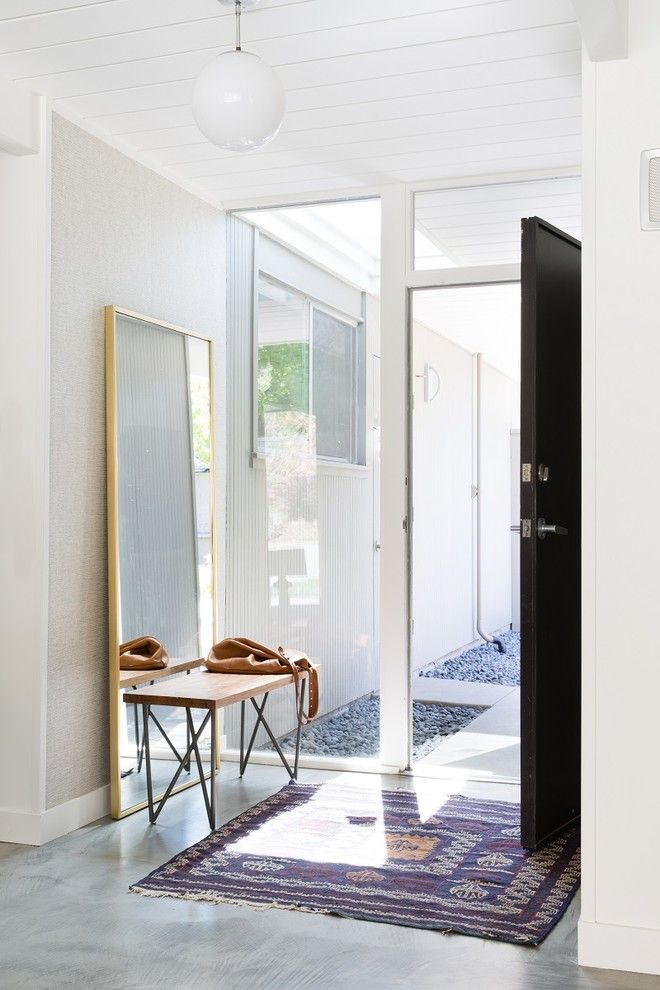 Round Wall Mirror
I love this gorgeous large round wall mirror hanging on the wall of this entryway. It's hanging above a mid-century modern bench, creating the perfect cozy small entryway design. A house plant sits nearby, and a black throw pillow adds a touch of comfort.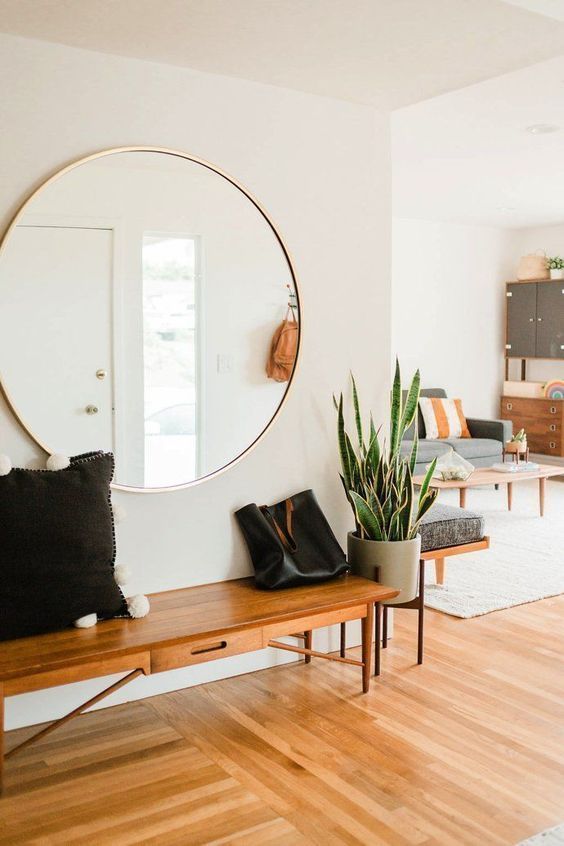 Patterned Wallpaper
If you want to create a bold, mid-century entryway, then why not cover an accent wall with patterned wallpaper as seen here? This teal wallpaper is very reminiscent of mid-century motifs with its geometric design and red sputnik illustration. It's been tastefully styled with a long brown mid-century sideboard, a round white mirror, and two gold brass trays. The turquoise front door and teal floor rug nearby keep up the blue theme of this mid-mod entryway!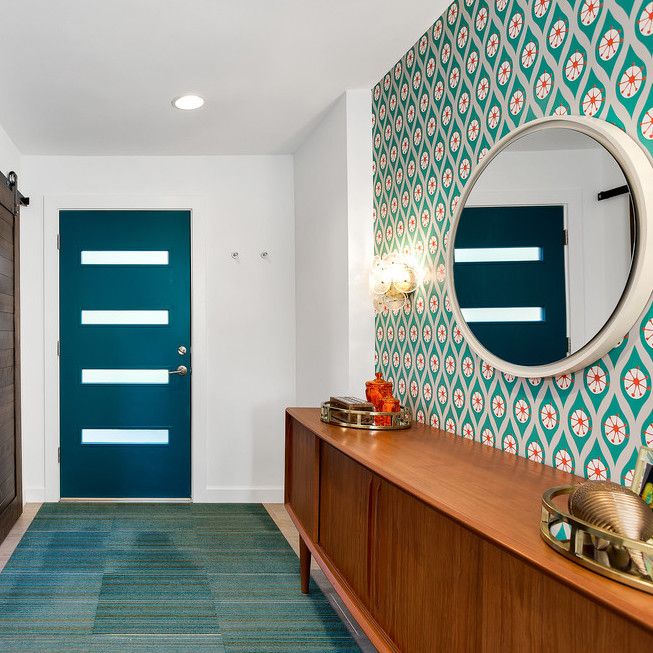 I hope you enjoyed our mid-century modern entryway ideas and found a few that inspired you. As you can see, getting the mid-century look for your foyer or entrance hall isn't too hard with a bit of guidance!
More Mid-Century Modern Ideas
We love sharing mid-century modern interiors on our site. Please find a few more related articles that you may be interested to read if you love mid-century style design:
Happy curating!