The 60s and 70s started a new era for the home lighting industry, both in design and functionality. Amidst the war, a new interest in space, and a high desire for self-expression, interior design took on a whole new look. Geometric shapes and new color schemes influenced the market's design culture, opening opportunities for artists and manufacturers to partner in creating an iconic lineage of light sources.
Iconic Mid-Century Lighting Fixtures
Together we will take a look at a few mid-century lighting favorites that are still well-loved today. If you love mid-century modern home decor, you'll love these lighting ideas!
Arco Lamps
The iconic sixties Arco Lamp was created by Pier Giacomo and Achille Castiglioni for Flos and marked one of the first crossroads of industrial design and art. Its long, curved design creates a decadent statement while directing the light source right where it's needed most. Do you like the flexibility to redesign your space? The way this light is engineered, it provides overhead light without the complication of ceiling wiring. Shop the lamp at Flos, Lumens, or Design Within Reach.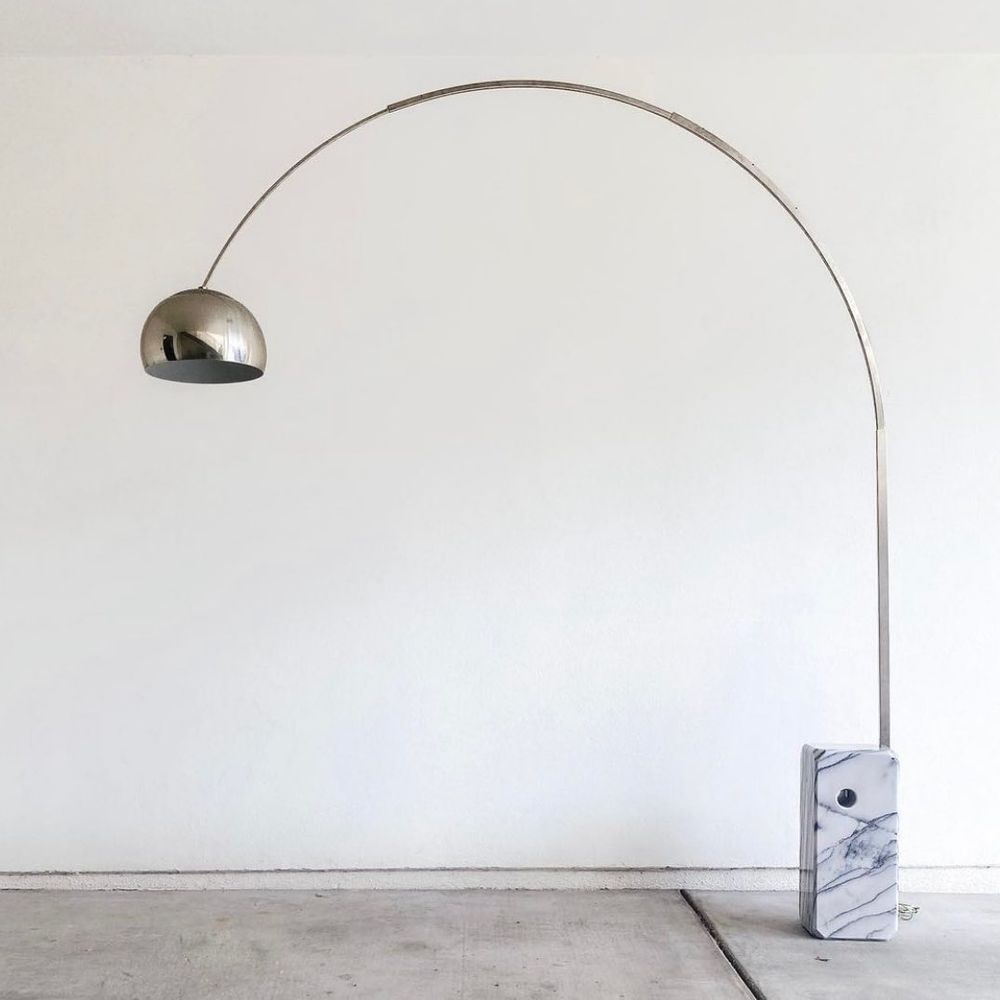 The Arco lamp is mobile so you can change the layout of your living room or dining room without paying an arm and a leg to have an electrician rewire your space. Its sleek design has remained popular over the decades. It has inspired the design of dozens of arc lamps in contemporary home design.
Sputnik Chandeliers
Named after a Cold War satellite, the Sputnik Chandelier was birthed during a time when space and science were at the forefront of everyone's mind. Since its inception, a variety of long-metal, atom-like chandeliers have been created and hung in galleries, restaurants, and upscale homes.
One of the first Sputnik chandeliers was created by Italian-born Gino Sarfatti. Sarfatti was a tinkerer and had no formal design training, but through experiment, he fiddled with metal and like fixtures until he came up with his first Sputnik chandelier that he later referred to as "fireworks" due to its design!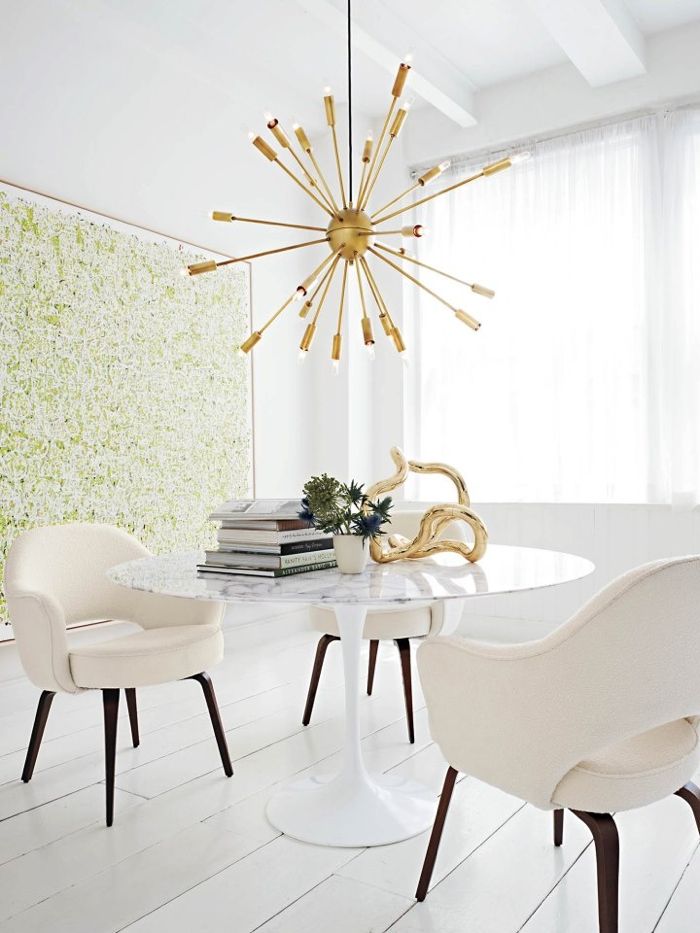 On the other hand, there was J. & L. Lobmeyr's Sputnik chandelier that was destined to be a show-stopper. Lobmeyr's designs look more like starbursts in the night sky, and some of the most famous are covered in Swarovski crystals, adding to their magnificence as the light hits from every angle.
The impact of these mid-century lighting fixtures cannot be understated! The starburst chandelier designs have been copied by many designers since the Cold War and rule the market on modern indoor ceiling lights.
Branch Chandeliers
Shortly after the debut of Sputnik chandeliers, branch chandeliers started hitting the market. Many designers took on the challenge of creating these long-stemmed metal poles with light bulbs shining bright in multiple directions. Today they can be found in a myriad of shapes and styles and are often hung above dining room tables. Designer Fiori offers a variety of modern takes on this classic design.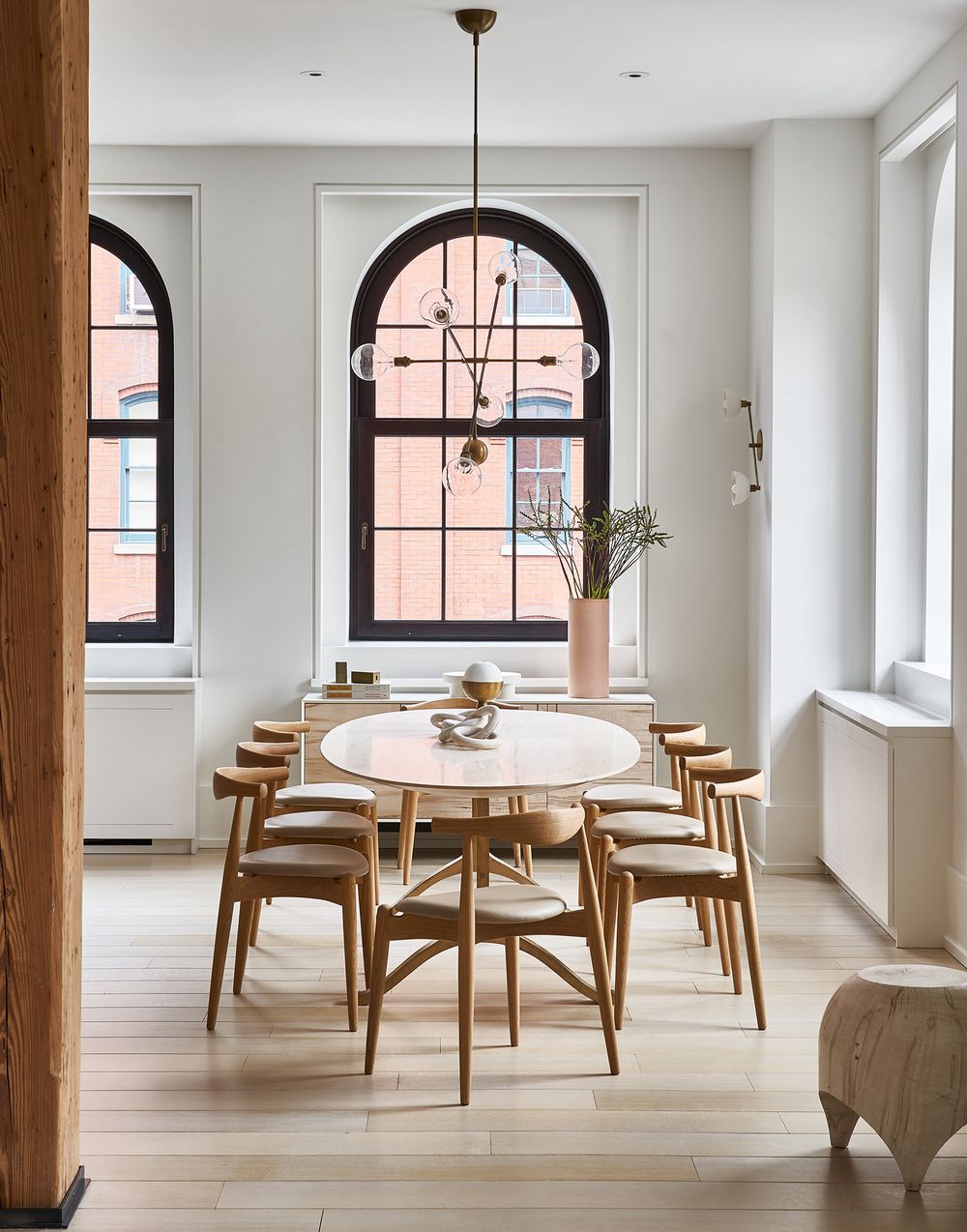 Mouille 3-Arm Ceiling Light
Parisian industrial designer Serge Mouille invented the delicate 3-arm ceiling light which later became known as a minimalist masterpiece. This simple, yet elegant design disperses light while elevating a space. Due to its simplicity, this ceiling light can be paired with furniture and home decor from a variety of eras. It is easy to mount.
Mouille expanded his line to include two rotating arms, five-arm spider legs, a wall sconce, and even a single rotating curved arm to offer versatility for home or office spaces. Shop the original via Design Within Reach or an affordable replica from France & Son.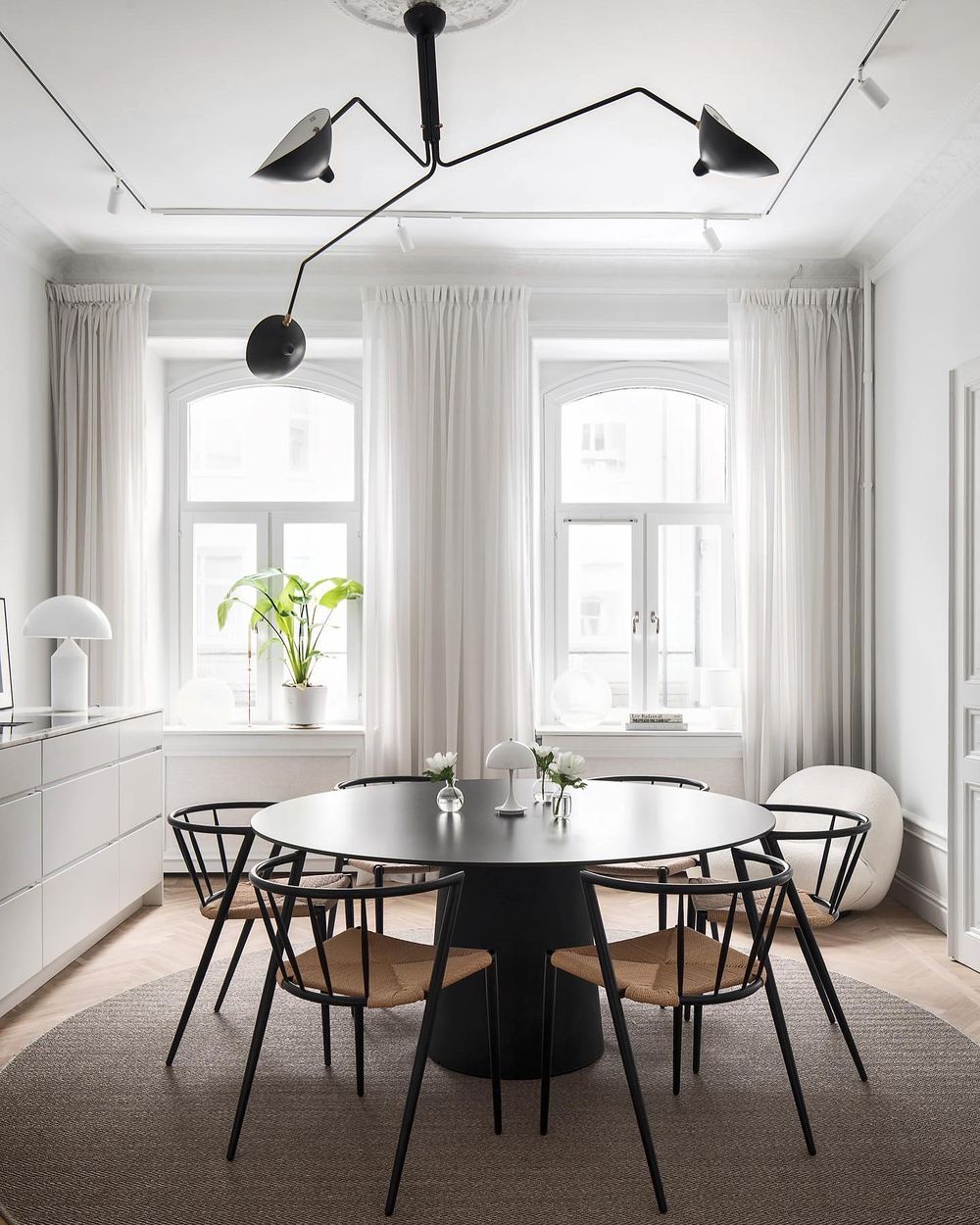 PH5 Pendant Lamp
This Danish-made design is unlike any others from this era. Architect Poul Henningsen, "PH", was dedicated to creating a glare-free light source that still offered enough illumination for a space. The galactic design he came up with is a multi-layered pendant lamp made of metal and porcelain. The rounded edges of his design create a softer look than other lamps from this era. You can find million-dollar apartments in New York donning this unique piece against chic vinyl cabinets. Shop via Lumens.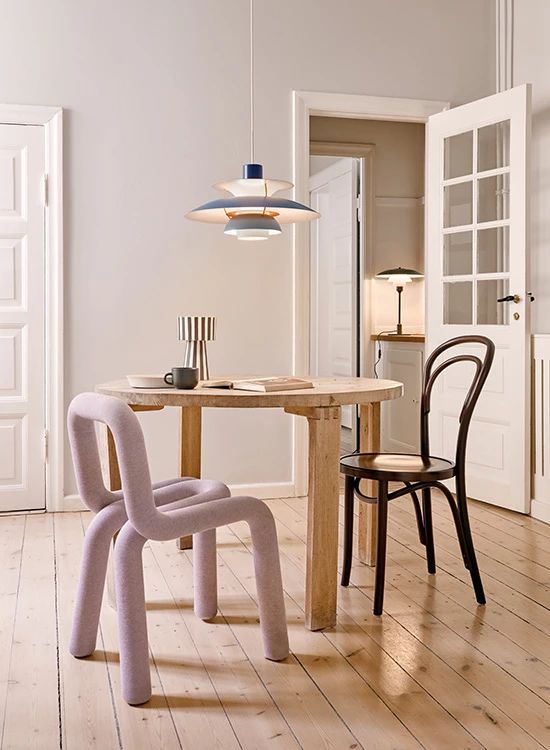 Panthella Lamp
What's a more iconic symbol of the 70s than mushrooms? The Panthella table lamp was designed in the early seventies by Verner Panton and has had great success in the interior design market, even winning the 'Novo Eco award'. Its mushroom-like shape creates a round, fun splash on your desk or living room space. Like many lamps from this era, the 1971 design was originally manufactured by Louis Poulsen and is still on the market today, in various sizes, colors, and materials. From white acrylic to funky orange to dark metallic, this lamp can match a variety of rooms and styles. Shop via Design Within Reach or a replica from Amazon.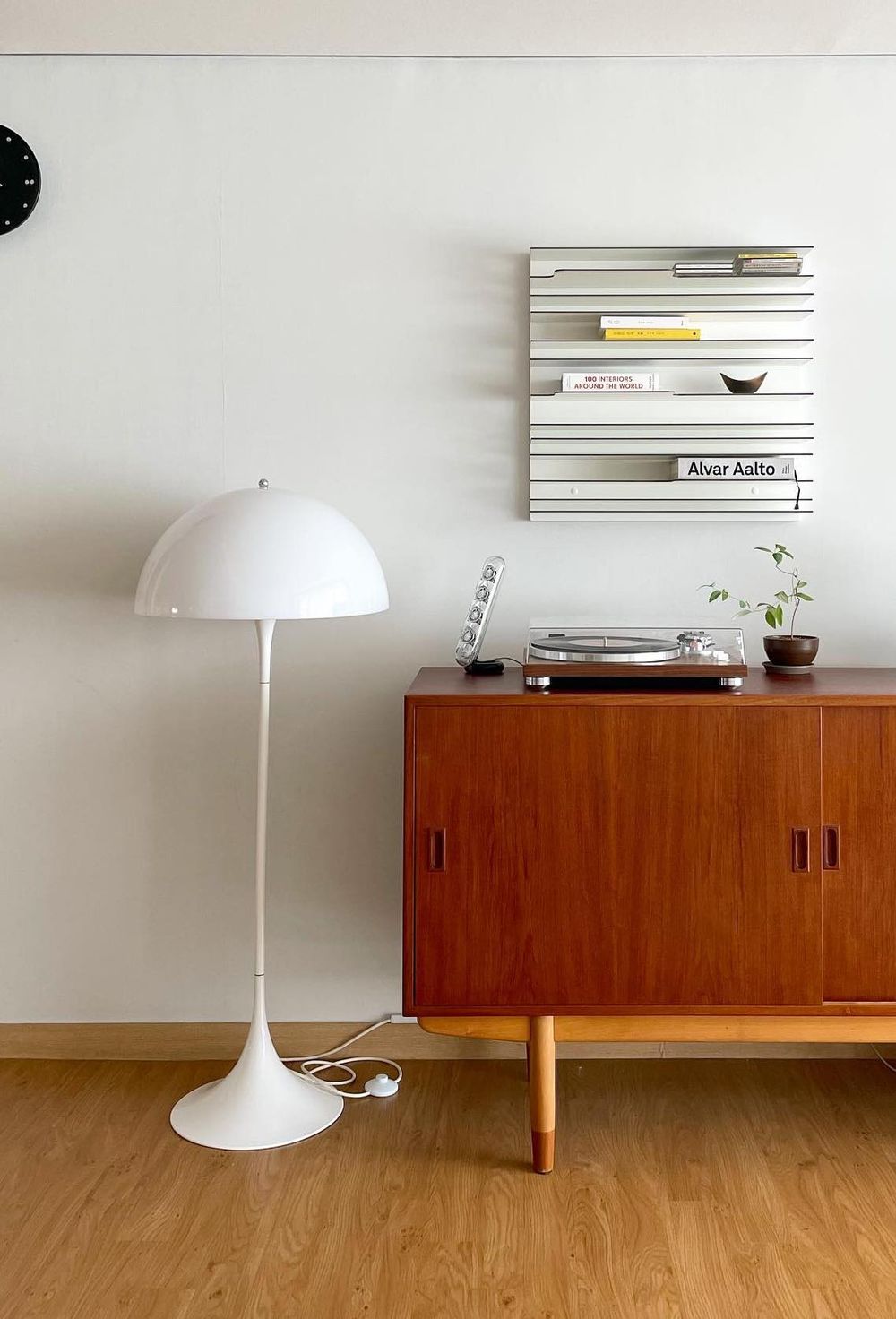 Artichoke Pendant Light
This lamp gets its name from its resemblance to an upside-down blooming artichoke. Also from the PH collection, Henningsen first created the Artichoke Pendant Light for a restaurant in the Denmark seaport capital, Copenhagen, in the late fifties. The original artichoke was made of 72 leaves, concealing harsh light and offering a warm alternative that is perfect for a dining space. Authentic PH Artichoke Pendant lamps are only available through Danish manufacturer Louis Poulsen via DWR starting at just under $13,000 USD, however, some affordable replicas have been spotted in the last fifty years, including options under $100. If I come across one, I'll add the link here!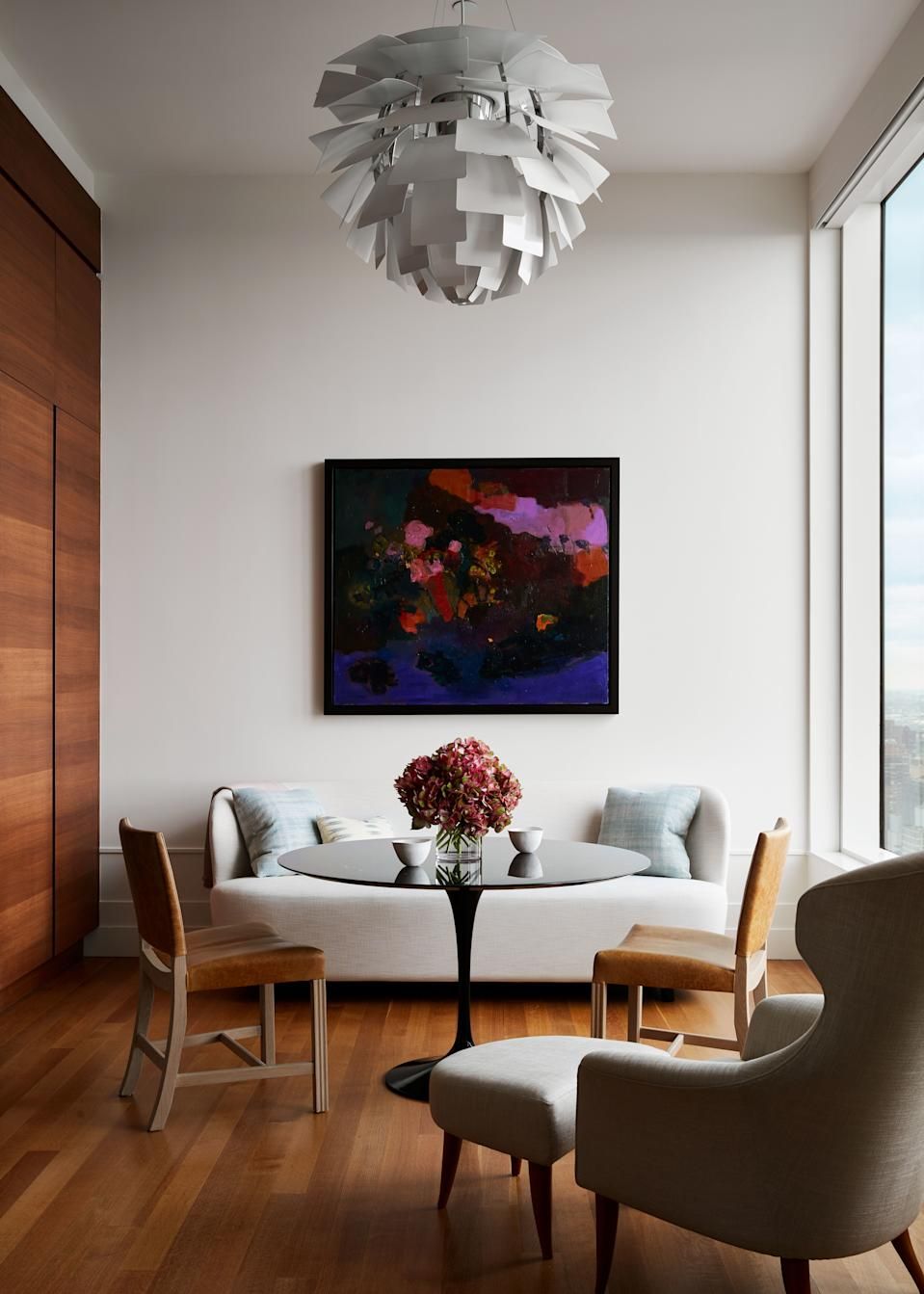 Nelson Saucer Bubble Pendant Light
Unable to afford the round lamps that were available at the time, designer George Nelson decided to create one of his own and came up with the UFO-shaped saucer bubble lamp. Manufactured by Herman Miller in 1952, the Bubble Lamp started a new trend of floating globe lights that eventually took on different shapes and sizes. Made with a steel wire skeleton and plastic polymer coating, these transparent lights provided form and function to modern homes and restaurants. These mid-century lighting fixtures are still manufactured today starting at about $400. Get an authentic original from DWR or 2Modern, or shop the affordable replica from Amazon.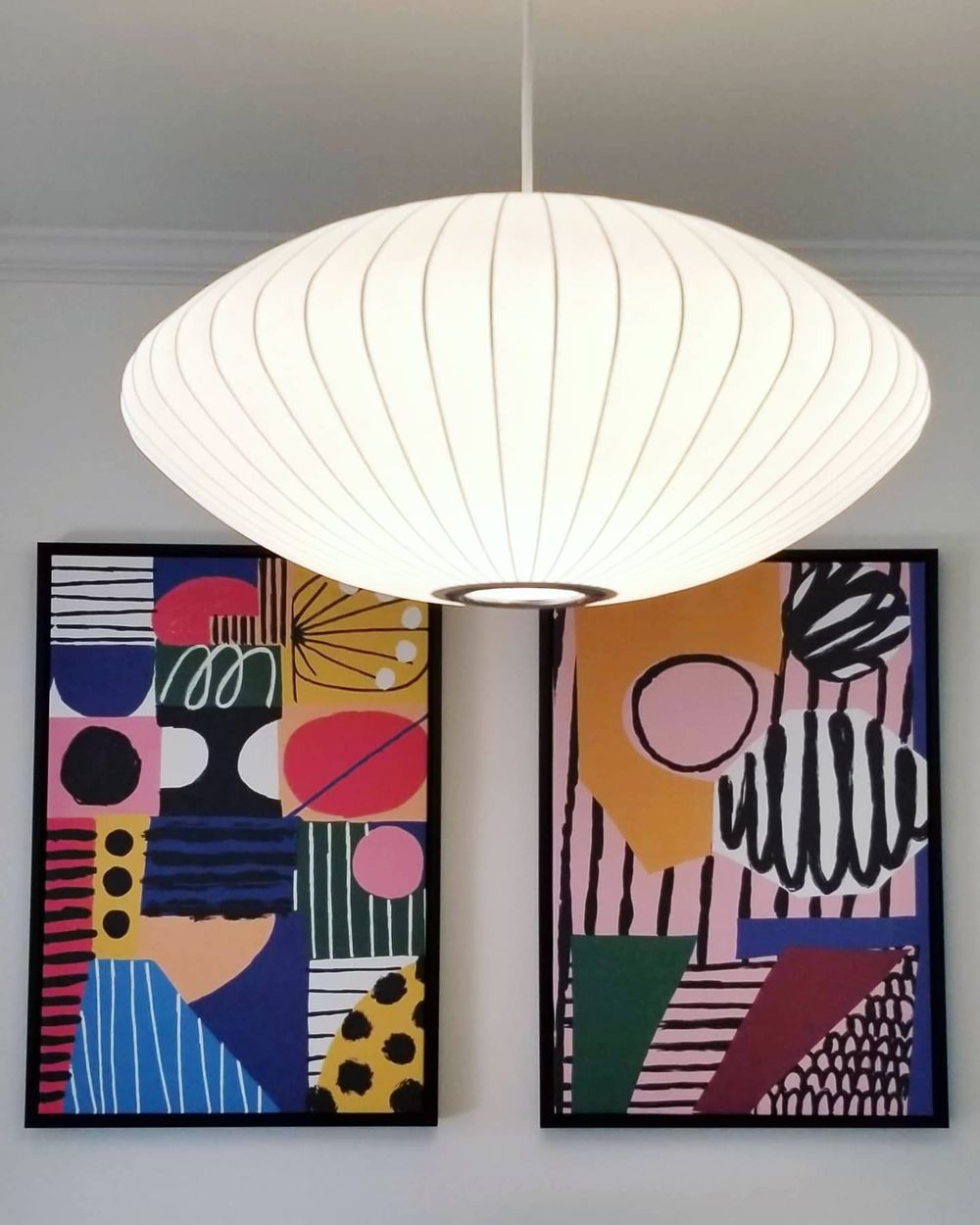 Flowerpot Pendant Light
The flowerpot pendant light is a lighting fixture that came about thanks to the flowerpower movement of the 1960s. Designed by Verner Panton in 1968, the range included three pendants and two table lamps. The combination of a dome and a sphere were meant to resemble a flower. Pick up the pendant from 2Modern or Lumens. The table lamps are available with a cord or portable.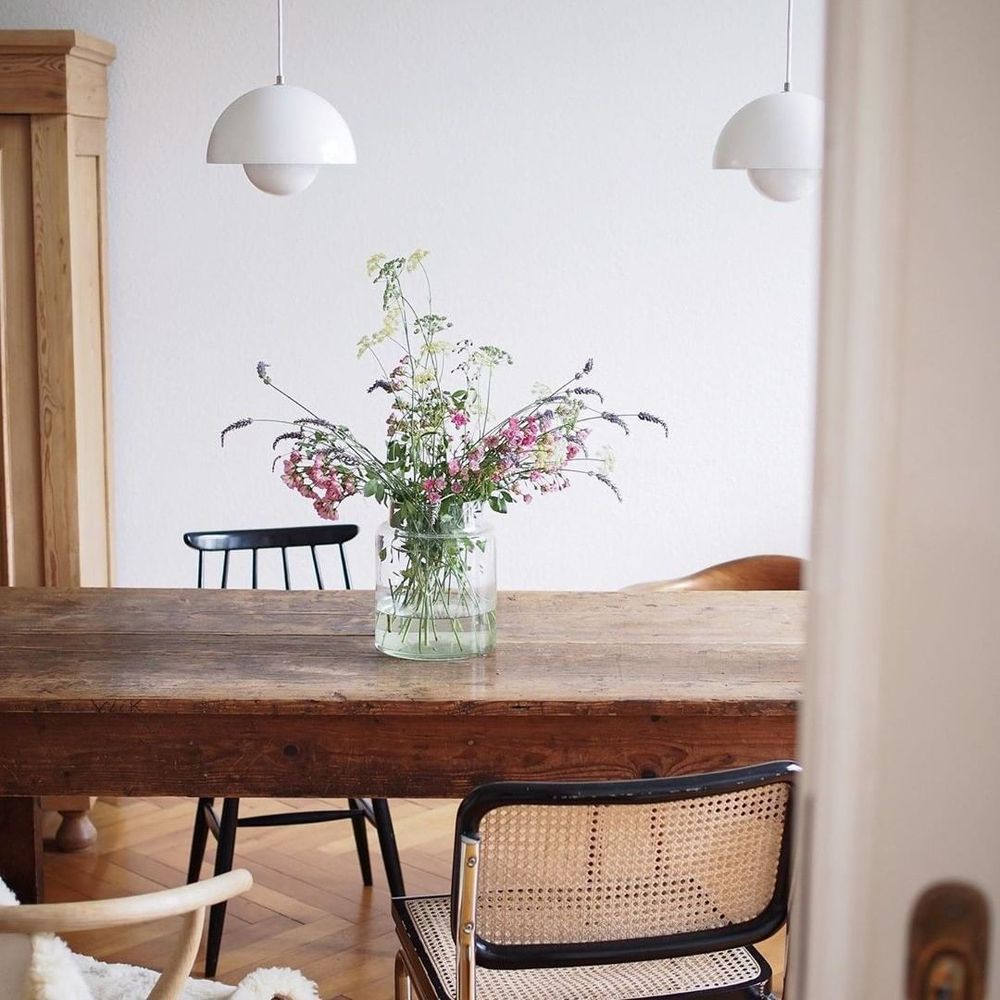 Poulsen AJ Lamps & Wall Sconces
Designed by Dutch artist Arne Jacobson and produced by Louis Polsen, the AJ floor lamps, table lamps and wall sconces first debuted at the SAS Royal Hotel in Copenhagen, Denmark. These lamps played an integral part in the design of the rest of the hotel. With their steel, angled shades, and built-in one/off switches, they make a great bedside or hallway addition.
They're available in a variety of colors and finishes for whatever your design needs call for. Shop via YLighting and Lumens or for an affordable replica floor lamp, try Amazon.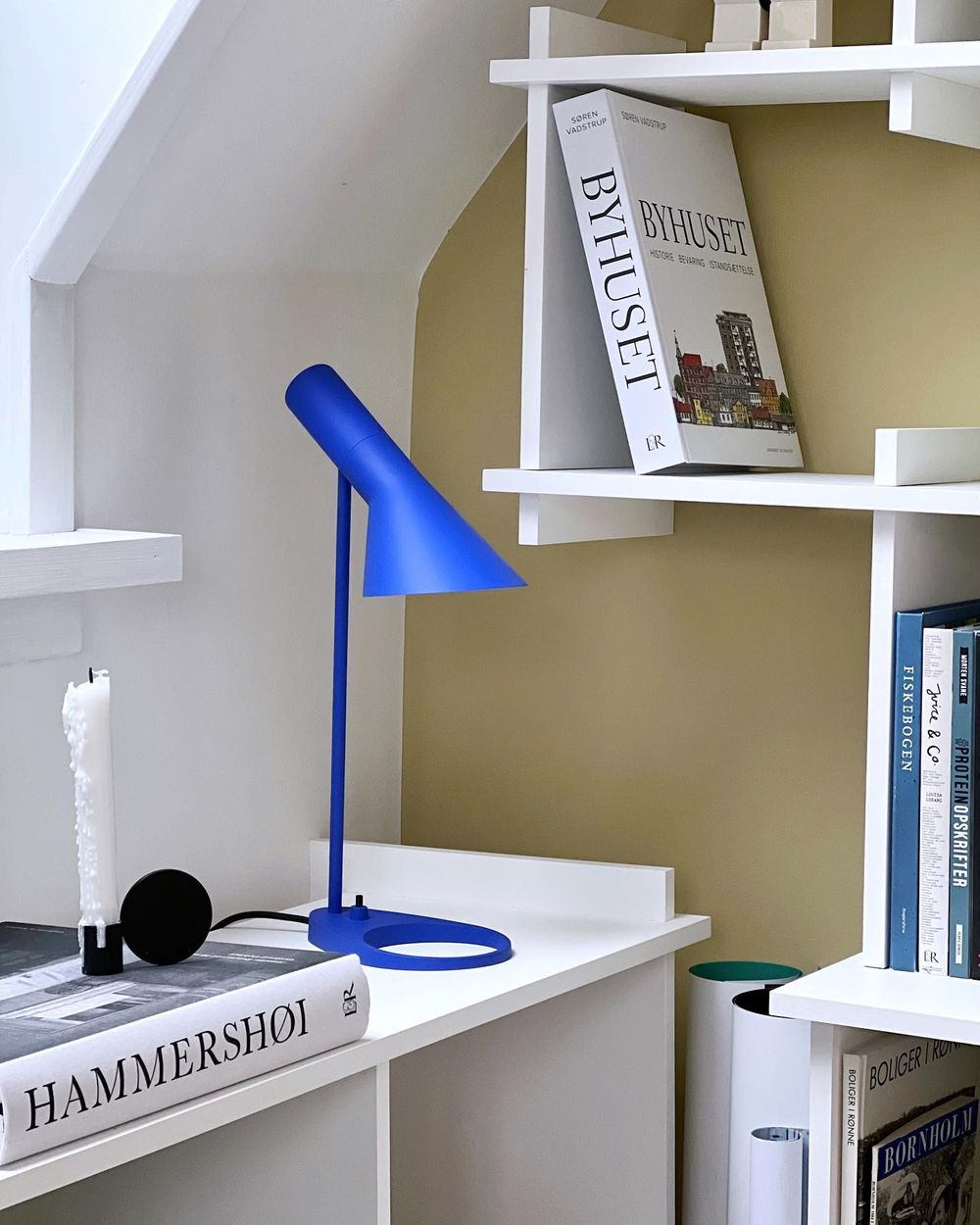 Martinelli Luce 'Pipistrello' Lamp
Designed in 1965, this is the most iconic lighting fixture created by Italian architect Gae Aulenti for the Martinelli Luce house. One of the few women to make the list, she created the Pipistrello lamp: a bat-inspired design with a stainless steel telescopic foot. It quickly became a worldwide success! Shop via Lumens.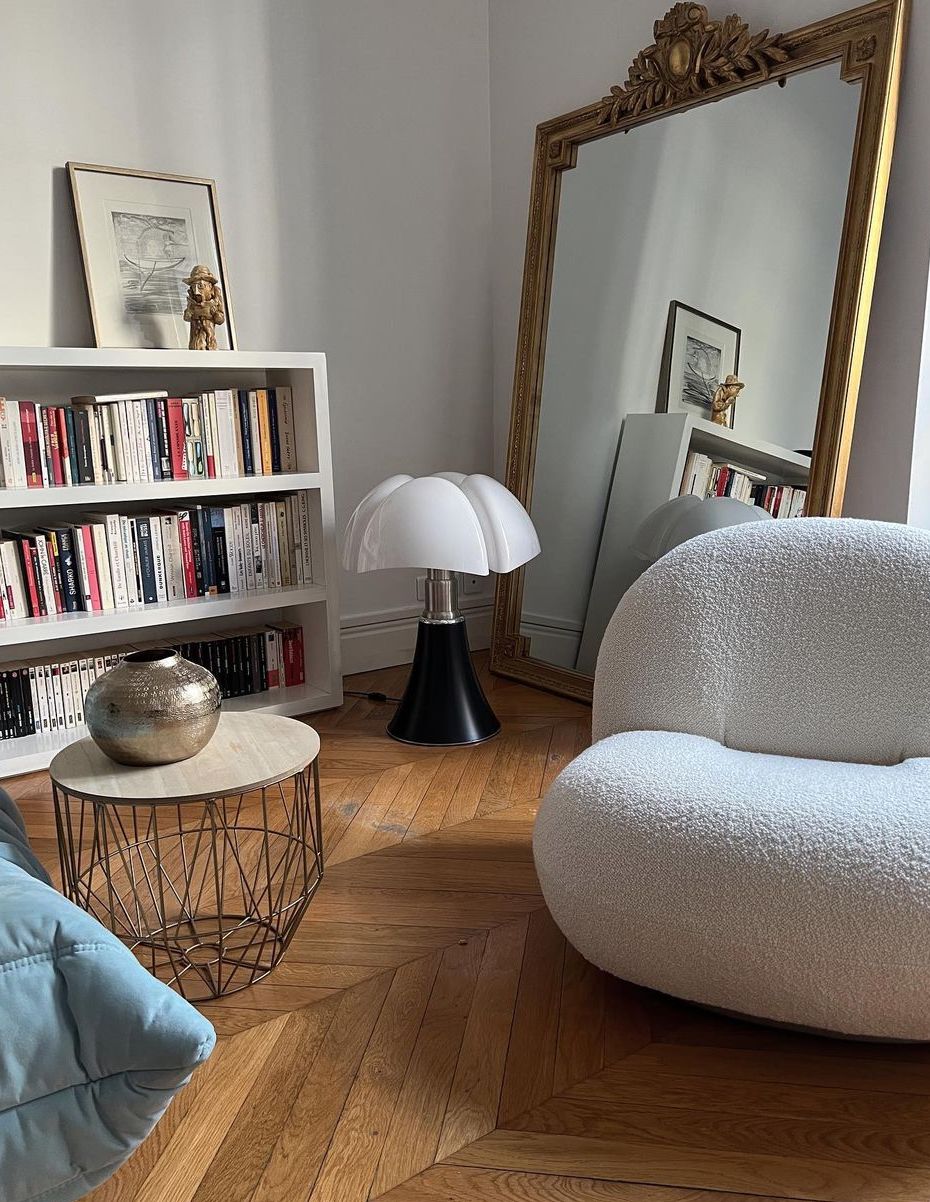 The design renders homage to the Art Nouveau style, while representing an era that used color, plasticity, and much less refinement. Despite its different approach, this lamp is definitely modern with its sleek mushroom shape and durable materials, such as aluminum. Weighing around 26 pounds and having an adjustable height of between 66 and 86cm, the cult lamp continues to make its appearances on Instagram and in design magazines.
Nesso Lamp
Giancarlo Mattioli and Gruppo Architetti Urbanisti Città Nuova worked together to design this mushroom shaped lamp for Artemide studio in Milan, Italy. It appears quite simple yet gently diffuses the light around it with ease. This lamp is truly a modern masterpiece! Shop via Wayfair or 2Modern, or try this replica from Lightopia.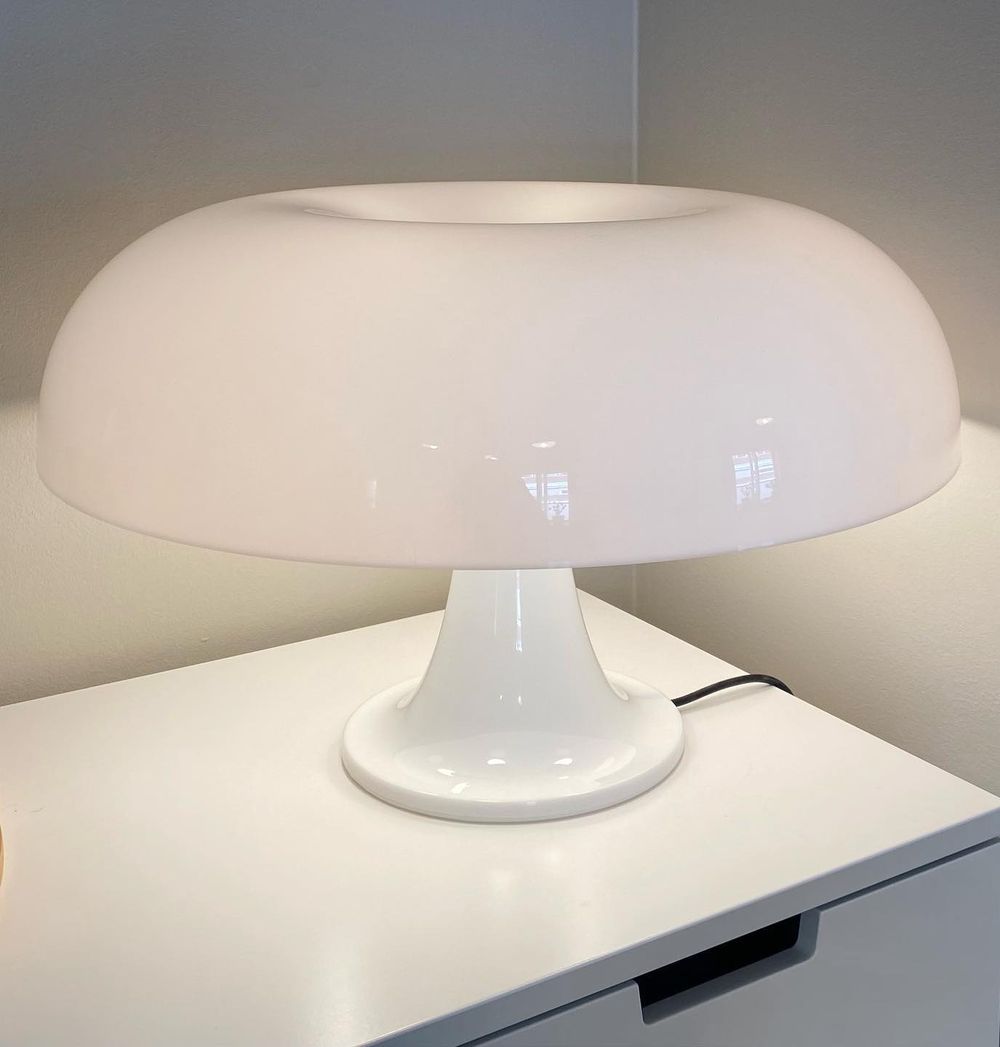 ---
If you are looking to add a statement piece to your home, office, or restaurant – these iconic retro lighting fixtures will have any visitor buzzing when they enter your space.