We all love the look of a mid-century modern home. But getting the mid-century vibe without making your home feel dated can be a challenge. The key is to mix mid-century modern pieces with contemporary design. But how do you do that? Mid-century modern accent chairs are a great place to start when it comes to the living room.
Choosing the right design style can make your house a haven that you will love living in. The mid-century movement began in 1933 and lasted 32 years. It influenced various aspects of architecture including, graphic, interior, and industrial design. Successful designers of the time included Harry Bertoia, Ray Eames, and George Nelson. These designers employed flat planes, glass, and their designs had a strong connection to nature.
Mid-century interior decor was influenced by 20th-century modernism. The 20th-century modernist movement embraced change in design and art and included the Bauhaus and International movements. Due to new technologies introduced during the second world war, Mid-century modern design took root. Rural-urban migration favored mid-century modern design since it meant people moved into smaller spaces.
The mid-century interior design emphasized functionality, and designers created sleek lines using geometric and organic forms. They also used little ornamentation and both traditional and non-traditional materials. Mid-century modern interior designers also used contrasting materials in their designs.
Mid-Century Modern Accent Chairs
Although there are several iconic mid-century modern chair designs that are adored by many, they tend to be quite expensive. That's why today we want to focus on more affordable mid-century style accent chairs suitable for everyday use.
You'll definitely want to get a pair of mid-mod accent chairs when decorating your living room and perhaps one for your bedroom.

Accent chairs are seats that have both a functional and decorative purpose. They serve to complement a room's decor, add contrast and bring out a particular color in a room. They are also a great way to provide a focal point in your space and are great for small and large rooms. Accent chairs can be used as dining room chairs, entryway chairs, and office chairs among other purposes.
Mid-century accent chairs are very distinct and can add both character and class to your living room. Here are some of the identifying features of mid-century modern accent chairs.
Simplicity
Mid-century modern designs are about functionality, and that brings with it simplicity. The mid-century modern accent chairs use sleek and clean lines that were common after the Second World War. The chairs did not have fancy ornamentation and were very functional.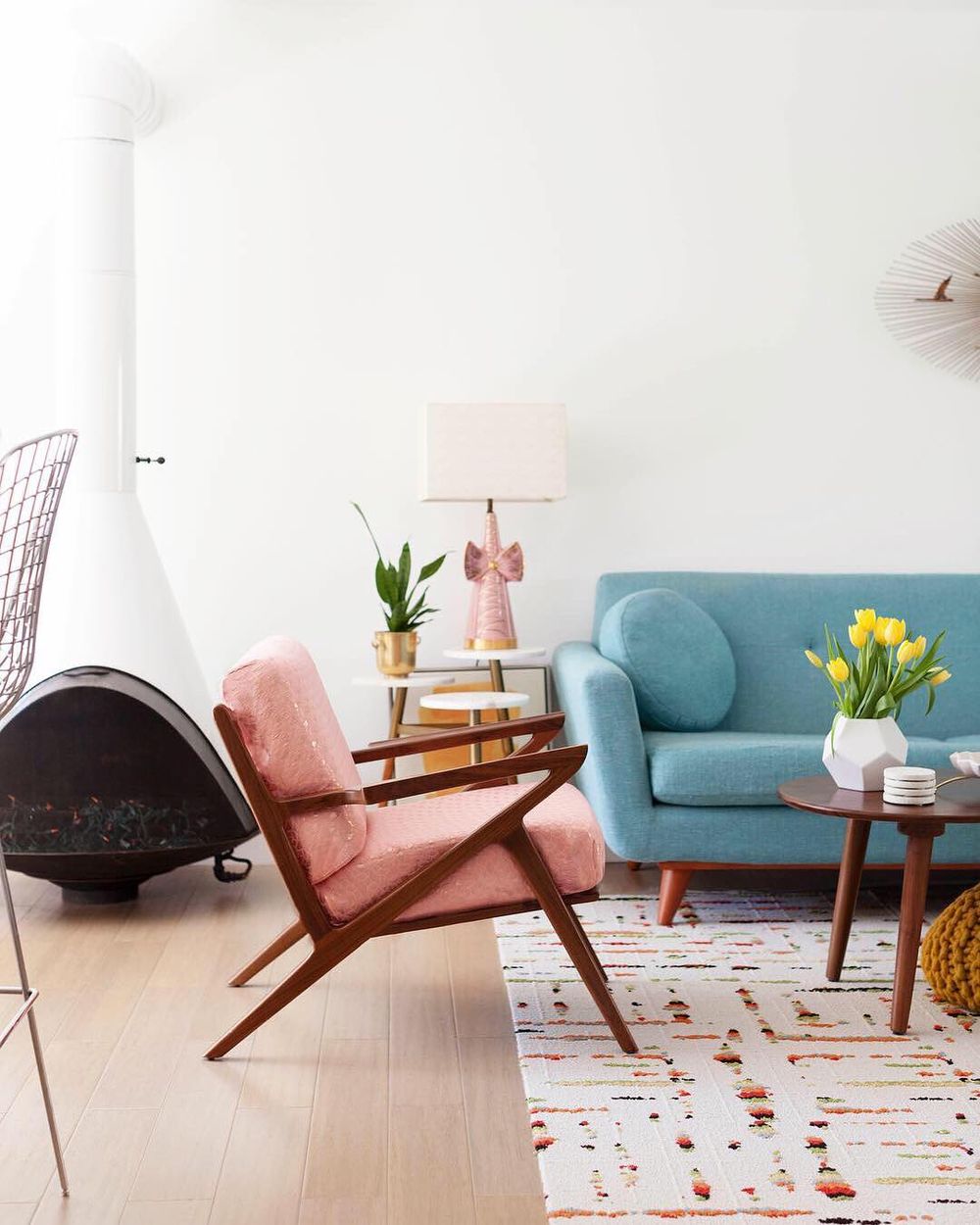 Excellent craftsmanship
Designers from this era were very particular about the chairs they created, and their pieces were beautifully crafted. They used high-quality materials and endeavored to create designs that would outlast them. An accent chair from this time will stand out, especially if you buy a vintage piece.
Natural wood finishes
Mid-century accent chair designers finished accent chairs to show off the beauty of the wood. Designers often used teak to make chairs, and the finishing made them outstanding. That is why so many mid-century modern living rooms feature beautiful wood furniture and paneled walls.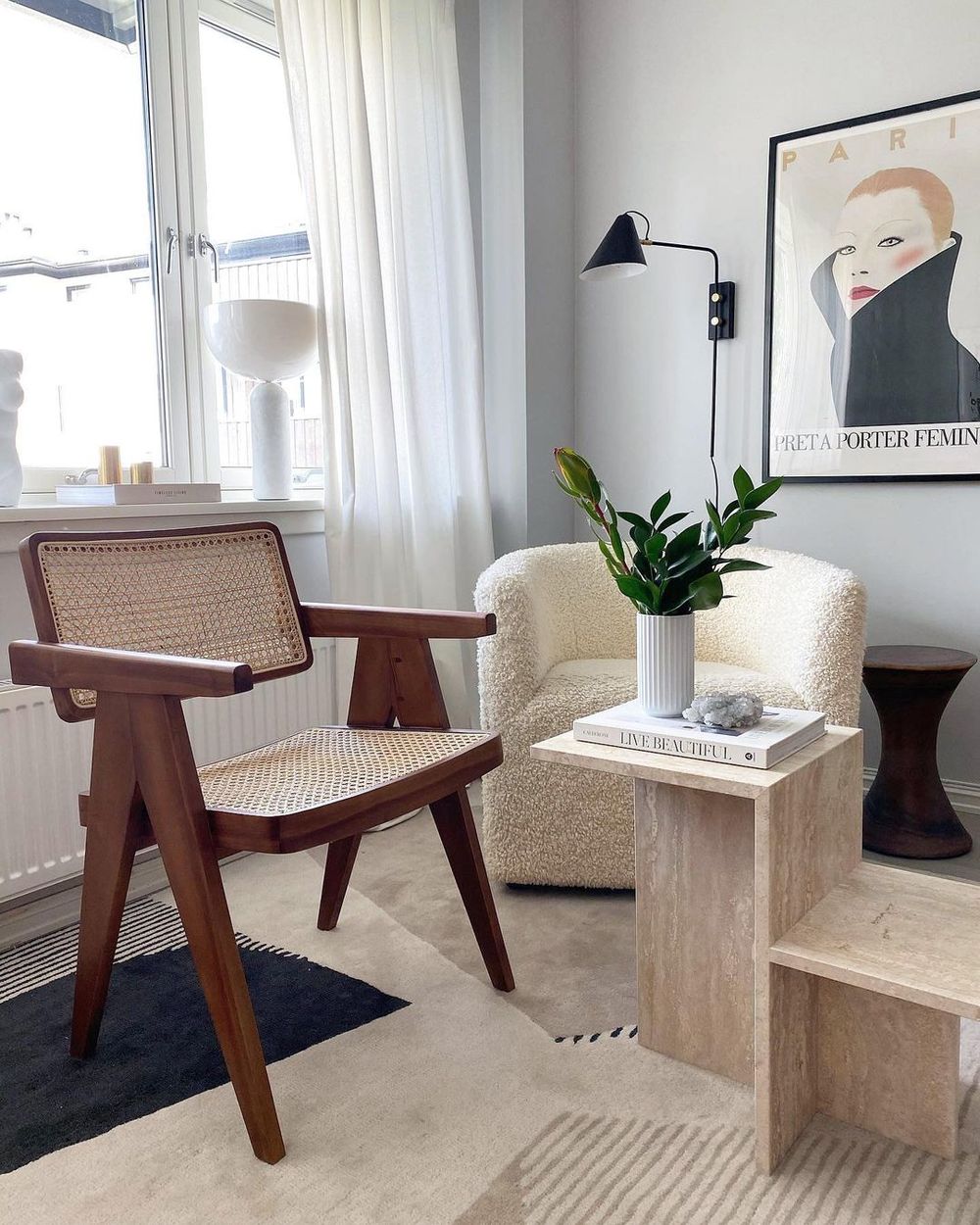 Combination of synthetic and natural materials
There were many emerging technologies at the end of the war, and designers used these synthetic materials in combination with natural materials to craft durable furniture. Creative designers used fabrics like nylon and rayon along with wood to design excellent accent chairs. Some designers would use artificial materials, such as plexiglass, instead of wood, creating a new category of chic mid-mod furniture.
Bold colors
Instead of the dark colors of the previous era, the mid-century modern design used bold colors such as mustard yellow, olive green, and pumpkin orange. These colors made accent chairs stand out in any room.
Geometric prints
Although the mid-century modern accent chairs were simple, designers did not sacrifice aesthetic appeal and used modern prints for accent chairs. The fabrics used were printed with atomic, starburst, and boomerang designs – geometric prints were the style!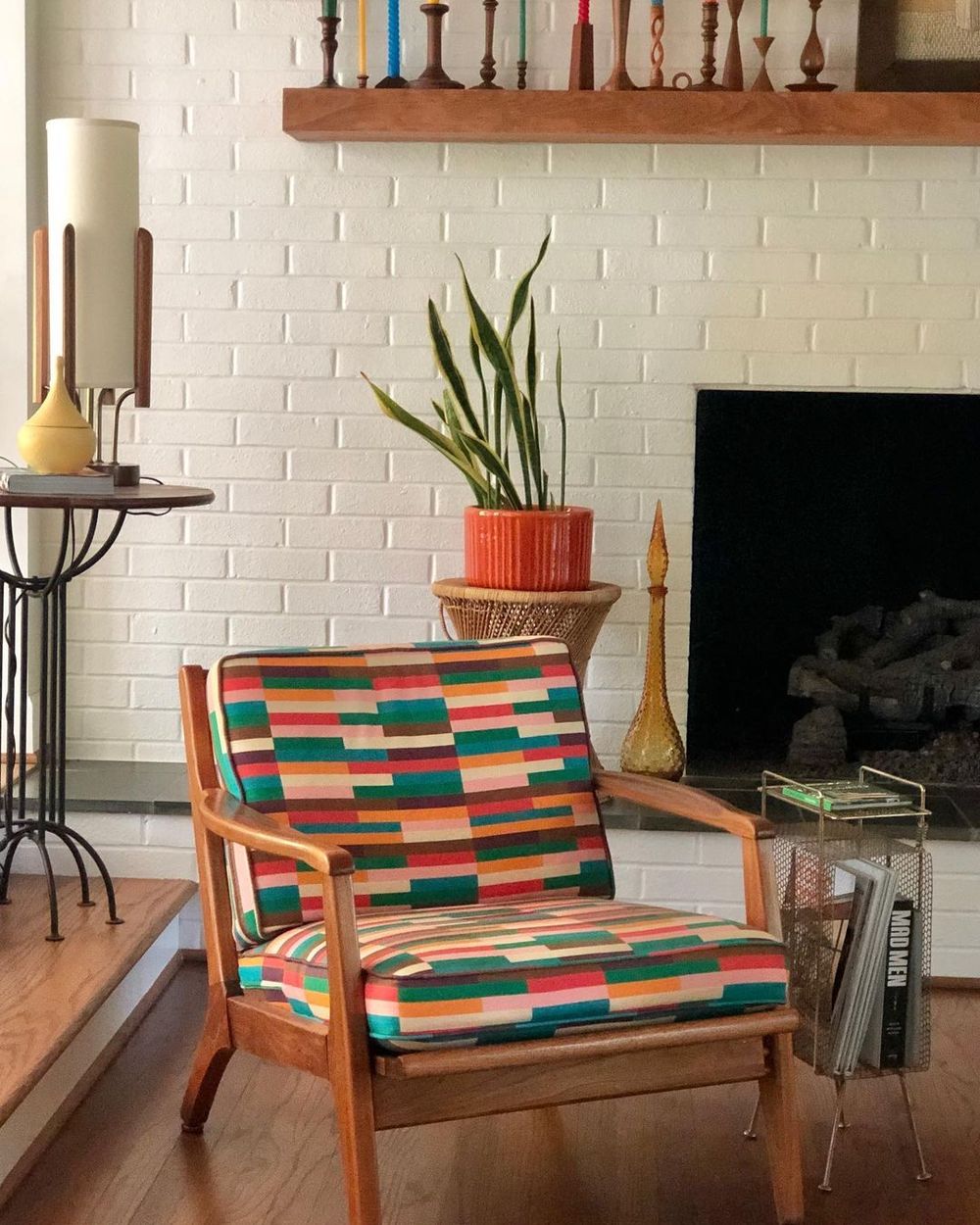 Keep reading more about mid-century modern furniture and decorating an MCM living room: