Many people are searching for the most inspiring industrial bedroom decor ideas and trends in interior design. Even if you don't live in a loft or city apartment, you can still appreciate this urban interior design style. You may even be inspired to redecorate your bedroom after reading our post!
Industrial interior design takes its inspiration from old factories and warehouse lofts of big cities. You'll often find exposed brick walls, visible beams and pipes, and a generally open layout where you can see the 'bones' of the building. From iron to rustic wood, industrial furniture materials are durable and built to last. They may be rough around the edges, but that's precisely the look you want. A worn in space with cozy creature comforts here and there is the vibe we're going for with these industrial bedroom decor ideas.
Industrial Bedroom Decor Ideas
Since the bedroom is where you sleep (and hopefully don't work from), it seems a bit counterintuitive to create a factory-inspired space for sleeping. Don't worry, we're going to help you create a relaxing environment conducive to chilling out at the end of the day and waking up refreshed the next morning. Since industrial bedrooms are often dark, they make great sleeping spaces after all! From knit throws to smooth leather chairs, you can create a sleek and cozy bedroom inspired by industrial design.
Industrial Bedroom Design Elements
I want to first start by sharing some of the most common industrial bedroom design elements. These are generally architectural features that are worked into the space by the original home or apartment designer. Here are the major industrial style walls, floors, and ceilings to consider.
High Ceilings
Many industrial interiors feature rooms with very high ceilings, like you would find in a factory loft space. If the ceiling beams are exposed, then even better! This bedroom with vaulted ceilings features a wood pallet bed hanging down from the upper beams by ropes from each corner. It seems like the headboard is attached to the wall to keep it sturdy. The electrical pipes have been left visible and they run horizontally and vertically across the wall. A rustic branch chandelier with 8 bulbs brightens this large, open space.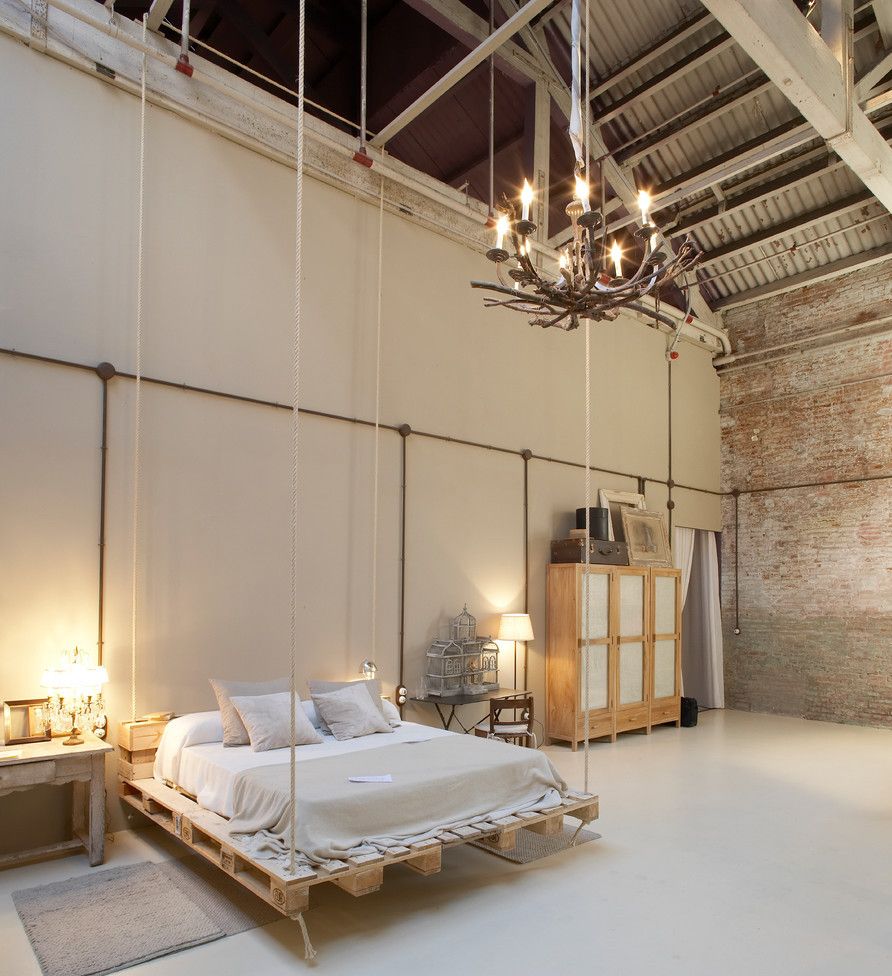 Exposed Brick Wall
The exposed brick accent wall is another common architectural feature of industrial spaces. Having a red brick wall in the bedroom provides a great backdrop for your bed. This bedroom doesn't need any wall decoration as the brick creates an interesting and eye-catching pattern. A simple platform bed, a light bulb dangling from a wire, and a wood nightstand are all that is needed.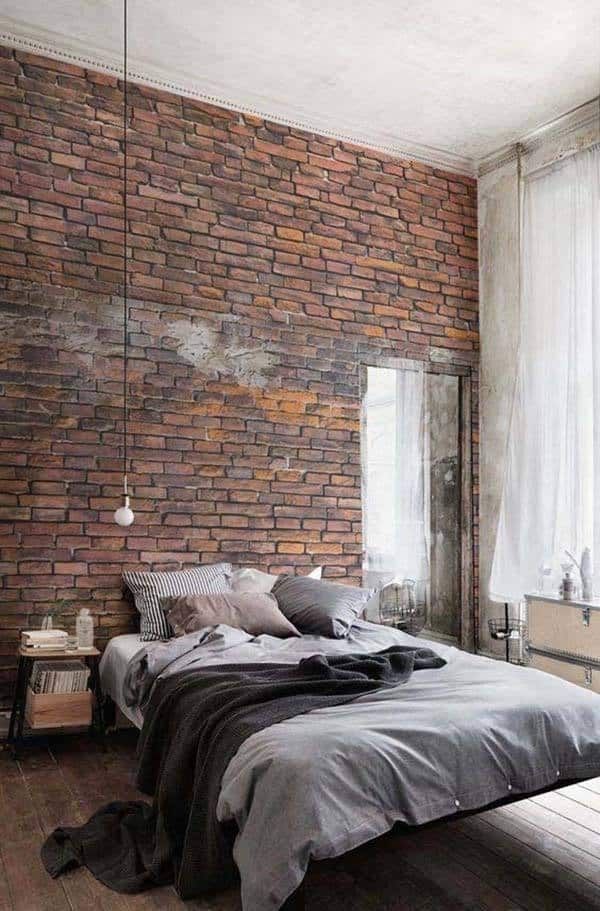 Black Floor and Black Wall Tile
Industrial interiors are often dark by nature. That's why black floors and walls are great for these kinds of spaces. This bedroom has black wood floor panels and a textured black wall tile design which provides a great backdrop for the bed. Two white wall sconces have been installed above the bed, providing some light for reading. A low black one-shelf built-in bookcase lines the floor of the room, and also provides window seating. The ceiling has been painted white, reflecting light downwards.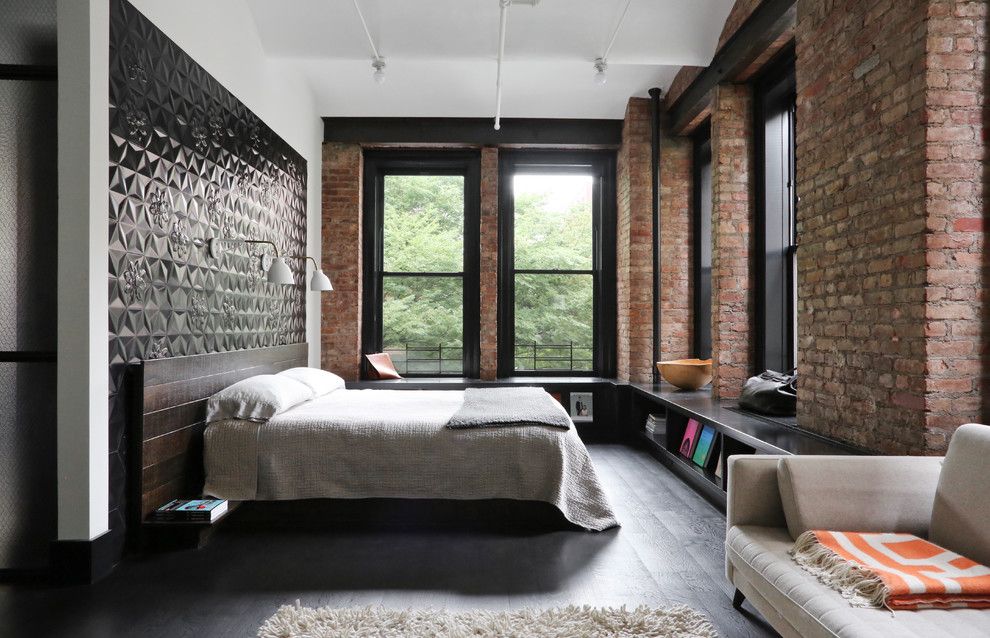 Glass Pane Black Metal Door
This bedroom features an interesting architectural design of a glass pane black metal room divider that opens thanks to two doors. This kind of industrial bedroom door works best in a home with only one bedroom since obviously it doesn't provide much privacy. It does allow the light to flow freely through the space, though! It would be a great industrial bedroom door design for a single person or a couple.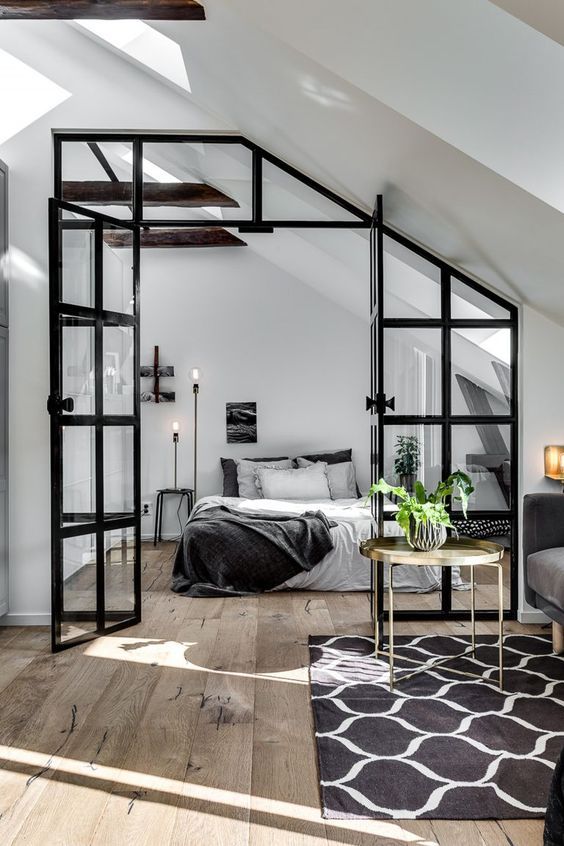 Painted White Brick Wall
This is an industrial design element you can change with a little more ease. A painted white brick accent wall in the bedroom can open up the space, and create interesting dimensions. White paint will also help reflect light around the space instead of absorbing it. This industrial bedroom has two white brick walls opposite each other. The red brick wall pops out since it's in contrast with the white ceiling and blue carpet.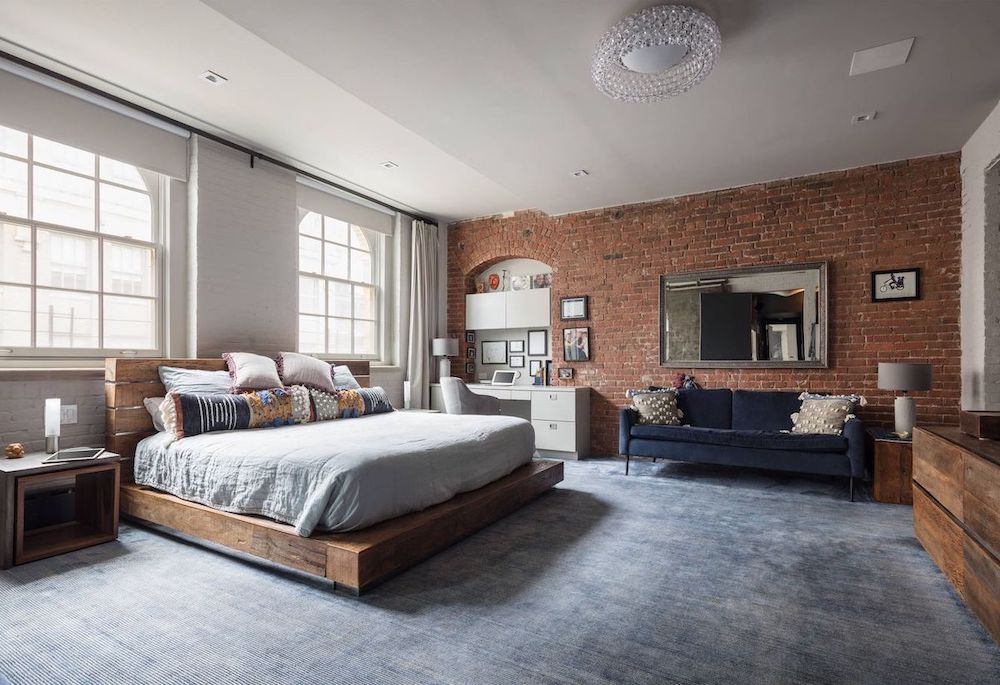 Concrete Floors
Gray concrete floors are a beautiful way to finish your industrial style bedroom. The concrete needs to be sealed as otherwise it would be too rough on the feet, but concrete floors can make for a stunning floor design. This gorgeous industrial bedroom has a black metal frame canopy bed, black sheets, painted white brick walls, and several silver metal dome semi-flush mounts. An animal hide rug has been tossed on the floor for added rustic comfort.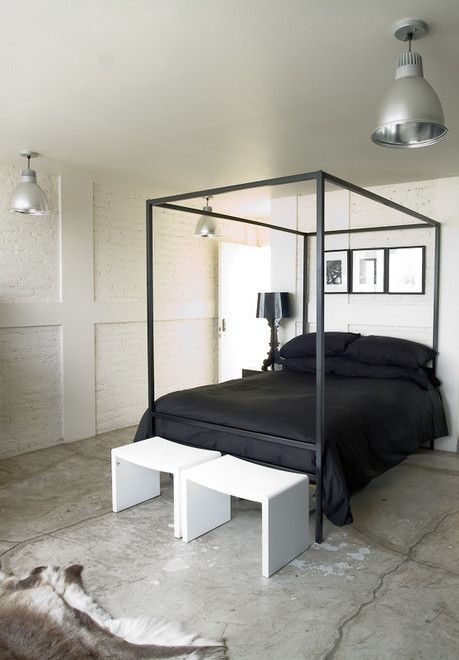 Sliding Wood Closet Doors
This stunning industrial bedroom interior has lots of beautiful factory charm. I wanted to highlight the sliding wood closet doors to the left, where you could store coats and other articles of clothing. Beyond the doors, this space has an eye-catching brick wall which looks like it has the original factory name painted on it! That is a great rustic industrial design touch.
There is also a metal gate barrier separating this bedroom mezzanine from the space below. The wood bed is hoisted upon large iron castor wheels. A cage metal semi-flush mount lights up the space from the ceiling. The wall has several gray wood panels and ample lighting such as the silver pendants and the black wall sconces. What a quintessential industrial bedroom design!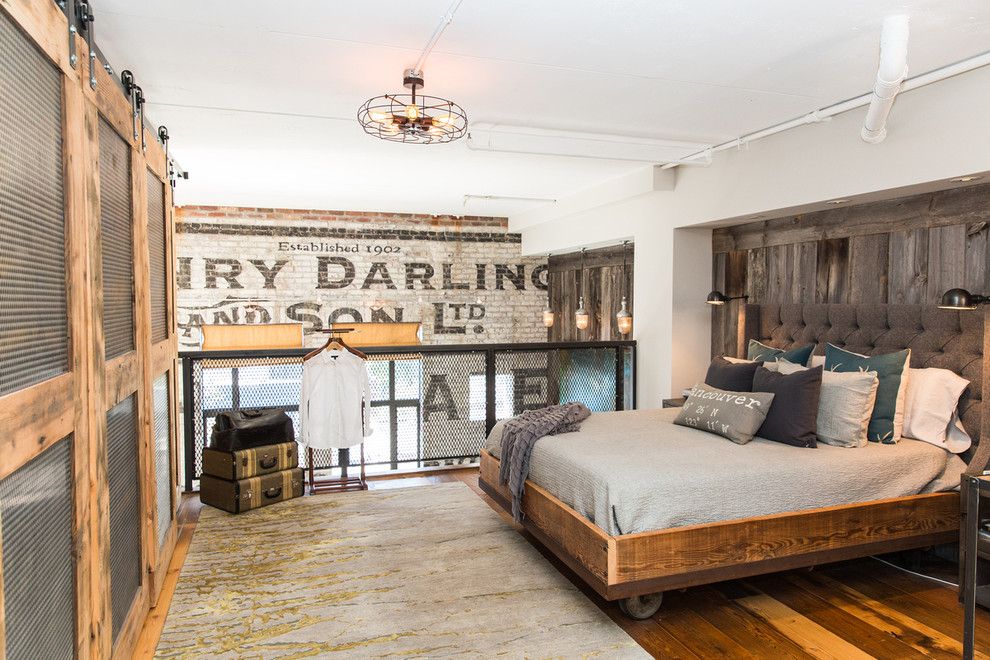 Industrial Beds
Let's talk about a few types of industrial beds you can use in an industrial bedroom. The bed is a central piece of furniture in the bedroom. It's often the first thing you see as you walk into the room. It's also responsible for providing us with a comfortable night's sleep! These industrial style beds will fit in perfectly within your industrial loft bedroom design.
Rustic Wood Bed
To add warmth to the space, I recommend going with a rustic wood bed for your industrial bedroom design. This distressed wood headboard looks great with clean white sheets and a simple white nightstand. The brick accent wall and black metal frame windows are very industrial. A vintage style black metal floor lamp sits in the corner. You'll often find vintage pieces in industrial bedrooms!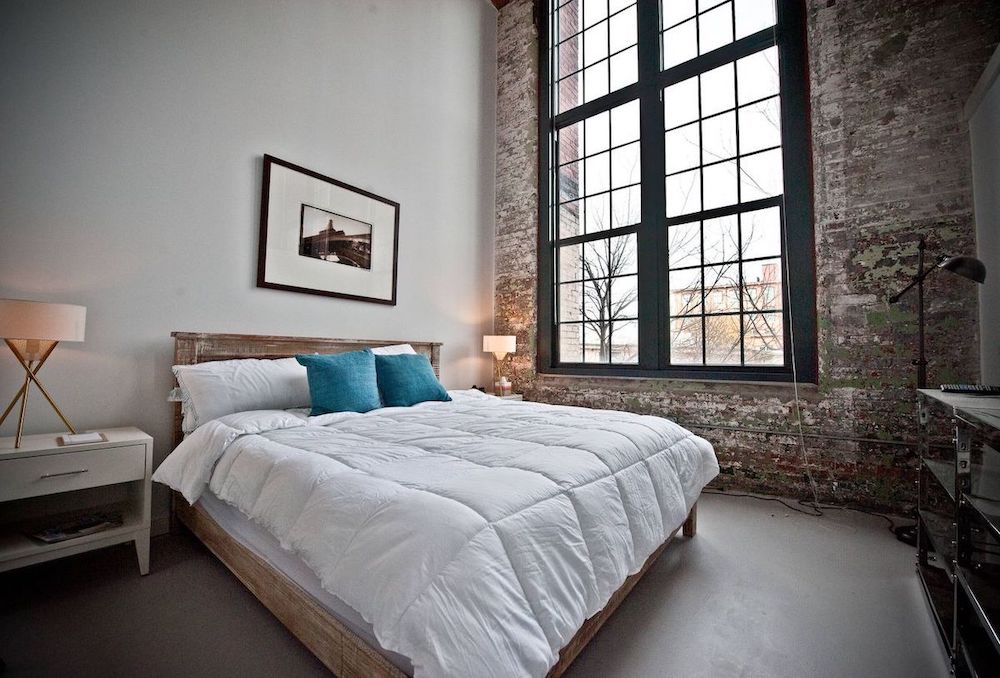 Industrial Bed Hanging from Metal Chains
This is a unique bed choice for the bedroom. Here, a floating bed hangs from the ceiling by four thick metal chains! This is certainly a daring, but cool design choice!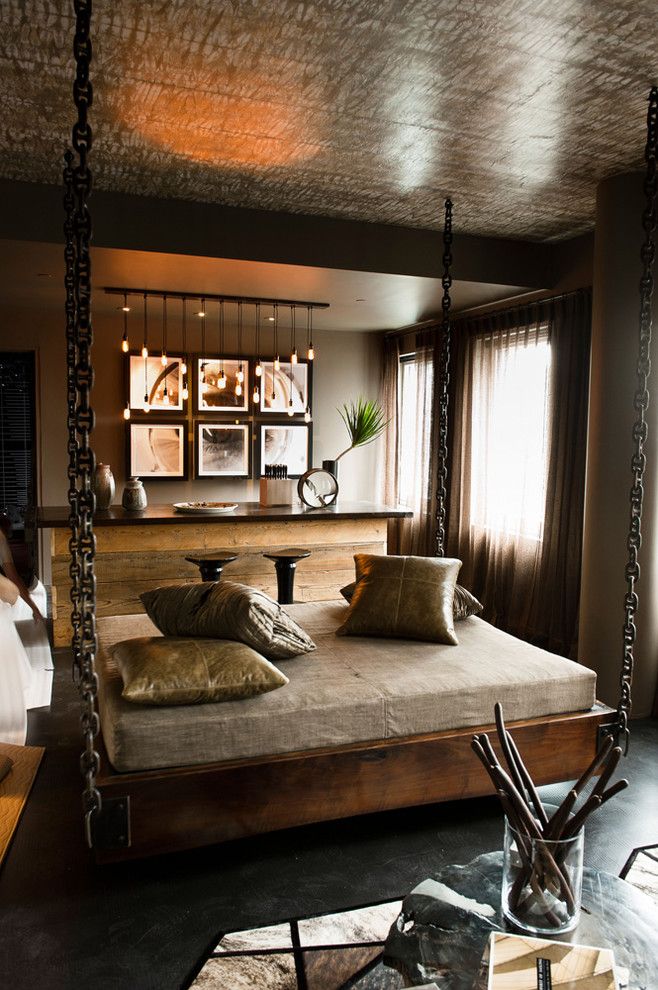 Iron Bed
Here is another classic industrial bed type. This black iron bed frame looks great against the gray wall. A black pendant light dangles from the ceiling. One wall has been left as-is with red brick. A brown leather accent chair sits in the corner of this industrial style bedroom. Dark purple curtains hang near the window to blackout the space when sleeping.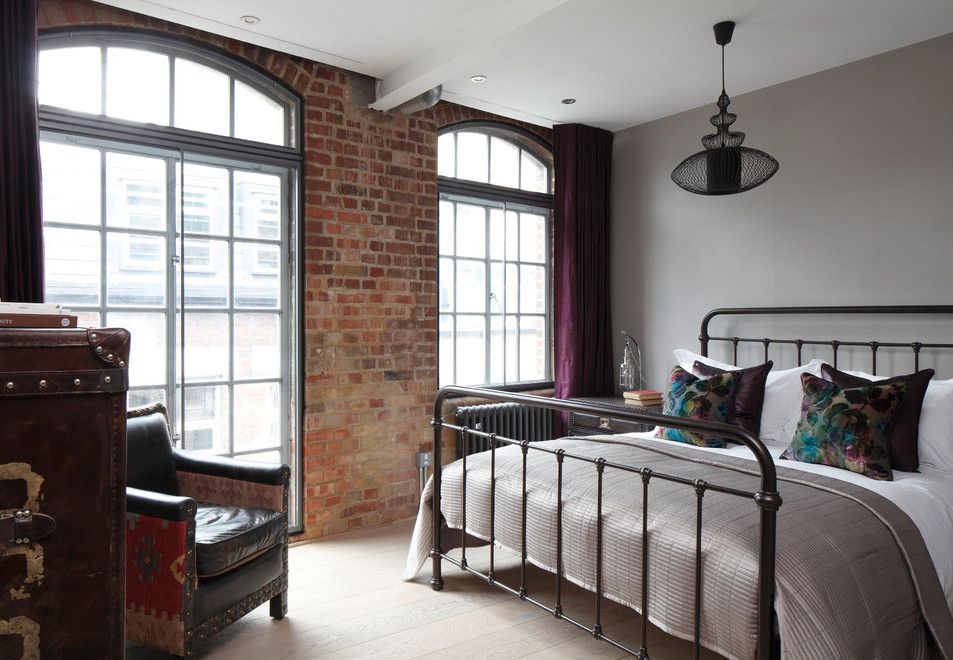 Wood Pillar Platform Bed
This is another one of the more unique industrial bed ideas. Here, eleven wood pillars have been attached to form a rustic timber platform bed. In the center of the pillars lies the mattress and on either side of the bed are two black metal nightstands, each with its own brass task lamp. The concrete wall behind the bed has been partially paneled with wood, creating an elongated headboard of sorts. A three panel abstract artwork hangs on the wall centered above the bed.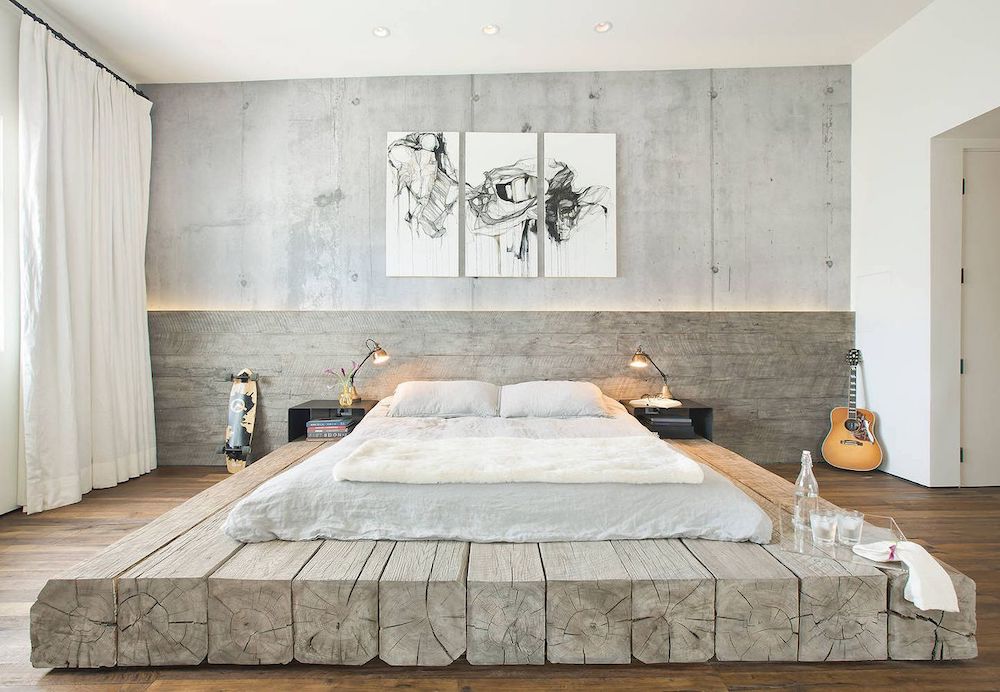 Industrial Bedroom Furniture Ideas
Now let's share some key industrial bedroom furniture ideas. From dressers to armoires to nightstands, there are lots of key pieces of industrial bedroom furniture you need to consider buying. If you have the space, an industrial bookcase or a home office desk are great additions. Here are some industrial loft bedroom furniture ideas.
Black Metal Bookcase
An open shelf black metal bookcase is a great idea for storing books and other personal effects in your bedroom. It can also serve as a see-through room divider if you need it to. I like how this bookcase serves as a barrier between the bedroom and the staircase which descends below. It rests flush against the dark gray accent wall of this industrial mezzanine bedroom.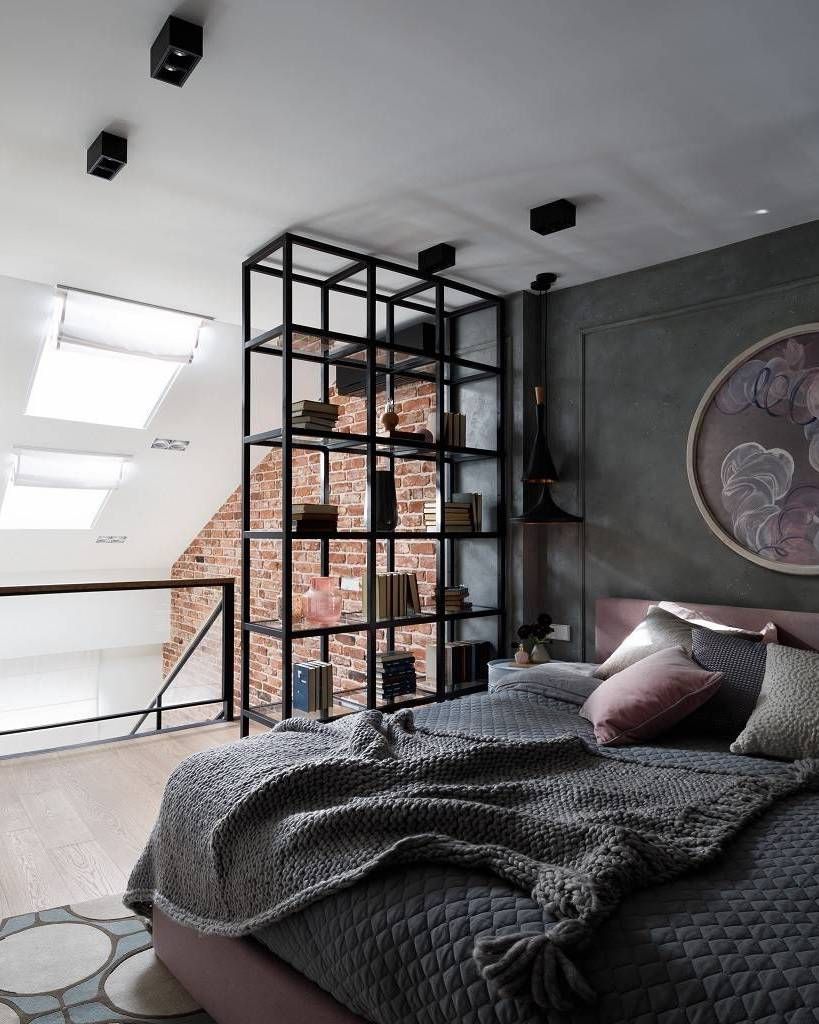 Swing Chair
Installing a swing chair in your industrial bedroom is a fun way to create a sitting area in the space. This white swing chair hangs by a metal chain from the ceiling.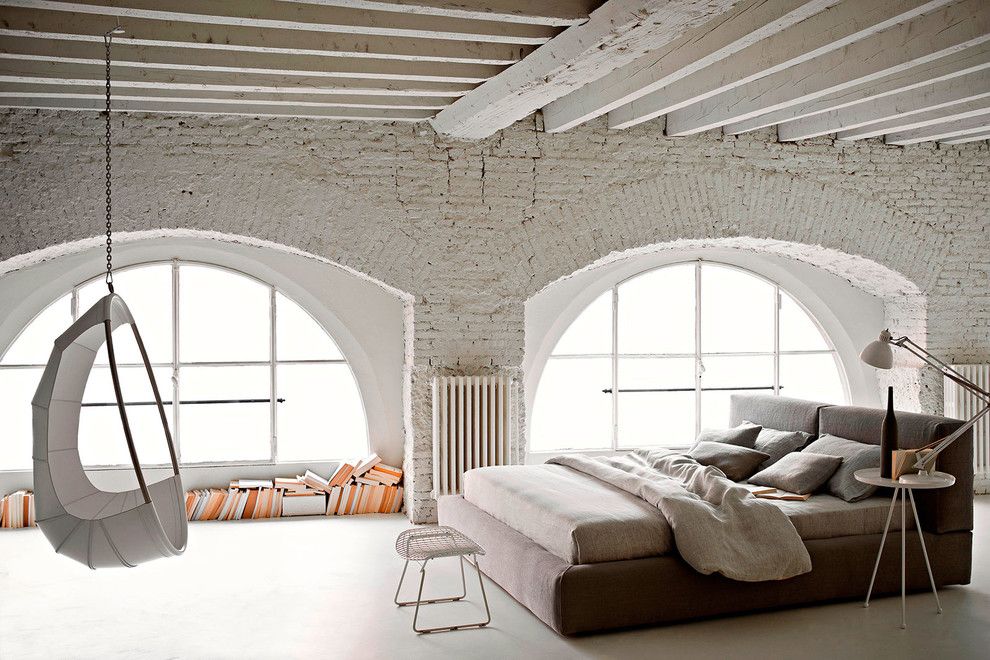 Wood Office Desk
A rustic wood office desk is sometimes necessary in our bedroom if we don't have a dedicated home office. I like the creativity of this bedroom design which places the bed against the back of a thick wood executive desk in the center of the space. It allows the owner to circulate around these pieces of bedroom furniture. Many people place their bed against the wall, but I really like this island-like bedroom furniture layout.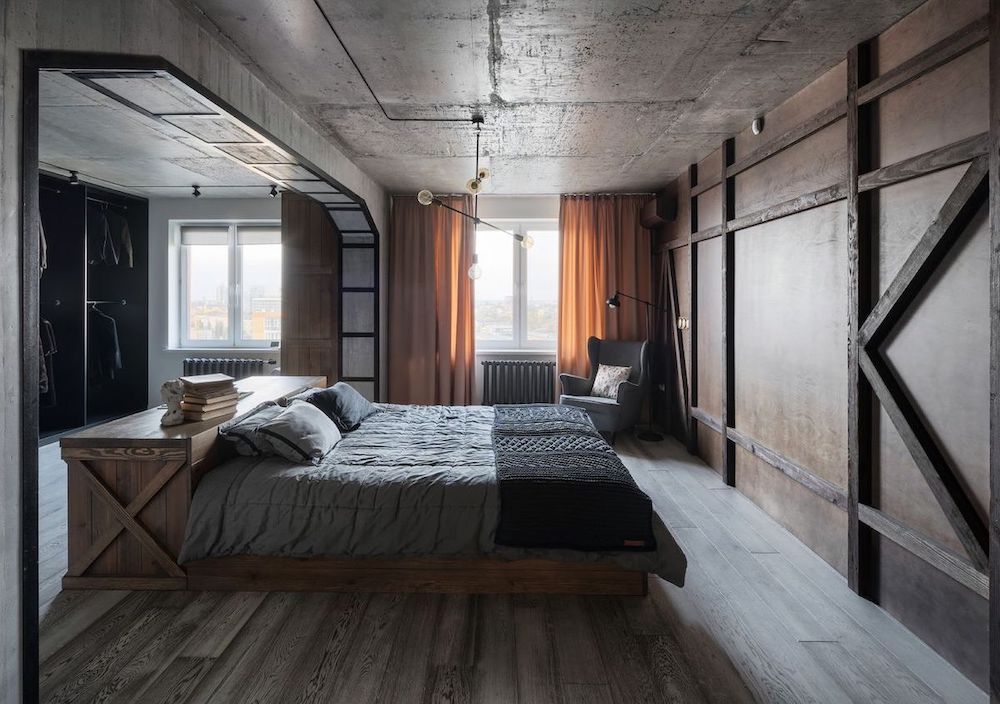 Rustic Wood Armoire
A wood armoire is a great way to add extra storage to your bedroom. These pieces of bedroom furniture can be bulky but they add hidden storage for coats and more. This one has a giant illuminated "N" decoration resting on top.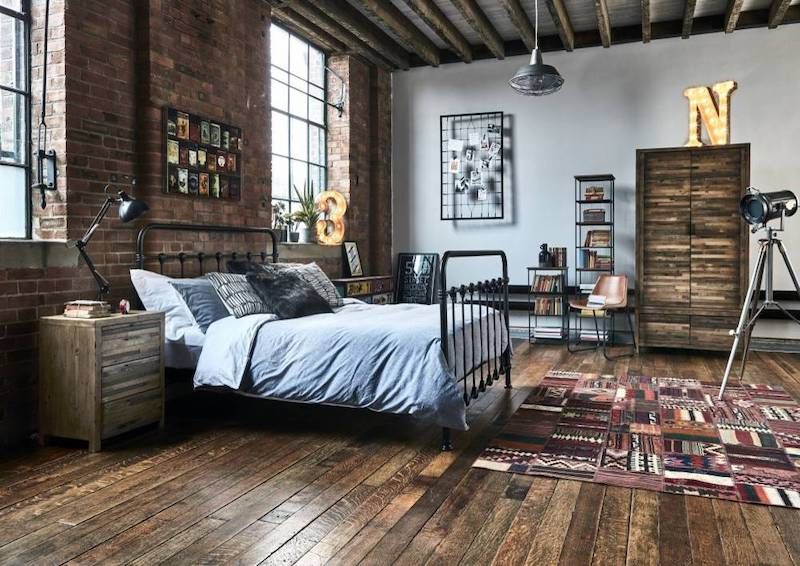 Bedroom Furniture on Wheels
I noticed that much industrial furniture design features a wood frame and iron metal wheels. I think this style keeps in line with the factory feel of industrial design. The thick black metal wheels are reminiscent of machinery and rolling carts. This room has a bed, nightstand and low table all with black metal wheel legs. A group of black iron factory wheels serves as an artwork on the wall to the right. A thick metal pipe has been left exposed near the corner, against the gray concrete walls.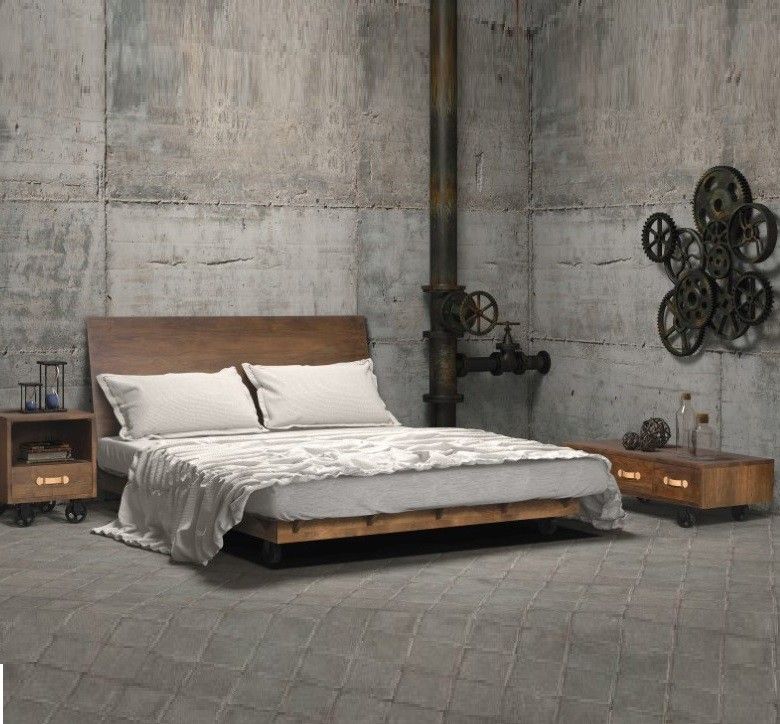 Silver Metal Bed and Metal Dresser
Another popular industrial bedroom furniture theme is the silver metal finishing. You can see this very industrial looking silver metal bed frame here. Against the concrete floors and white brick walls, this bed looks great. There is also a gray metal 12-drawer dresser against the painted brick wall. Silver metal tends to be more shiny and can lighten up a room.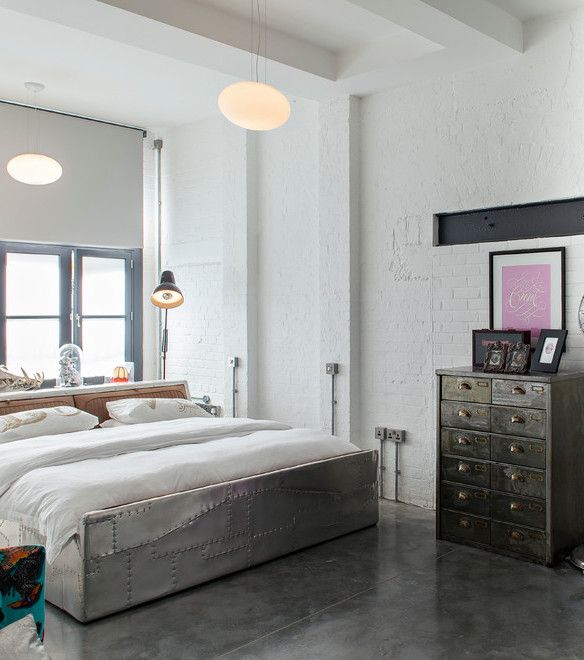 Industrial Bedroom Decorations
After you get all the furniture settled in, you'll want to think about the decorations of your bedroom that will make it really feel like home. You'll want to give it some character and show your personality. Decorations and wall art can make that happen. Here are a few on-trend industrial bedroom decorations for your walls, surfaces, and more! You'll notice that industrial style bedrooms rarely have rugs. I think this keeps the space as raw and loft-like as possible.
Industrial Factory Wheels Wall Decor
This is one of my favorite industrial bedroom decor ideas! It's such a quintessential industrial bedroom design example. The set of black iron factory wheels creates a beautiful wall sculpture for the space above the bed. Swing metal sconce lighting provides targeted reading light above the bed. A black leather channeled bed has been placed against the wall. This bedroom has beautiful architecture with a red brick wall, large windows, high ceilings and exposed black metal beams.
Black and White Photography
Black and white photography is a must for your industrial bedroom walls. You can also go with abstract art, but I find that large black and white photography prints look stunning in industrial bedrooms. You can frame them in simple white or black frames as you like.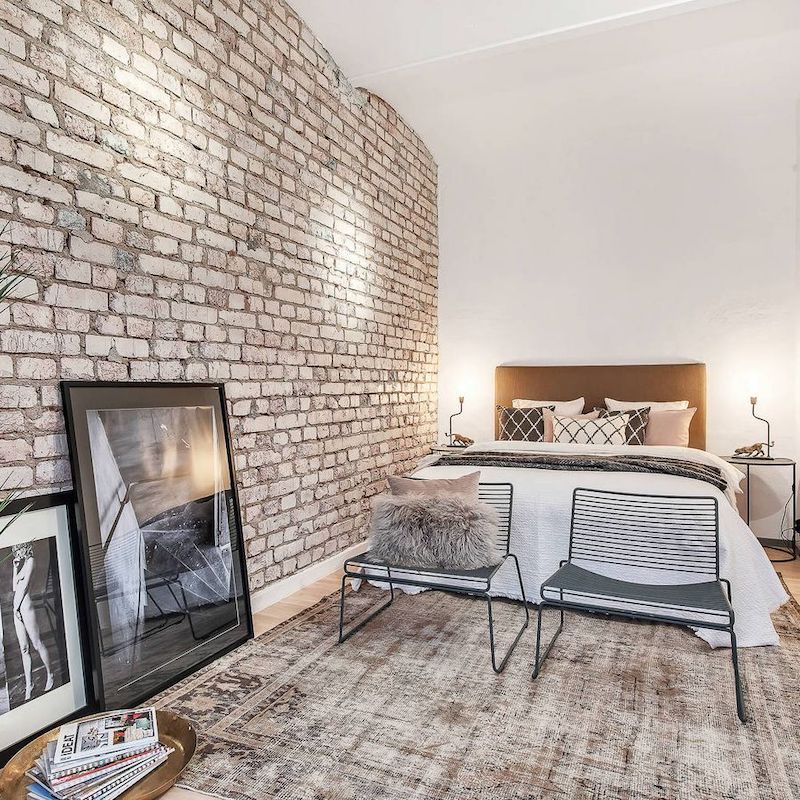 Sheer White Curtains
This is such a dreamy industrial bedroom space. The sheer white curtains filter the outdoor light while providing privacy to the occupants. This bedroom is light and airy while still carrying its industrial bones and charm. A sheer metal curtain has even been draped from the ceiling over the bed for a unique look.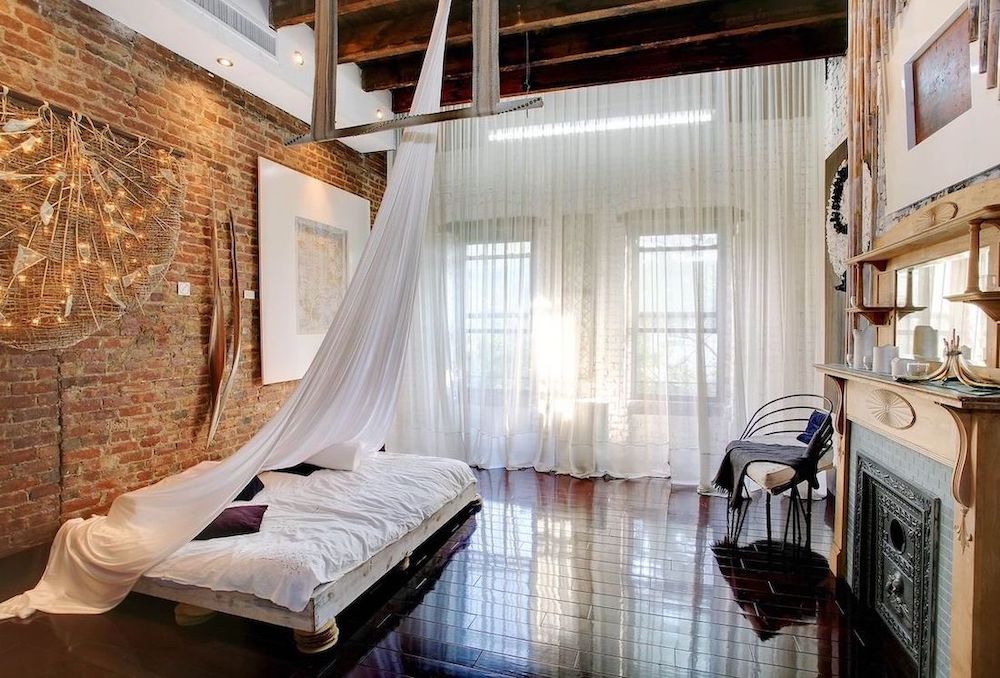 Gray Panels Walls
An interesting decorative element is to add gray panels to the lower half of your bedroom wall. Above, a printed vintage wallpaper gives this space an old-world charm. Two wall sconces have been installed above the nightstands near the bed. The gray velvet sheets and throw blanket look so comfortable! This is a great gray industrial bedroom design.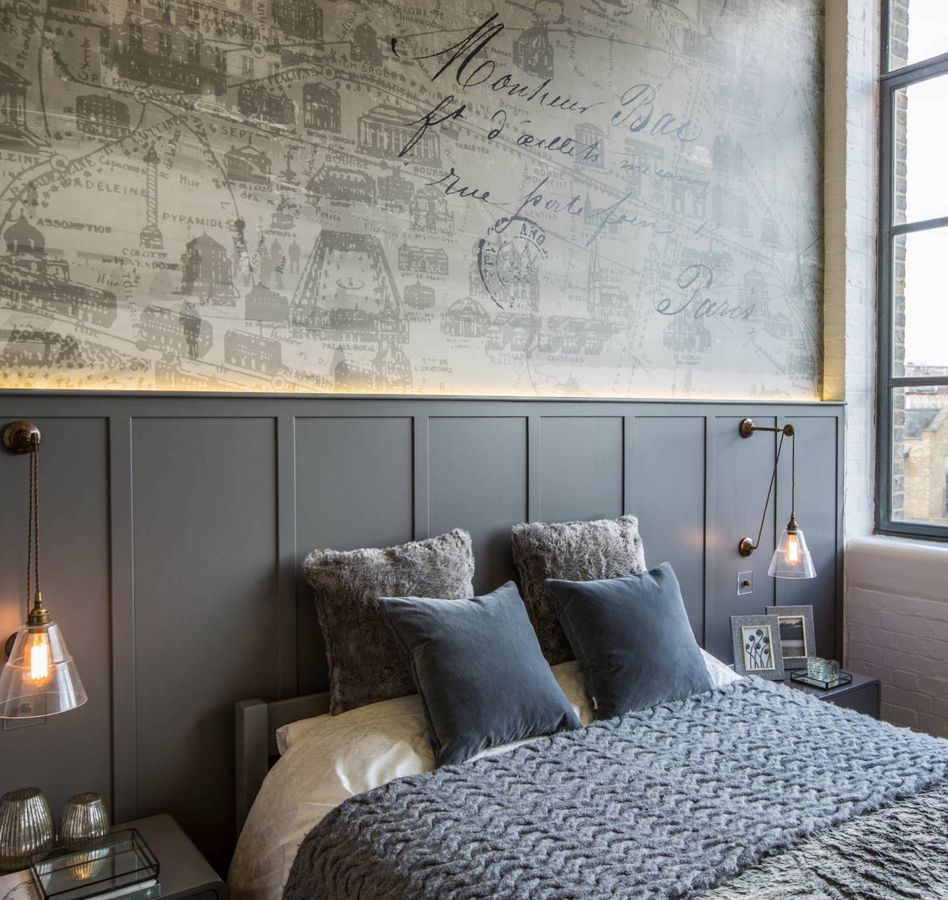 White and Gray Bed Sheets
You have probably noticed this industrial bedroom decor idea already, so far! Gray and white are popular colors for bed linens in industrial style bedrooms. Here, a set of crisp white bed sheets has been used with a gray wool throw blanket on top. The tufted gray bed frame provides a cozy place to sleep in this industrial bedroom.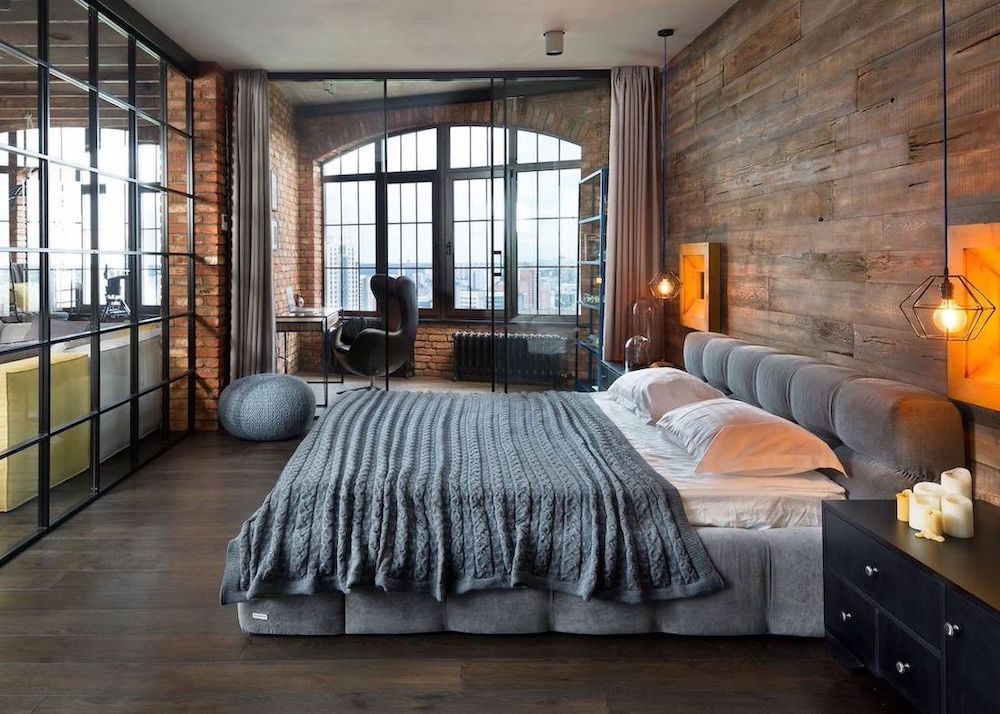 Gray Newspaper Print Wallpaper
A fun idea is to cover one wall of your industrial bedroom with a vintage or factory inspired wallpaper. Here, a gray newspaper print wallpaper makes it look like the walls have been plastered in old newspapers. I think this gives the space a lot of charm, and provides a great backdrop for the black and white abstract painting hanging on the wall above the bed!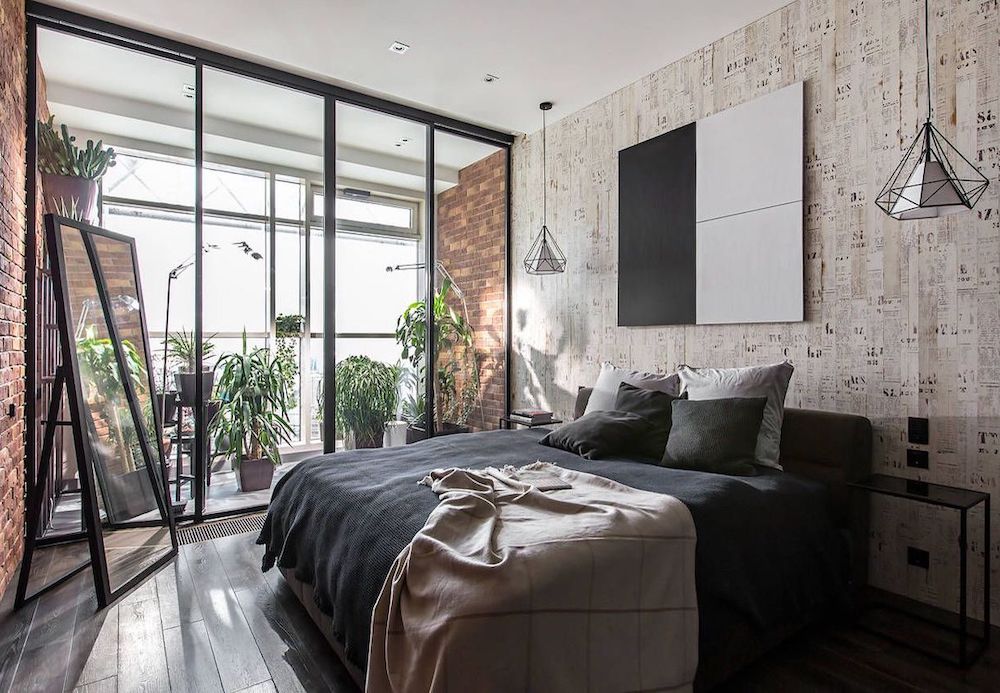 Industrial Bedroom Lighting Ideas
You'll definitely need a good source of lighting in your industrial bedroom to set the right mood in this space. While you don't need a super bright lighting fixture, you probably want some targeted lighting in specific areas to help you read before bed and find your clothes in the morning, for example. Here are our favorite industrial bedroom lighting ideas!
Bare Hanging Light Bulbs
The bare light bulb trend originated with industrial lighting design. Since industrial spaces were primarily used for work purposes, there was no need for a fancy or beautiful lighting source. So workers just hung a lightbulb connected directly to the building's electricity! This trend took off and now you can find this style of bare-bones lighting in many different style homes. For more light, you can hang a small group of bare light bulbs as seen here above this industrial canopy bed.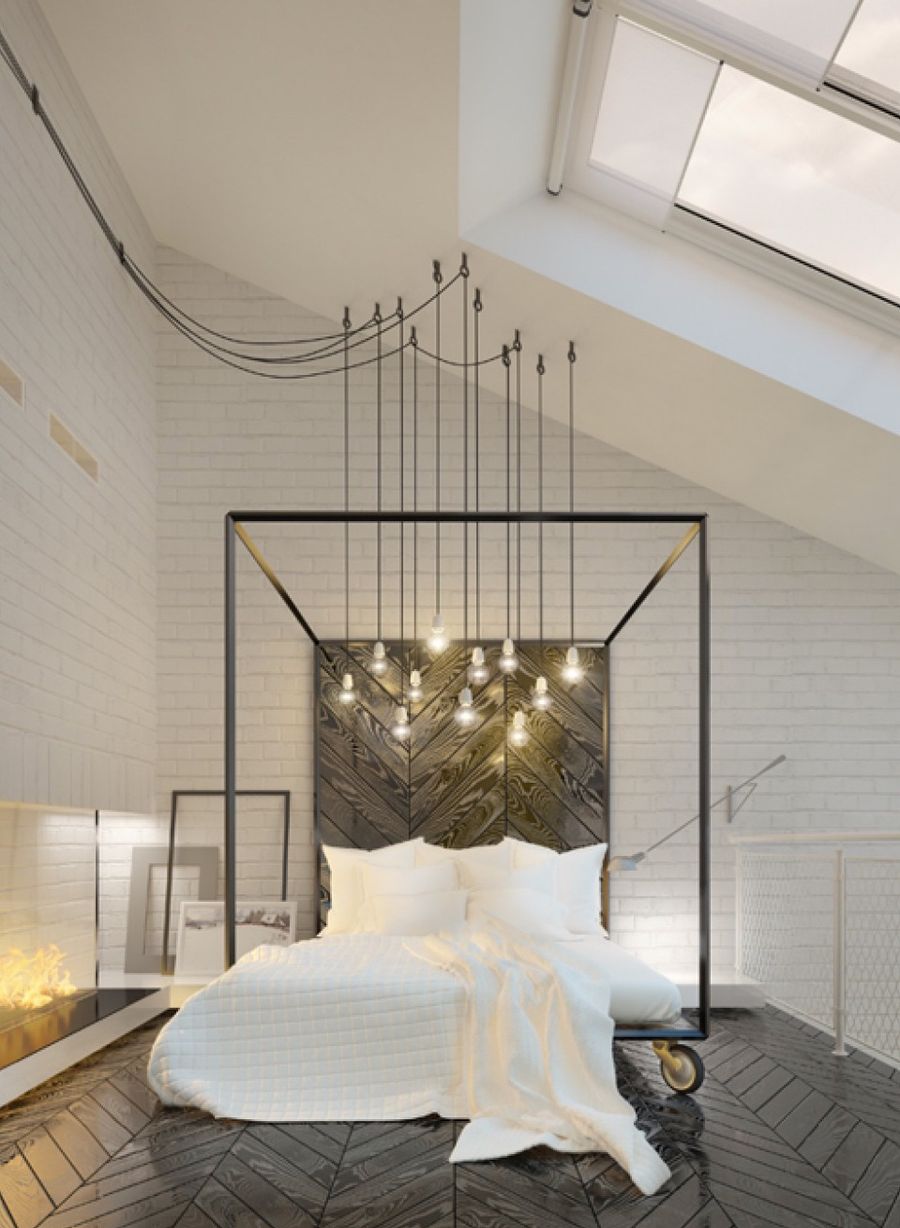 Cage Lighting
Cage lighting is another hugely popular lighting design trend in industrial style bedrooms. You can find cage style lighting in many different forms. Cage lighting is just a lightbulb with a very open metal frame composed of several rods. There is no shade to filter the light, just some metal beams to protect it. This industrial bedroom has a large cage pendant light hanging from above the bed. It contrasts well against the white bedroom wall behind it.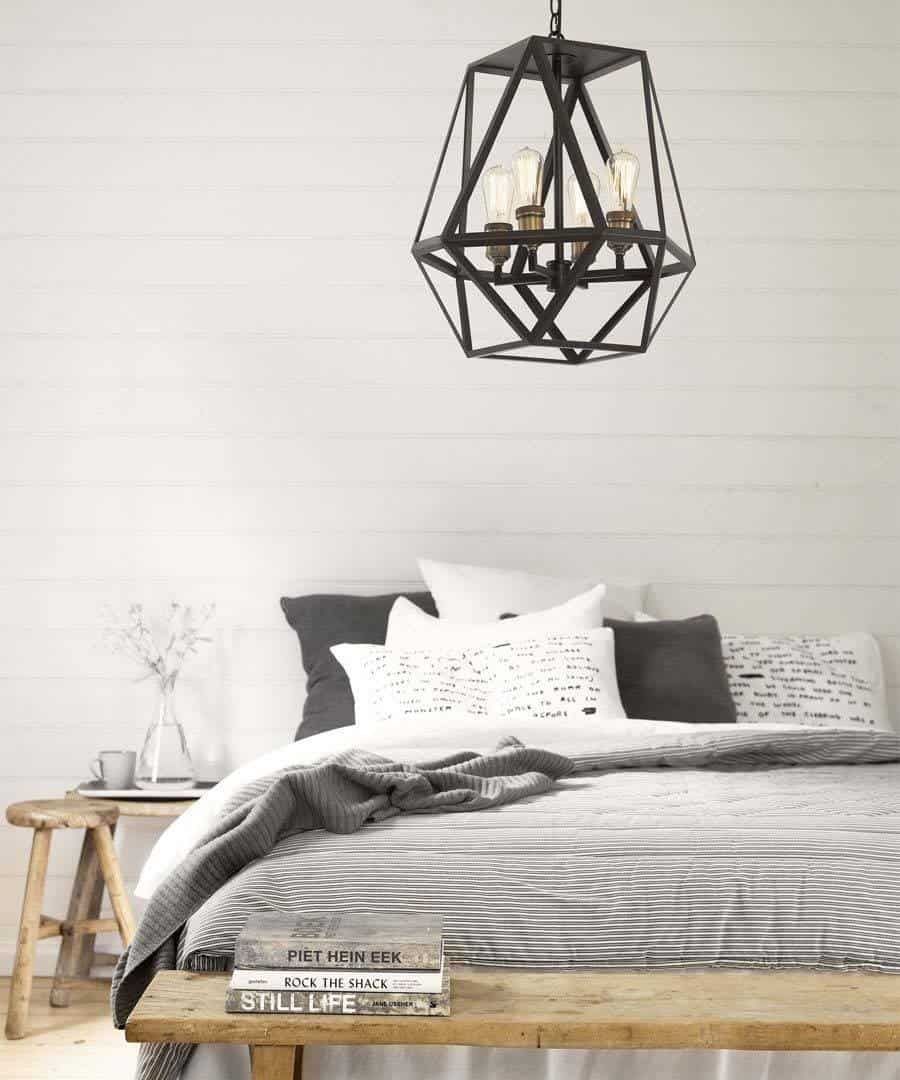 Metal Dome Pendant Lighting
Metal dome pendant lighting is another great industrial bedroom lighting idea. Metal dome lights have a round upper surface shielding the light bulb. The bulb is visible when looking at it from below. This style of lighting fixture can come in very industrial looking designs.
I hope you found these industrial bedroom decor ideas inspiring and you're ready to tackle your next bedroom design project! Industrial decor can be intimidating, but once you know the basics, it's easy to spot many furniture, lighting and decorations that will fit in well with your aesthetic.
More Industrial Decor Ideas & Guides
If you love the industrial interior design style, then please continue reading some of our related posts on this decorative theme. We love sharing the most inspiring industrial design ideas with you! You can also subscribe to our weekly email newsletter to receive updates on our new posts.
Happy curating!