Industrial design has evolved over a period of time and started to reach its peak of popularity in the late 1990s as it has acquired a refinement and gave comfort to people. With this being said, an industrial-designed dining table is an ideal piece of furniture for homeowners. Industrial dining tables can host your guests when you are entertaining them in a chic manner.
Industrial Decorating
Industrial decorating is a popular style that incorporates rustic materials that might be found in an old loft or abandoned factory. A lot of people are not familiar with industrial design because they don't see it in everyday life in the suburbs or countryside.
For this reason, many people don't realize how versatile it can be as a decorating choice! It has become a popular interior design style in urban areas.
Industrial decorating can be used to create an eclectic, vintage look or keep things modern and sleek. It's also great for families because there are plenty of options available when you're looking for furniture that can withstand kids running around.
The term "industrial" refers to the materials used in products such as metal and wood (it doesn't mean it has anything to do with factories). The use of solid wood and metal gives this kind of room an open feeling that makes it feel larger than its actual size.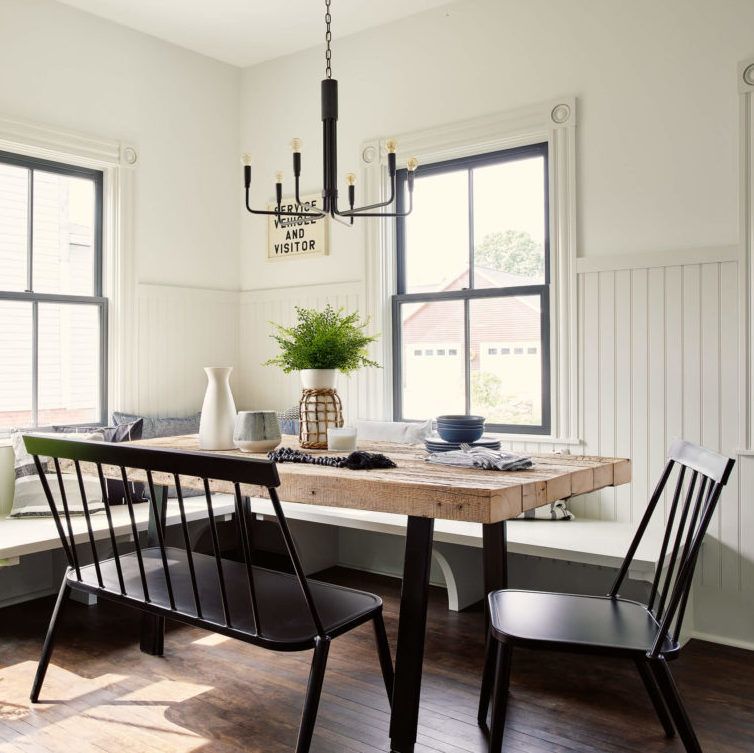 Industrial Dining Table Ideas
Here are a few popular industrial style dining table ideas to consider!

Metal Dining Table
Metal dining tables can be simple or ornate, made from copper, brass, iron, or any metal alloy. They can be used to reinforce other materials such as wood. If you want something that has more of an industrial look and feel to it, then the use of metal will provide this.
This is one of the types of industrial dining tables that are available in all shapes and sizes but they do tend to be larger than other types of tables due to their design requirements. They are usually made up of four legs which makes them very sturdy so they're great if you have children who are going to be sitting at the table while they eat as they're unlikely to tip over easily!
Rustic Wood Dining Table
A reclaimed wood dining table is a great way to bring in rustic charm and create a rustic atmosphere. This can be done with a handcrafted table made from reclaimed wood, or by using live edge (or tree-grown) slabs of wood that come with their own natural character and knots.
Industrial Dining Room Style
Industrial style dining room furniture is a popular design trend at the moment, and for good reason: it's a cross between vintage and modern. It's about using raw materials in new ways and making them look old. You can even use reclaimed wood from shipping crates or old railroad tracks to make your table!
The industrial design movement started during the Industrial Revolution when mass production methods were being developed to help meet the demand for goods created by farming and factory labor. The industrial designs of this time period used raw materials in simple ways, often focusing on functionality over form. Check out these cool industrial dining rooms for inspiration.
What to Look for in a Dining Table
When shopping for a dining table – whether industrial dining tables or another design entirely – there are several things you should look for. The dining room table needs to be big enough to accommodate your family and some extra friends or guests. Make sure it fits the style of your home—you don't want your new dining room table to clash with all of the other elements in your house.
Durability is also important because this piece of furniture will get a lot of use over time, so don't skimp on quality!
Finally, make sure that you buy something that's easy to clean. If you have kids at home or live with pets who shed profusely then consider these factors before making any purchases!
I hope you enjoyed this list of the best industrial dining tables!