Industrial staircases are not only for renovated factories and Brooklyn warehouses. Residential homeowners can use them to complement various spaces, including urban lofts and suburban homes. They are available in extensive designs, colors, and materials. These industrial style staircase design ideas will give you some creative ways to install a staircase in your industrial loft or home.
Staircases are integral parts of the home and get us from one floor to another. This transition should be seamless and the primary function of a staircase should not be forgotten during the design process. You want to ensure that it's as easy as possible to walk along the stairs without taking up too much space in your home since, after all, this is just a transitory space.
What Are Industrial Staircases?
Industrial staircases are staircases designed in the image of industrial spaces and old factories. They can give your home the industrial feel you desire. You can get them in various designs, construction, and materials. People use them in commercial halls, industrial spaces, and residential properties.
Industrial staircases are often comprised of stainless steel or aluminum materials. Manufacturers can design parts for assembly at their point of use. You can get them in various stair types, such as straight, floating, or spiral.
What do Industrial Staircases look like?
Industrial staircases are often gray and made of metal or steel. If you need a specific look for your home, a staircase manufacturer or contractor can work with you to customize a residential staircase to suit your needs.
Industrial staircases can be excellent additions to your apartment or loft space.
Industrial Staircase Decor Ideas
Here are the top inspirational industrial staircase design ideas to get the look you want. There are many types of staircases that can give you an industrial aesthetic.
Storage Beneath
You can make use of available space beneath the stairs to add a small storage area.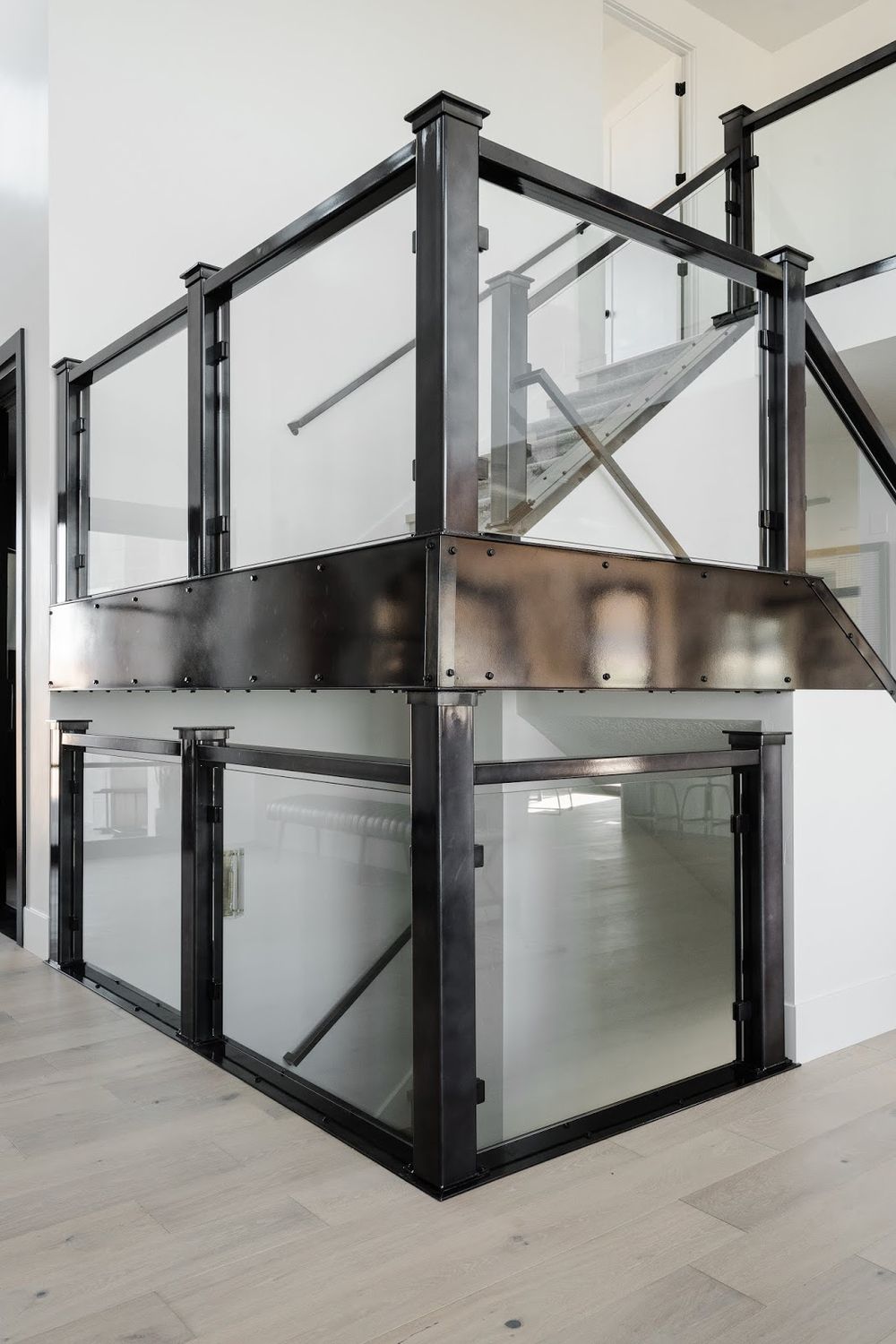 Dark Paint
Your stairs can make a bold statement if you choose dark colors for the wall behind. You may offset the dark paint with light shades on walls and warm details with lighting fixtures and picture frames.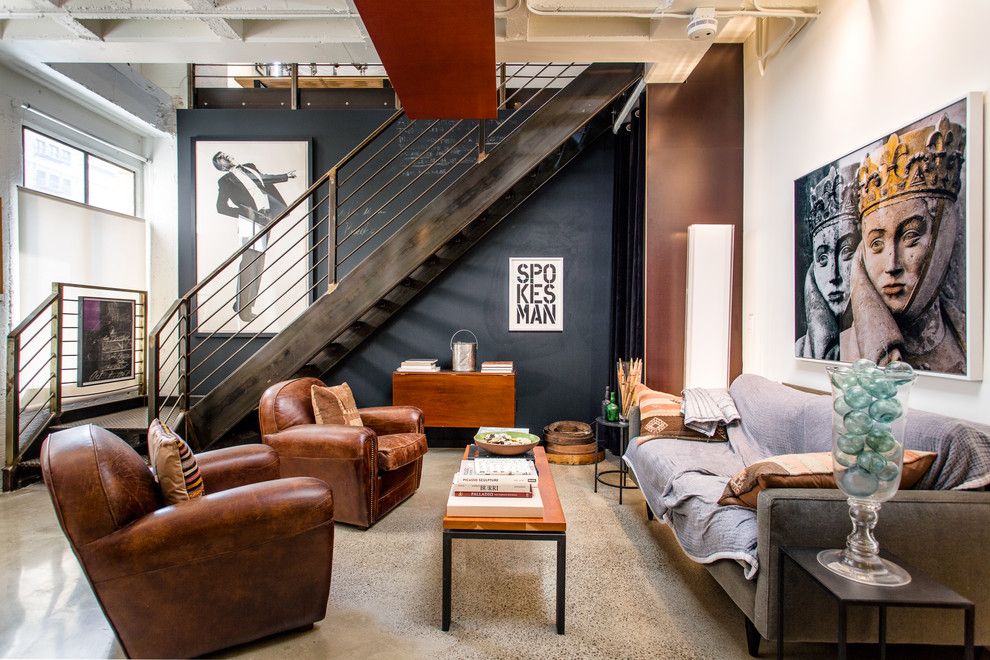 Ladder Staircase
If you're working with a small space, consider adding a ladder as part of your staircase.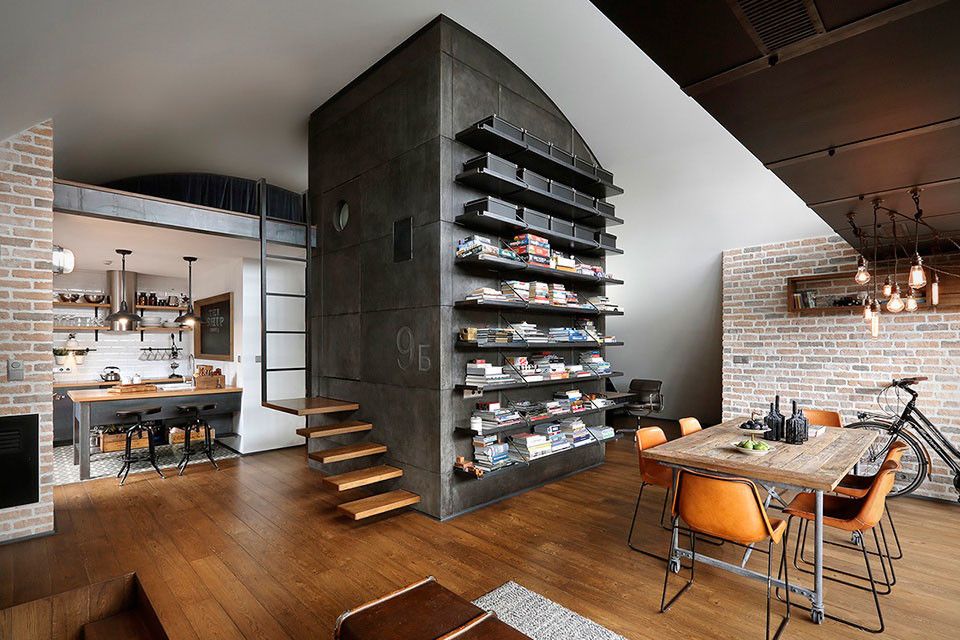 Simple Black Spiral
A black finish staircase will really make your staircase pop against a white wall.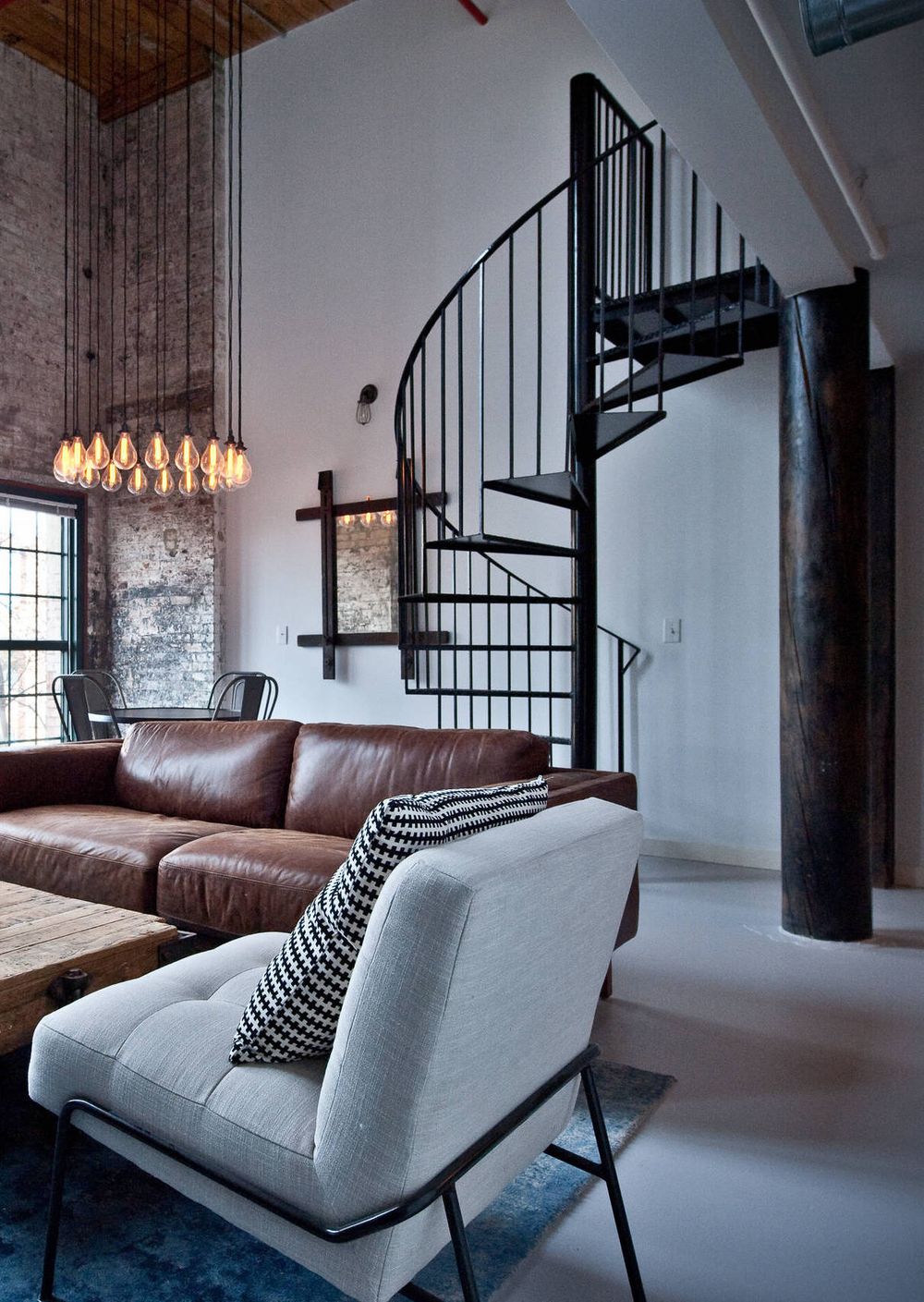 U-Staircase
The U-staircase is a popular industrial design choice for homes.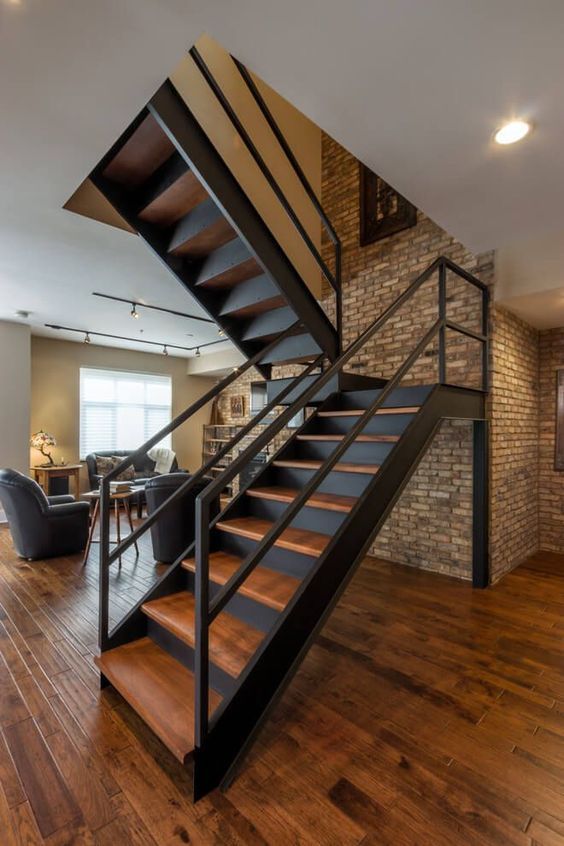 Concrete Base
A concrete foundation is a great way to make sure your staircase is well founded.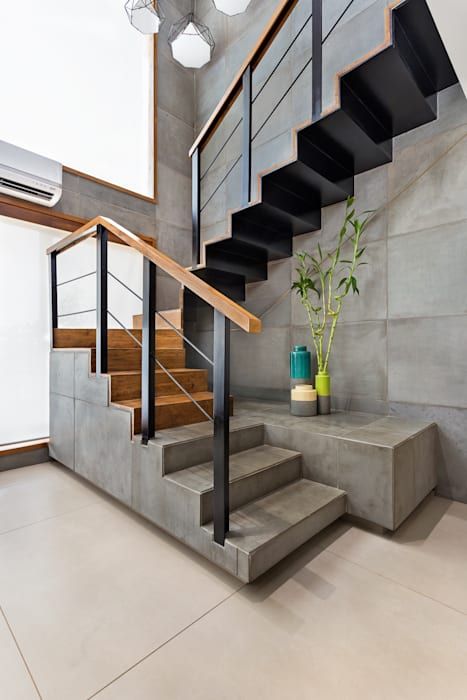 Spiral
Spiral staircases are very practical as they take up little space in the home. They're great for industrial apartments.
Attach it to a Brick wall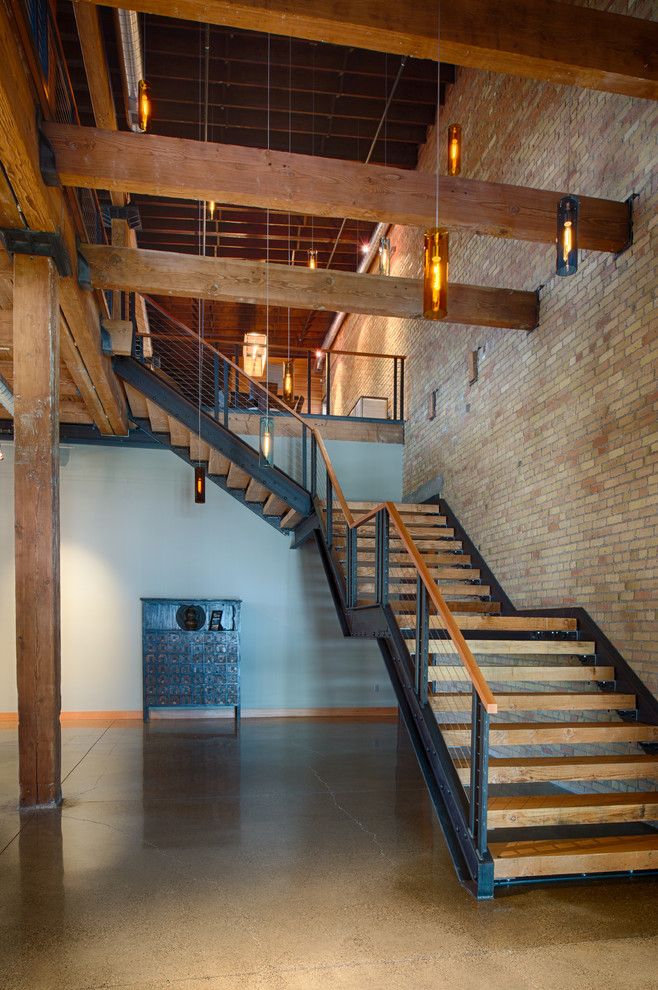 Use Wood Steps
This industrial staircase has a steel beam frame with rustic wood steps.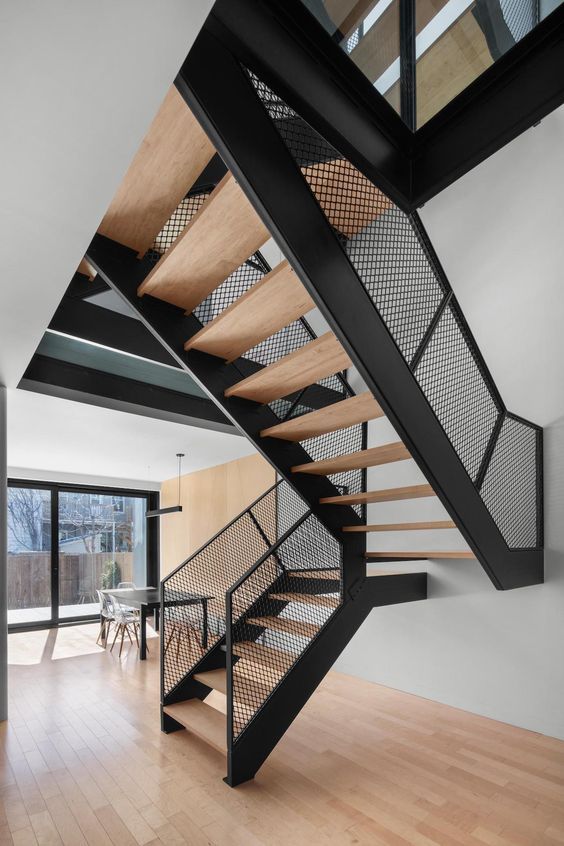 Keep it Airy
Simplify the stairs with a floating metal design and sleek handrails on the stairwell's sides. This airy design looks very straightforward, practical, and beautiful.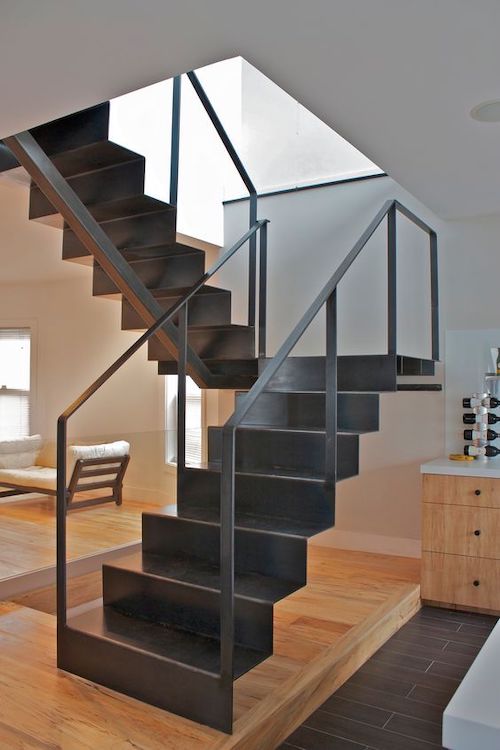 With a little creativity, you can transform your space to suit an industrial staircase. These design ideas ensure the staircase doesn't appear out of place and complements the home's look.
More Industrial Decor
Stick with a natural color palette to get the industrial decor feeling at home. Mix neutrals, grays, and rustic colors. You can add furniture and other industrial fixtures if you use these shades.
While industrial lofts are known for their open layouts, you might want to close off openings and divide up larger living spaces. A sectional sofa blocks the flow and defines a separate living room to create the illusion of several rooms.
Lighting fixtures with metal finishes suit industrial interior design. Large windows may also bring in natural light, which is essential for small spaces. Overhead light sources can give the room a glowing ambiance.
Looking for more industrial interior design ideas? Check out these related posts on factory-inspired home interiors: