Looking for the best industrial bathroom decor ideas and trends this year? You've come to the right place. If you love factory inspired interior design and you have a bathroom in your home you'd like to renovate, then this post will be relevant to you!
Renovating a bathroom is no easy task. But we have some design tips that will inspire you whether you're looking to replace your toilet, sink, shower, bath, floor, bathroom accessories and anything else! If you're doing a full-room makeover, that will make our tips all the more useful.
Bathroom design is all about creating a functional space to do your business, wash your hands, clean up, and maybe do your makeup, too. It's often a small space to work with, so you need to make sure every square foot is properly used.
Industrial Bathroom Decor Ideas
One thing is for certain. Industrial decor has become extremely popular over the years. This interior design style was originally inspired by the many factories that popped up after the Industrial Revolution. Located mainly in urban cities like New York, Chicago, and Detroit, these factory-inspired interiors started appearing in homes beyond the city walls. A decor trend that was once relegated to high-ceiling city lofts and apartments has now been incorporated into quiet homes in the country and smaller sized city dwellings across the United States.
Most people like to go with a clean and simple decorating aesthetic so that you can focus on what needs to be done in the room and get out fast. Most people don't like hanging around in their bathroom – unless they're going to take a relaxing bath of course! In that case, we can help you create an industrial style home spa, too.
Our hope is that this post will help you create the perfect mood board for your industrial bathroom reno project! I'll give you an overview of the major industrial style bathroom design ideas below.
Machinery Industrial Bathroom Vanity
Industrial furniture is often inspired by heavy machinery and factory designs. This bathroom vanity with a utilitarian base is a great example of incorporating old machinery into a modern bathroom design. The rest of the space looks very updated from the white wainscoting walls to the marble bathroom countertop and vessel sink. A round silver metal mirror adds to the industrial charm of the room.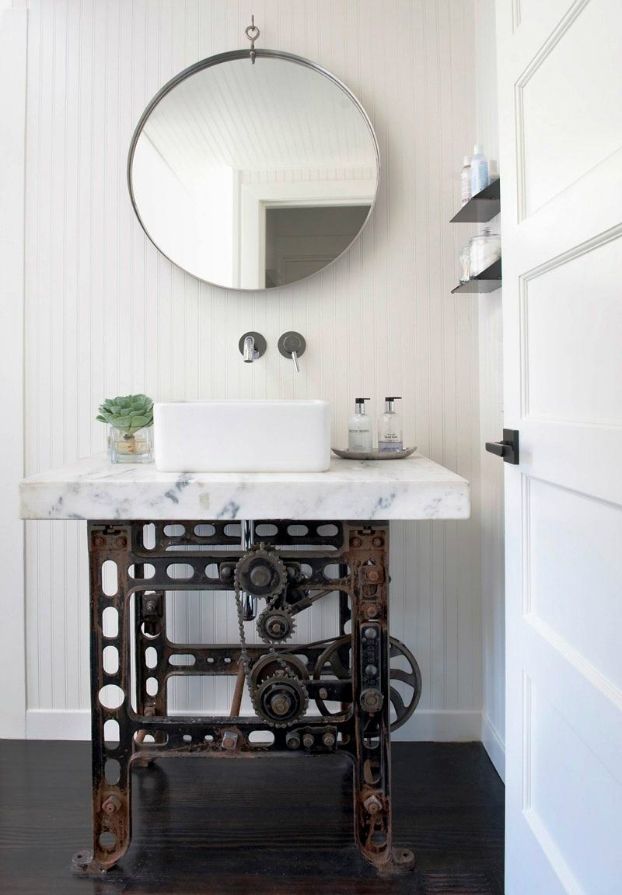 Rustic Wood
Many industrial bathrooms have at least one element of rustic wood. This helps to warm up these spaces which often appear quite cold and uninviting. A wood vanity or a small wood stool can go a long way in making the space feel comfortable and welcoming.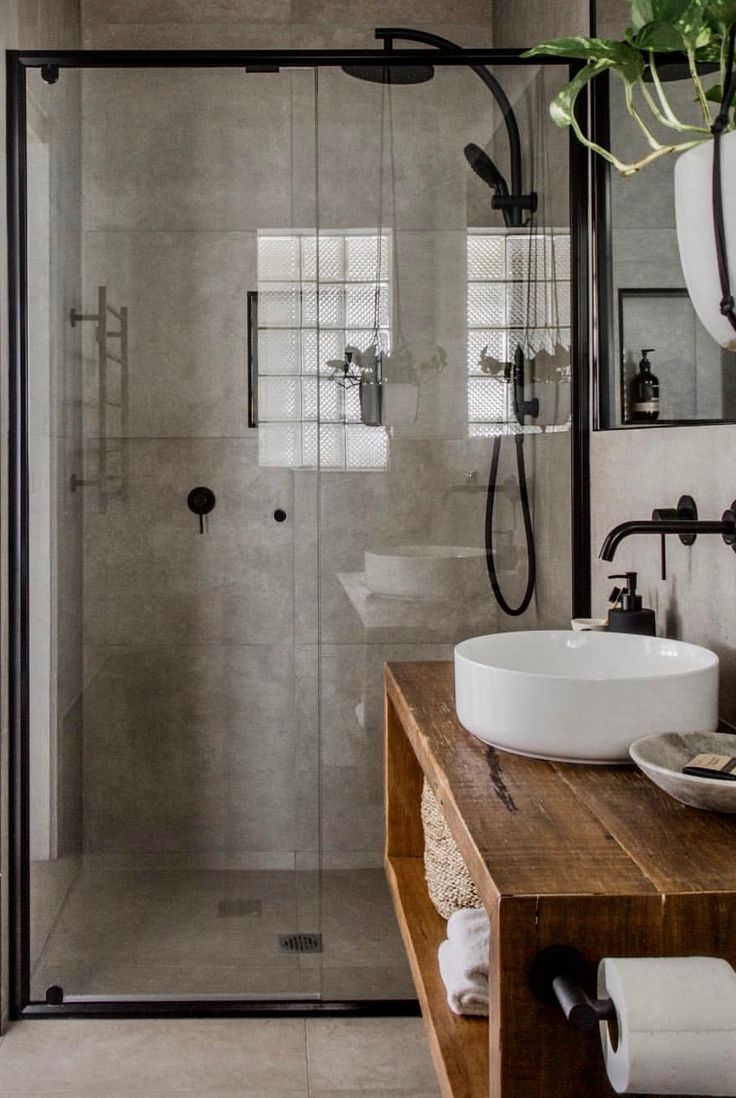 Caged Lighting
Caged lighting is a hugely popular industrial lighting trend. From caged sconces to caged pendants, there are lots of ways to get this look in your home. The black metal caged lighting fixtures in this bathroom go a long way in making the space feel like a 20th century factory.
This room is filled with great industrial bathroom decor ideas, actually! There are black hexagonal floor tiles, white long hexagon wall tiles, rustic wood cabinets, brass bathroom mirrors, and black faucets to take inspiration from. The wood ceiling is unique and rarely seen. I especially love the black metal framed window paneling separating the shower from the rest of the bathroom.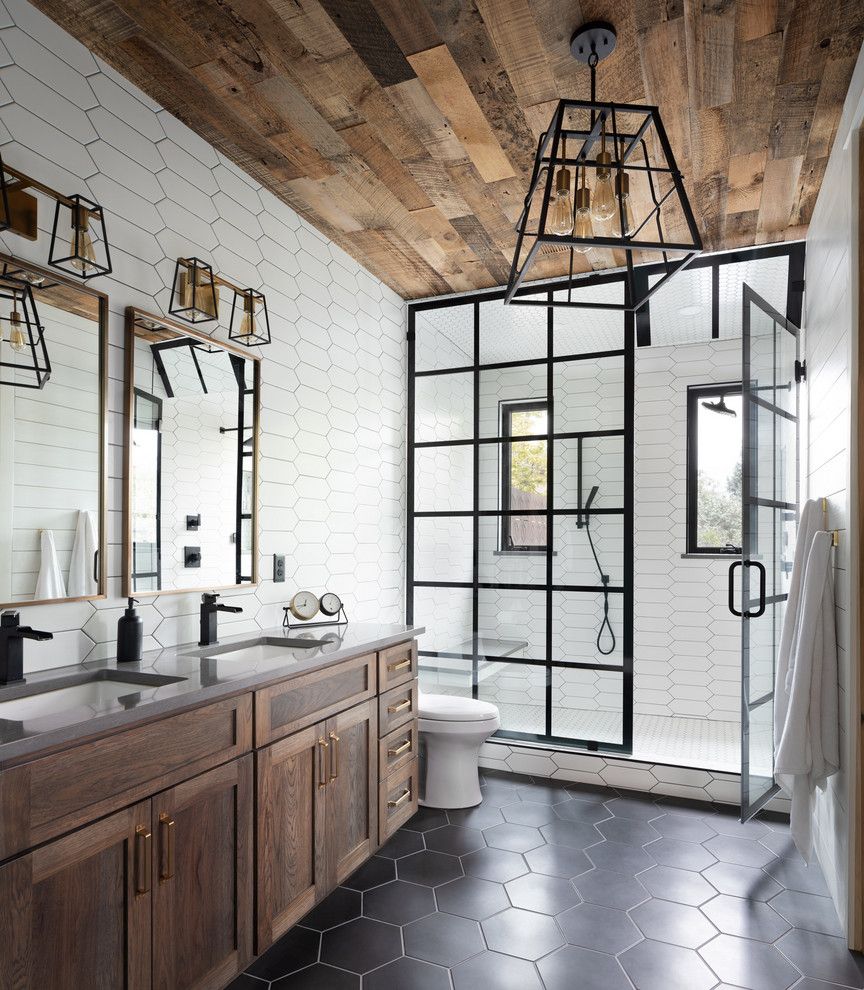 Colors
What kinds of colors are typically used in industrial bathrooms? Well, gray is probably the one color you will find most often. The color of concrete and steel is very popular when it comes to industrial decor color schemes. Beyond gray, you can also find touches of white, black, and brown in industrial home decor.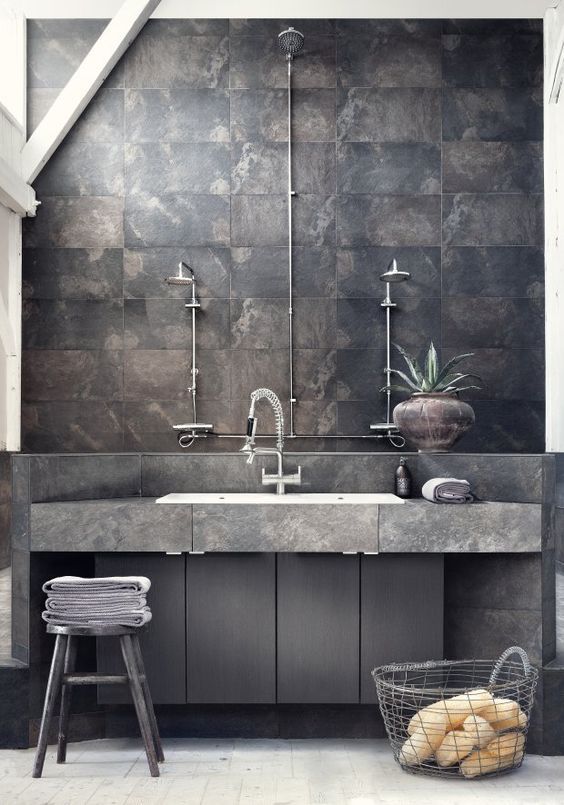 Industrial Bathroom Furniture & Decor
If you're looking for some examples of industrial bathroom furniture, then you're in luck because we've rounded up a few pieces that we feel really exemplify the industrial vibe. Here are a few bathroom furniture ideas for industrial home bathrooms.
Exposed Pipes
Exposed pipes, ducts, tubes, and wires are commonly found in industrial style bathrooms. This adds to the unfinished touch of the design. Here, a large silver duct is visible on the ceiling. A dark black pipe runs above the vanity. The floor and ceiling are finished with hardwood so the space doesn't look too run down. A double concrete vanity is built-in to the wall which has a white subway tile backsplash. A simple white bathtub sits across from the shower. This is a great modern industrial bathroom design. It has modern updates with an industrial vibe!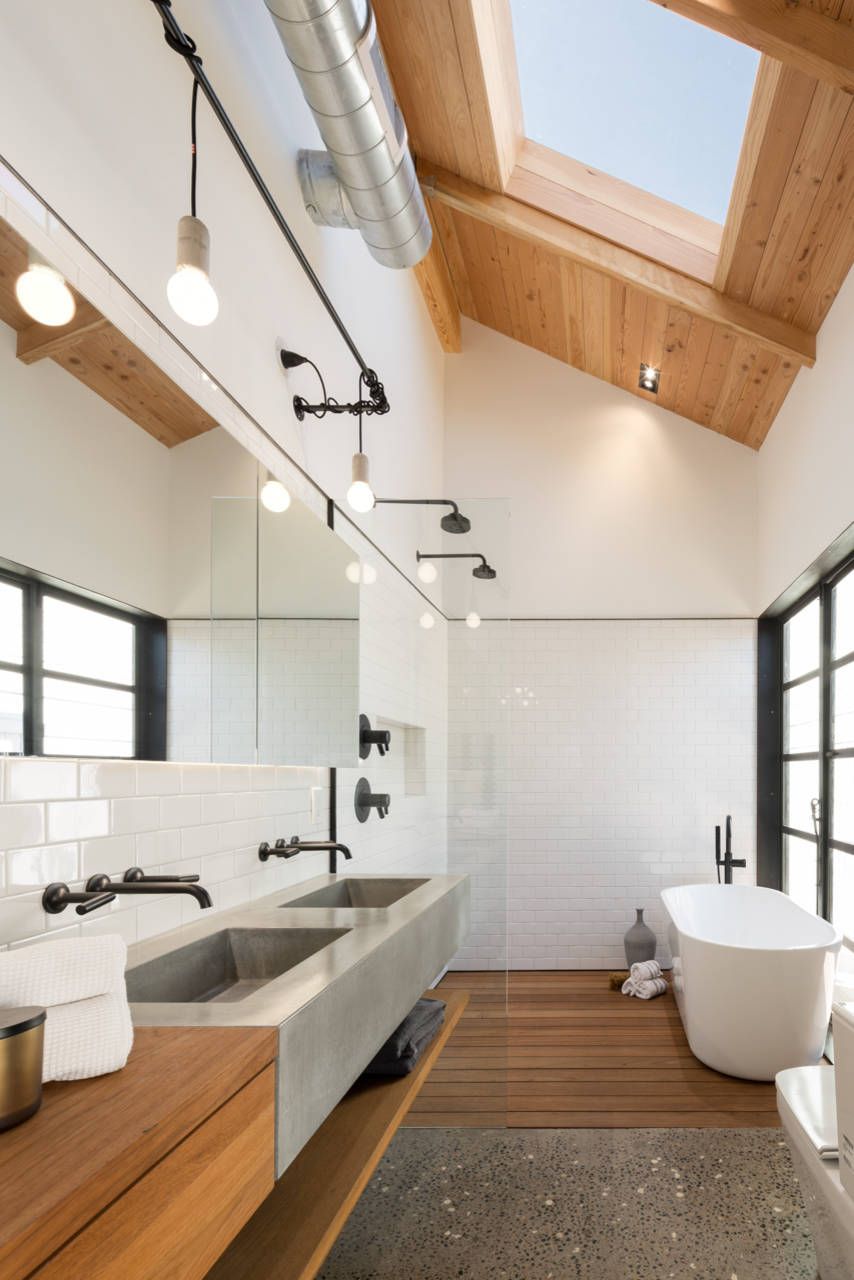 Black Ceilings
Black ceilings are a bold design choice that works very well in an industrial bathroom. This minimalist bathroom features concrete floors and walls, a frameless mirror, and brass shower fixtures. The black vessel sink rests on a small slab of wood, with the lower pipes exposed. It's simple and functional.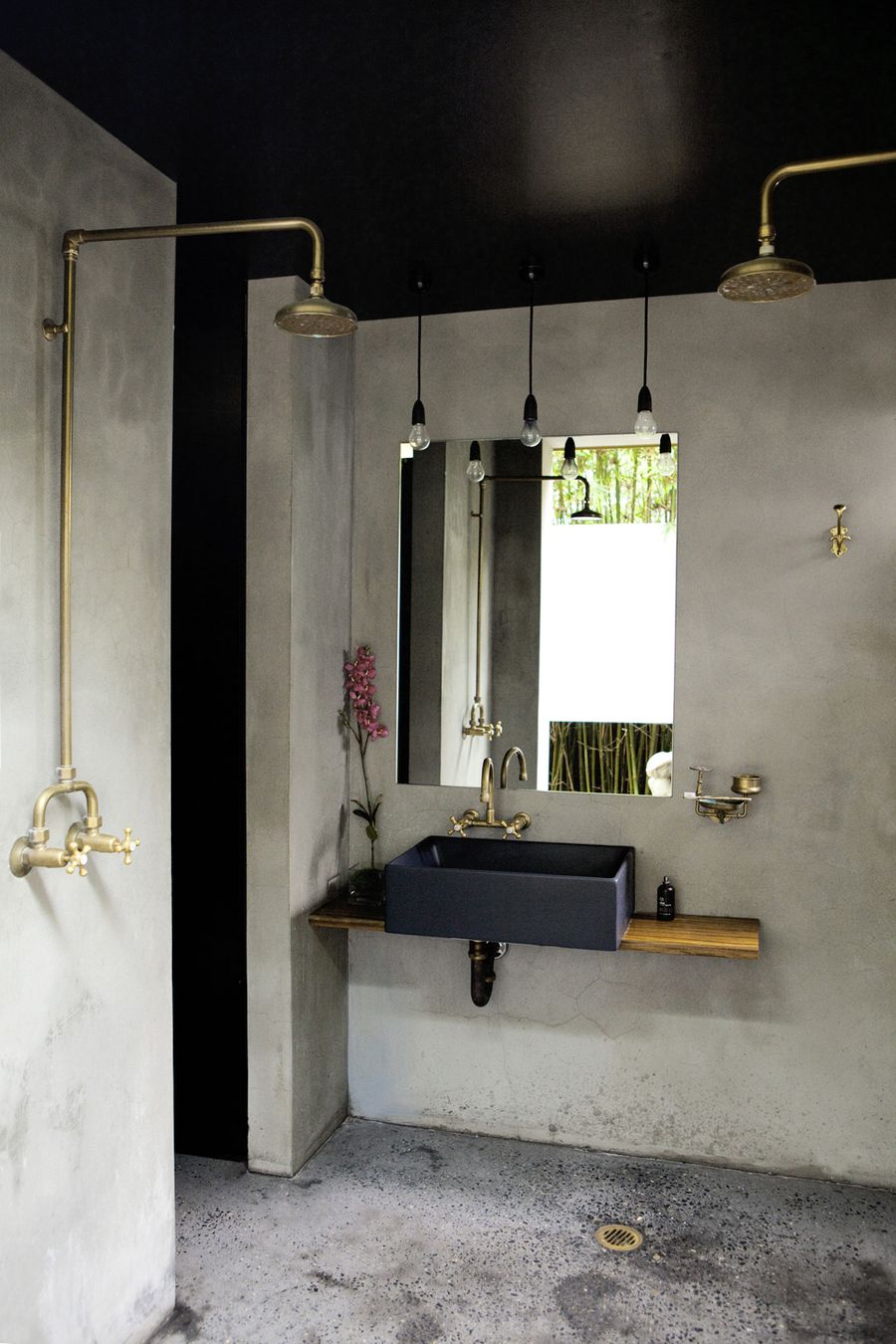 Matte Black Fixtures
You can almost always find lots of matte black fixtures in an industrial bathroom. This gorgeous bathroom has a black metal frame separating the shower, a black shower head, a matte black towel warming rack, black mirrors, two matte black faucets, and black legs on the bathroom vanity. This dark metal helps it stand out against the red brick wall, the white subway tiling, and the small white hexagonal floor tiles.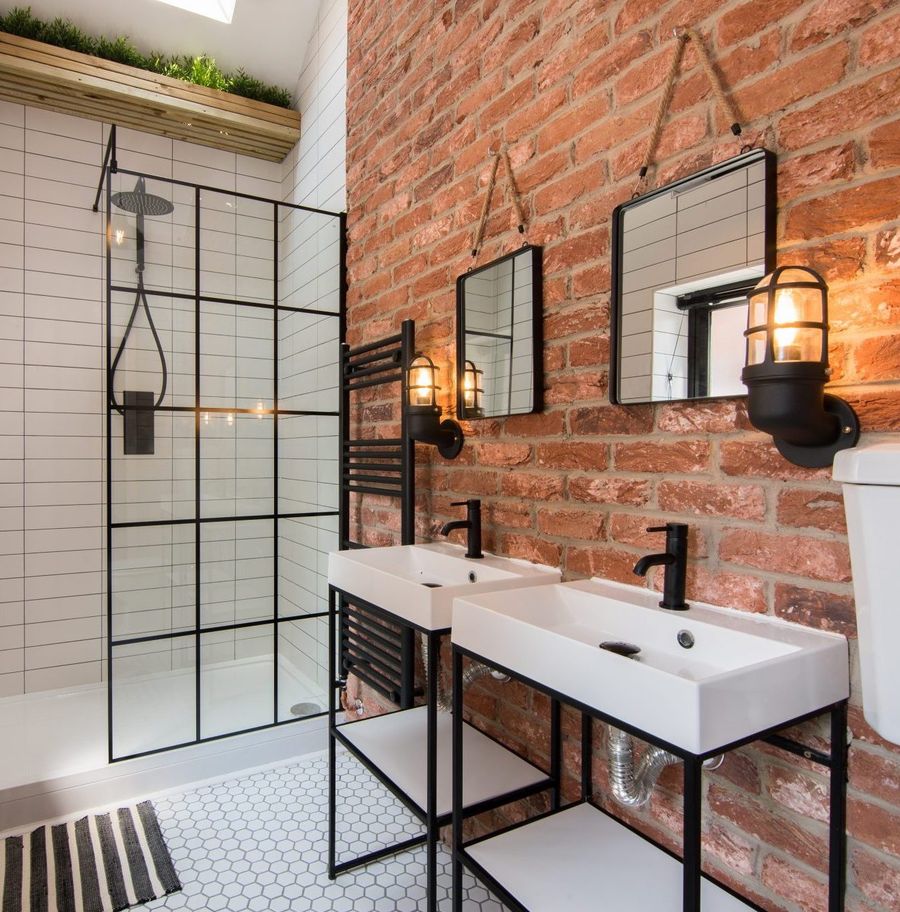 Brick Walls
One of the most common architectural elements of industrial bathrooms is at least one brick wall visible. Since industrial design is often found in lofts and warehouses which were constructed from brick buildings, it makes sense that we would want to see the "bones" of these homes! A red brick wall brings out the room's history and celebrates its past.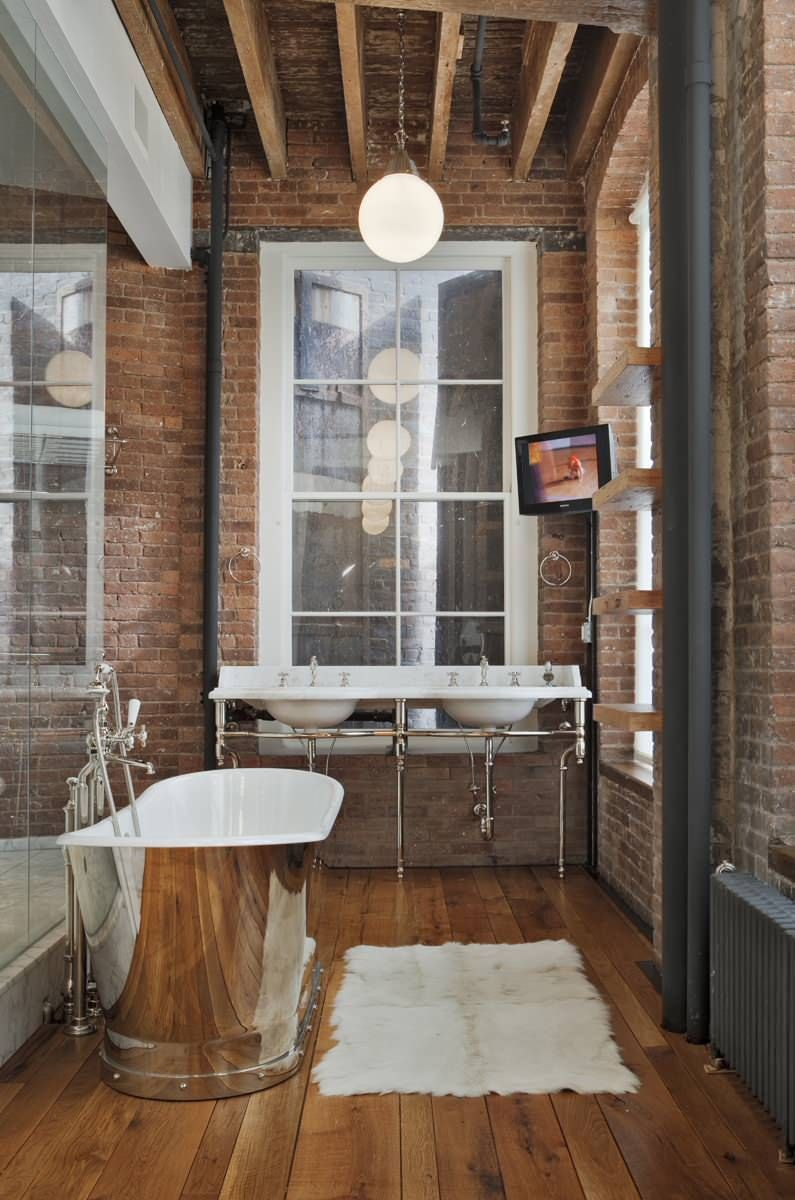 Metal Sliding Door
A sliding metal door is one of the coolest industrial bathroom decor ideas we found. This is such a unique way to show industrial style and will instantly give your bathroom street cred!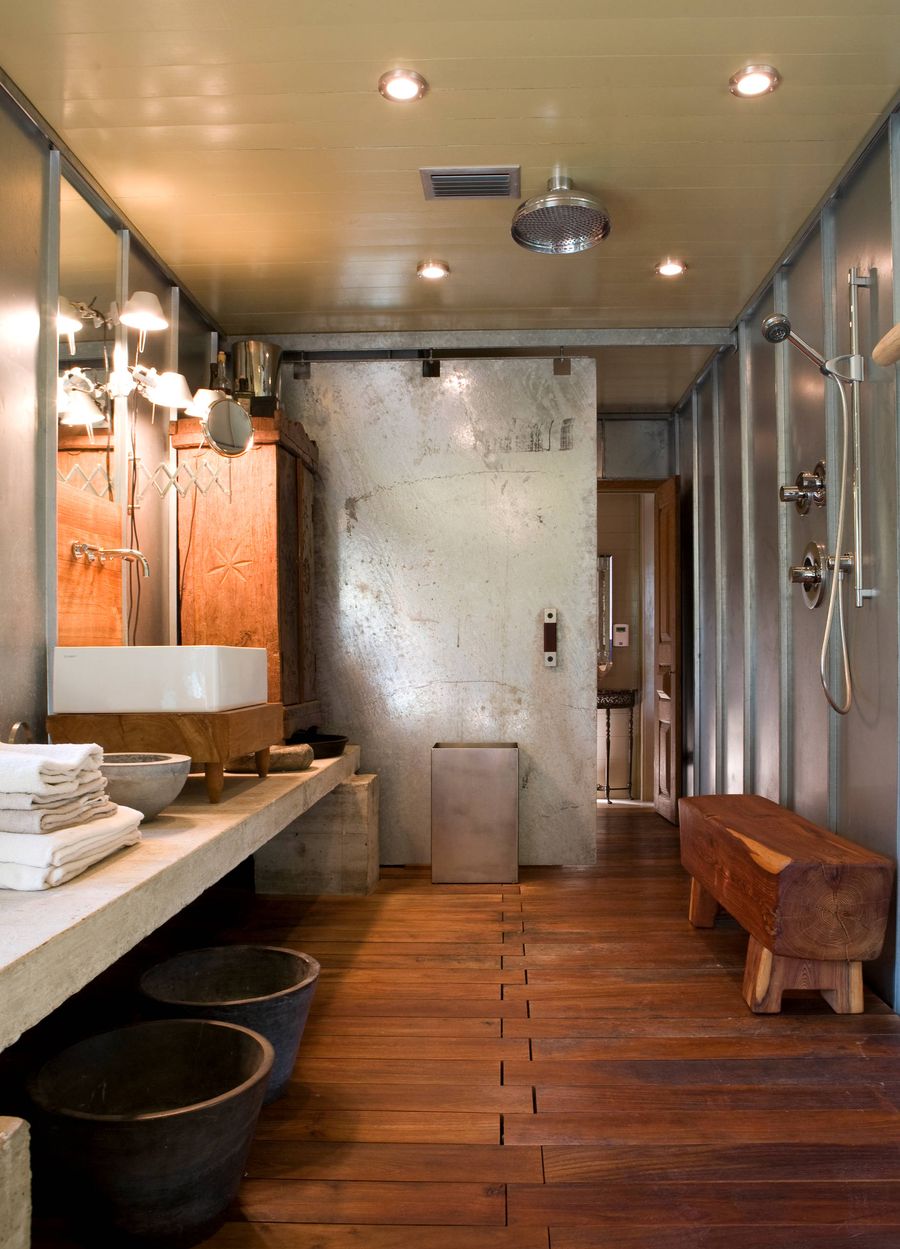 Corrugated Steel Shower Walls
This industrial bathroom design is so unique. It's not everyday that you see a bathroom shower stall that has been outfitted with corrugated steel panels! Wood panels line the walls and ceilings. Concrete was used for the floor, sink, and bathtub. There is use of mixed metals including a copper shower head, silver metal bathroom vanity legs, and a brass faucet on the wall.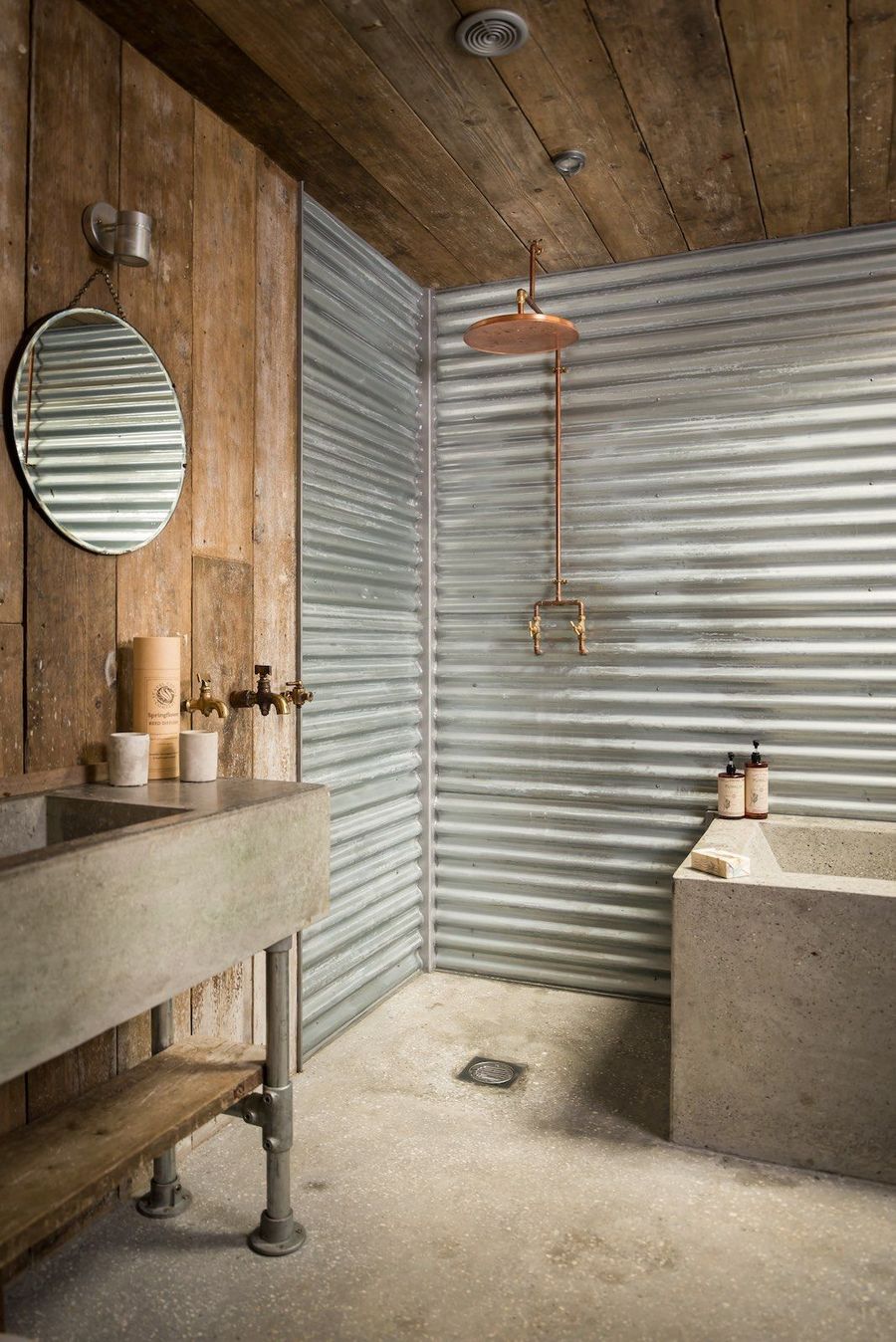 Stainless Steel Toilet, Sink and Bathtub
Stainless steel is a popular material to use for many elements in an industrial bathroom. In this bathroom, a bathtub, sink, and toilet are all made of this shiny, durable material. Concrete walls and wood ceilings add to the loft vibe. A simple shelf has been built into the wall for easy storage. Someone wrote with paint on the wall, "You Look Fine" which adds to the abandoned warehouse look of this room.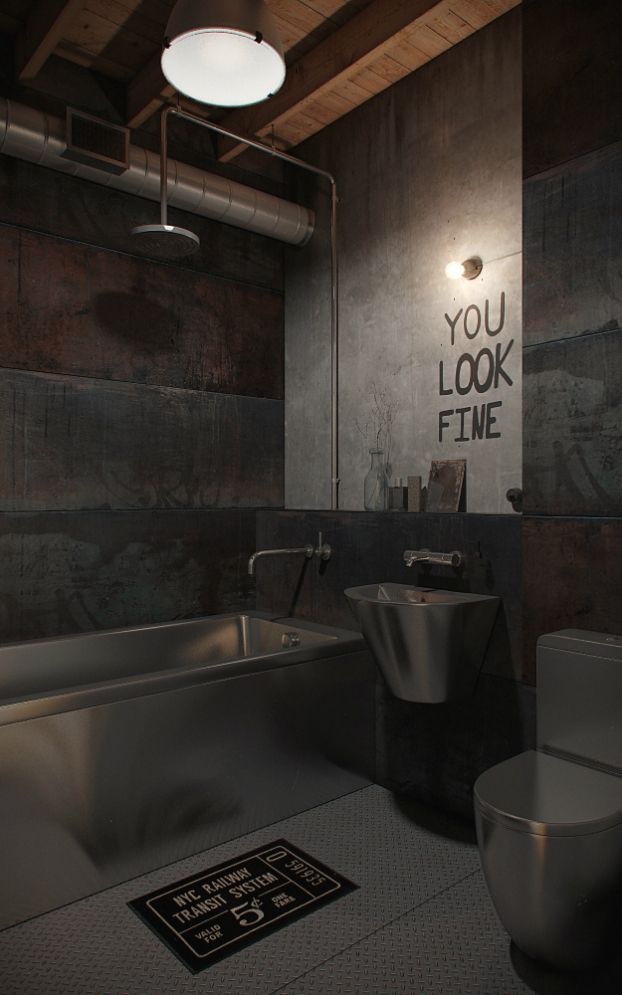 Industrial Bathroom Accessories from Amazon
If you're on a budget and just want a few industrial style bathroom accessories, then here is our selection. These are inexpensive ways to decorate your bathroom and give it an industrial look.
Unfinished Look
Some industrial bathrooms prefer to stay true to the old factory lofts and keep that unfinished look. Since many warehouses were abandoned when manufacturing went abroad, some people either didn't want to spend the money to redo the space, or they just preferred the look of an unkempt room. Here you can see an electrical box, and different shades of concrete on the wall. It looks unfinished but it was done properly. A simple sink and open shelves were installed on the wall. This room has the basics only and no frills.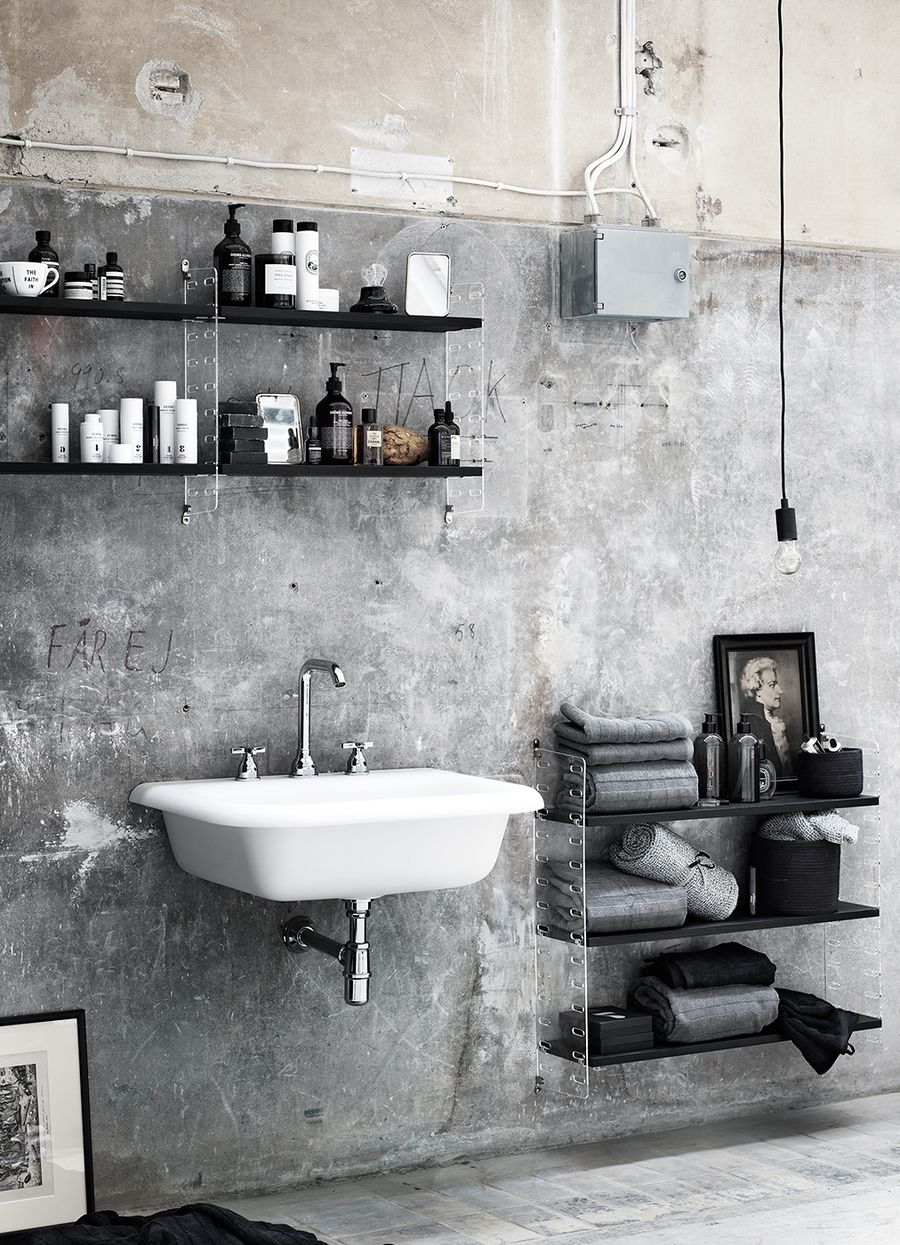 Exposed Hanging Light Bulbs
A very common element of industrial interior designs are the exposed hanging light bulbs which dangle down somewhat randomly. This type of lighting is probably best for homes without children. You can use a corded light bulb and wrap the cord around any existing pipes you have near your ceiling, as seen here. These bulbs look great above the concrete double sink below. Plenty of gray waffled towels are stored beneath. The black metal frame window nearby lets us peek inside the shower stall with white subway tiling.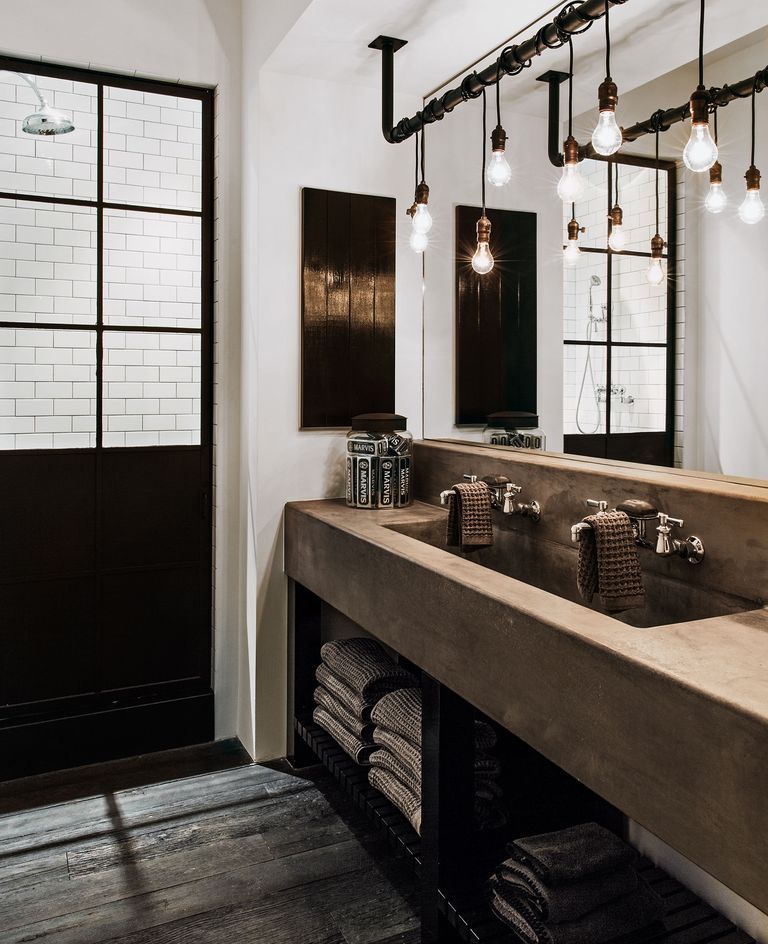 Concrete Bathtub
Just like other elements of the bathroom, the bathtub can be made of concrete, too. I can't say for sure how comfortable a concrete bathtub might be, but it sure does look stunning! This square concrete bathtub has been decorated with a white shell necklace and white pillar candles. A brown paper bag sits in the corner. The walls and sink are also made of concrete. A rustic wooden stool sits nearby holding shower gels, shampoo, and conditioner. An upper concrete shelf has been installed on the wall close to the ceiling for towels, along with a wooden shelf. A sage green bath towel is draped over one edge of the tub. A small indoor house tree sits in a pale green bag for decor. This is a beautiful space!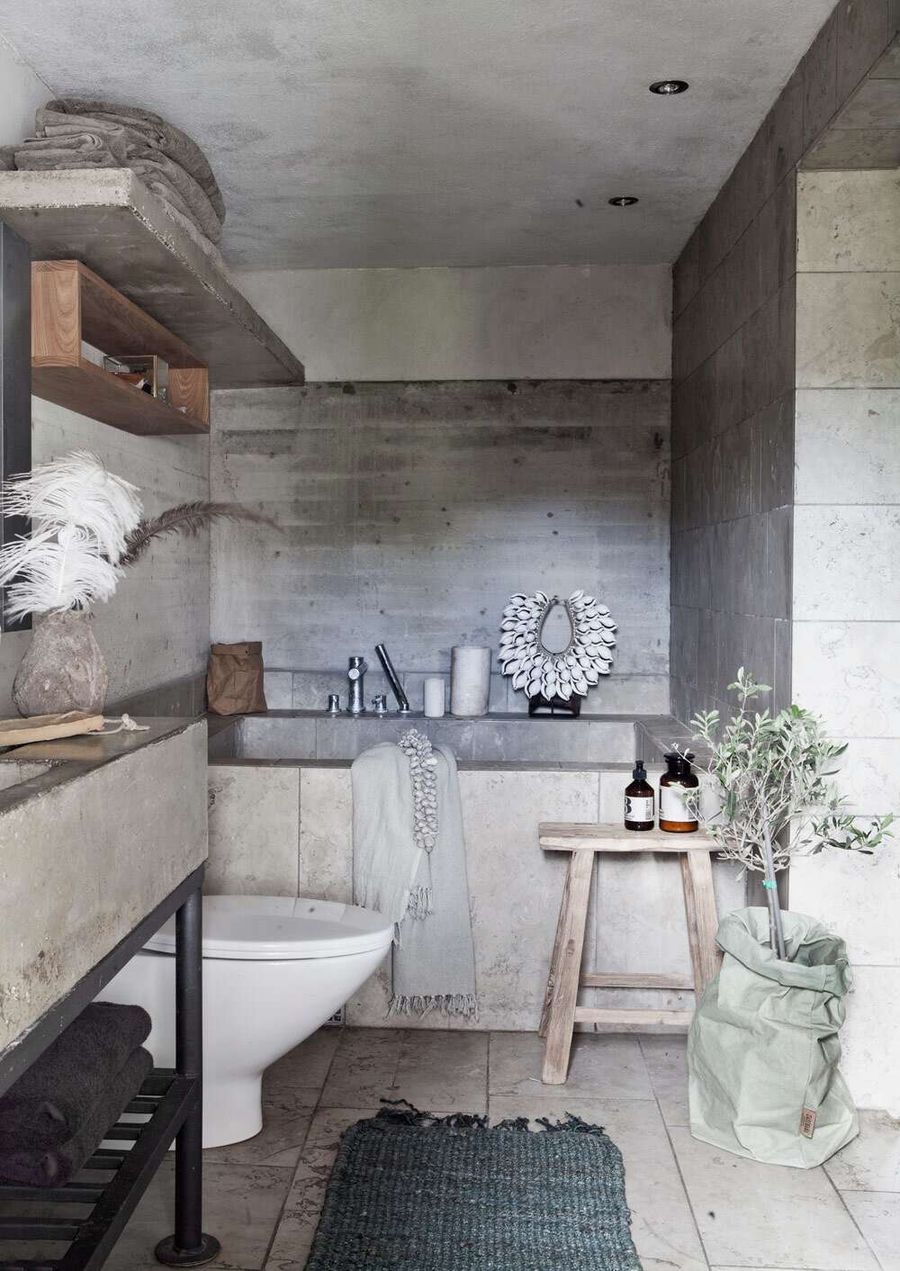 Concrete Countertop Sink
Concrete countertop sinks and bathroom vanities are often used in industrial style bathrooms. They are very heavy so you'll probably need help installing one! But they do give off a great industrial look.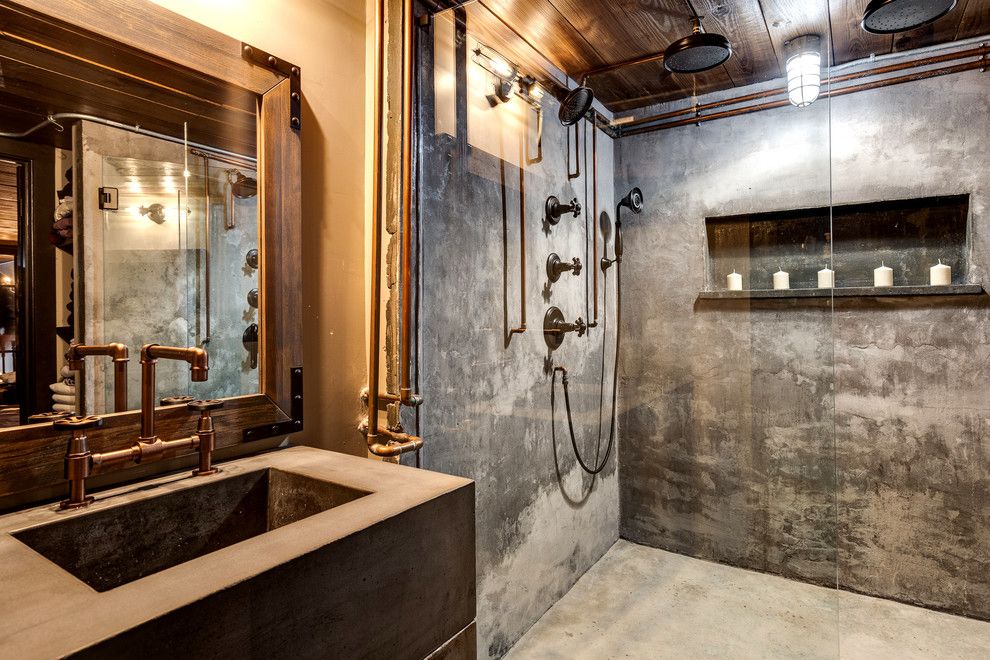 Concrete Shower Walls
You can also decorate with concrete shower walls in your industrial bathroom, as seen here. This minimalist shower room has gray concrete walls, black shower fixtures and a recessed wall shelf for simple storage. The patterned floor tile gives it charm.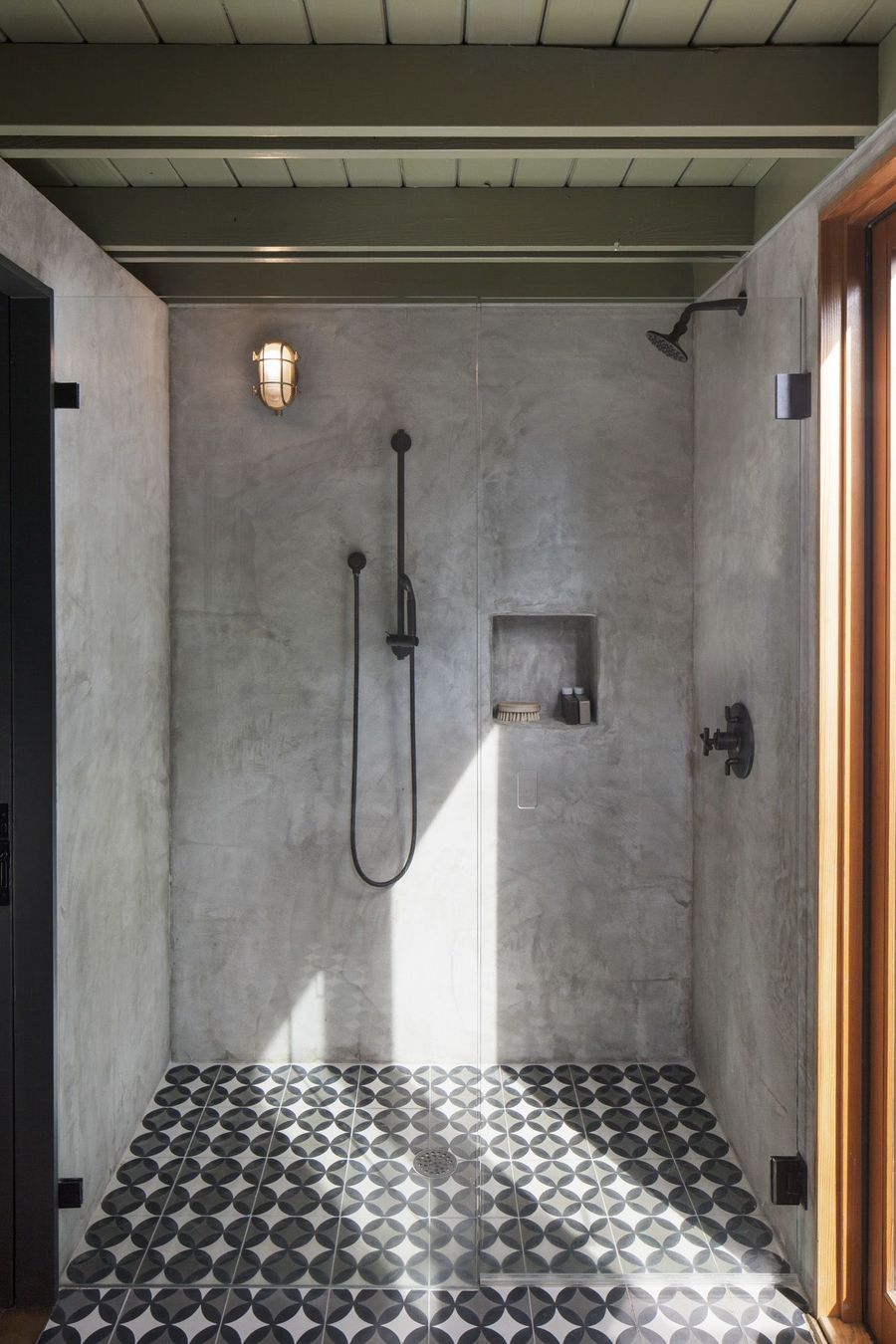 Soft Gray Bath Towels
Simple gray bath towels are the perfect choice for your industrial bathroom linens. They will blend in beautifully with the rest of your decor. Here, a concrete sink has been installed on black metal legs, which hold the bath towels below. A black frame mirror is attached to the concrete walls. A gray vase sits in the corner and beige feathers decorate the bathroom vanity top. This is a minimalist chic industrial bathroom design.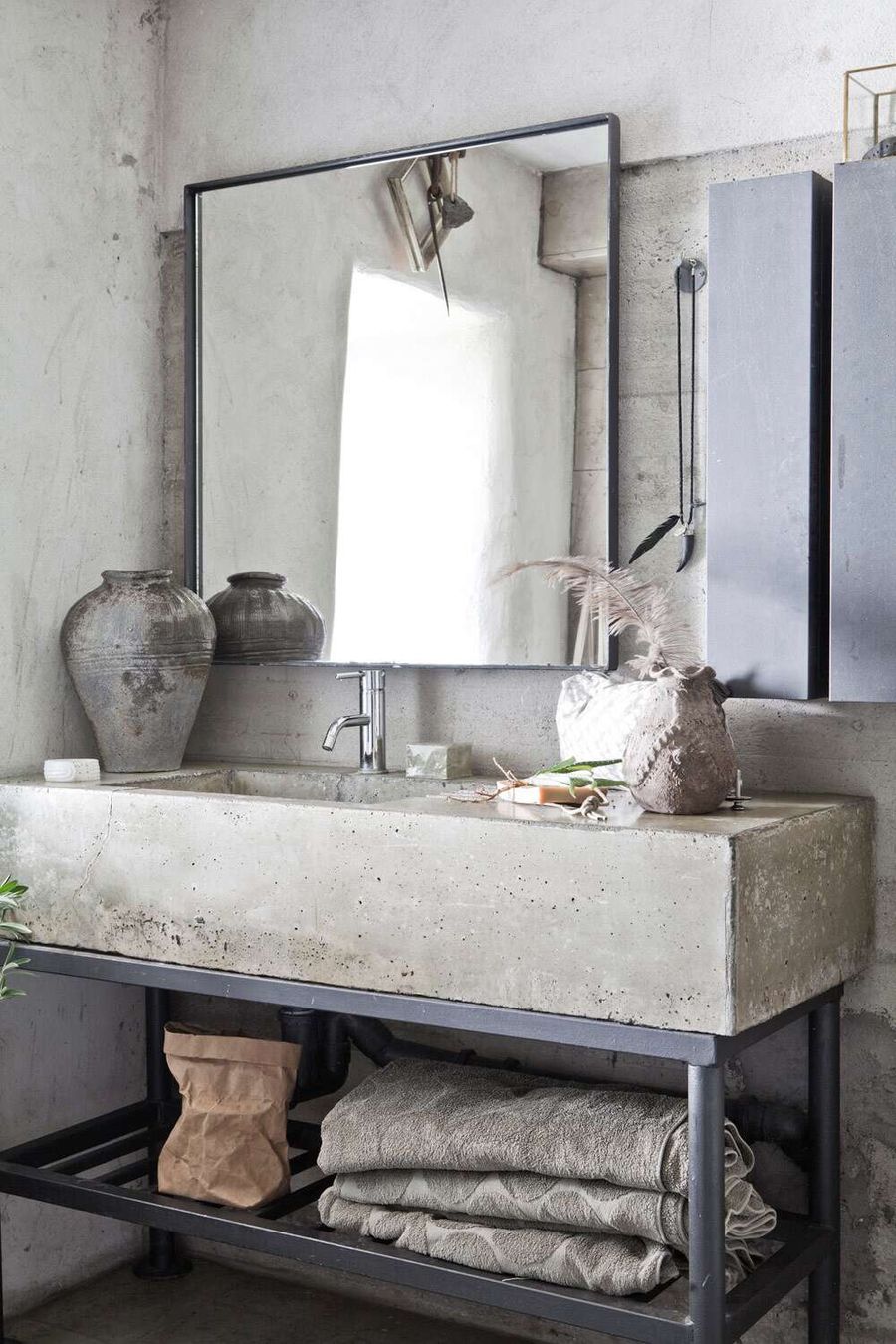 Indoor Plants
Indoor house plants are probably the most unexpected of our list of industrial bathroom decor ideas. But this bathroom proves it can be done well! From a small garden near the shower to a house plant next to the bathroom vanity, this industrial bathroom is bursting with natural life. Don't be fooled, it's still industrial at heart with its brick walls and black metal elements!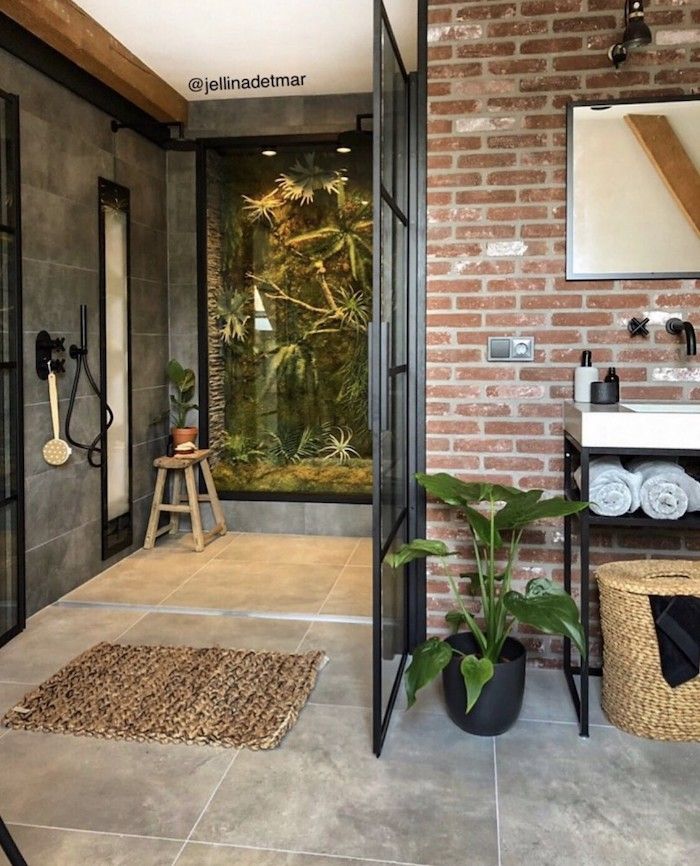 Metal Mirrors
Stainless steel or silver metal mirrors like this one are a great option for your industrial bathroom mirror. This one has studs lining its frame, giving it a factory look. The black metal vanity looks like a locker room storage cabinet!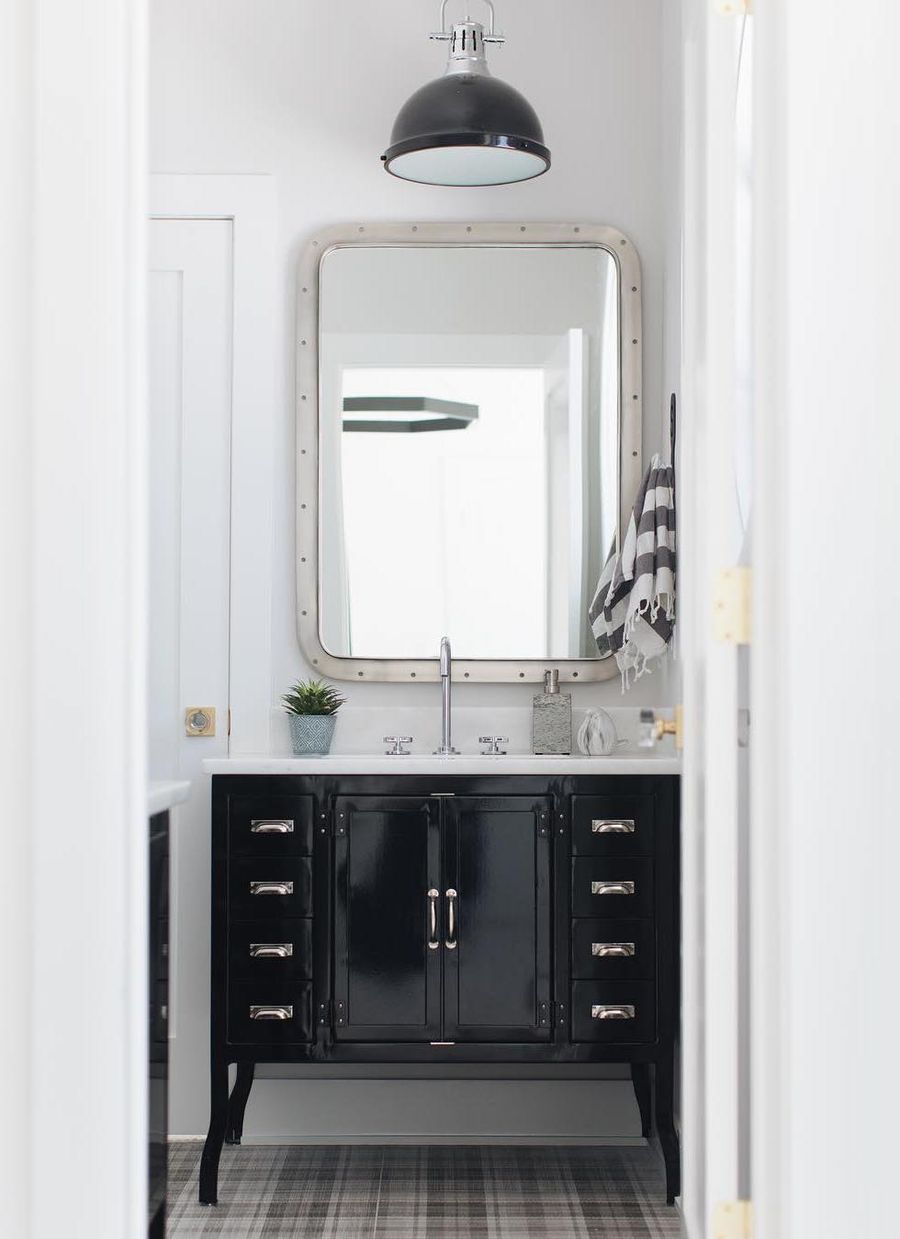 Metal Storage Baskets
When it comes to industrial storage ideas, these black metal baskets with cotton liners are perfect for organizing your bathroom accessories like soap and toilet paper. You can find these caged metal baskets just about anywhere and they come in small and large sizes!
Black Metal Double Vanity
The double bathroom vanity is a common need for couples living together. This black double metal vanity with a simple industrial design stands out beautifully against the lighter elements of the space. Whitewashed brick walls go floor to ceiling. There are several visible wood beams and silver ducts and pipes. Metal wall sconces swing down to light up the vanity.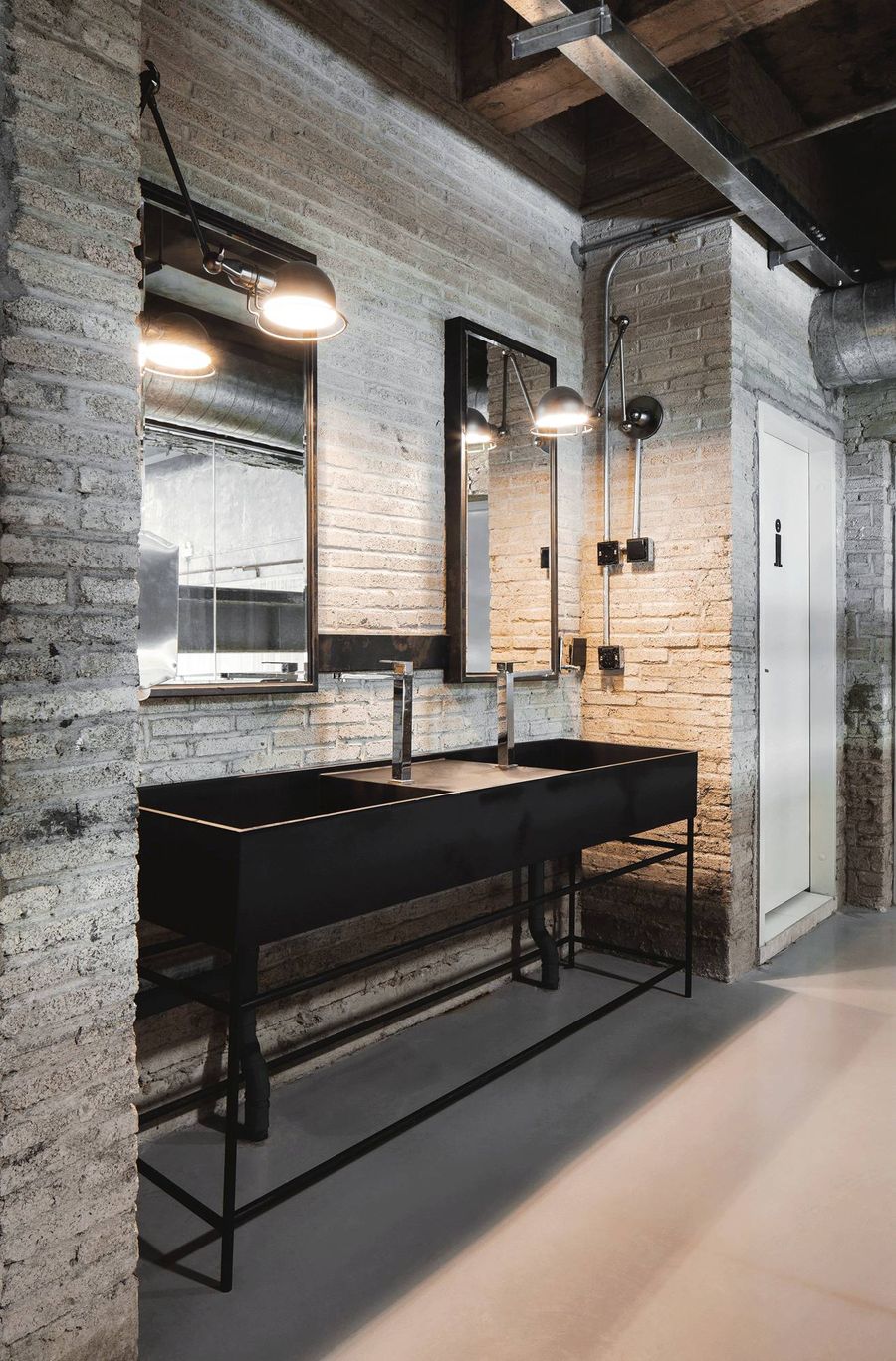 ---
I hope these industrial bathroom decor ideas inspired you as you go about renovating or redesigning your own bathroom! Even if you don't live inside a big city loft, the industrial bathroom look is certainly acheivable!
More Industrial Decor Ideas
If you are looking for more inspiration around industrial interior design, then please keep reading our other room guides, furniture recommendations, and decor selection. We have several related articles on industrial decorating that may interest you:
Happy industrial curating!