Looking for the best industrial floor lamps for your home?
Exposed brick, weathered wood, concrete and metal lighting features are a few elements of the popular industrial decor style. Think of those classic cafes or high lofted factories you'd see in a downtown city and that's the inspiration for industrial decor. These spaces usually have a neutral color palette which allows for other elements such as sofas, end tables, lamps, art, etc to brighten or liven up the space. Additionally, the neutral colors like gray and cream which adorn an industrial style space allow open areas to feel bigger, as you would expect in a warehouse or factory type building. Unlike a warehouse or factory, the industrial style decor is still comfortable, inviting, and allows for endless specifications for your space and taste.
Industrial Floor Lamps
Floor lamps can be used to brighten a dark corner of a space or just to bring the right amount of lighting to an area. The beauty of a floor lamp is in the height, illumination, and elegance it can add to your space. A floor lamp is about eye level with most people, which means the shade will be seen and can easily be considered a decorative element in your home. Brightness can vary from LED to gentle, depending on the needs and desires of your space. The simple elegance a floor lamp provides can truly tie a room together. The switch for a floor lamp can be a pull cord, switch at the base or the neck of the lamp, or a push button. The ability to have a dimming bulb in your floor lamp is also a nice way to provide ambience when you need it or desire it for your gatherings. Floor lamps are great in living rooms, bedrooms, dining rooms and kitchens. Anywhere you want additional light and style is a great space for a floor lamp.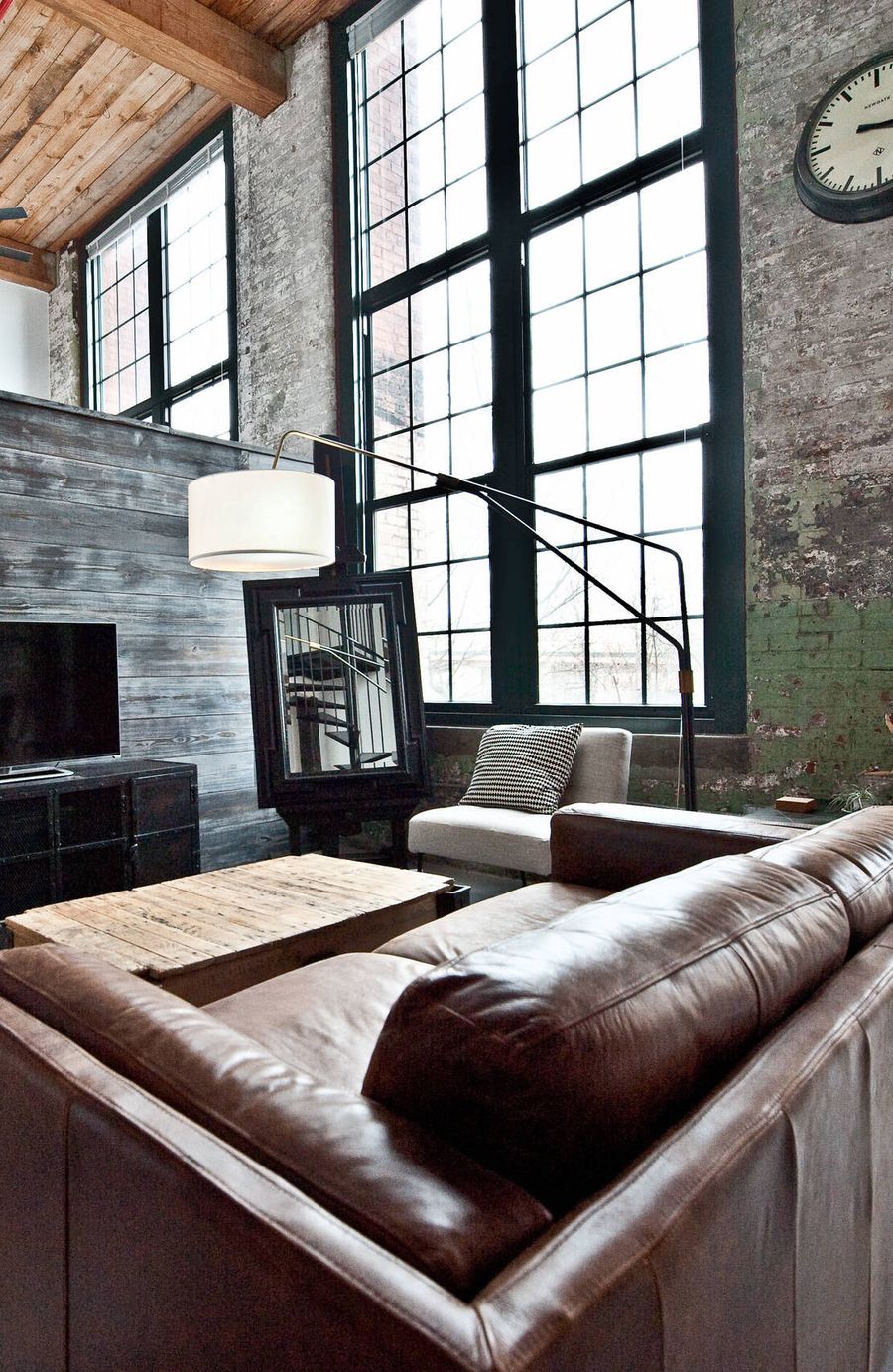 Industrial floor lamps take the metal finishes you'd expect to see in an industrial decor style while adding some minimalistic elements to liven up a space. A common theme in industrial floor lamps is the Edison Bulb, a 'classic' style lightbulb that's exposed without a shade. The bulb can have a wrought iron cage around it, a glass covering, or be totally exposed altogether. The frame of an industrial floor lamp is typically black metal. Pipe style accents are a unique way to add interest above the bulb. A single leg and a small, round base allow for the industrial floor lamp to be used just about anywhere in your home.
You don't have to worry about hiding it behind a couch or bookshelf because the design is sleek, minimal, and tasteful. The warmth given off from the Edison bulbs is a bit warmer yellow in color, which softens the overall look of the lamp and the space. A slight variation of industrial floor lamps are the steampunk style lamps which will feature gears, pulleys, or other such industrial elements for added character and style.
Industrial Decor Ideas
We really love the industrial vibe for residential homes. If you do too, don't miss these related industrial decor ideas from our site!
Happy curating!