Industrial entryways are becoming more popular as people search for a way to add the industrial charm to their front foyer of their home. Since the entryway is a place that serves a specific purpose, it's the perfect room to decorate in a utilitarian industrial style.
Even though they tend to be small, entryways are one of the rooms you should definitely spend some time thinking about. They are the first thing you see when you enter the house after a long day. They're also the last place you leave in the morning before heading off to work or to run your errands. You might welcome guests in this space, keep your keys handy, or receive large packages and food deliveries here.
Tasks like putting on your coat, tipping a delivery man, and greeting guests must be thought about to ensure that you have a well-designed entryway that meets your needs as a homeowner or renter.
Industrial Entryways
If you love industrial decor, then we're here to inspire you to create the most functional and beautiful interior entryway possible. A rustic wood bench, a metal storage locker, and brick walls are a few of the ideas we'll share to get your entryway looking as industrial as it can. Keep reading to discover our inspiration!
We love industrial entryway designs specifically because they are high on practicality and function. They don't sacrifice design for quality, either. Let's highlight a few top ways you can make your entryway look more industrial.
Here are the most inspiring entryways with industrial furniture and decorations to copy for your home. We are sure that these industrial entryway decor ideas will inspire you to re-do your space.
1. Exposed Brick Walls
Even though it's more of an architectural feature than a decoration, having an exposed brick wall in your entryway can give it a very industrial, raw look. You can also fake this look using a faux brick wallpaper.
This entryway is a quintessentially industrial space. From the black metal framing of the window, to the steel beams on the ceiling and stairway, there is much to appreciate about the architectural details of the space.
To the side, a small wood bench with metal legs is placed in front of a minimalist black frame mirror. A black console table holds a black metal table lamp and a black picture frame for decor. Even the beige and black floor rug mimics the rectangular shape of bricks!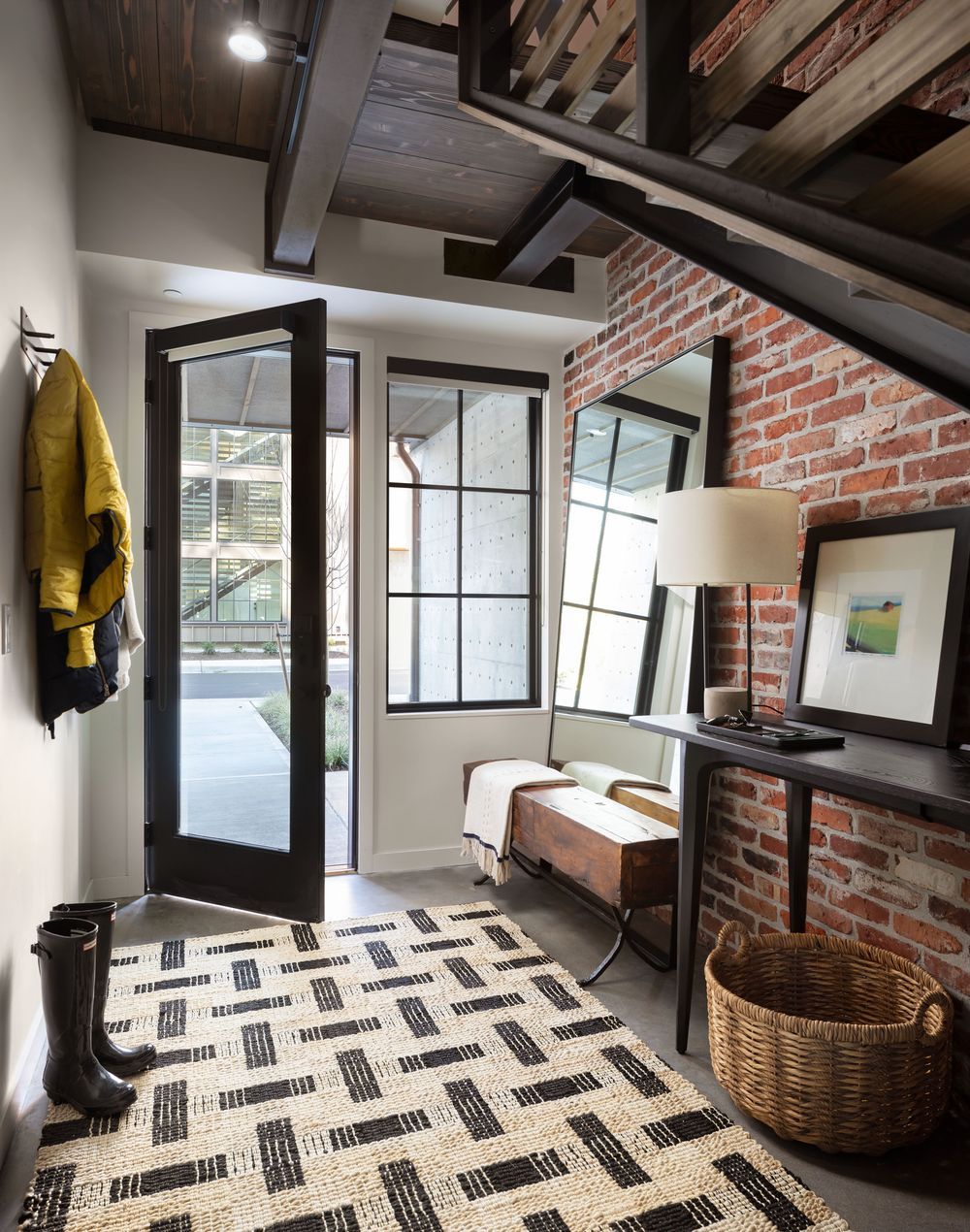 2. Brown Leather Chairs
Brown leather adds warmth to an otherwise cold, metal space. Using a brown leather arm chair in your entryway provides a comfortable place to put on and remove your shoes. You can also toss your bag on it when you get home for the day.
This industrial style entryway has been expertly designed to welcome people into the home. From the matching arm chairs to the cowhide rugs, many details keep this space industrial, yet warm and welcoming. The brown and black abstract art on the wall reflects the natural architectural colors of the space. The long sheer curtains help to filter the light from the windows. The exposed silver metal piping is typical of industrial interiors. Finally, the smooth concrete ceilings are a marvel to look at!
3. Metal And Wood Furniture
Industrial furniture often combines metal and wood. Metal is a strong material which usually serves as the base, and wood is generally the top surface used. In this entryway, a metal console table with a wood surface is used to welcome guests. A round wall mirror hangs above it. On the floor, a white cowhide rug lightens the mood of the area.
4. Concrete Walls and Floors
You won't find wall to wall carpeting in an industrial foyer, that's for sure! Instead, you'll see lots of smooth concrete on the floors, walls, and even the ceiling. This gray look is often balanced out with black frame metal doors and brown wooden decorative accents.
Here, dark metal flooring matches the gray concrete walls of this thin entryway hallway. The space is decorated with art on the walls and a gallery wall to the side.
5. Factory Inspired Elements
Have you ever seen an old factory where things are mostly worn out? There's a certain charm to vintage pieces from old factories. These kind of antiquated pieces work beautifully in industrial foyers and home entries.
The piece doesn't even have to be functional, it just has to give that rustic charm. Since too many of these pieces will make the space look cluttered, only go with one or two small pieces at a time. This will help keep the space looking fresh, minimalist, and clean.
Here, you can see how two factory office chairs were installed to the floor of this home entry.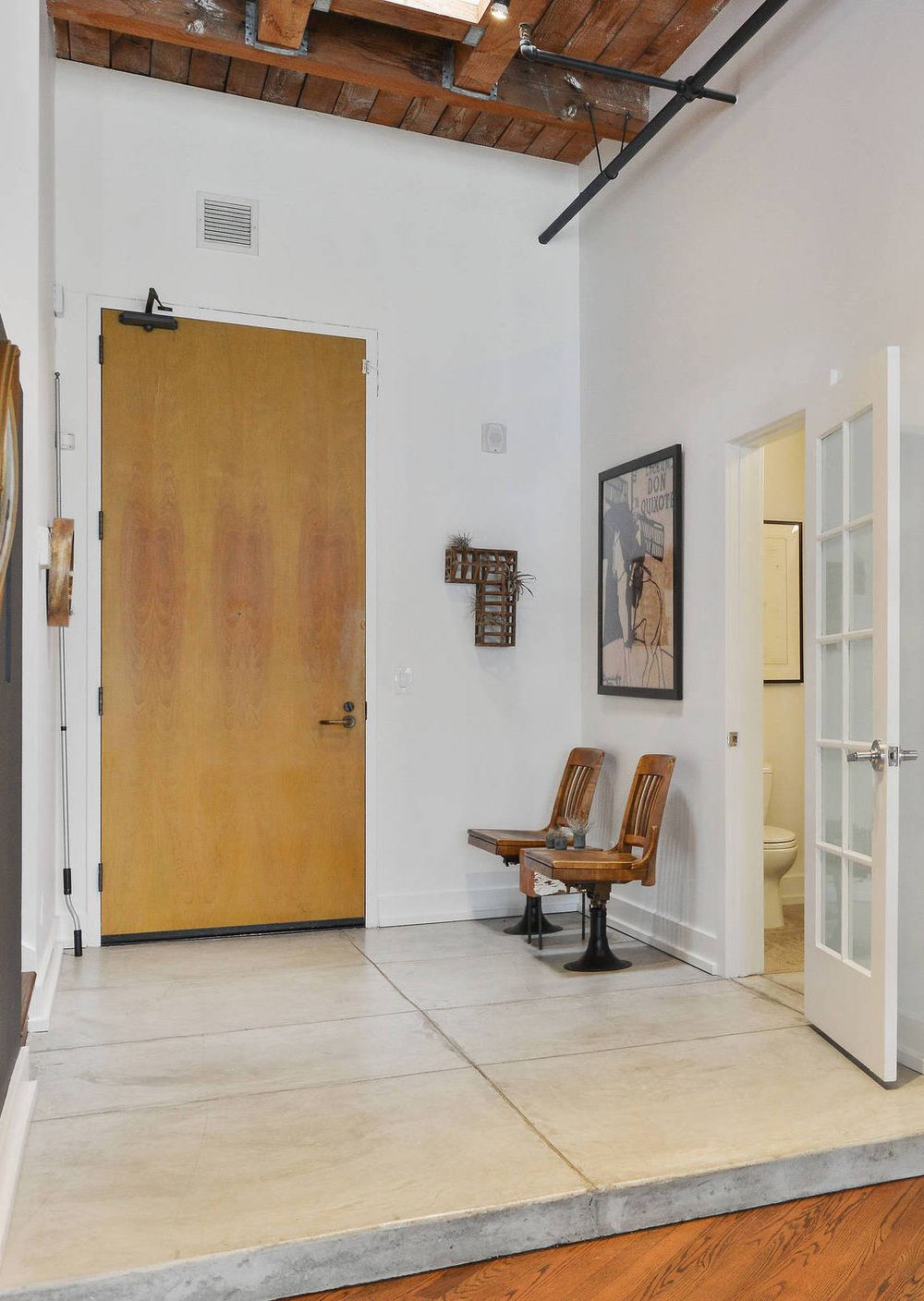 6. Bare Lightbulbs
Exposed light bulbs hanging down from a wire are a very common lighting solution when it comes to illuminating industrial spaces. These simple lighting fixtures remind us of the days when lighting up a workspace was the only important task at hand. There's no fuss involved in this type of lighting, it just serves to do its job and that's it! The really good thing about this ultra utilitarian decoration is that it's incredibly affordable!
In this space, a chalkboard has been installed on the wall above a DIY rustic industrial bench. The instructions to build this piece are linked below the image.
7. Painted Brick Walls
If you want to tone down the look of a bright red brick wall, then consider painting the wall a solid white color. White is a simple wall color used in factories and industrial spaces to reflect as much light as possible throughout the area.
This entryway has been outfitted with a wood paneled bench with metal legs, a utilitarian shoe rack for hidden storage, and a side cabinet made of wood. The sharp, straight lines of each piece of furniture keep the space looking functional and utilitarian.
Shopping for Industrial Entryway Furniture and Decor
If you don't wan to completely re-do your entryway, and are just looking for a few pieces to give the space more of a factory inspired look, then we recommend the following pieces for your home.
I hope you found this post on industrial style entryways useful in your design plans. As you can see, the entryway is an important place to consider as you design your dream home. After all, this is where you'll keep your daily necessities and your go-to items, like coats, bags, and keys. Industrial foyer design keeps this in mind, and these types of home entrances are often useful and stylish.
We all are looking for ways to make our houses more in line with our tastes, mood and personal style. It's all the more important since so many of us work from home now! Many women like you are decor enthusiasts and spend their days dreaming about how to make their homes more cozy. We hope that these related articles will inspire you as you go about curating the home of your dreams!
See our related posts on industrial interior design here: