Are you looking for the best glam office decor ideas for your home? As more women switch to work from home jobs due to a global pandemic, many are looking for ways to make working from home a bit more fun and glamorous! Glamorous home office decor can be easy and achievable with our handy guide.
Glam Office Decor Ideas
When it comes to glamorous decor, there are several key features and characteristics to incorporate into your design. Mirrored furniture, metallic decorations, and feminine accents can all play a role in creating a glam atmosphere in your space. After all, if you enjoy the visuals around you, it will make "going to work" all that more fun and exciting for you! In turn, you'll be more productive with an organized, beautiful workspace to work from.
As far as the home office goes, you'll need a solid office desk and a back supporting home office chair at minimum. There are different styles to choose from if you want a glam look to your furniture, and we'll show you some different ideas in the article below. You'll also want to consider the storage and organizational aspects for your office, too.
Let's go over some of the most glam office decor ideas to inspire you as you design your home workstation!
Gold Starburst Chandelier
A gold starburst chandelier is a fabulous glam lighting fixture. From the built-in bookshelves to the white executive desk with a brown wood top, this office exudes luxury and glamour. A large bowl of flowers on the desk keeps it feminine and uncluttered.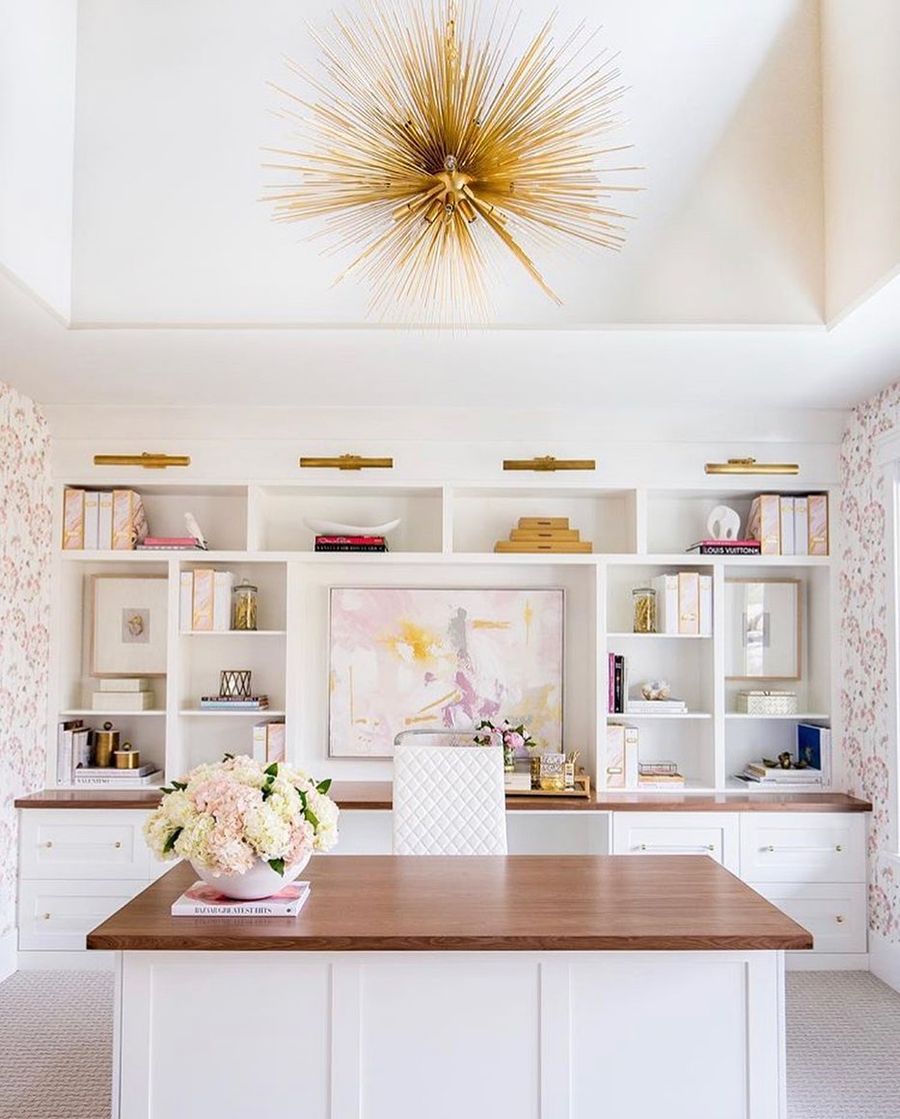 Zebra Print Rug
Animal print rugs are very popular in glam offices and luxury home offices. Here, a zebra print rug lies over the hardwood floors of this office. A white cushioned brass office chair and a traditional style white desk provide a space to work. A large Mac screen fits perfectly on top of this desk. A brass table lamp sits nearby and the gallery wall has different vintage photographs for decor.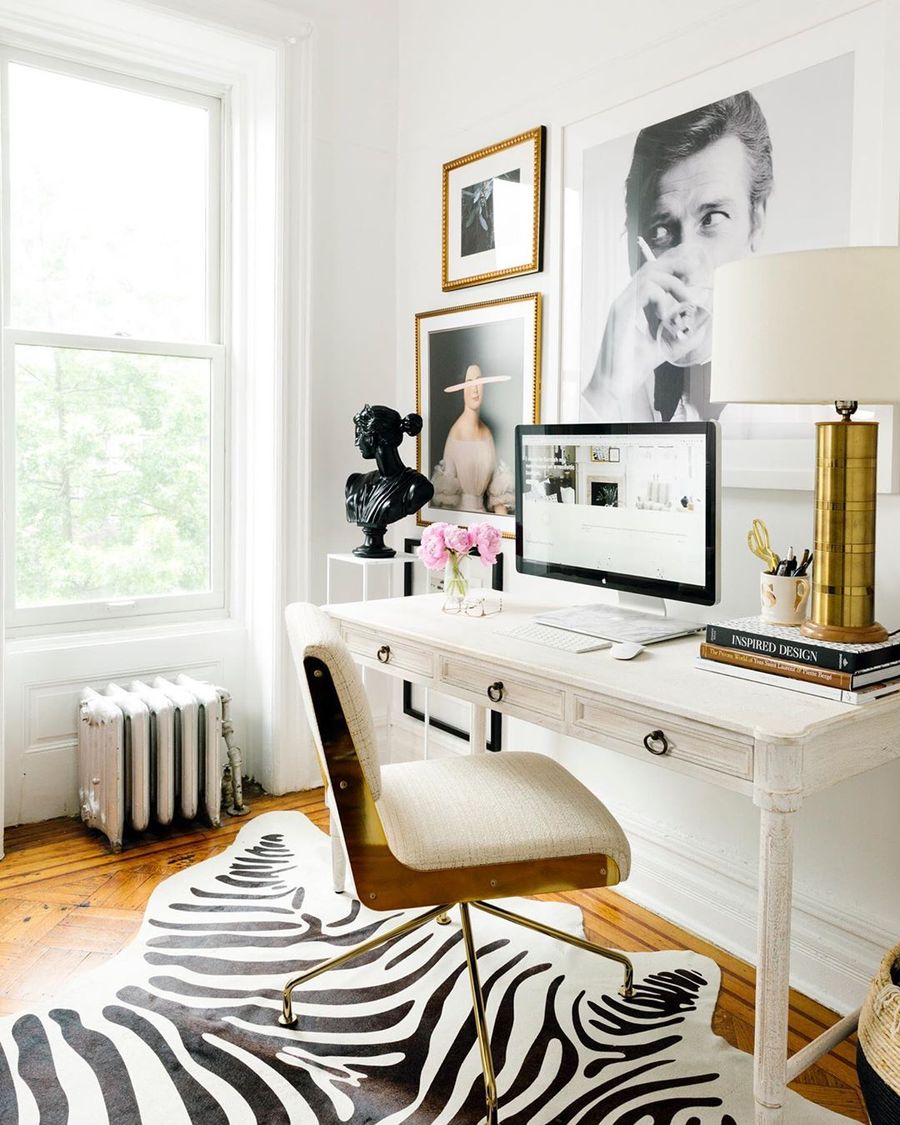 Mirrored Storage Cabinet
One of our favorite glam home office decor ideas is to choose mirrored furniture for your space. Here, a large wide mirrored storage cabinet provides the perfect backdrop for this home office. A white lacquer desk and a French country side chair are placed in the center of the room. A small white tray with two ginger jars and a gold vase of pink roses add a touch of pretty decor and femininity.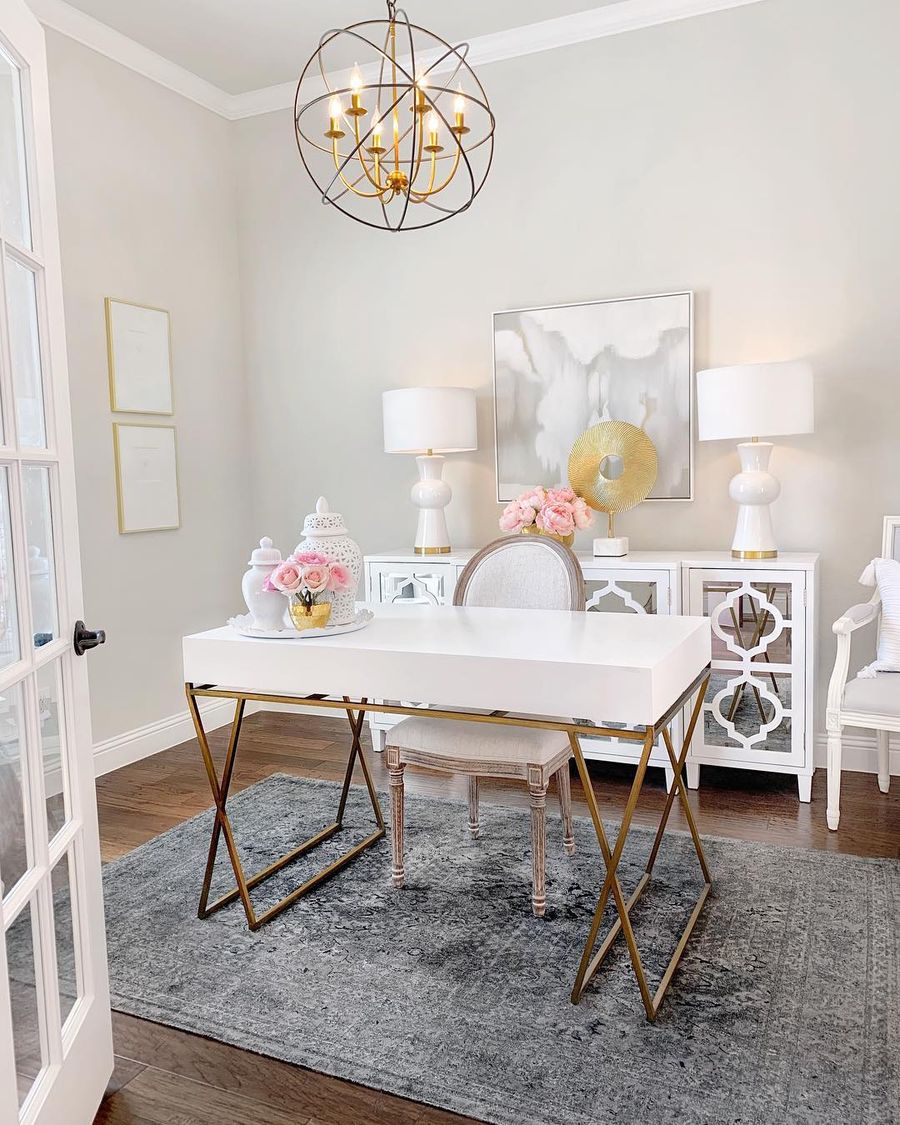 Office Organization
Keep your glam office well organized with these affordable home office organization products.
Thick Pale Pink Curtains
French side chairs are very popular choices for getting a glam look in your home. This office has a beige french chair paired with a simple white writing desk. A mac, glass vase, books and candles are all stored on the desk. Behind the desk, a gallery wall of family photos has been installed. The working space sits between two windows flanked with thick, pale pink curtains.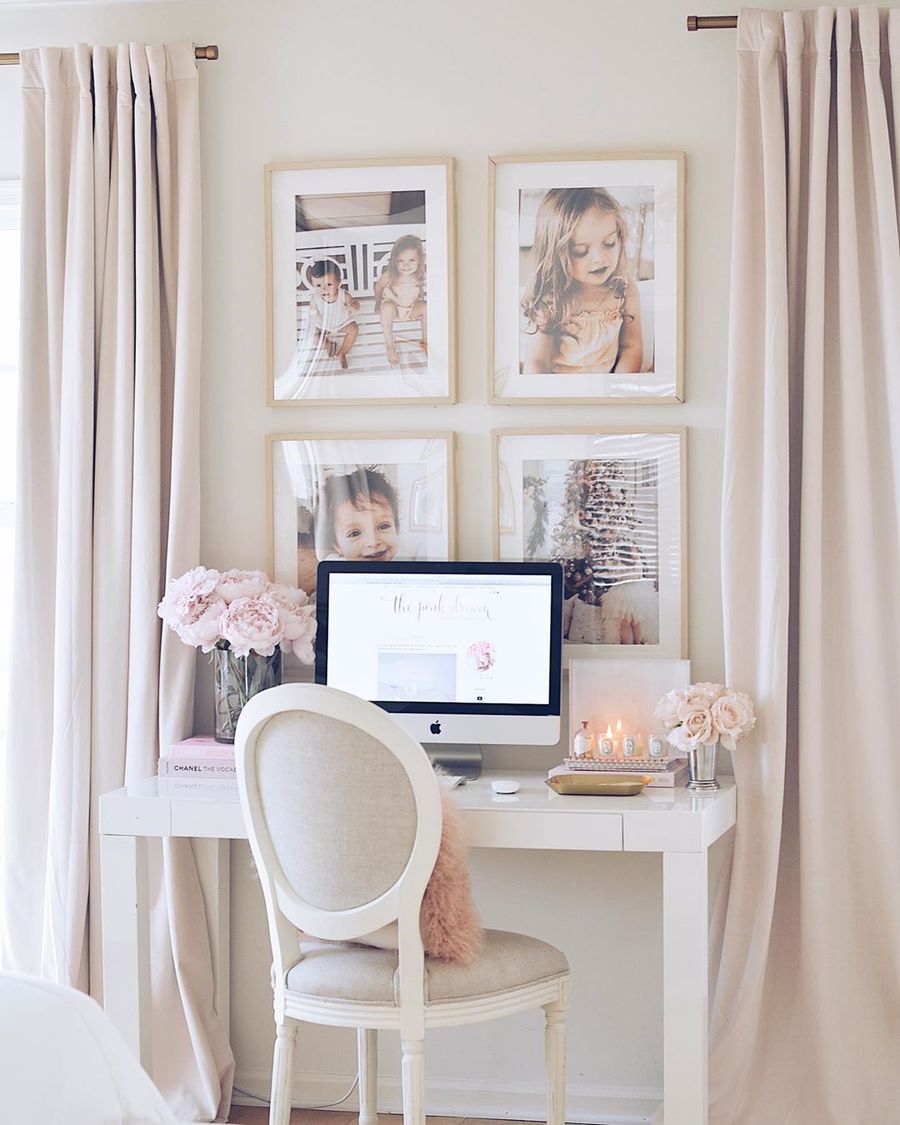 Brass Metal Chair
This is definitely a more modern glam home office look. A modernized brass metal chair with a black cushion is a key element of this space. It is paired with a normal white writing desk. A small mirrored side table sits nearby holding a vase of pussy willow branches. An abstract painting hangs on the wall. A modern black floor lamp sits nearby.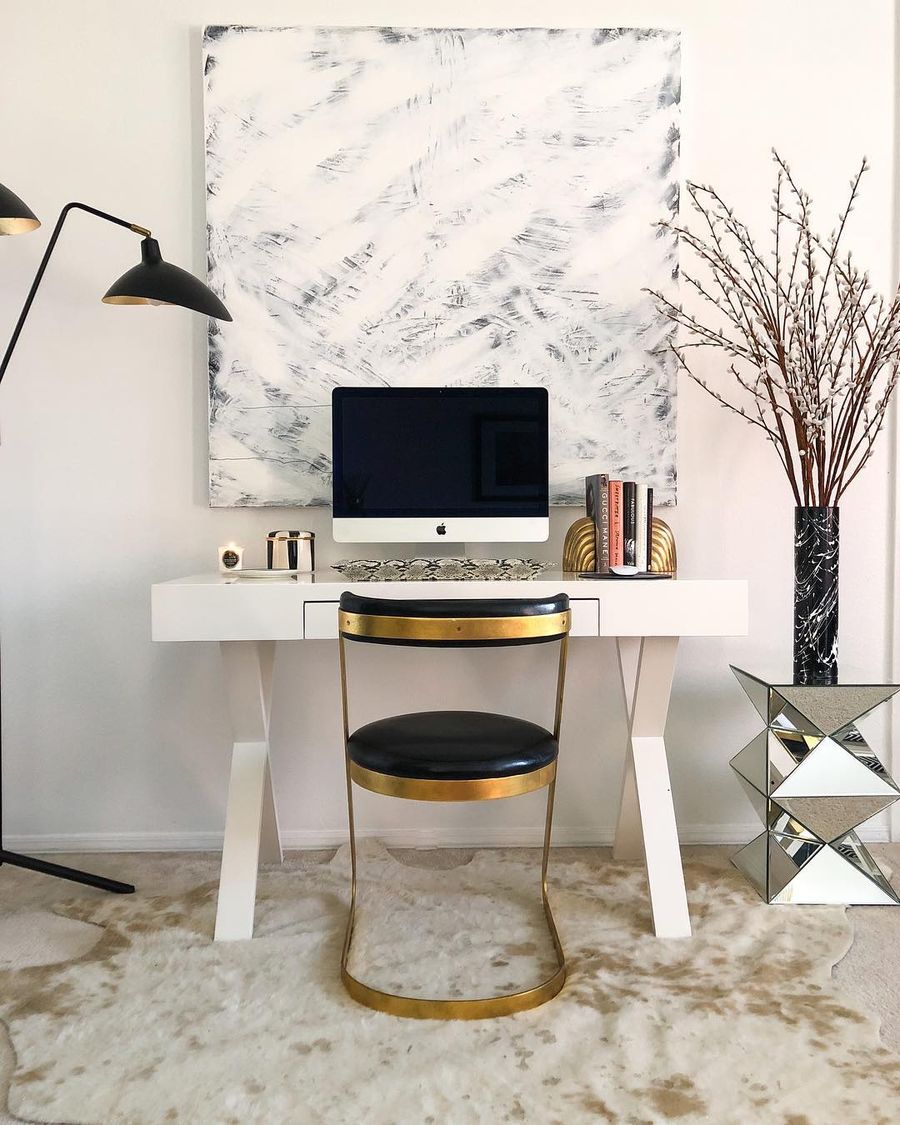 Lucite Desk and Chair
A lucite desk and chair are barely noticeable in this hidden office. If you don't want your office to stand out, lucite furniture and acrylic furniture are the way to go! A glass chandelier hangs from the ceiling, and high fashion portraits hang on the wall, each adding to the glamour of this space.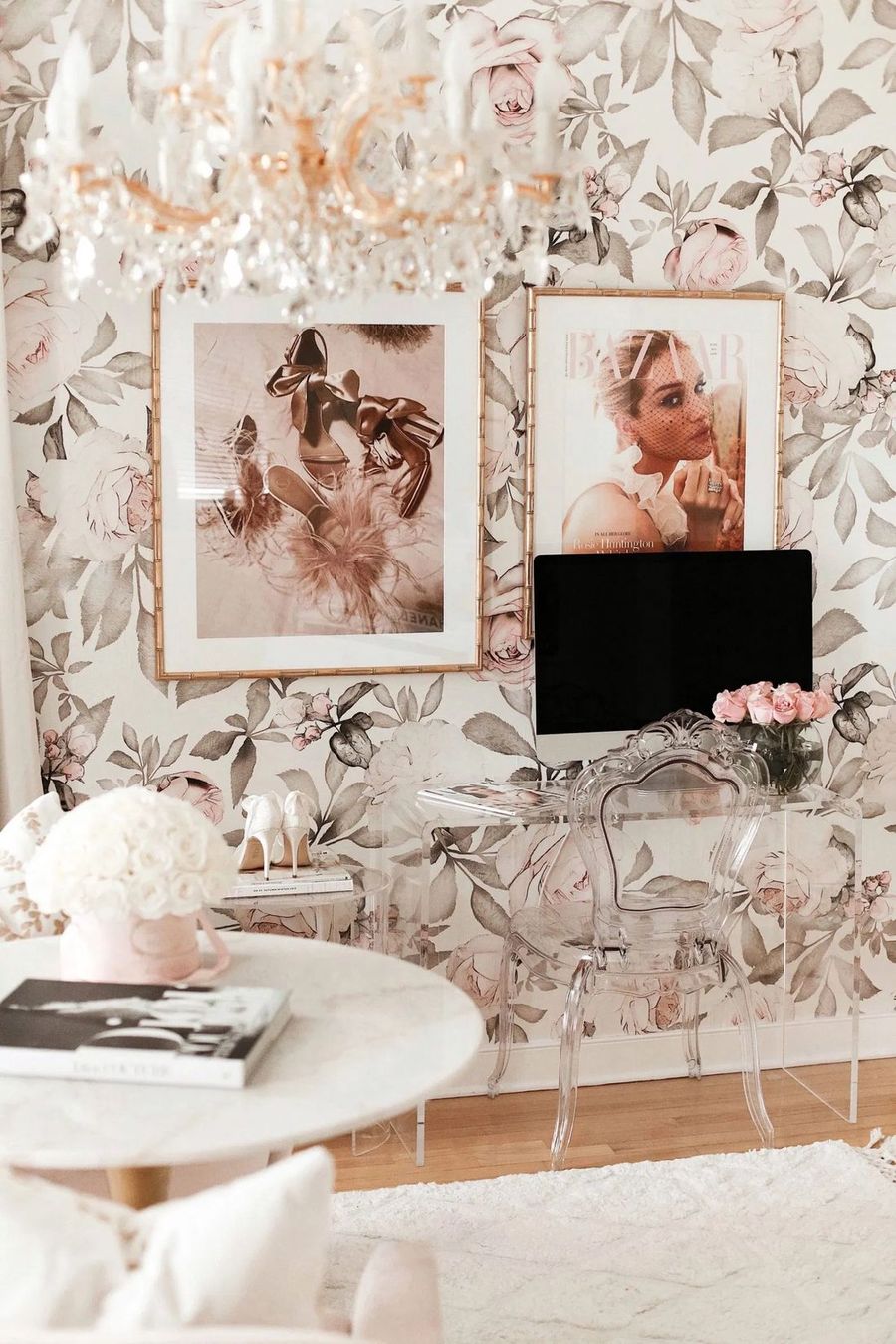 White Lacquer Desk
White is certainly the most popular color to use out of all the glam office decor ideas we are sharing today. This bold white lacquer desk is eye catching, yet functional. It works well in this glam office with a cowhide rug.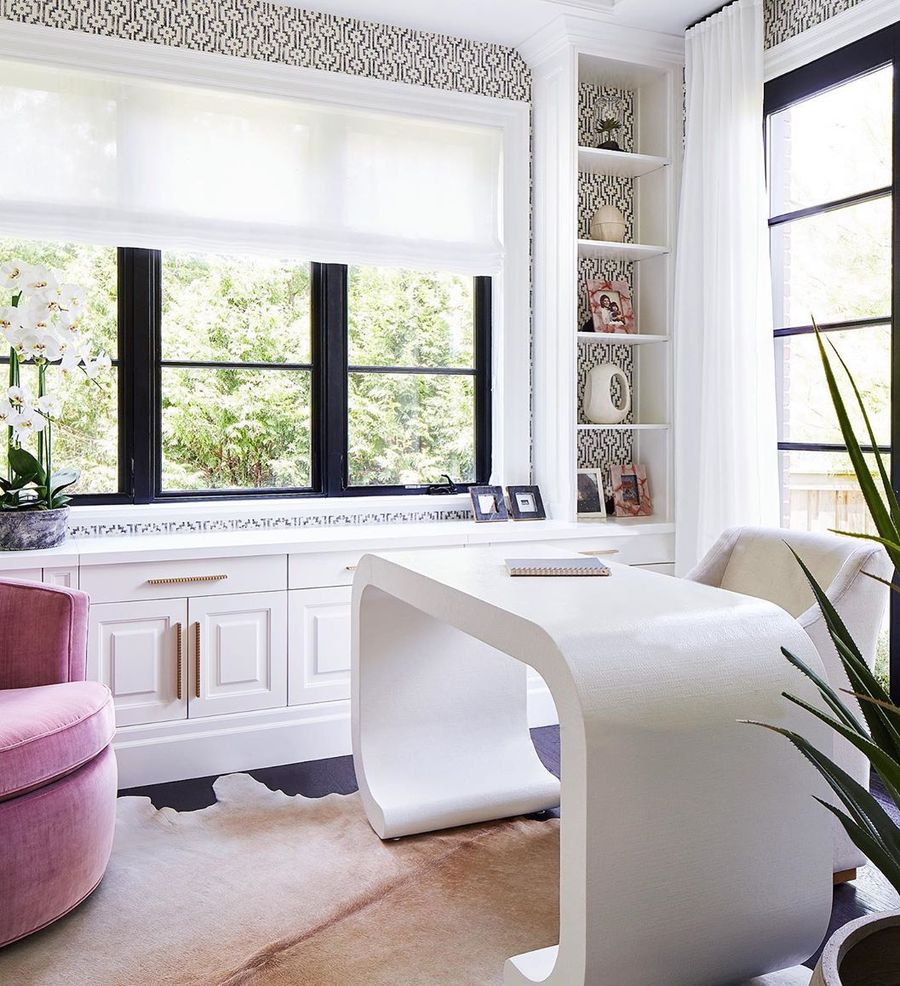 Tufted Office Chair
Tufted furniture can give any room a very glam look. Here, a beige tufted office chair sits in front of a white desk. A gold etagere bookshelf nearby offers storage for the room. A black and white polka dot pillow on the chair can be used for back support. Lastly, the gold side lamp provides lighting.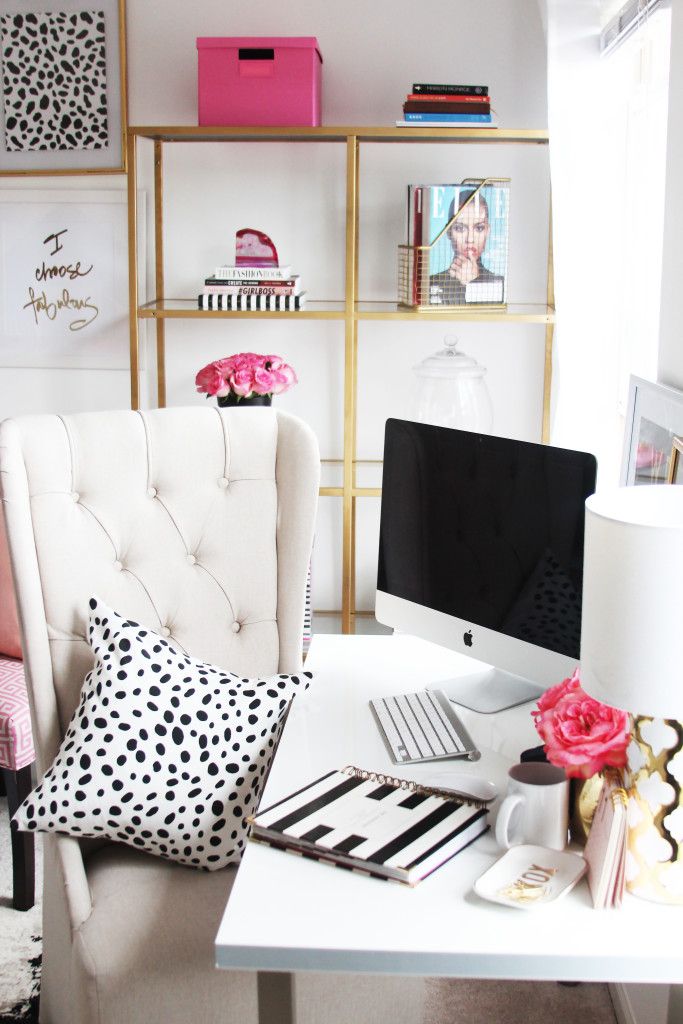 Gold Etagere
A gold etagere shelf is a great option for many glam homes. You can use this versatile storage piece of furniture in the home office to store your home supplies. Here, a makeshift home office area has been created in the living room, behind a gray sofa. A white desk was placed against the back edge of the sofa and an acrylic side chair can be used for sitting. A small gold etagere is in the corner holding books and other decorative objects. A white cowhide rug is on the floor.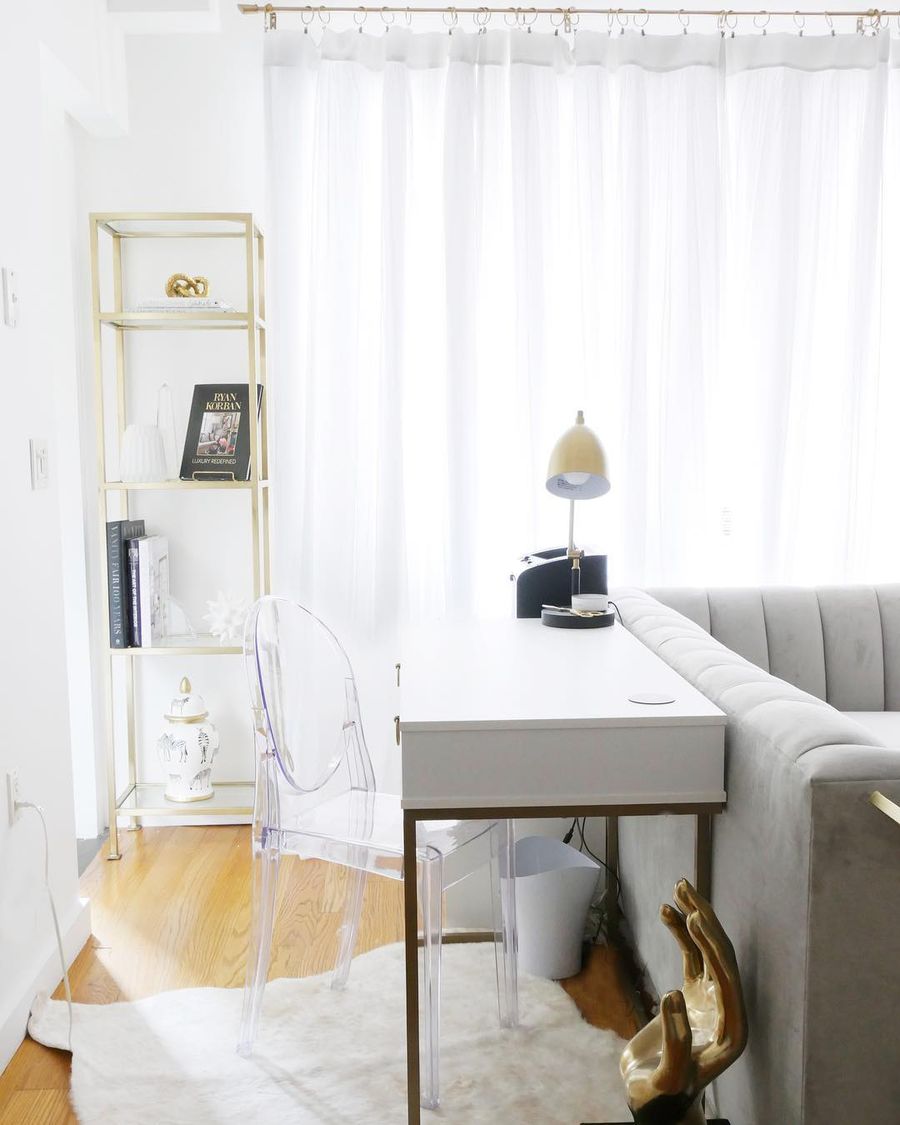 Sofa for Guests
If you have a larger home office, you may want to consider adding a sofa so that your guests can comfortably sit down as you chat business. Here, a gray sofa has been added to the home office space. This glam home office has a mirrored writing desk, glass coffee tables, and a gray velvet office chair for furniture. Pink accents like candles and throw pillows have been added here and there.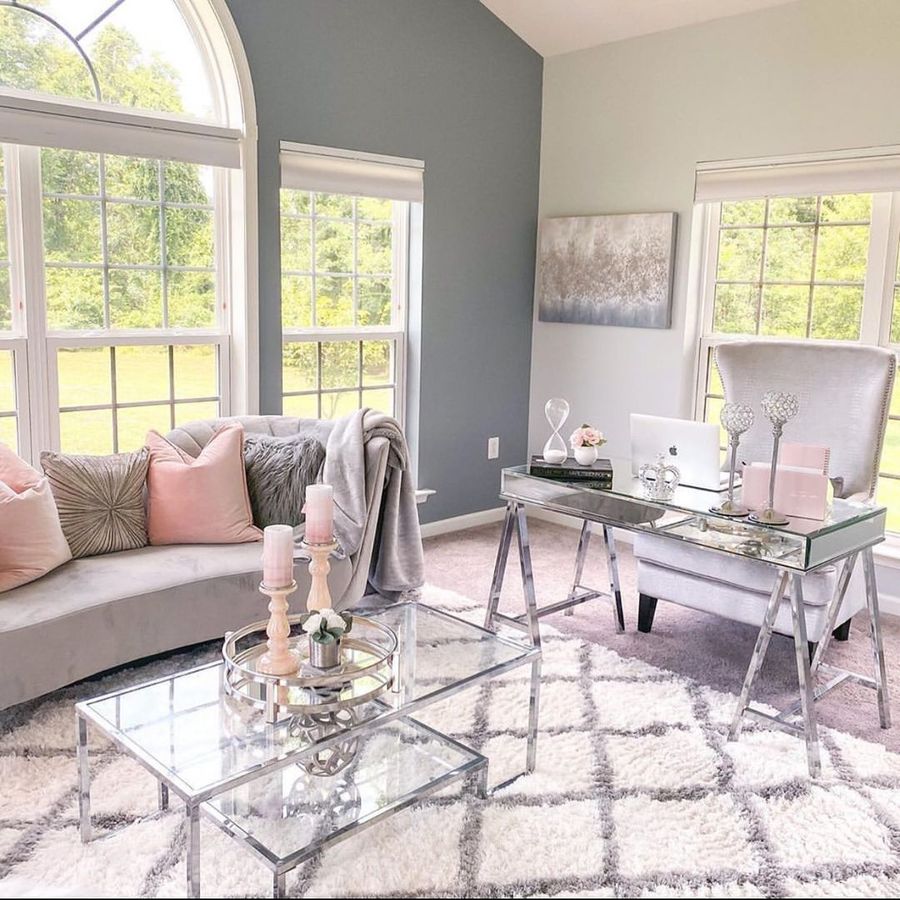 Glam Books
Books are such an important part of glamorous home office decorating. Here, two books called "Glamorous Rooms" and "Chanel: The Vocabulary of Style" have been casually stacked on a tufted bench in this office. These books really help set the educational mood of this office. Pink flowers and beige furniture are great ways to decorate your office in a glam way.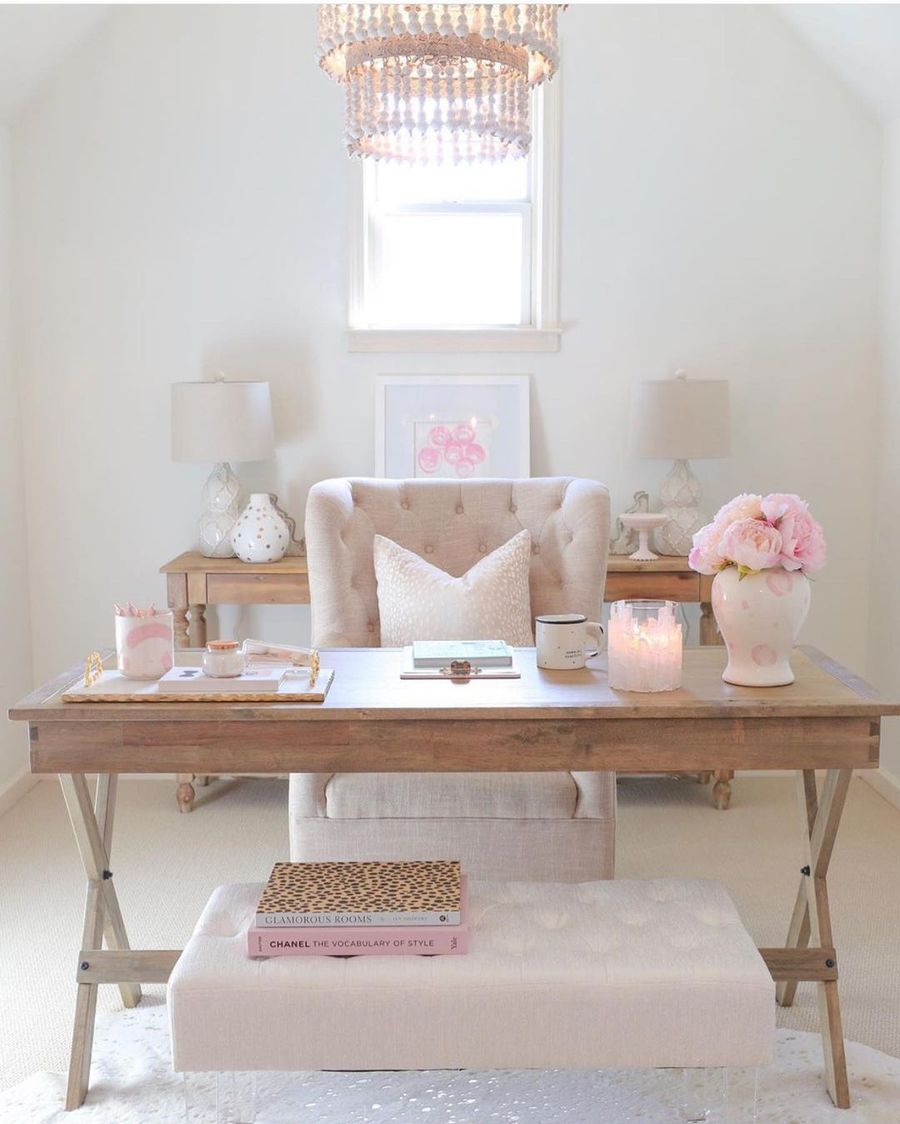 Fresh Flowers
Out of all the lovely glam home office decor ideas, decorating with fresh flowers is perhaps the most simple! Fresh peonies will keep your office smelling fresh and looking feminine. This office has two twin gold etagere against a wall, a central desk, and a white office chair. A pastel painting has been hung on the wall.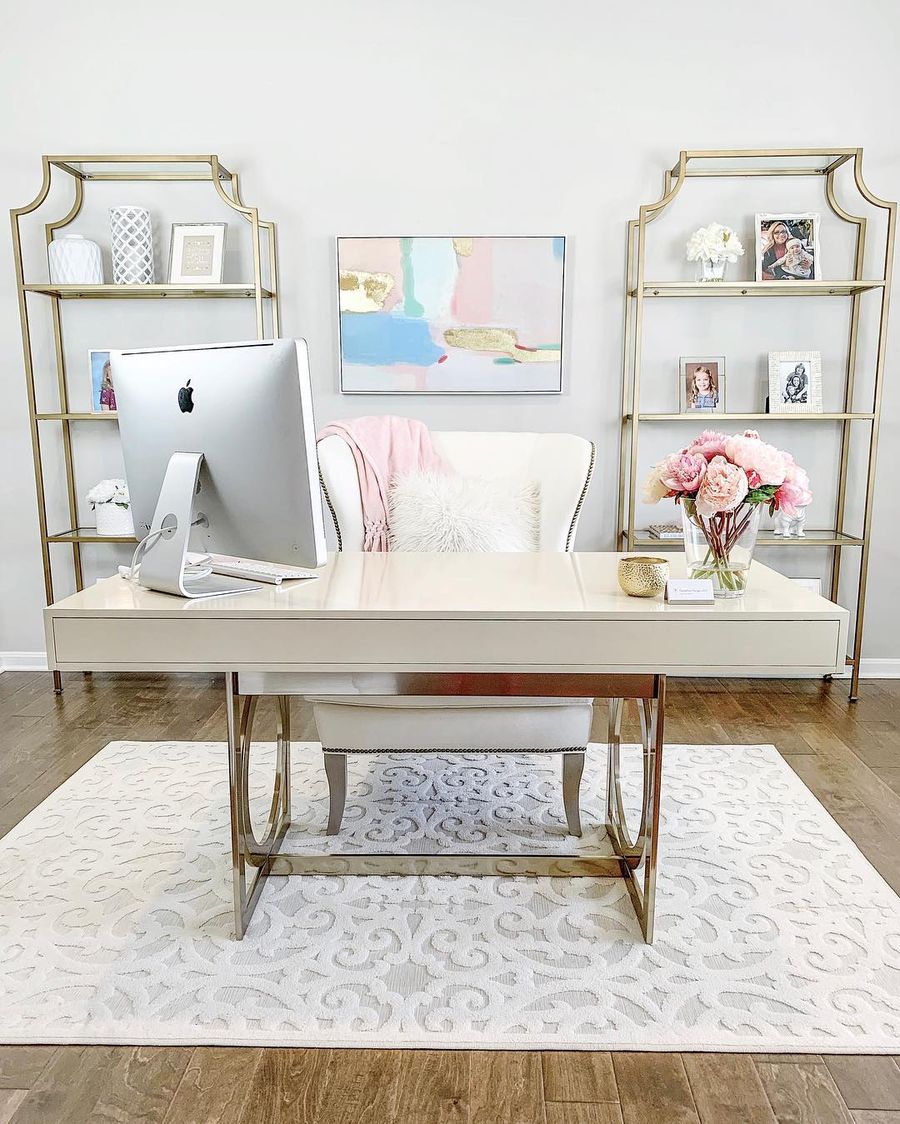 White Faux Fur Rug
Faux fur is one of the most glamorous materials you can choose for decorations and furniture. Here a beautiful white faux fur rug sits on the floor in front of this glamorous working space. Another gold etagere is seen in this room along with a crystal pendant light. Gold and white is a great color theme for glam decorating!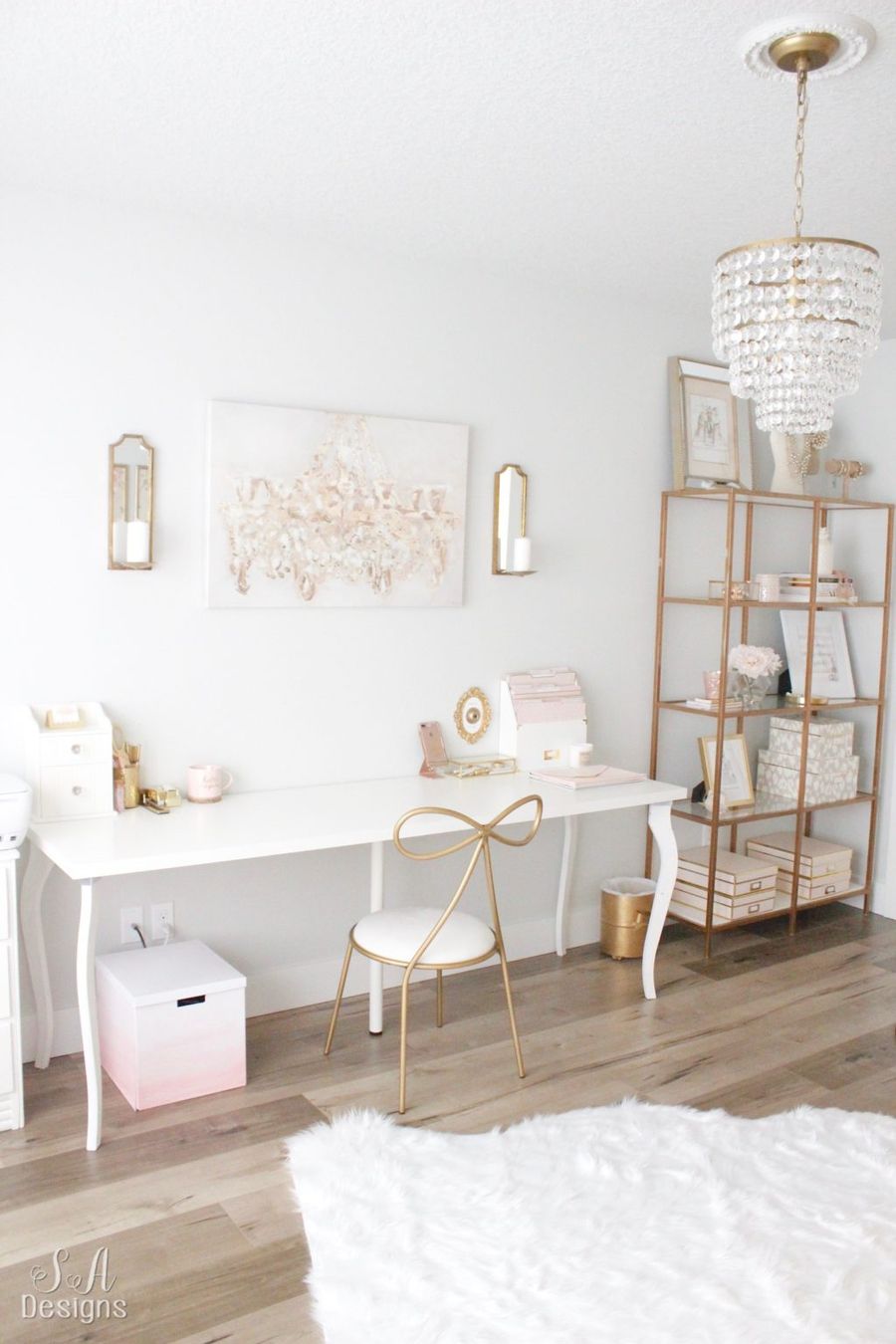 Polka Dot Wallpaper
Going for bold accent wallpaper is one of the more daring glam office decor ideas we are sharing today! This glam office has an accent wall made of black and white polka dot wallpaper. Two floating shelves have been installed on the wall for storage. A white desk keeps this room from feeling too overwhelming. An acrylic side chair, or ghost chair, sits in front of the desk. Colorful decorations have been placed throughout the area to keep things bright and fun!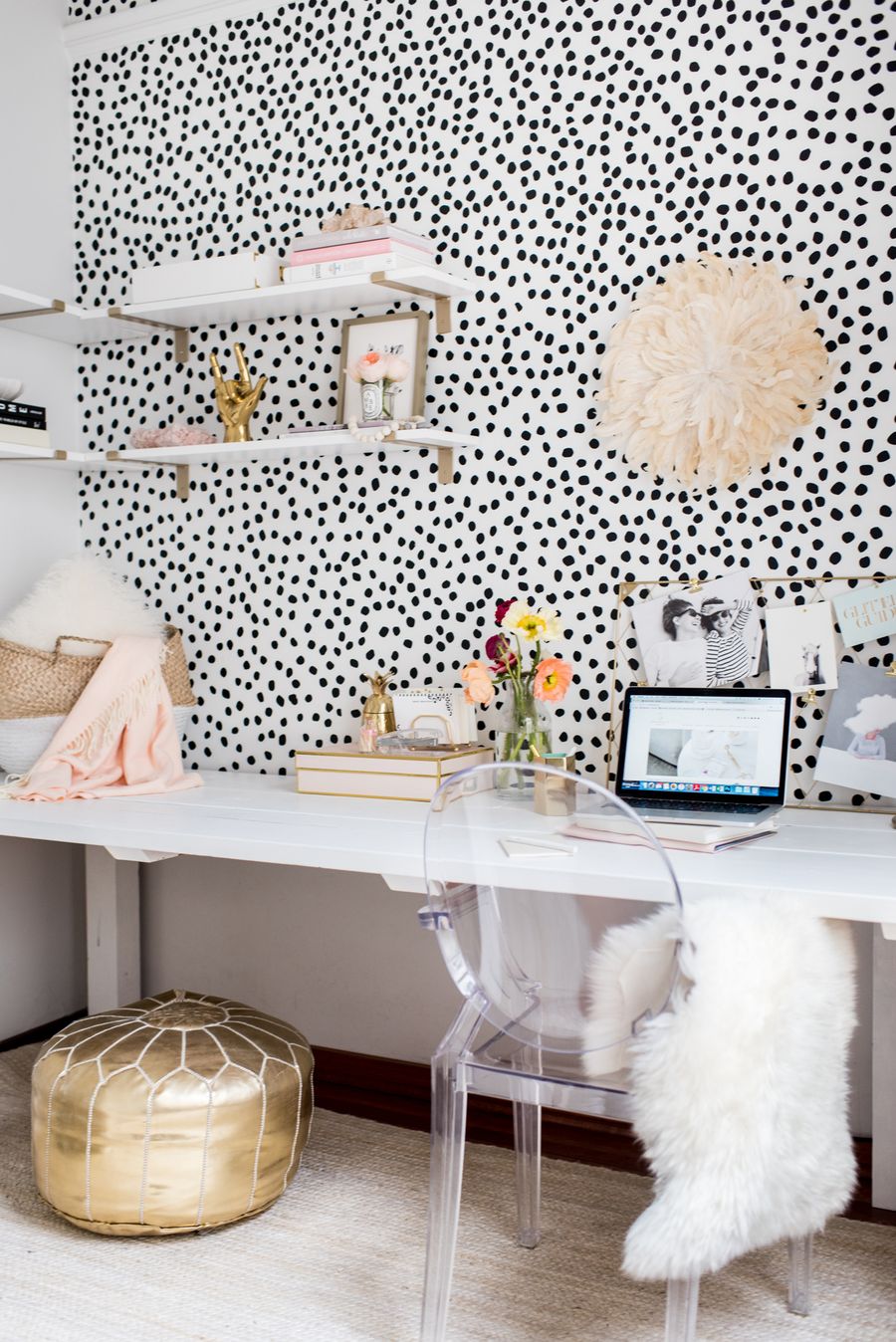 Mirrored Vanity Desk
A mirrored vanity desk can easily be turned into a glam home office workstation as seen here. With a beautiful silver mirror hanging on the wall, you can do your makeup and do your taxes at the same desk! The tufted pink chair looks great for long sessions of sitting.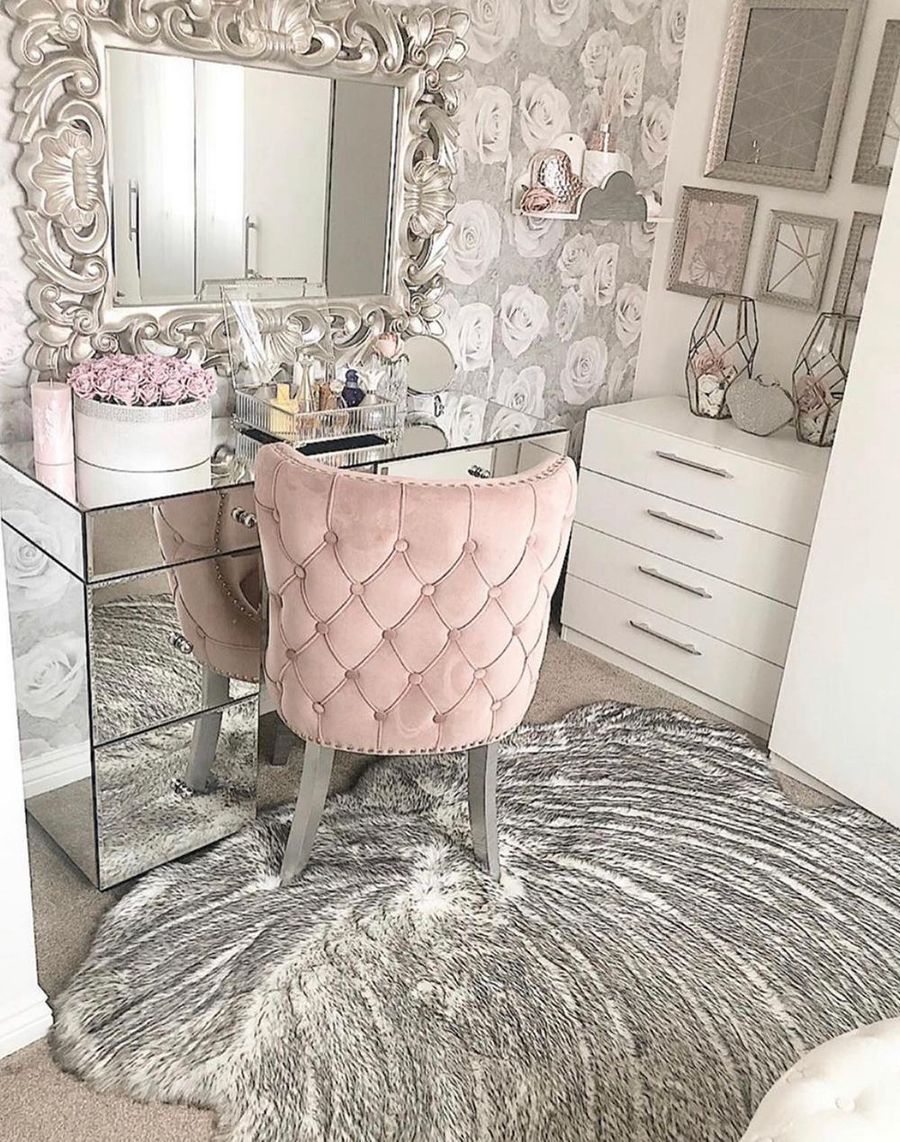 Office Accessories
Your glam office should be outfitted with lots of tech gadgets and electronic holders. This office has an iPhone stand and a paper organizer. These types of office accessories will make your working sessions easier and more productive. If you have everything you own properly stored and within easy reach, you won't waste time looking for what you need!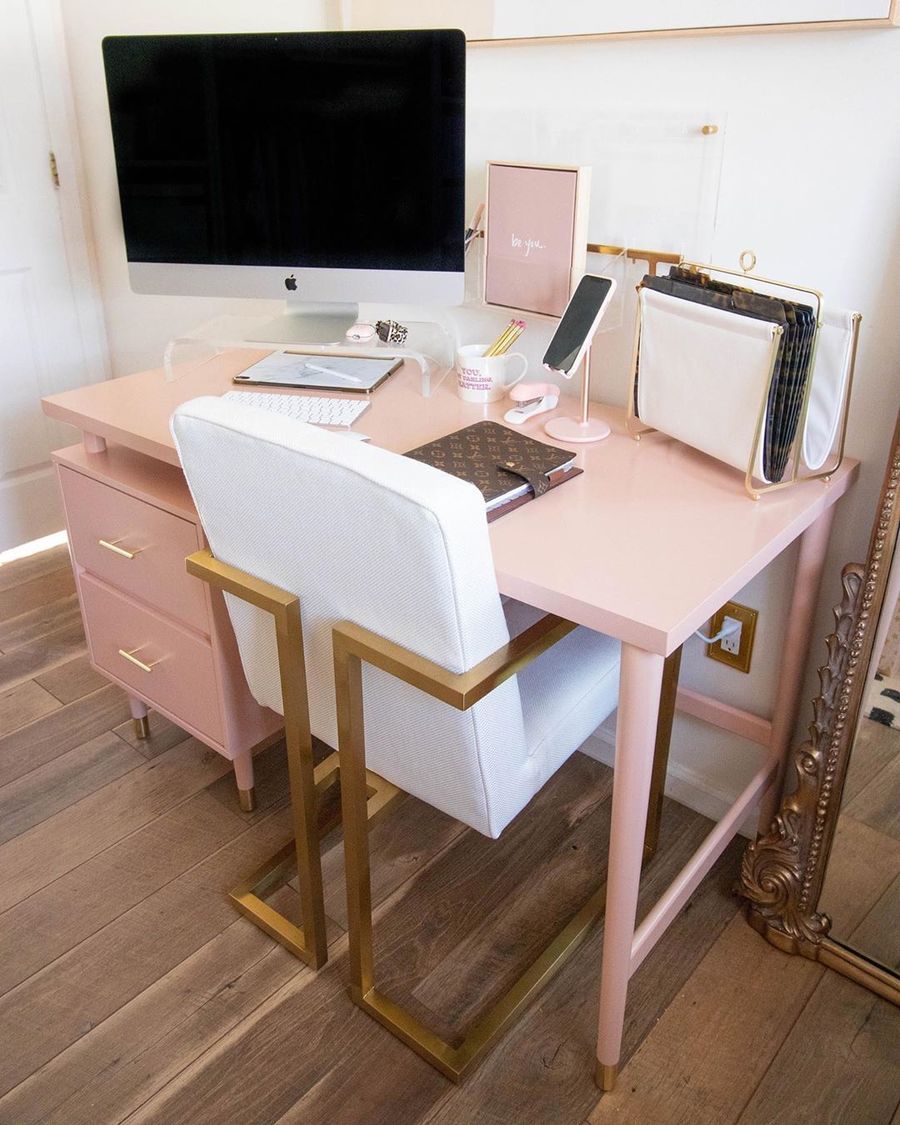 I hope these glamorous home office decor ideas helped inspire you as you design your own home office space. Getting the glam office decor look is not easy, but these are some of the best ideas we've ever seen!
More Glam Decor Ideas
For more glam decorating ideas, don't miss our other related articles on this popular decor style:
Happy curating!