From mirrors to lamps to books, glam decorations are easy to find if you know where to look! Today I wanted to round up some of the most beautiful glamorous decorations you can use in various parts of your home. From the top of the dresser to a side table, nightstand, or console table, there are lots of places around the home which could use a few glamorous decorative accents. Small decorations can really make your house feel truly like home! Here are the glam decorations you must own if you want to make your house ultra dazzling! We're sure you'll love these glam decor ideas.
So you love sophisticated luxury? Then when it comes to decorating your home, glam decorations are going to be your go-to. Rich fabrics, metallics, and crystals – these are all staples of a glamorous home that can be both stunning and practical. Check out the list below to find inspiration for a complete overhaul of your living space or just a few timeless pieces that can take your space to a new level of chic.
Here is our list of glam decorations and glamorous accents to use around the home! Glamorous decor is all about using feminine objects and metallic decorative pieces. Here are the best ideas.
1. Gold Mirrors
Gold mirrors are the perfect piece to add a pop of glitz to any room in your home while also serving a practical purpose. Whether you choose a tall, full-length mirror or hang a beautiful ornate mirror above your mantle, the frame is what brings the glam to the space. Choose the gold finish to provide a luxurious vibe while the mirror itself will make the space feel bigger and brighter.

2. Crystal Chandeliers
A classic glamorous decoration for any space is the addition of crystal chandeliers. These fixtures provide a sparkle that can brighten any room with ease. Coming in a variety of sizes and designs, you can choose a large chandelier that either takes the main stage, like in the dining room or entryway, or a smaller version that adds charm to a dressing room or bedroom.

3. Black Table Lamps
Black table lamps are the perfect way to add a touch of glam to any room that features light or neutral-toned decor. Pair a black lampshade with an ornate gold lamp base to make a luxurious piece that stands out in contrast to lighter colors in a room. These lavish accent pieces not only are eye-catching but will provide the soft light to make you and your guests look amazing.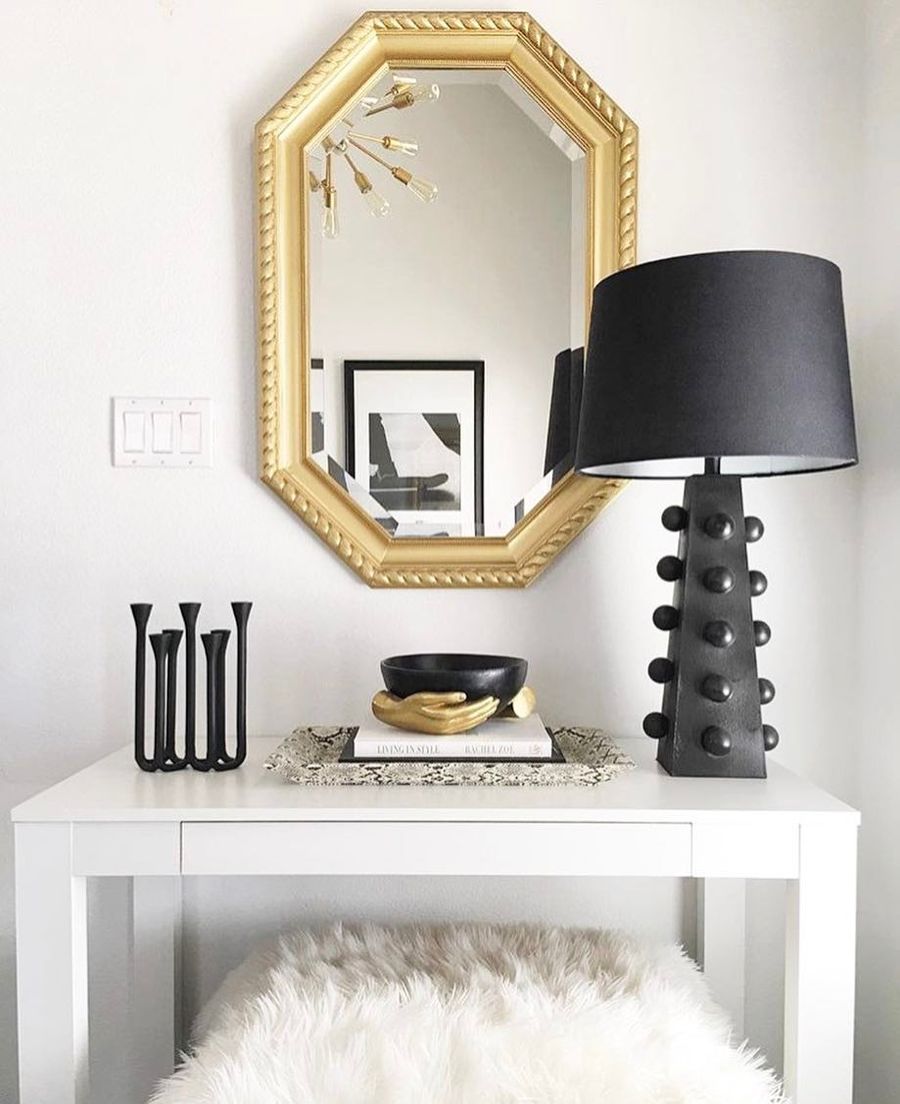 4. Glam Books
Whether you are looking to fill bookshelves or decorate your coffee table, books with ornate covers and sumptuous titles are the glamorous decoration that will do the job. Pair a stack of beautiful books with stunning candle votives, strings of pearls, or ornate picture frames and you will level up that blank space from boring to deluxe.

5. Acrylic/Lucite Tray
Trays are a great way to keep your home stylish and organized at the same time. Providing a space for small items to be collected and displayed, acrylic lucite trays are a beautiful way to corral the baubles in your home. Whether it is a creative way to catch your keys and clutch at the door or organize the items on your bathroom sink, these trays will serve a practical purpose while bringing the glam.

6. Venetian Mirrors
A Venetian mirror is a timeless piece that not only provides the practical use of a mirror but also provides the ornate detail of a piece of art. Since they are frameless, it is easy to find the perfect spot in your home for this mirror. Hang it as the centerpiece in your bathroom or by the front door for you to touch up your lipstick on your way out.

7. Metallic Rugs
If you are looking for a glamorous decoration that combines the beauty of metal with the luxury of rich fabrics, look no further than a beautiful metallic rug. Add a large area rug under the ornate pieces in a room to bring a sense of comfort without losing the elegance.

8. Faux Fur Pillows
You don't have to sacrifice comfort and coziness when you use glamorous decorations. For an inviting, warm space use faux fur pillows of all shapes, sizes, and colors. These luxurious pieces act as a jaw-dropping accent but will also beckon you and your guests to snuggle in.

9. Mirrored Trays
It is easy to add a flair of elegance to a simple table by simply using a mirrored tray as your centerpiece. Glam it up with metallic candlesticks, strings of pearls, and dark bowls. A mirrored tray is also a great piece to add to your bar – display your stunning cocktail glasses and champagne flutes with their reflection adding flair to your counter.

10. Velvet Curtains
To add drama to any room, velvet curtains are the way to go. The rich material matched with a metallic curtain rod will add glam to the room and create a warm, inviting space. Include a luxurious tie back and you will have window treatments that will wow your guests.

11. Leopard Print Pillows
Walk a little on the wild side with leopard print pillows! Combining this glamorous decoration with rich, solid fabrics will add a pop of drama to your room while still keeping that luxurious allure. Mix and match sizes and fabrics to provide an inviting spot on your couch or bed.

12. Brass Bar Carts
Bar carts are the quintessential piece for an entertaining space. Opting for one that is made with a bold brass finish provides the right amount of glam and class to your serving area. Serving guests or storing stylish bar items on this brass cart will provide warmth to the space and glam that entertains.
Don't miss our picks for the best brass bar carts or go with one of these:

13. Pink Ostrich Feathers
Pink ostrich feathers are a great way to modernize a classic floral arrangement. Adding this pop of color and vibrant texture to any room in your home will immediately level up your glam factor. Insert these feathers into any current arrangement you have, or use them on their own in a fabulous vase to create an eye-catching display.

14. Brass Candle Holders
Brass candle holders are a great way to mix traditional style with glamorous decoration. Add these pieces to your mantle, the centerpiece of your dining room table, or simply as an addition to your vanity. The brass finish mixed with a lit candle adds a sense of warmth to any space.

15. Silver Jewelry Boxes
Any place deemed lucky enough to hold your most precious jewels demands luxury and glam. Storing your beautiful jewelry in a silver jewelry box is the perfect way to show some love to that arm candy, while also glamming up your closet or vanity space. While the jewelry inside may steal the show when it is worn; while it is stored away, the box that holds it can provide the same sparkle to your home.

Your home is a reflection of your personality and style. So if you are a lady who exudes glamour and sophistication, your home should be no different. Incorporating some or all of these glamorous decorations in your home is sure to wow your guests and make you feel like you are living in luxury.