If you're looking to add a touch of glamour to your dining room, here are some tips to help you choose the perfect table.
When choosing a glamorous dining table, consider the overall style of your dining room. Do you want a more formal look, or something more relaxed? Glamorous dining tables come in a variety of styles, so it's important to find one that will complement the overall aesthetic of your space.
Glam dining tables can be made from a variety of materials, including wood, glass, and metal. Consider which material would work best with the overall look of your glam dining room.
Think about the size of your dining room and the number of people you typically have over for meals. You'll want to choose a dining table that is large enough to comfortably seat all of your guests but not so large that it feels overwhelming in the space.
Glam Dining Room Style
A glam dining room style is all about luxury and elegance. Furniture and accessories are typically ornate and finely detailed, with rich fabrics and luxurious finishes.
If you're looking to create a glamorous dining room, start by choosing a dramatic focal point, such as an ornate chandelier or a sparkling mirror. Then, select furniture and accessories that are equally glamorous.
Rich fabrics, like velvet or silk, and luxurious finishes, like gilding or crystals, will add to the overall look. Finally, don't forget the details! Chandeliers and sconces provide soft lighting, while mirrors add a touch of luxury.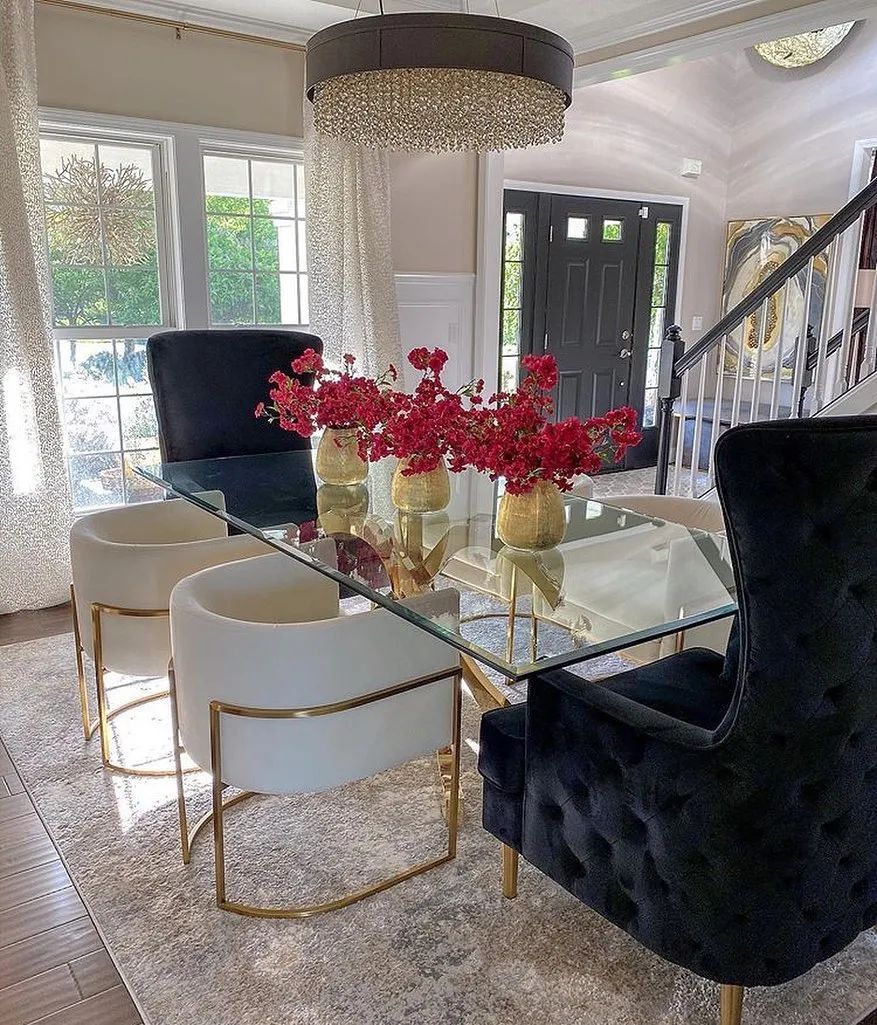 Glamorous Dining Table Ideas
There are many different ways to create a glamorous dining room, but one of the most important elements is the table. Glamorous tables come in all shapes and sizes, so it's important to find one that fits the overall aesthetic of your space.
Ornate details and luxurious materials will help to create a glam look. For example, a table with a carved wooden base and a marble top would be perfect for a more formal dining room. Alternatively, a metal table with a glass top would be perfect for a more modern space.
Here are a few dining table ideas that you could add to your dining room if you want to get the glam look.

White Lacquer Dining Table
A white lacquer dining table is typically a rectangular table with a smooth, shiny finish. The surface is typically made from a wood or plywood base that has been covered in layers of lacquer, which gives it its beautiful shine. White lacquer tables are one of the most popular glamorous dining tables for any home as they can be dressed up or down to suit any style or occasion.
Round Marble Dining Table
A round marble dining table is typically a beautiful, classic piece of furniture. The surface is made from premium quality marble, which gives it a luxurious look and feel.
Metallic Gold Leg Dining Table
Metallic Gold Leg Dining Tables typically have a sleek and glamorous design, with metallic gold legs supporting the tabletop. This can create an elegant and luxurious look for your dining area. Gold leg dining tables are perfect for those who want to make a statement in their home. They can be used as a focal point in a room, or as an accent to other pieces of furniture.