Decorating your home with a gallery wall can be a fun, creative way to display the art and photos you love. Gallery walls are also a great way to fill up empty wall space that would otherwise go unused. If you want to make a gallery wall for your home, this guide will show you how!
Gallery walls are just one of the many wall decor ideas we love!
Make a Beautiful Gallery Wall
Gallery walls are the ultimate way to add color, personality, and charm to your home. But it can be hard to know where to start or how even to decide what to put on your wall! Here are tips for making a gallery wall you love.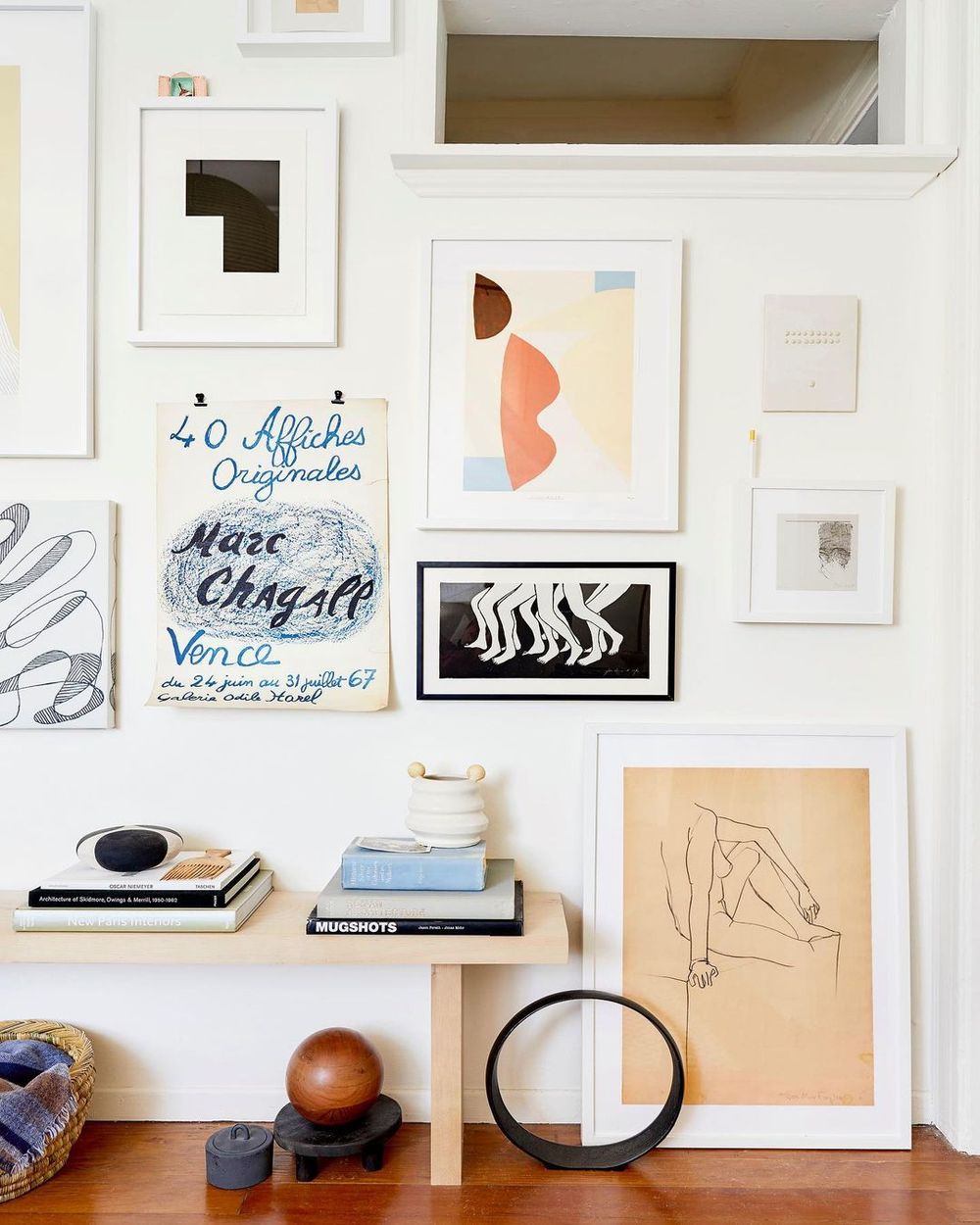 Analyze the Space You Have to Work With
The first step is critical: consider what kind of space you have. Do you have a lot of wall space, or do you need to plan around existing furniture? Are your ceilings high or low? Is there a lot of light or not much? Your answers will help determine how big your gallery wall can be and how much time it will take to get it right. Measure the width and height you have to work with!
Gather Your Art and Photos
Start by gathering all the art, photos, and posters you'd like to use. If you're only displaying photos, look for any old family photos that you've been keeping in boxes or albums. If you're going to be displaying art and photos, go through all of your old artwork from school and choose some pieces you'd like to display.
Pick a Theme (Color or Subject)
Choosing a theme for your gallery wall will help it look more cohesive. You might choose all black-and-white images or pick out artwork that contains the same color scheme. Alternately, pick pieces with similar subjects; for example, you might select art featuring flowers or animals.
Choose the Frame Materials
Selecting the frame materials is an important step in creating your gallery wall as it sets the tone for the entire display. The materials you use will help create a visual cohesiveness and focus for the wall. Some popular options include:
Wood frames: The traditional framing style can work with any gallery wall design.
Metal frames: These are sleek and modern and fit well with contemporary gallery walls.
Mixed material frames: Combining two frame materials like wood and metal creates a more eclectic style that works well in eclectic homes or rustic homes.
Remember, the frames need to contrast with the wall paint behind them to really stand out!
Use Different Size Frames
Gallery walls can be a mix of different sizes of artwork or photos, but they should have an overall balance to make sure that it still looks cohesive. To achieve this balance, make sure that you use different size gallery wall frames so that they fill up the area evenly across the wall. You can do this by choosing a few large pieces and then adding smaller ones around them or grouping similar-sized frames together to create a visual pattern on the wall.
Use an Odd Number of Frames
This is a classic design principle—when you have an odd number of items in a group (like frames on a wall), it looks more balanced and eye-catching than when you have an even number of items. That's because the human eye naturally settles on the middle object in an odd-numbered group, and with an even number, it tends to notice how the two outside elements are equal. The rule applies to frames, as well!
Lay it Out Beforehand
When you're making your gallery wall, you'll want to make sure all the elements are in place before you start hammering nails into your wall. Layout all the frames on the floor first and arrange them until they look good together. Then use painter's tape to mark where each frame will go on the wall when it's time to hang them up.
Hang the Frames Evenly on the Wall
If you're hanging the frames in a line, make sure the bottom of each frame is even with each other. If you're hanging them in a grid, make sure each one is even with the other, and the bottom of each frame lines up below the top of another frame. If you plan on hanging it in an asymmetrical pattern, measure out the space so that all your frames are evenly spaced from one another and the walls and ceiling.
If you want to avoid drilling into your wall, consider using Command Strips to avoid making holes.
Fill in the Gaps
When hanging your gallery wall, it's easy to put too much space between some of your frames and not enough space between others. Try to fill in any gaps with pieces of paper or even fabric swatches that are roughly the same size as the artwork that will eventually fill those spaces. This helps you get an idea of your finished gallery wall while you still have time to rearrange everything before it's too late!
Switch it Up from Time to Time
Gallery walls are so fun because of their versatility—you can change them up any way you like! So play around with moving your pieces around and adding new photos or artwork. Maybe try alternating the size and shape of the pieces you hang or rearranging the order you put them in. The possibilities are endless!
Gallery Wall Alternatives
Gallery walls are a great way to add art to your home, but sometimes you don't have enough wall space for everything you want to hang. Luckily, there are other ways to display your favorite pieces of art. If you're looking for something a little faster and easier, two alternatives might work for you.
Grid Gallery Wall
A grid gallery wall is simply a collection of frames arranged in rows with equal spacing between each frame. Choose the area you want to fill and use painter's tape to mark off the space to get started. Use your painter's tape to divide the space into equal sections that correspond with the number of frames you want in your grid. Then just arrange your frames, hang them up, and admire your handy work!
Floating Shelf
The floating shelf is another great way to display your art and photos without hanging them on walls. It's great because it gives you all the versatility of a traditional gallery wall with none of the commitment or permanence of actually hanging something on your wall. Simply buy or build as many shelves as you need and then get creative with how you position them. You can even hang them on a blank surface like a sliding door or chalkboard for an extra fun twist!
---
Gallery walls are a great way to mix old antique frames with new pieces and photos. They highlight personal flair and add color and interest to your home. The best part is that they can be created within any budget, and there is always room to create the wall that works for you. If a gallery wall is something in the future for you, try using these general tips to make the gallery wall of your dreams!
Next, get inspired by the coolest gallery wall ideas!