Thinking about getting one of these amazing glam makeup vanities for your home? Elegant, dramatic, and timeless, glam decor transcends through time and depicts the luxury and beauty of intricate designs. With an emphasis on making interior spaces more luxurious despite featuring basic and classic details, glam decor elevates any living room or bedroom in a home.
One of the simplest ways to add a touch of glamour to any bedroom is a glamorous makeup vanity that takes center stage. With beautiful mirrors, exquisitely designed drawers, and a beautiful yet functional stool, an opulent makeup vanity is simply the highlight of any interior space that's bent on making the entire room chic and stylish.
Glamorous Makeup Vanities: Everything You Need to Know
Glam vanities are more than just a place where you do your makeup or fix your hair. It is a special place that makes you feel more beautiful and confident, while also being a fascinating piece of furniture that serves as the highlight of any bedroom or walk-in closet.
Glam vanities can come in many different styles, but we really love the ones that have an elegant, chic design to them. The vanity could be made of metal, lacquer, or another shiny material. Things to consider when purchasing a make up vanity include the lighting and the mirror. Some vanities have a mirror attached to them which you can use for doing your make up. Others have built-in lighting sources to direct light towards your face. Be sure to consider these key components as you consider which make up vanity is right for you. Here are some ideas:
Let's go over a little history of where glam vanities originated and why makeup vanities are a must-have piece of furniture for any woman.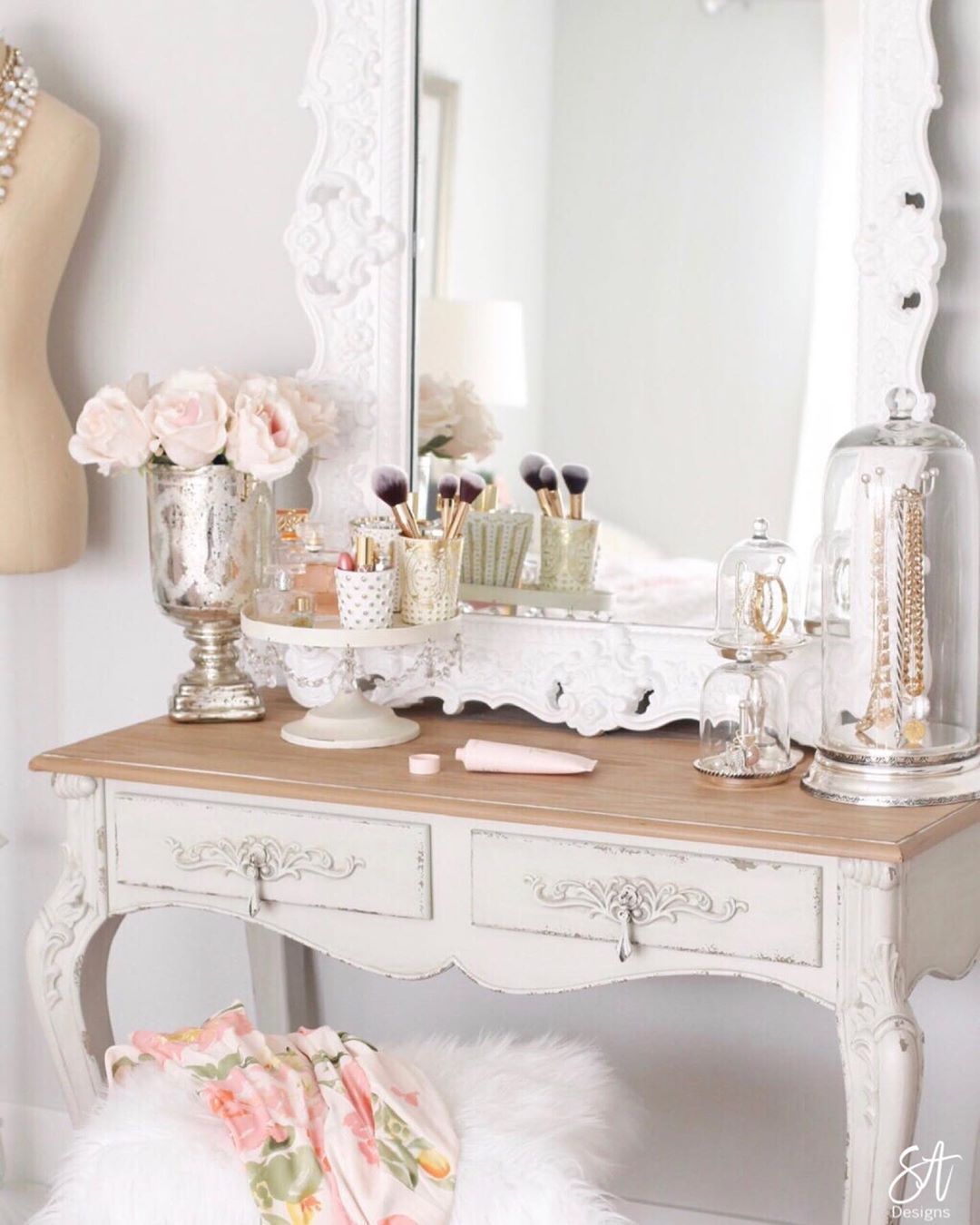 The History of Glamorous Vanities
Since time immemorial, men and women all over the world have taken special care of their appearance. Most notable were the Egyptians, who had elaborate rituals and tools derived from nature to make them look beautiful. They had special boxes to place these makeup items, but never really had a designated "table" to practice their beauty routines.
Fast forward to the 1700s when the first-ever makeup vanity table was created, thanks to the famous Madame de Pompadour, who was the notorious mistress of King Louis XV. She commissioned a piece of furniture where she could do her many beauty rituals while also receiving guests. This intricate piece of furniture featured drawers and a beautiful mirror framed with elegant details, and thus, the first vanity table was born.
Fast forward to modern times, and glam vanities are no longer just a luxury reserved for royals and nobles but have become a staple in any household all around the world.
Uses and Purposes of Glam Vanities
The primary function of a glam vanity is to serve as the designated place where a man or woman applies her makeup. This is why vanities feature a mirror or two, and several shelves or drawers where one can organize her makeup, her makeup tools, fragrances, and everything she needs to make herself look beautiful before going out into the world.
When it comes to the popularity of glam vanities, the perfect image is the young Hollywood starlet doing her makeup while donning her fur-lined robe. Indeed, a vanity can make one feel elegant and luxurious, and this is just one of the simple ways a vanity can add more glamour into one's life.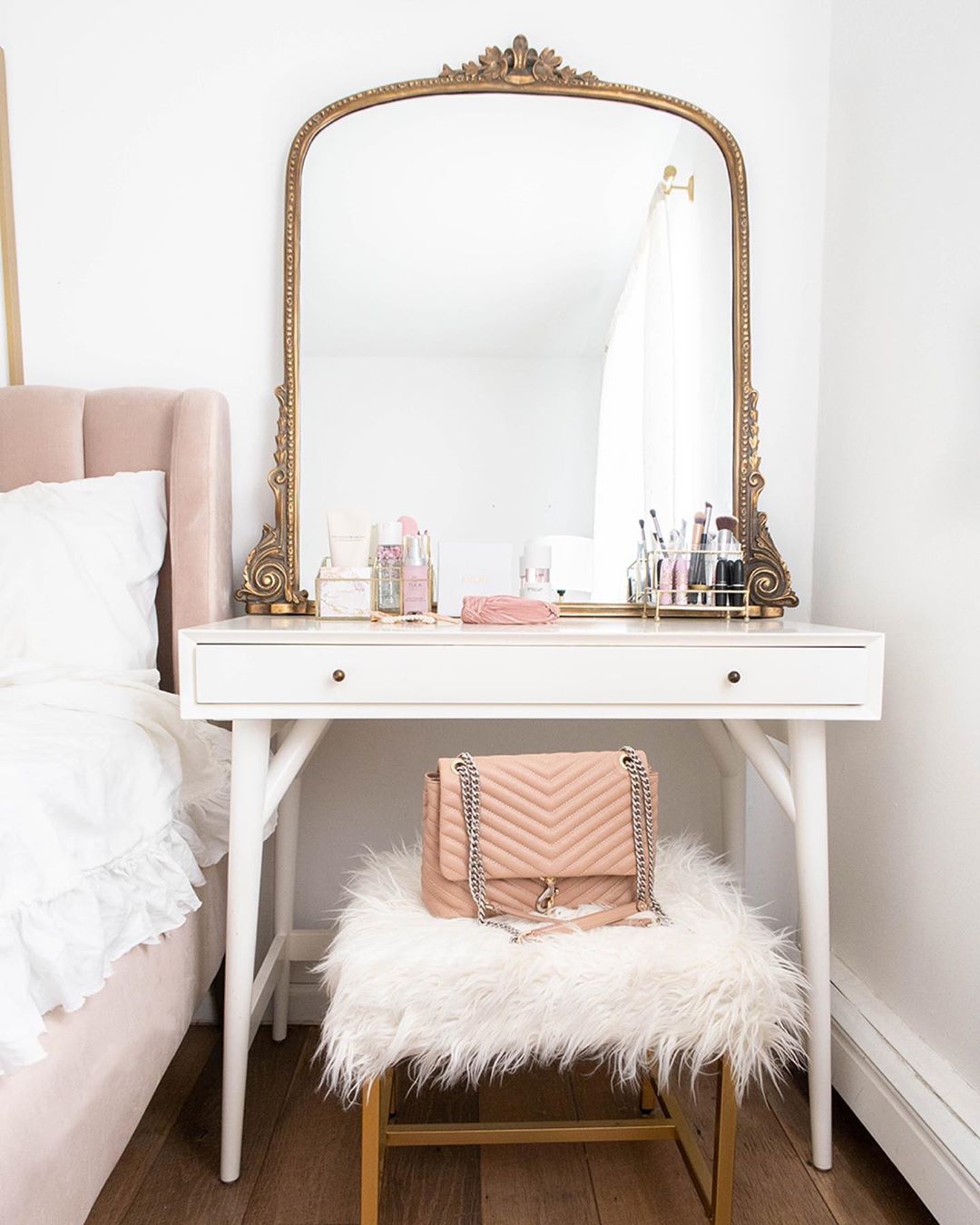 Vanities often have drawers and shelves to organize your beauty products, allowing you to have an easy routine as you put on your makeup, fix your hair, and spray your daily perfume. The shelves can also be used to displace candles, crystals, and small trinkets for decoration. Moreover, the drawers can also be used to store jewelry and other precious items.
While makeup vanities are functional in nature, glam vanities add a special touch through the features of beautiful designs, carvings, and intricate details that make them more than just a place to make yourself look beautiful. Vanities also serve as an opulent piece of furniture that creates the perfect focal point to any room.
Glam Makeup Vanity Accessories
Once you have a good idea of the glam make up vanity you'd like for your home, it's time to think about the different accessories that you should buy in order to organize all of your make up brushes, tools, fragrances, perfumes, and skincare products. You can get a number of different glamorous makeup vanity accessories to make putting on your make up every morning easier. I recommend purchasing a tiered tray, an additional magnified mirror, and a comfortable chair or stool. Here are some ideas:
More Glam Decor Ideas
Keep reading about how to decorate a glamorous home with these recent posts on glam decor: