If you love sophisticated luxury, then the glamorous decor style could be right for your home. Inside glamorous homes, cascading crystals hang from a sparkling chandelier above velvet tufted furniture and draped in faux fur. The look is reminiscent of old Hollywood glamour and takes inspiration from upscale, classy interior design. The modern glam look is typically achieved through the combination of three colors:
a metallic (gold or silver)
a neutral (black or white)
an accent color (pink, gray, etc.)
Let's go over a few specific ways you can get a modern glamorous decor look in your home!
Glam Decor
Here are fifteen solid elements of the glamorous style look. These pieces will ensure your home always has a modern glam vibe to it!
1. Brass Bar Cart
A brass bar cart is the perfect living room accessory to make your home glamorous and chic. Bar carts became popular in the early 20th century, as a way to entertain during get-togethers and cocktail hours for family and friends. A bar cart can help you organize your liquor and serving glasses so you're ready when it's time to pour the drinks!

2. Tufted Furniture
Tufted furniture is a classic style of glamorous furniture that adds elegance to any room! If you don't want to splurge on a tufted sofa, why not try a tufted ottoman, bench or accent chair?

3. Gold or Brass Furniture
Furniture with a shiny gold frame or a brushed brass is commonly found in Glamorous style homes.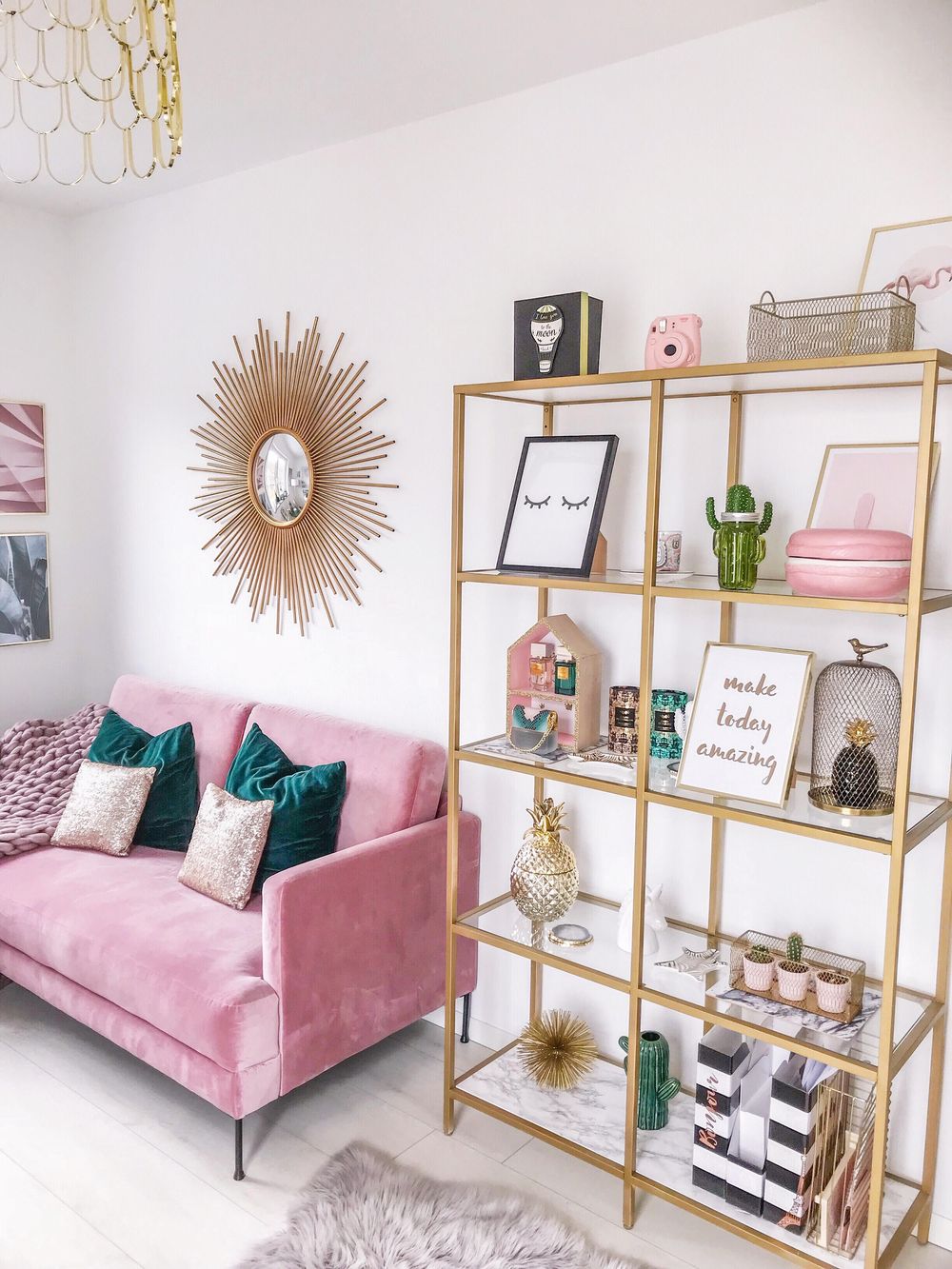 4. Faux Fur Benches and Stools
Faux fur is a fun material to use on your glam furniture. I often see faux fur benches or faux fur stools in Glam bedrooms and living rooms.

5. Mirrored Furniture
Mirrored furniture like nightstands, desks, and canopy beds are a great way to add a touch of glamour in your home. They will also help illuminate the space, as the mirrors will gently reflect light that passes through the room.
6. Vintage Style Rug
An oriental or vintage style rug is the perfect addition to your glamorous living room. You can definitely play with an oriental or damask pattern when it comes to the rug as these designs pair well with a velvet sofa.

7. Nailhead Trim or Studded Edge Furniture
Glamorous decor is all about the metallics and a nailhead trim sofa is a great way to add some sheen to your living room. Studded edge furniture such as sofas or accent chairs will stand out in a way that shouts Glam!

8. Marble Surfaces
Why not try a marble side table or marble coffee table? They will fit in perfectly with your glam decor! Bonus points for brass or gold legs on the table!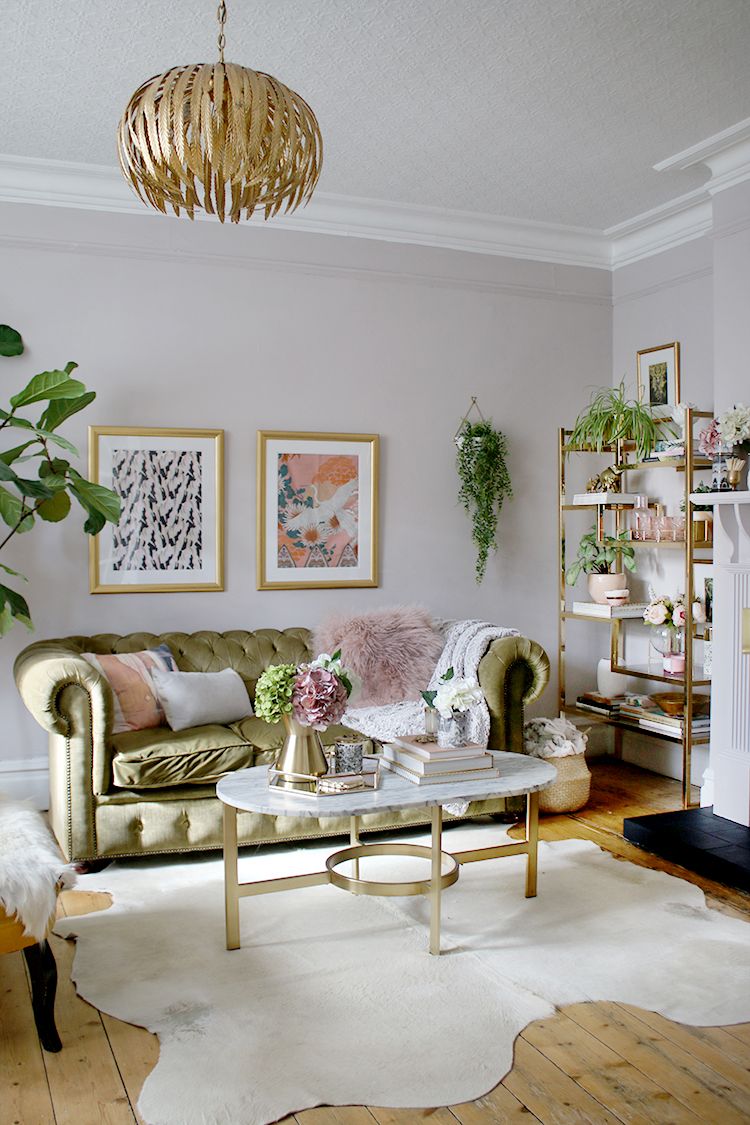 Swoonworthy
9. Metallic Accents
Since mirrored furniture can be expensive, there are lots of other ways to decorate with metallics in your home. One idea is to purchase small metallic accents in one metal (chrome, nickel, gold, brass) to keep things consistent. Here are some ideas for decorative metallic accents for the home.

10. Channeled Sofas
Channeled sofas are an elegant alternative to tufted sofas, which are quite common. Channeled sofas have sleek and straight vertical lines that divide up the seat back cushion. Channeled sofas can give your glam living room a contemporary feel.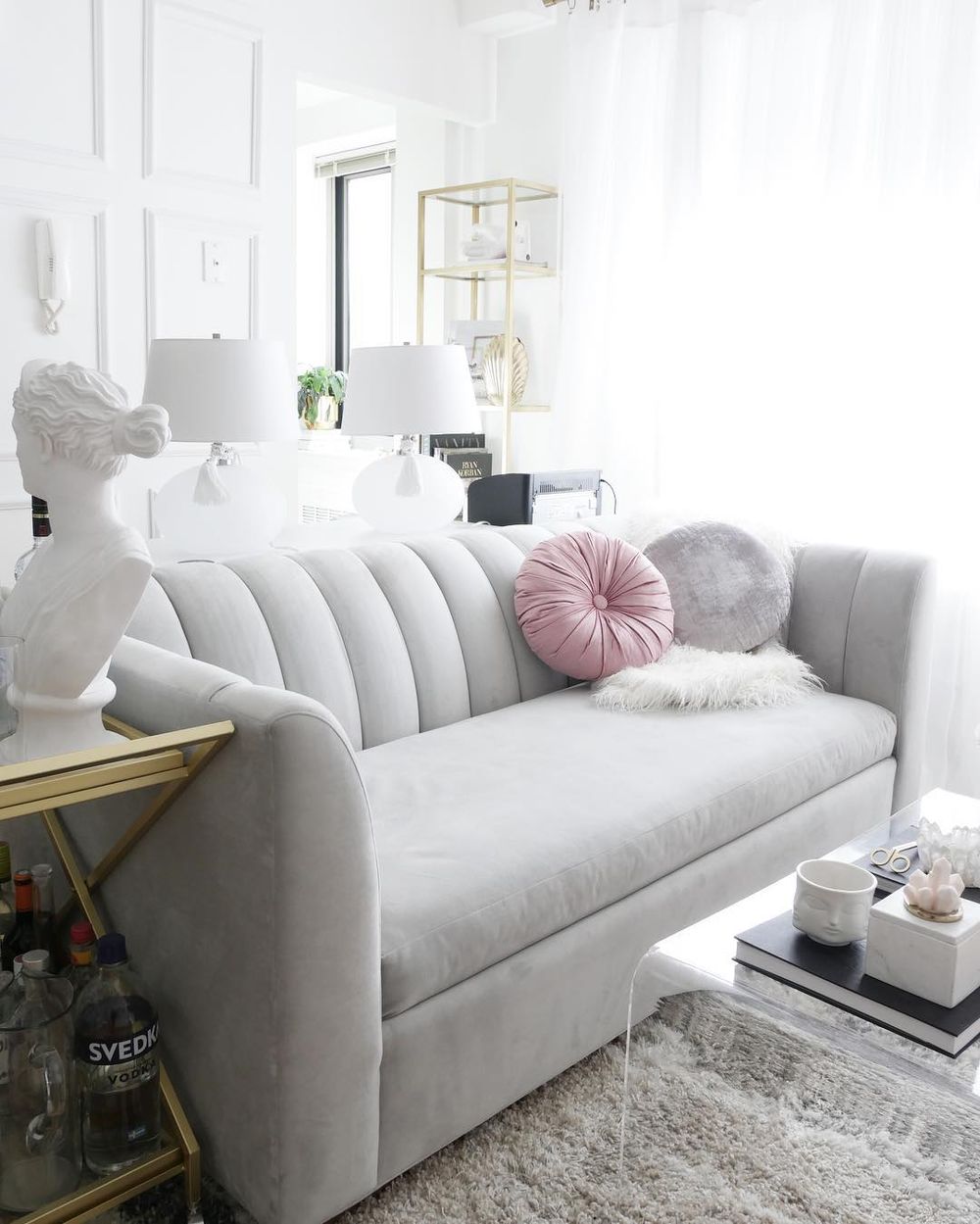 @citychicdecor
11. Dramatic Lighting
From black chandeliers to crystal light fixtures, Glamorous interior design relies on dramatic lighting to make a statement!

12. Velvet Furniture
Velvet is a luxurious material commonly found in modern glam interior design. You can opt for velvet sofas, velvet chairs, and more. This material is easy to clean and soft to the touch.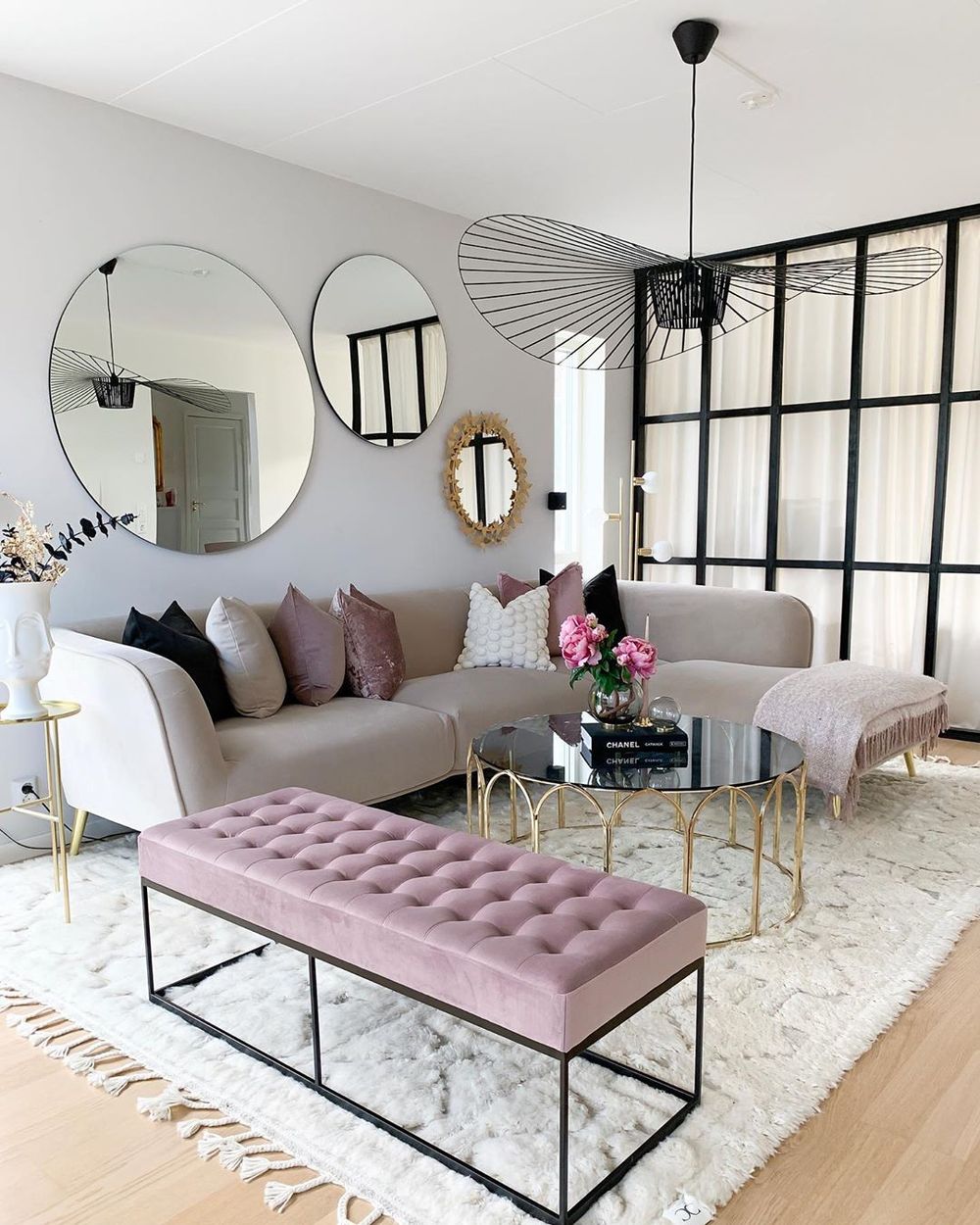 @interiorbyvanessa
13. Animal Print Rugs and Pillows
Animal motifs like tiger, zebra and cheetah print rugs or cowhide rugs and pillows are an exotic way to decorate your living room. Bonus points if there are metallic specs on the fabric!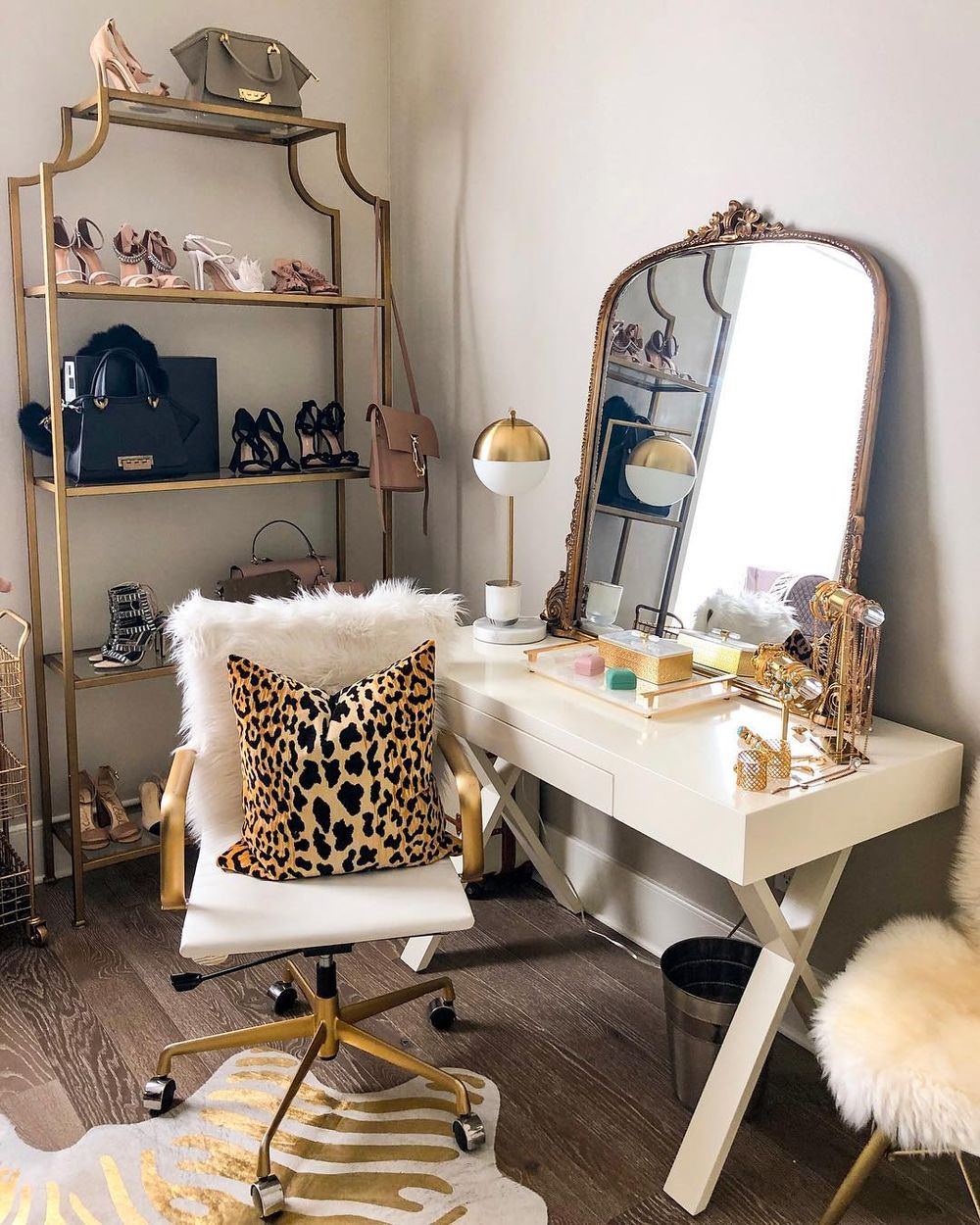 @hauteofftherack
14. Gold Frame Mirrors
A mirror framed in gold is the perfect addition to any glamorous room. You could opt for a simple one and go for the minimalist Glam look, or choose a French style gold mirror and opt for glamorous decadence.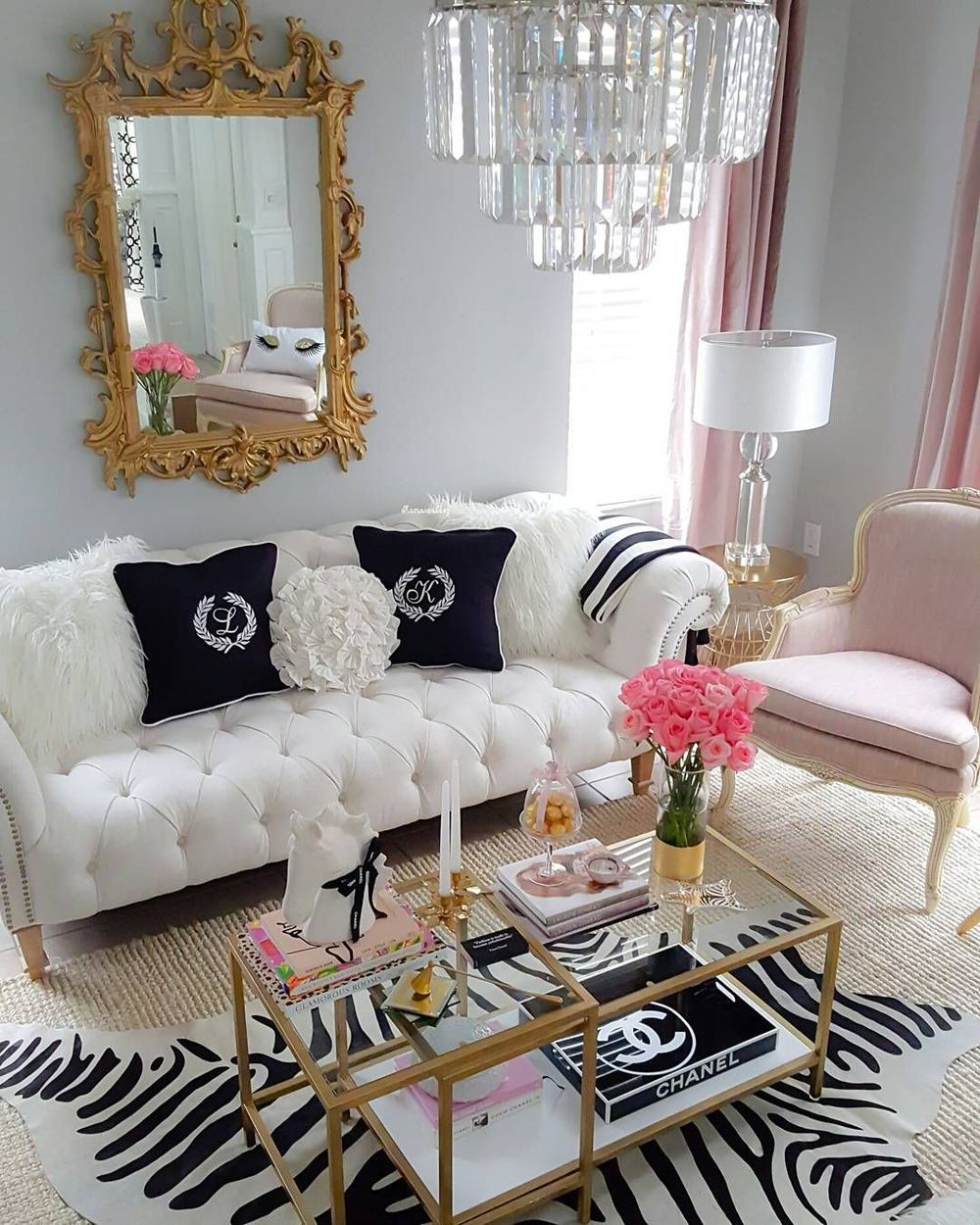 Unknown
15. Faux Fur Throw Blanket
If you don't want to go with a faux fur stool or bench, then drape a faux fur throw blanket on your velvet sofa. Instant glam!

Glamorous decor is easy to achieve once you have a few of the elements we've listed! As in most decorative styles, it's important to keep your home as clutter free as possible! This will help the elements you've curated stand out.
More Glamorous Decor Ideas
Want more glam decor? Don't miss the blogs Swoonworthy, A Glass of Bovino, Home & Fabulous, Money Can Buy Lipstick, Home and Fabulous, City Chic Decor, and @interiorbyvanessa for more glam decor ideas and inspiration. You can also keep reading these ultra glam articles right here on Curated Interior!