Are you looking for the best glam mirrors you can buy online? We've got you covered with a selection of gorgeous, glamorous mirrors in all sizes to decorate your home with! Glam decor has become very popular lately, as women are drawn to this luxe and feminine decorating style. You can hang a mirror in just about any room in your home, from the entryway, to the bathroom, or the bedroom. It's a great way to fill up an empty wall or be of practical use as you check your outfit or makeup before dashing out the door.
Glam Mirrors
So what does a glam mirror actually look like? Well, like all mirrors, you need to consider the size and purpose of the mirror you're purchasing before you think about aesthetics. Do you want to hang it on a wall or do you prefer a free-standing mirror? Once you have that down, you'll find a wide selection of glam mirrors to choose from. We think the most "glam" style mirrors have delicate details and metallic frames like gold and silver.
Let's break it down into the top types of glam mirrors to shop online. We have six sections in total for you to browse. We hope you enjoy our selection!
Beveled Mirrors
Beveled mirrors are the epitome of glamorous mirrors. These understated yet classic mirrors are often frameless, but feature a beveled edge to give them character and style. The edge could be curved or engraved. Here are some of our favorites:

French Frame
What would glamorous decor be without a little French influence? The Primrose mirror and Beaudry mirror have been extremely popular French style glam mirrors that I've seen all over Instagram, however they are VERY pricey! If you're looking for a more affordable version of this style mirror, then check out our selection below. These French style mirrors have beautifully carved frames in metallic colors. If you like the style of one but not the finish, don't hesitate to click through as many are available in multiple metals like champagne, gold, and silver.

Thin Frame
If you prefer a more modern and minimal glam look, then check out these mirrors with thin metallic frames. They are understated and chic.

Full-Length Glam Mirrors
Full-length mirrors are a necessity for anyone who likes to make sure their outfit is perfect before walking out the door ! Here are a few glam picks for long, full-body mirrors. Some of them are free-standing, while others must be attached or leaned against the wall.

Eclectic Style
You can find some beautiful eclectic mirrors like these ones – influenced by nature, birds, or geometric forms. These mirrors will add a touch of character to your space.

Glam Mirrors with Shelves
A very practical option, here are a few glamorous mirrors with shelves attached to the bottom of them. These mirrors are perfect for your bathroom or entryway as you can store small objects you reach for often on them.

Here was our visual inspiration for this post!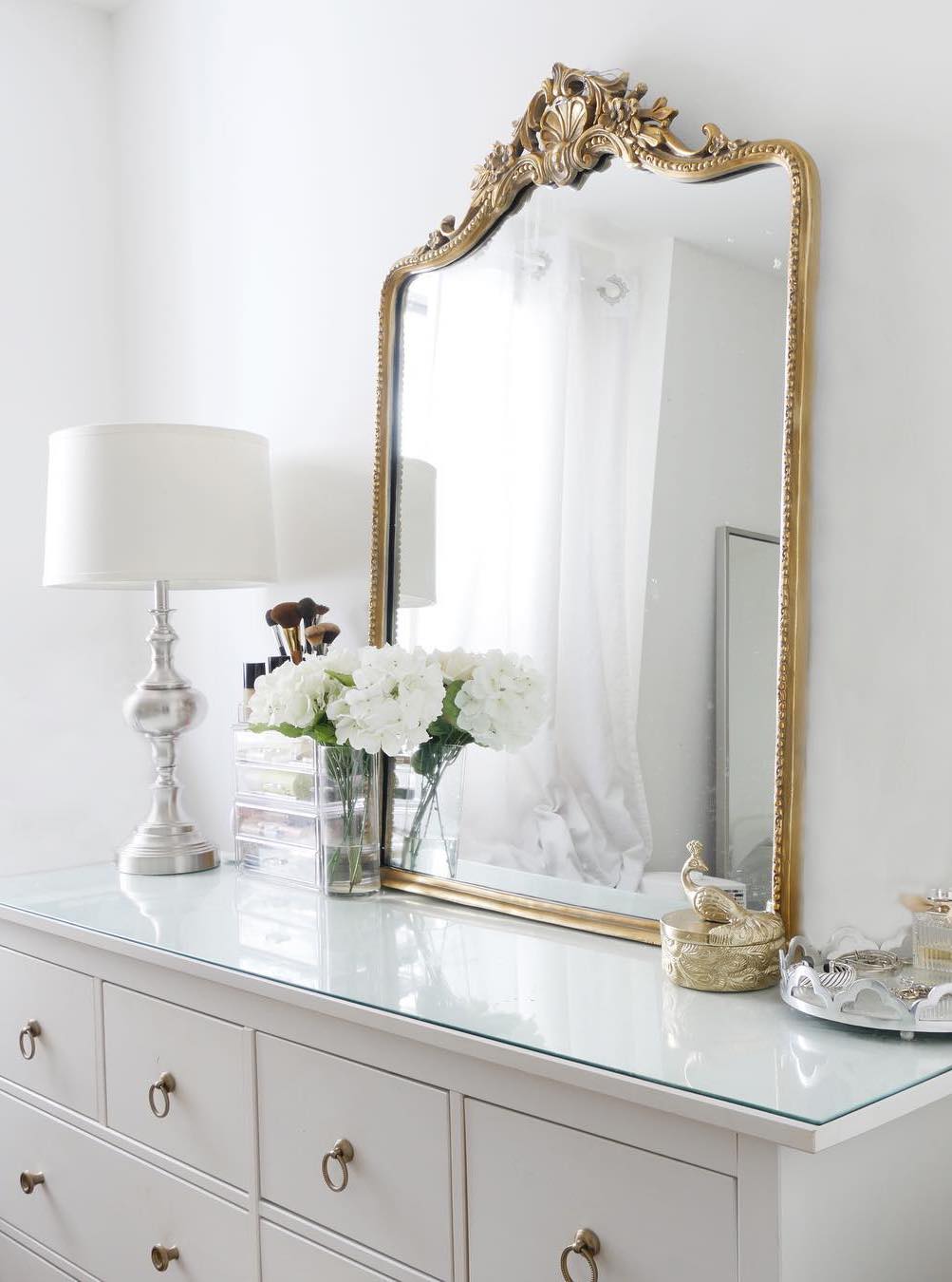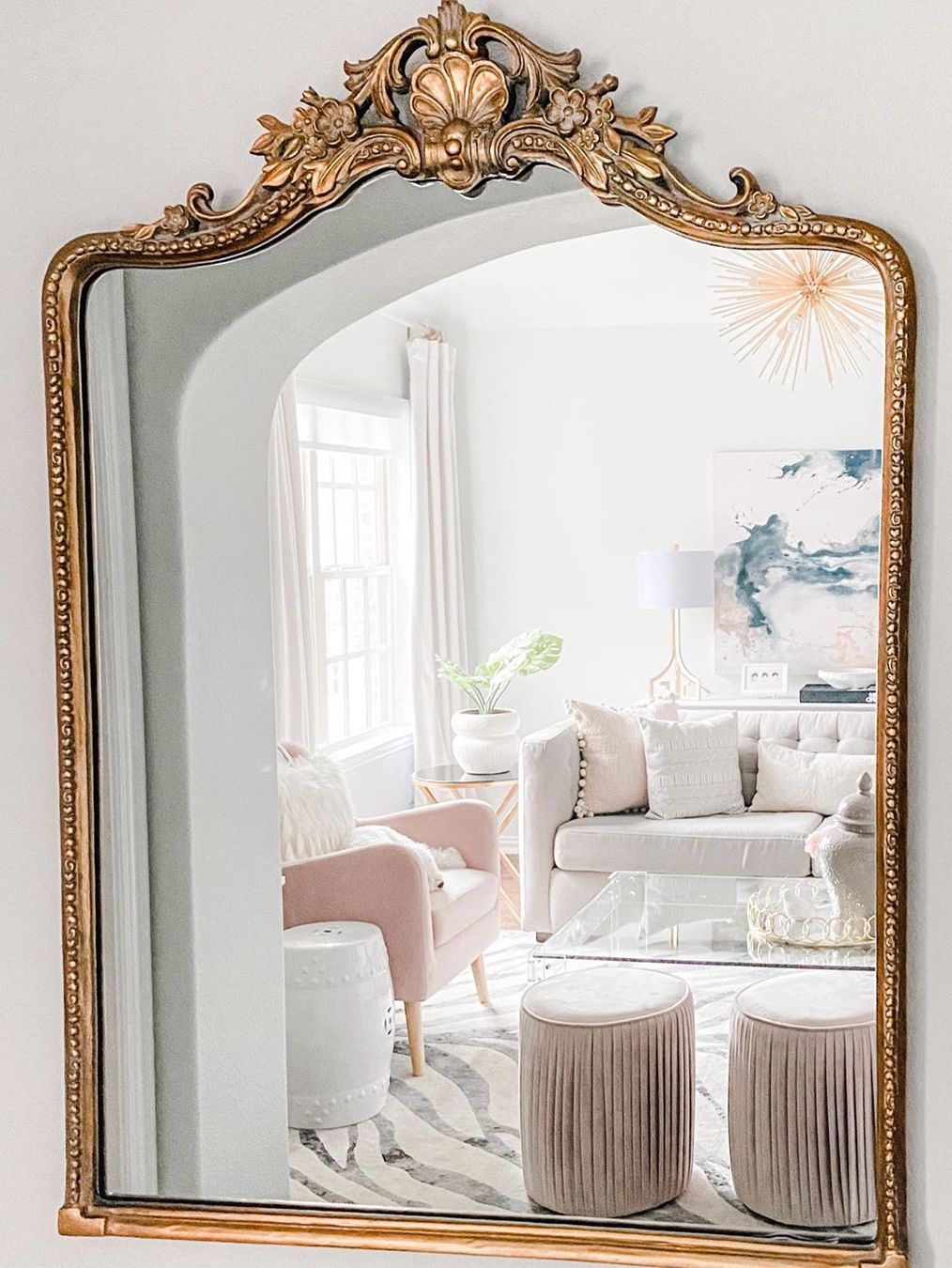 More Glam Decor Ideas
We hope this post helped you find the perfect glam style mirror for your space! If you love glam decorating, then keep reading our related articles on this elegant style.
Happy curating!