If there's one mirror that's taken the design world and Instagram by storm these last few years it's the Ultrafragola mirror by Ettore Sottsass. This mirror has been spotted in the apartment of Louis Vuitton's cool creative director Nicolas Ghesquière, as well as in the home of it-girl Bella Hadid. The very cool boutique hotel Le Pigalle in Paris has a beautiful white Ultrafragola at the entrance, perfect for guests to snap selfies before heading out for the day.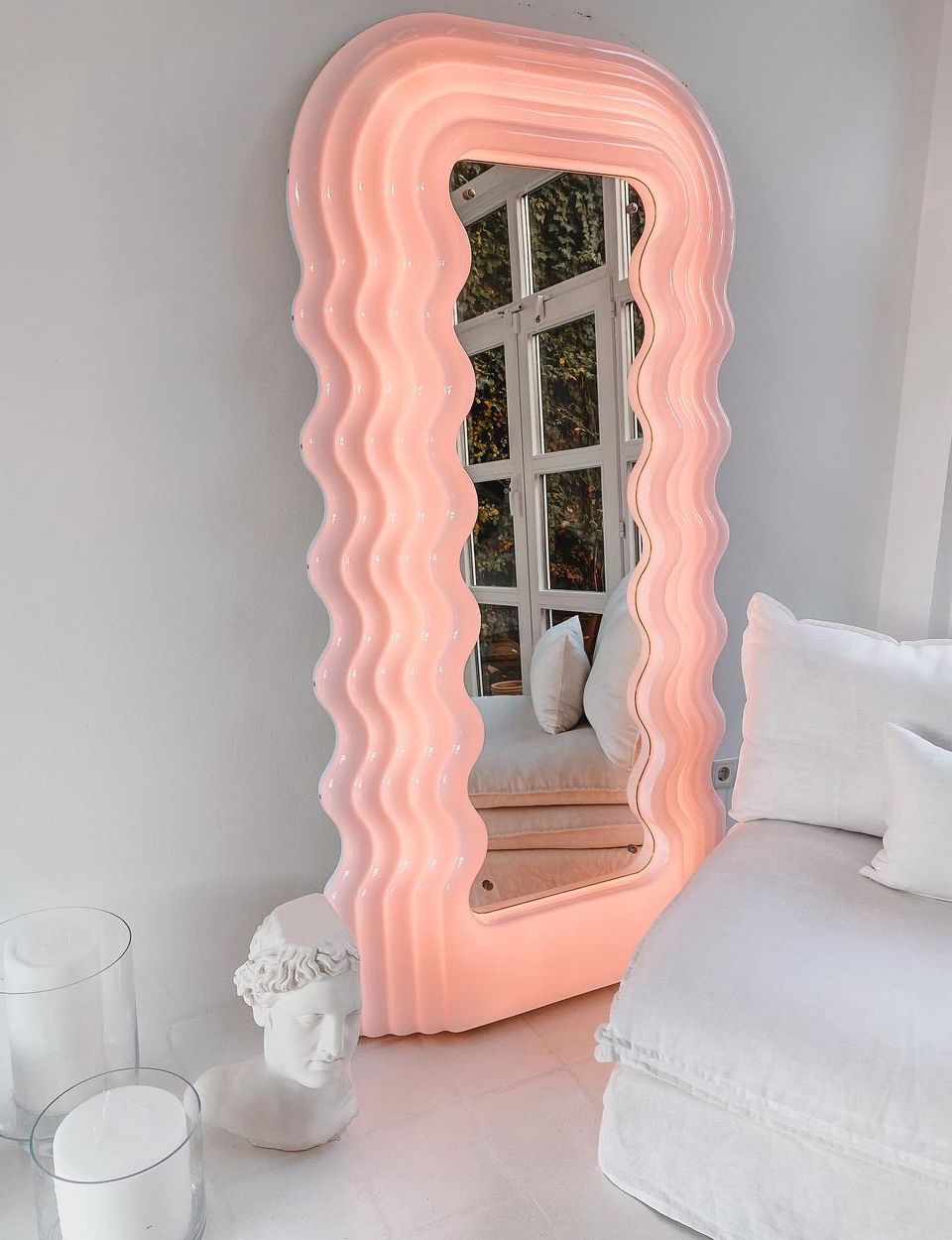 Ultrafragola Mirror History
Originally created in the 70s by Italian architect Ettore Sottsass, Ultrafragola, meaning "ultimate strawberry," dons an iconic pale pink neon hue that you can't help but be drawn to. Its frame is made of a wave of lights that resemble the luscious wavy hair of a woman. During a decade that was eager to make a statement to let loose and let your hair down, this mirror embodies that high-desired freedom. Although this mirror has been around for over half a century, modern influencers are creating a new wave of Ultrafragola Mirror fans with a younger audience.
At the time this mirror was released, feminist voices were getting louder calling for a change to social standards. They stood outside Miss America pageants protesting the male-celebrated version of a woman and called for a revolution – for freedom for self-expression. In this pivotal historical moment, it was then that this tribute was created.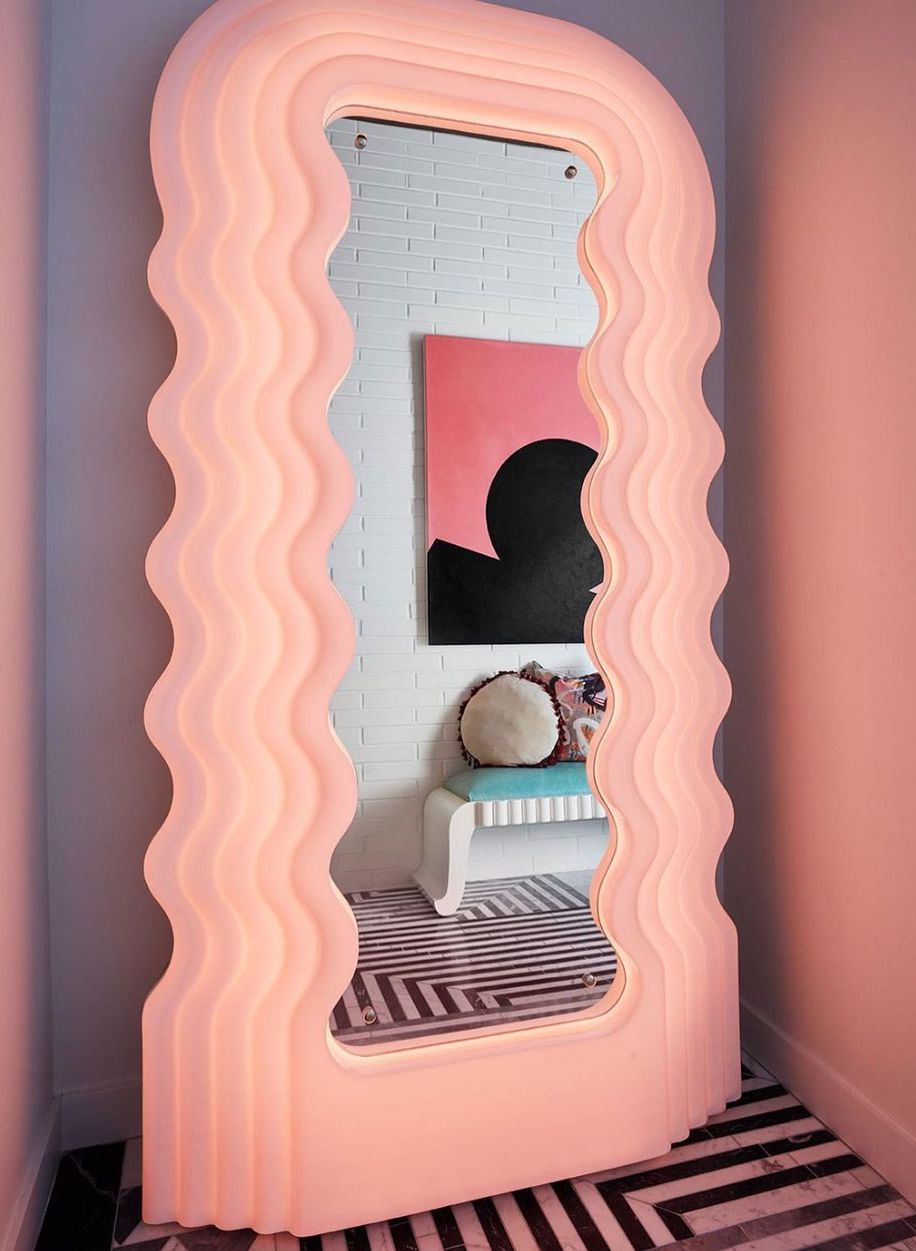 The Ultrafragola Mirror first debuted as part of the Mobili Grigi series presented by Sottsass at Eurodomus 3 in Milan in 1970. Hosted by Domus magazine, the Eurodomus 3 piloted a series of exhibitions on modern home design.
Sottsass took this opportunity, as Artistic Director at manufacturer Poltronova, to present a collection that went against everything that mainstream brands were offering at the time. Imagine a market saturated with brown, teak floor-length mirrors drawing little attention beyond functionality. Now picture transitioning to being swept off your feet by nostalgic early 20th-century neon lights, reimagined with a softer tone, and available for you to showcase in your bedroom.
This mirror was revolutionary in every sense of the word – from what it represented to how it transformed a room.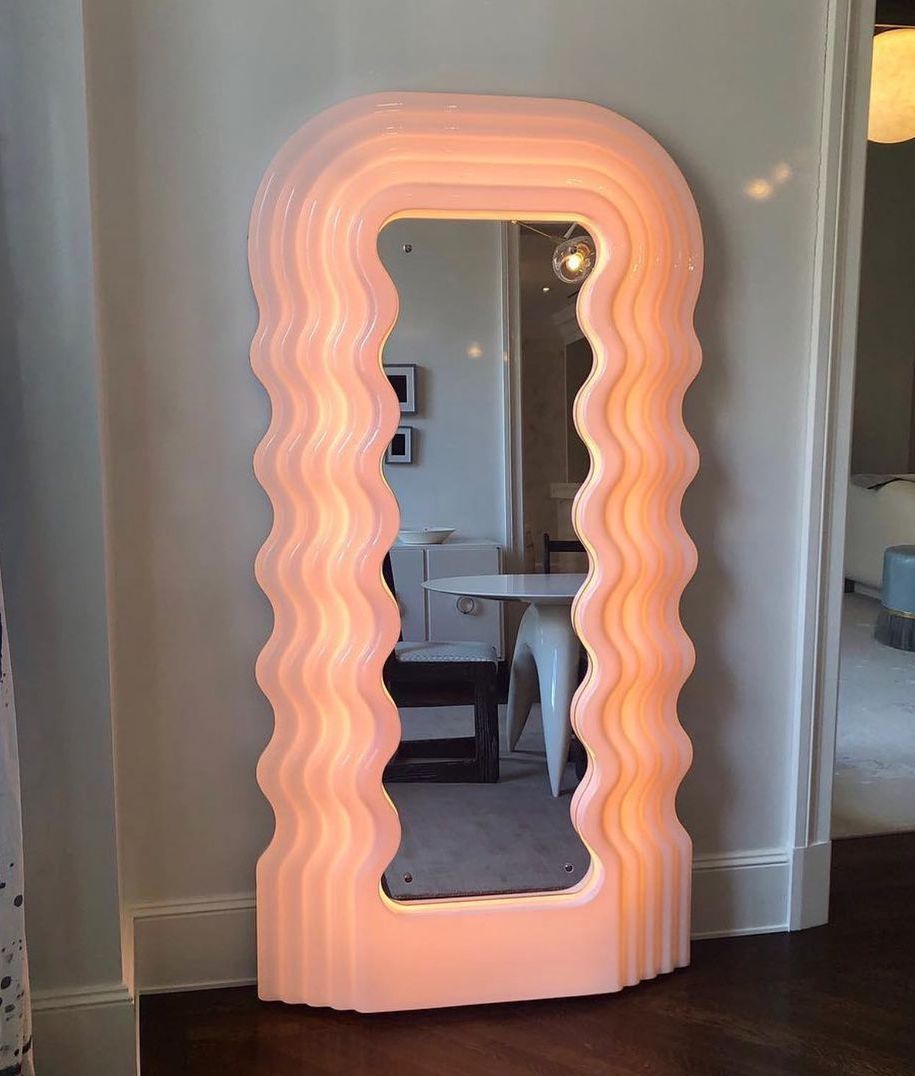 Ultrafragola Mirror Replicas
The iconic Ultrafragola Mirror carries Sottsass' legacy into the modern age. But with an unaffordable Poltronova price tag of $10-12,000 not many have the opportunity to own an authentic Sottsass, creating a market for many copycat artists to emerge. This authentic showstopper is currently about 3-months out if you wanted to order it today.
Dimensions: 100 x 13 x 195cm
Weight: 70 pounds
Materials: vacuum—formed opaline PETG, mirror, LED or neon light system
Shop Here:

Your best bet is to turn to Eternity Modern for a quality Ultrafragola reproduction. The layaway option by Eternity Modern can even be purchased for as little as $189/month!
Interior Icons has made a backlist, color adjustable mirror inspired by Sottsass which you can shop right here. It's currently on sale for around $999.
For around $2,000, you can get a made-to-order replica that allows you to set an on/off timer, choose between 16 static colors, and even a handful of speeds to flash the neon lights. When the mirror lights are off the frame is a translucent white, blending into whatever color scheme you are working with. The made-to-order pieces can be available in fourteen to eighteen weeks.
Another option in the $2,000 range is the Giant Neon Wavy Mirror from Milostka. This option is available in just 8-10 weeks and is handmade and dispatched from a small business in Australia. It comes with an LED remote control, allowing you easy access to change the color mode. You can even set it to light up to music and sound, creating the ultimate party experience.
For under $200 you can buy the Vogue Curvy Vanity Mirror. Though much smaller in size (approx. 27x49cm) and with the absence of neon lights, this wavy pastel mirror still offers a nod to the Ultrafragola and can be paired with a variety of furniture styles and colors.
Want to join the influencer trend without spending the cash? UX designer Kristina Vilyams created an Ultrafragola filter over the pandemic to help users diversify their Instagram feeds without leaving their homes. Now everyone can get a taste of what it's like to take a photo within one of the most recognized mirrors of the last century.
What started as a rebellion against the norm and homage to the second wave of feminism has turned into a sought-after piece of art for a new generation of artistic-minded Millenials. I wonder what Ettore Sottsass would think if he knew that his most recognized creation was now more famously known as the "selfie mirror."
How to Decorate with an Ultrafragola Mirror
Here are a few Ultrafragola Mirror decor ideas to steal from Instagram!
Pair it with Bellini seating
The Bellini Camaleonda sofa is the perfect companion to the wavy Ultrafragola mirror.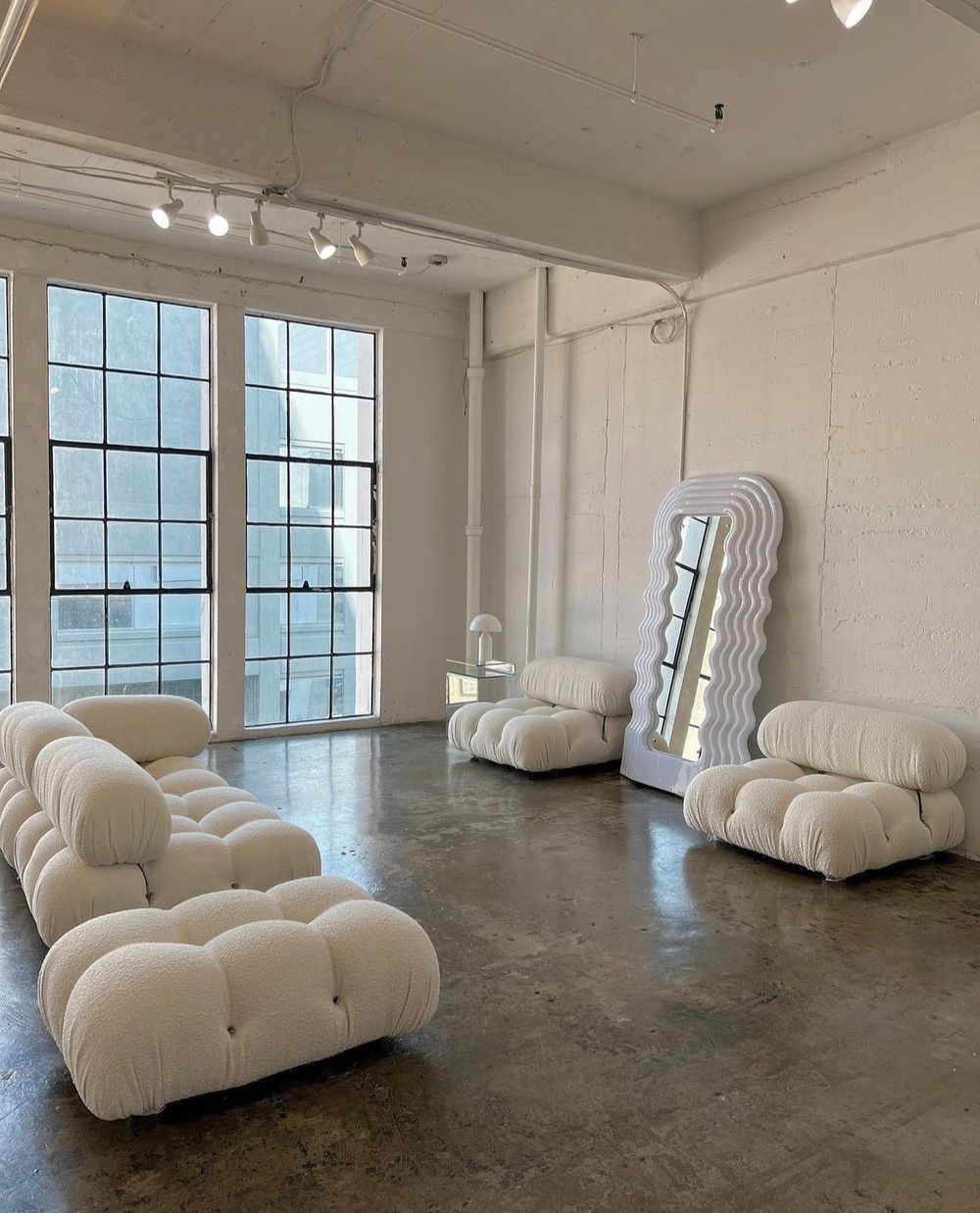 Lean it against the wall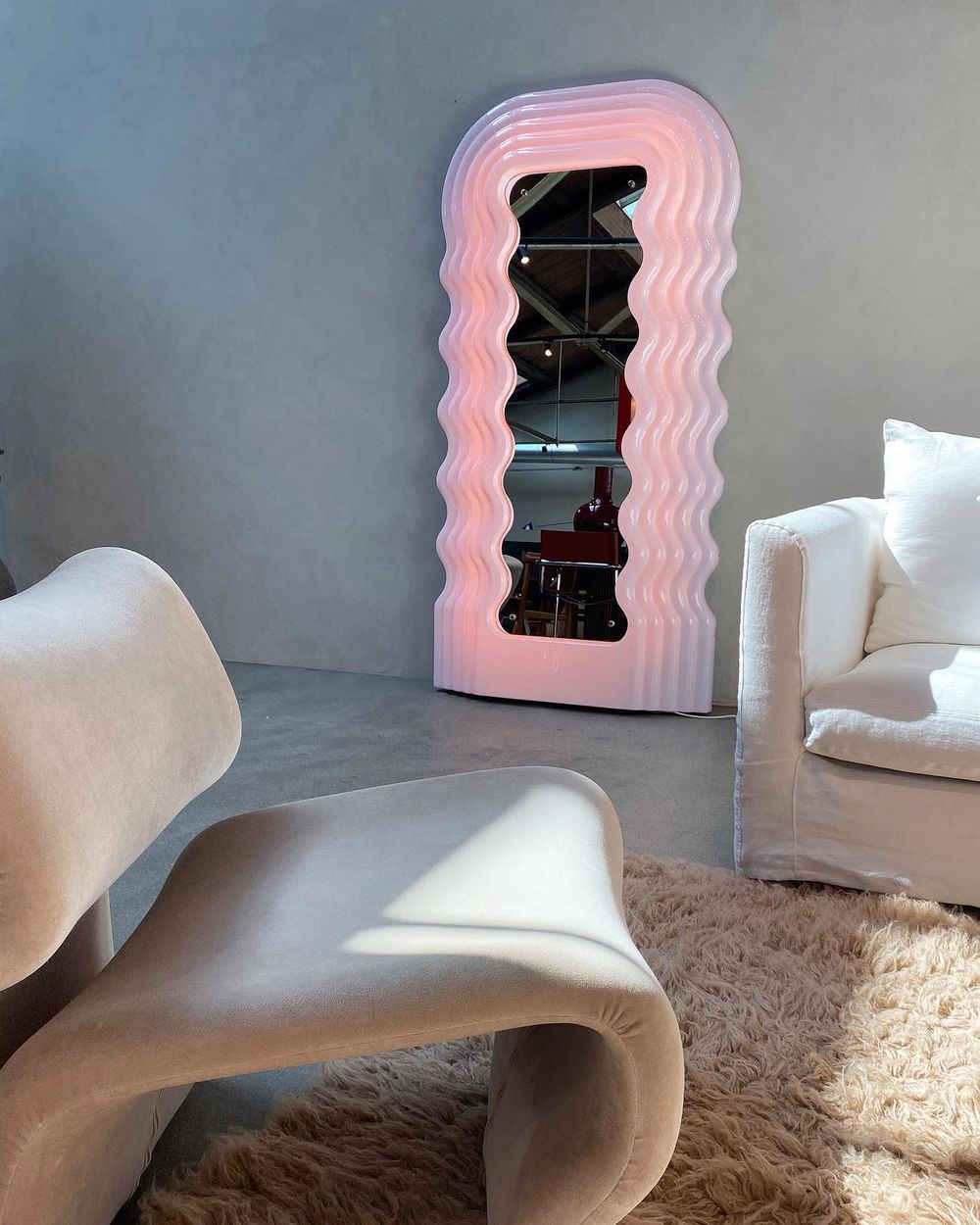 Add it to your Dining Room
It looks beautiful next to the Cesca dining chairs of this space.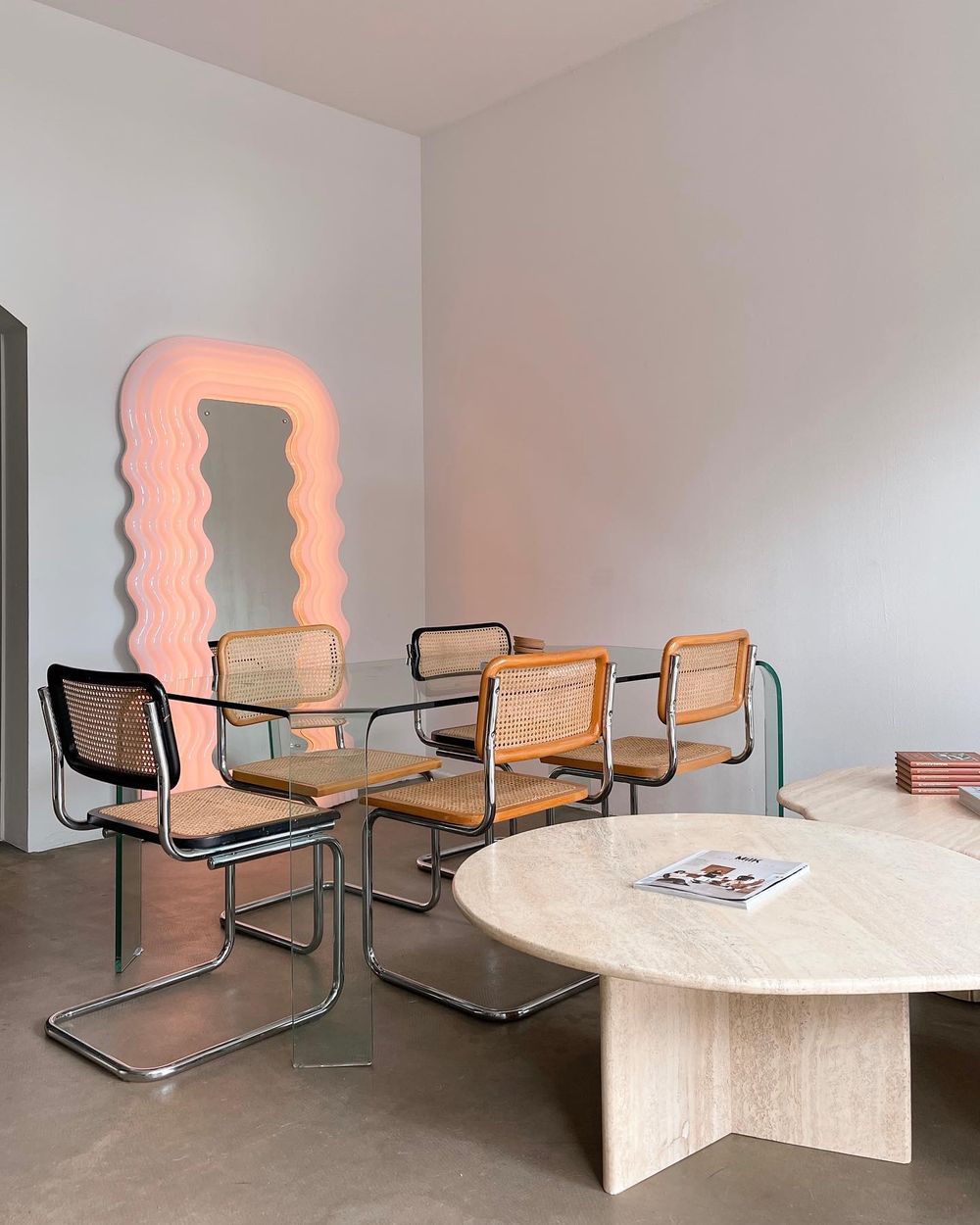 Put it in between two accent chairs
Placed between two Gubi chairs, the Ultrafragola mirror adds height to this area.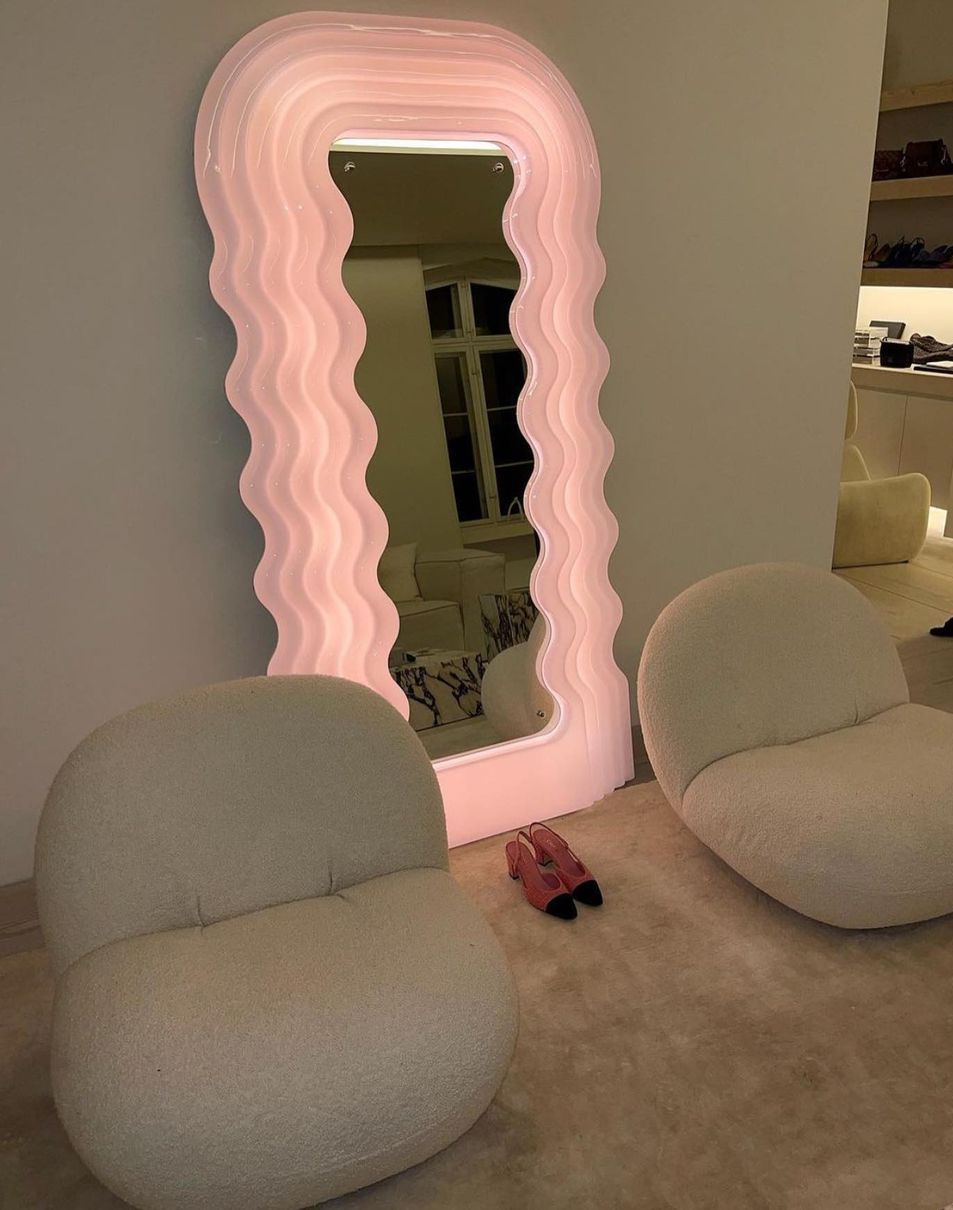 Add other Postmodern Furniture
Be sure to add other postmodern furniture to your space to help the Ultrafragola fit right in!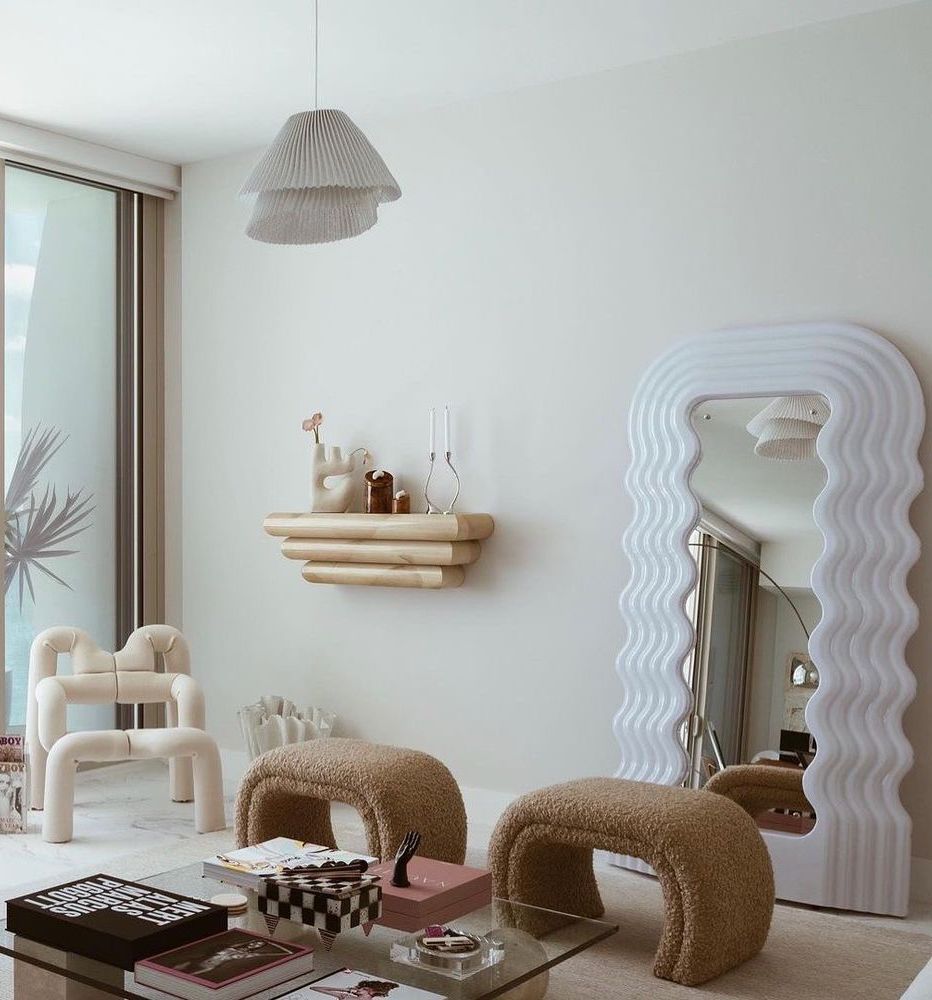 About Ettore Sottsass
Ettore Sottsass was born in Austria in 1917 but was raised in Milan where he studied architecture after spending the majority of World War II in a concentration camp in Yugoslavia. He began designing furniture for Poltronova in 1956. Sottsass also spent over twenty years of his career as a design consultant for an Italian computer manufacturer known as Olivetti.
Sottsass designed the Ela 9003 computer, one of the first transistorized commercial computers. He also designed the recognizable Valentine portable typewriter, inspired by images from Tom Wesselmann's Pop Art movement. It was during his time at Olivetti that he gained recognition for his design efforts.
Sottsass was drawn to designing against cultural norms and became a leading member of the Anti-Design movement. His creations were inspired by his travels to the United States and India.
In 1981, after decades of design experience, he gathered a group of furniture designers into what was called the Memphis group. This group was committed to creating new designs that were an antithesis to the status quo, acting as design leaders for the postmodern movement. Though the group only lasted for six years, together they created some of the boldest, most colorful, and most abstract designs of the eighties. In a San Francisco design article, journalist Bertrand Pellegrin referred to the collection as a "shotgun wedding between Bauhaus and fisher price." It definitely was not for everyone.
Sottsass later established the architectural firm Sottsass Associati, which is still being used by architects in London and Milan today. The studio was made to bring sustainability to the design world and provide an opportunity to design for large international companies, which it continues to do into the present.
Shop Here:

After making a significant mark in the postmodern design era, Ettore Sottsass passed away in Milan at the age of ninety. His legacy continues to shape and inspire modern design.