Picking out a dining table is probably the most important design decision you will make when furnishing your dining room. The dining table will serve primarily as a place to eat, but also for important conversations and sometimes, a workstation if you don't have a separate office. Consider all the possible uses for your dining table before choosing one to purchase.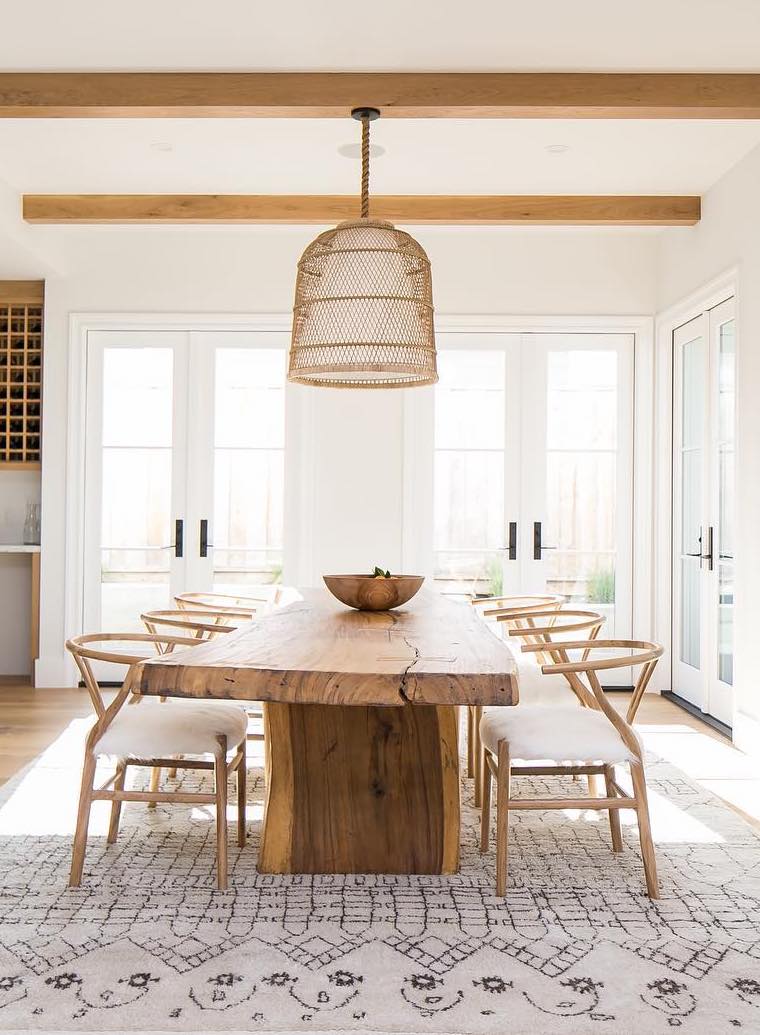 Sizes
Dining tables come in various sizes to accommodate for small or large families. If you live alone, then a simple two-seater dining table may suit your needs. If you have a large family, then you'll certainly need a 6 or 8-seater dining table. If you have guests often, but otherwise don't need much space, then consider an expandable dining table. This is the kind I grew up with. It sat 4 people but had an extension that could be inserted when we had guests and could accommodate up to 6 or even 8 people.
Tables under 60" will seat 2-4 people. Tables under 80" will seat 4-6 people comfortably. Lastly, tables 90" and above will seat 6+ people. Each person should have at least 24" of space to dine.
Dining tables generally have a height of around 30".
Shapes
There are pros and cons to the various shapes that dining tables come in.
Round
Round dining tables are ideal for small dining rooms and promote movement. You can move freely about the space without worrying about bumping into sharp corner. The downside is that they don't provide much arm support since they are round. If you need to use the table as a laptop workstation, don't go with a round dining table.
Oval
Oval dining tables are great for hosting dinner parties. Everyone will feel close and connected.
Square
Square dining tables are great for small spaces and provide arm support. These work great in homes for small families and 1-bedroom apartments.
Rectangle
Rectangular dining tables work best in large, open dining rooms. If you have a large space, then chances are you'll want to fill it with a rectangular dining table.
Styles
Finding a dining table to match your existing home decor theme is generally an easy task. Retailers like Wayfair and Amazon offer a wide variety of dining table styles as long as your taste isn't too obscure!
Classic Designs
There are a few classic dining room table designs to know.
Tulip dining tables are awesome because they have a central support leg that holds them up, allowing diners to move their legs freely under the table without worrying about hitting a leg. Tulip tables are often associated with mid-century modern design and sometimes Scandinavian design.
Materials
You may be searching for the perfect dining table in a particular material. This is definitely possible. The main materials that are used to make dining tables are:
Wood – Wood dining tables are the most sturdy and all-around durable.
Glass – Glass dining tables work best in formal settings. They aren't great for homes with kids.
Marble – Marble dining tables have become trendy in the last few years. Be careful, just because you see a marble dining table advertised as such, it doesn't mean it's made of real marble. Real marble is heavy and expensive, so lots of brands offer imitation marble to give you the look of real marble at a lower price and lighter weight. Always check the "materials" section of a product listing to be sure.
Arrangement
Try to leave at least 20 inches of space between your dining chairs (when someone is sitting there) and any walls or solid objects. Ideally, you should have at least 30 inches of space, but we don't all have the space for that!
If you have a light fixture, the dining table should be placed directly beneath it, centered. Rugs should also be centered beneath the dining table. The rug should extend at least 26" on all sides from your dining table.
Be sure to read our Dining Room Guide for more arrangement tips!