The dining room is an area where the most unforgettable mealtime memories in your life happen. It is an excellent idea to beautify your dining room according to your preferred taste. Most coastal homeowners love the tropical home interior style if they live in Florida or another tropical location. If you are one of these tropical decor fans, you are in the right place. This post will give you unique tropical dining table ideas that will give your home an exotic vibe like what you would see in Palm Springs, Miami Beach, Cuba, and Bali.
Tropical Dining Room Style
For the dining room, there are lots of tropical decor ideas to choose from! Tropical dining rooms can be decorated in a variety of ways. You may find a tropical dining room with bright green walls. Another decorating idea is to create a tropical dining centerpiece using glass vases and large palm stems. You can place coral sculptures and seashells on a coastal buffet against one wall of the room. When it comes to tropical paint colors, stick to white, green, yellow, blue, and pink. The brighter the colors, the better!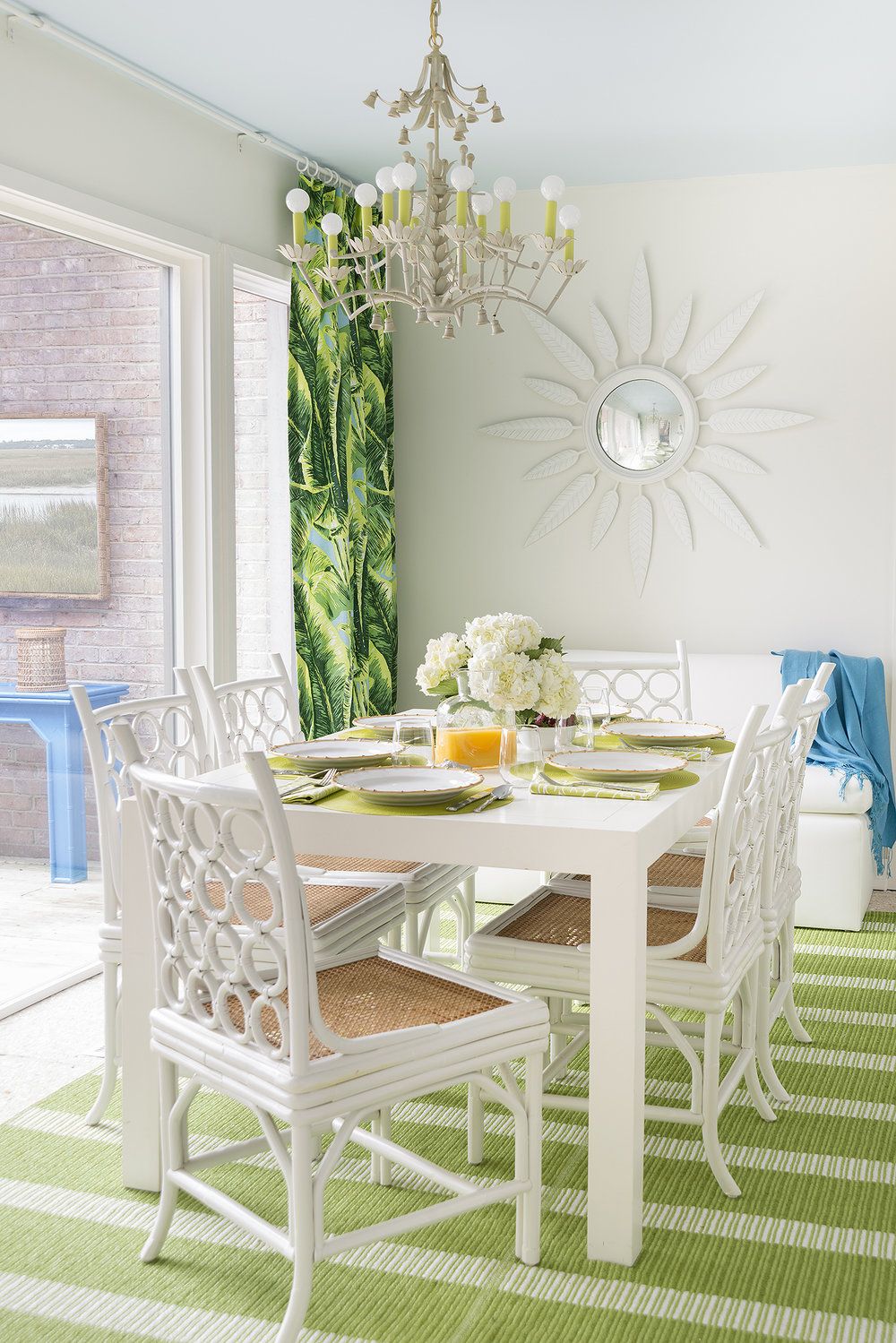 For more inspiration, read about the best tropical dining room decor ideas, too.
Tropical Dining Table Ideas
A home surrounded by tropics-style decorations gives you a place of pleasant escape. One of the reasons many homeowners prefer a tropical dining room is an exotic flair it offers. However, it is worth noting that this style is not monolithic and particular. It comes with various elements and types that make this style unique and different from others.
If you want to transform your standard-looking dining room into a tropical-inspired style, these dining tables are perfect. Aside from bamboo or rattan dining chairs, a tropical dining table is also necessary. Here are some of the most sought-after tropical dining tables.

Light Wash Wood Dining Tables
If you want to achieve a tropical-inspired dining room, you can achieve it by adding a light wash wood dining table and replacing your old and outdated one. This excellent furniture item brings elegance and an exotic vibe to your room. The good thing with this dining table is that it comes in different sizes and styles to choose the perfect fit for your space and style preferences.
Adding a light wash wood dining table to any room can add character without compromising the space. They are also a great way to bring in natural light, an essential element in a tropical room style.
Rattan Dining Tables
Your dining area is the focal point of your home. It is the place where you host family and friends. And share delicious food and catch up on the latest happenings in their lives.
While the table is the essential furniture item in your dining room, the right one can make all the difference when it comes to creating an inviting, comfortable, and stylish space at the same time.
You can add rattan dining tables beautifully without sacrificing comfort for style. These unique furniture pieces are made with high-quality materials, which can last for years.
White Lacquer Tulip Table
The white lacquer tulip table is a modern accent piece designed to bring light, color, and life to your dining room. With its white lacquer finish, you will love its versatility, as it matches with other decorative elements, such as books and plants. White is always a versatile color that will match the interior decoration of any dining room.
---
Achieving a tropical dining room style will never be a problem if you have the right pieces of furniture! Consider the tropical-inspired dining tables above to add life, brightness, and color to your dining room.