If you're looking for a refined, classic ambiance in your dining room, you can't go wrong with beige. Beige is a neutral color that goes well with many other colors and shades, and it's also easy to find beige dining furniture pieces in most styles. If you're looking for a guide to the top neutral dining tables, keep reading! We'll share the best dining room design ideas with calming neutral shades.
Neutral Dining Room Decor Style
Beige is generally considered a neutral color, so it doesn't have to be the only color in your dining room. In fact, most interior designers recommend using at least three colors in every room to avoid a boring, monochromatic look. If you want to go with a beige theme for your dining room, choose at least two other shades that complement beige and use those colors throughout the space.
For example, you can use beige for the walls and furniture for dining room chairs and neutral dining tables. Then add another neutral color to your home like black or white to the space with other pieces of furniture such as side tables, bookcases, or cabinets. Finish off the look by adding splashes of color here and there with accents like decorative pillows, throw rugs, artwork, wall hangings, or plants.
Best Neutral Dining Tables
Here are the best neutral dining tables for a chic neutral dining room.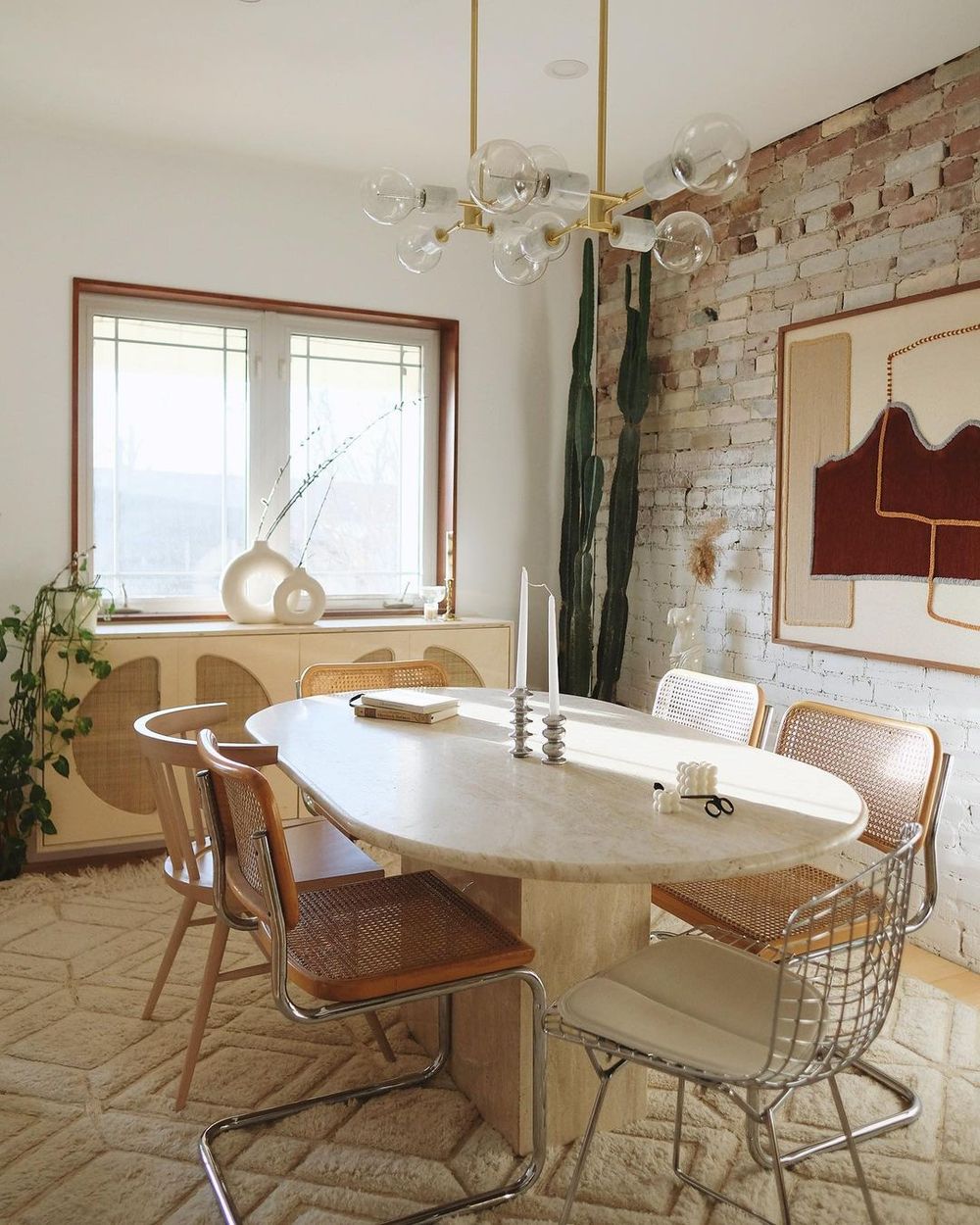 Best Style of Dining Chairs for a Beige Dining Table
Here are the best types of dining chairs for a neutral dining table.
Upholstered Dining Chairs
Upholstered dining chairs are a great choice for a beige dining table, but you might be surprised to know that there are many different styles of upholstered dining chairs. The most common kind of upholstery is velvet, which can come in an array of colors and patterns.
This is usually the most expensive type of fabric used on dining room chairs because it requires more material than other types of furniture upholstery like vinyl or leather.
Velvet has been around for centuries and has been used as clothing since ancient Rome, so this makes sense! But if you're looking for something less expensive, there are plenty of options available in different textures and fabrics that still have that chic look we love so much.
Natural Fiber Dining Chairs
When you're looking for a dining chair that's going to look good with your beige dining table, natural fiber chairs are an excellent choice. Natural fibers such as wicker, rattan, and reed are woven in designs that can add texture and visual interest to a room.
They're sturdy enough to hold up well over time while remaining easy to clean and lightweight. When it comes to pairing them with different types of tables, these chairs will work equally well at all three types of tables – rectangular wood tables, round wood tables, or square glass or metal tables (with the exception of glass).
Metal Dining Chairs
If you're going for a more industrial-modern style beige setup, metal dining chairs are the way to go. The metal material is bold and can add some weight to your dining room, which is perfect if you want it to feel more like an art gallery than a kitchen. The industrial look also goes well with other elements of industrial design in your home, such as exposed ductwork and piping, so be sure to keep that in mind when choosing this style of chair.
The best part about buying metal chairs is that they're available in all different shapes and sizes—and they come in a variety of finishes too! Whether you prefer polished chrome or matte black steel (or something else entirely), there should be something out there for just about anyone who wants this particular look.
Wood Arm Dining Chairs
Wooden armchairs are a great choice for neutral dining tables. The wooden chairs should have a contrasting tone to the table and can be mixed with other styles of dining chairs. Wood is versatile and can be mixed with metal, plastic, rattan, or any other material that suits your personal taste.
---
I hope this article on the best neutral dining tables was useful to you!