The chaise lounge, "long chair" in French, originally gained popularity among the elite in the 16th century. You may be familiar with oil paintings of women lounging in elegant dresses reading books or sitting under a dim lamp with their feet up, or early boudoir drawings of women showcasing themselves in their bedroom with nothing on but their finest jewelry. These chair/couch hybrids long served as the ultimate sign of wealth, having the ability to leisurely relax with your feet up and without a care in the world.
By the time the turn of the century hit, actresses were seeking out chaise lounges for seductive photoshoots as one of the ultimate signs of feminine beauty. Over time their form began to change, making them more functional and versatile for modern reading rooms and even outdoor spaces.
Leave it to the ingenuity of mid-century furniture designers to re-create the style of relaxation for modern-day living. Let's take a look at some of the most iconic mid-century chaise lounges and mid-century lounge chairs with footrests.
After all, these loungers have become some of the most famous mid-century furniture pieces!
Hans Wegner Flag Halyard Chair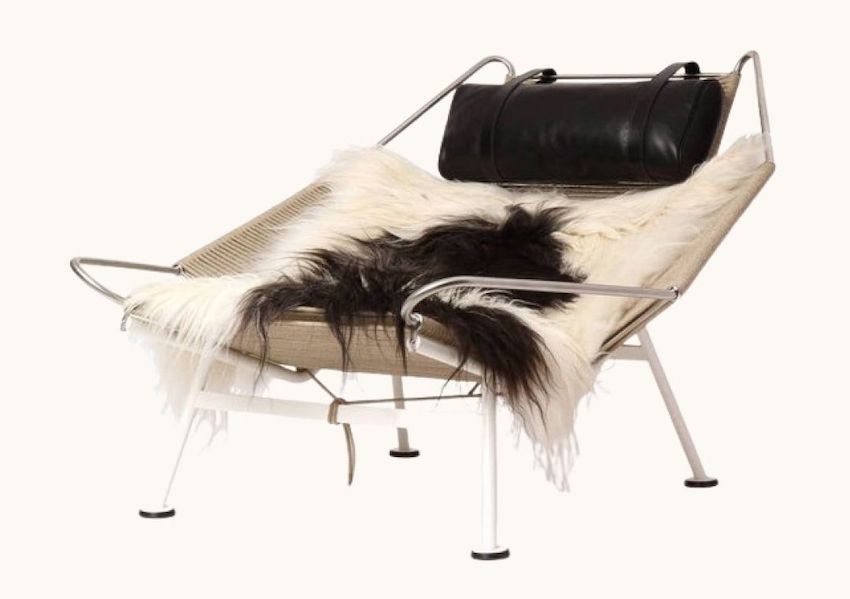 It is said that Danish furniture designer Hans Wegner was inspired by the design of the Flag Halyard Chair while on a beach outing with his family, which matches up, with the style of this sand-colored rope-wrapped chair. If you ever find yourself sitting in one, it would be hard to do anything but relax due to the deep tilt of this huggable chair.
Wegner had a high value in showcasing the skeleton and engineering of his pieces and keeping the exterior layers simple in design. Sitting atop the ropes is a large scrap of long-hair sheepskin and a tubular pillow strapped to the top so your head can rest comfortably. The sheepskin is available in solid and spotted print and you can find pillow options in leather or linen, depending on the style of your space.
An original 1950s model of this chair recently sold for over $26,000, however, you can find replicas for around $2K from Interior Icons, France & Son, and Eternity Modern. The Halyard Chair would make an excellent accent for a dark leather couch or in front of sliding glass doors that overlook a private wooded landscape.
Eames Lounge Chair and Ottoman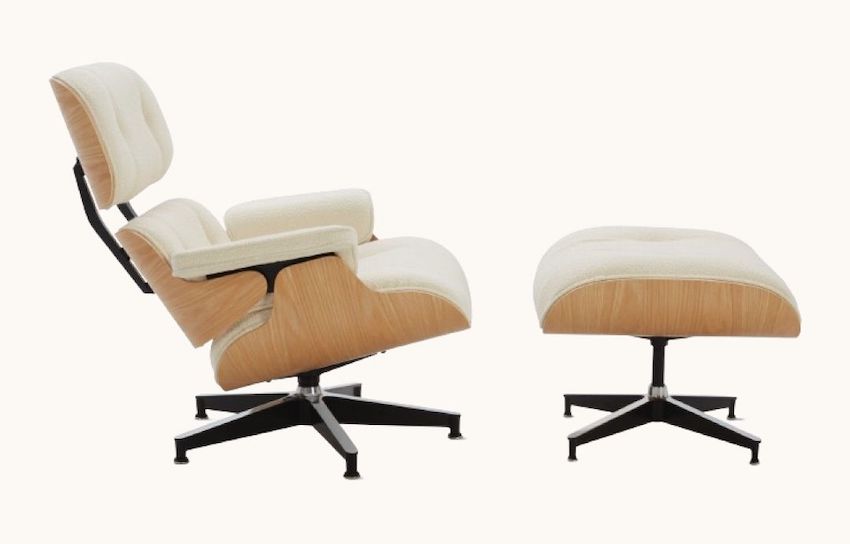 Charles and Ray Eames were an icon of happiness in post-war life. They were partners in life and in design, creating some of the most remembered American designs of the 40s-80s. Although Charles' name was often the only one recognized in catalogs at the time, he spent a lot of time advocating for his wife's recognition, whom he considered to be an equal partner on many of his designs. The Eames Office stood tall in Beverly Hills for a little over four decades.
In the late 50s, they designed the Eames Lounge Chair and Ottoman for furniture company Herman Miller. The design became one of the most iconic mid-century lounge chairs with footrests. Unlike some of their other designs which were made to be inexpensively produced, this chair and ottoman duo sought to be a line of luxury. In its original form, the base is coated with Brazilian rosewood and the cushion is made of tufted dark leather. The Brazilian rosewood has since been swapped out for a more sustainable palisander rosewood.
Charles was thinking of a baseball glove when he came up with the design – imagine the bottom cushion as the palm of the glove, the arms as the outer fingers, and long fingers as the backing.
"The chair should have the warm receptive look of a well-used first baseman's mitt."

Charles Eames
The leather is meant to develop a worn-in look over time. This chair would undoubtedly be the most sought-after seat in a TV den or cigar lounge.
Eames Molded Plastic Chaise Lounge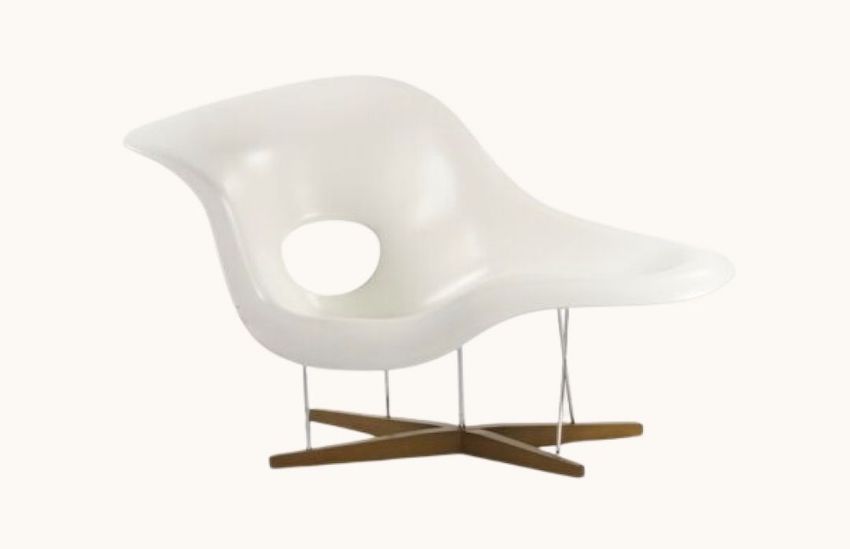 The Molded Plastic Chaise, known as La Chaise, takes on a completely different style than the leather Lounge that we just spent time looking at. The Eames Molded Plastic Chaise Lounge was originally designed for a competition at MOMA New York in the late 1940s. The chair's shape was inspired by Gaston Lachaise's Floating Woman sculpture which celebrated the female form. The sculpture features a woman's curvy nature in a reclining posture. If you were to trace the seated area of the sculpture, you can almost line it up perfectly with the curve of Eames' iconic chair.
Though well-praised today, it was thought to be too large when it was first released and did not win the competition. The chair wasn't put into production until almost forty years later after the Eames portfolio was acquired by Vitra, Herman Miller's European counterpart. Originally designed in the post-modern era, this postmortem success didn't hit the market in the early nineties.
The chair is made of a polyurethane shell, steel frame, and wooden base. It is long enough to lay in, thus putting it in the chaise category.
The stylistic design of the Eames Molded Plastic chair line has regained interest in the last several years, brightening up co-working spaces, home offices, and even dining rooms. The Molded Plastic Chaise Lounge would make a dazzling solo piece in a home library.
An original is currently for sale on eBay for $10,000. Get an Eames Molded Plastic chair replica from Eternity Modern.
Le Corbusier LC4 Chaise Lounge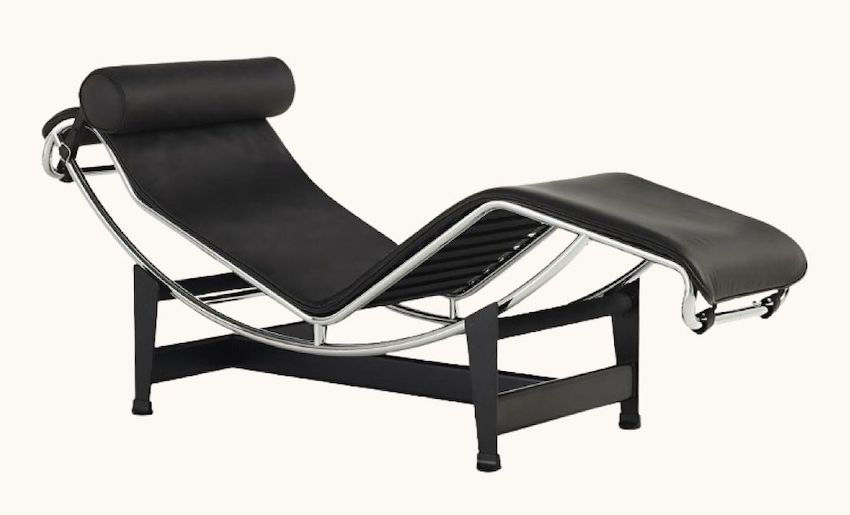 Swiss architect Charles-Édouard Jeanneret, more commonly known as Le Corbusier, made a considerable contribution to the modern furniture design scene with one of his most famous designs, the LC4 Chaise Lounge.
Many architects utilized their expertise in functional shapes and building hard lines to create unique pieces for the home and office. In 1928, Le Corbusier partnered with Pierre Jeanneret and Charlotte Perriand to create a striking furniture collection that included the LC4 Chaise Lounge.
Its ergonomic shape creates the perfect resting posture for a nap or reading, providing a lift to the head and knees and a reclining angle for the back. The base and frame are made out of iconic mid-century steel covered by elastic and a thin canvas or leather mattress, depending on preference.
Originals sell for upwards of $4,000, but you can get a replica from Eternity Modern or Wayfair, or an alternative lounger from Wayfair. Pair this chrome chaise with a Giacomo Arco Light for the perfect reading nook.
Womb Chair and Ottoman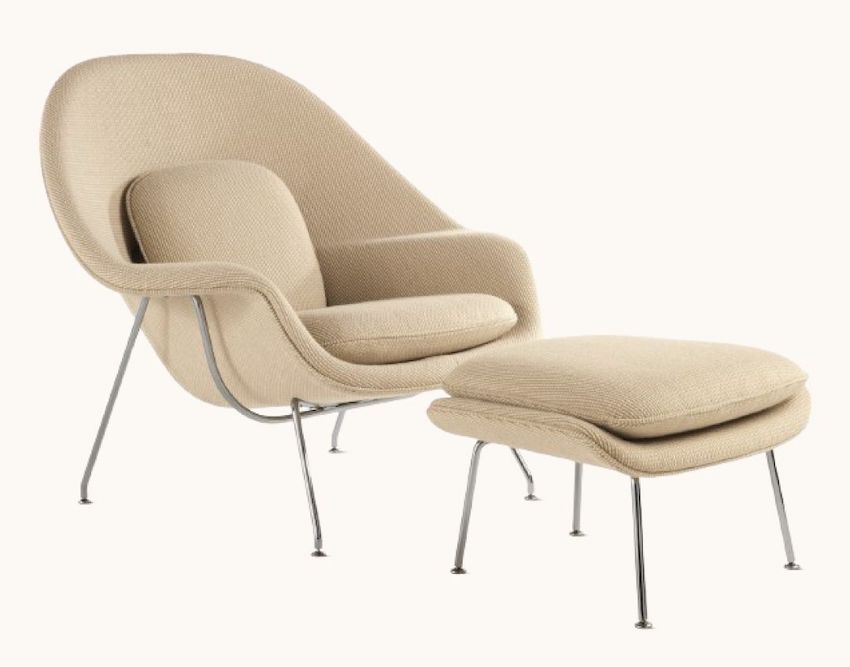 Finnish-born American architect Eero Saarinen created the basket-shaped Womb Chair and Ottoman for Knoll design firm in 1948. Saarinen was a bit of a perfectionist, crafting hundreds of prototypes to come up with the best design. His designs played an integral role in the overall early aesthetic of Knoll.
The Womb Chair and Ottoman were more than just a design. They spoke to the soul of the people at the time. Saarinen said, "It was designed on the theory that a great number of people have never really felt comfortable and secure since they left the womb." After being tasked with designing the most comfortable chair, this beautiful image of the womb helped curate a product that hit home for many.
Like most furniture pieces from this era, this duo is held up by steel legs. The chair's frame is made of molded fiberglass wrapped in fabric and cushioned so you can just lay back and relax. It is one of the most instantly recognizable mid-century lounge chairs with footrests.
It comes in a variety of colors and fabrics, making it a versatile piece that would serve as a great addition to a bedroom or living room. Get the original design from Design within Reach, or snag a replica from Eternity Modern!
---
Now that you've had a look at some of the most iconic, which of these mid-century lounge chairs with footrests are you most inspired by?