Looking for the perfect Farmhouse bed to furnish the bedrooms in your home? Today we're sharing a quick overview of the different types of modern Farmhouse beds you can find online!
Metal is a popular choice for Farmhouse style bed frames. We have a metal farmhouse style bed in our guest bedroom, and while they look beautiful, keep in mind they are not as comfortable if you wish to sit up in bed! Of course with enough pillows, you can create a cozy makeshift headboard!
Wood is probably the most commonly used material to craft Farmhouse furniture, including beds. Wood gives any room a rustic, country vibe so it's perfect for modern Farmhouse bedrooms! You can find solid wood beds, or just a wood frame with upholstered fabric inside. (These are great for leaning against!)
Spindle beds are also very popular and give the room a country feeling. They are also sometimes called Jenny Lind beds, named after a Swedish opera singer who toured the US in the 19th century. The beds were a hit, and since then they have been a staple of farmhouse bedroom furniture.
Upholstered farmhouse beds are less common but you can certainly find some really cute ones! Now that you have a general overview of the modern farmhouse style beds that are available, here are a few of our favorite affordable beds to shop online:
Farmhouse Beds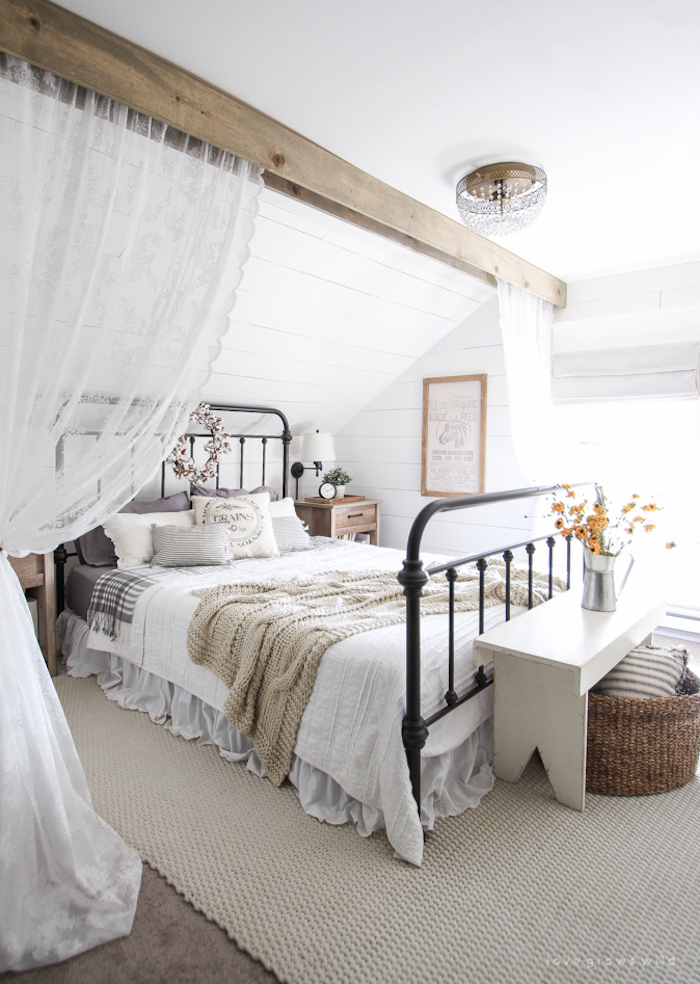 More Farmhouse Decor Ideas
If you're looking for more Farmhouse furniture and decor ideas, then don't miss some of our popular guides to decorating in the modern Farmhouse style! We've got a ton of time-tested ideas and product recommendations for you here.