The romantic English country decor style has captured the eyes and hearts of many people across the globe. The quaint, cottage style of English decorating can be a favorite for those who are drawn to recent captivating TV series like The Crown or the world-renowned Downton Abbey. But what does authentic English decorating really look like? That's what we're going to explore as part of our Styles series today!
English Country Home Decor
English country homes are firmly rooted in the traditional European style of decor. Let's take a peek at some modern-day examples of English country home decor and discover how they were inspired by historical English countryside charm! Before you know it, your home will look like the set of a Jane Austen-inspired film adaptation!
First, let's get an understanding of some classic English furniture pieces.
English Roll Arm Sofa
The most classic English sofa style is certainly the "rolled arm" sofa which many American designers have copied. This slouchy sofa is comfortable and chic at the same time! Plush and inviting, this is one piece that is worth the investment.
Slipcovered Sofa with Ruffle Skirt
Another popular English sofa style is the slipcovered sofa, with or without a charming ruffle skirt at the bottom. This beautiful English home corner features a Colefax and Fowler Bowood print slipcovered sofa with ruffle skirt sitting pretty in front of a green Farrow and Ball paint paneled wall.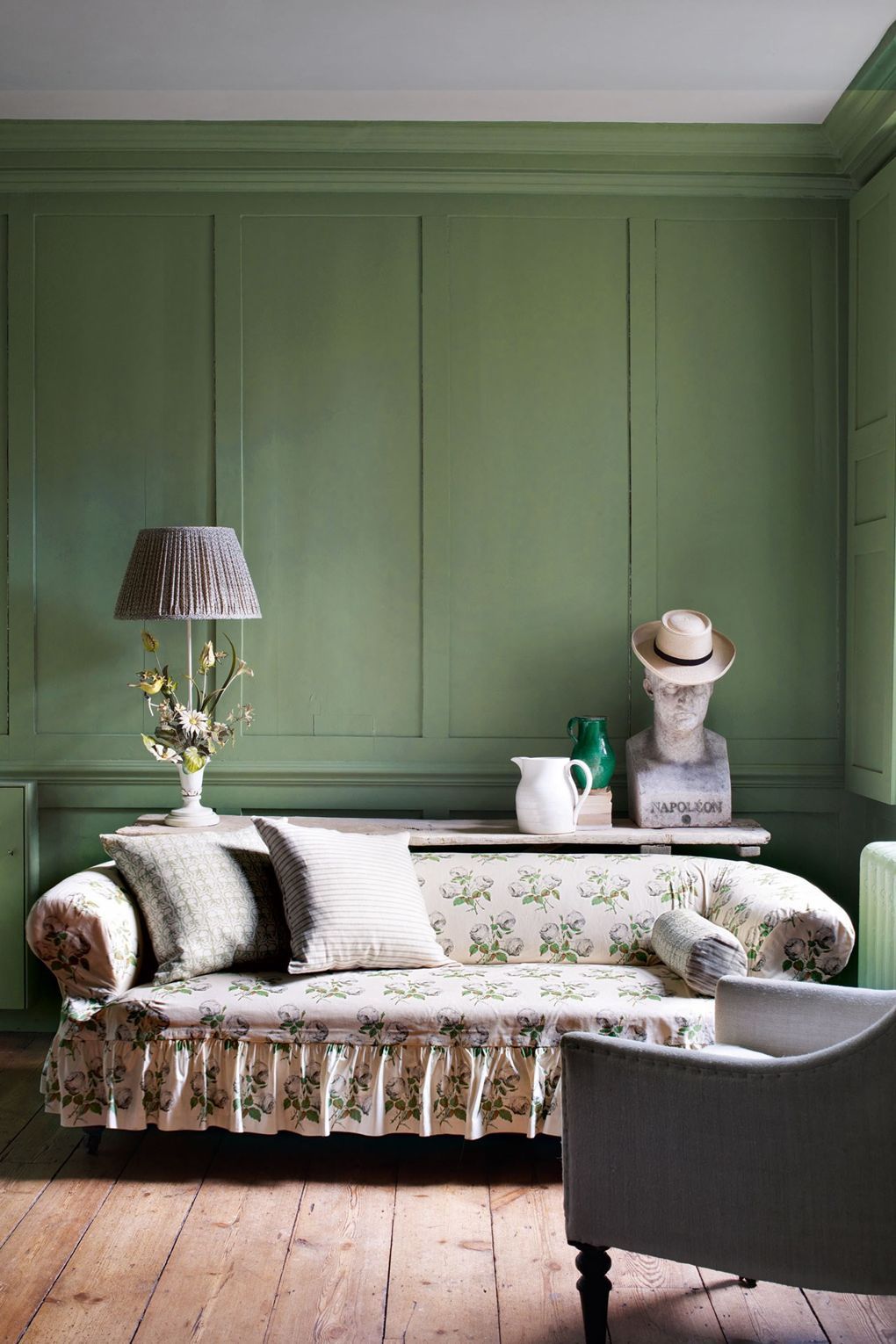 Chippendale Dining Chairs
Thomas Chippendale was an 18th-century cabinet maker from Yorkshire England who popularized the wood-back dining chairs found in so many English and American-style homes today. This traditional dining chair is perfect for English-influenced homes.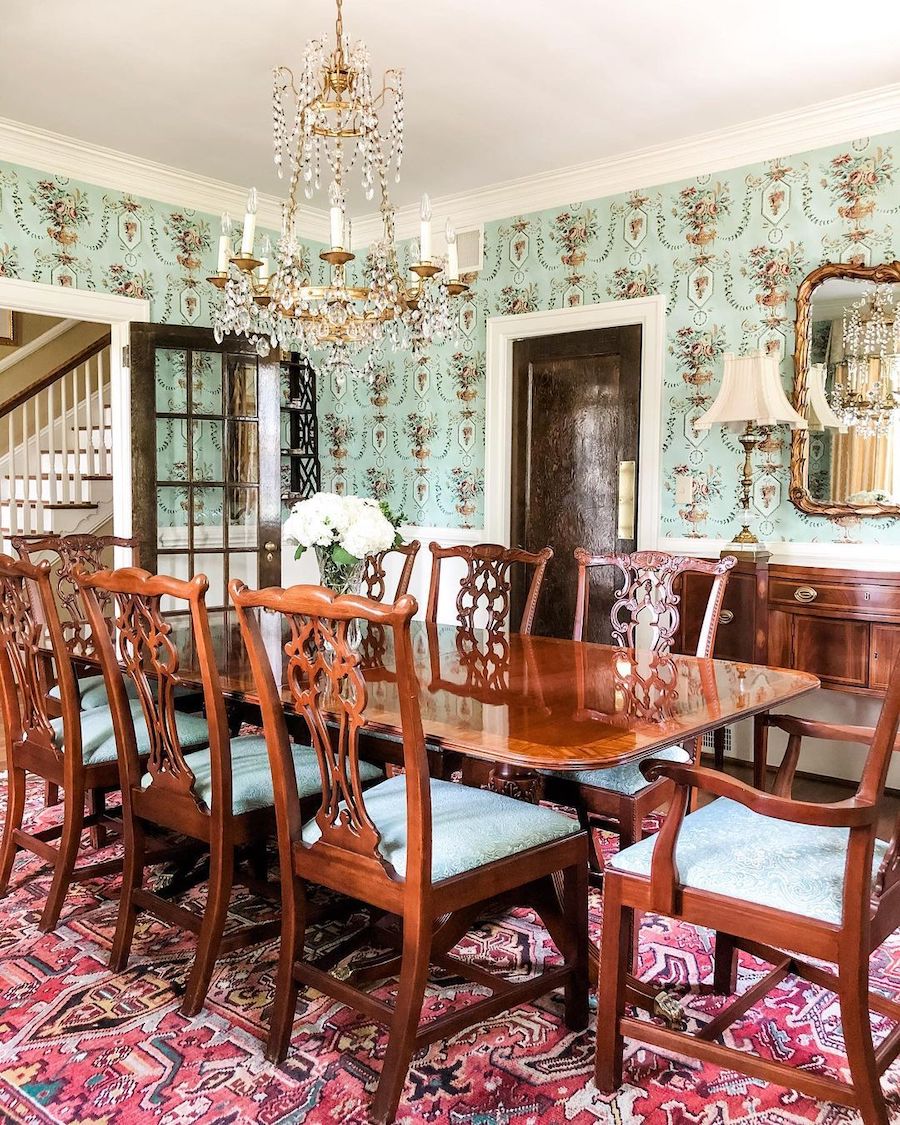 Ottoman as Coffee Table
Something I see very often in English country living rooms is tufted ottomans used as coffee tables. Sometimes they have books laid directly on them and other times, they have a lovely wooden tray to create a flat surface for a teapot and teacups. Either way, ottomans are a lovely addition to your English country home design.
Country Mudroom
Since it often rains heavily in the English countryside, you'll need a proper mudroom for storing those muddy Hunter Wellington rain boots, won't you? Take a peek at this gorgeous English mudroom for design inspiration. The walls and cabinets are painted in beautiful khaki green, while the tiled floor helps water evaporate quickly. A bench is placed to the side of this mudroom to easily put on and remove your shoes.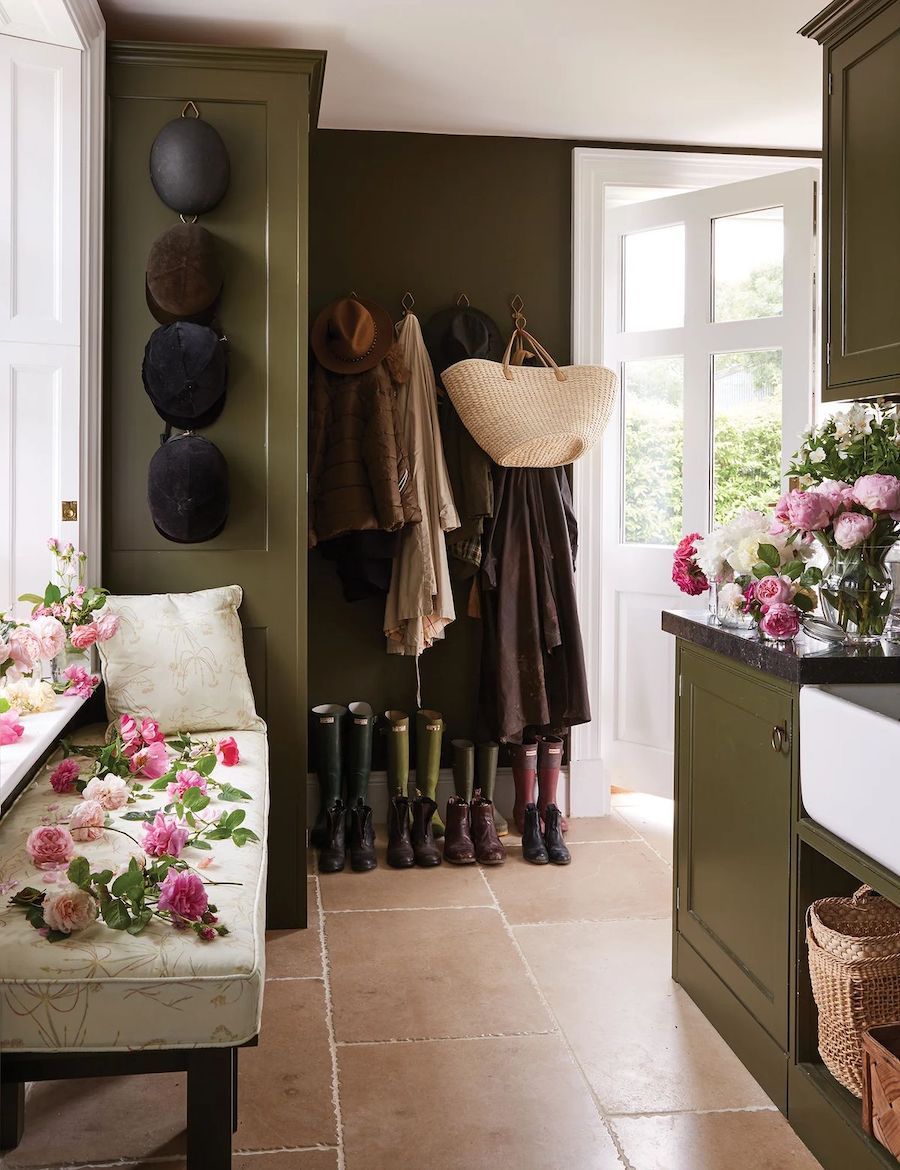 Farmhouse Wood Table as Kitchen Island
I often noticed that many English country homes featured a long rustic wood table fit for a farmhouse in the middle of their kitchen! Country-style dining chairs were dotted around this table, where meals can be prepared and food can be easily consumed. Check out more English country kitchen designs.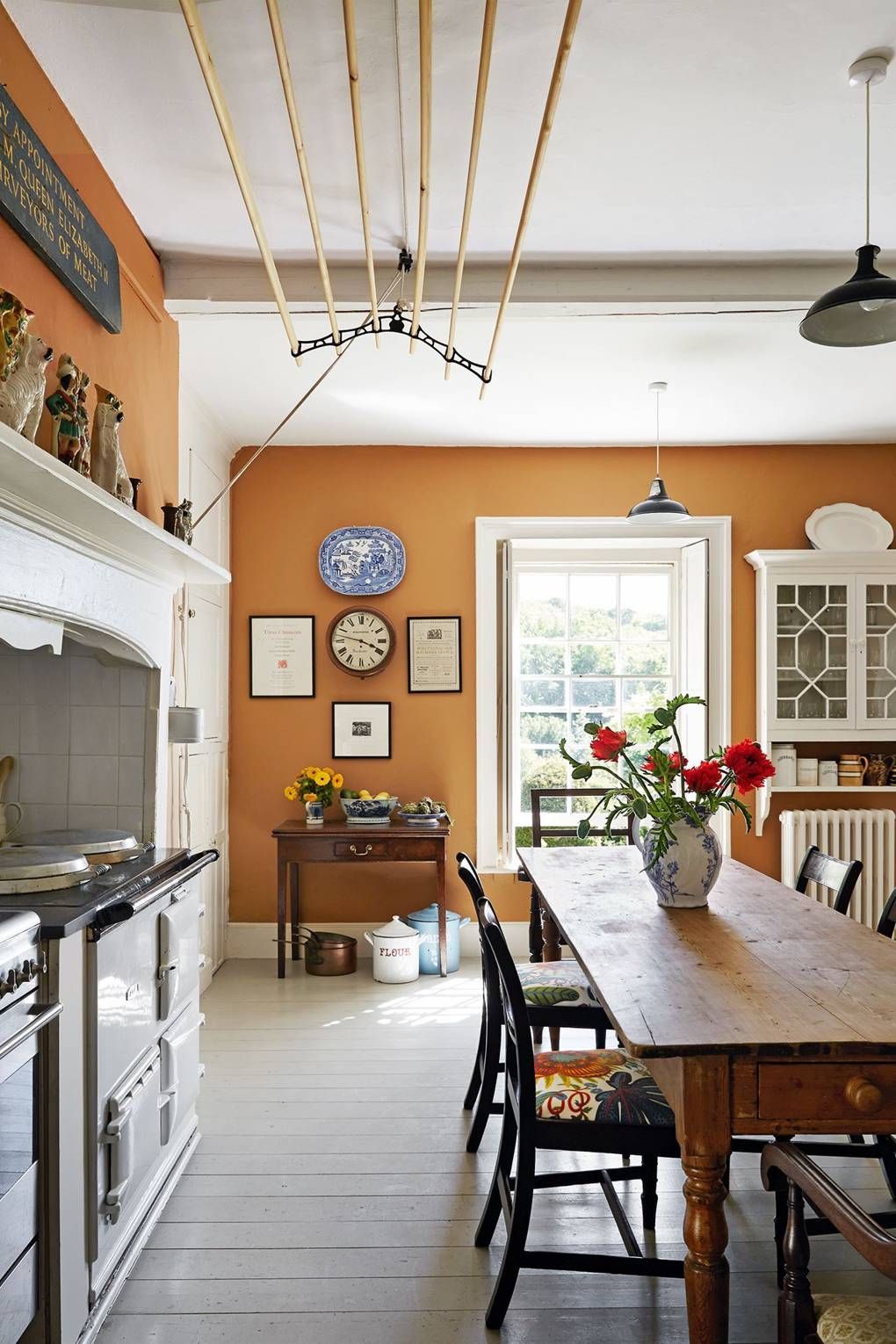 Apron Front Sink
Your English country kitchen also undoubtedly needs a beautiful white Farmhouse-style apron front sink to complete it!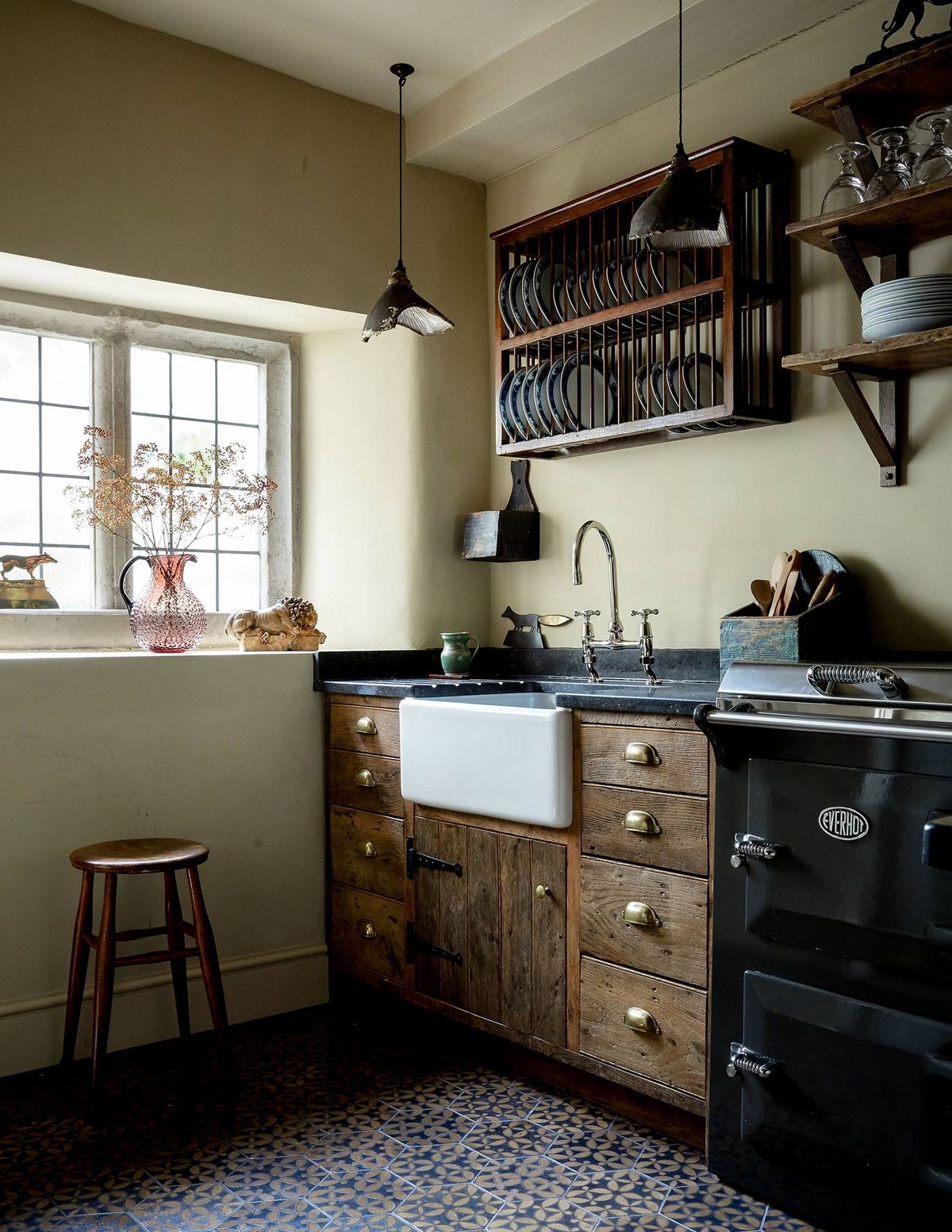 Bright Colors
You can brighten up your space by mixing two or three bright colors. As you know, it rains very often in the English countryside, so adding color can uplift the spirits during those dark and rainy days! I think this living room designed by Jessica Buckley makes for a very preppy look.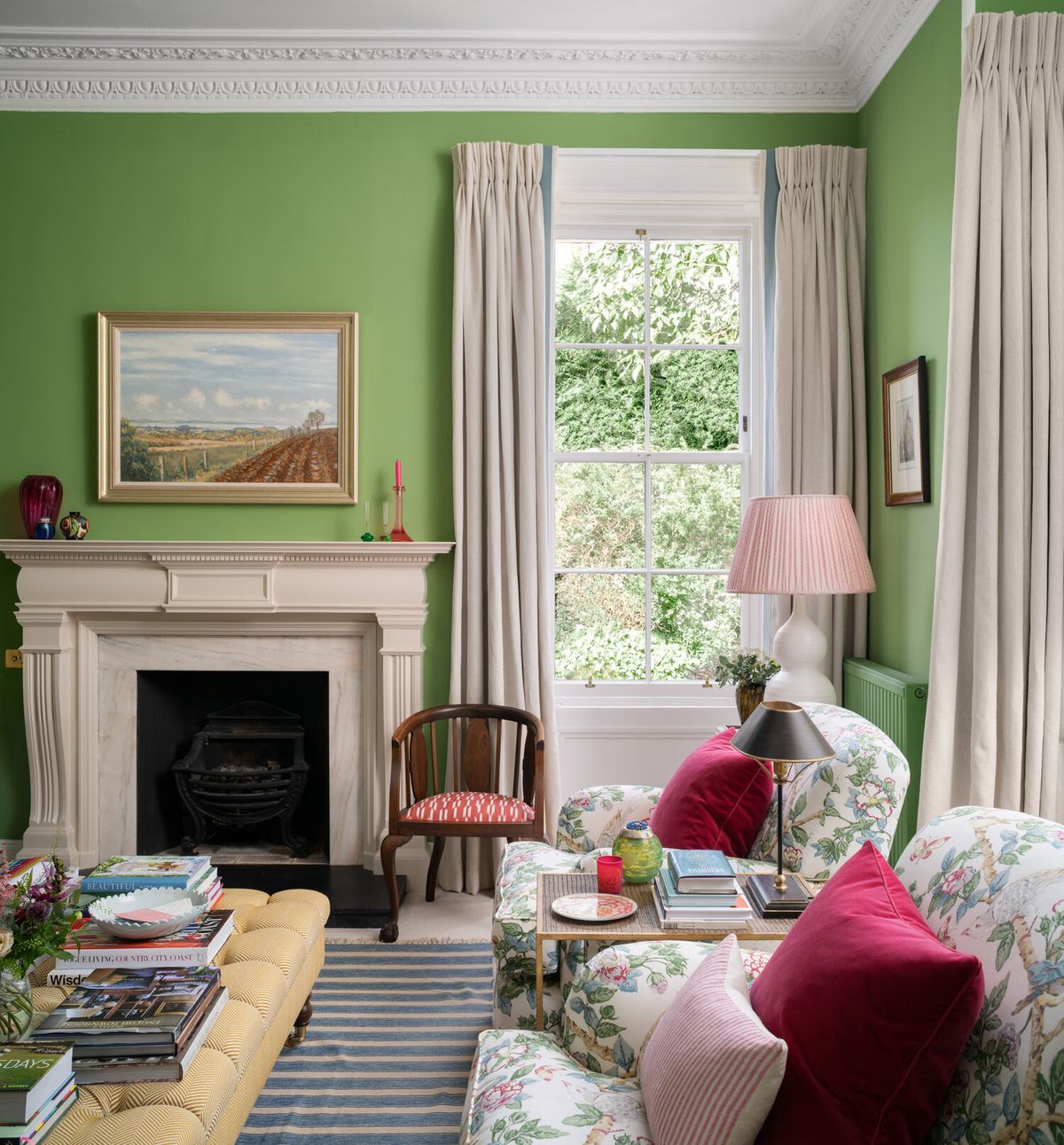 Wainscoting
Wainscoting is an English wall paneling technique that dates back to the 16th century! It's often installed on the bottom portion of a wall, but it can also be used from ceiling to floor. A good rule is to have your wainscoting go up about two-thirds of the wall.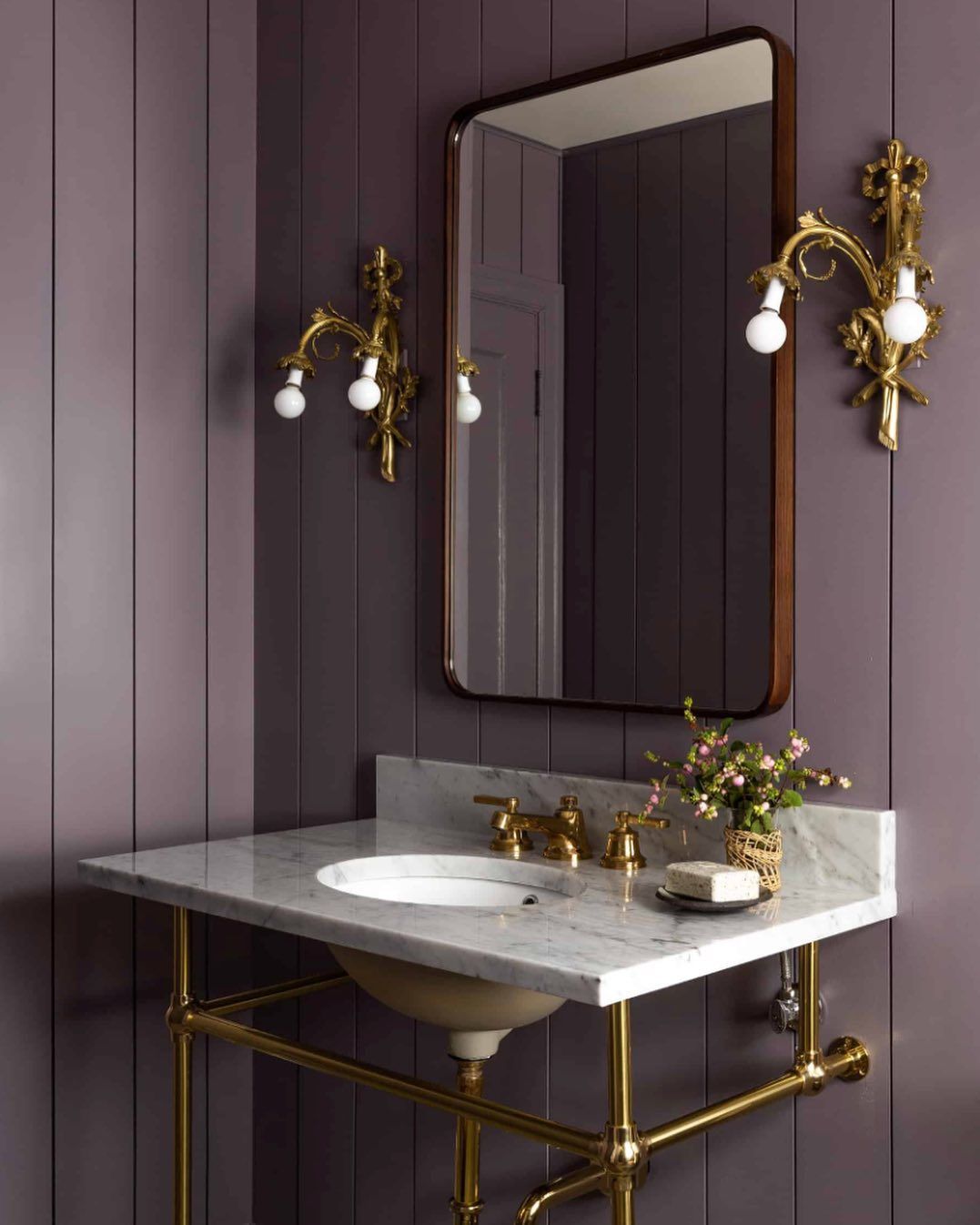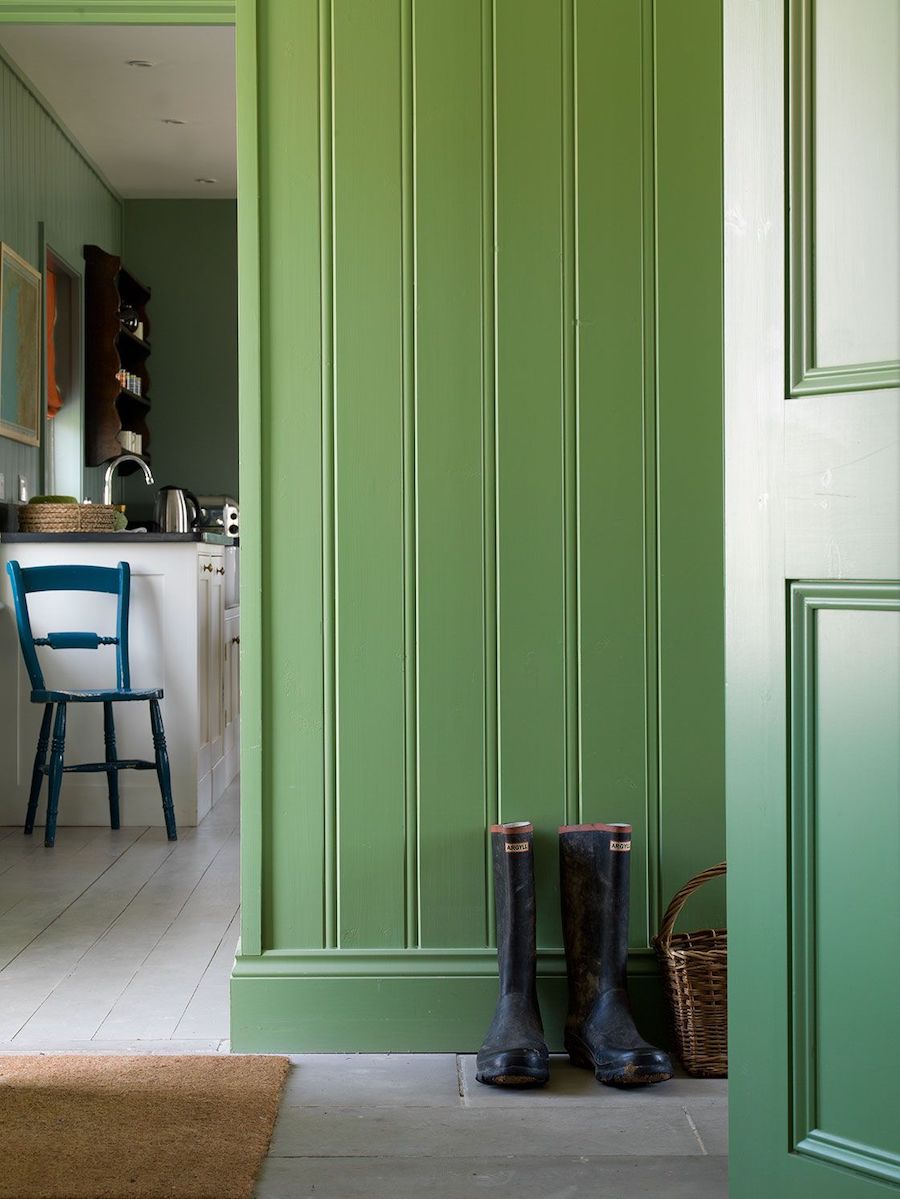 Floral Tableware and Vintage Tea Sets
The English love their tea so be sure to pick up some cute floral tableware sets and vintage tea cups and saucers for your afternoon tea break! Some English country dining rooms in the cottage style even have their flatware displayed on the wall or in a dining hutch.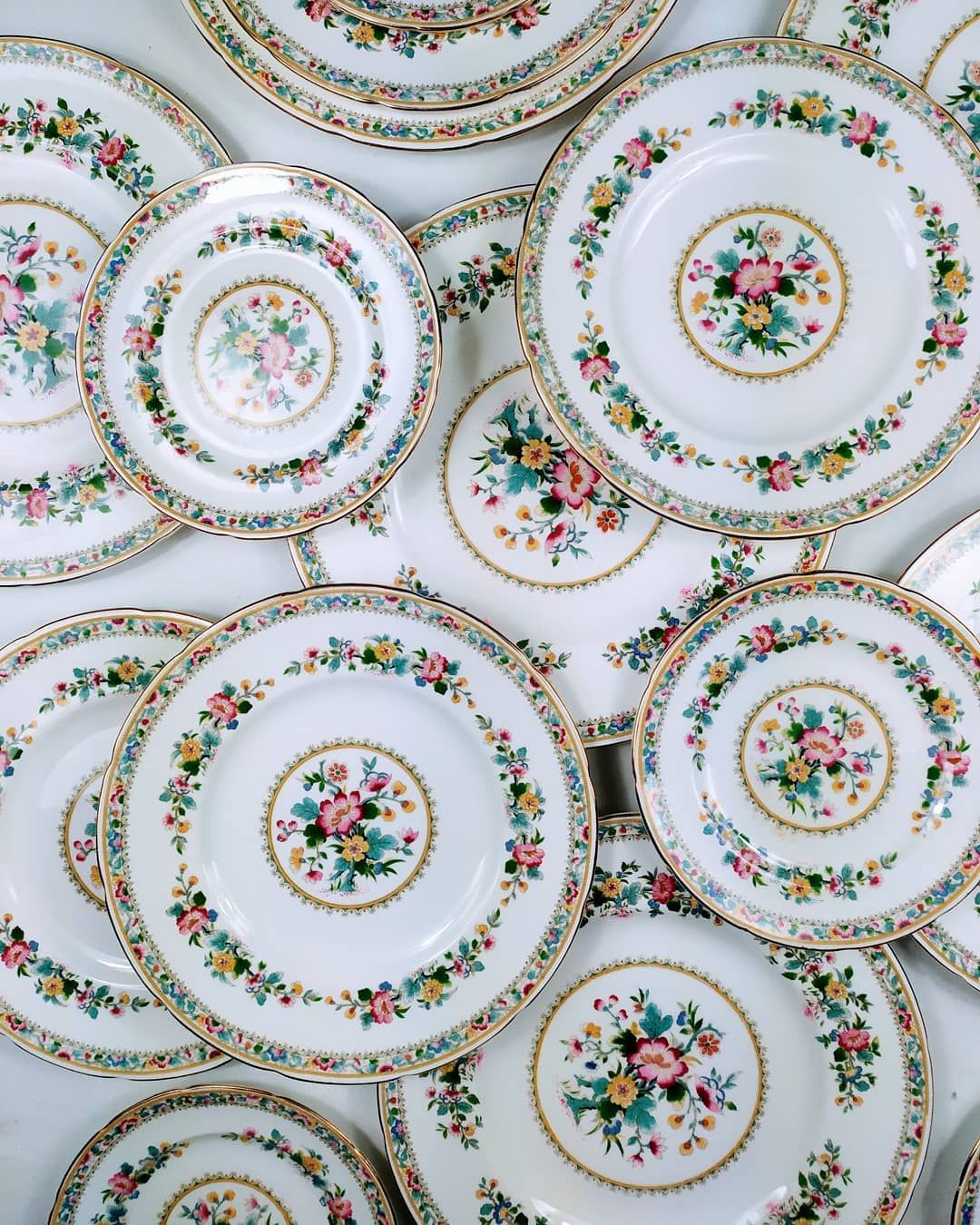 Gingham & Plaid
Gingham and plaid are two square prints that are quintessentially English! From upholstery to throw blankets, you can find this classic English pattern on many decorative objects or furniture pieces.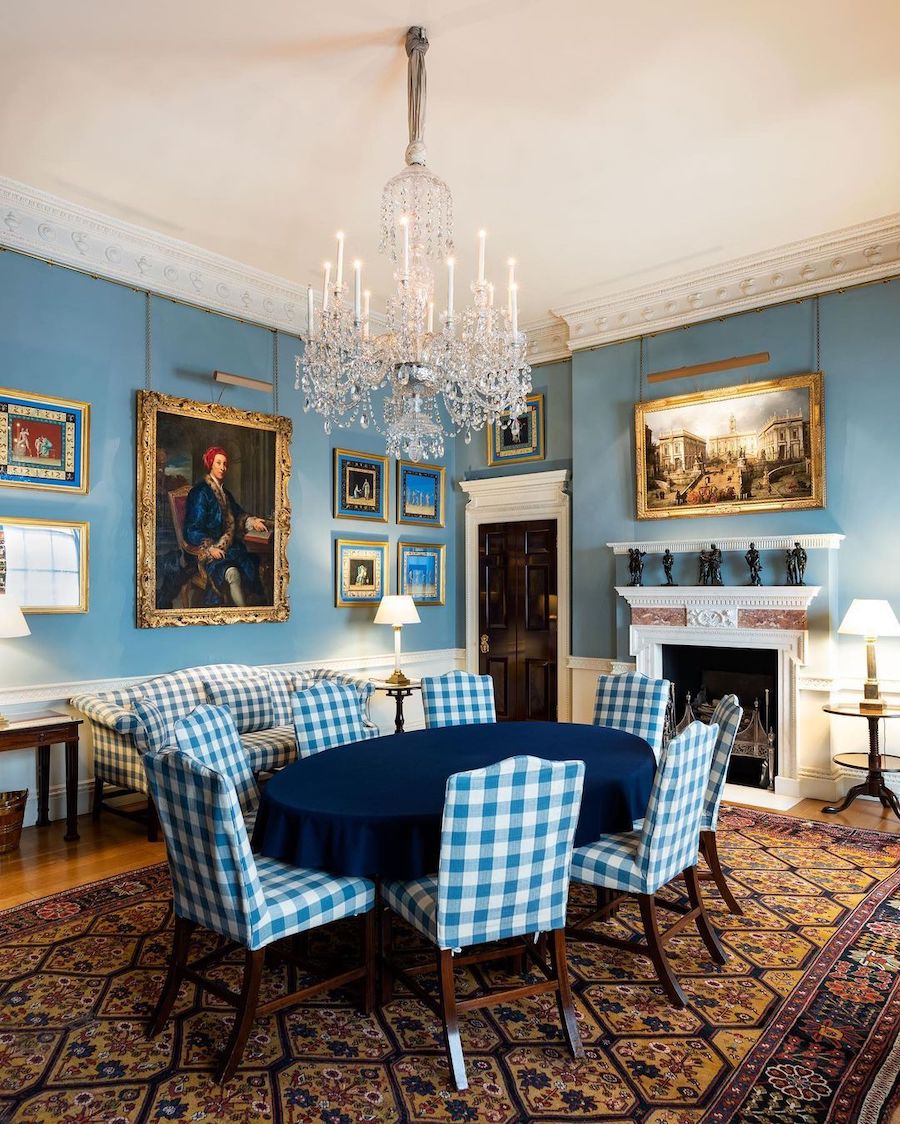 Chintz
Emblematic of English country style, chintz is a colorful printed cotton fabric with a shiny finish, often used for curtains and upholstery. You'll most often see a floral motif printed on this gorgeous material.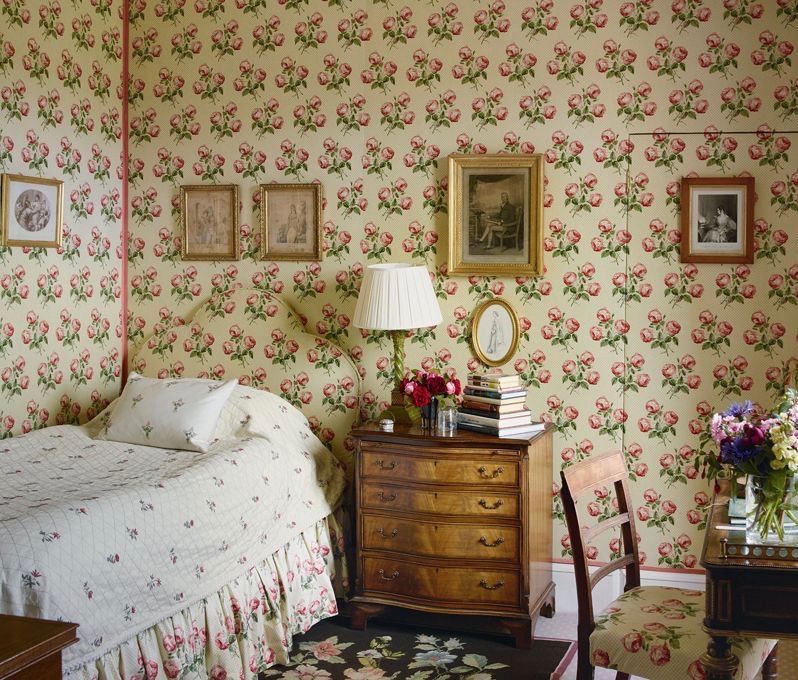 Canopy Bed with a Top Fringe
Canopy beds with upholstery or top fringes are commonly found in English country bedrooms.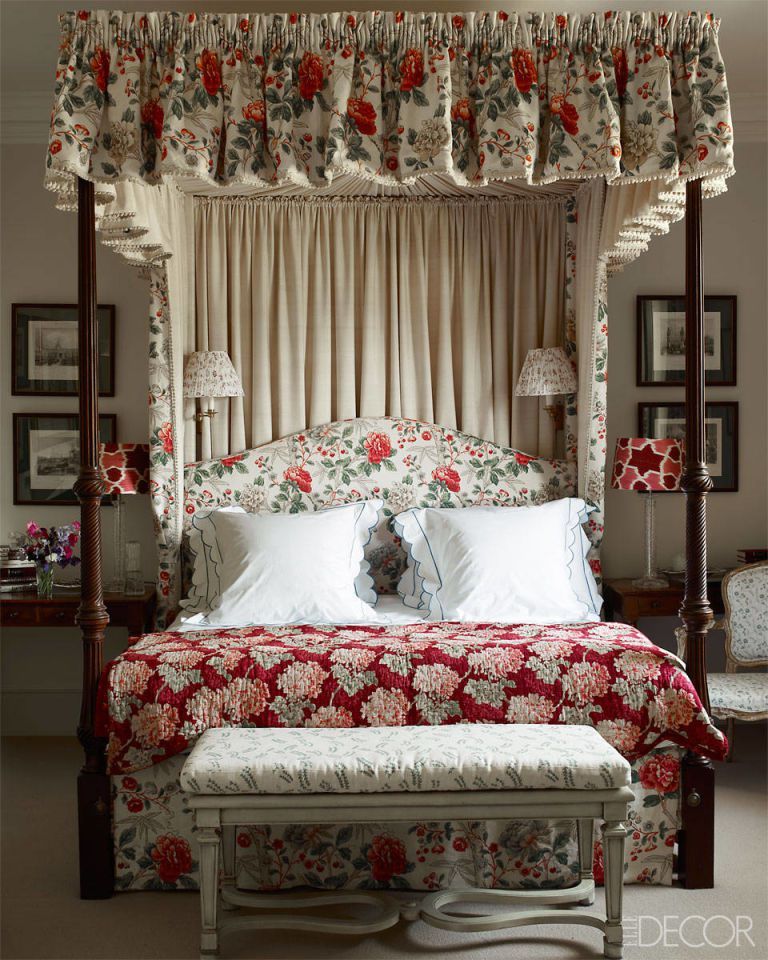 Vintage Artwork
Be sure to hang lots of old art and family photos on your walls. The English love to celebrate their rich family histories and art from centuries past. Upholstered headboards are always a smart option for your English country style bed.
Wood Beams and Stone Walls
If your home has natural structural elements like warm wood ceiling beams or stone walls, then leave them be. Decorate around your country home's natural charm and beauty!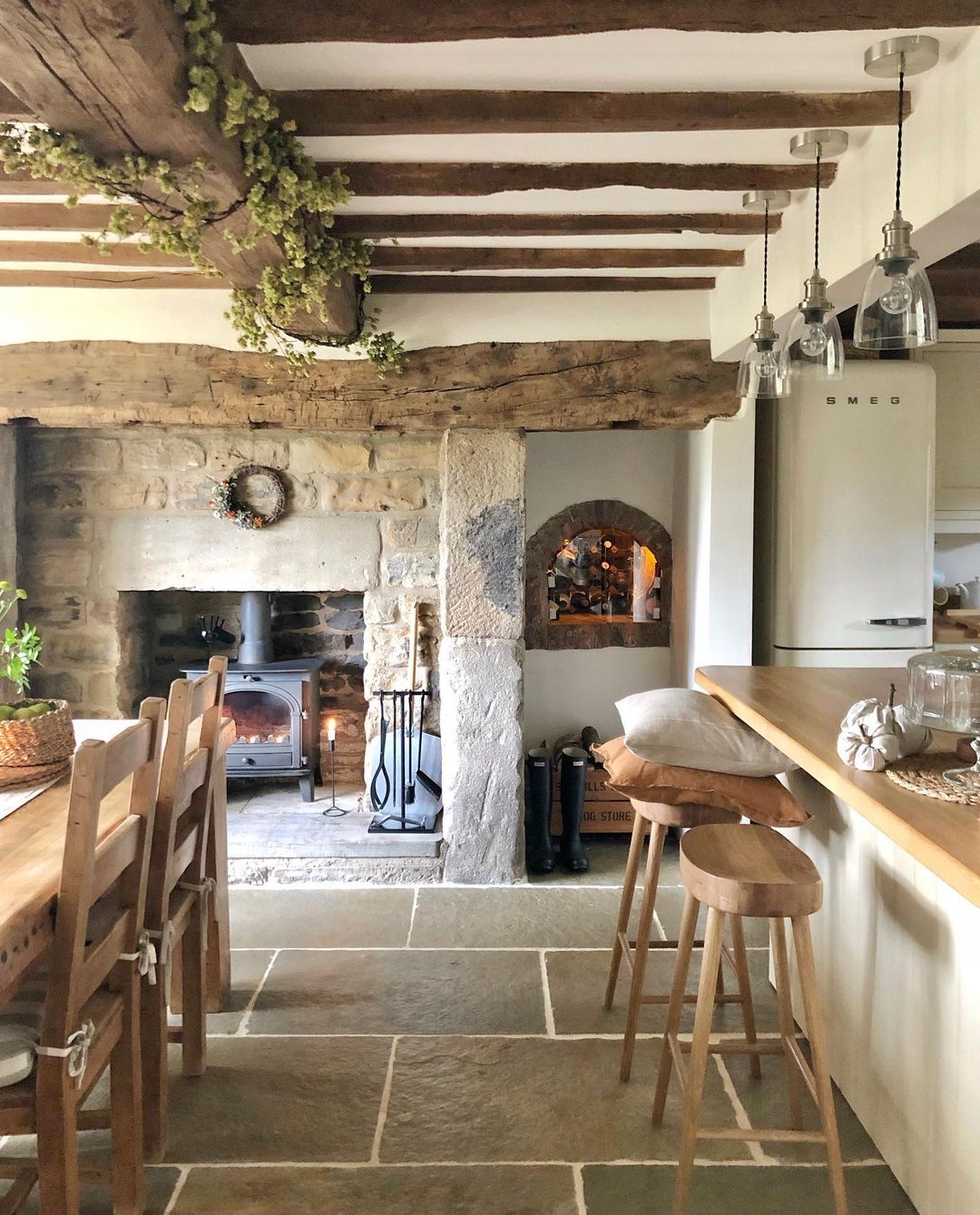 White Vintage Tub
A vintage freestanding bathtub with feet is a beautiful addition to your English country bathroom!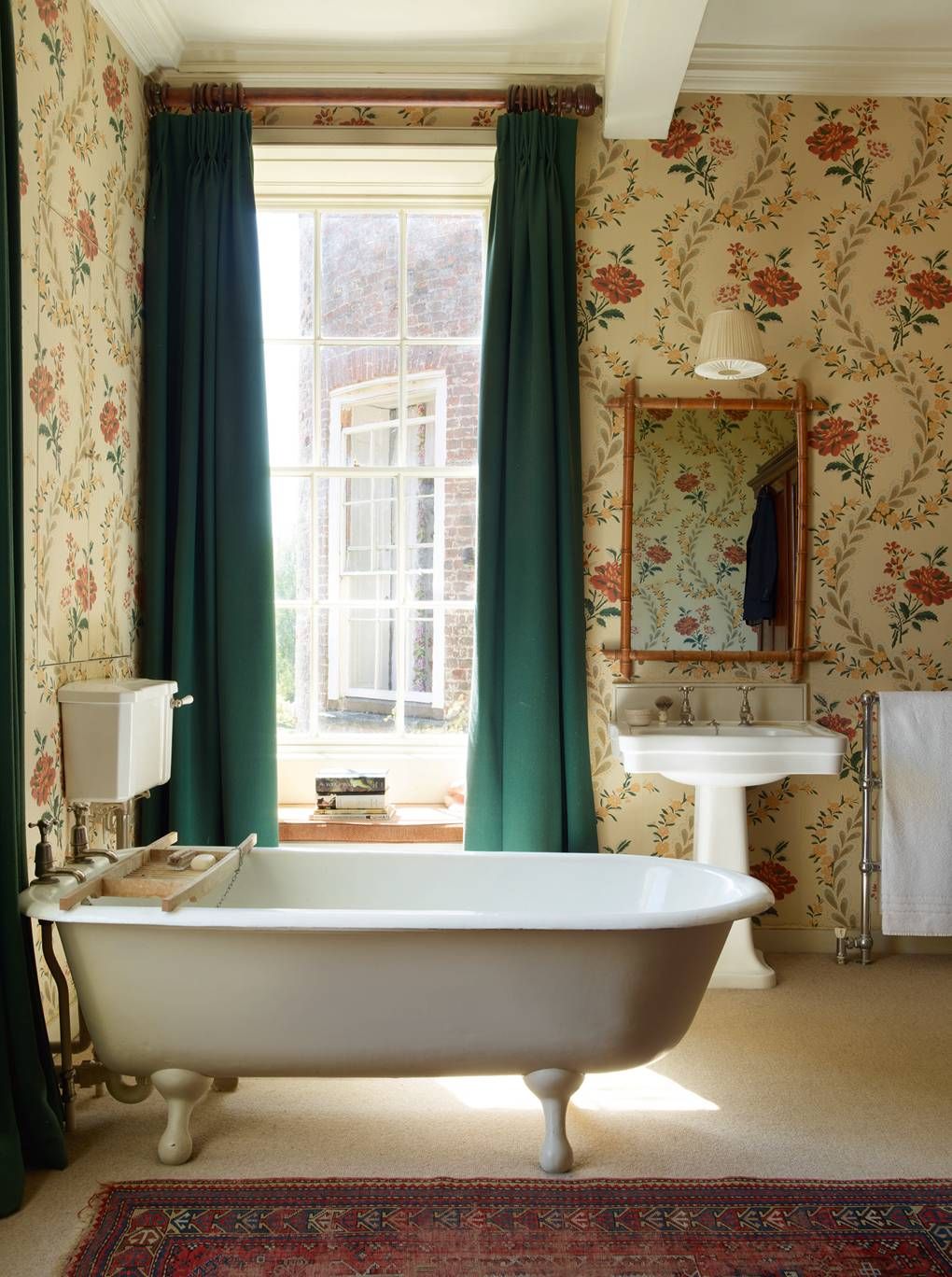 Dark Wood Walls and Furniture
Dark woods like oak and mahogany are often found in English homes. Wood furniture is often crafted in the traditional style of Queen Anne or Victorian eras.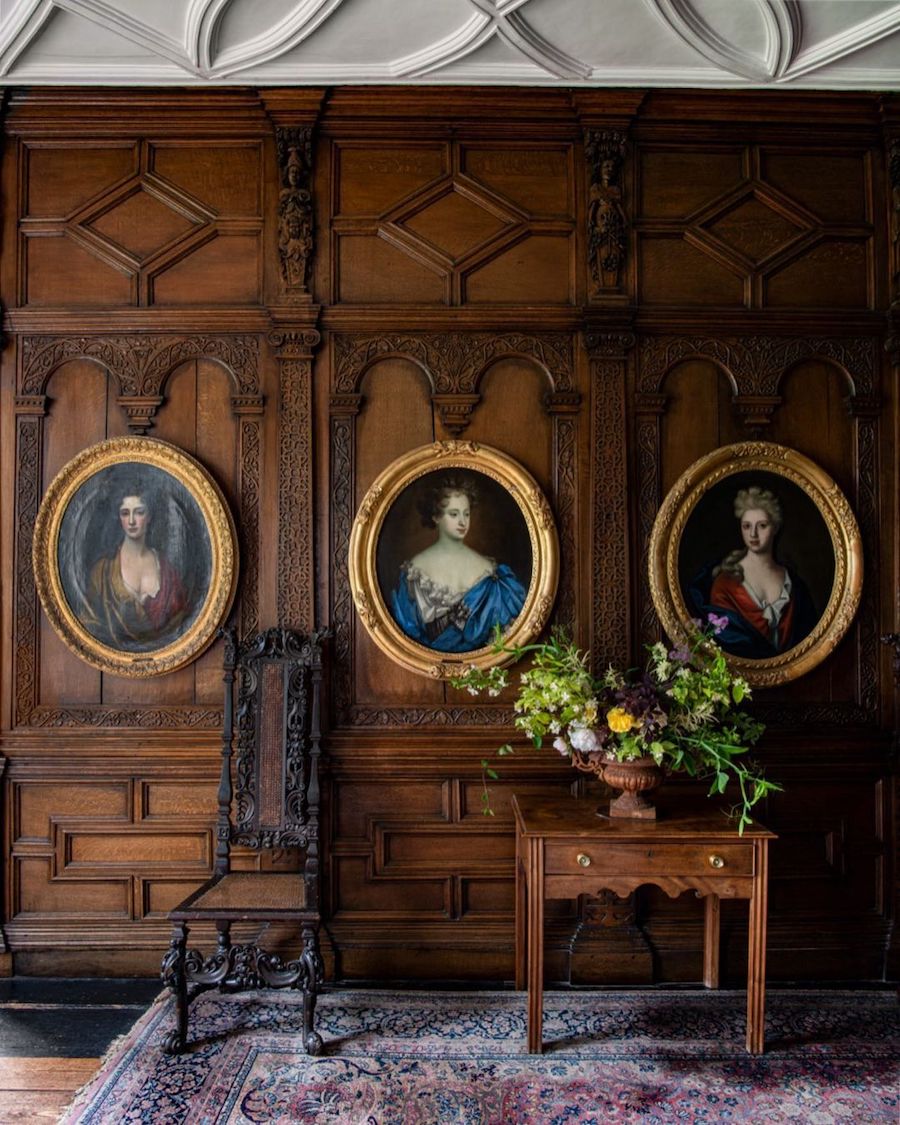 Ginger Jars
Blue and white ginger jars are found just about everywhere in English country houses! You can use them on mantels, on tabletops, or placed in a small corner of your house. Learn about decorating with ginger jars to get the English country look at home.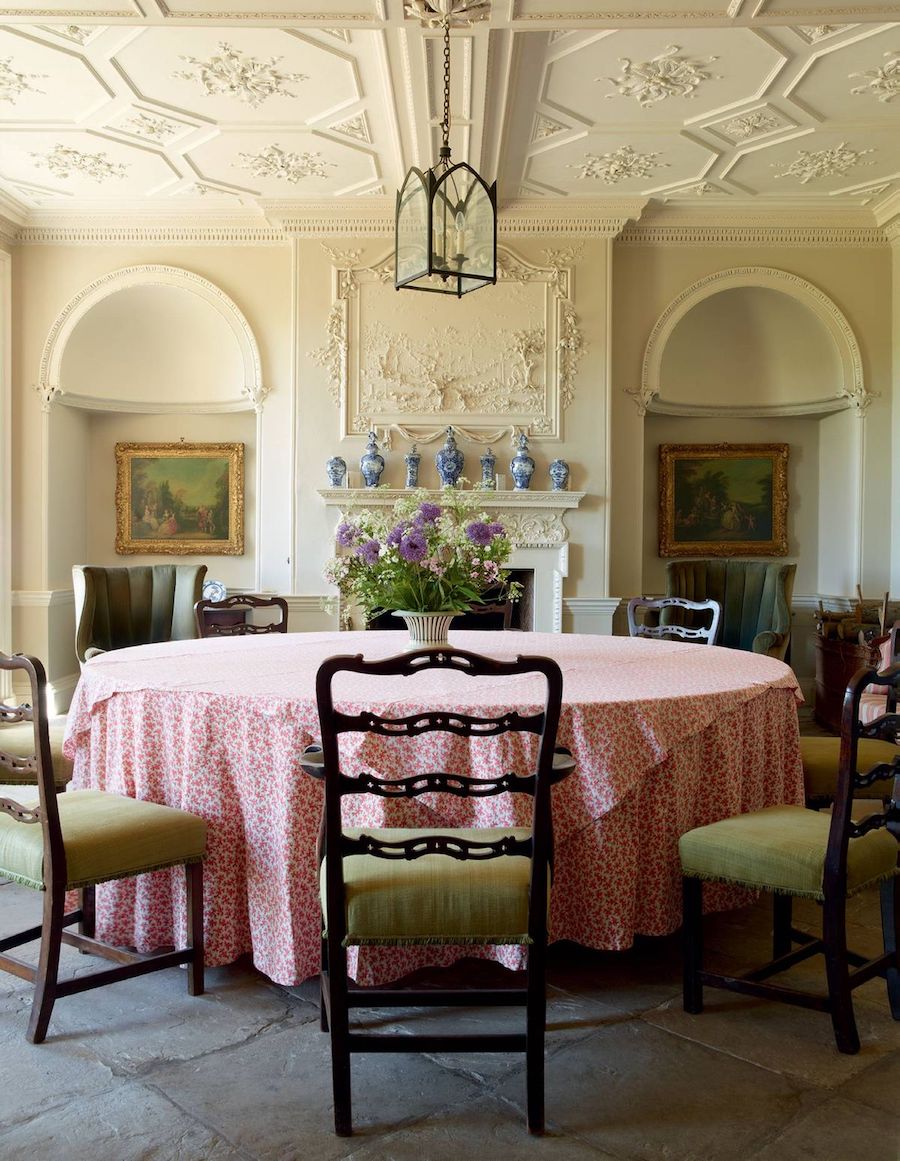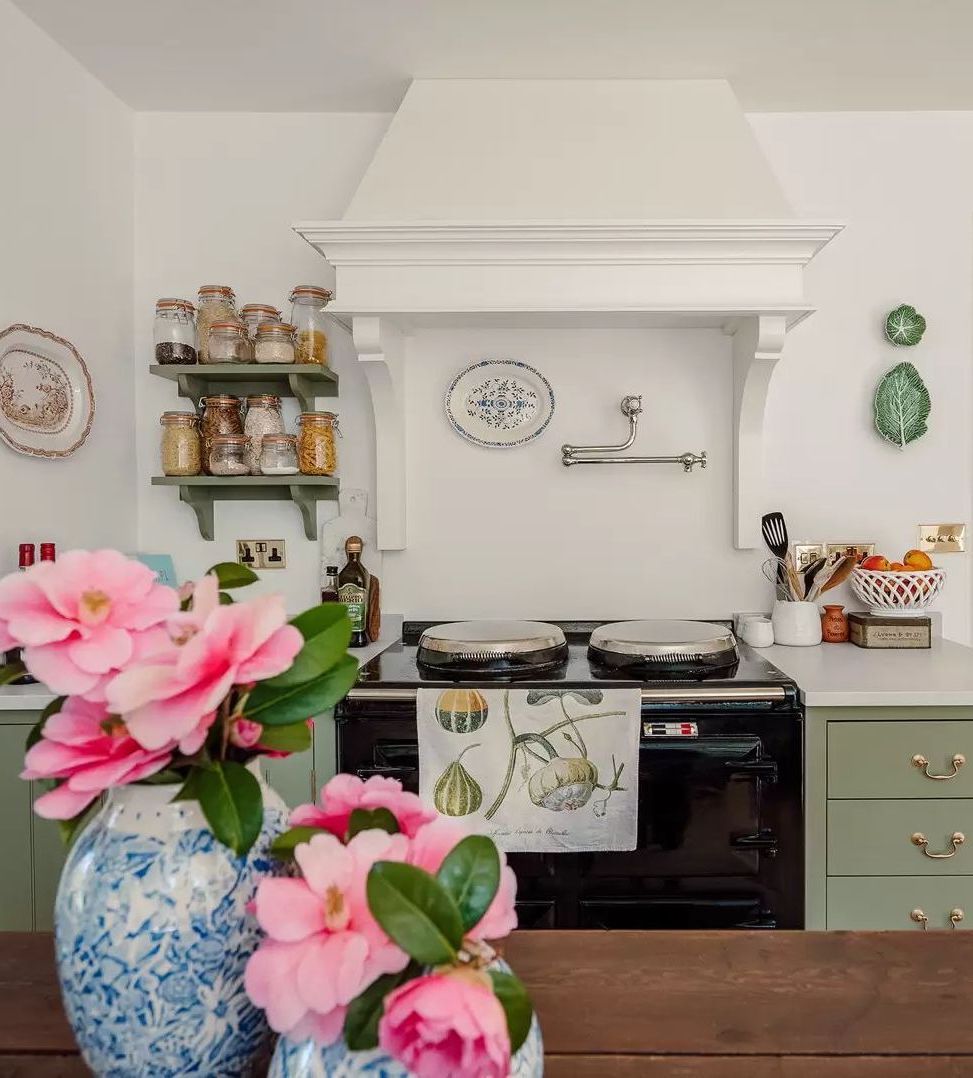 I hope you thoroughly enjoyed this post on English country decorating! Even if you aren't lucky enough to have a lovely stone home in the English countryside, you can still steal some of their fabulous decor ideas with our help!
Stay tuned for a long series on English country furniture and decorative accent tips.
Some related English country interior design articles to browse are linked below!
If you enjoy the English country style, you'll probably be interested in cottage-style home decor, too!
Happy curating!